Welcome to your ultimate summer grilling headquarters! Discover a sizzling collection of mouthwatering recipes, grilling tips, and expert advice that will take your BBQ skills to the next level. From juicy burgers and tender grilled chicken to smoky ribs and flavorful marinades, we have everything you need to make this summer a grilling sensation. So, Double-click those tongs and become the master of the grill!
Our favorite summer grilling recipes
No matter what grill you're using, these are the best grilling ideas for what to make for your backyard barbecue.
Essential Grilling Equipment
Understanding the importance of the right equipment can significantly elevate your summer grilling recipes. Here are the essentials every griller should have:
Grill: Whether charcoal, gas, or pellet, choose a grill that suits your cooking style and preferences.
Grill Brushes: To keep your grill clean and your food tasting great.
Grilling Tongs: For safe, easy flipping and moving of food. Look for long-handled tongs for the best fire safety. Keep three on the ready at all times—one for moving coals, one for raw meat, and one for cooked meat.
Grill Spatula: Ideal for flipping burgers and other flat foods. We love a long handle and a large metal surface.
Heat-resistant Gloves: To protect your hands when handling hot grates or food. Go for the best you can afford here. From pouring charcoal to moving grill grates, these protect you in the heat of the moment.
Meat Thermometer: A must for ensuring your meats are cooked to the perfect temperature. We love our instant-read thermometer by Thermapen for quality and accuracy.
Grill Basket: Great for grilling vegetables, seafood, and other small items that might fall through the grates. Yes, including tater tots.
Basting Brush: To apply sauces and marinades while grilling. We use a silicon brush with changeable heads.
Chimney Starter: Our favorite way to light charcoal quickly and easily without using lighter fluid.
Smoker box: Use this handy tool on gas or pellet grills for added smoke flavor.
side dishes for bbq
Saddle up to the gathering with the BEst SIDE DISHES FOR BBQ with these outdoor grilling ideas.
Grilling Techniques
Mastering various grilling techniques can help you make the most of your summer BBQ. Here's some grilling 101 to get started with:
Direct Grilling: Cooking food directly over the heat source. Ideal for small or thin cuts of meat and vegetables.
Indirect Grilling: Cooking food next to, not directly over, the heat source on the cooler side of the grill. Perfect for larger or tougher cuts of meat.
Smoking: The low-and-slow method that imparts that deep, smoky flavor. Great for large cuts of meat like ribs and brisket.
Searing: Quickly apply high heat to the surface of meats to create a flavorful crust. We love using flattop griddles or cast iron for that perfect edge-to-edge sear.
Rotisserie Grilling: Cooking food (often whole poultry but also great for prime ribs or picanha) on a rotating spit for even, self-basting cooking and a fantastic crust.
Smoking on Planks: Cooking food on a wooden plank (commonly cedar or alder) that's been soaked, imparting a subtle, smoky flavor. Ideal for delicate foods like fish and seafood.
Best burgers for grilling this summer
Not sure what to cook this summer? The answer is always burgers.
See More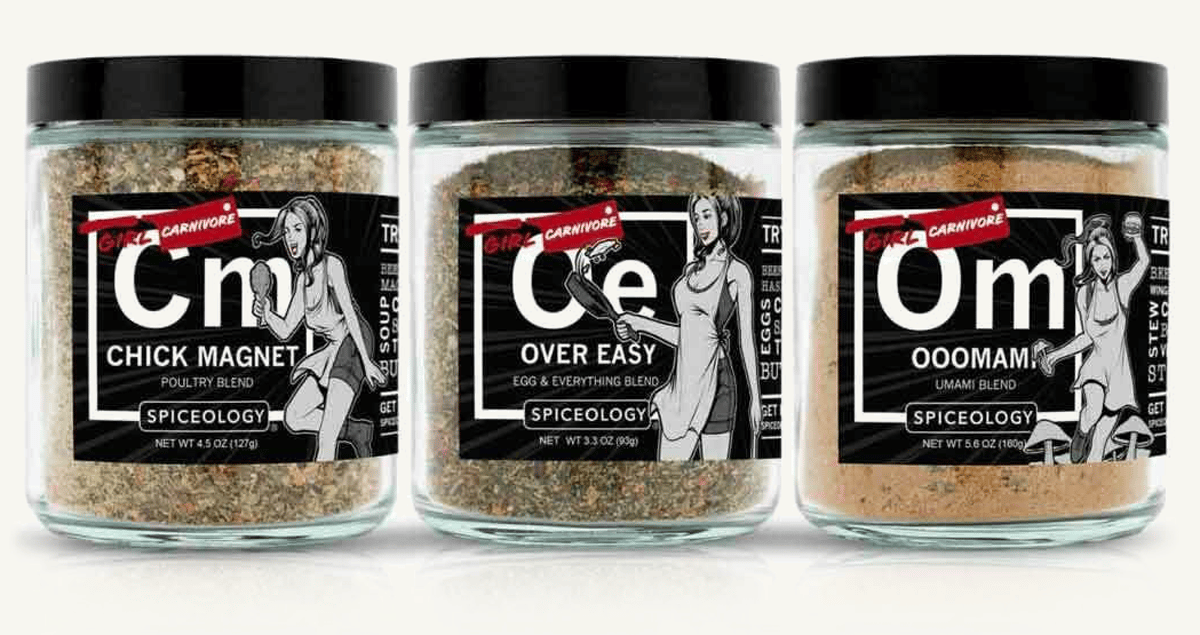 Check Out the Girl Carnivore spice line!
Get the flavor hookup with Girl Carnivore's Blend Collection. With three distinct blends, there's a little somethin' somethin' for everyone – no matter what your delicious desire. Morning, noon or night, these tastes will keep you coming back for more.
Types of Grills
Choosing the right grill depends on your cooking preferences, lifestyle, and budget. Here are the most common types:
Charcoal Grills: Offers a smoky, authentic flavor that many grill enthusiasts prefer. Requires more cleanup and grilling skills.

Pros: Great flavor, high heat for searing, low heat for smoking, relatively affordable. Iconic.
Cons: Longer start-up time, more cleanup, requires more skill for fire management.
Our Charcoal grill of choice: 22″ Classic Weber Kettle.
Our smoker of choice: Pit Barrel Cooker.
Gas Grills: Quick, convenient, and easy to control. Great for weeknight grilling or when you're cooking for a crowd.

Pros: Easy temperature control, quick start-up, minimal cleanup.
Cons: No smoky flavor (unless you use our tips for smoking on a gas grill), more expensive initial cost.
Our Gas Grill of choice: Under $500: Char-Broil TRU-Infrared 3 burner gas grill. Expect to last 4 to 5 years if covered and well mainainted.
Over $1000 Hestan Outdoors 42 Inch Wide Natural Gas Built-in Grill
Pellet Grills: Uses pellets for a unique flavor profile and excellent slow-cooking capability.

Pros: Versatile (can grill, smoke, bake, roast), great smoky flavor, precise temperature control.
Cons: More expensive, requires electricity, needs specialized pellets, subtle smoke flavor.
Our Pellet Grill of choice: Traeger Grills Pro Series 34 Electric Wood Pellet Grill & Smoker
Girl Carnivore Pro Tip
Want more robust flavor on your pellet smoker? Consider trying Cowboy or Jack Daniel's charcoal grilling pellets for a boost of extra authentic grilled flavor.
Electric Grills: Ideal for those with limited outdoor space or prohibited from using gas or charcoal.

Pros: Convenient, easy to use, ideal for small-space grilling.
Cons: Less traditional flavor, requires electricity, may not reach high temperatures.
Our electric grill of choice: Masterbuilt 40-inch Digital Electric Smoker
Portable Grills: Perfect for camping, tailgating, or beach cookouts. It can be gas, charcoal, or electric.

Pros: Mobile, convenient for outdoor activities, variety of fuel types.
Cons: Limited cooking area, may not have features of larger grills.
Our favorite portable grill: Ninja Woodfire Pro Outdoor Grill & Smoker
Kamado Grills: Egg-shaped grills made from ceramic, excellent for high-heat grilling and low-and-slow smoking.

Pros: Excellent heat retention, versatility (can grill, smoke, bake), long lifespan.
Cons: Expensive, heavier and less portable, longer start-up time.
Currently testing: Kamado Joe Konnected Joe, an electric Kamado-style grill with automatic fire start and digital controls for heat settings.
Best Steaks for Grilling
When it comes to easy grilling recipes, it's hard to beat a good steak.
See more
How to get grill marks
Grill marks may be the crowning achievement for the grilling enthusiast. But keep in mind that this trick is all for show.
To get perfect grill marks, start with a clean and well-oiled grate and allow the grill to preheat to high heat.
Using long tongs, place the food on the grill at a 45-degree angle to the grill grates. After 2 minutes, gently lift and rotate the food 90 degrees and sear for 2 to 3 minutes for the crosshatch grill marks—the iconic diamond grid pattern. Flip and continue to cook to your desired internal temperature.
Tools like grill grates are helpful if you always covet perfect grill marks.
Expert Tips for Perfect Grilling
Get ready to take your grilling skills to the next level with our expert advice and insider tips. We'll cover essential topics that will make you a grilling pro in no time!
Clean Your Grill: A clean grill prevents food from sticking and avoids flare-ups. Always burn your grill for 45 minutes to an hour before the first cook to season it. And then clean it after every cook while the grill grates are still hot.
Oil Your Grates: A light layer of cooking oil on the grates can prevent sticking.
Preheat the Grill: Cover the grill with the lid and adjust the airflow if needed to allow the grill to preheat properly. Preheated grills not only help to sear the food but also helps to prevent sticking.
Control Your Heat: Understanding the temperature needs of different foods can be the difference between a juicy steak and a tough, dry one.
Use a Thermometer: Don't guess when your food is ready – a reliable meat thermometer can ensure perfect results every time. We use a digital thermometer every time for the best and most accurate results.
Let it Rest: Allow your grilled meats to rest before cutting into them. Not only does this allow for the juices to redistribute, but it's also a great time to add another layer of flavor by adding a compound butter on top.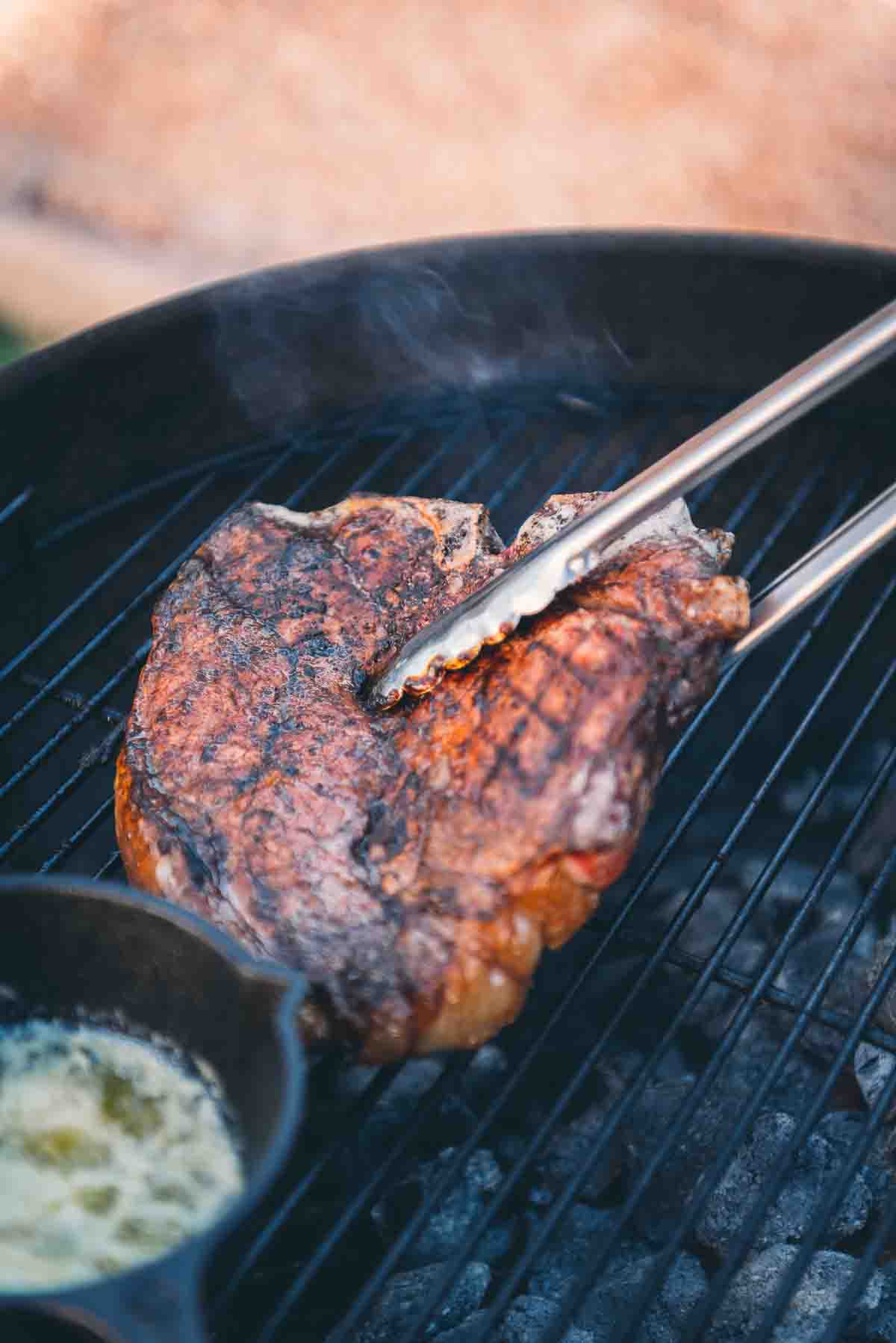 Winning Grilled Chicken
When it comes to easy grilling recipes, it's hard to beat a good steak.
See more
Understanding Heat and Temperature
Controlling heat is one of the secrets to successful grilling. Here are some essential concepts:
Direct vs. Indirect Heat: Direct heat (food directly over the flame) is best for searing and grilling thin cuts. Indirect heat (food off to the side of the flame) is perfect for thicker cuts that need time to cook internally without burning the outside.
Temperature Zones: Setting up your grill with multiple temperature zones can give you flexibility for cooking different foods at their ideal temperatures. The 2-zone fire is the most commonly referenced, but a 3-zone fire can also be handy.
Grill Thermometer: Most grills come with built-in thermometers, but they are often not too accurate, and an additional meat thermometer can ensure precise cooking temperatures. We use an instant-read thermometer for quick cooks and a probe for long-smoking recipes.
Ideal Cooking Temperatures: Understanding the recommended internal temperatures for different meats ensures they're safe to eat and perfectly cooked to your liking every time.
Preheating: Preheating your grill is key to achieving a good sear and accurate cooking times. Give yourself 30 minutes to an hour before you grill, depending on your grill, to make sure it's ready to go.
Sauces & Marinades for grilling season
Explore a range of tantalizing sauces, marinades, and rubs that will take your grilling game to the next level. From tangy BBQ sauces to zesty marinades and spice rubs, learn how to enhance the flavors of your grilled creations.
See more
Sauces, Mops, & Condiments
Sauces, Mops, & Condiments
Sauces, Mops, & Condiments
Sauces, Mops, & Condiments
Sauces, Mops, & Condiments
Sauces, Mops, & Condiments
Grilling Safety:
Safety should always be the top priority for summer grilling. Here are some key safety tips to keep in mind:
Fire Safety: Always have a fire extinguisher or water source (water in a spray bottle) handy when grilling, just in case.
Location: Your grill should be well away from your home and trees, not under an awning or near anything flammable.
Ventilation: Ensure you have plenty of open air to avoid smoke inhalation.
Food Safety: Always keep raw and cooked foods separate, and refrigerate foods when not grilling to avoid bacterial growth.
Grill Cleaning: Regularly clean your grill to prevent flare-ups from grease buildup. Regularly empty the ash to help the life of the grill.
Child and Pet Safety: Keep children and pets away from the grilling area.
Proper Shut Down: For gas grills, ensure the gas is turned off after use; for charcoal grills, make sure the airflow is shut and the coals are extinguished.
Easy grilling ideas for dinner
Just looking for a quick weeknight dinner? Try these easy summer grilling recipes.
Smoker recipes for your Summer BBQ
When it comes to mouthwatering summer bbq ideas, put your smoker to work.
See more
Seafood
Dive into our best appetizer recipe for indulgent smoked bacon wrapped scallops with a creamy horseradish sauce.
Smoker Recipes
This delicious smoked cream cheese will take your breakfast to the next level. Smoked on the Traeger & covered in everything bagel & smoked salmon!
Pork Recipes
The easiest Traeger smoked queso dip with chorizo recipe you can make! Toss everything in a skillet and pop it on the smoker for cheesy goondness!
Seafood
This rich smoked crab imperial is a perfect recipe to make any meal delicious! We use real crab meat for an incredible dish!
Seafood
Fire up the grill for this easy 30 minute recipe for barbecue grilled shrimp skewers brushed with BBQ sauce and finished with a fresh chimichurri sauce!
Beef Recipes
Transport your taste buds to Peru with mouthwatering Peruvian-style beef heart kabobs. Elevate your grilling game with tender anticuchos.
Appetizer
This Smoked Sausage Stuffed Artichoke recipe is an elegant spin on a classic, with delectable Italian flavors for a perfect seasonal appetizer.
Beef Recipes
Discover tender, juicy flank steak pinwheels – a perfect combo of savory fillings & succulent beef. Impress guests with this easy grilled recipe!
Best grill recipes for Summer
Not sure what to cook this summer? The answer is always burgers.
See More
Summer Grilling FAQs
What's the best way to clean my grill?
For daily wear and tear, clean the grill grates after every cook and empty the ash can often when they have cooled off. Depending on how often you grill, a more thorough cleaning is recommended to prevent flare-ups and extend the life of your grill. See our in-depth guide for how to clean your grill.
How can I tell when my meat is done?
Skip all the old touch methods and invest in a quality instant-read thermometer for the best way to guarantee the meat has reached your desired internal temperature.
What's the difference between direct and indirect grilling?
Direct grilling is for thin cuts over the heat source. Indirect grilling is using the ambient heat of the grill to slowly cook the meat, fish, or vegetables.
How can I prevent my food from sticking to the grill?
A clean grill grate is the first step to prevent sticking. The second is to allow the grill to preheat before adding anything. These two steps help guarantee your food won't stick.
How can I add smoky flavor without a smoker?
If you don't have a traditional smoker, you can still get smoke flavor by using wood chips to smoke on a gas grill or pellet grill. By making a foil packet or using a smoker box, you can use your favorite grilling wood chips on almost any grill. You can even add wood chips directly to a flattop grill to infuse some bonus flavor.