When it comes to comfort food, it doesn't get much better than creamy macaroni and cheese. This easy Dutch oven mac and cheese is incredibly creamy and loaded with rich umami flavors for a more adult spin on everyone's favorite side dish. Made in cast iron, with pasta boiled ahead of time, it's a perfect recipe for a camping trip or just because.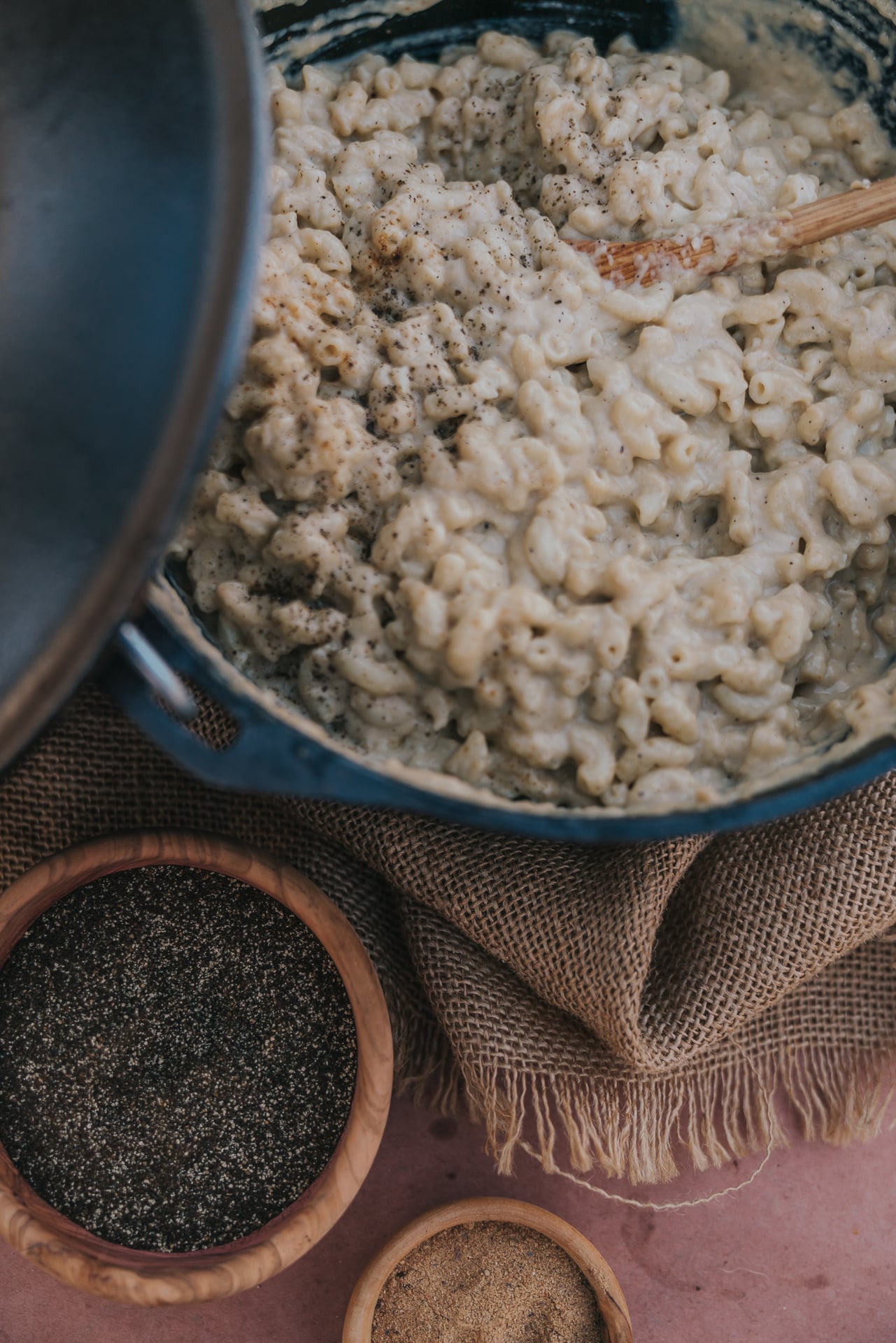 You want to know the best part about camping? Making delicious easy campfire recipes that nourish your body and soul! From making foil-wrapped foods like this Campfire Grilled Chicken Panini to slinging a Tomahawk Steak over an open flame, you can't go wrong with easy camping meals! For this recipe, we're whipping up this delicious Dutch Oven Mac and Cheese! This recipe is one of our favorite camping meal ideas that's super easy to make and can be made in one big pot, just like this Dutch Oven White Chicken Chili or Dutch Oven Shrimp Korma! This yummy side dish is anything but ordinary and is a great side dish to pair with a Smoked Pit Beef Sandwich on a quiet, starry night spent in good company. All you need are a few simple ingredients and an open flame, and you can indulge in some cheesy goodness!
What Is Dutch Oven Mac and Cheese?
Dutch Oven Mac and Cheese is the adult version of Kraft Mac and Cheese. Made with bold flavors like sharp cheddar cheese, smoked gruyere, espresso powder, and umami powder, this recipe is one of the best camping meal ideas for those who are big on flavor but want easy clean up and low effort.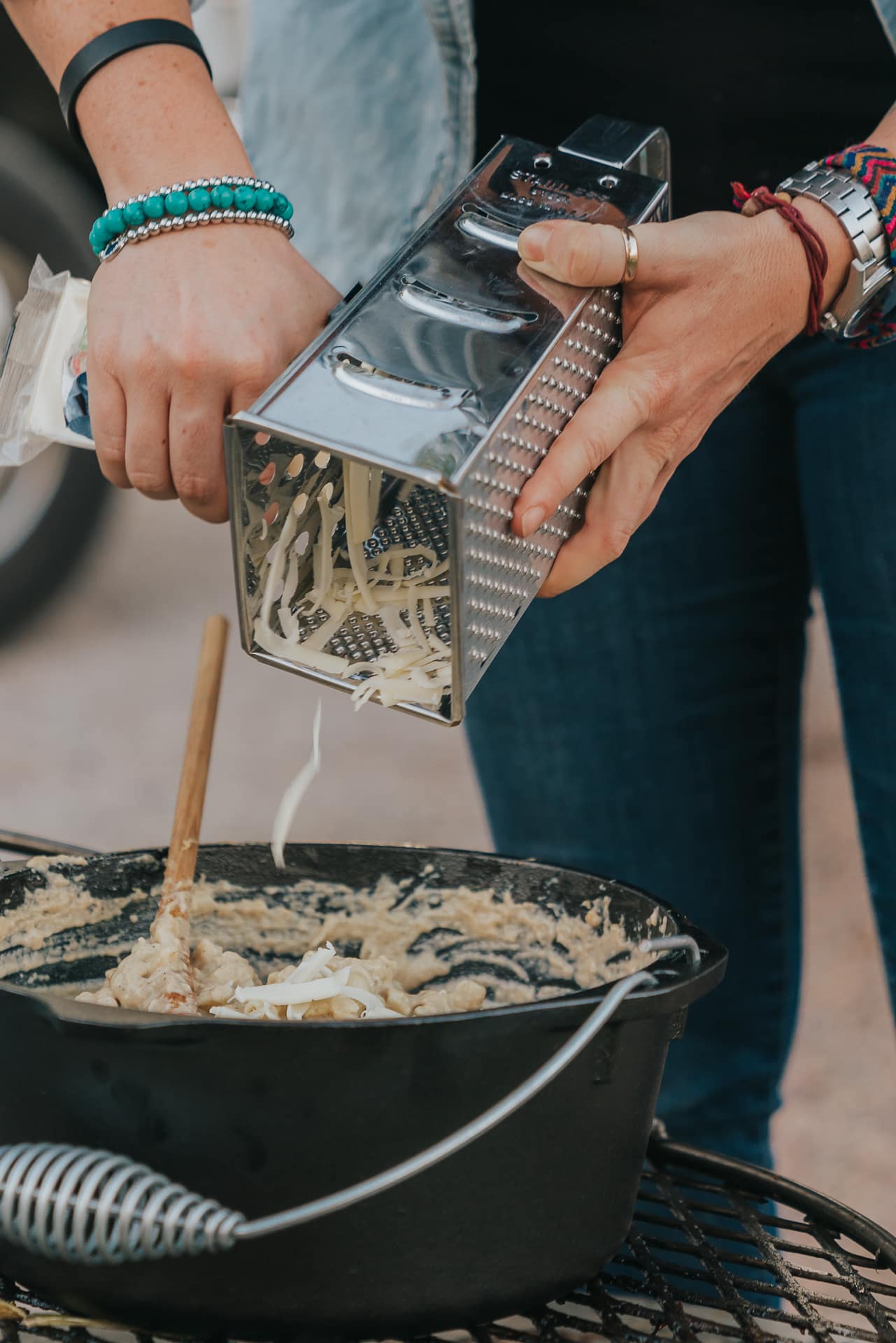 Dutch Oven Mac and Cheese Ingredients
Butter
Flour
Milk – Use whole milk, heavy cream, or half and half for best results.
Sharp Cheddar Cheese
Smoked Gruyere Cheese
Provolone or Monterey Jack Cheese
Umami Powder – GirlCarnivore Ooomami, a blended mushroom powder with a hit of chili for heat
Espresso Powder Spice Blend – For any coffee spice blend, we recommend Coffee Junkie.
Kosher Salt
Black Pepper
Pasta – Pre-cooked to al dente. Use whatever pasta you like, elbow noodles, shells, and the corkscrew-shaped Cavatappi or fussili grip cheese for a better coating.
Beer – Marzen of amber lager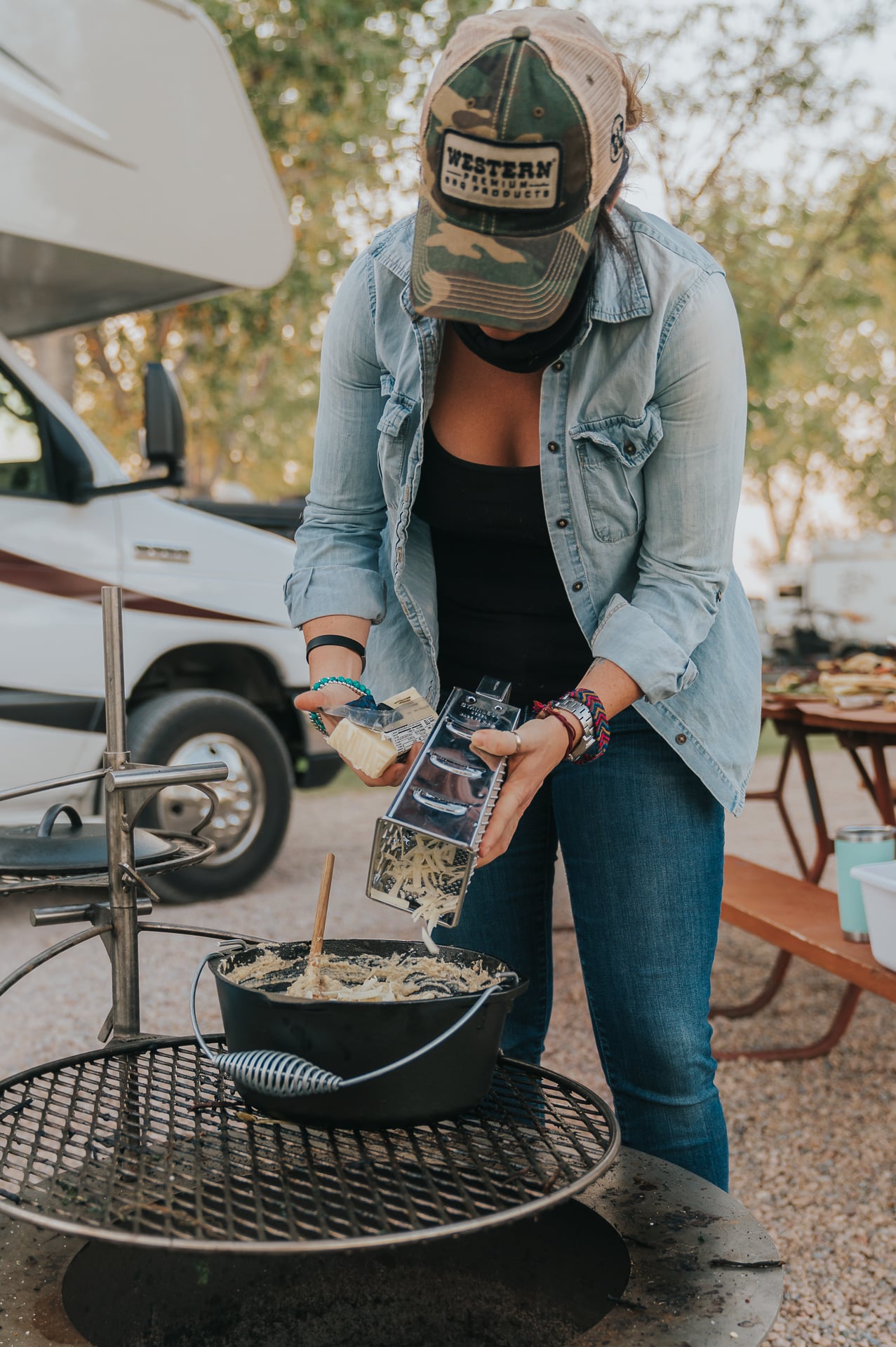 How to Make Dutch Oven Mac and Cheese
If you're making this campfire mac and cheese recipe, start with a good even heat campfire in the fire pit. Trying to cook over embers that aren't yet ready and are producing dark smoke can cause food to taste acidic and overly smoky. Wait until the embers have ashed over and there are no high flames before cooking.
Preheat the cast iron Dutch oven above the campfire on the cooler side of the grill grate, melt the butter, and whisk in the flour to make a roux.
Add in the milk to create the base, making sure to whisk the entire time as the roux thickens without forming any clumps.
Add in the salt, pepper, and seasonings and whisk to combine.
Fold in the pasta to coat it and then start adding the cheese, a little at a time to melt, alternating with the beer to thin out, adding more or less beer for a thinner or thicker consistency.
Allow all of the cheese to melt, and remove the Dutch oven from heat.
The Dutch oven will hold the heat, keeping everything warm while serving.
Because we use umami power and espresso, we gave this recipe the nickname, "dirty mac" around our campfire.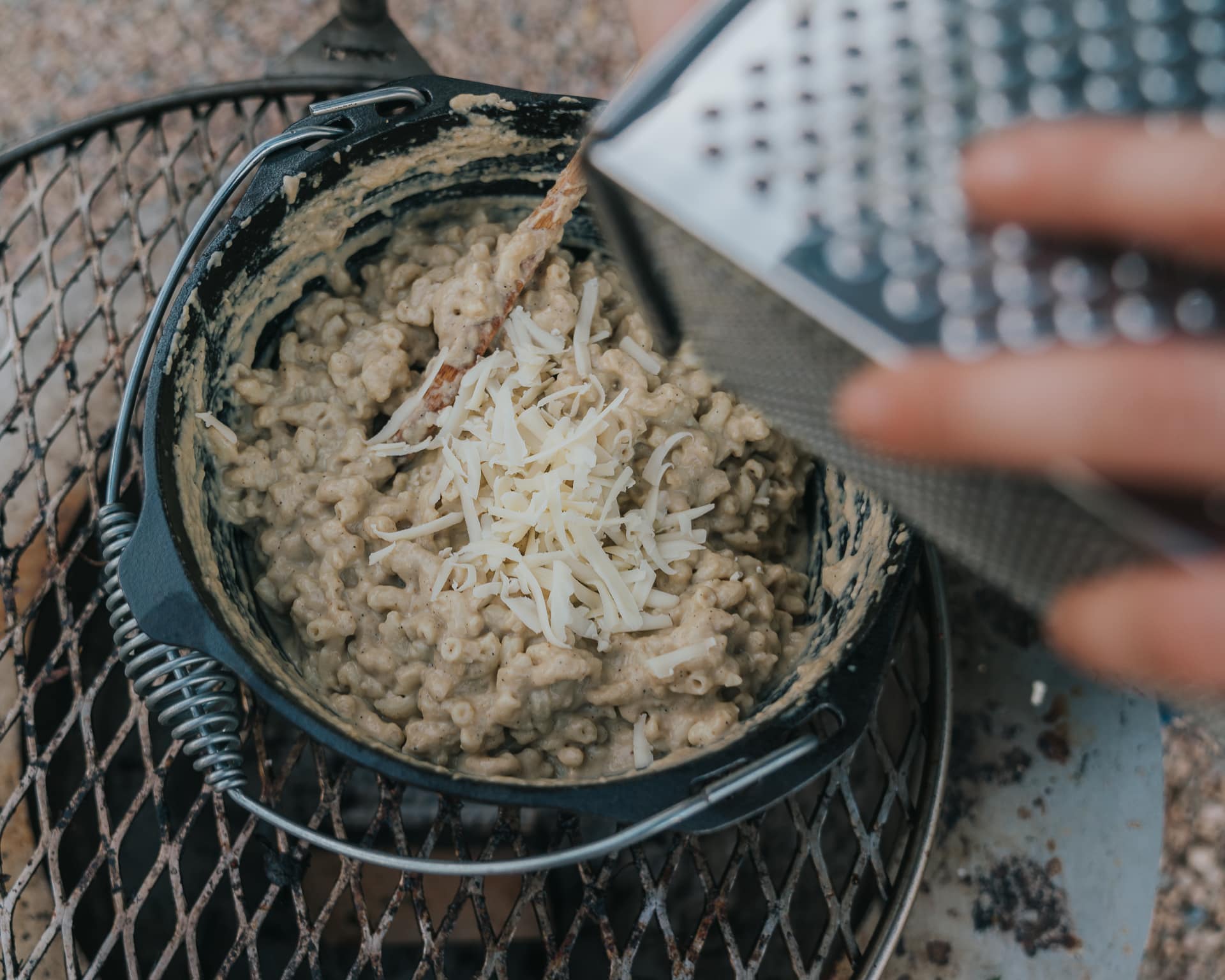 Girl Carnivore Expert Recipe Tips
Don't let the pasta sit in the Dutch oven over the campfire or directly without stirring, as it can burn and stick to the bottom of the pan.
Shortcut your cooking time by boiling the pasta ahead of time. Boil it to al dente according to the package directions. Toss it with a touch of oil to prevent sticking, let the pasta cool once drained, and then store it in a ziplock bag in the fridge or cooler until ready. It can be made up to 3 days in advance.
Pre-shredded cheese vs. shredding it yourself. We love shredding our own cheese and feel it melts better, but for a quick camp recipe hack, buy pre-shredded and use it. Or, before you leave for the trip, shred the cheese, and store it in a resealable bag to make this recipe easier and less clean up.
Use whatever different types of cheese you like for the cheesy sauce. But make sure a good melting cheese, like pepper jack, fontina, or mozzarella cheese, is in there to coat the pasta along with bold flavors. We even love Velveeta in our mac and cheese. Whatever you do, don't skimp. This is stick-to-your-ribs ultimate comfort food.
Skip the roux and use cream cheese over the pasta on lower heat with added milk to create the cheese sauce base. Fold in the shredded cheese once the cream cheese is melted and the sauce is made.
To make this creamy mac kid-friendly, skip the mushroom powder and simply season the roux with garlic and onion powder. The alcohol in the beer cooks out, but if you want a milder flavor, use chicken broth.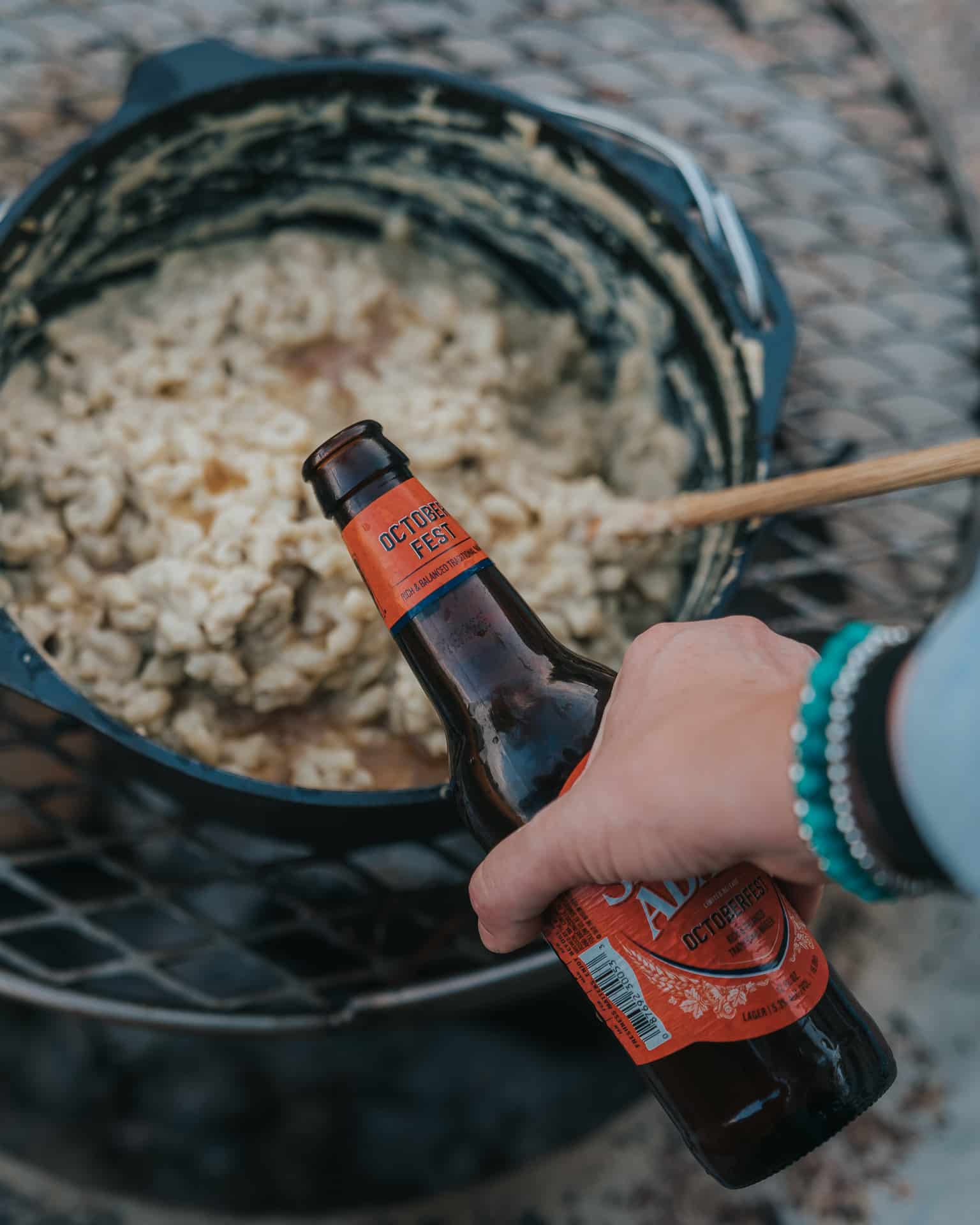 What to Serve With Dutch Oven Mac and Cheese
This dish is hearty enough on its own, but we love pairing it with an easily grilled Kansas City strip steak or grilled bavette steak; it's also great with Traeger 3-2-1, smoked meatloaf, or smoked chicken thighs. For side dishes, it's great with a fresh salad, smoked brussels sprouts, and roasted cabbage.
Leftovers
Store leftovers in an airtight container in the fridge or a cooler on ice for up to 3 days.
This mac and cheese can be frozen and stored for up to 3 months. Store in smaller containers to make reheating single portions easy, or store in one large container to reheat and feed a family!
Use up leftovers creatively by trying this bacon-wrapped smoked fatty, a smoked sausage log with this as the filling. Or, making fun deep-fried mac and cheese (which is another great Dutch oven recipe)!
Reheating
Reheat individual portions, as needed, in small bursts in the microwave with a splash of milk or water.
If reheating over the campfire, return the macaroni and cheese to the Dutch oven with a splash of water, a tablespoon or two of butter, beer, or milk, stirring as needed, until heated through.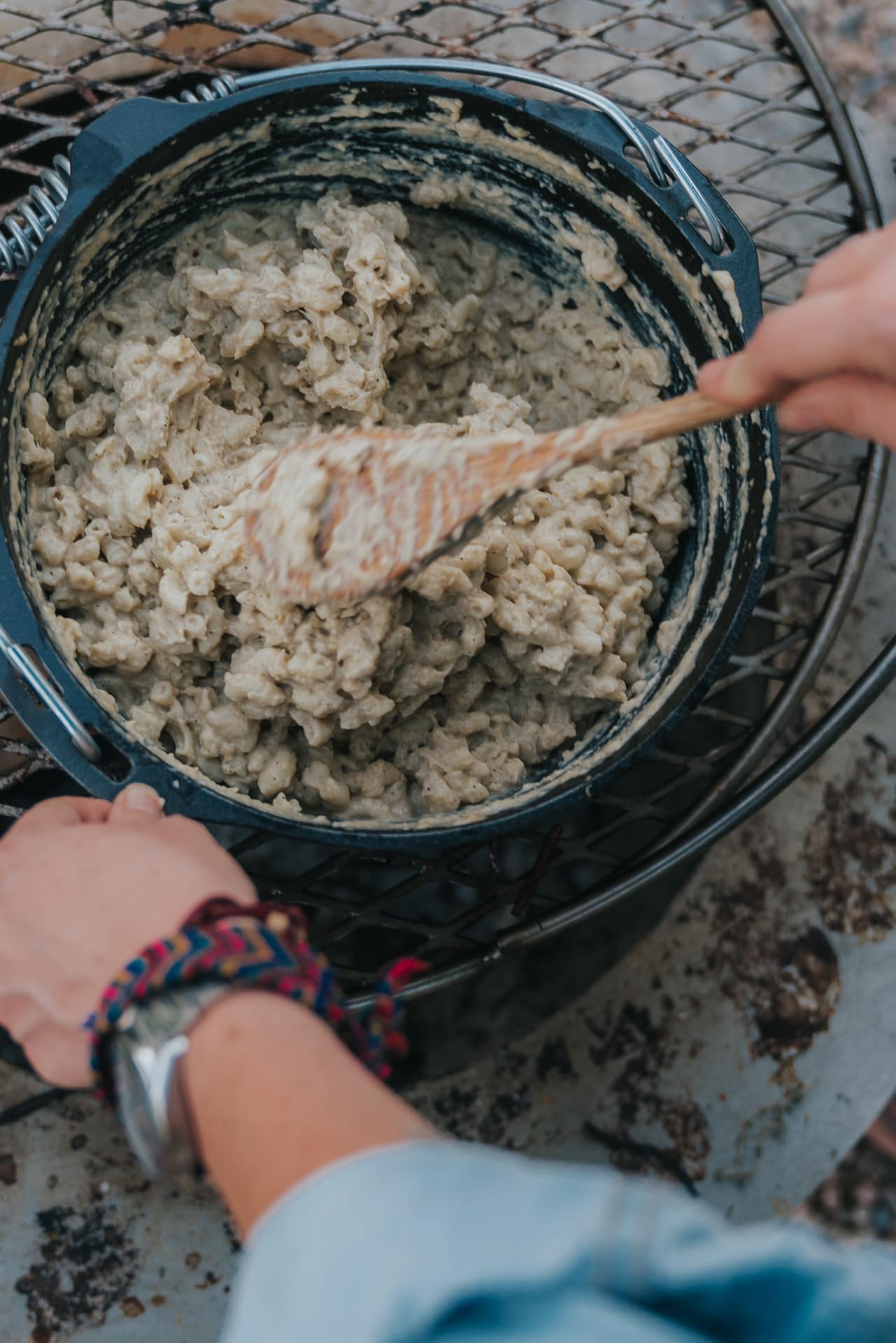 Recipe FAQs
​What add-ins pair well with this recipe?
– Mushrooms – use a blend of chopped sauteed portabellas, baby bellas, and your other favorites to add more 'meatiness' to this recipe
– Bacon
– Cooked Sausage or ground sausage
– Hot dogs (don't judge)
– Spinach or arugula
– Chopped chicken
– Minced jalapenos
– Pulled pork
– Leftover steak, shredded beef, or prime rib cut up.
Can I make this Dutch oven recipe ahead of time?
Absolutely! Simply follow the directions to cook on the stovetop and reheat as desired. This cast iron mac and cheese can be made up to 3 days ahead.
Can I bake this camping Mac and Cheese in the oven?
Yes, you can bake this cheesy macaroni in the oven. To do that, we recommend using a cast iron skillet for baking the dish for an even crust on the golden brown top layer. Alternatively, you could make smoked mac and cheese in a cast iron skillet and get that smoky flavor! If the top is browning too quickly, simply cover it with tin foil and cook until the sauce is bubbling.
Can I make this Dutch Oven Macaroni and Cheese on the stovetop?
Sure thing; if you are using a gas range, make this as directed above on the stovetop. If using an electric range, we advise only using pots and pans recommended by the manufacturer.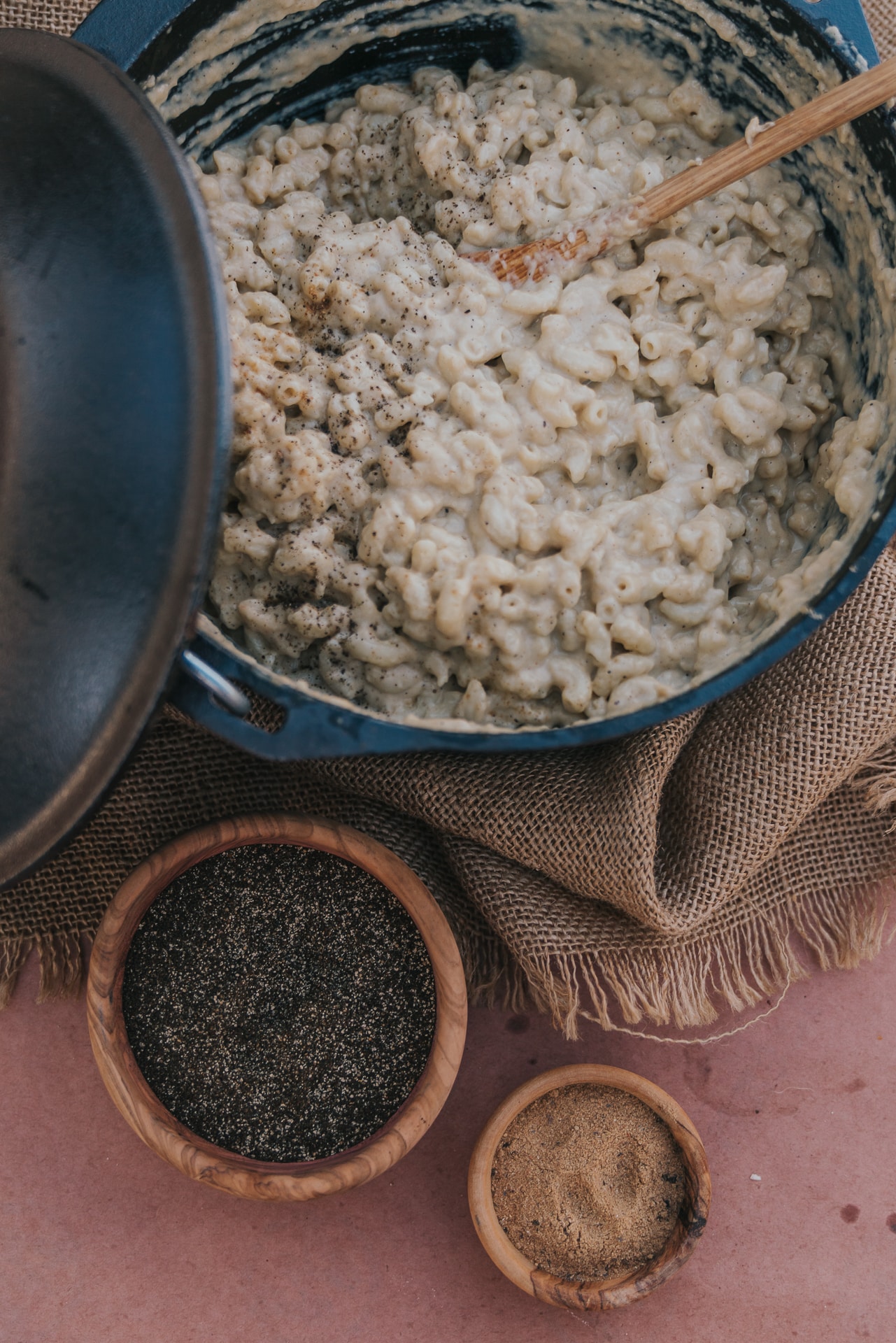 Whether you're looking for easy camping dinners that are low effort but packed with flavor or just want to spice up your weeknight dinners, this Dutch Oven Mac and Cheese will hit the spot! Loaded with deep, earthy flavors, this easy Mac and Cheese recipe will become a new staple in your camping recipe repertoire. So, the next time you're out in the wilderness, cozied up to the fire, whip out this recipe and relish in creamy deliciousness! Also, please rate the recipe card and leave a comment below to help out the next reader!
Dutch Oven Mac and Cheese Recipe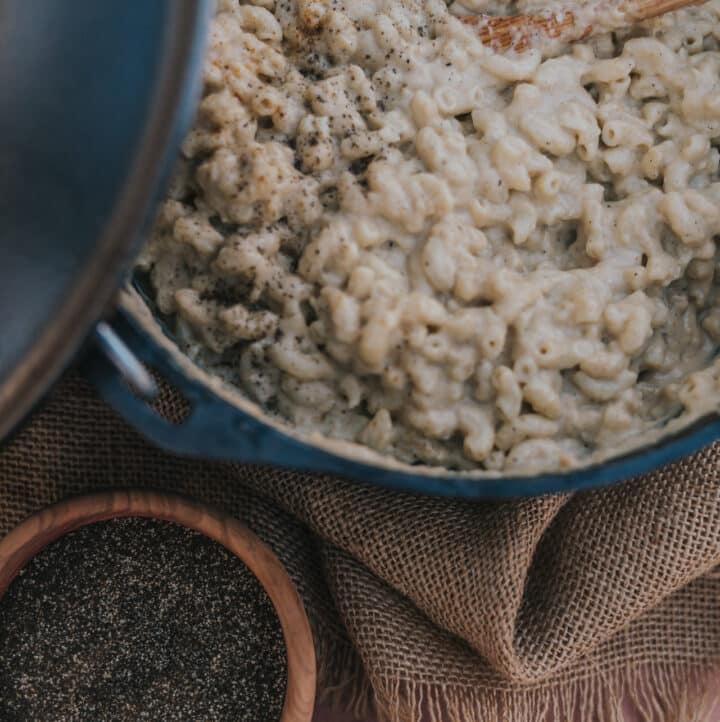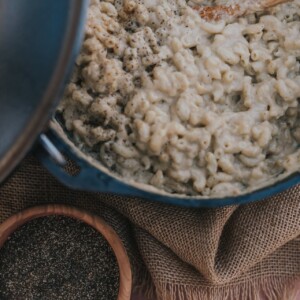 Dive into a bowl of velvety, cheesy goodness with our Dutch oven mac and cheese. The combination of tender pasta and a luscious cheese sauce is the ultimate comfort food. Get ready to indulge in a bowl of pure happiness.
Ingredients
2

tbsp

butter

2

tbsp

flour

1

cup

Milk

1

tbsp

umami powder

GirlCarnivore Ooomami

1

tbsp

espresso powder spice blend

we recommend Coffee Junkie

Kosher salt

Black pepper

8

cups

Pasta

pre-cooked to al dente

8

oz

sharp cheddar cheese

8

oz

smoked gruyere cheese

4

oz

provolone or monterey jack cheese

12

oz

beer

marzen of amber lager
Instructions
Preheat the Dutch Oven
Set a large dutch oven over the grill grate of a fire pit that has even burning embers that have preheated for cooking and allow to pot pre-heat.
Make the Sauce
Melt the butter in the Dutch oven and whisk in the flour; stirring to form a roux.

2 tbsp butter,

2 tbsp flour

Slowely, while whisking constantly, pour in the milk. Let the mixture thicken, about 3 to 5 minutes, while whisking over low to medium low heat.

Season with the umami powder, espresso power, salt and pepper; stir to combine.

1 tbsp umami powder,

1 tbsp espresso powder spice blend,

Kosher salt,

Black pepper

Fold in the pasta and toss to coat.
Fold in the cheese
Start adding in the cheese, a little at a time, alternating with the beer. Allow the cheese to melt and sauce to thicken between each addition.

8 oz sharp cheddar cheese,

8 oz smoked gruyere cheese,

4 oz provolone or monterey jack cheese

Add beer a little at a time to thin out the sauce.
Serve
Carefully remove the Dutch oven from the heat and allow the homemade mac and cheese to cool 5 minutes before dishing out.
Notes
When cooking over a campfire, don't hesitate to move the Dutch oven as needed. Cast iron holds a lot of heat, and it's easy for it to become too hot if left over direct heat.
To make on a stovetop, consult the manufacturer's suggestions for types of pots and pans to use. Cook over medium to medium low heat.
To make in an oven or smoker, preheat the oven to 350 to bake. We recommend using a large cast iron skillet or baking dish if baking in an oven.
See the list of suggestions above for additional flavor boosters to fold into this recipe to make it a full meal.
Nutrition
Serving:
1
g
|
Calories:
448
kcal
|
Carbohydrates:
40
g
|
Protein:
22
g
|
Fat:
21
g
|
Saturated Fat:
12
g
|
Polyunsaturated Fat:
1
g
|
Monounsaturated Fat:
5
g
|
Trans Fat:
0.1
g
|
Cholesterol:
61
mg
|
Sodium:
416
mg
|
Potassium:
204
mg
|
Fiber:
2
g
|
Sugar:
2
g
|
Vitamin A:
957
IU
|
Vitamin C:
0.01
mg
|
Calcium:
490
mg
|
Iron:
1
mg