This smoked bacon-wrapped pork tenderloin is an easy meal with simple ingredients perfect for a showstopping dinner party and quick enough to whip up on the regular as a family favorite. Smoky bacon wrapped around lean and juicy pork with a hint of tangy heat from barbecue sauce and classic grilled flavors makes this one that gets devoured every time.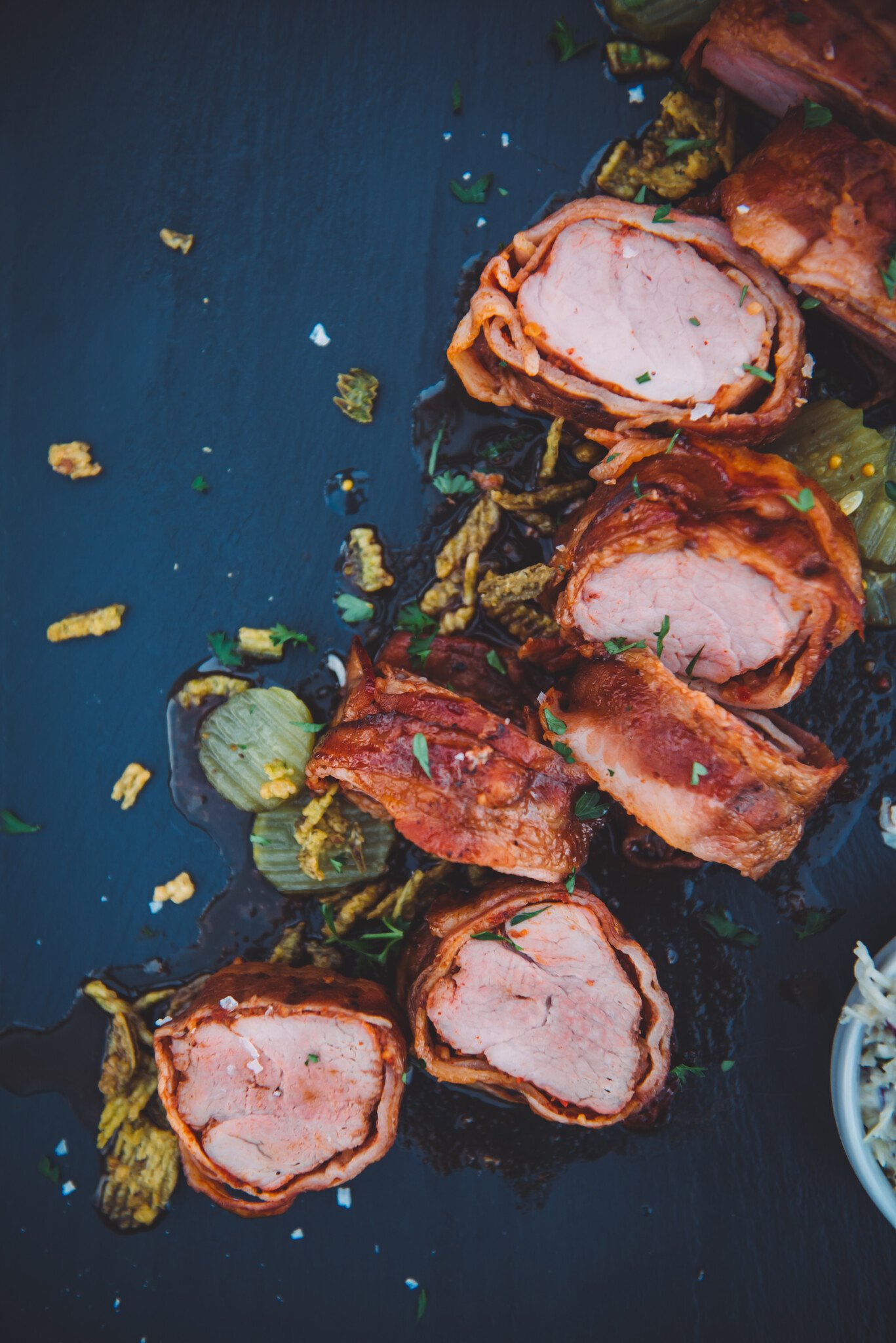 This is a smoked pork tenderloin recipe to knock it out of the park. It's quick and simple to make (only 5 ingredients). But also a show stopper loaded with sweet heat and classic bbq flavor. It's the best way to put this tender cut of meat on the table. It's perfect for a barrel smoker, kettle grill, or right over the firepit using a grill grate, or even in a pellet smoker. For nights when you really want to grill for dinner instead of an oven roasted pork tenderloin.
The trick to the temp is getting the grill hot enough to gently infuse flavor without burning the bacon and leaving the meat inside raw. Low and slow is key here.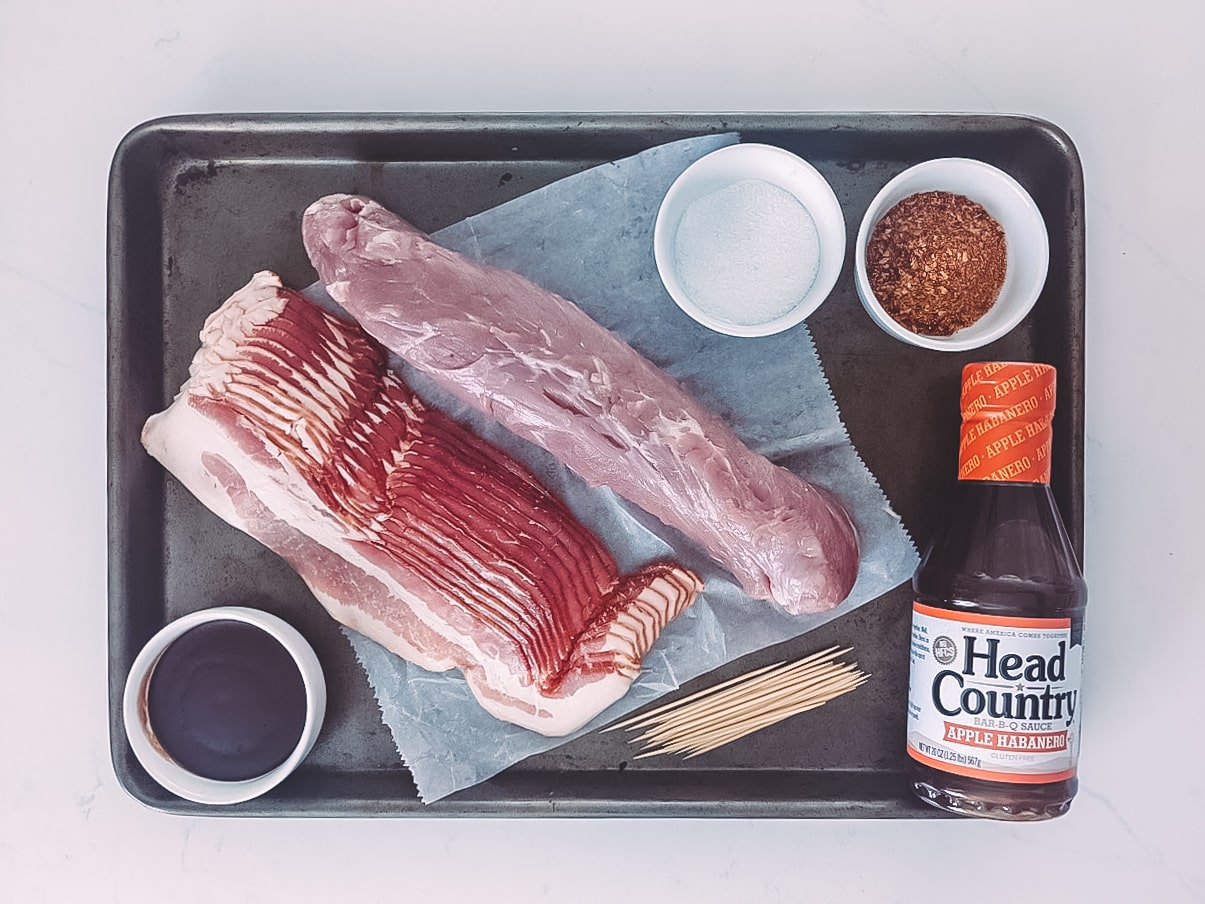 What you need for smoked bacon-wrapped pork tenderloin
1 pork tenderloin – see notes about pork tenderloin vs pork loin below, serving size and more .
Salt – PK is low on salt, so we round it out with regular kosher salt
GirlsCanGrill PK Pork Rub – or your favorite BBQ spice mixture
Head Country BBQ Sauce – we went with apple habanero for this one to add a kick to balance out the sugar in the PK spice rub.
Bacon – use regular bacon here. A thick cut can take too long to cook and never crisp up and thin bacon won't hold up.
Toothpicks – Essential, or the bacon can roll off as you flip the tenderloin while it's in the grill. Alternatively, kitchen twine works to hold the bacon on, but I find toothpicks easy for this one.
How to make
Build a 2 zone fire in your grill for indirect cooking. Set your grill for a temp of 225 to 250.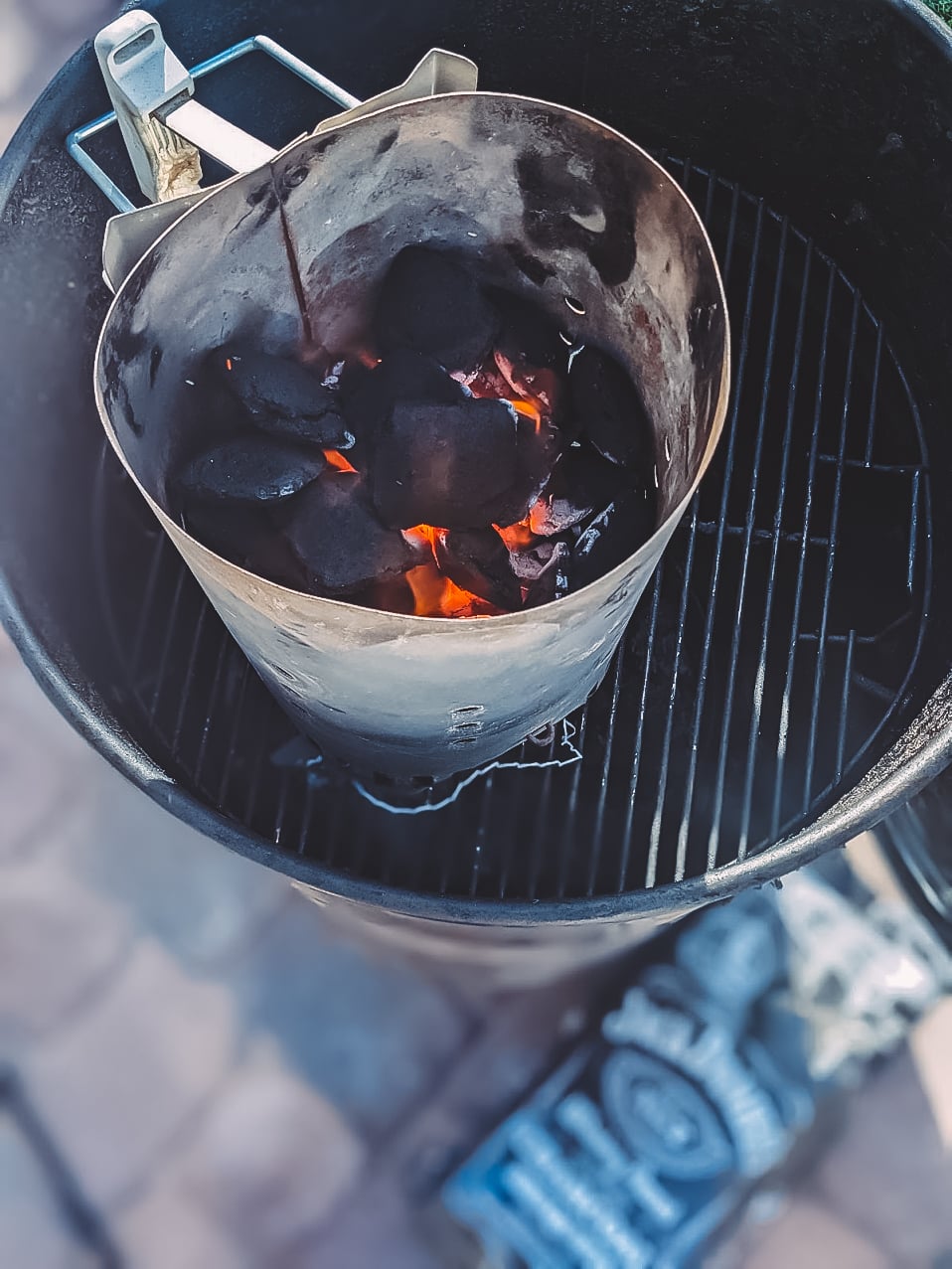 Start by trimming your pork tenderloin (truth, for years I didn't know you needed to trim these). There's a membrane, a thin silver skin that you want to remove. Use a sharp knife to peel it off. Also, take this tim to trim the pork evenly. Often one side is bigger than the other, for even cooking, I trim them equally.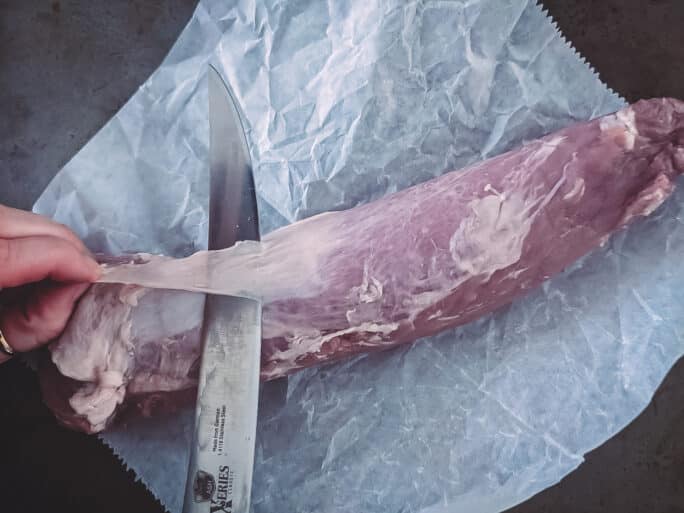 Arrange the strips of bacon on a clean work surface in rows, barely overlapping one another, to form a 10 – 12″ long rectangle. Just long enough to cover the meat edge to edge once rolled.
Next, place the tenderloin in the center of the bacon and season with salt and PK pork rub, rolling the tenderloin back and forth to coat each size.
Then, brush with a thin coating of the Head Country bbq sauce.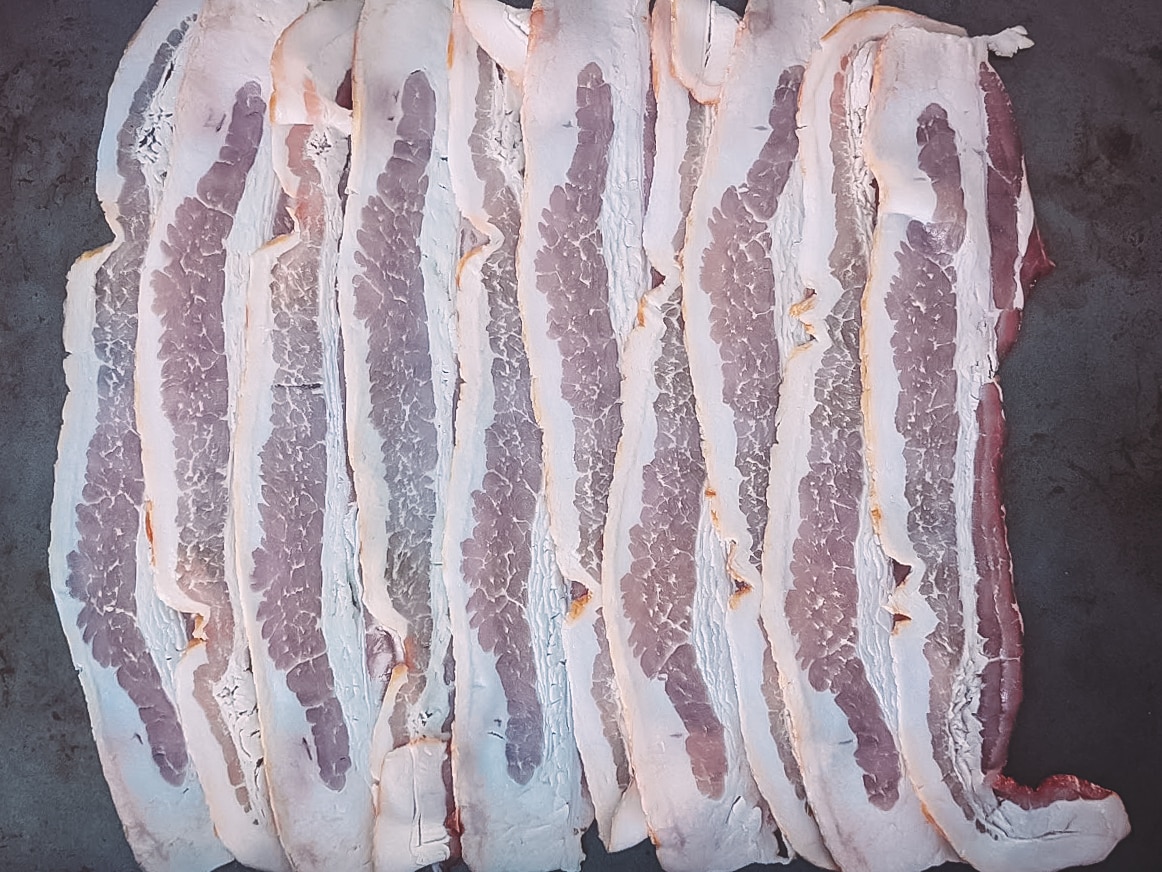 Wrap the bacon slices securely around the pork, staring with the thin edge of bacon strip, covered by the thicker end. I do this at an angle, almost weaving that bacon to help it stay on as the bacon cooks
Secure the bacon with toothpicks or kitchen twine.
Then, place the bacon-wrapped tenderloin on the cooler side of the grill (the indirect heat zone).
Grill, rotating every 30 or so minutes to help the bacon cook evenly until the internal temperature reaches 140F. With a grill set to 225 to 250F, a pork tenderloin will take about 2 1/2 to 3 hours to cook. Cooking time will vary from grill to grill.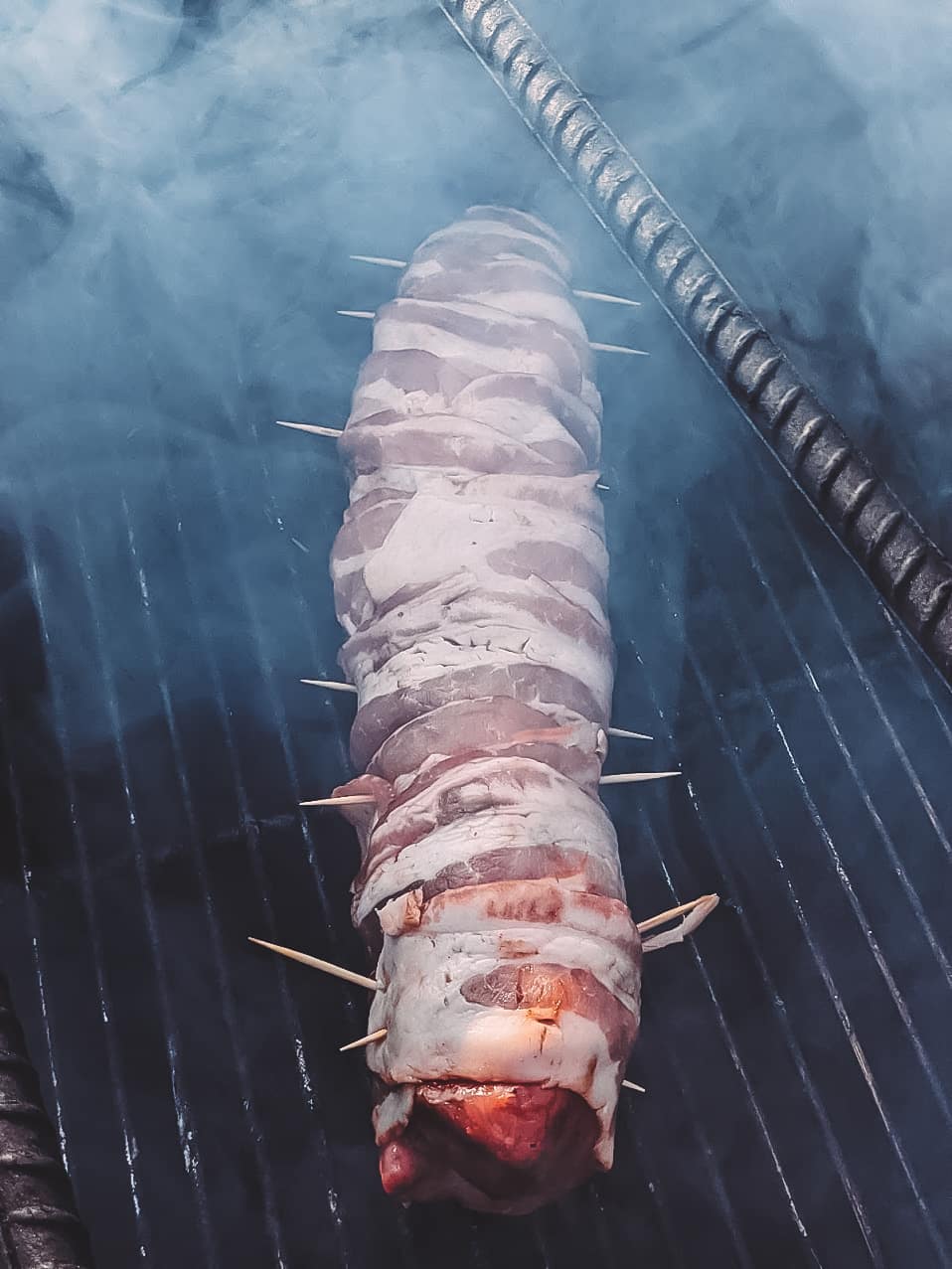 After 1 hour, baste with barbecue sauce, flip the tenderloin with tongs and baste the other side. Flip as needed to make sure the bacon is cooking evenly.
Finally, about 10 minutes before the tenderloin is done, baste all sides with a final coating of bbq sauce and adjust the grill to increase the temperature.
At the end, if the bacon isn't crispy enough, place the meat on the hotter side of the grill, and sear it to your liking.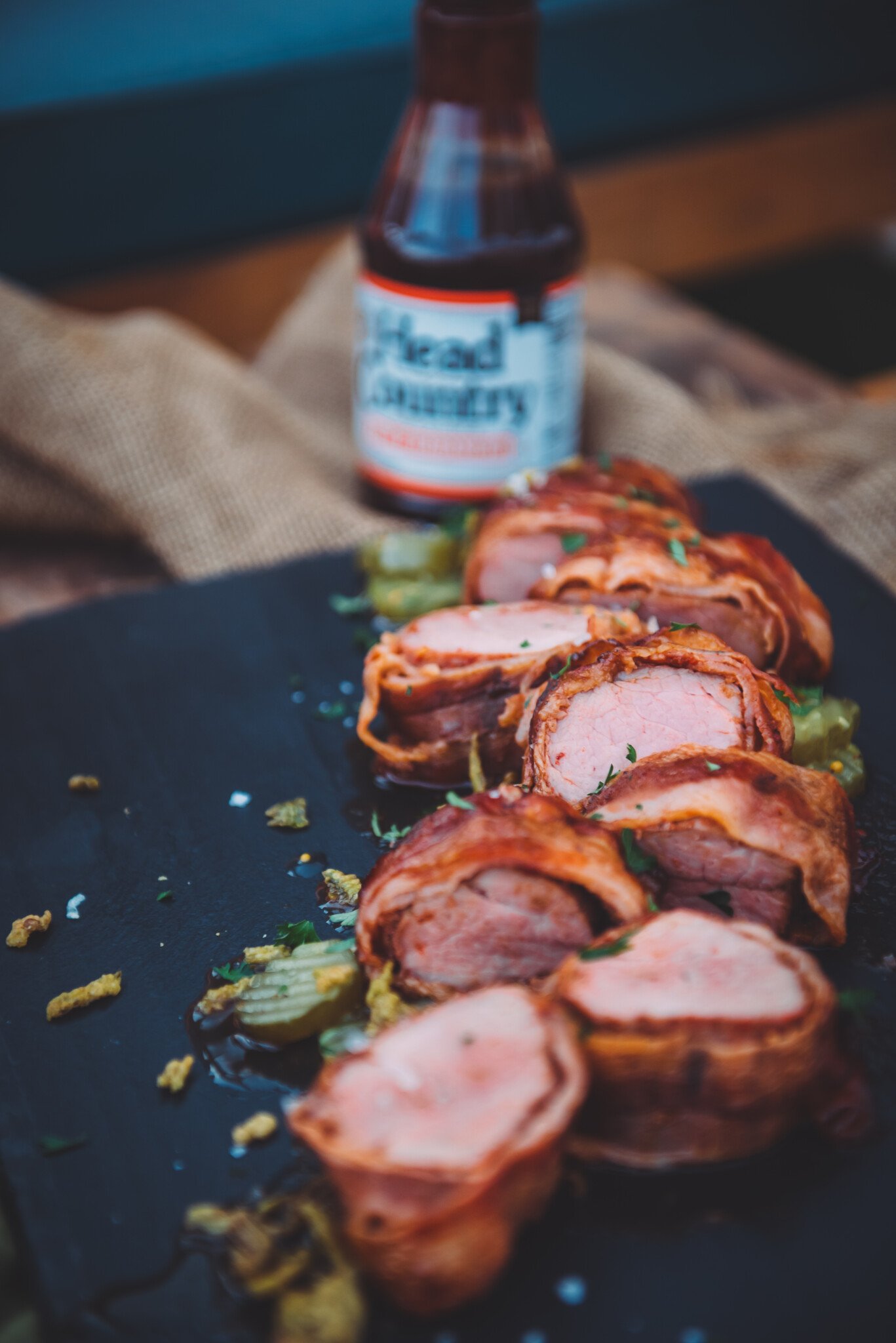 Pork tenderloin vs pork loin?
Pork tenderloin and pork loin are in words alone pretty easy to get mixed up. And if I were cruising through the meat department just trying to get home, it would be easy to think a pork loin was a tenderloin. Why split hairs, right?
Except, pork loin and pork tenderloin aren't the same cuts of meat at all. Think of it just like a prime rib and a beef tenderloin. Both are incredibly full of flavor, both very very different.
The loin is a large cut that is often sold as a roast (bone-in or boneless) or broken into other cuts.
The tenderloin is a small lean cut of meat, boneless, that is incredibly tender due to how minimally the muscle is used. Pork tenderloin can be found in most markets, coming in at about 1 to 1.5 pounds sold individually or in double packs.
The easy trick to telling them apart (making sure you're buying exactly what you need) one is a big roast, the other isn't. Go for the little one.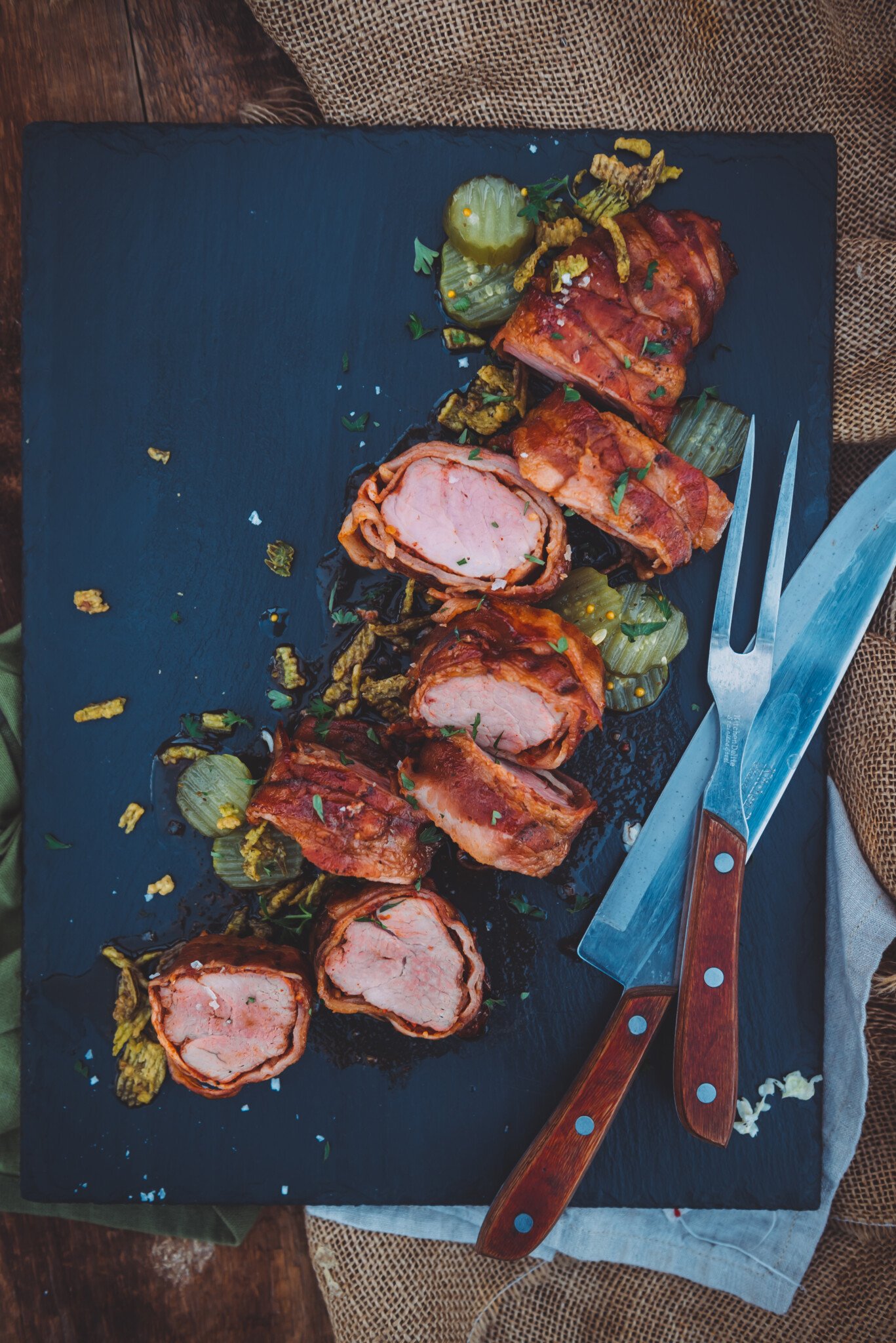 How to buy a pork tenderloin
A serving of pork is 3oz per person. A pork tenderloin usually comes in at around a pound to a pound and a half.
Assume that one pork tenderloin can feed 2 to 3 people. Generally, I'm guessing you know who's gunna eat more or less. Grab an extra tenderloin if needed, the leftovers are amazing!
Pork tenderloin is sold in individual packs or sometimes as a 2 pack. It can be hard to tell because they are vacuum-packed. If the weight is more towards 2 – 2.5 pounds, it's a two-pack.
Pork tenderloin also comes pre-seasoned by some companies, and where those are fantastic on busy nights. But, for this recipe, you want to make sure you're buying an unseasoned one.
Recipe Tips Tricks & FAQs
Weave the bacon
If you really wanted to dress things up, you could make a bacon weave like I show on my bacon-wrapped bbq fatty and wrap the tenderloin in that.
Can you make this in cast iron?
This dish could be made in a cast-iron skillet on the grill, and honestly, it would make rotating it easier (toothpicks and grill grates are tricky. But, use caution because the bacon will crisp up much faster and the meat will cook faster, which could cause it to dry out. If you're going to use a skillet, just keep a very careful eye on it.
What temperature do you smoke a bacon-wrapped pork tenderloin at?
225 – 250 degrees F. This allows a gentle flavor from the charcoal to permeate the meat while also cooking it. No wood was added to this cook as it would be too aggressive for the bacon and pork.
How long does it take to smoke at 250F?
It will take about 2 1/2 to 3 hours or until your meat reaches
Use a meat thermometer
For best results, use a meat thermometer to check the temperature of the meat. Pork is safe to eat at 145F but since this is wrapped in bacon, you will have no way of visually seeing if it's done or not. An instant-read food thermometer is essential.

Pork cooked to 145 degrees F and rested can be a little pink still. That's ok. As long as it reached 145 it is safe to eat. That's right. Pink pork is safe at 145F!
Tough Meat?
Cooking on too hot a grill too fast will cause the meat to dry out and become tough.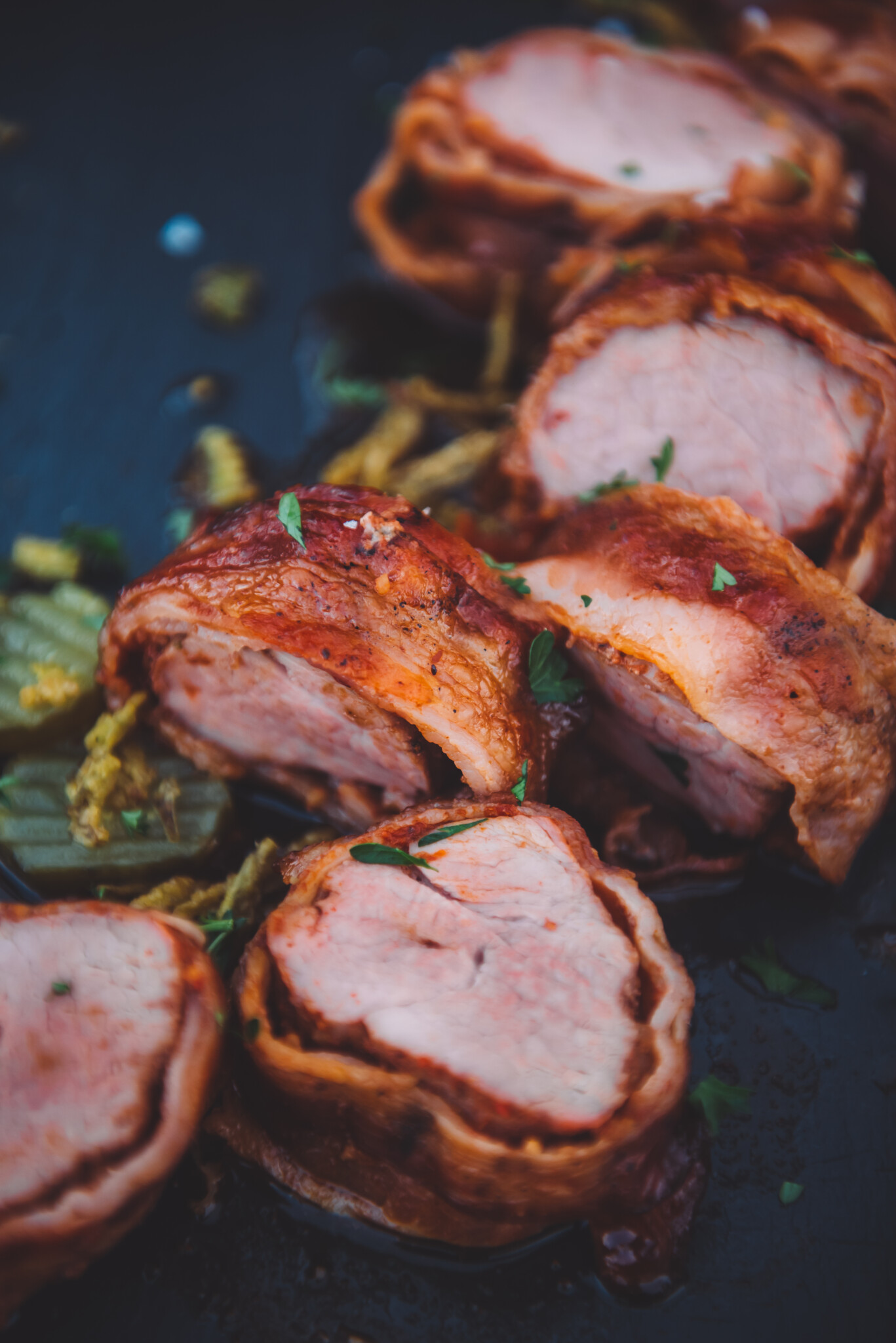 What goes with this smoked bacon-wrapped pork tenderloin?
Who cares? It's a smoky bacon-wrapped pork tenderloin. It could seriously be its own dish. But, since it would be weird just to sit around eating meat, try serving it with coleslaw, cast iron green beans, crazy good smoked brussels sprouts, or a creamy smoked jalapeno mac and cheese.
More smoker recipes to try
Smoked Bacon-Wrapped Pork Tenderloin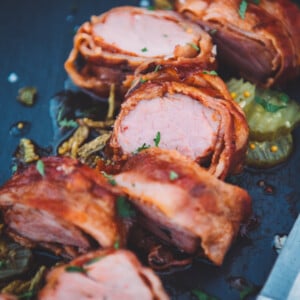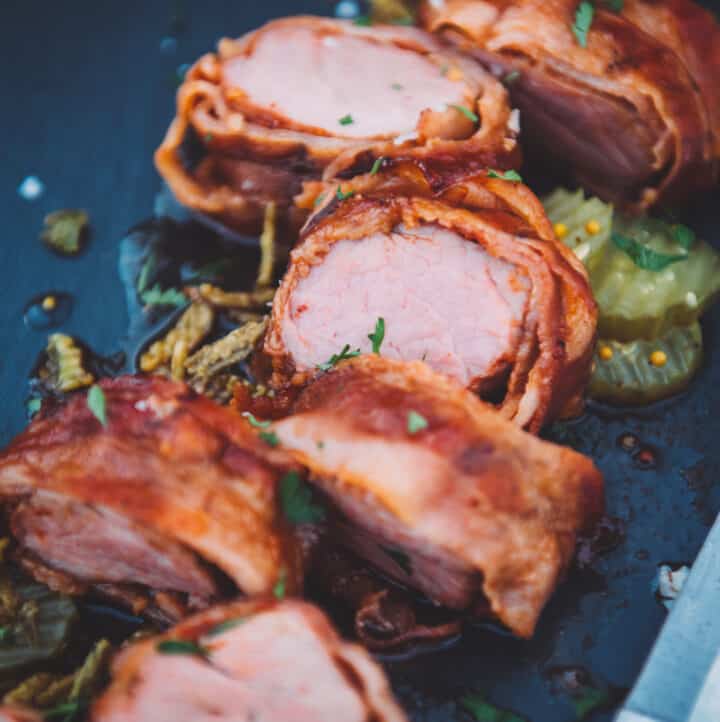 If bacon is the key to happiness, here's a quick formula. 5 ingredients plus one smoker and a little patience equals a savory dinner the whole family will love!
Instructions
Prep the Grill:
Build a 2 zone fire in your grill for indirect cooking. Prep the grill by arranging the coals on one side to create a 2-zone fire. Allow to the grill to come to and maintain 225 to 250.
Trim the pork
Remove the pork tenderloin from the package and pat dry.

Trim the silverskin from the tenderloin clean up and unnecessary fat pieces.
Wrap the pork in bacon
On a clean work surface, arrange the bacon in a single layer, with long edges barely overlapping. Make a 10 to 12" rectangle, long enough to go long edge to long edge of your tenderloin.

Place the tenderloin in the center of the bacon and season with salt and PK. Roll the pork tenderloin making sure to evenly coat all sides.

½ tsp Salt,

1 tbsp GirlsCanGrill PK Pork Rub

Brust all sides with a thin layer of Head Country BBQ sauce.

½ cup Head Country BBQ sauce

Carefully wrap the bacon slices around the tenderloin. Start with the last strip of bacon you placed down to make the rectangle.

Grab the thin edge of back and wrap it around the pork at an angle.

Repeat with the thicker edge overlapping the first. Layer the rest of the bacon strips on weaving them slightly over one another, tightly tucking the edges in until you reach the end.

Secure the bacon in place with toothpicks or kitchen twine.
Smoke the Pork
Place the bacon wrapped pork tenderloin on the cooler side of the grill and cover.

Grill for 1 hour. Check the tenderloin and baste with barbecue sauce.

½ cup Head Country BBQ sauce

Flip with grilling tongs and baste the other side.

Continue grilling for another 1 ½ to 2 hours until the pork temps at 140F, checking every 30 minutes to make sure the bacon isn't overcooking.

In the last 10 minutes of grilling, baste with barbecue sauce one final time.

½ cup Head Country BBQ sauce

If the bacon hasn't crisped enough, increase the heat on the grill and carefully sear the bacon.

Once the pork has temped at 140° F, and the bacon is as crisp as you would like, remove the pork tenderloin from the grill.
Rest
Allow the pork to rest for 5 minutes and the meat to come to 145° F.
Serve
Remove all the toothpicks before slicing and serving hot.

Add extra barbecue on the side if you want more kick for dipping!
Notes
Cut against the grain on a slight bias when slicing, careful not to rip the bacon off. 
Slice into 3/4″ to 1″ medallions.
Store leftovers wrapped securely in foil in the fridge for up to 3 days. 
Reheat leftovers in the oven preheated to 325 wrapped in foil for 10 minutes. 
You can smoke this on a classic kettle grill set for 2 zone grilling, pellet grill, traditional gas grill with wood chips, over a campfire wrapped in foil, or an offset smoker. Different grills, weather, and other factors will affect cook time. 
Always use a digital instant-read meat thermometer to check temperature. 
According to the USDA, pork tenderloin should be cooked to 145°

F. 
Nutrition
Serving:
1
g
|
Calories:
755
kcal
|
Carbohydrates:
22
g
|
Protein:
59
g
|
Fat:
46
g
|
Saturated Fat:
15
g
|
Polyunsaturated Fat:
7
g
|
Monounsaturated Fat:
20
g
|
Trans Fat:
1
g
|
Cholesterol:
210
mg
|
Sodium:
1622
mg
|
Potassium:
1202
mg
|
Fiber:
1
g
|
Sugar:
16
g
|
Vitamin A:
151
IU
|
Vitamin C:
1
mg
|
Calcium:
48
mg
|
Iron:
3
mg