Meaty, juicy, and flavorful, there are few things as easy and delicious as Smoked Chicken Thighs. Pass the napkins because this is a roll-up-your-sleeves and dig-in kind of meal!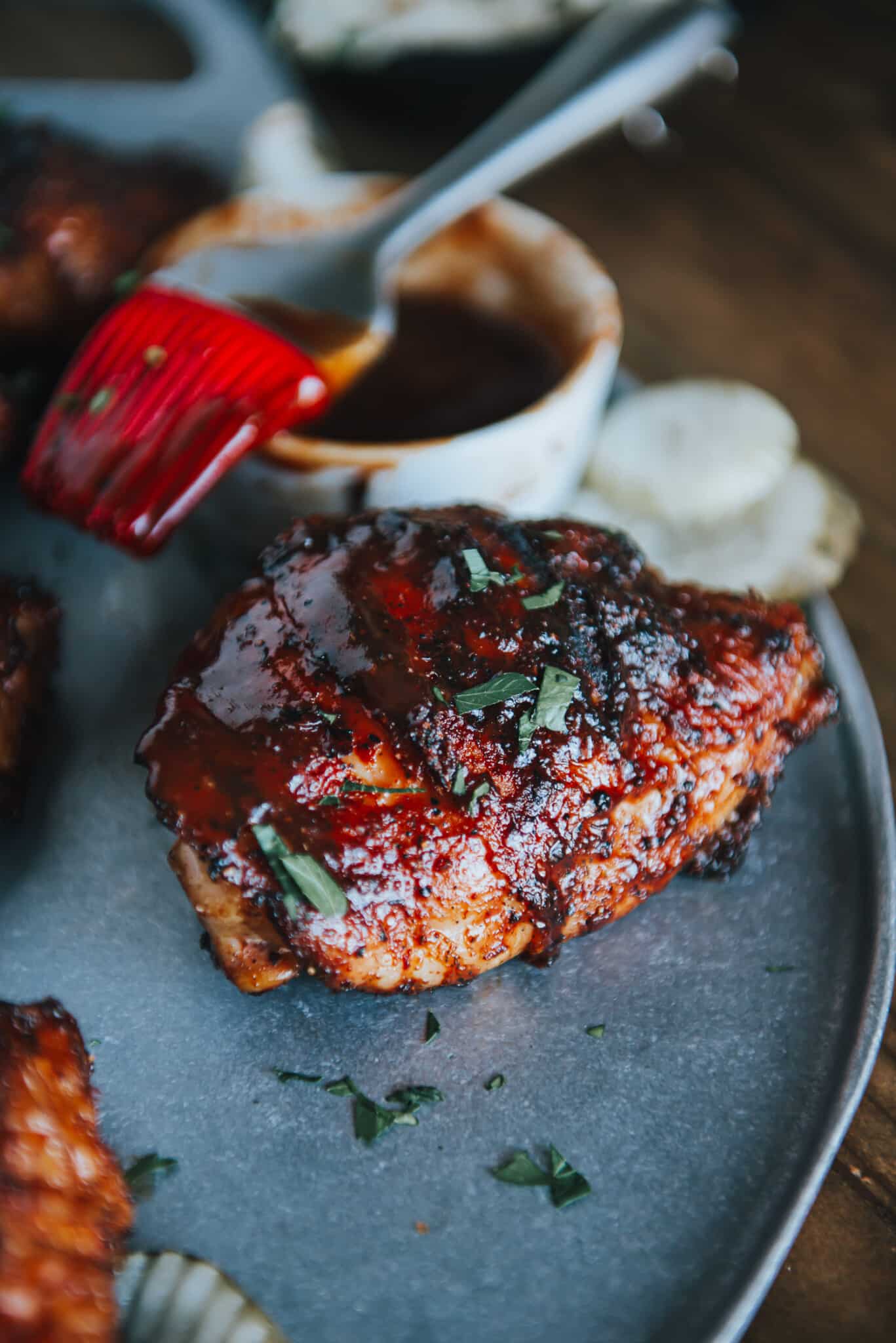 Everybody loves a good chicken recipe, and once your family and friends get a taste of these smoky and delicious chicken thighs, they'll think you're some kind of wizard smoker!
There's no magic involved in making these saucy and meaty thighs. Just a bit of Traeger know-how, good quality ingredients, and a little bit of time because you can't rush a good smoke.
Smoking chicken thighs is so easy – you'll master this dish in no time! And then you can try our smoked beer can chicken!
We love our pellet smoker. We love how easy it is to set and hold a specific temperature, and with various pellets out there, we can mix and match meats and smoker recipes to get the perfect flavor combinations.
Deep pellet flavor is more important in long smokes as more of the smoke flavor penetrates the food, but you'll still get plenty of smoky goodness even in shorter cooking thighs or whole smoked chicken. Plus, we have some tips below on how we always amp up the flavor on our pellet grill.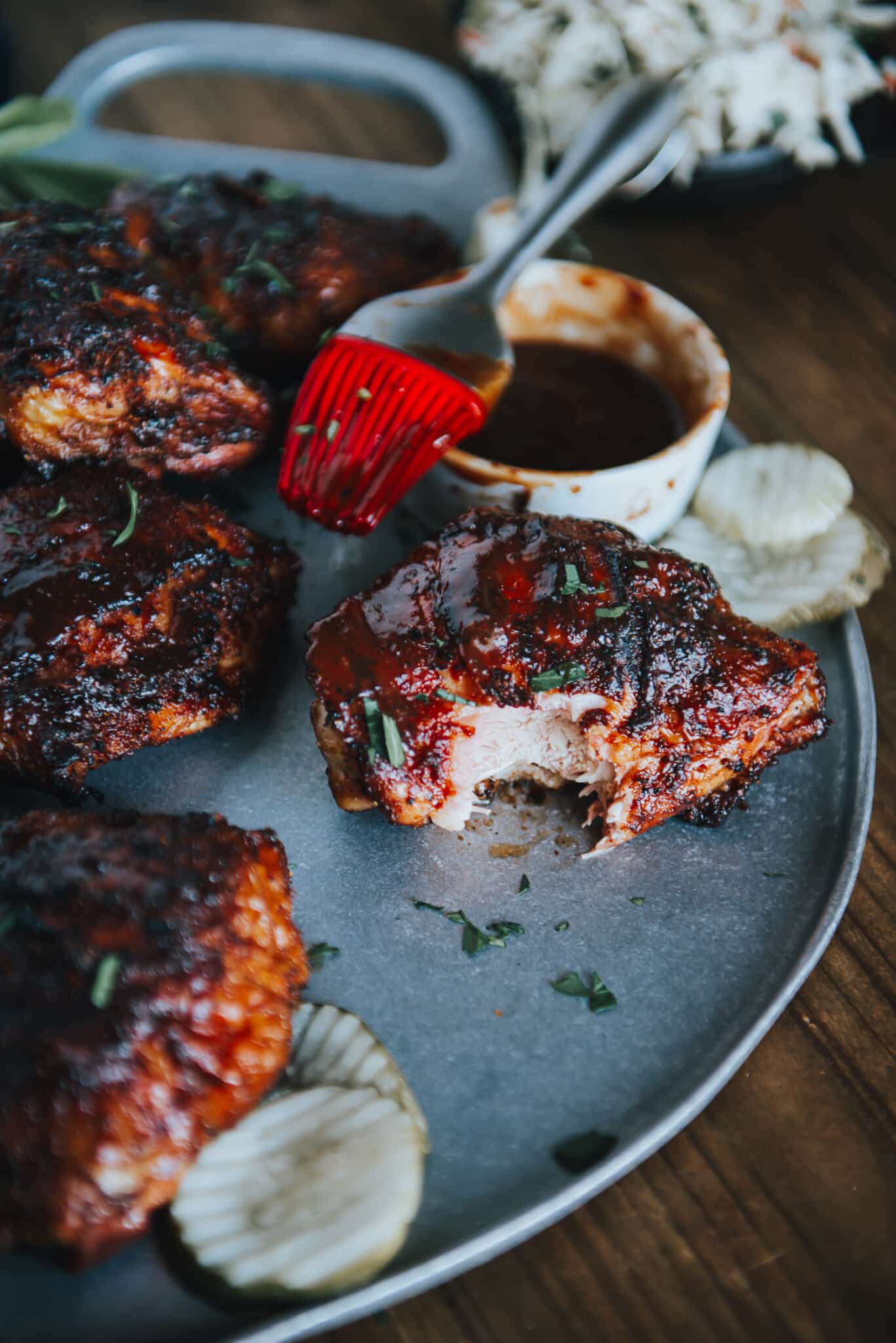 What Are The Best Pellets For Smoking Bone-In Chicken Thighs?
This is a fairly quick smoked chicken thighs recipe as smoking goes, so you don't need to bust out your prized pellets. We love using a good hardwood blend for smoking these chicken thighs, and it imparts enough smoky flavor into the thighs without being overwhelming. We always have a bag of hardwood pellets on hand for making the best smoked chicken thighs or smoked chicken legs.
But lately, we have been playing with charcoal pellets to add richer flavor when we use our pellet smoker. Cowboy Charcoal makes a few varieties that we like, but Jack Daniel's pellets have been our current favorite.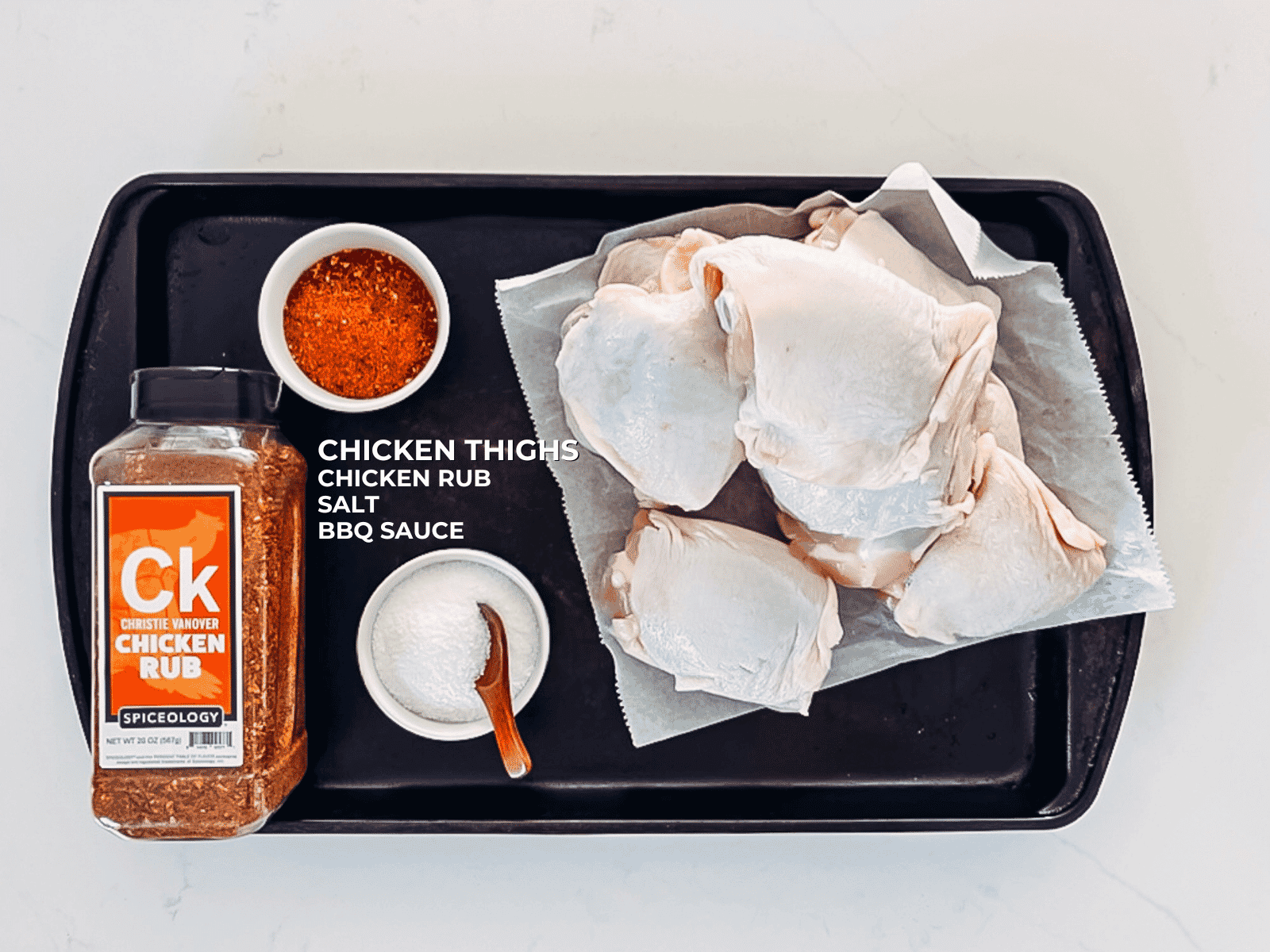 Ingredients
You don't need to worry about marinating these chicken thighs – they'll get oodles of flavor from the smoke and the combination of rub and sauce!
Chicken thighs – Bone-in, skin-on thighs.
Kosher Salt
Chicken Rub – we use GirlsCanGrill Chicken Rub, but your favorite bbq rub is fine. Alternatively, a blend of brown sugar, paprika, garlic powder, and a hint of chili powder works great too. We just love the ease of the chicken rub already mixed in the bottle.
BBQ sauce – Grab a bottle of your favorite BBQ sauce for this recipe.
How To Make The Best Traeger Smoked Chicken Thighs
Pat the chicken dry with a paper towel, then arrange them in a single layer on a wire rack over a baking sheet. Sprinkle the thighs liberally with salt and the chicken rub. Refrigerate the thighs for an hour before smoking.
Prep your electric smoker for 350 degrees F, as per the manufacturer's instructions. Clean and oil the grates.
Arrange the chicken on the cooler side of your grill, skin-side up. Close the lid.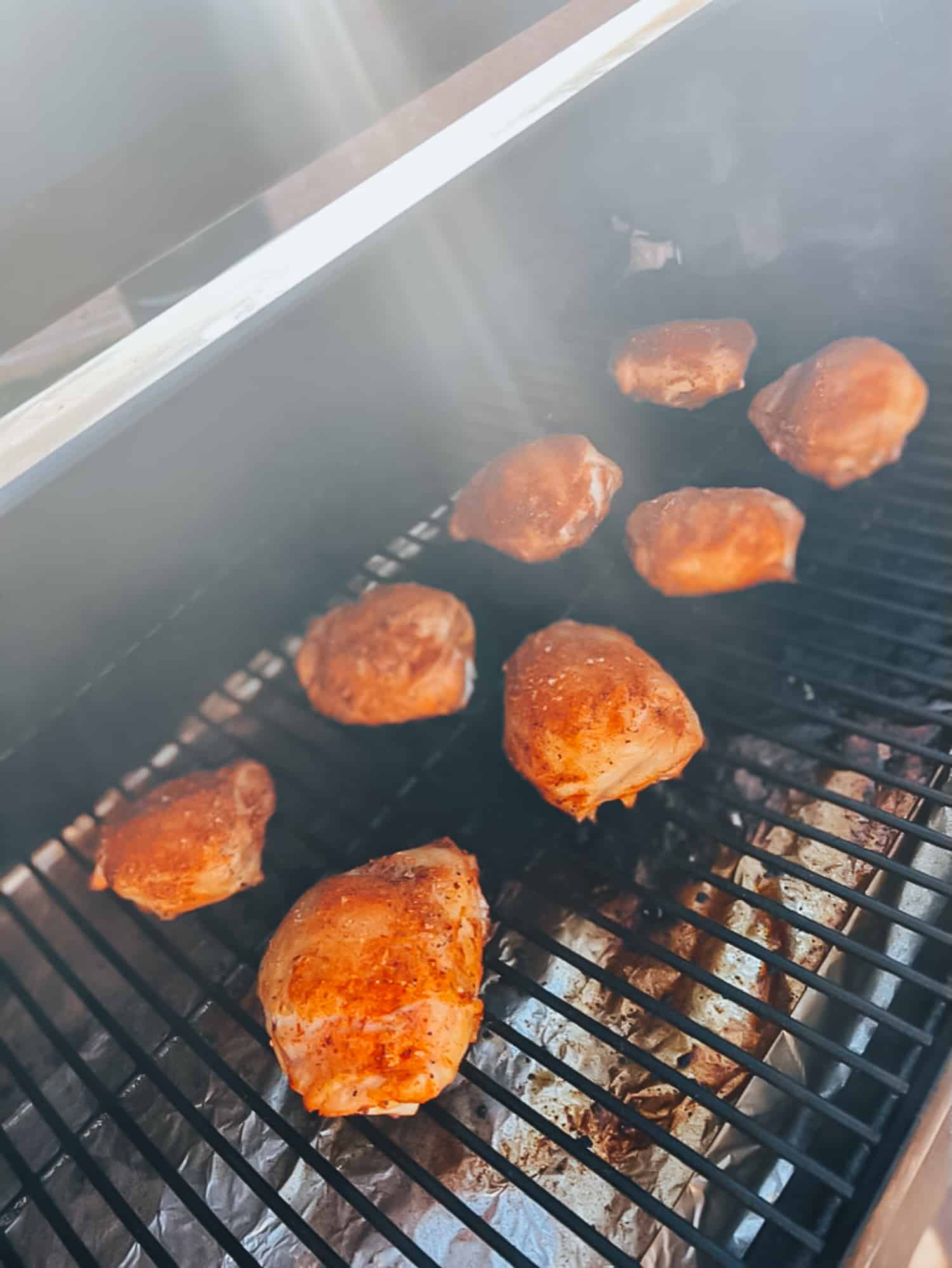 Smoke chicken thighs for 35-40 minutes, rotating them halfway through the cooking time so that all pieces are cooked evenly and cooked to an internal temperature of 180-190 F. Use a digital meat thermometer to get a precise reading.
Remove the chicken from the grill and increase the heat to sear. While the pellet grill is heating up, lightly brush the chicken in the bbq sauce.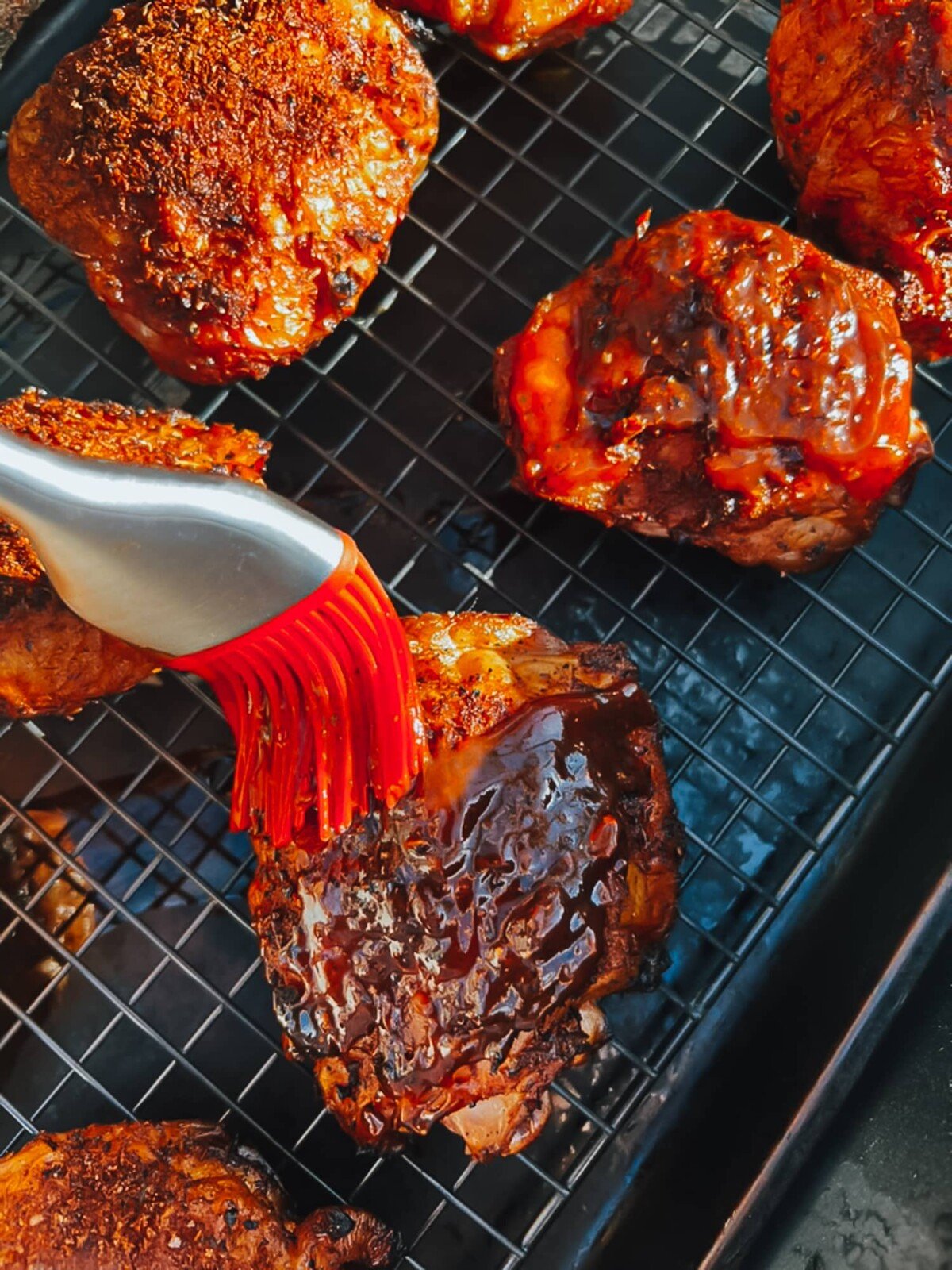 Working in batches, place the tender chicken thighs skin side down to sear, until lightly charred to get crispy skin. Flip the chicken and cook 2 to 3 minutes longer.
Remove from the grill and place on a platter tented with foil to rest for 5 minutes before serving.
Serve hot with additional bbq sauce if desired.
Girl Carnivore Expert Recipe Tips
How much chicken do you need to buy? That depends on how many people you're feeding – count on at least one chicken thigh per person. Count on two thighs per person if the thighs are smaller or you have big meat eaters joining you. These are delicious smoked chicken thighs, so make sure you have enough!
Turning the heat up to sear the skin is important to get crispy chicken skin.
Don't serve undercooked chicken! Use a good digital meat thermometer to ensure the chicken is thoroughly cooked.
Like it spicy? Add a pinch of cayenne pepper or chipotle pepper to the rub before adding it to the chicken.
What To Serve With Smoked Chicken Thighs
Got room on your pellet grill? Toss on some ground beef patties for hamburger salad to meal prep tomorrow. But for sides to serve with smoked chicken recipe, try this Smoked Potato Salad with your meal, or opt for Spicy Deviled Eggs, Smoked corn on the cob, and all your favorite sides.
Leftovers & Storage
Smoked Chicken Thighs can be kept in an airtight container in the fridge for 3-4 days. You can also freeze them by packaging them in a freezer-safe plastic bag or container. They'll keep in the freezer for a month. Leftover smoked chicken is great for sandwiches, chicken salad, nachos, and smoked chicken chilaquiles!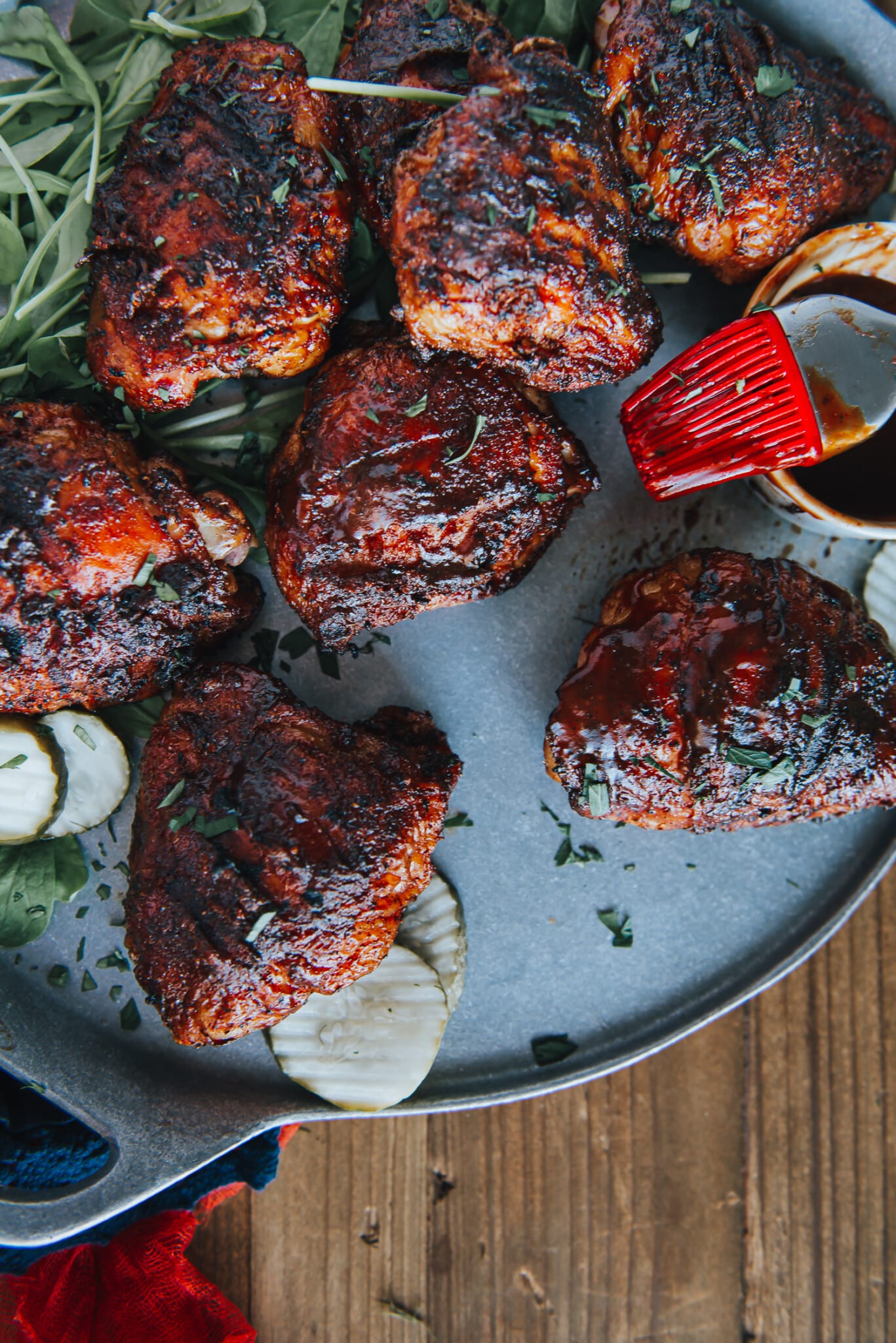 Frequently Asked Questions
What kind of sauce should I put on my Traeger chicken thighs?
The correct answer is: your favorite barbecue sauce! Seriously, any sauce will work. Go with something sweet, something spicy, something smoky, or your own homemade sauce. Chicken is a blank canvas and can take big and bold flavors!
What do I do if there are flare-ups?
The beauty of cooking with a Traeger pellet smoker is that there's no direct flame, so there should be no flare-ups. If you are using a grill where flare-ups can occur, keep water in a spray bottle nearby. With long tongs, move the chicken from the flame and spray the flame to extinguish it.
How do I get more smoke flavor into my smoked chicken?
You can use a smoke tube. This is a specially designed perforated tube that you fill with pellets and let smolder inside the Traeger grill. This will add even more smoke flavor to all your meats.
If you don't have a smoking tube, try a smoker box or foil packet filled with smoking wood chips.
Or, you can add wood chunks directly to your pellet grill grates. We add wood chunks to the far-back corners of our Traeger pellet grill for extra flavor. Not sure which flavor to use? Check out our smoking wood pairing guide.
Can I use boneless chicken thighs?
You could, but we don't recommend it. You'll need to check the temps a little more often. Boneless chicken thighs are skinnier than bone-in thighs because of the boneless process, and we find them best for direct heat charcoal grilling. Also, boneless thighs don't have the skin on so really, they aren't ideal for this recipe.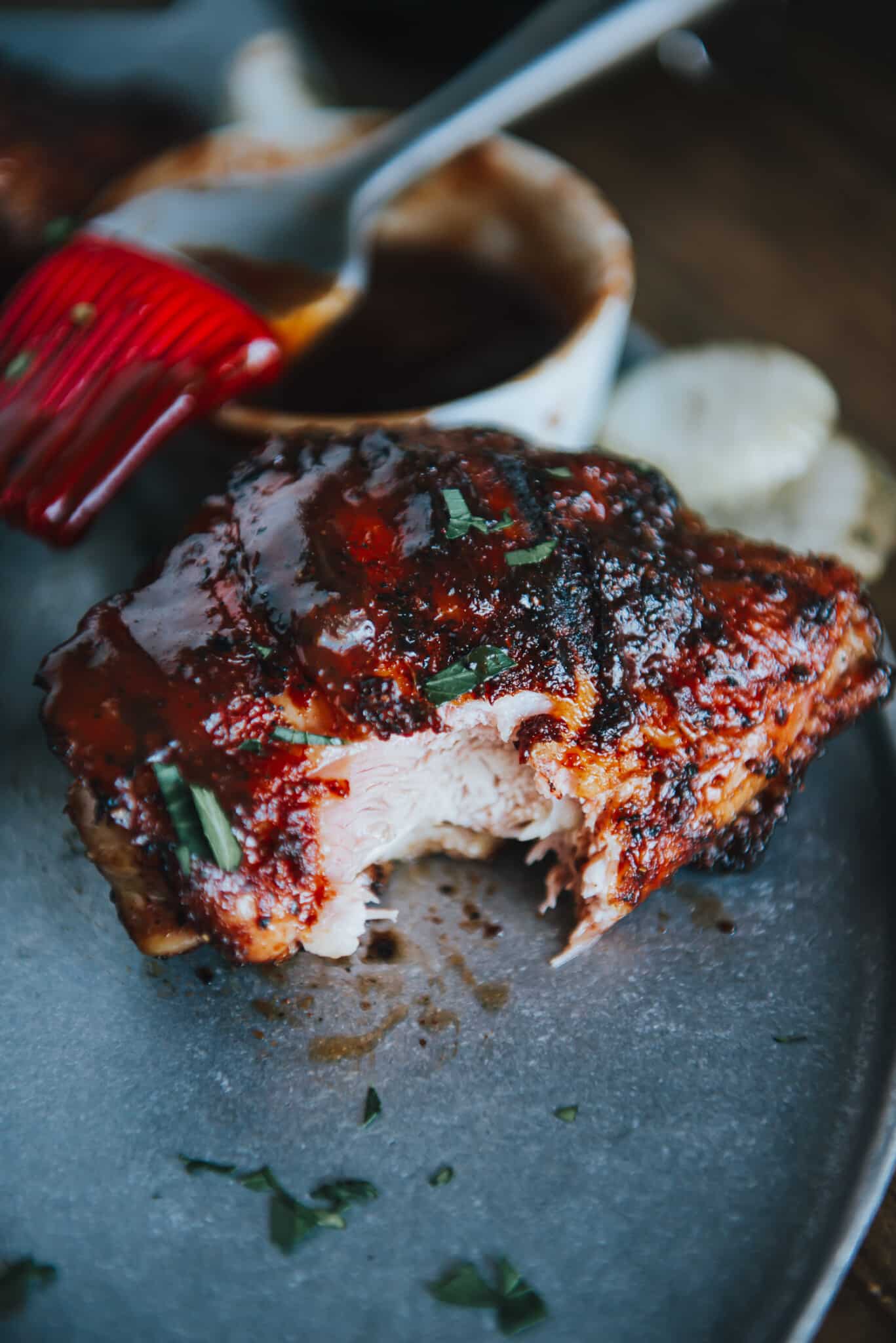 MORE SMOKED CHICKEN RECIPES
Traeger Smoked Chicken Thighs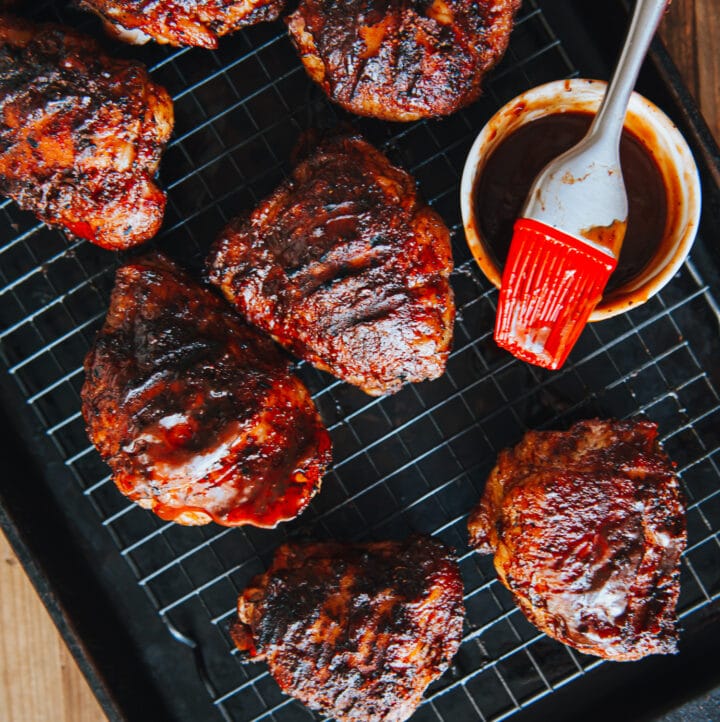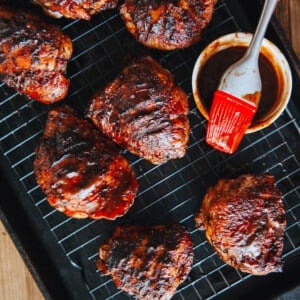 When it comes to juicy delicious chicken, these smoked chicken thighs are hard to beat. We smoke the dark meat to an internal temp of 180 – 190F for fall off the bone tender bites and finish with a bbq baste and sear for that perfect crispy skin!
Ingredients
5

lbs

Bone-in skin on chicken thighs.

1

tbsp

Salt

2

tbsp

Chicken Rub

We use GirlsCanGrill Chicken rub or Jack Daniel's Chicken Rub

1/2

cup

BBQ Sauce
Instructions
Prep the Chicken
Pat chicken dry

5 lbs Bone-in skin on chicken thighs.

Arrange on wire rack over baking sheet

Sprinkle liberally with salt and spices.

1 tbsp Salt,

2 tbsp Chicken Rub

Allow to sit in the fridge for 1 hour before you grill
Prep the Pellet Smoker
Prep pellet smoker for 350 degrees F.

Clean and oil grill grates.
Smoke the Chicken Thighs
Arrange chicken on the cooler side of your grill skin side up. Close the lid

Cook 35 to 40 minutes, until the chicken thighs reach 180 to 190F with an instant read thermometer, rotating the position of each thigh halfway through so that all pieces are being cooked evenly.
Sear
Remove the chicken from the grill and increase the heat to sear.

Meanwhile, lightly brush the chicken in the bbq sauce.

Working in batches, sear the chicken, skin side down until lightly charred and skin is crisp, flip and cook 2 to 3 minutes longer.

Repeat with remaining chicken thighs.
Rest and Serve
Remove from the grill and place on a platter tented with foil to rest for 5 minutes before serving.

Serve hot with additional bbq sauce if desired.
Notes
Pour your bbq sauce into a bowl when you baste the chicken. This helps to prevent any cross-contamination from the remainder left in the jar. Do not return any leftover sauce to the jar.
When cooking chicken, be sure to wash your grilling tongs between touching the raw meat and rotating the chicken thighs while grilling.
These smoked thighs are delicious with barbecue sauce or without it. Serve it however you wish, but be sure to crisp up the skin at the end, even if you aren't using any sauce.
Nutrition
Serving:
1
g
|
Calories:
451
kcal
|
Carbohydrates:
7
g
|
Protein:
31
g
|
Fat:
32
g
|
Saturated Fat:
9
g
|
Polyunsaturated Fat:
7
g
|
Monounsaturated Fat:
13
g
|
Trans Fat:
0.2
g
|
Cholesterol:
189
mg
|
Sodium:
994
mg
|
Potassium:
436
mg
|
Fiber:
0.3
g
|
Sugar:
5
g
|
Vitamin A:
186
IU
|
Vitamin C:
0.4
mg
|
Calcium:
29
mg
|
Iron:
2
mg