This beef tallow fries recipe pack the ultimate crispy fry rolled in a salty savory furikake spice blend and served with a spicy fry sauce. They are the perfect fry for steak frites or to enjoy with a juicy burger. Actually, we'd say they are so good, they could be the main dish.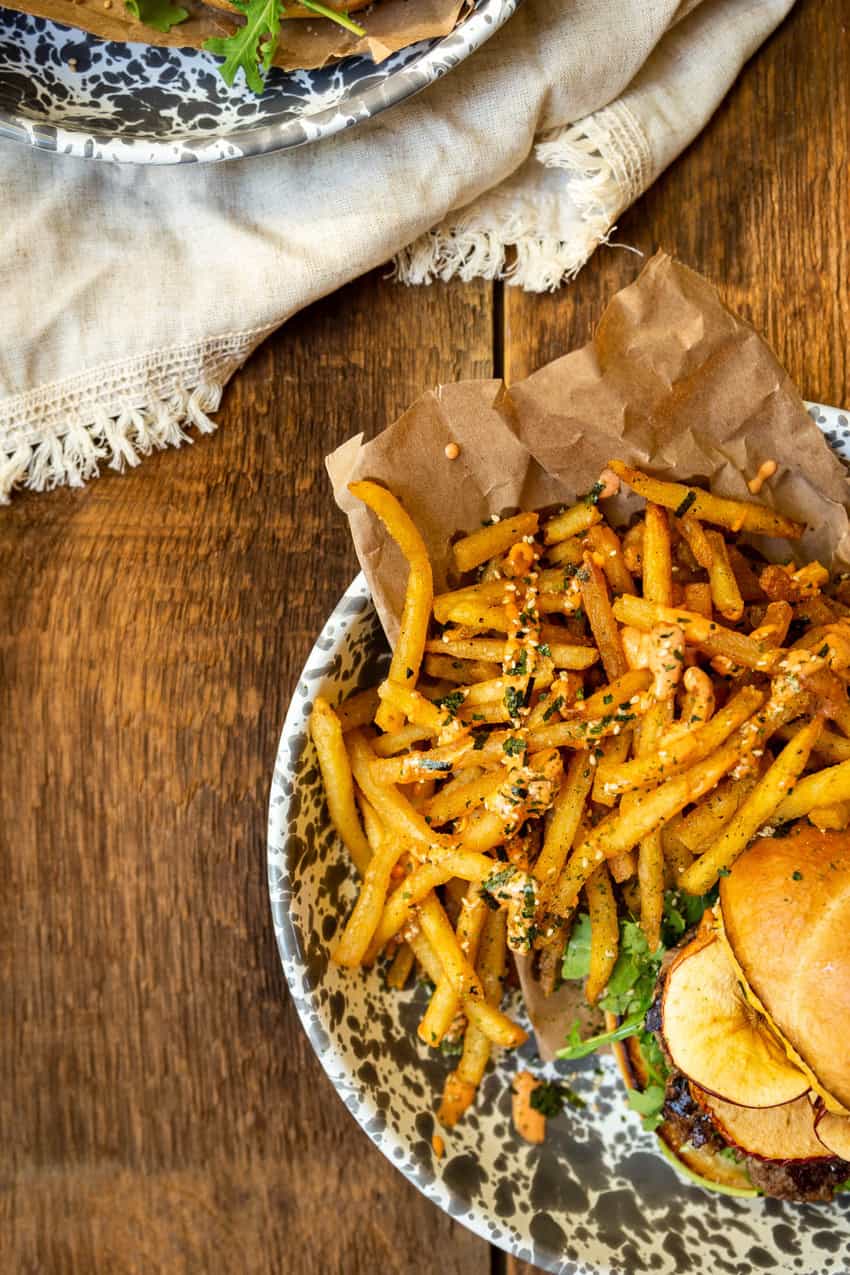 Every truck in Oahu has a spin on street fries. This Beef Tallow Fries with Furikake recipe is my take on the best street food you can get and bring back to the Mainland.
Recently, I spent a few days on the iconic North Shore of Oahu chasing sunsets and recharging my batteries. I polled my audience on where to go and had an overwhelming response for checking out the food truck scene.
Everyone had a favorite and was anxious to chime in.
Not wanting to disappoint anyone (and, honestly, being on the hunt to try just about everything I could while there), I made it a mission to hit several of the most popular food truck spots. My favorite was the tuna sandwich and Hurricane french-fried potatoes at a little truck parked at Sharks Cove.
The name of the place was the Cove, and I haven't been able to find an Instagram or website for them to tag, but they were in with a killer shrimp truck and taco stand right next to a snorkel rental shop. If you are sitting at Sharks Cove, you will find them.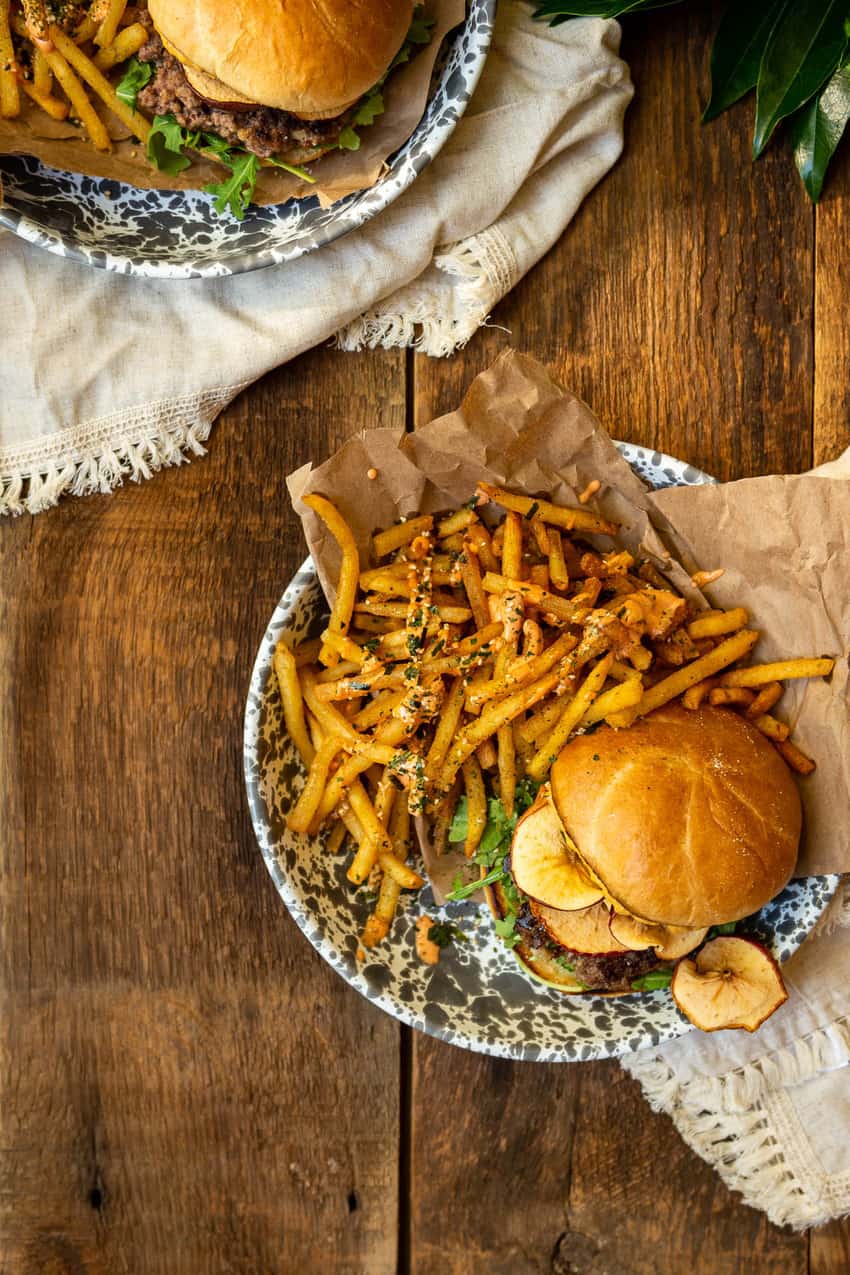 The days ticked on and I tried several other food trucks, all with their own signature spin on fries. Always fried to a crisp and slathered in a spicy sauce and sprinkled with furikake. A simple thing, but one that altered my french fry condiment choices forever.
I brought the idea back to the Mainland, grabbing and testing a few furikake blends in the GirlCarnivore Meat Labs. I sliced up huge russet potatoes as thin as possible and even added extra crunch by coating the fries in beef tallow (aka, the magic that makes perfectly crispy fries! Every time!).
All in all, they are food truck-approved, even if you are a layover or two away from a proper island view.
I dare you to give them a try and tell me you'll ever go back to just plain ketchup again. Actually, check out these rosemary duck fat fries while you're at it, and let's really expand on your fry menu.
What are tallow fries?
We all know the best crunch you can get on a fry comes from deep frying it. It's the magic that makes the outside crispy and the inside soft and flakey. Now, french fries cooked in beef tallow give the ultimate crispy, crunchy french fry. Why? Because rendered beef fat, tallow, naturally high a very high smoke point of about 400 degrees F. This makes it perfect for frying french fries or roasting just about anything.
The key when frying with any oil, but especially beef fat, is to give it time to come to temperature. When you add food before the oil / fat is ready, things get soggy because they aren't cooking quick enough. A good candy thermometer is handy if your frying a lot or an instant read thermometer will do in a pinch.
The best part is, beef tallow is incredibly shelf stable and lasts a long time. If you have beef suet, give homemade beef tallow a try (your fries will thank us).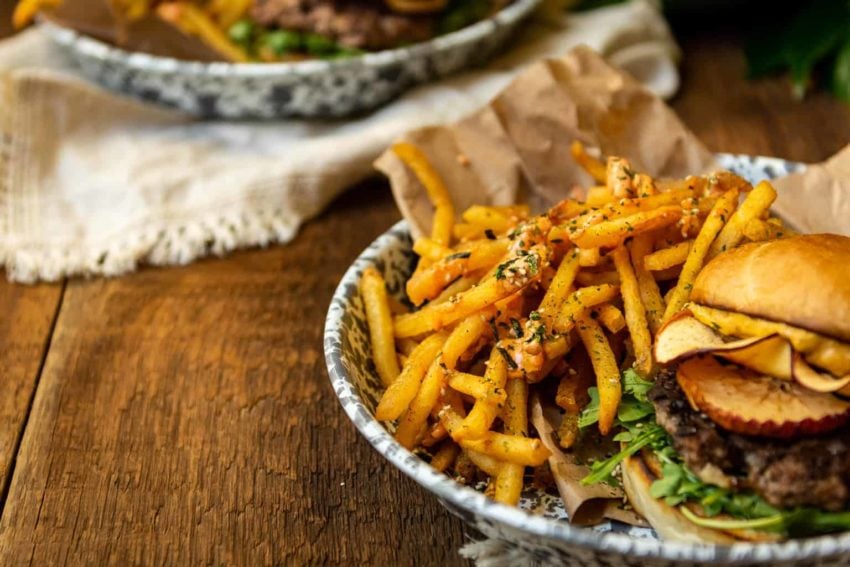 How to make Beef Tallow Fries
Start by preheating your oven to 450º F and dividing your beef tallow into two rimmed baking sheets. Then place it in the oven to melt.
Evenly cut your potatoes into thin matchsticks and dry them with a kitchen towel. Cutting the potatoes into even slices help so that every French fry is cooked evenly.
Once the tallow has melted, remove carefully (it's hot!) from the oven and place the potatoes evenly, in a single layer, on the baking sheet. Bake for 10 to 15 minutes.
Then carefully remove again the potatoes from the oven and flip on the other side for an additional 10 minutes or so, until golden and crispy all over. Drain the fries onto some kitchen paper-lined plate to get rid of the excess fat.
Now whisk the sriracha and mayo together in a large bowl, and season with salt and pepper.
Serve your french fries on a large serving dish. While they are still hot and moist from the beef tallow, sprinkle them generously with the furikake mixture. Drizzle the sriracha sauce over them and serve piping hot!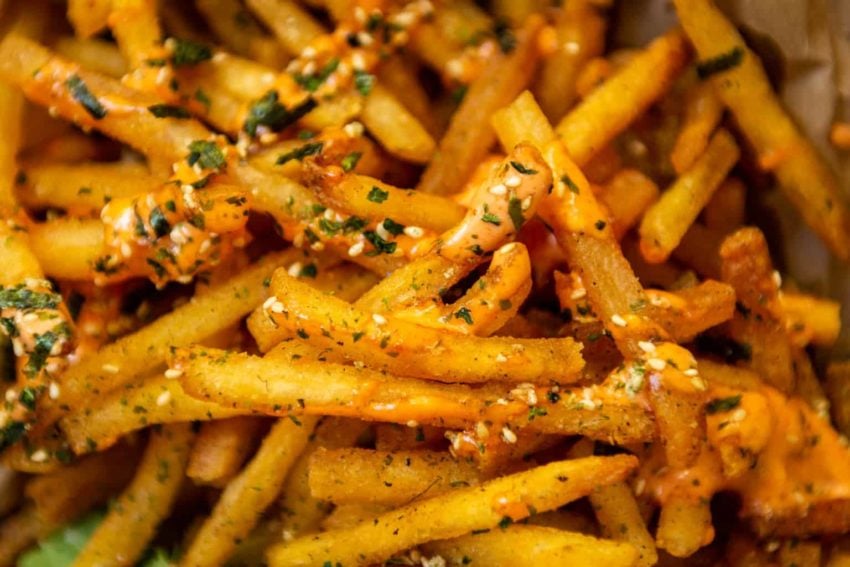 Tips & Variations
You can slice your potatoes in thick or thin rounds and cook the same way, until crispy and golden.
Instead of baking the potatoes, you can fry them on the stove for half the time.
Instead of furikake, you can use crumbled nori (seaweed), sesame seeds and if you like hot & spicy you can even use togarashi.
What is Furikake?
Furikake is a dried mix of finely minced seaweed, salt, and other herbs. You can sprinkle the furikake mixture over things like rice and veggies. and is a great way to really amp up the flavor just like any spice blend. There are a variety of furikake blends in any given international market, and they are always fun to play with.
We love this Furikake blend for this recipe. Take things a step further and make your own spam musubi recipe to go with these fries! Another great Hawaiian recipe!
Juicy burger recipes to enjoy with these french fries
---
If you've tried my Beef Tallow Fries recipe, or any other recipe on GirlCarnivore.com please don't forget to rate the recipe and let me know where you found it in the comments below. I get inspired by your feedback and comments! You can also FOLLOW ME on Instagram @girlcarnivore as well as on Twitter and Facebook.
Beef Tallow Fries with Furikake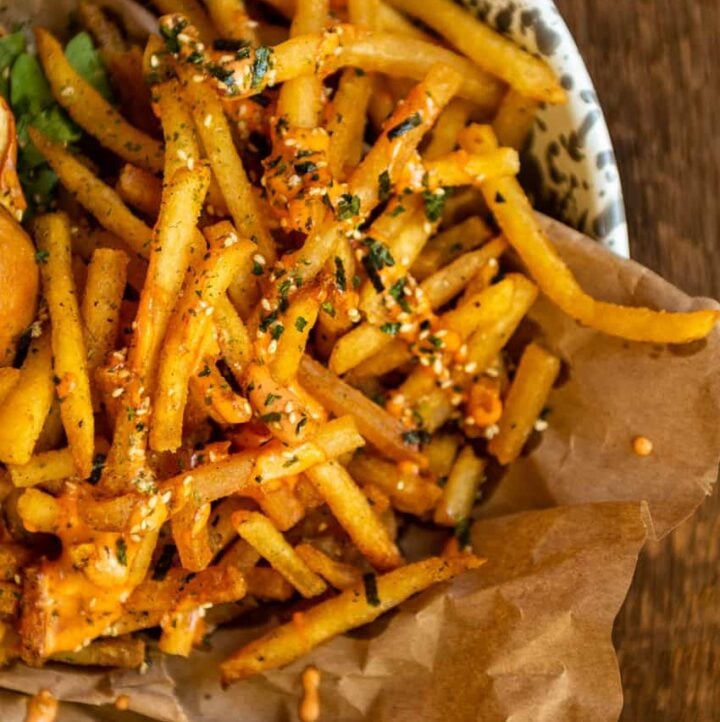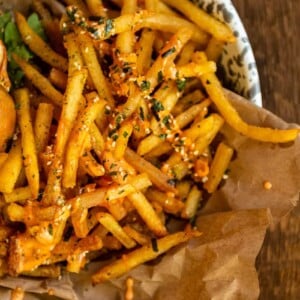 Every truck in Oahu has a spin on street fries. This beef tallow fries with furikake recipe is my take on the best street food you can get and bring back to the Mainland.
Ingredients
4

russet potatoes

peeled

½

cup

beef tallow

Coarse sea salt

¼

cup

Furikake Seasoning
For the Sriracha Sauce:
½

cup

sriracha sauce

¼

cup

mayo
Instructions
For Beef Tallow Fries:
Preheat the oven to 450 degrees F.

On two rimmed baking sheets, divide the beef tallow. Place in the oven to melt.

Slice the potatoes into thin shoestring fries. Arrange on to a paper toweled lined rack to dry.

Once the tallow has melted, carefully remove from the oven and add fries, evenly, in a single layer over each baking sheet.

Bake for 10 to 15 minutes.

Carefully remove the fries from the oven and flip on the pan using a spatula.

Bake for an additional 10 to 15 minutes until golden and crisp all over.

With a slotted spatula, remove fries and drain onto a paper towel lined platter.
For the Sriracha Sauce:
Whisk the sriracha and mayo in a large bowl.

Season with salt and pepper, as desired.
For the Assembly:
Scoop the fries onto serving dishes.

Drizzle the sriracha sauce over the fries.

While the fries are still moist from the tallow, sprinkle them liberally with the furikake mixture.

Serve piping hot.
Nutrition
Calories:
251
kcal
|
Carbohydrates:
32
g
|
Protein:
7
g
|
Fat:
11
g
|
Saturated Fat:
2
g
|
Cholesterol:
17
mg
|
Sodium:
609
mg
|
Potassium:
795
mg
|
Fiber:
6
g
|
Sugar:
1
g
|
Vitamin A:
200
IU
|
Vitamin C:
23.3
mg
|
Calcium:
179
mg
|
Iron:
5.3
mg