Whether you're a barbecue beginner or a seasoned grill master, finding the right new grill for your backyard is key to unlocking the best flavors, chill time, and grilling experiences. This comprehensive guide will navigate the smoky waters of grill buying, from understanding your grilling preferences to exploring the various types of grills available, along with our favorite picks for the best grills of 2023.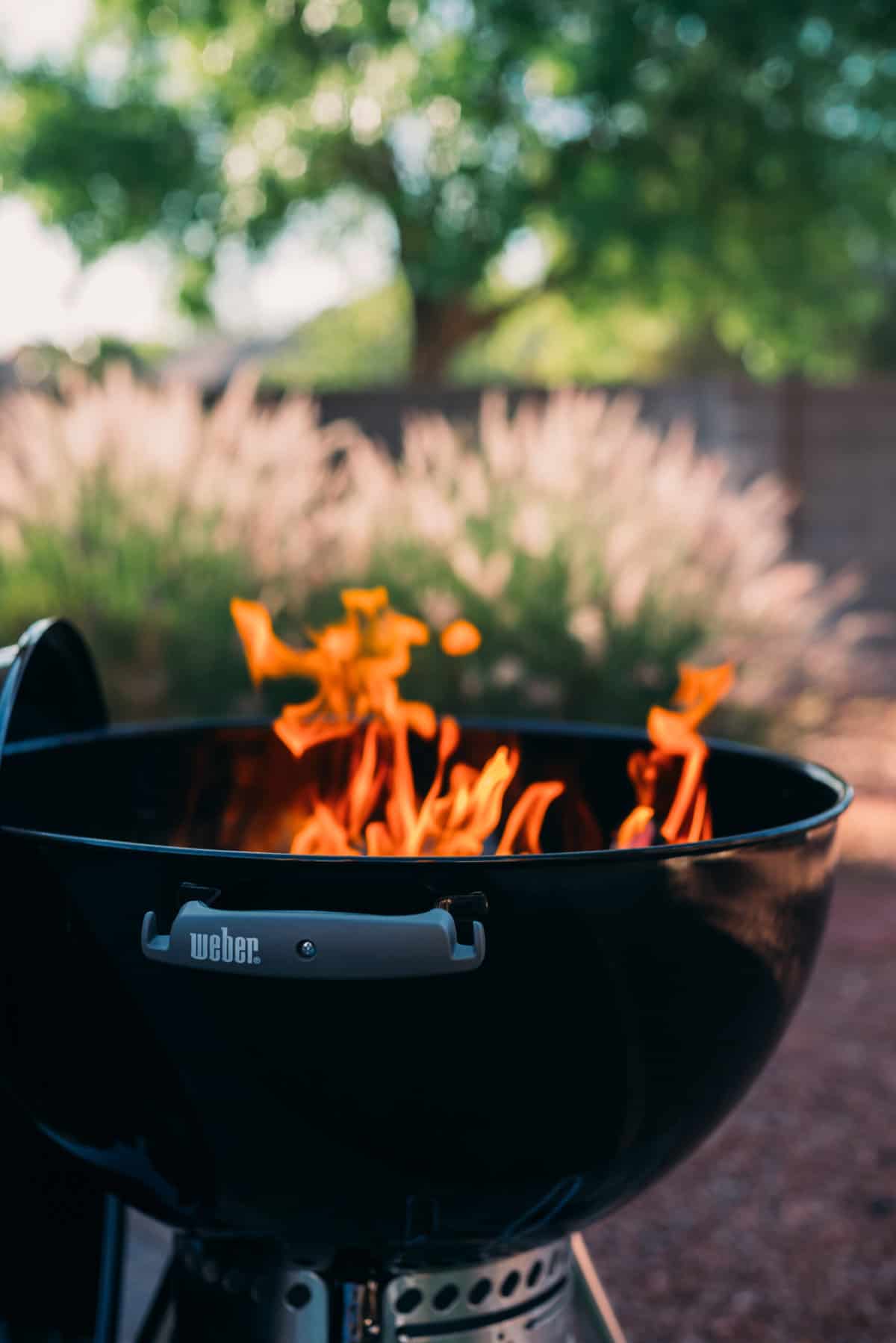 From every sizzling type of steaks to smoky pizzas, a perfect grill can elevate any backyard gathering to a culinary delight. But with countless options flooding the market, how do you pick the right grill for your BBQ aspirations? Well, luckily, we've amassed quite the collection and spent the last decade testing out a variety of them.
Let's navigate the nuances of outdoor cooking, where we've grilled the details, tasted the results, and handpicked the best grills for every type of enthusiast. This guide is designed for people getting into grilling and looking to buy their first good grill or expanding their collection and looking for the best choice to get the most out of every square inch of cooking space.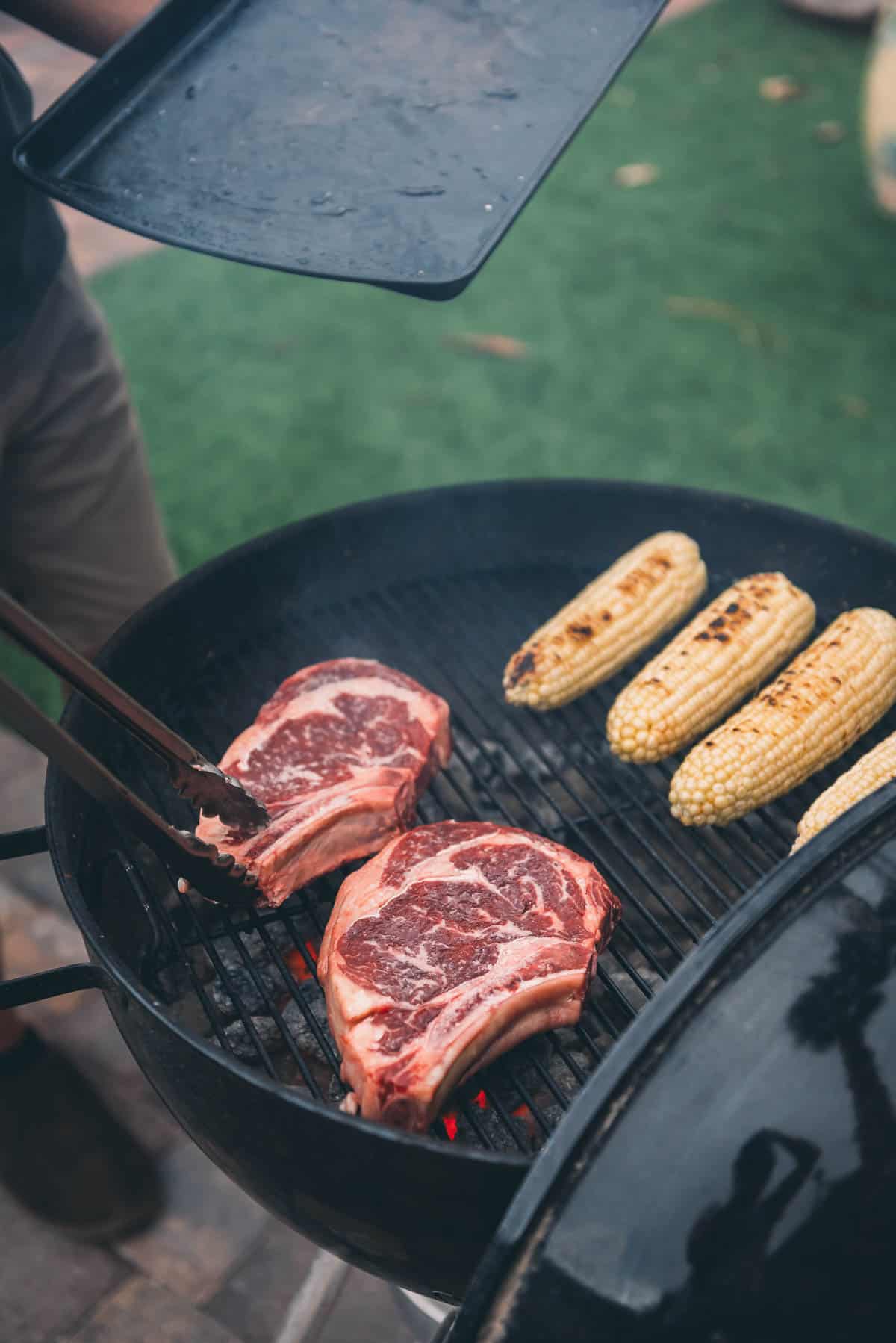 The best grills for every type of griller
We're breaking down our top picks based on hands-on use and experience with our favorite grills. From timeless charcoal grills to trending pizza ovens, we've hand selected the best type of grill for every type of cook.
When grilling, there is something about a charcoal grill. If you love the flame-kissed flavor, there's nothing like a classic kettle grill. The Weber Original Kettle is our easy choice for the best charcoal grill, and as timeless as it gets. With its ease of use and portability, this is our favorite pick for the best grill for anyone who wants to simply grill over charcoal.
Pros
Perfect for the weekend BBQ: The size of this grill makes it a powerhouse for a variety of grilling recipes and use take briquets or lump charcoal.
Versatility: The shape of the Kettle is a perfect grill for low-and-slow or hot-and-fast cooks.
Option to add wood: With the Weber Kettle, you can add wood chips or wood chunks to the coals to get added barbecue flavor.
Cons
Heat control: Although the robust flavor of charcoal is our favorite, the Weber Grills can be hard to learn at first when starting out on your barbecue journey. Once you learn how to use a charcoal grillthough, you can master any grill.
Refueling: The grate does fold up for adding wood chips over the charcoal, but not enough to add a new basket of coals. In order to refuel this grill, you need to take items off and remove the grill grate.
Cleaning: Given you have to wait for the ashes to cool down, it's easy to forget to clean out the ash cans to extend the life of your grill.
Girl Carnivore Pro Tip
The grill isn't the only thing that matters when it comes to amazing flavor. The fuel you use, smoking wood, and how you light your fire are also key factors. Skip the nasty flavor of lighter fluid and check out our shop page for the list of all the tools and fuels we use daily and recommend.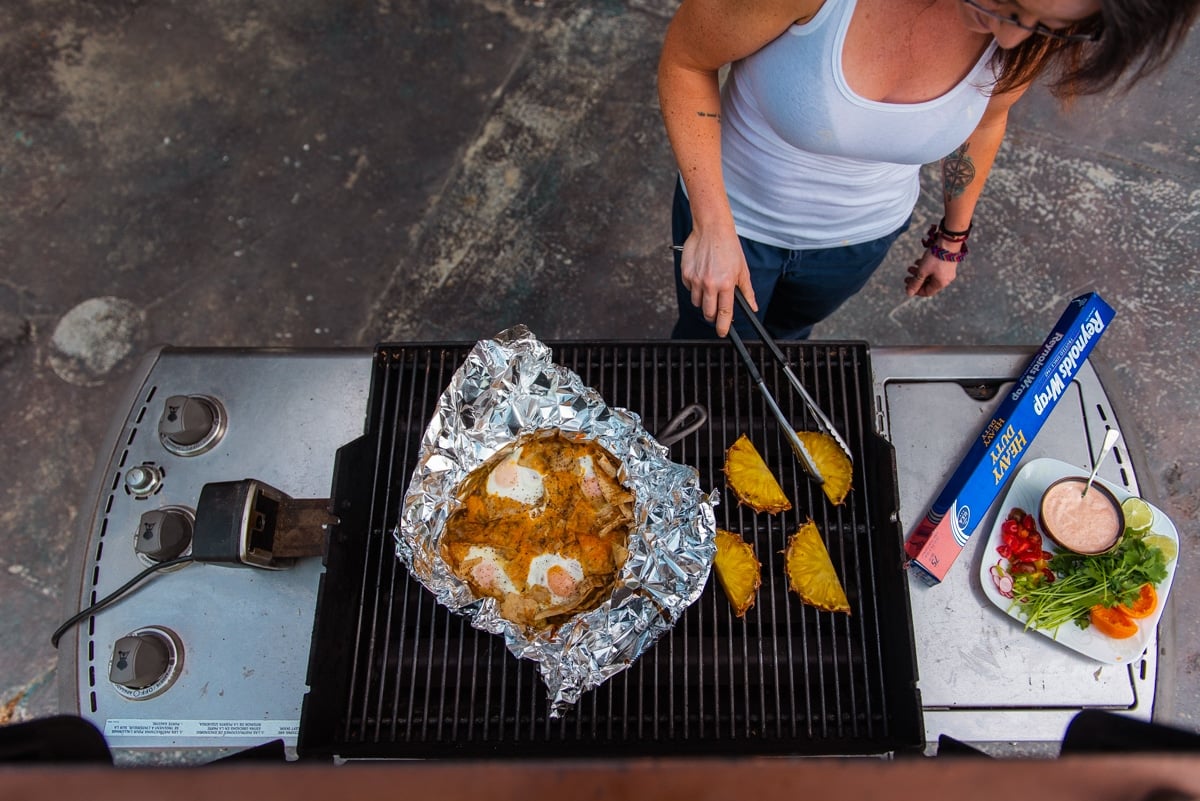 There are a lot of great gas grills on the market. They also run the gamut from inexpensive to a home mortgage, but some of the more expensive models are truly worth their price. They are the easiest to use and effortlessly get the job done when you want to grill.
For quick weeknight cooking with controlled, even heat, it's hard to beat a well-built good gas grill. We have tested a few at different price points, and the Weber Spirit S-315 is our choice for the best gas grill for anyone just starting. It's priced reasonably and is a great grill that should last several years. It also has a large cooking surface for a 3-burner gas grill, which means
Pros
Even heat: With a gas grill controlling the heat is as easy as turning on the burners. You can easily make a two-zone fire perfect for the reverse sear method or grilling hot dogs while also cooking side dishes on the grill.
Easy to use: If you're just starting to grill or are an experienced pitmaster, using a gas grill is the easiest grill to master.
Weeknight warrior: Because these grills preheat with propane, they are fast to heat up with minimal prep or wait time, making them ideal for busy weeknights.
Cons
Lacking grilled flavor: When cooking with propane, you simply don't get any wood flavor unless you learn our trick for how to smoke on a gas grill.
Check your fuel levels: If you don't keep an eye on your propane levels, you could run out of fuel unexpectedly.
Hard to clean all the components: About twice a year, you should disassemble the grill and clean all the components, but it can be hard to take the heat deflectors off or clean the insides of the grill properly.
Want something a little more luxurious? We've tested a few and have suggestions. Make sure to drop a comment asking what quality gas grill we recommend.
Big flavor from your gas grill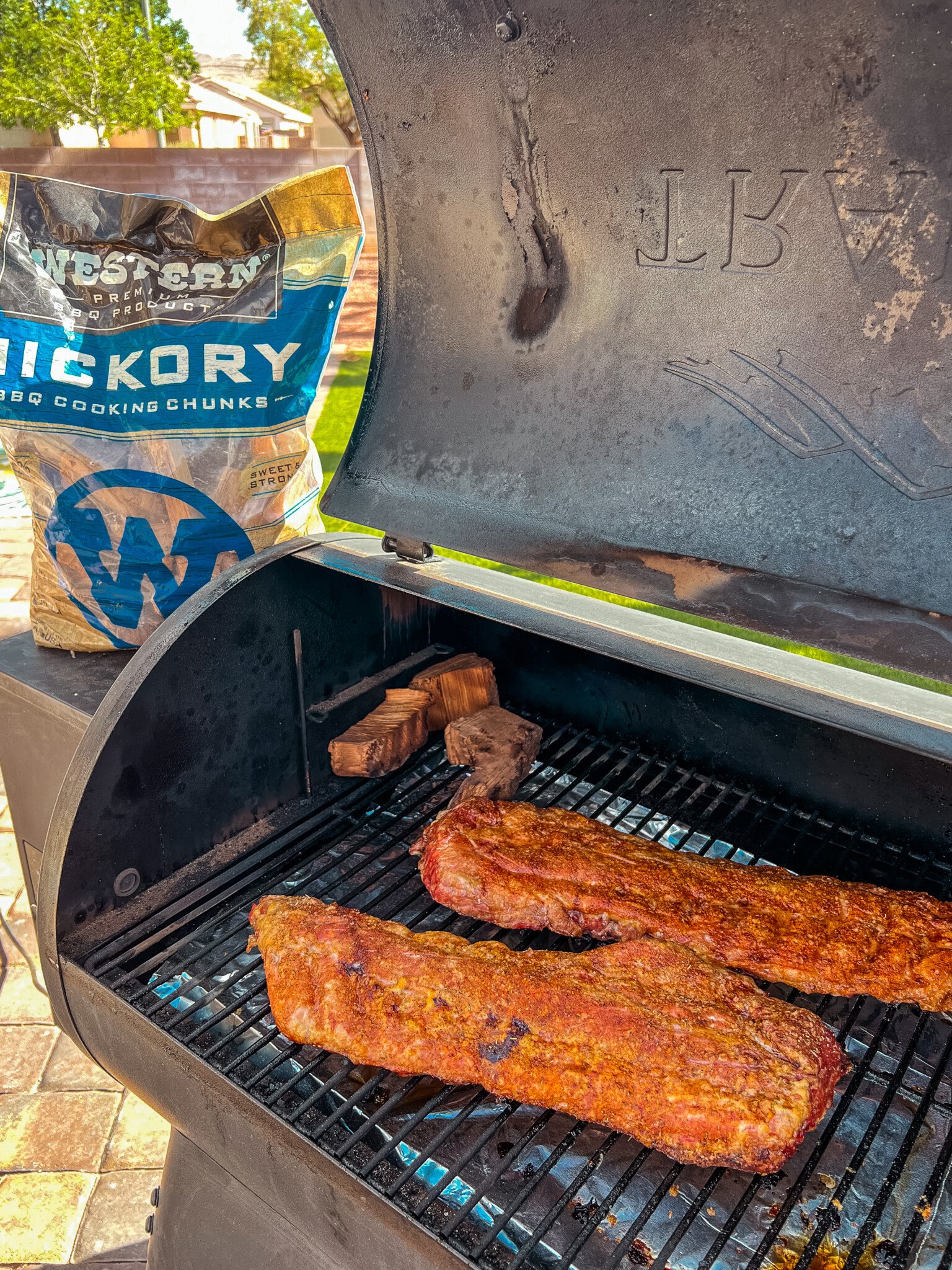 Pellet grills are perfect for the person who wants the ease of a charcoal grill but is dabbling in the flavor of smoking. They allow for the griller to program the temperature and add different varieties of wood flavors to achieve grilled flavor on everything from easy recipes like grilled steaks to long cooks like smoked pork butt. The Traeger Grills Ironwood 885's ease of use makes it a great pellet grill for anyone looking to invest in a new smoker.
Pros
Intro to smoking: because of the ease of use and pellet smoke flavor, this is a great tool for anyone who wants to get into smoking but doesn't have the time or desire to master a stick-burning or other type of smoker.
Ease of use: Simply set the Traeger to the temperature you want, and make sure your hopper is full with pellets and you're ready to grill.
Variety of pellets: There are a variety of different wood pellets available on the market now, allowing you to pick and choose the flavor you want to infuse your recipes with. We still recommend the Jack Daniel's charcoal pellets as a great fuel choice for authentic barbecue flavor on our pellet grill.

Cons
Wifi: We aren't a fan of any built-in wifi on grills. We find it spotty at best and often with a short range.
Flavor: It's hard to get authentic smoke flavor with pellets but the flavor you get is better than a gas grill.
Error messages: Although you don't have to work to maintain the temperature of this grill, it can get unexpected error messages to keep your eye on it at all times to respond to any unexpected issues quickly.
Our favorite Traeger Recipes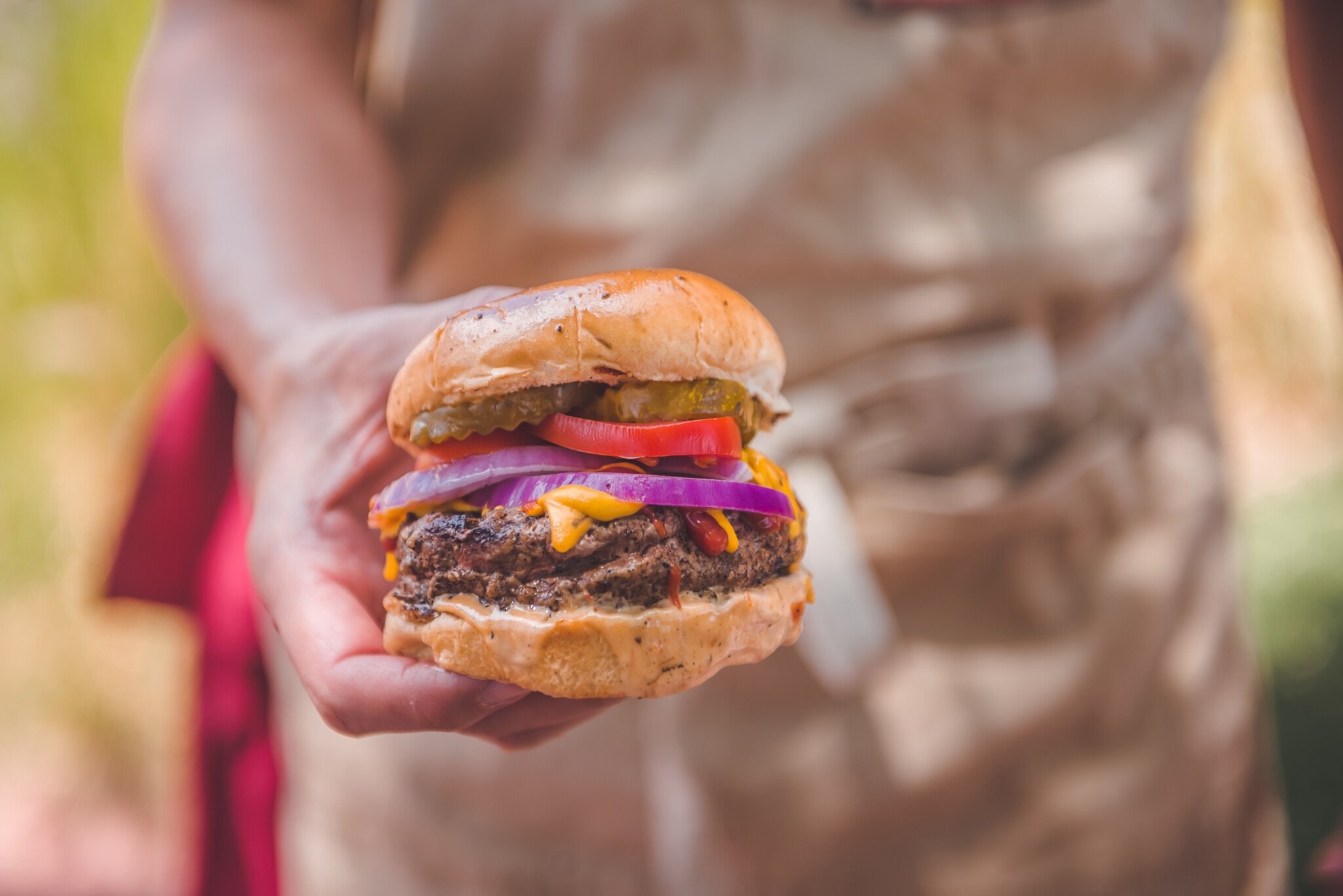 Ceramic grills are for anyone who wants to take their charcoal grilling game up a notch. They require more patience and time than a kettle grill but offer longer cooking times, higher heat, and more durability. These outdoor grills are a big investment for the backyard grill but can also last a long time with regular maintenance. We love Kamado grills for their sleek red color, durability, and the brand's innovative ideas for the future of grilling.
Pros
Quality: The weight and feel of the Big Joe are heavy and durable. Even the reflector plates are designed to hold up to years of cooking.
Great warranty: Kamado Joe has a great warranty on the ceramic components of this grill and a five-year warranty on the metal parts. Make sure to register your grill when you buy it to activate the warranty.
Essential tools include: The purchase of this model includes a base on wheels with locking casters, deflector plates, grill gripper, scraper, and grates are all included with your purchase. We do recommend a grill cover immediately to protect your grill from the elements.
Cons
Takes some practice: When going from a kettle grill to a ceramic-style grill, there's a learning curve that takes time.
Weight: Because this is a quality ceramic grill, it's heavy. Moving it anywhere but to and fro on a patio or deck won't really be an option. We recommend considering a built-in option for the most secure base to prevent any tipping and cracking.
Delivery can be tricky: This grill ships in a large box on a pallet, and most delivery services only have to leave it in your driveway. Due to the weight mentioned above, have a case of beer handy to employ some friends to help you carefully maneuver this grill into your backyard.
Girl Carnivore Buying Tip
In the world of the new smart grill, with built-in technology and special features, we've got our eye on the new Kamado Joe Konnected and will be testing it soon. In a similar way that the Masterbuilt Gravity series uses precise temperature control and real charcoal, they is bringing this tech to kabado grills.
If you grew up with a griddle in your kitchen, you were probably as excited as we were when the griddle trend hit. It's the perfect grill for flipping flapjacks with Boys Scouts on camping trips or making burgers for dinner. The versatility and ease of use of the Blackstone Griddle make it our editor's pick for the best outdoor flattop grill.
Pros
Portability: This grill easily folds up and can travel with the family for camping trips, tailgating, and more.
Big cooking area: The 28-inch cooking area is plenty large enough for grilling tons of food and even grilling multiple things at the same time. Pancakes and bacon, anyone?
Propane heat: Cooking with propane allows the grill to heat evenly with ease.

Cons
No grilled flavor: It's a griddle, so if you are looking for authentic grilled flavor, it's probably not the best choice.
Rust: If you don't maintain the Blackstone griddle top, it can easily rust. You have to maintain this grill to keep up its quality.
Exposed to the elements: Using a griddle outdoors can make cooking times variable as there is no convection heat. The wind, rain, and other factors can make this challenging to cook on, especially if you don't have or can't fold down the hood while cooking.
Girl Carnivore Buying Tip
Did you know you can use woodchips on your griddle? We add woodchips to the griddle top when we're making griddle smashburgers and use a dome to lock in the smoke. It's the perfect punch of flavor to take things up a notch.
One of our favorite things about the Ninja Woodfire Outdoor Grill and Smoker is its small but mighty size. It opens up access to grilled flavor whether you live in an apartment or travel the country in an RV, making it our top choice on the list of best portable grills. Fueled by real wood pellets, you can get a true grilled flavor on what looks almost like a countertop appliance. We will warn you though, for being a compact grill, it's not inexpensive.
Pros
Accessibility: The portable size of this grill makes it amazing for apartment living, tiny homes, and mobile lifestyles.
Cooking times are fast. Due to the convection heat, cooking times are almost half of what they would be on a traditional grill.
Flavor: For the size of this grill, the wood pellets do a great job of imparting a smoky flavor. It's not as robust as charcoal, but it's great for a portable, small electric grill.
Cons
Limited grill space: Due to the size of the grill, traditional grilling can be problematic. With this model, you have to cut a rack of ribs in half to fit it on the grill.
Additional purchases needed: Additional accessories need to be purchased to get the most out of this 7-in-1 model. The portable stand, griddle top, and cover don't come standard with the grill.
Short electric cord: The built-in cord is short, and we don't recommend using an extension cord for safety reasons, so you'll want to make sure you have an available grounded outlet nearby that can handle the amps this grill pulls.
Need more convincing? Check out all of the Ninja Woodfire Recipes by the pro-pitmaster over on Girls Can Grill.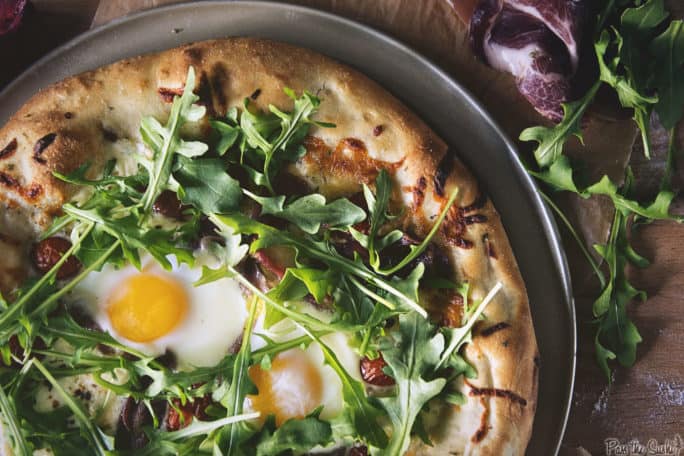 As long as we're talking about appliances for cooking in the backyard, Pizza ovens are really cool, and we've got lots of opinions on which are the best to buy. When we narrowed it down to the best, the Ooni Karu 12 Multi-Fuel Outdoor Pizza Oven was the fan favorite for those looking to make wood-fired pizza at home without installing an actual pizza oven.
Pros
Quick to heat up: The Ooni Karu 12 heats up to 950 F in just 15 minutes, allowing you to cook a delicious pizza in just 60 seconds.
Portability: It's ultra-portable and weighs only 26.4 pounds, making it easy to move around your backyard or take it with you on camping trips.
Amazing temperature control: The custom-designed fuel tray maximizes airflow and delivers a powerful blast of searing flame, allowing the Ooni Karu 12 to maintain the ultra-high temperatures needed for perfect pizzas.
Cons
Takes some learning: The Ooni Karu 12 can be a bit tricky to use at first, especially if you're not familiar with wood-fired ovens. But with a bit of practice, you'll be making perfect pizzas in no time.
Price point: The Ooni Karu 12 is a bit expensive compared to other outdoor pizza ovens on the market. But if you're serious about making great pizza, it's definitely worth the investment.
Additional accessories may be needed: The Ooni Karu 12 doesn't come with a gas burner attachment, so you'll need to buy that separately if you want to use gas instead of wood or charcoal.
Girl Carnivore Buying Tip
Ignore the built-in lid thermometer on all of these grills. We've seen huge swings in their accuracy on the temperature range. Invest in a good probe thermometer from Thermaworks if you want to know exactly the ambient temperature of the inside of your grill.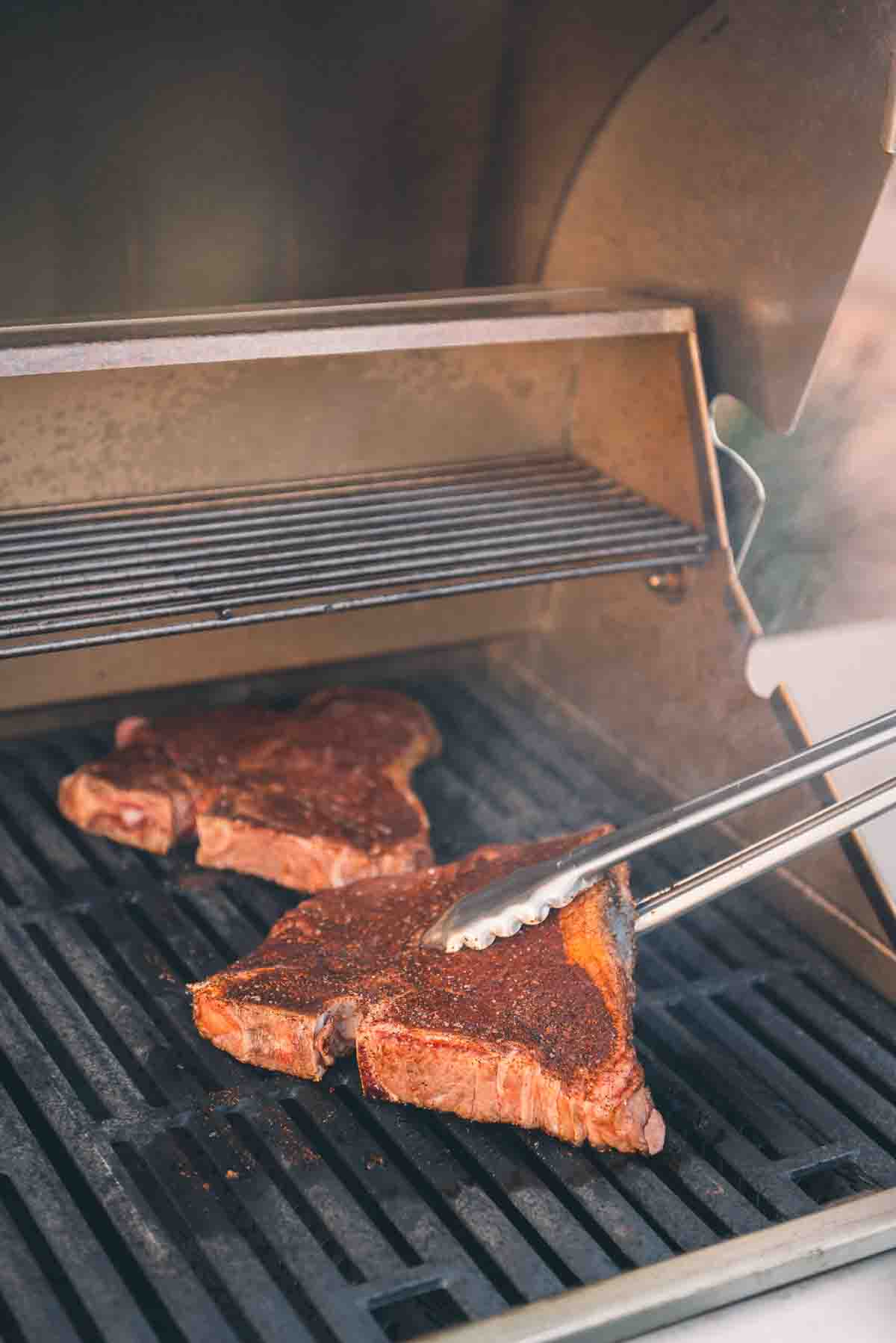 What to consider when buying a grill
Be sure to evaluate the price versus the quality of the build. Grills are available for every budget but the more expensive the grill, oftentimes, the better the quality. With good maintenance, regular cleaning and proper storage, expect to get three to five years out of lower-end grills. Consider a grill an investment for your home, and decide what you're comfortable spending for the expected life of the grill.
Assess Your Grilling Needs and Preferences
Consider your grilling habits and the types of food you love. Frequent grilling for large groups might warrant a sturdy gas or pellet grill. For occasional grilling or smaller parties, compact electric or charcoal grills could be ideal.
Consider Your Space Availability
Your available space also impacts your grill choice. Large outdoor spaces can accommodate bigger grills like gas grills or outdoor pizza ovens. Limited spaces may benefit from smaller, portable grills such as compact charcoal or electric models. We love the Ninja Woodfire Grill for apartments that allow grills on decks. Always check with your property to check the rules before buying a grill.
Ease of Use and Maintenance
Another thing to consider is the ease of use for how you like to grill. Is it easy to ignite, does it require a lot of experience, is it easy to operate, and how often will you be using it are all important factors when choosing a grill.
Take into consideration how much time you want to spend manning the fire. Some grills are programmable, like the Traeger grill we mentioned above, and some, like our Pit Barrel Cooker, require more patience and monitoring. Know where you are or where you want to be in your barbecue journey when considering choices.
Look for grills with user-friendly features like easy ignition and clear temperature controls for a hassle-free grilling experience. Gas grills, for instance, are generally easier to operate than their charcoal counterparts.
Maintaining your grill is vital for its longevity. Knowing how to clean a grill and proper storage, following the manufacturer's instructions, will ensure your grill stays in top shape for years.
Also, we highly recommend grill covers. This is a small detail, but they help our grills stay clean and avoid unnecessary rust and damage from the elements. Due to the weather where we are, we have to replace our grill covers every two years. But it's a small investment to keep the grills looking like new.
Best Grill Covers:
Keep that stainless steel pretty and protect your grills. These aren't exciting, but they make great gifts for grilling enthusiasts.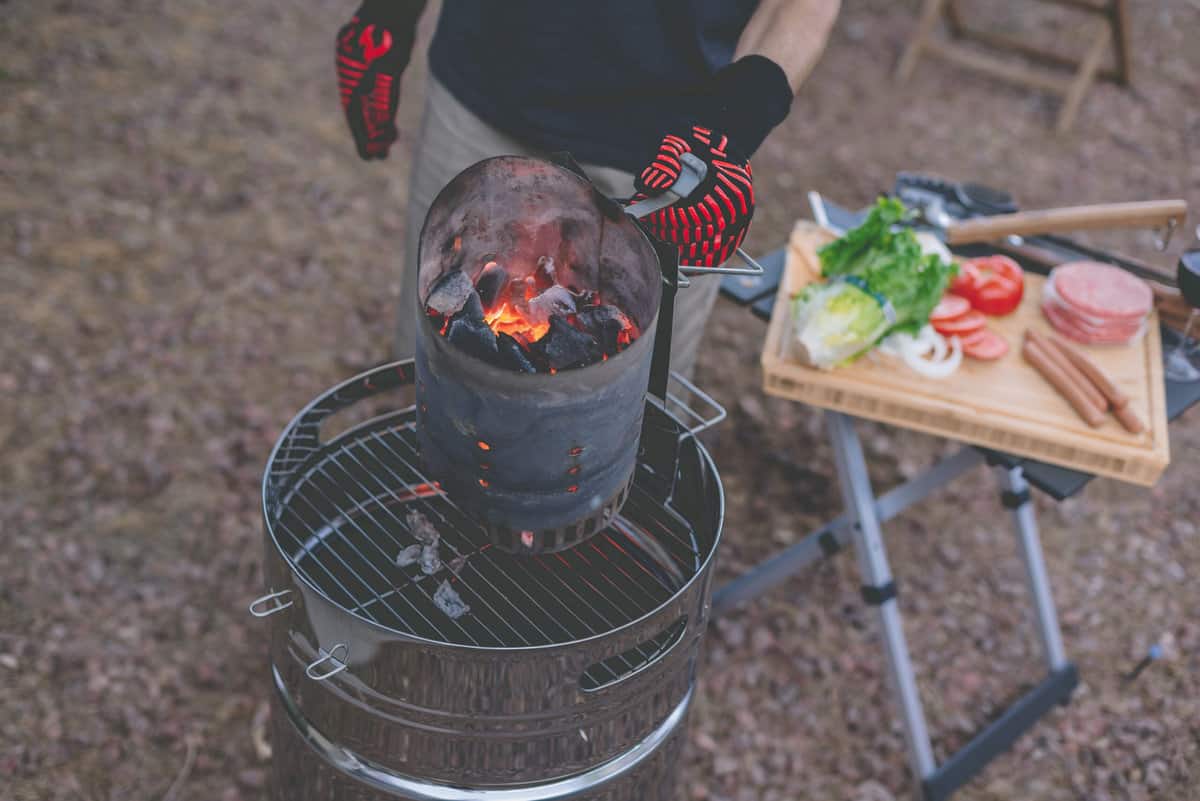 Price vs. Quality Considerations
Determining an appropriate budget for your grill requires a balance between cost and grilling necessities. Premium grills boast superior durability, quality, and advanced features, catering to those who grill frequently. However, for sporadic grillers or novices, a reasonably-priced model with essential grill features and reliable construction suffices. The objective is to ascertain value, not to be swayed solely by price.
If you have patience, pay attention to key holidays like the end of grilling season, Labor Day, Black Friday, and Prime Day for deals on major name-brand grills.
Safety Considerations
Safety is crucial when grilling. Choose a grill with features like a sturdy base, heat-resistant handles, secure lid locks, and, specifically, in gas grills, a reliable gas leak detection system. Practice safety by grilling in a well-ventilated area, maintaining distance from flammables, never leaving an active grill unattended, and keeping a fire extinguisher handy. Prioritizing safety ensures a fun and worry-free grilling experience.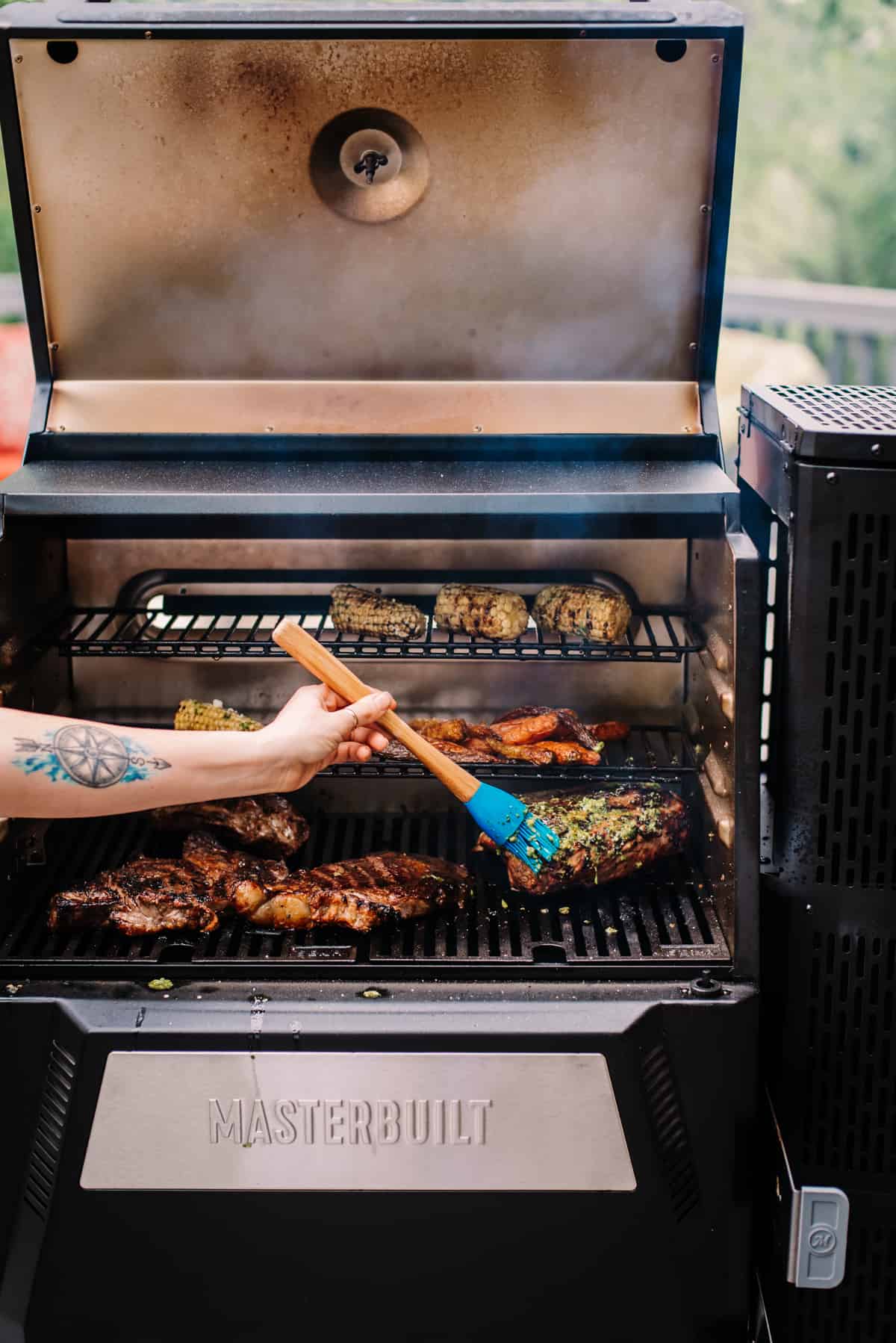 Girl Carnivore Buying Tip
This is not the be all end all list of the best grills out there. We've tested quite a few we'd recommend for specific needs, types of grilling and levels of barbecue skills. Feel free to ask us what we think about a particular make or model you may be considering. If we haven't personally cooked on it, we probably know someone who has.
The perfect grill isn't a one-size-fits-all solution; it needs to align with your personal needs, preferences, and budget. Whether you choose a charcoal grill for its smoky flavor, a gas grill for its convenience, or an electric grill for its simplicity, the power to transform your backyard barbecue experience lies in your hands, Luke.
This article first appeared on Food Drink Life.