Talk about rich, tangy flavor, this homemade keto bbq sauce recipe is where it's at! Perfect for smoked barbecue, grilled chicken, hearty beef, and pretty much all the meats, this ridiculously delicious recipe is low-carb, sugar-free, and has quickly become a go-to condiment in our kitchen, getting rave reviews from friends on incredibly strict diets!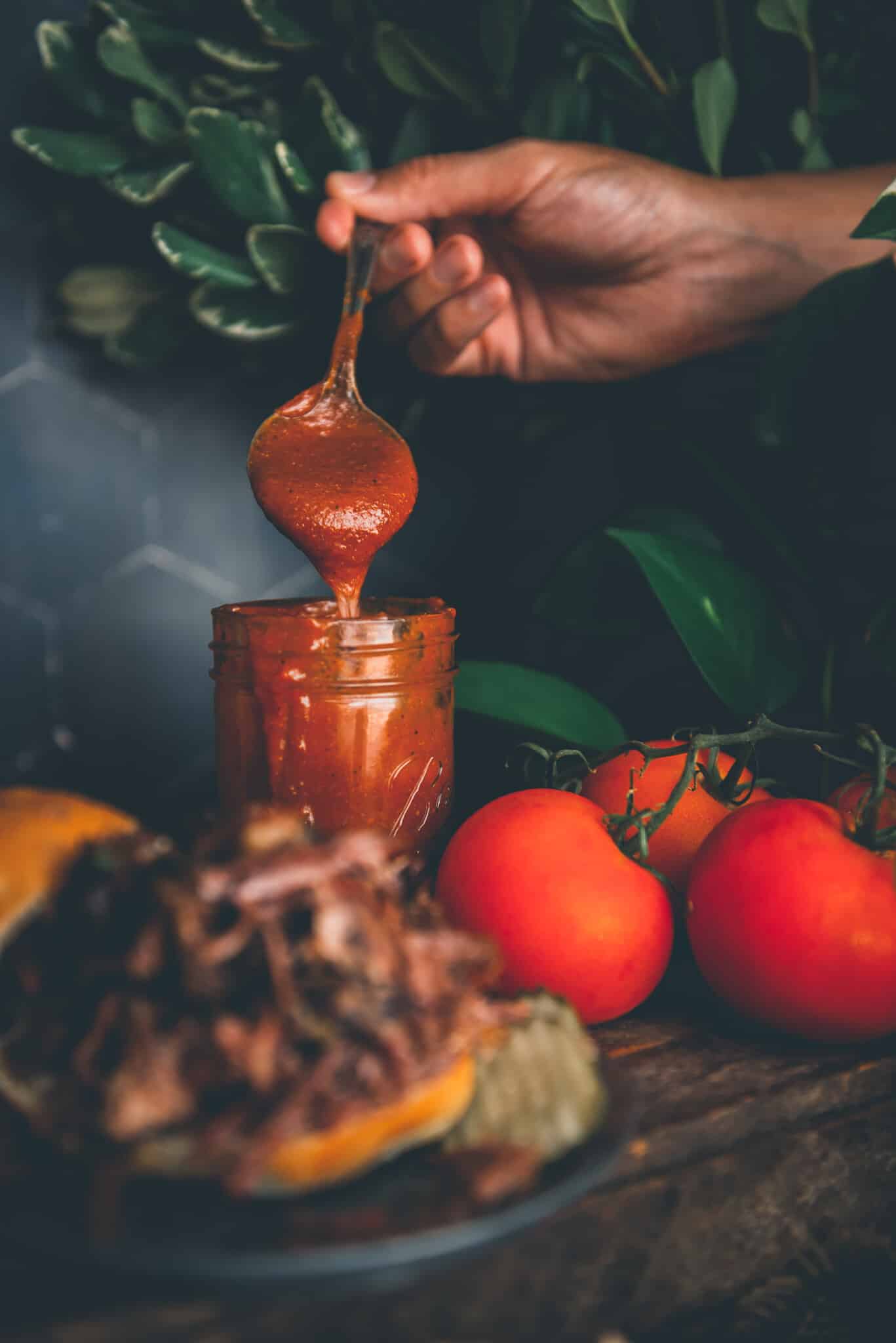 When it comes to homemade condiments and sauces, we are on a kick to make them as low carb and compliant with our keto diet as possible. We skip the high fructose corn syrup and other ingredients for this tangy keto bbq sauce that adds tons of flavor without an unnecessary high carb count. With all the grilling we do, we kept wondering, is bbq sauce keto friendly? And looking at bottle after bottle, no.
Now, we don't do the net carb counting that a lot of people do and go for a solid low-carb diet in our house. We also avoid a lot of additional MSG and other flavor enhancers, so liquid smoke, coconut aminos, and soy were also out. Making a compliant easy keto bbq sauce from scratch was the only option.
If you're wondering how you can make a good bbq sauce for someone on a keto diet or even a very limited diet, this sauce checks every box.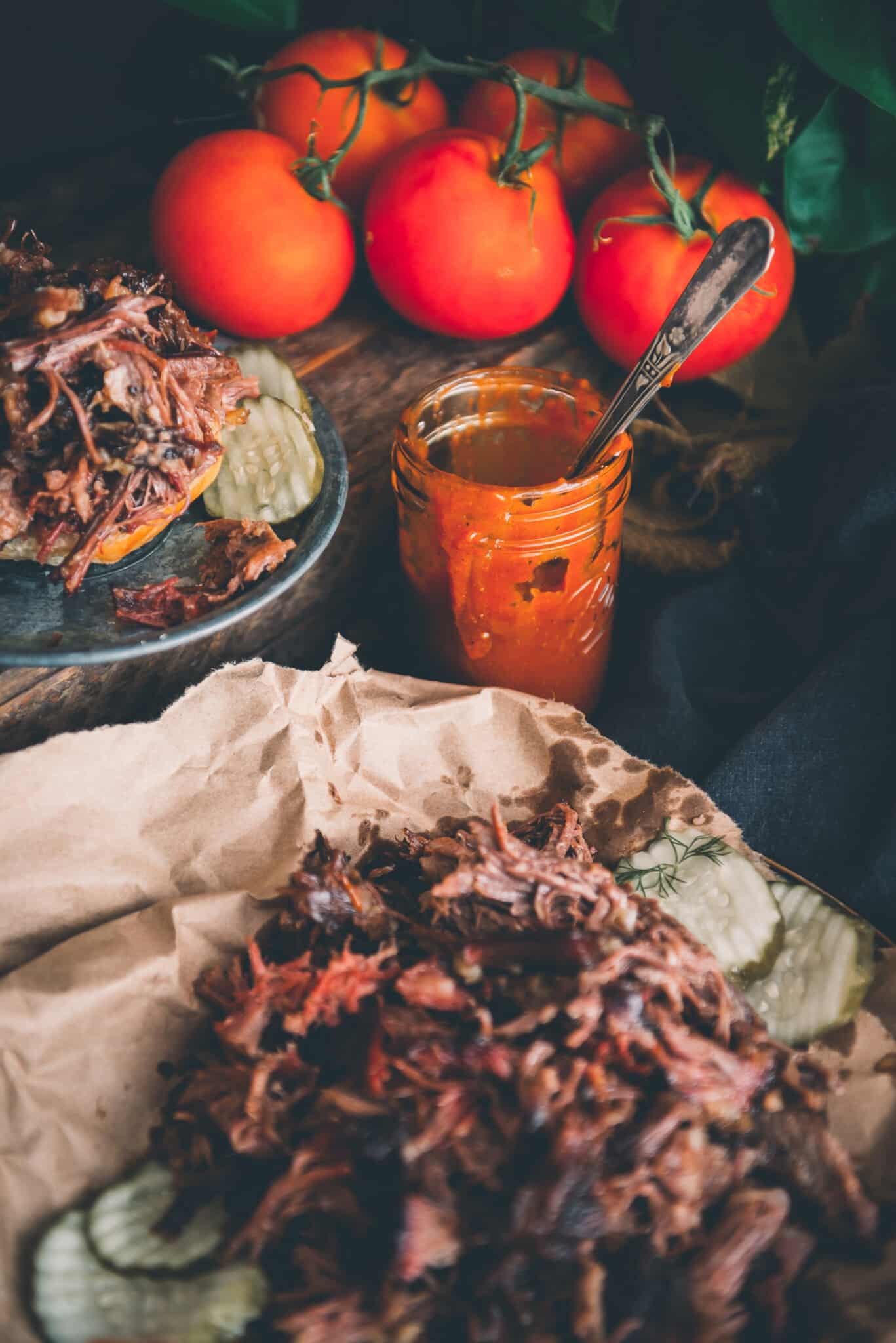 Why this recipe works
With friends on a serious limited low carb diet, it was important to us to craft the best keto bbq sauce from scratch. One that they could also enjoy the Traeger 3-2-1 ribs, smoked chicken thighs, smoked beef ribs, and pretty much anything we had going on the grills and smokers (or even sometimes the in the oven, like these juicy oven baked pork chops).
With that in mind, we started testing low carb bbq sauce recipes wanting to go up against the best on the shelves at the grocery stores with the depth of smoky flavor, tangy heat, and sweet balance but omit anything that caused concern.
After a few test runs, we decided to keep the heat mild, the sweet minimal, and add a depth of flavor with keto friendly maple syrup and then thicken and smooth out the barbecue sauce with butter only using simple ingredients.
We skipped liquid smoke, anything with potential hidden glutamates and stuck to what we knew (and yes, tomatoes have glutamates, but it was minimal compared to the market options). But we also kept it simple, because we want people to try this easy recipe without feeling like its too complicated or takes all day. And low and behold, we've been making it in batches ever since we got this recipe dialed in!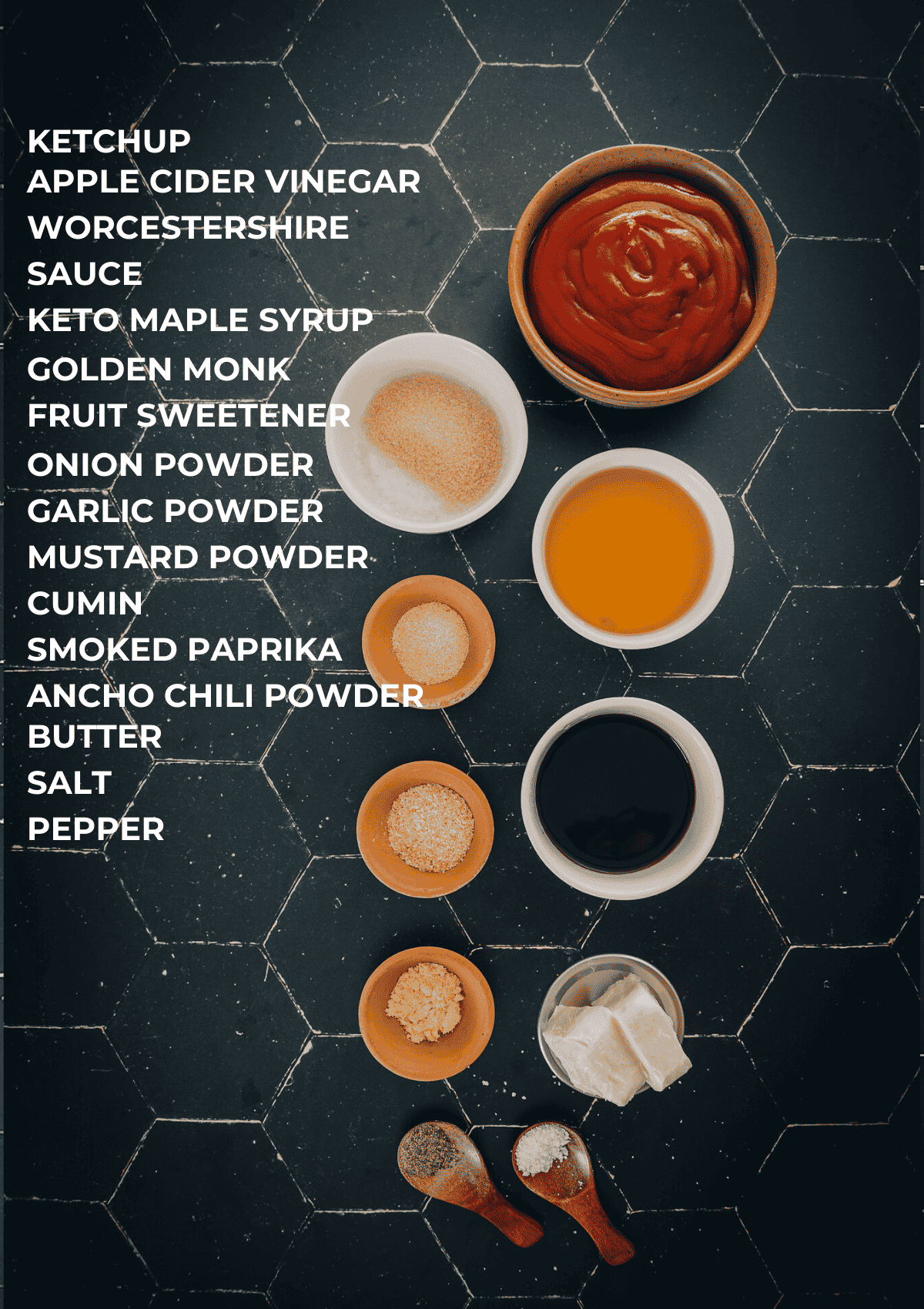 Ingredients
Ketchup – we recommend Primal Kitchen brand. We love it because it's sugar-free ketchup so we know things aren't going to be too sweet as we build our base (we also adore their buffalo sauce on pickle brined chicken wings)
Apple cider vinegar
Worcestershire sauce
Keto Maple Syrup, we recommend the Choczero Maple syrup (this works to add the depth classical molasses would to a homemade bbq sauce)
Golden monk fruit sweetener with erythritol, or your favorite brown sugar substitute or keto-friendly sweetener
Onion powder
Garlic powder
Mustard powder
Cumin
Smoked Paprika
Ancho chili powder, or dark chili powder (this is just personal preference)
Butter
Salt and black pepper
How to make the best low carb barbecue sauce
Like all my essential sauce recipes, from my Carolina-gold mustard-based sauce to my Vinegar-based bbq sauce, this Keto bbq sauce recipe is a great option for anyone looking for an easy fix. (Ps, those other two I just mentioned, also low carb sauces).
Start by whisking the ketchup, apple cider vinegar, Worcestershire, and syrup in a pot over low heat on the stove. Keep the heat set to low, or medium-low as it tends to bubble up.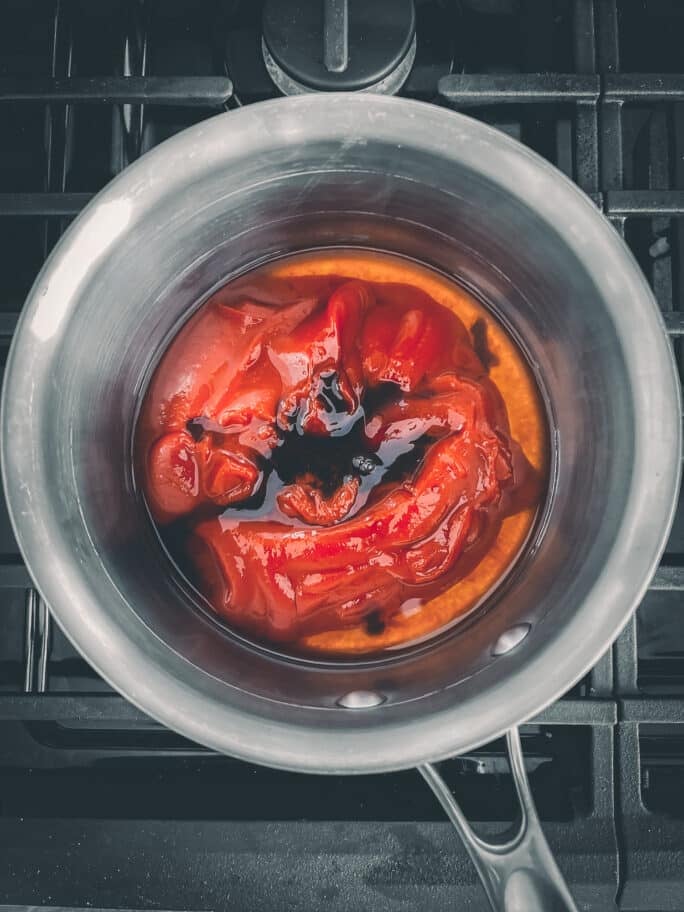 Continue to whisk and stir in the erythritol or your sugar substitute of choice, onion powder, garlic powder, mustard powder, cumin, smoked paprika, and chili powder.
Stir and let simmer with gentle bubbles for about 10 minutes until the erythritol has dissolved and the sauce is smooth.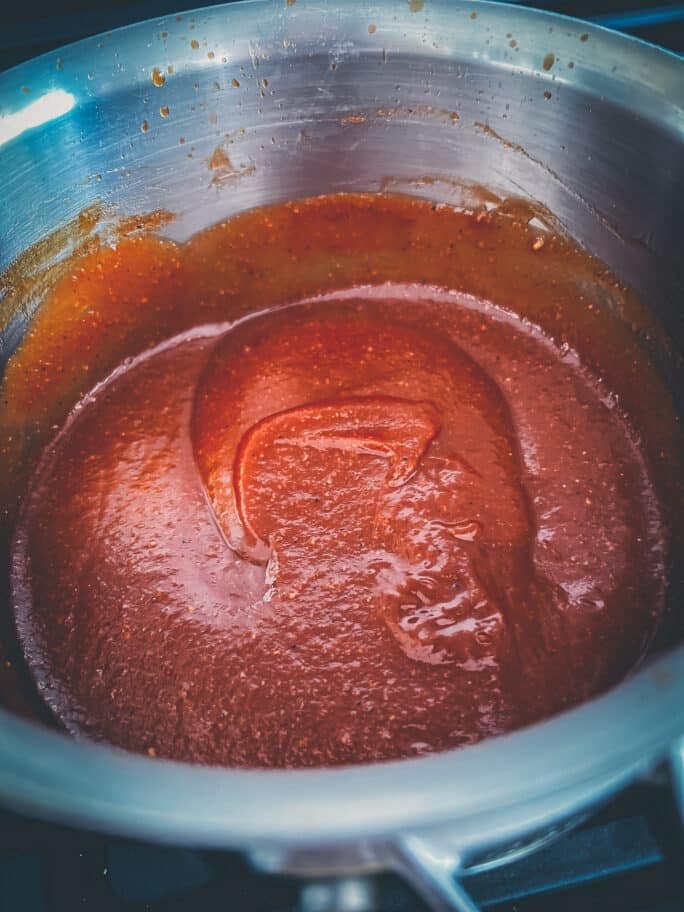 Remove the sauce from the heat and then whisk in the butter, one tablespoon at a time. This works to thicken the recipe and make is smooth and creamy.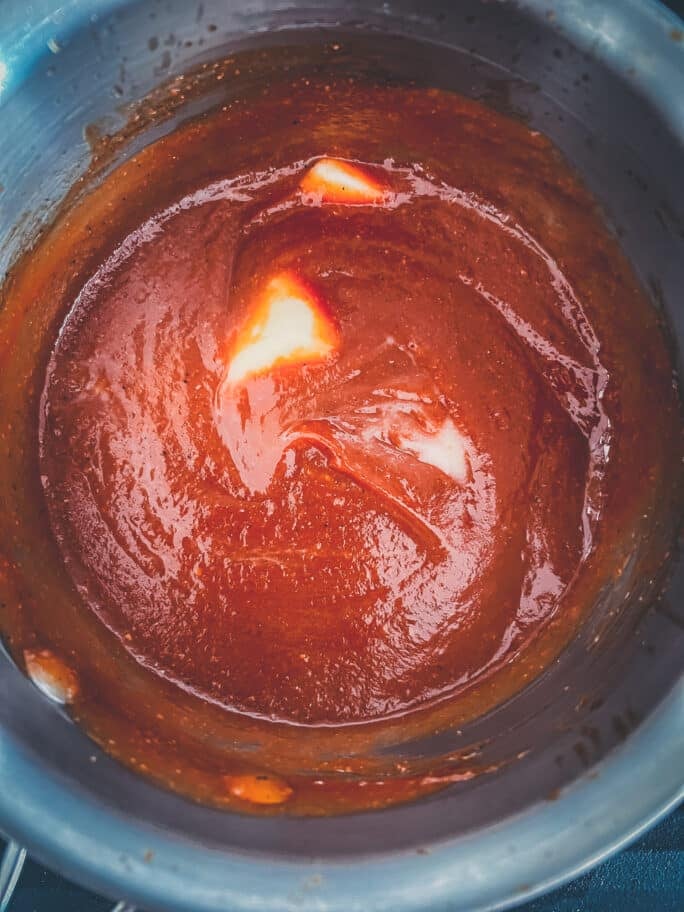 Set aside to cool.
This sauce thickens, to serve, I heat it a little bit before brushing it over my barbecue.
This sauce is best made 24 hours ahead of time and will thicken as it cools.
Storage
You can store this sauce in sealed mason jars or other resealable airtight containers in the fridge for up to 4 days.
Freeze this sugar free bbq sauce for up to 3 months. Simply thaw in the refrigerator when ready to use.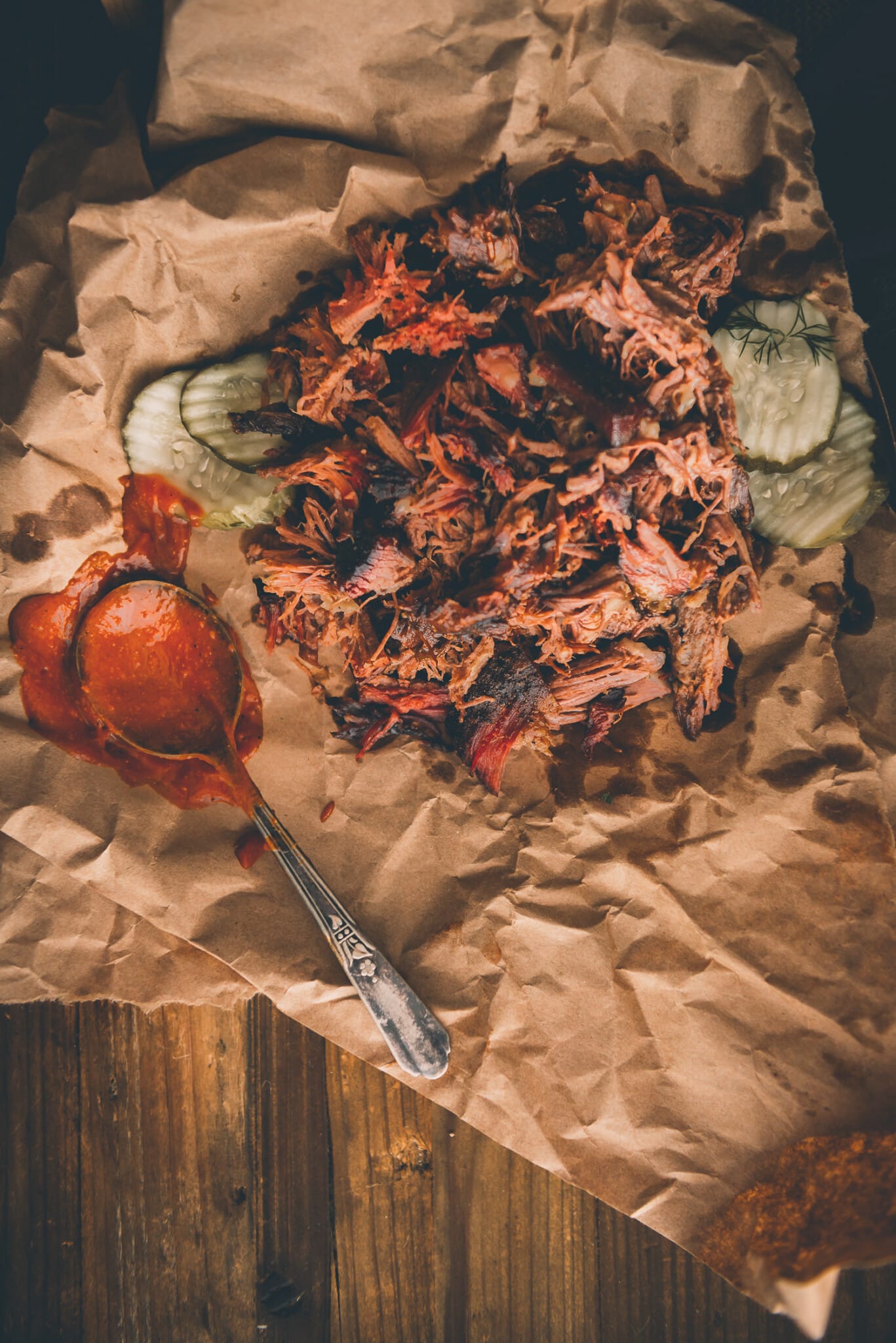 How to use homemade keto bbq sauce / what to serve with this sauce
Everything. We are loving this delicious sauce on chicken wings, smoked turkey legs, shredded beef, smoked St Louis ribs, smoked turkey legs, and just about everything we pull off the grill.
Recipe Tips
This version omits a lot of flavor enhancers, but if you're just looking for a low carb bbq sauce and can add some other key ingredients for deeper smoky bbq flavor, try a hint of liquid smoke, soy, or coconut aminos for depth
Growing up, we had a similar base recipe where we simmered onions and garlic with actual mustard down in a pot. If you have the time, replace the garlic and onion powder with minced garlic and onion and sauté them before whisking in the ketchup and other ingredients. Puree the sauce before adding the butter, unless you don't mind the texture in your barbecue sauce.
Because we add the butter, this version is not vegan (and also, because you're on this website) but if you needed it to be, omit the butter. The finished result will be thinner but would check that box.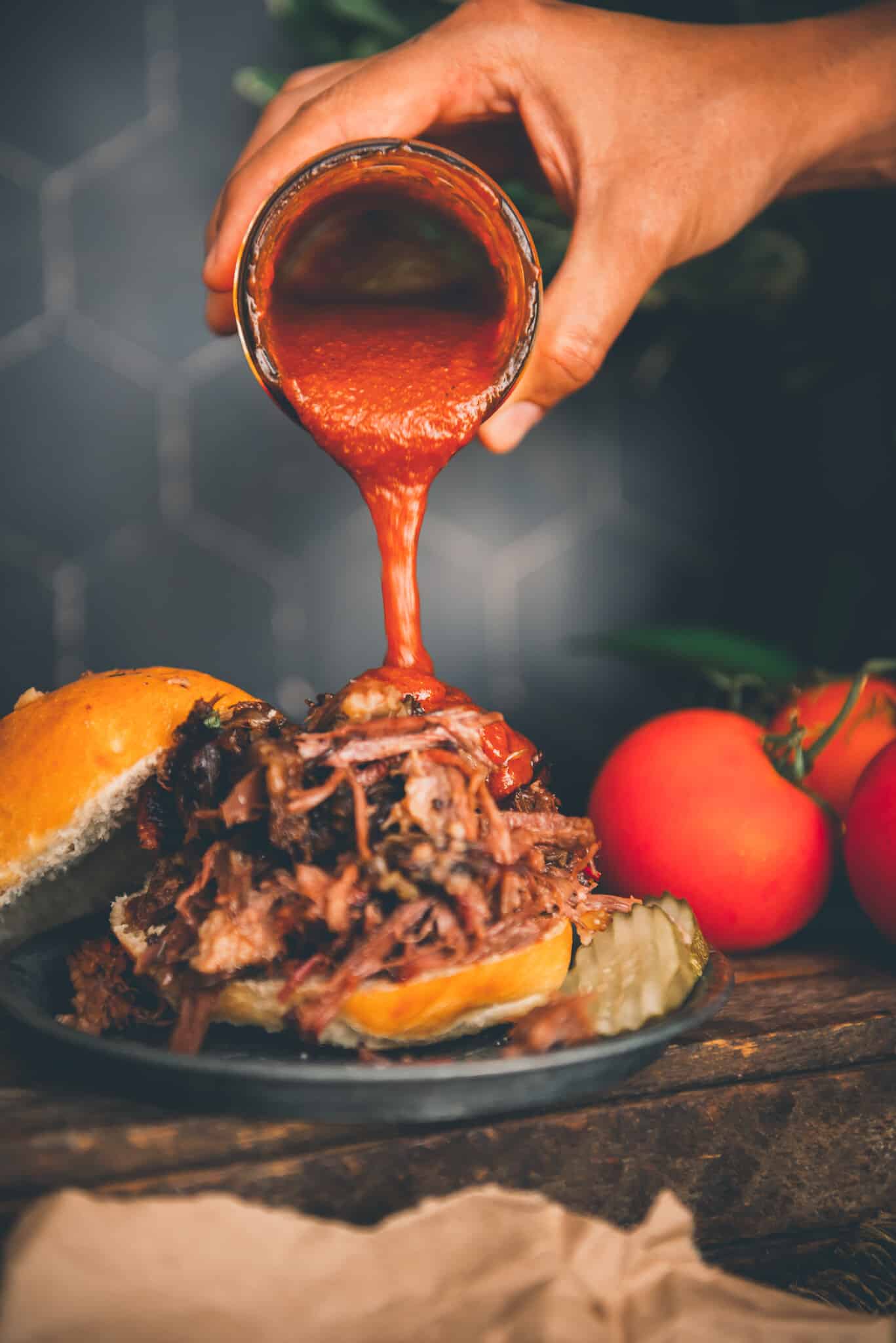 Frequently Asked Questions
Is it spicy? Nope, we kept this to a mild heat but you could easily add a dash of hot sauce to spice it up!
How to thin out bbq sauce? If this sauce gets too thick, simply reheat in a pan over low heat, whisking as it slowly heats up. If needed, add a splash of water to thin it out. Alternatively, microwave in 30-second burst, stirring between each.
Is bbq sauce keto? Homemade barbecue sauce can be keto. A lot of store brands also fit the bill, but have lots of sweeteners and ingredients that we wanted to omit. Like all diets, you always need to read the ingredients and make sure you're choosing the best option for yourself.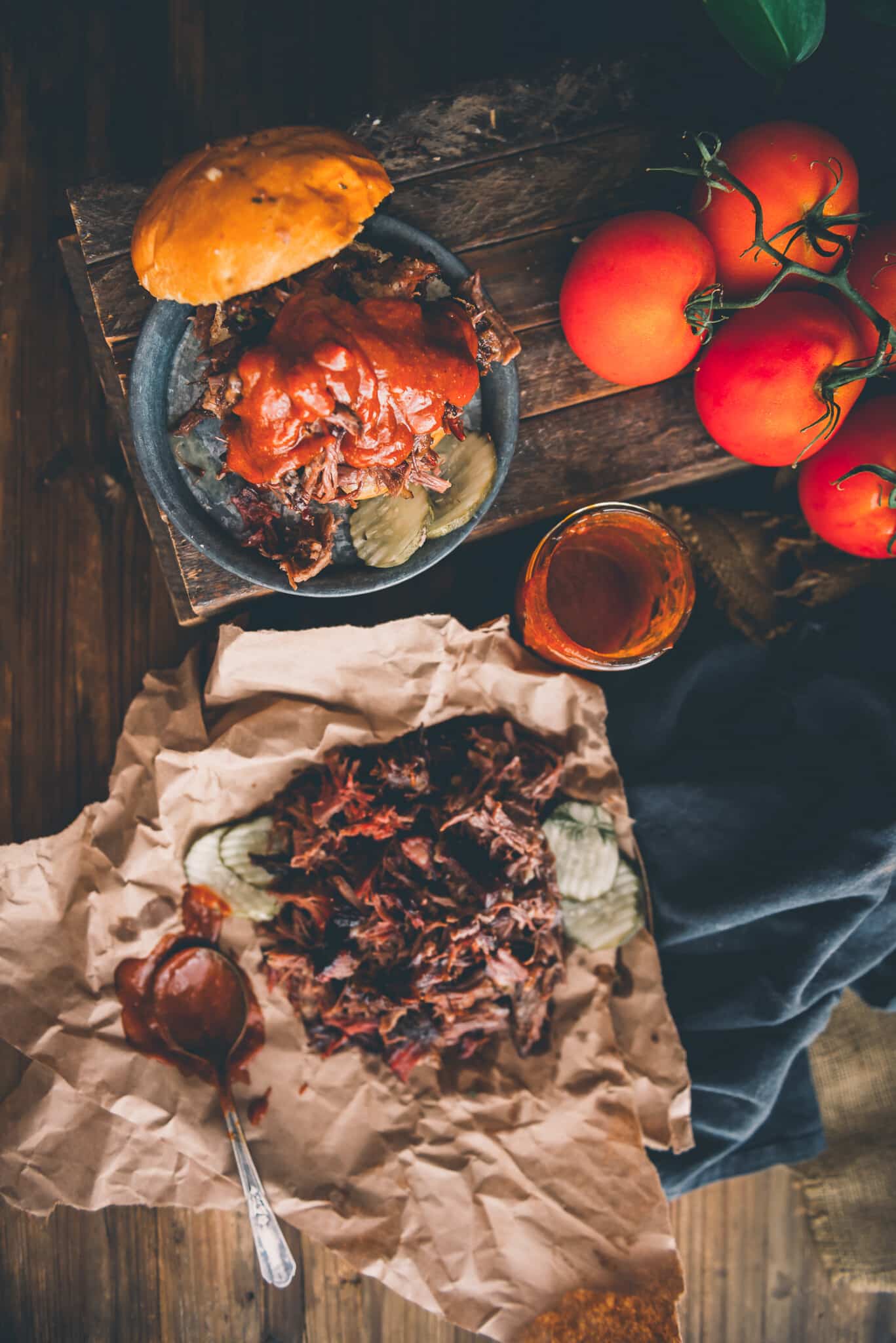 More homemade sauce recipes
Homemade Keto BBQ Sauce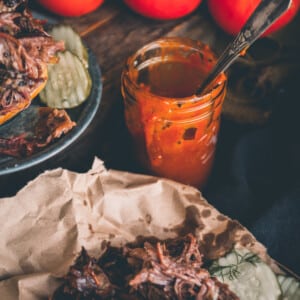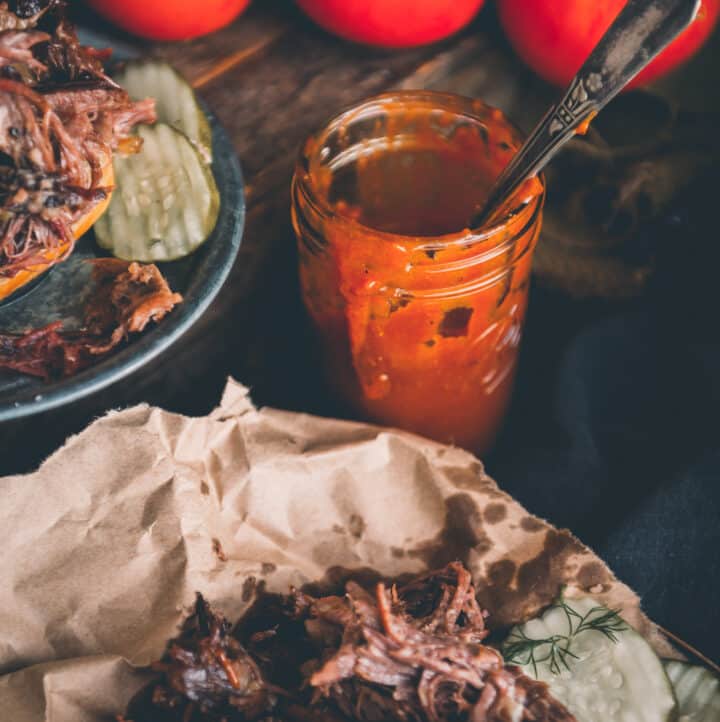 This homemade keto bbq sauce is tangy and delicious with a rich smooth finish. It's easy to make and goes perfectly with a variety of meats.
Ingredients
2

cups

ketchup

use a keto-approved brand

¼

cup

apple cider vinegar

1

tbsp

Worcestershire sauce

1

tbsp

sugar free syrup

1

tbsp

gold monk fruit sweetener with erythritol

1

tbsp

onion powder

1

tbsp

garlic powder

1

tsp

mustard powder

½

tsp

Cumin

½

tsp

smoked Paprika

½

tsp

Ancho chili powder

or dark chili powder

2

tbsp

butter

cut into small 1/2" cubes
Instructions
Add the ketchup, apple cider vinegar, Worcerstershire sauce, and sugar-free syrup to a pot over low to medium low heat.

2 cups ketchup,

¼ cup apple cider vinegar,

1 tbsp Worcestershire sauce,

1 tbsp sugar free syrup

Next, mix in the golden monk fruit sweetener and spices.

1 tbsp gold monk fruit sweetener with erythritol,

1 tbsp onion powder,

1 tbsp garlic powder,

1 tsp mustard powder,

½ tsp Cumin,

½ tsp smoked Paprika,

½ tsp Ancho chili powder

Stir over low heat until the sweetener has dissolved and everything has come together, about 10 to 15 minutes.

Remove from heat and whisk in the butter, 1 small pat at a time, until smooth.

Allow the bbq sauce to cool.

Pour into a wide mouthed mason jar or other resealable container to store.

let the sauce cool completely before storing in the fridge.
Notes
This sauce is best made 24 hours ahead to allow the flavors to meld.
We recommend :
Primal Kitchen Ketchup
Choczero Maple Syrup
Lakanto Golden Monk Fruit Sweetener with erythritol
The nutrition calculator doesn't account for keto-approved brands. Please consult your nutrition calculator app for more accurate information about the brands you use. 
Nutrition
Serving:
1
g
|
Calories:
26
kcal
|
Carbohydrates:
4
g
|
Protein:
0.3
g
|
Fat:
1
g
|
Saturated Fat:
1
g
|
Polyunsaturated Fat:
0.1
g
|
Monounsaturated Fat:
0.3
g
|
Trans Fat:
0.04
g
|
Cholesterol:
3
mg
|
Sodium:
157
mg
|
Potassium:
74
mg
|
Fiber:
0.2
g
|
Sugar:
4
g
|
Vitamin A:
166
IU
|
Vitamin C:
1
mg
|
Calcium:
7
mg
|
Iron:
0.2
mg