Bacon wrapped bbq fatty stands high on the list of great uses for bacon. So, let me introduce you to the Smoked Bacon Wrapped BBQ Fatty. Yep. You read that right. And it's the best thing you will grill this weekend!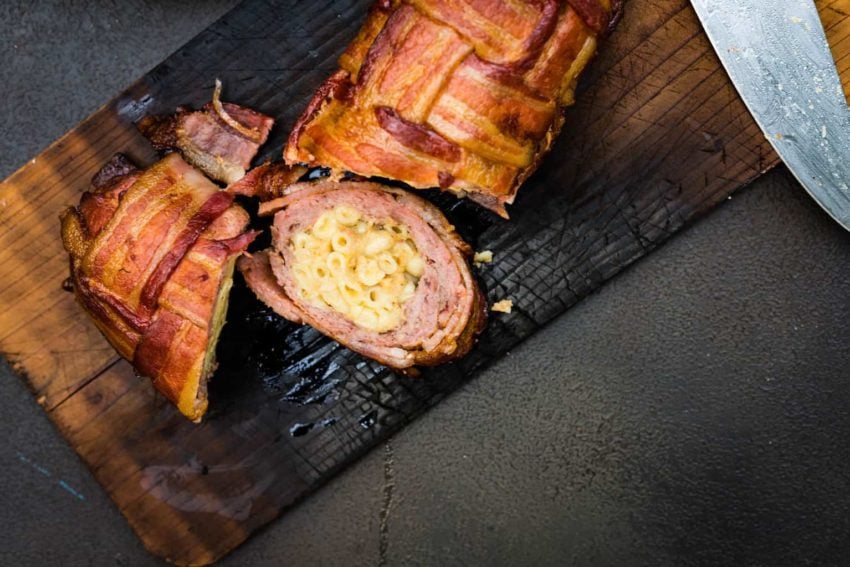 This post was sponsored by Head Country. All thoughts and opinions expressed are my own.
There's not much that makes people more curious than the words bacon weave.
Take that and wrap it around a mac and cheese stuffed pork roll and it's a return to childlike excitement. And if you are a fan of bacon wrapped recipes, then be sure to check out bacon wrapped chorizo jalepeno poppers too. Or bacon wrapped beer brats present another opportunity for bacon genius as well.
What is a Smoked Fatty?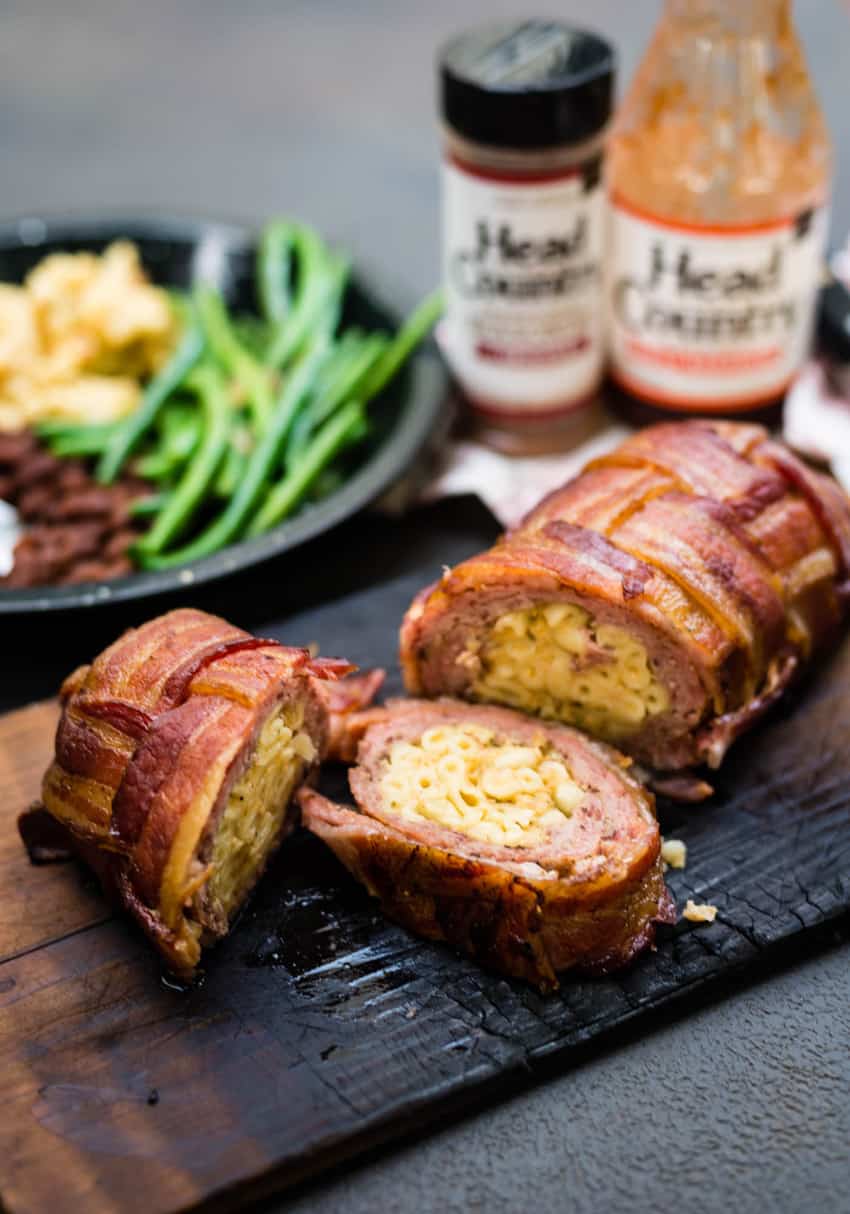 The BBQ Fatty has been around the scene for a while now and it's quickly becoming a trend. Essentially, it's a smoked sausage stuffed log.
Smoked Fatty's are easy to make and fun. The hardest part is the bacon weave, and then you just layer it up.
See the Web Story for Smoked Bacon BBQ Wrapped Fatty
Once you have mastered the woven deliciousness part, you can put your signature spin on them in a thousand different ways by seasoning the sausage or stuffing with anything.
What the fatty is filled with varies and I have seen everything from cheesesteak to burger fixings inside of them.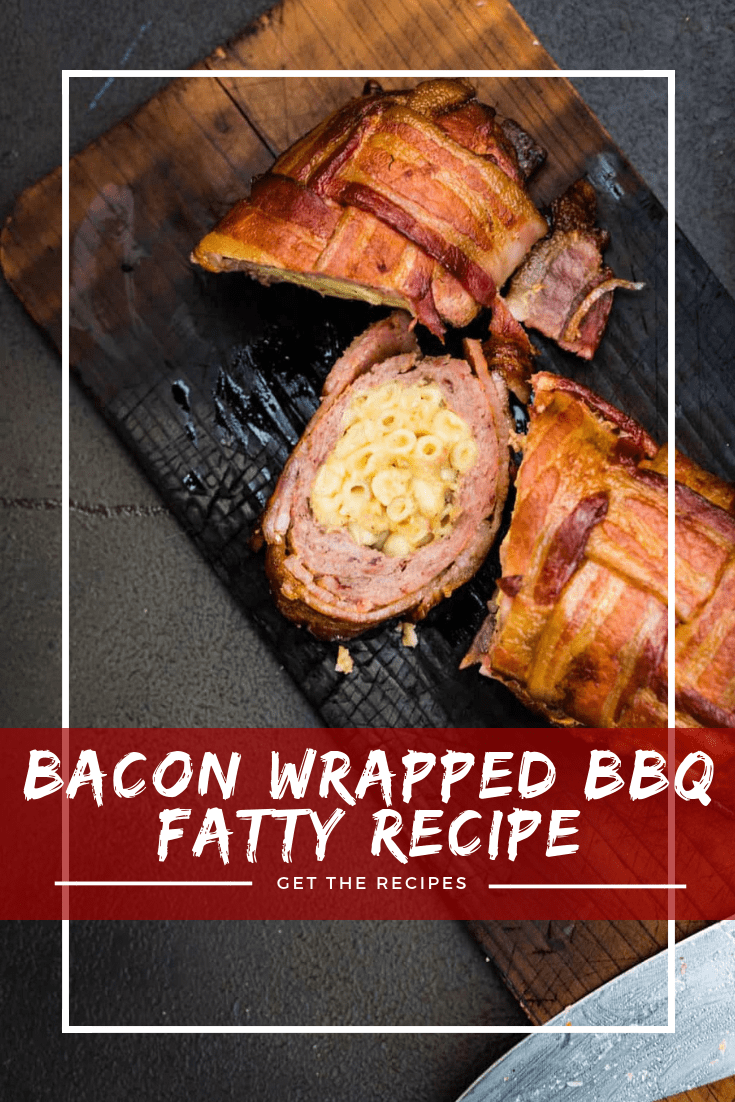 Use your favorite mac and cheese recipes to fill these. Whip out grandma's meatloaf recipe. Make it spicy or sweet using hot sausage or breakfast sausage. Make a buffet of smoked fatty varieties for your next football game.
They are that easy.
And, true story, everyone loves them.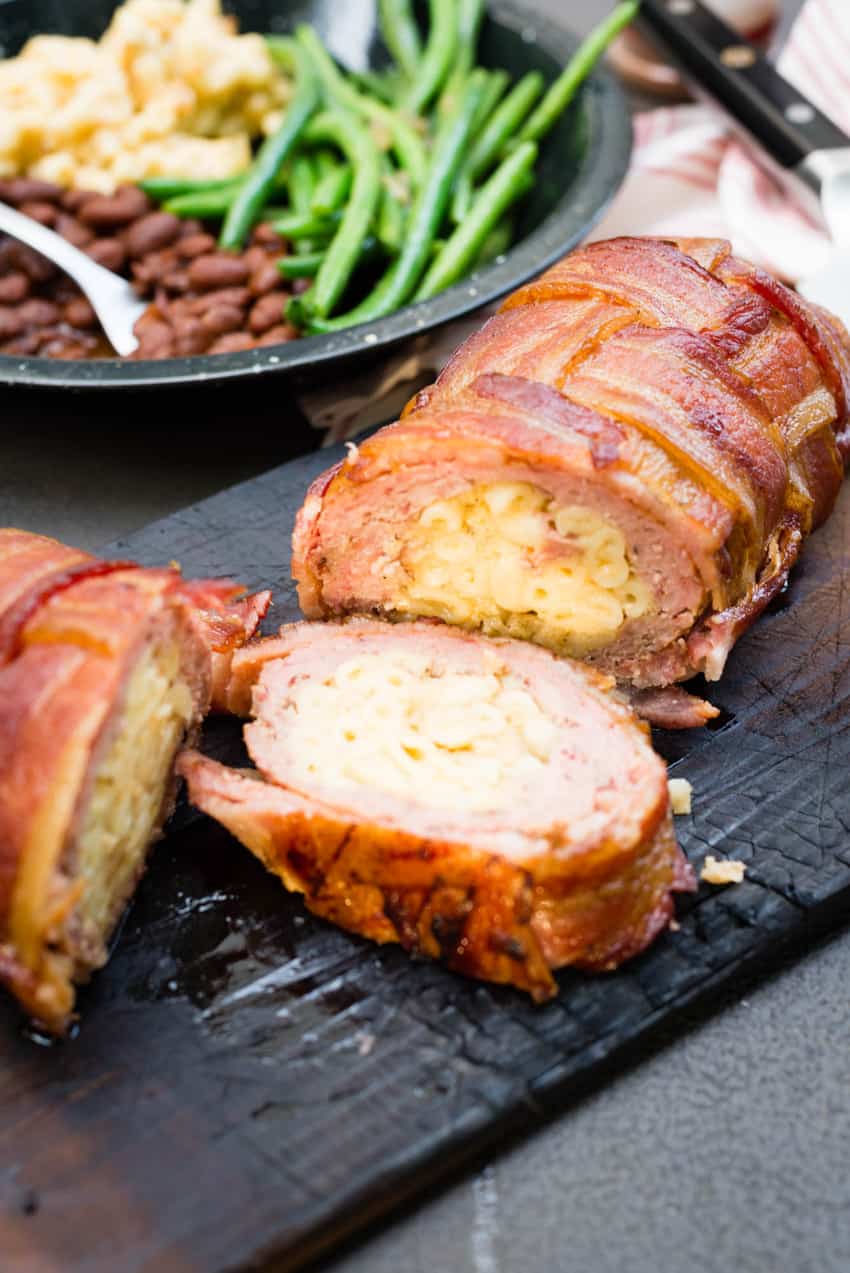 That's A Wrap! (A Bacon Wrap)
Creating the savory basket of bacon to wrap your stuffing is actually pretty easy. It seems like a craft project but don't let that throw you off. Let yourself get transported back to that art class with the hippie teacher who loved everyone. I hope that is a fond memory but if it isn't… then bummer dude. You missed out.
Just don't let it keep you from enjoying bacon fatties.
When you lay out the strips of bacon, then just make sure to keep them evenly spaced. You want all the bacon to cook evenly around the stuffing. Nothing brings a party down like uncooked bacon. People will look at you like you just made an attempt on their life. They will wonder why you still walk free when nonviolent offenders sit behind bars.
Lean Pork For The Ground Pork
Since the fat from the bacon is going to baste the stuffing during the smoking process, you can get away with leaner ground pork for the stuffing. The leaner pork has another advantage during smoking in that it will shrink – but not too much. That helps brown your bacon weave and cooks it perfectly instead of overcooking it.
Nothing worse than a perfect bacon weave ended up a black crust with an undercooked stuffing inside. You might think about giving up bacon and going fully vegetarian. So make sure you have the fatty over the cooler section of the grill. No direct fire flaring up and lashing it with uneven whips of flames.
Substitutions That Work Too For Bbq Fatties
If you feel like pork sausage with the bacon weaved around it is taking pork to an extreme that you just can't handle, then you can of course do substitutions.
Don't hesitate to get creative. The possibilities are endless. You can use mac and cheese, but let's face it. French fries would not be out of line either. Especially with a bit of cheese melted into them.
Ground beef bacon wrapped fatty
Ground beef does not disappoint. I would go with the 80/20% blend to make it similar to lean pork. Everything else stays the same but you could add a bit of shredded sharp cheddar to the interior and add a bit of "wow" to when you cut it open and the melted cheese bubbles out.
Can I use Ground lamb for a barbecue fatty?
Ground lamb with a bunch of chopped parsley in it will feel like you just put a Greek spin on things. Add some Feta cheese to your Mac N Cheese to really accentuate the Grecian spin on things.
How to do a chicken or turkey fatty
If you use ground chicken or turkey, then you are going to want to mix your meat with a bit of breadcrumbs and couple eggs to help it hold together. You don't want all your ground meat to dry up and crumble out and leave you with an exoskeleton of crispy empty bacon basket.
Bacon substitutions for a barbecue fatty
You can even substitute the bacon wrap with turkey bacon. I haven't tried it admittedly but in principle, it should work. I just feel like if you are going to wrap with bacon then you have to commit to it heart and soul.
Turkey bacon just seems lacking in those qualities but that might just be me.
What is a good homemade mac and cheese recipe?
I used this smoked jalapeno mac and cheese recipe for my filling and doubled down on the peppery-zing with Apple Habanero Bar-B-Que Sauce.
True story, I should have made about 4 more of these. Because this batch was gone before I could go back for seconds.
Tips for making a bacon basket weave
Once you get the hang of it, then all good. It is pretty easy to do but doesn't hurt to know a few tips to improve your technique. After all, it is important that it comes out looking like you have been weaving bacon your entire life.
Make sure your bacon is nice and chilled. It makes it easier and less slippery to deal with.
For fatties, thicker bacon is easier to work with, but not too thick. It is also useful because it cooks with the contents more easily.
Create the weave on plastic wrap, foil, or parchment paper. That way it is easy to roll up altogether.
If you use thinly sliced bacon then it is a good idea to double it up.
After you have the weave laid out, then cover it with plastic wrap. Next, take a rolling pin and flatten it up a bit. It brings the edges together and provides a perfect covering of bacon when you roll in the filling. If you don't have a rolling pin handy, then take a straight sided jar and roll it on its side over the wrap.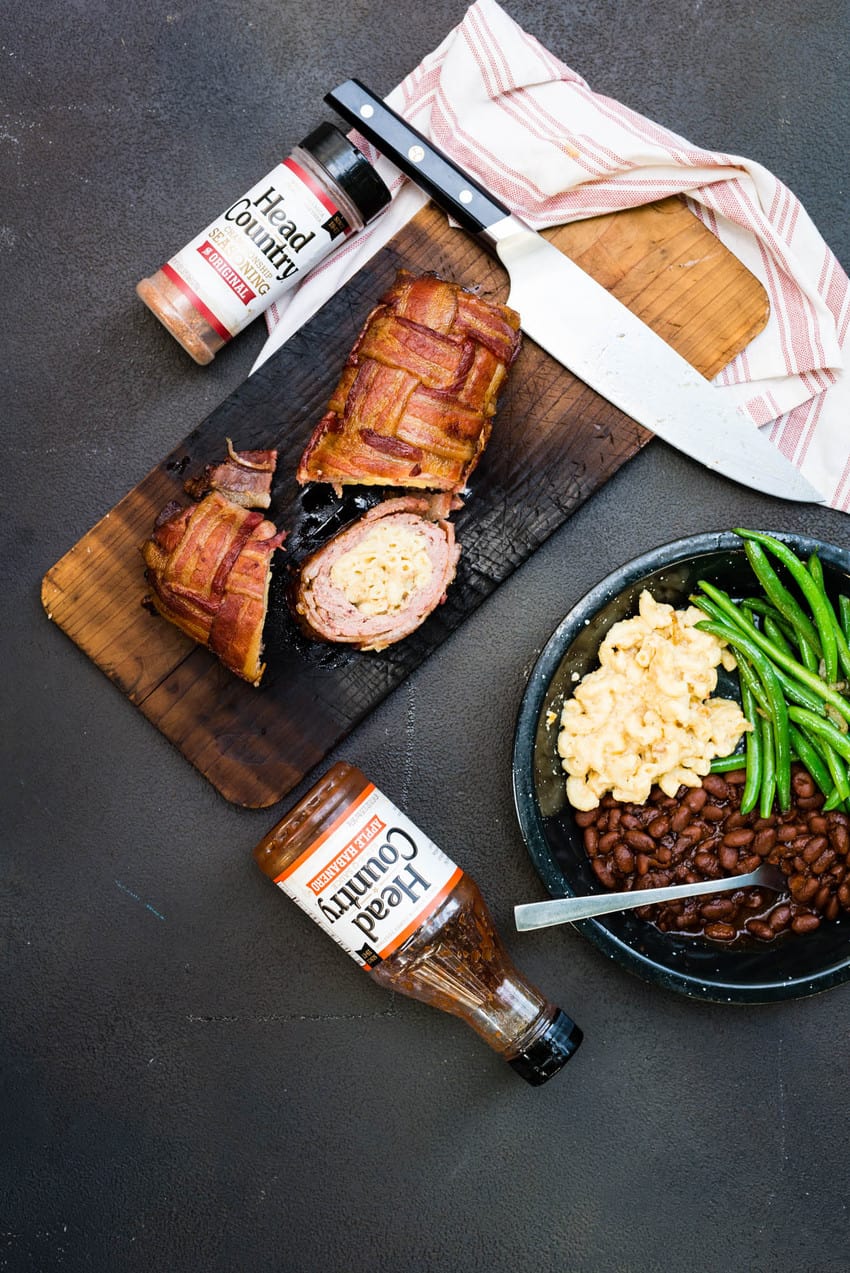 Want more fun grill recipes for friends? Try some of my favorite recipes
If you've tried my Smoked Bacon Wrapped BBQ Fatty recipe, or any other recipe on GirlCarnivore.com please don't forget to rate the recipe and let me know where you found it in the comments below. I get inspired by your feedback and comments! You can also FOLLOW ME on Instagram @girlcarnivore as well as on Twitter and Facebook.
Smoked Bacon Wrapped BBQ Fatty Recipe
What could be better than a pork roll stuffed with sausage, wrapped in bacon and smoked? Absolutely nothing. Seriously.
Ingredients
1

lbs

bacon

thick cut

1

lbs

pork sausage

Ground pork sausage or sausage links

1

tbsp

Head Country Apple Habanero Bar-B-Que Sauce

Any bbq sauce works as an option

1

tbsp

Head Country Original Seasoning

You can use your own seasoning blends too

1

cup

homemade creamy mac and cheese

Boxed mac and cheese work too
Instructions
To Make the Bacon Weave
On a clean work surface, divide your bacon into 2 equal piles.

Arrange half of the strips on your work surface, length to length, forming a square.

Fold back every other strip of bacon

Starting with the reserved half of bacon, lay a strip perpendicular across the square of bacon.

Fold up the previously turned down strips to weave the first piece in place.

Fold down the strips that you didn't turn down in the last step (every other one). You should start to see the weave forming.

Arrange the next slice of bacon across the square, folding the turned down strips atop to form the weave.

Repeat these steps until all the bacon is used up, adjusting the length as needed.
For the BBQ Pork Filling:
In a large bowl, combine the ground bacon sausage with the Apple Habanero Bar-B-Que sauce and Head Country Original Seasoning.

Press the bbq bacon sausage filling evenly over the bacon weave.

Spoon the mac and cheese into the center of the pork, leaving a 1″ edge from the top and bottom.

Starting with one edge, roll the entire BBQ fatty up, making sure the bacon weave comes with it.

Pinch the edges together along the crease and both ends.

Fold the bacon in on itself to secure.

Sprinkle the remaining Head Country Original seasoning over the top.
Smoking the BBQ Fatty
Start the smoker:

Preheat the smoker to 225 F.

Lay the bbq pork fatty, seam side down on the cooler side of your smoker.

Cover and smoke until the internal temp of the pork reaches 165F and the bacon is crispy.

Remove from the smoker and allow to cool 5 minutes before slicing and serving with additional bbq sauce for dipping.
Notes
You can use a variety of stuffings. Make sure your bacon cooks until it is toasted enough to hold everything together – but not too crispy where it becomes fragile.
Nutrition
Nutrition Facts
Smoked Bacon Wrapped BBQ Fatty Recipe
Amount Per Serving
Calories 1005
Calories from Fat 720
% Daily Value*
Fat 80g123%
Cholesterol 156mg52%
Sodium 1909mg83%
Potassium 663mg19%
Carbohydrates 29g10%
Protein 38g76%
Vitamin A 190IU4%
Vitamin C 0.8mg1%
Calcium 149mg15%
Iron 4.1mg23%
* Percent Daily Values are based on a 2000 calorie diet.