This post may contain affiliate links. Please read my disclosure policy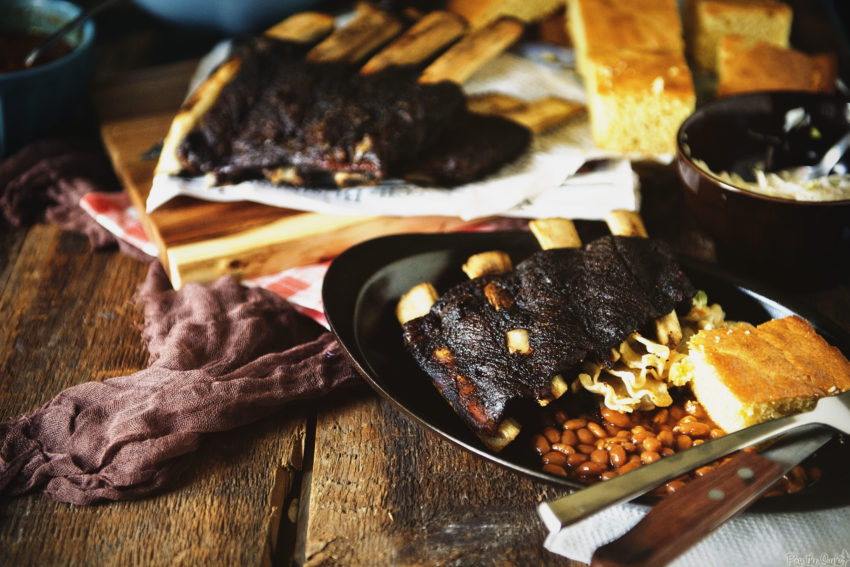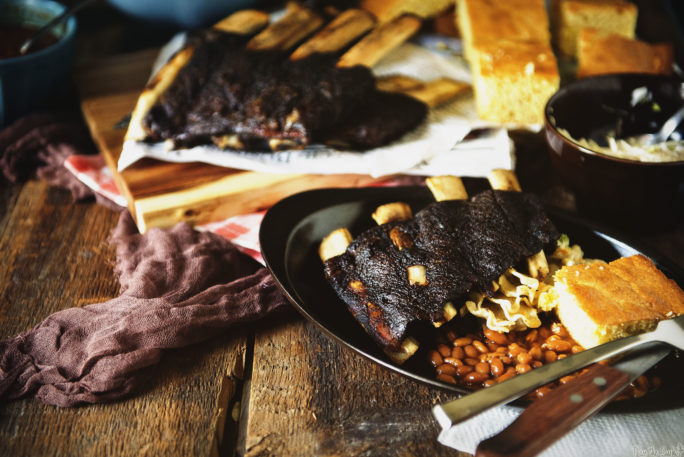 We could spend all day arguing about what kind of ribs are the best. Are we talking like mama made them, slathered in sauce, dry rub, smoked, boiled, char-grilled, or hell, oven roasted? We could agree to disagree on regional rubs or sauce profiles. We could go over the pro's and con's to mopping or wrapping in foil. I get it. I am a girl. I can't possibly know anything about barbecue. I'll just get back in the kitchen and bake you a cupcake. And I'll be nibbling on these ribs the whole time, because as far as I'm concerned, the best BBQ is the kind you have in front of you. Right here right now.
So, don't spend all day bickering. Grab some ribs and get to work. Cuz I'm ready to eat.
Though, I would like a cupcake too. No lie.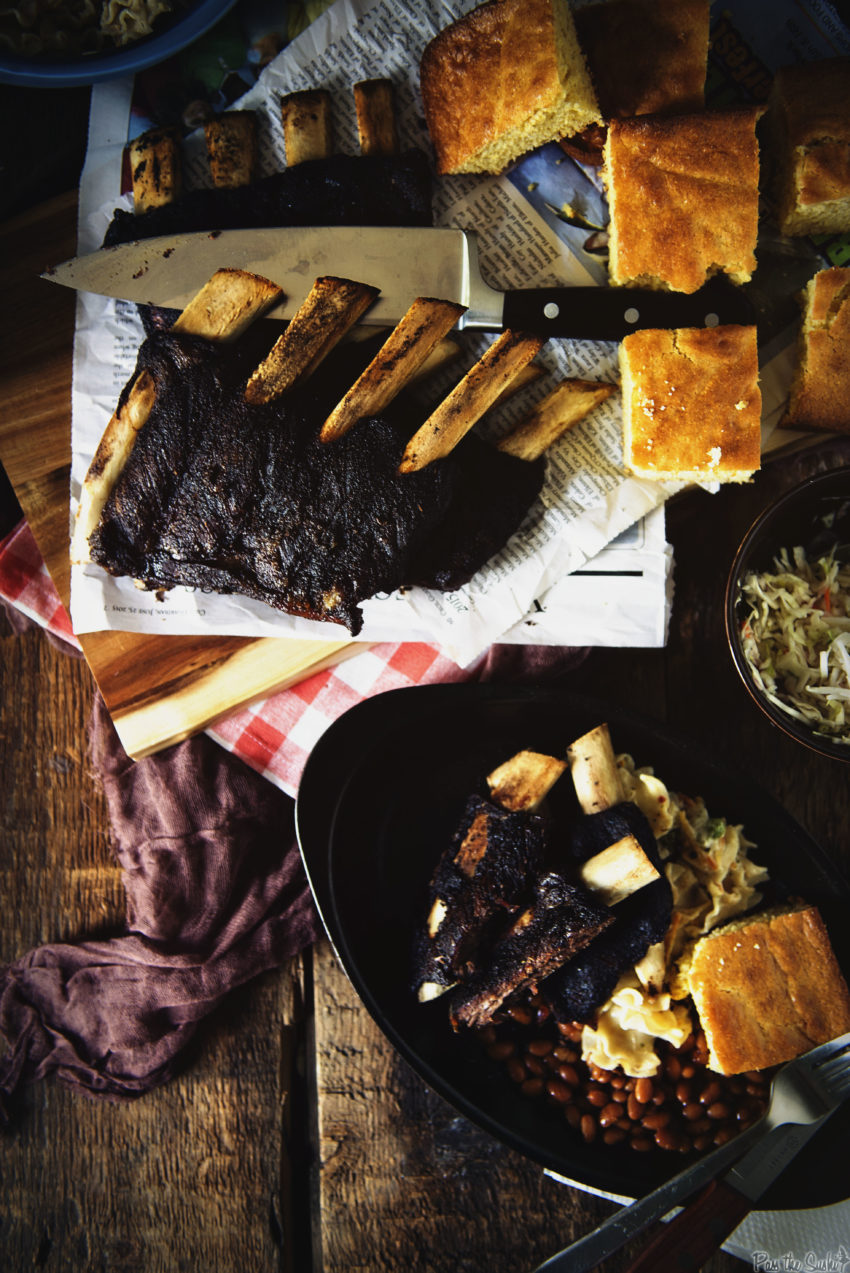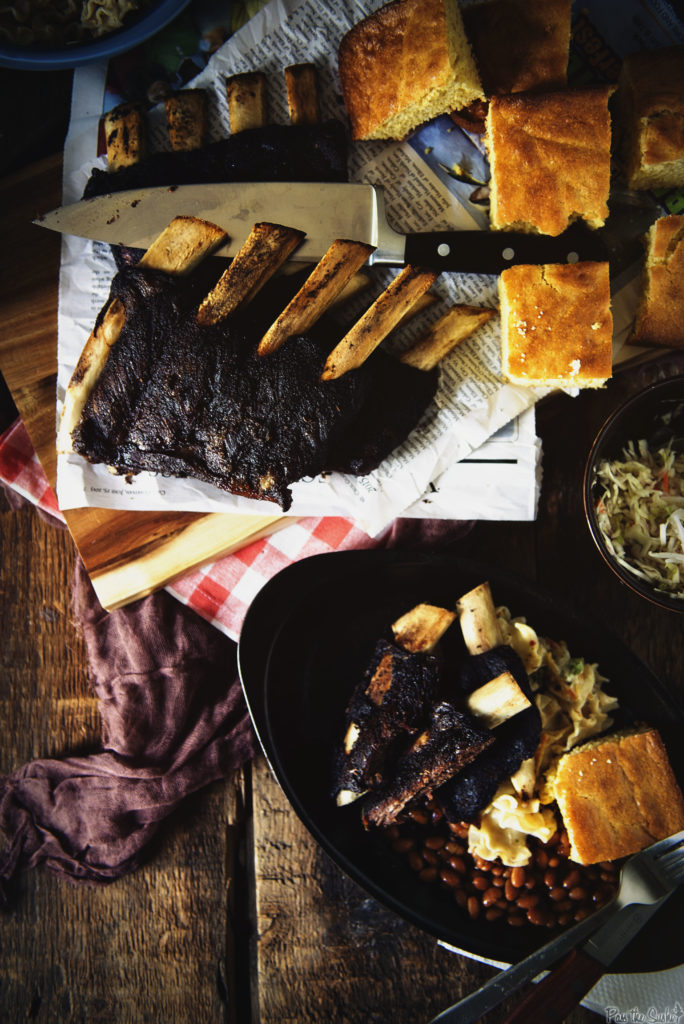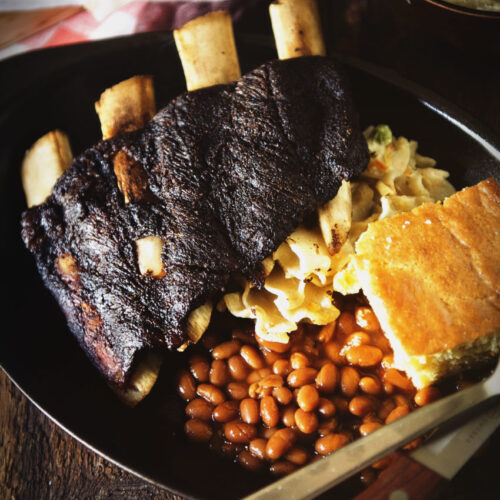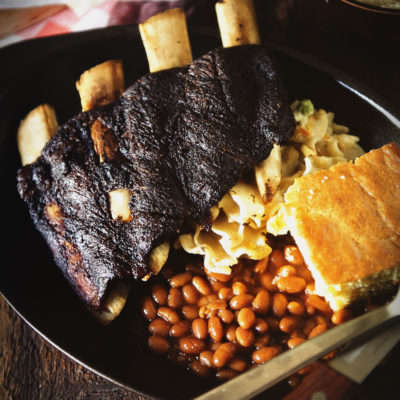 Texas Style Barbecue Beef Ribs
These beef ribs are started in the oven and finished off over a smoky charcoal grill. Perfect for beginners or those who just don't have the patience to watch the temp outdoors for a few hours before dinner. The flavor is spot on, even without the long smoke. Look for short stout slabs of beef back ribs with a good heft of beef on them. Longer slabs are hard to wrangle on and off the grill.
Print
Pin
Rate
Ingredients
3

tbs

brown sugar

4

teas chili powder

1/2

teas cayenne

1

tbs

salt

2

teas pepper

5

lbs

beef rib slabs

about 3 to 4 ribs each slab - go for short ones to better manage on the grill

Sauce if desired for serving
Instructions
Whisk the brown sugar, chili powder, cayenne, salt and pepper in a bowl. Pat the ribs dry with a paper towel and sprinkle a heavy coat of the rub over each of the slabs. Wrap tightly in plastic wrap and place in fridge for 4 to 24 hours.

When ready to cook, preheat your oven to 300 degrees F. Arrange a wire baking rack in a pan and place just enough water to cover the bottom in. Arrange the ribs on top. Cover the whole thing with foil and carefully slide into the oven. Bake for about 2 hours, the beef will begin to pull from the bones.

Soak your wood chips according to manufacturer and drain. Place in an aluminum foil packet and cut a few slits into the foil. Heat your charcoal grill for indirect heat and arrange the foil packet over the hot coals on one side of the grill. Allow to heat and smoke, covered for 5 minutes.

Grease the cooking grate and toss the ribs on the cooler side of the grill, and grill with the lid down, flipping once or twice through cook time, for the next hour to 1 1/2 hours . Ribs will be lightly charred. Allow to rest for 10 minutes in foil before dishing out.
Notes
Cook's Illustrated Summer Grilling 2011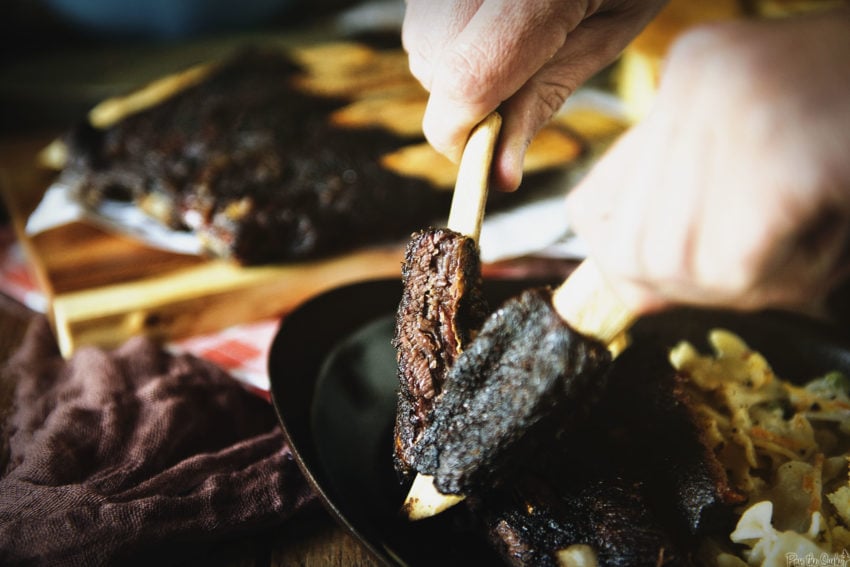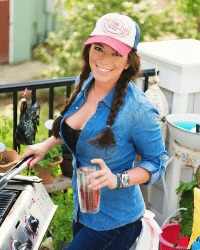 Hey, I'm Kita, the Meat Maven, outdoor junkie, campfire connoisseur, adventure-seeking and world traveled recipe developer and photographer behind GirlCarnivore.com. My mission is to break down savory eats and inspire you to get a little grit under your nails while having fun with your food. READ MORE