This boneless Lamb Barbacoa shreds perfectly after it's cooked to perfection making it the perfect filling for tacos, sandwiches, and more! This slow-smoked leg of lamb is incredibly tender and juicy, then served on corn tortillas with salsa verde, pickled red onions, and more!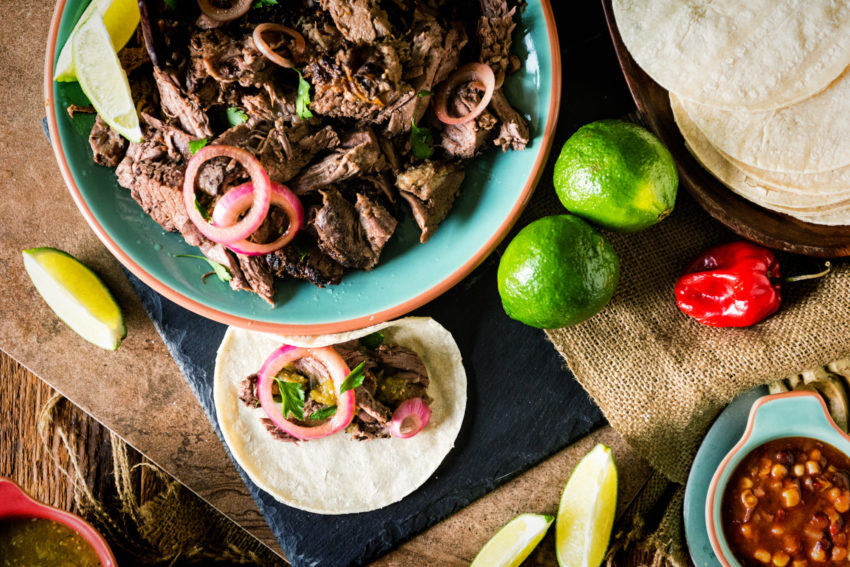 Barbacoa has roots deep in the history of southwestern barbecue. We know it goes far back with varieties from the Indies, the Caribbean, and American Indians. 
For this recipe and cooking method, I'm talking about the barbacoa found in the southwest region of America. Workers were often paid with lesser valued cuts of meat, that needed to be cooked low and slow in pits covered with leaves until they could be pulled. Making fork-tender and succulent bites.
The hours of smoke would bathe the hearty cuts and allow the flavors to seep in and transform what could have been a rustic cut of tough roast into extremely tender juicy barbecue.
Unlike a roasted or smoked leg of lamb, where you want to cook to medium-rare, this boneless leg of lamb is cooked until it can be shredded easily with a fork. If you're looking for a traditional bone-in leg of lamb recipe to serve, try this honey dijon leg of lamb.
Although I would love to have a coal-filled pit in my backyard for big cuts of juicy meat, it's not very likely for the average person. This recipe for lamb barbacoa is a modern spin on the classic. It's made in the smoker, but still packs a ton of flavor!
What is Barbacoa?
Barbacoa is a cooking method that involves steaming meat, usually lamb, goat, or pork, in an underground oven.
I opted to use a smoker for my spin on lamb barbacoa. A light spice rub, hours of smoking over wood chips, and a low temp allow the fat to melt over the leg of lamb, basting it in all that juicy glory. I shredded it, then steamed it with a light beer for added flavor before turning this pulled smoked leg of lamb into a serious barbacoa taco bar!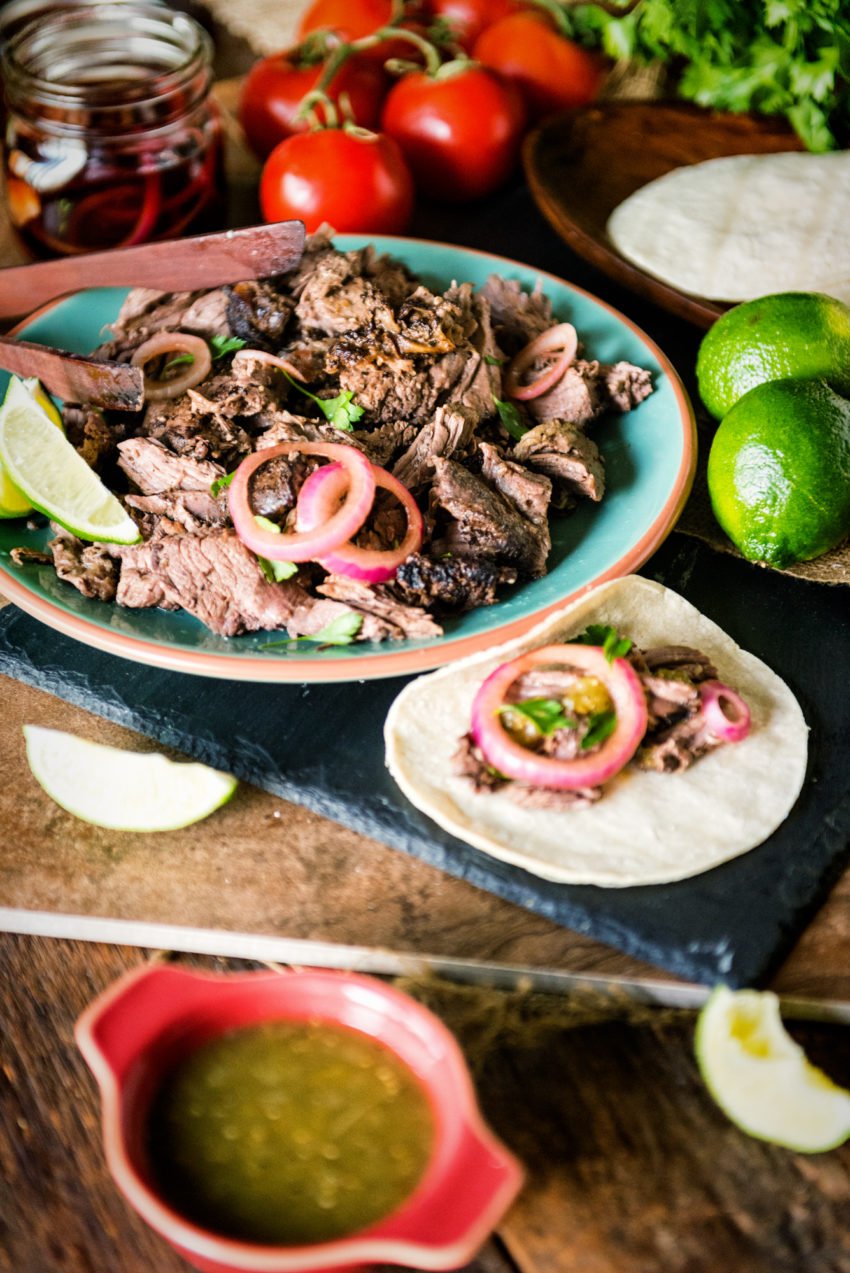 Ingredients Needed:
Leg of American Lamb – you'll need one 10-pound leg of American lamb with the bone removed. You can ask your butcher to remove the bone for you.
Seasonings – we're using a simple yet flavorful blend of cumin, oregano, coriander seed, cinnamon, chili powder, salt, and pepper.
Beer – any light beer will work.
For Serving – serve your lamb barbacoa with salsa verde, pickled red onions, limes, avocados, and corn tortillas.
How to Make Lamb Baracoa
First, combine the seasonings in a small bowl, then rub them all over the lamb.
Prep your smoker and wood chips for 210-225ºF, then smoke the lamb for 8-10 hours. When it's safe to handle, shred the lamb.
Arrange the shredded lamb in a foil baking pan, pour in the beer, then cover with foil and steam until the fat and cooking liquid reduce by half.
Serve with salsa, pickled red onions, lime wedges, avocado, and corn tortillas.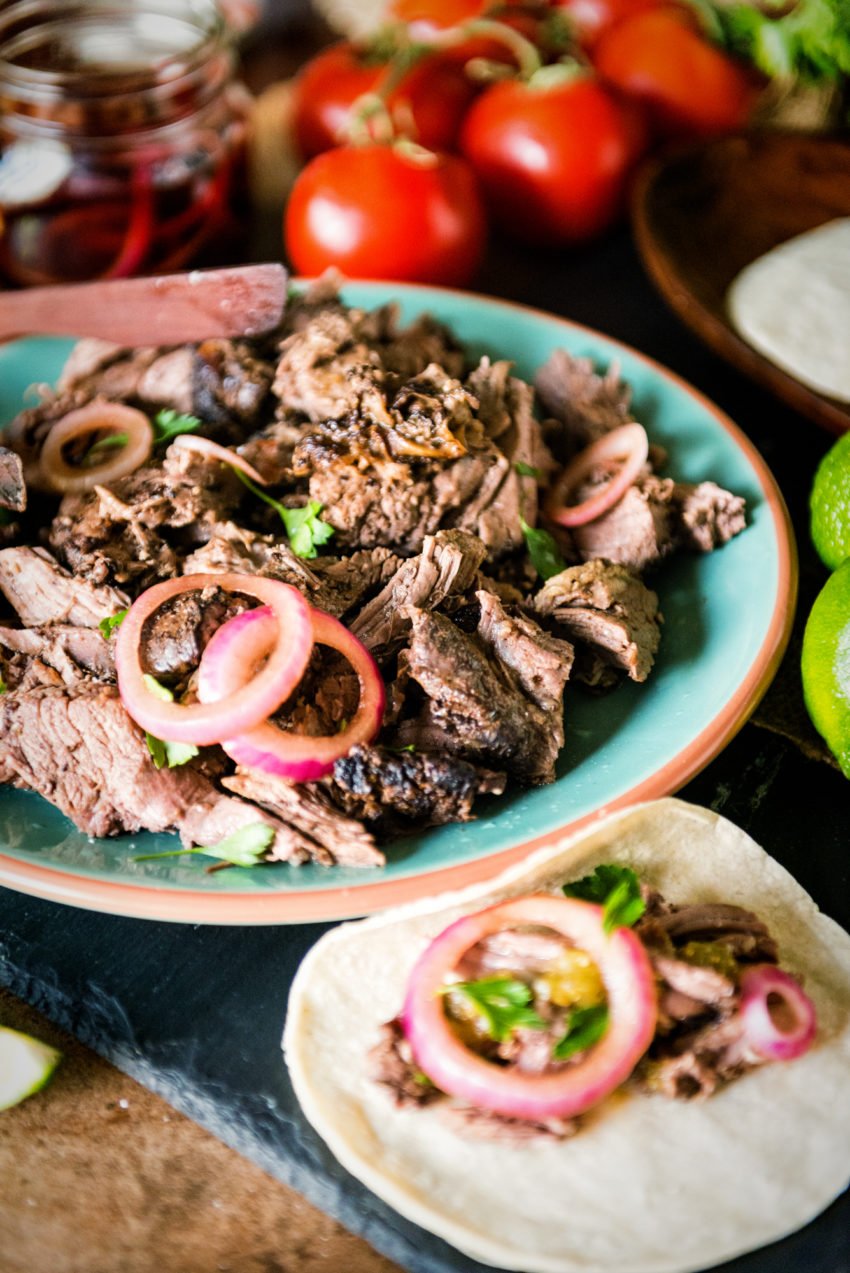 How Long Do You Smoke Lamb?
We're smoking the 10-pound leg of lamb extra low and slow at 210-225ºF for 8-10 hours.
Keep in mind that a different sized leg of lamb will cook at different rates. The best way to tell that it's done is to check the internal temperature with a meat thermometer. Smoke it to 185-190ºF for easy shredding!
Tips and Notes for Smoked Leg of Lamb
Season ahead of time. I like to add the dry rub to the meat ahead of time so it can marinate for a little bit. This allows the flavor to really penetrate the meat.
Smoke fat side up. Smoking fat side up allows the fat to drip down and baste the meat as it cooks for a juicier, more tender texture.
Don't open the smoker. Opening the smoker too often lets heat out which causes fluctuations in temperature. Avoid opening it as much as possible for more even cooking!
Check the temp. As always, use a wireless digital thermometer to ensure that the meat is temping correctly. You can cook it to 145ºF and slice or chop the meat but I like to cook  it to 185-190ºF so it's easily shreddable! 
Serving Suggestions
I love to serve this smoked lamb on corn tortillas topped with the best taco toppings. My favorites are salsa verde and pickled red onions! This also makes for amazing bbq sandwiches with sauce, enchilada filling, or as leftovers for lamb chilaquiles.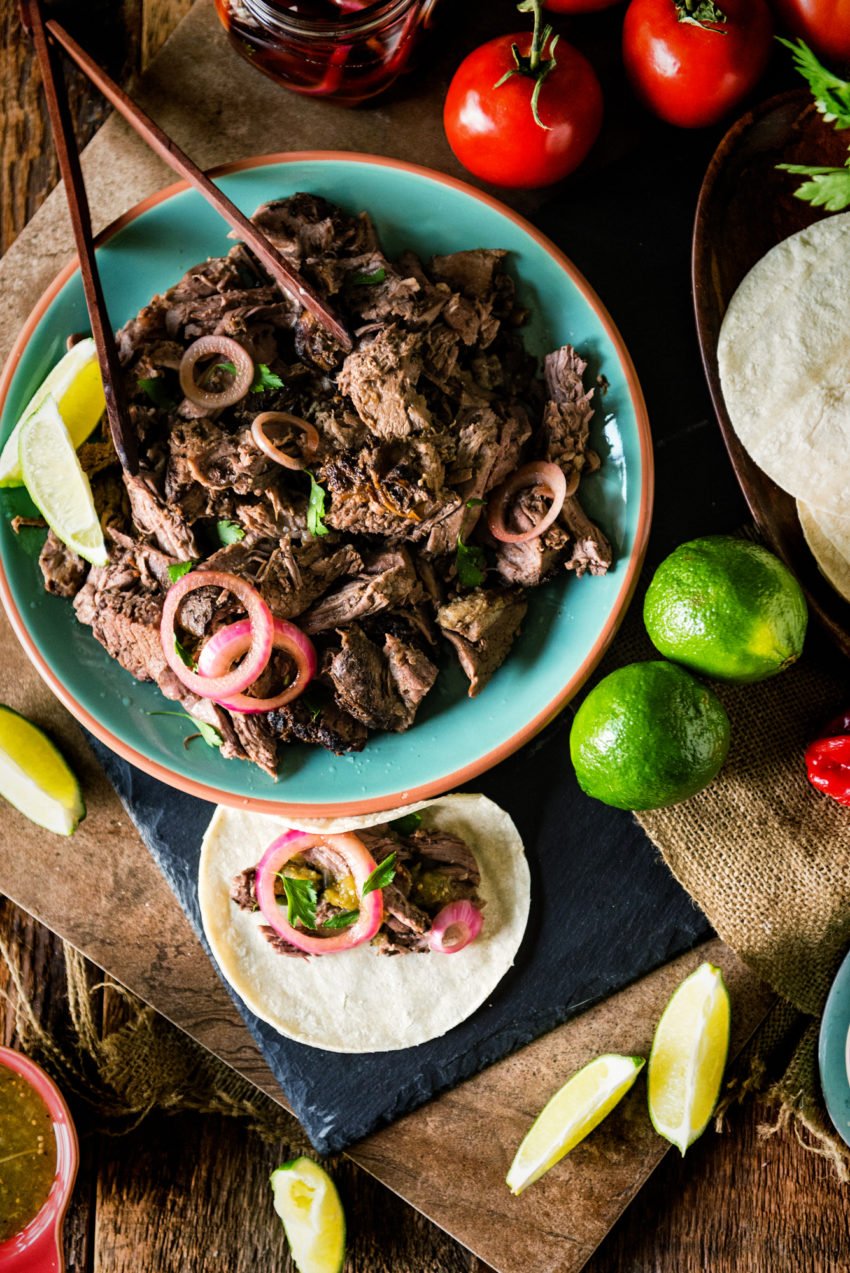 How to Store
Leftover lamb barbacoa will last in an airtight container in the fridge for 3-4 days or in the freezer for up to 3 months.
To reheat, thaw in the fridge if frozen, then warm on the stove with a splash of broth to moisten until heated through.
More Lamb Inspiration

If you've tried my Lamb Barbacoa recipe, or any other recipe on GirlCarnivore.com please don't forget to rate the recipe and let me know where you found it in the comments below. I get inspired by your feedback and comments! You can also FOLLOW ME on Instagram @girlcarnivore as well as on Twitter and Facebook.
Lamb Barbacoa | Low and Slow Smoked Leg of Lamb
Nothing is as tempting and low and slow cooked meat. The flavors you can get with a good smoke are unlike anything else. And this leg of lamb proves just that!
Ingredients
1 10

lbs

leg of American lamb

bone removed
For the Lamb Rub
1

tbs

Cumin

½

teaspoon

Oregano

½

teaspoon

Coriander seed

½

teaspoon

Cinnamon

¼

teaspoon

Chili powder

Salt and pepper

1 12

oz

light beer
For Garnish
Salsa verde

pickled red onions

limes

sliced

avocados

sliced

corn tortillas
Instructions
Combine the rub ingredients in a small bowl and rub liberally all over the leg of lamb, being sure to get in between the seams.

Prep your smoker and wood chips for 210 – 225 degrees F.

Smoke the lamb for 8 – 10 hours, or until the lamb temperature is between 185 and 190 and the lamb slices easily. 

Carefully remove the lamb from the smoker and tent with foil to rest until cool enough to handle (at least 20 minutes).

When safe to handle, shred the lamb.

Arrange the shredded lamb in a foil baking pan.

Pour in the beer, cover with foil and steam over low heat until the fat and cooking liquid have combined and are reduced by half.

Serve with the salsa verde, homemade pickled red onions, lime wedges, avocado, and corn tortillas for a down home barbacoa bar.
Nutrition
Nutrition Facts
Lamb Barbacoa | Low and Slow Smoked Leg of Lamb
Amount Per Serving
Calories 416
Calories from Fat 126
% Daily Value*
Fat 14g22%
Cholesterol 201mg67%
Sodium 198mg9%
Potassium 926mg26%
Carbohydrates 1g0%
Protein 64g128%
Vitamin A 30IU1%
Calcium 27mg3%
Iron 6.1mg34%
* Percent Daily Values are based on a 2000 calorie diet. Nutrition information provided is an estimate. For specific health concerns, please put the recipe into your Dr recommended nutrition calculator.