Slowly smoked leg of lamb is a true delight. This lamb barbacoa pulls from old-school traditions and flavors to create a taco bar fit for a party!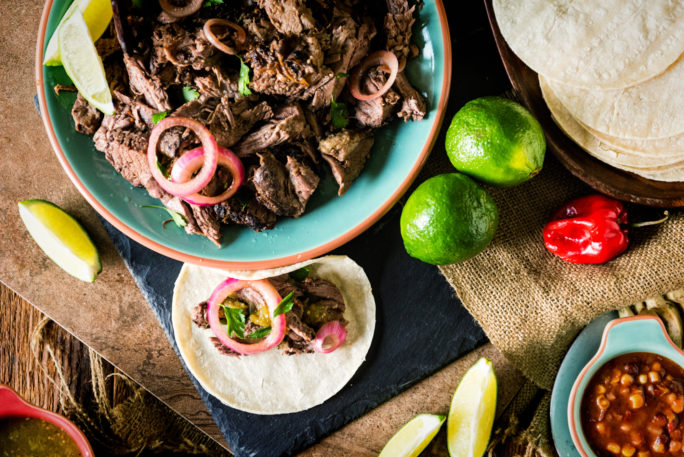 This is a sponsored post for the American Lamb Board, however, my love of lamb – grilled, smoked or otherwise prepared is my own.
What is barbacoa?
Barbacoa has roots deep in the history of southwestern barbecue. From our history books, we know that it goes far back with varieties from the Indies, Caribbean, and American Indians.
For this recipe and cooking method, I am talking about the barbacoa found in the southwest region of America. Often paid with the lesser valued cuts of meat, the hard workers would cook the tough meat in pits covered with leaves, low and slow until they became fork-tender and succulent. Hours of smoke would bathe the hearty cuts and allow the flavors to seep in and take what could have been a rustic cut and transformed them into succulent barbecue.
This is how lamb barbacoa was born.
With its humble roots, barbacoa is a whole category of barbecue to itself that has embedded it's flavors in the southern region and parts of Mexico as a staple. Though it being a regional tradition foreign to my neck of the woods, I still by local, making sure to find the freshest local resource for delicious lamb.
And, although I would love to have a coal-filled pit in my backyard for big cuts of juicy meats, it's not too likely for myself or the average person, but I was ready to make an amazing meal out of this beautiful leg of lamb. This recipe for lamb barbacoa is a modern spin on the classic, but it still packs a ton of flavor.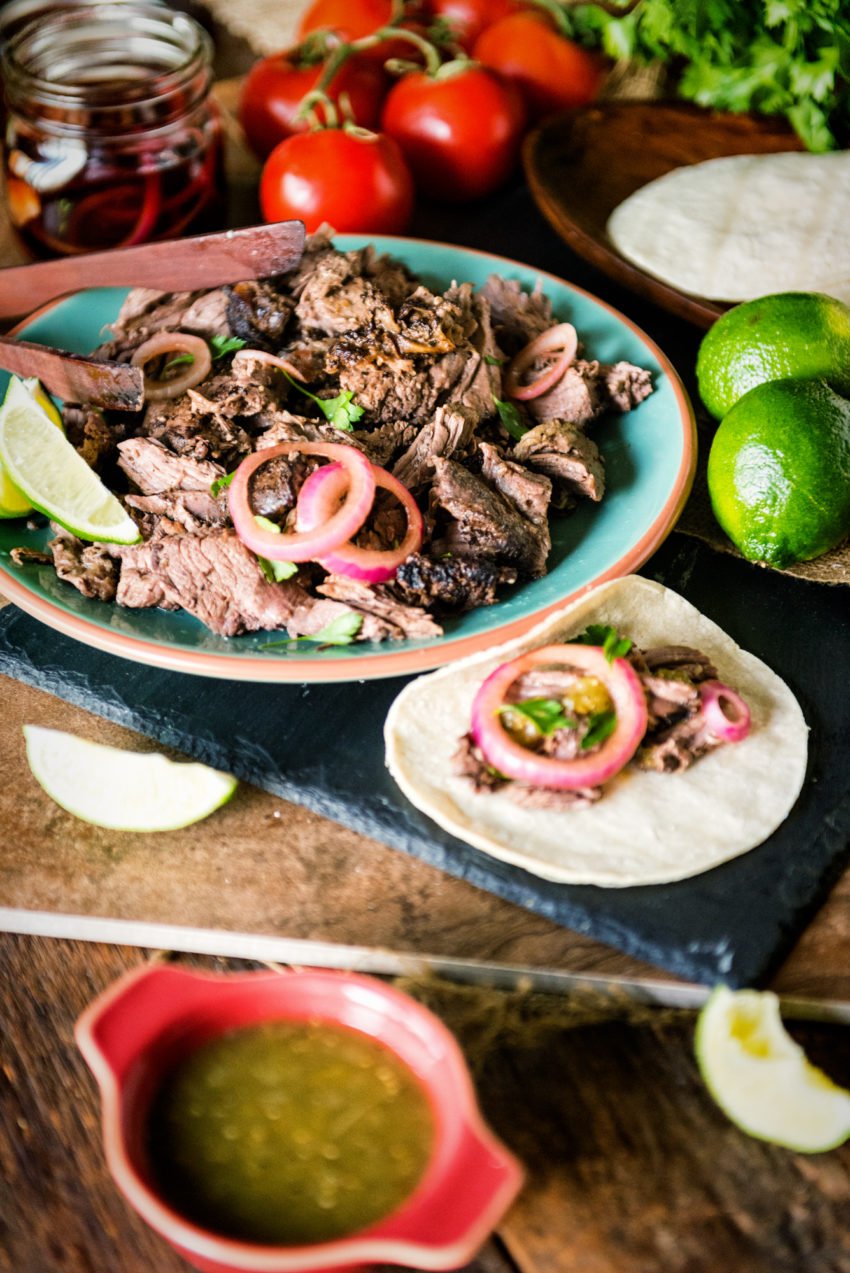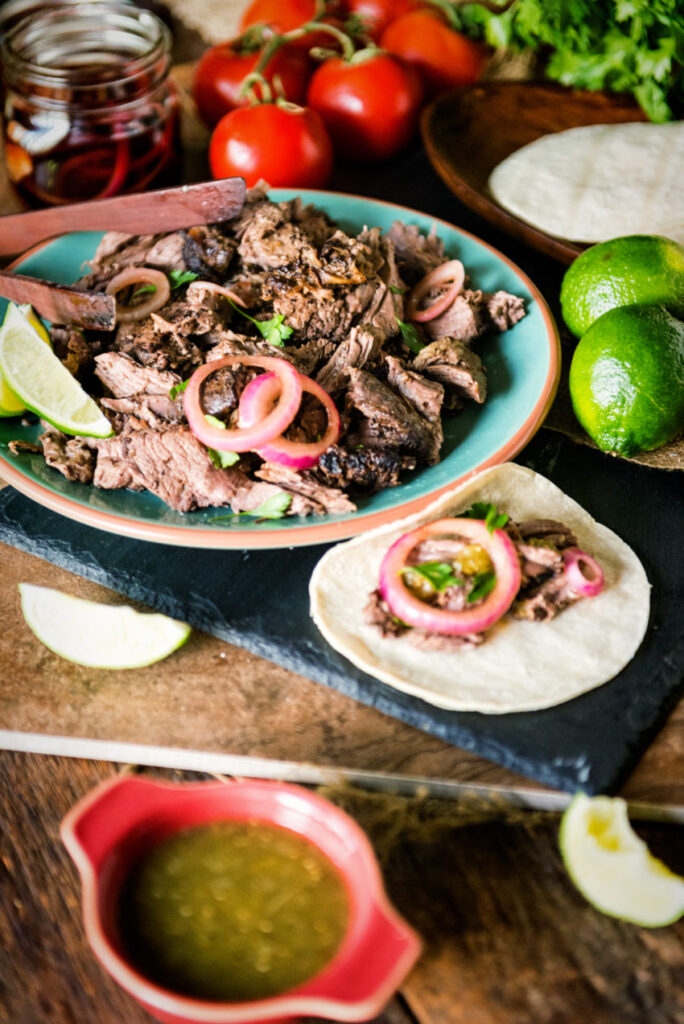 How to cook Lamb Barbacoa
Once you have a large leg of lamb, make sure to season it ahead of time to let the flavor penetrate the meat.
Prep your smoker, and as always, use a wireless digital thermometer to ensure that the meat is temping correctly to minimize opening the smoker. Opening too often lets out heat, causing fluctuations in temps as you get the fire going again.
Smoke until the lamb shreds easily, about 190 degrees before pulling it. You can cook to 145 to slice and chop the meat, but for shredded lamb, cooking longer is better.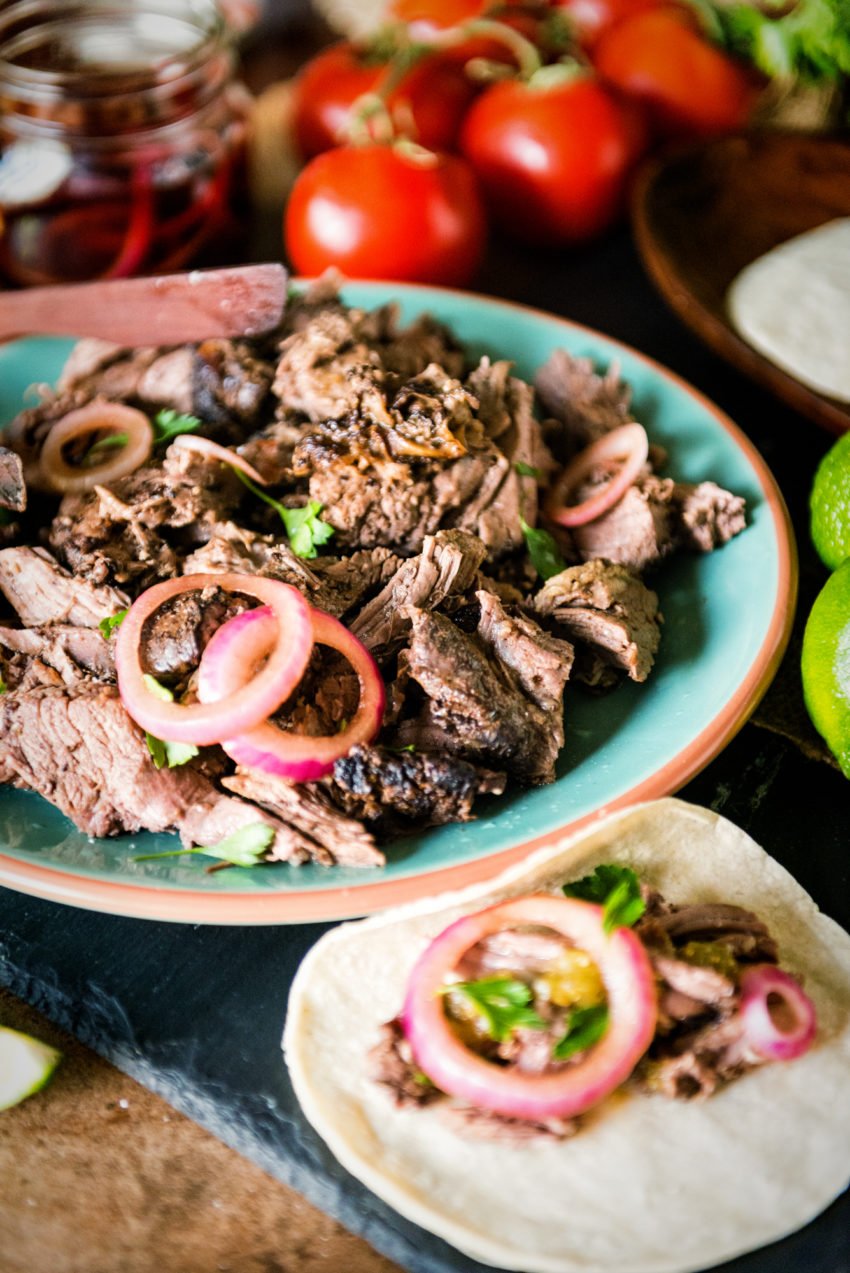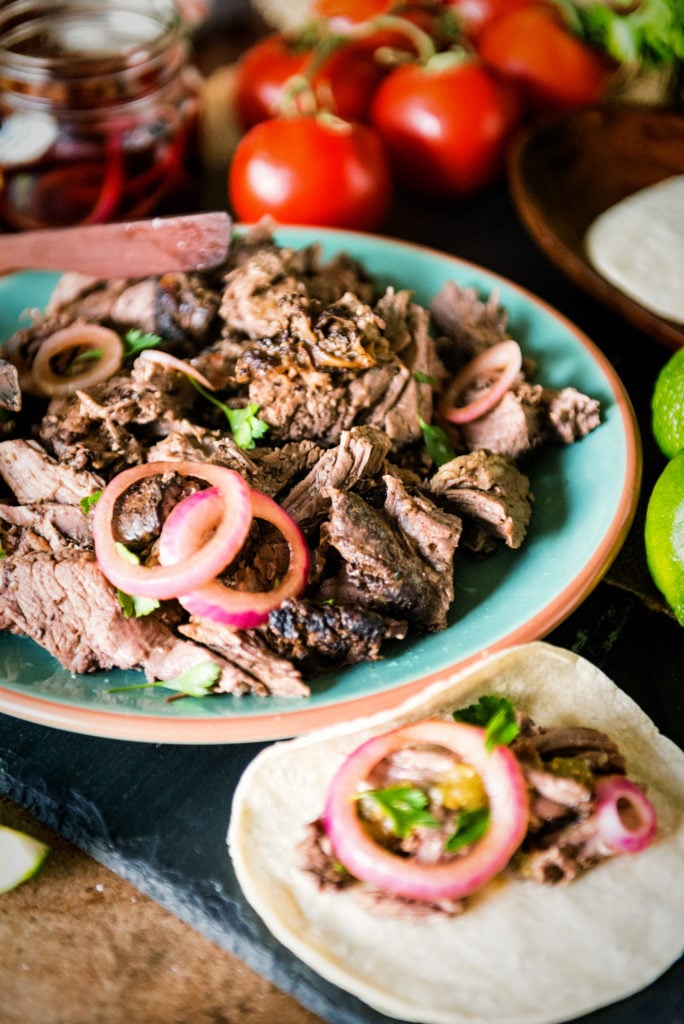 Onto the recipe…
With a huge leg of lamb waiting to be prepped and enjoyed looking for a little inspiration, I referred to my knowledge of barbacoa for something a little less formal than the classic roast which is often what I think of when a fresh leg of lamb is presented before me.
Instead, I wanted to take something that is often only used for formal gatherings, and show that is it just as good for a backyard bash and entertaining (and feeding) a lot of people.
I opted to use a smoker for my spin on lamb 'barbacoa', with a light rub and hours of time, the hickory smoke, and low temp, let the fat melt and baste the ten-pound leg of lamb until it was easily pulled apart. I shredded it and steamed it with a light beer for added flavor. 
With homemade pickled red onions, salsa verde, and corn tortillas, this lamb barbacoa fed my whole work crew happily for two days.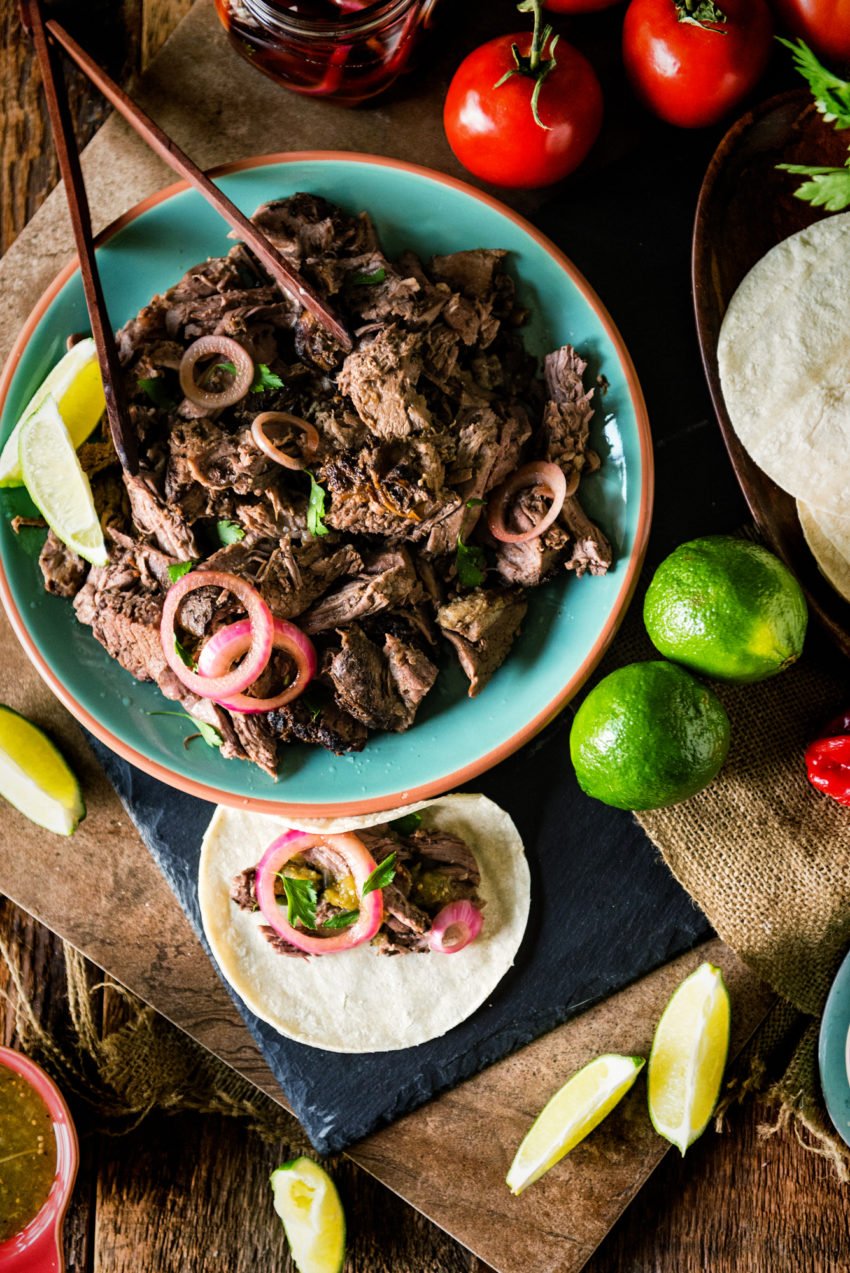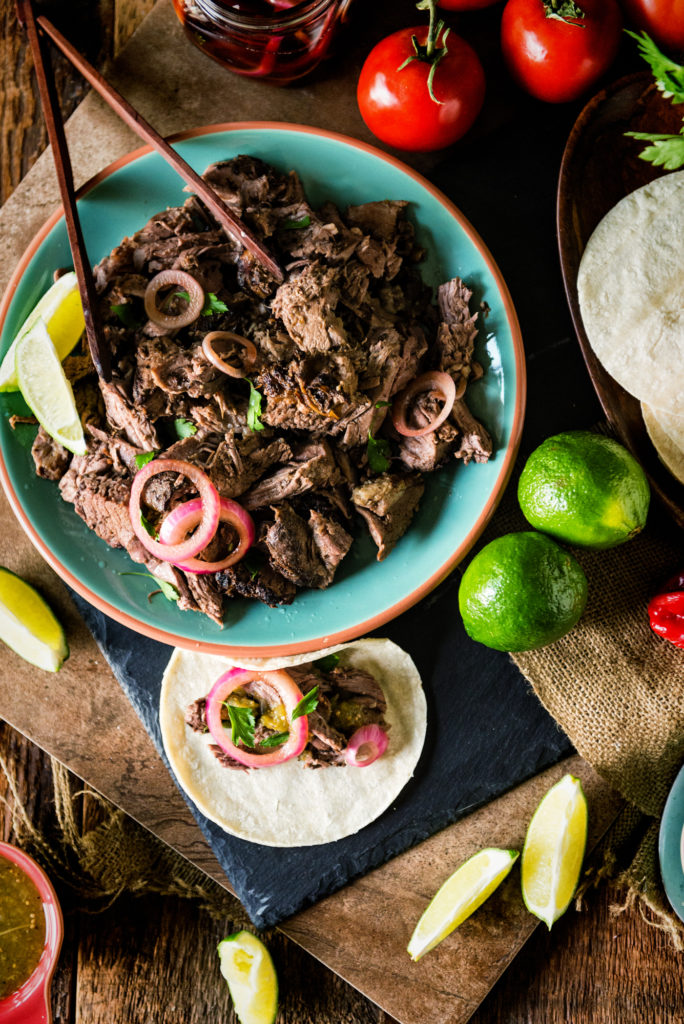 Need more lamb inspiration? Check out these recipes:

If you've tried my Lamb Barbacoa recipe, or any other recipe on GirlCarnivore.com please don't forget to rate the recipe and let me know where you found it in the comments below. I get inspired by your feedback and comments! You can also FOLLOW ME on Instagram @girlcarnivore as well as on Twitter and Facebook.
Lamb Barbacoa | Low and Slow Smoked Leg of Lamb
Nothing is as tempting and low and slow cooked meat. The flavors you can get with a good smoke are unlike anything else. And this leg of lamb proves just that!
Ingredients
1 10

lbs

leg of American lamb

bone removed
For the Lamb Rub
1

tbs

Cumin

½

teaspoon

Oregano

½

teaspoon

Coriander seed

½

teaspoon

Cinnamon

¼

teaspoon

Chili powder

Salt and pepper

1 12

oz

light beer
For Garnish
Salsa verde

pickled red onions

limes

sliced

avocados

sliced

corn tortillas
Instructions
Combine the rub ingredients in a small bowl and rub liberally all over the leg of lamb, being sure to get in between the seams.

Prep your smoker and wood chips for 210 – 225 degrees F.

Smoke the lamb for 8 – 10 hours, or until the lamb temperature is between 185 and 190 and the lamb slices easily.


When safe to handle, shred the lamb.

Arrange the shredded lamb in a foil baking pan, pour in the beer, cover with foil and steam over low heat until the fat and cooking liquid have combined and are reduced by half.

Serve with the salsa verde, homemade pickled red onions, lime wedges, avocado, and corn tortillas for a down home barbacoa bar.
Nutrition
Nutrition Facts
Lamb Barbacoa | Low and Slow Smoked Leg of Lamb
Amount Per Serving
Calories 416
Calories from Fat 126
% Daily Value*
Fat 14g22%
Cholesterol 201mg67%
Sodium 198mg9%
Potassium 926mg26%
Carbohydrates 1g0%
Protein 64g128%
Vitamin A 30IU1%
Calcium 27mg3%
Iron 6.1mg34%
* Percent Daily Values are based on a 2000 calorie diet. Nutrition information provided is an estimate. For specific health concerns, please put the recipe into your Dr recommended nutrition calculator.