This boneless tender Lamb Barbacoa shreds perfectly after it's cooked to perfection, making it the perfect filling for tacos, sandwiches, and more! This slow-smoked leg of lamb recipe is incredibly tender and juicy, then served on corn tortillas with salsa verde, pickled red onions, and more!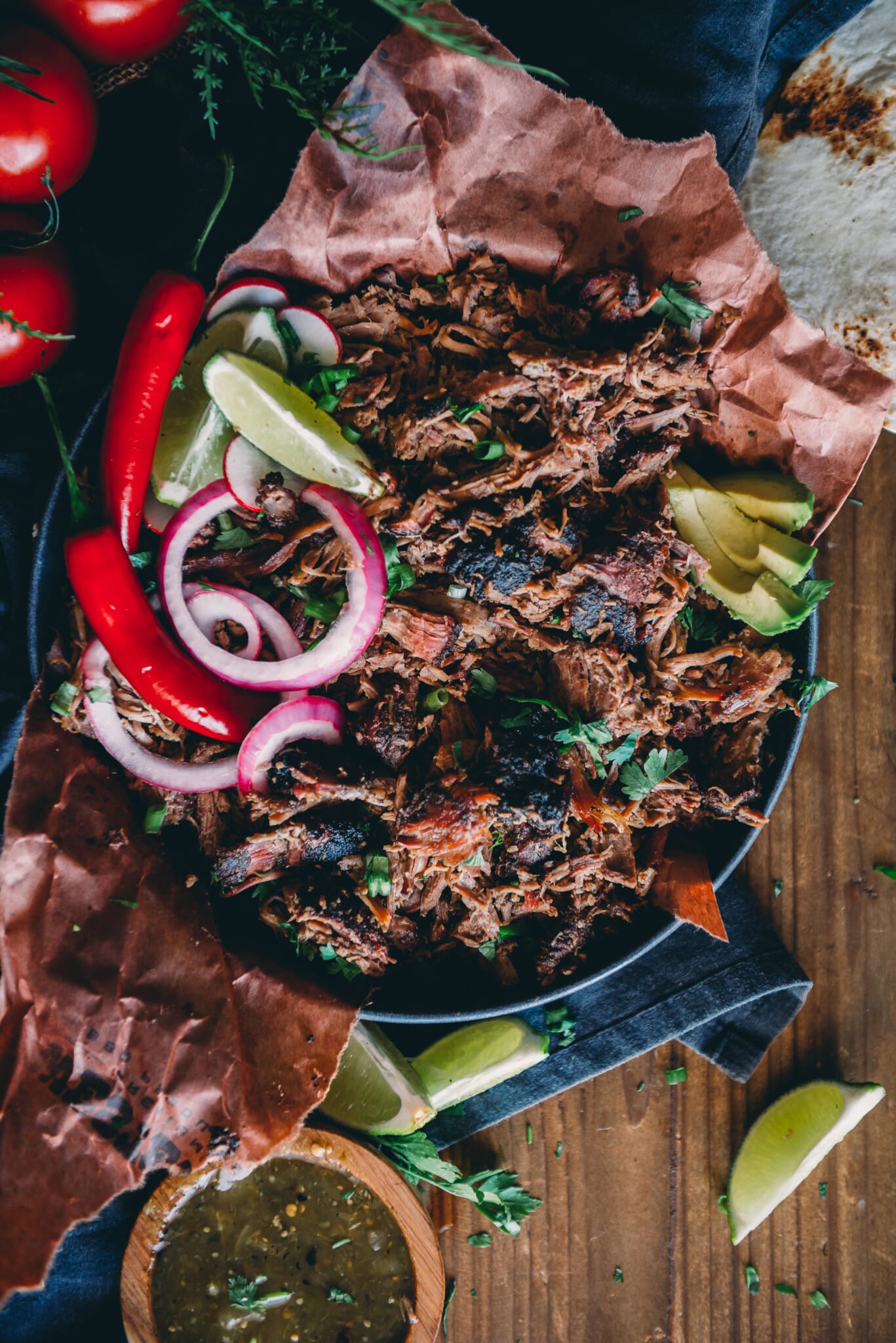 Hey there, lamb lovers! Ready to elevate your next fiesta with a mouthwatering lamb barbacoa recipe? Barbacoa has roots deep in the history of southwestern barbecue. It goes far back with varieties from the Indies, the Caribbean, and American Indians. To achieve the tender, flavorful meat that's a hallmark of traditional barbacoa, this recipe uses a cooking technique that involves slow-cooking boneless lamb leg on a roasting rack.
This recipe uses a cooking method found in the southwest region of America. In ancient times, workers were often paid with lesser-valued cuts of meat that needed to be cooked low and slow in pits covered with leaves until they could be pulled. Making fork-tender and succulent bites. The hours of smoke would bathe the hearty cuts, allow the flavors to seep in, and transform what could have been a rustic cut of tough roast into an extremely tender, juicy barbecue.
Unlike a roasted or smoked leg of lamb, which you want to cook to medium rare, this boneless leg of lamb is cooked until it can be shredded easily with a fork. If you're looking for a traditional bone-in leg of lamb recipe to serve, try this honey dijon leg of lamb.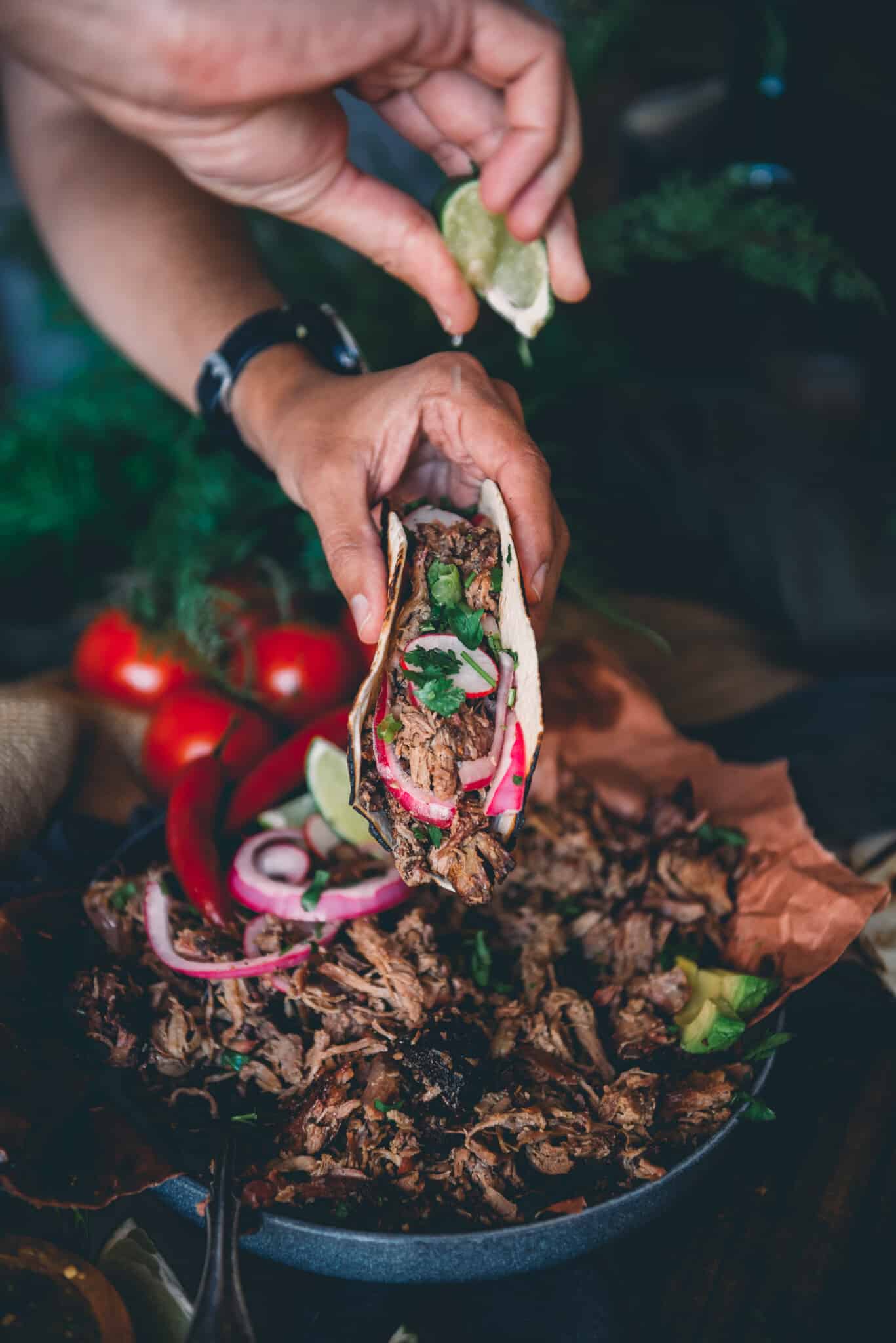 What Is Lamb Barbacoa?
Barbacoa is a cooking method that involves smoking or steaming meat, usually lamb, goat, or pork, in an underground pit or a smoker, in this case. A light spice rub, hours of smoking over wood chips, and a low temp allow the fat to melt over the top of the meat, basting it in all that juicy glory. Then, you shred the lamb and steam it with a light beer for added flavor before turning this pulled smoked leg of lamb into a serious barbacoa taco bar!
Although it would be great to have a coal-filled pit with an open fire in the backyard for big cuts of juicy meat, it's not very likely for the average person. This recipe for lamb barbacoa is a modern spin on the classic. It's made in the smoker but still packs a ton of flavor!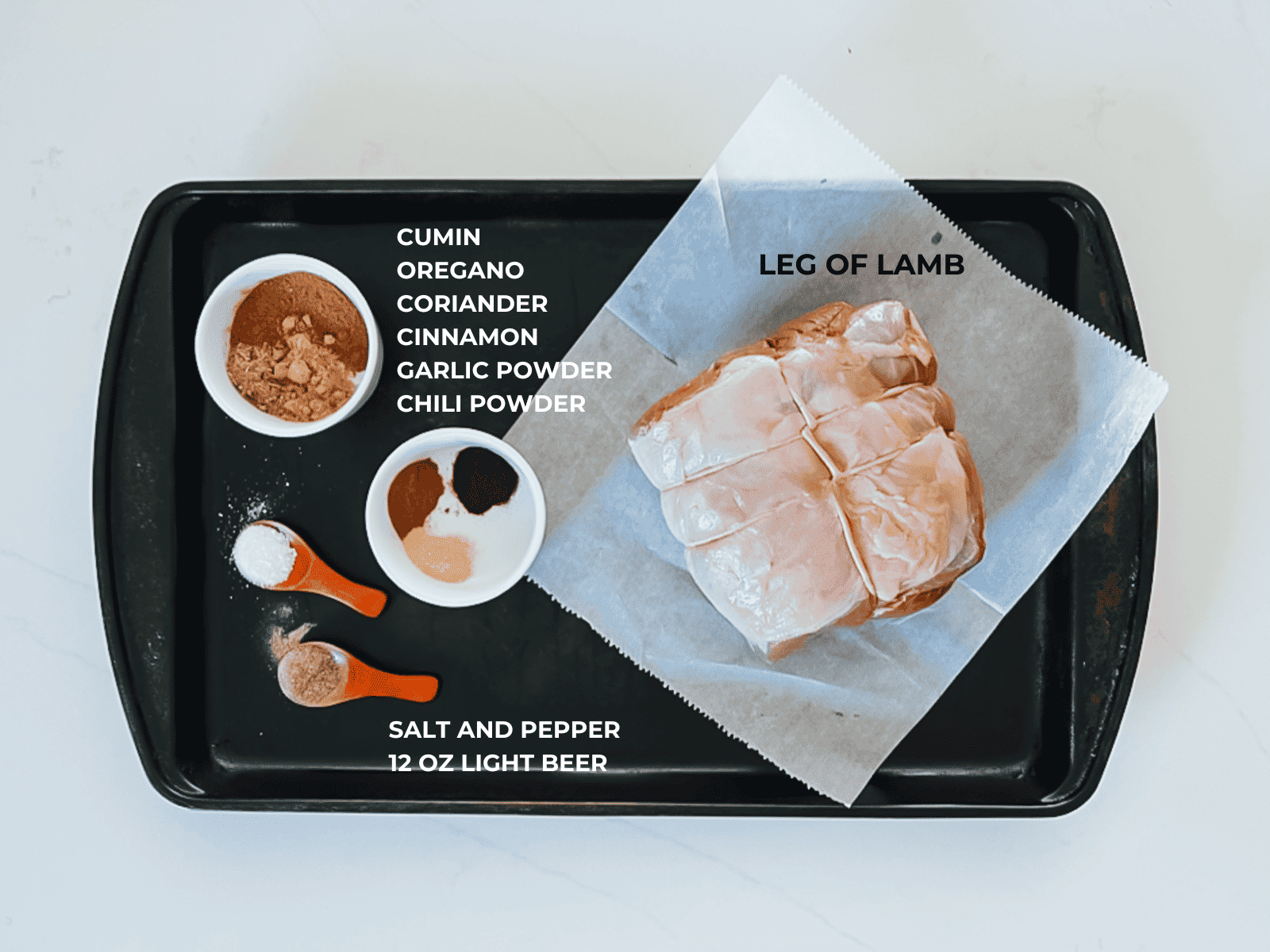 Lamb Barbacoa Ingredients
Leg of American Lamb – One 10-pound leg of American lamb with the bone removed. You can ask your butcher to remove the bone for you. If you can't find leg of lamb near you, check out our trusted places to order meat online for home delivery.
Seasonings – A simple yet flavorful blend of cumin, oregano, coriander seed, cinnamon, chili powder, kosher salt, and freshly ground black pepper.
Beer – Any light beer will work. We keep it classic and go with Corona.
For Serving – Serve your lamb barbacoa with salsa verde, spicy pickled onions, lime juice, avocados, and warm tortillas.
How to Make Lamb Barbacoa
First, combine the seasonings in a small bowl, then rub them all over the lamb.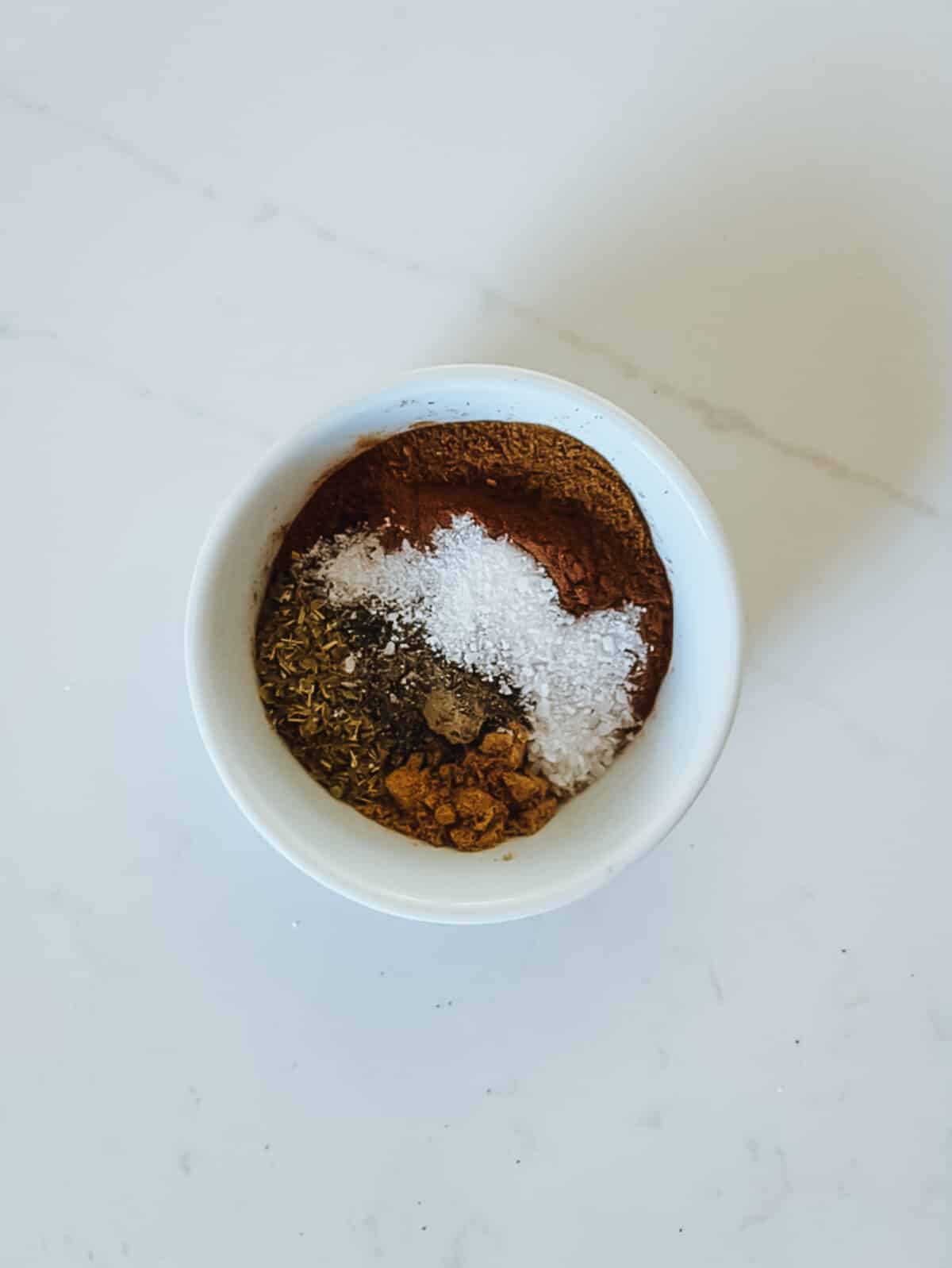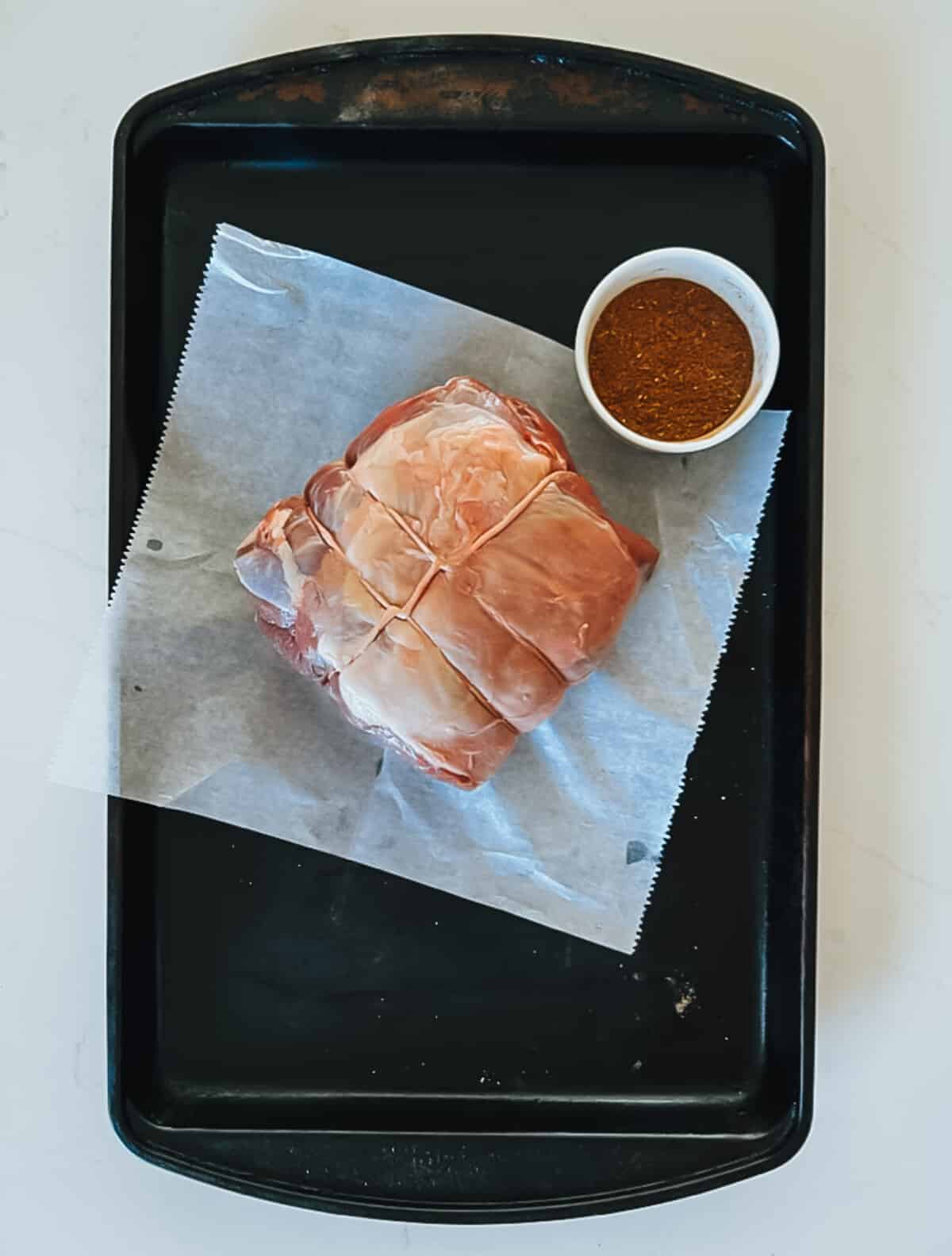 Prep your smoker and wood chips for 210-225ºF, then smoke the lamb for 8-10 hours, spritzing at around 165F and smoking it until it's 195 to 203F.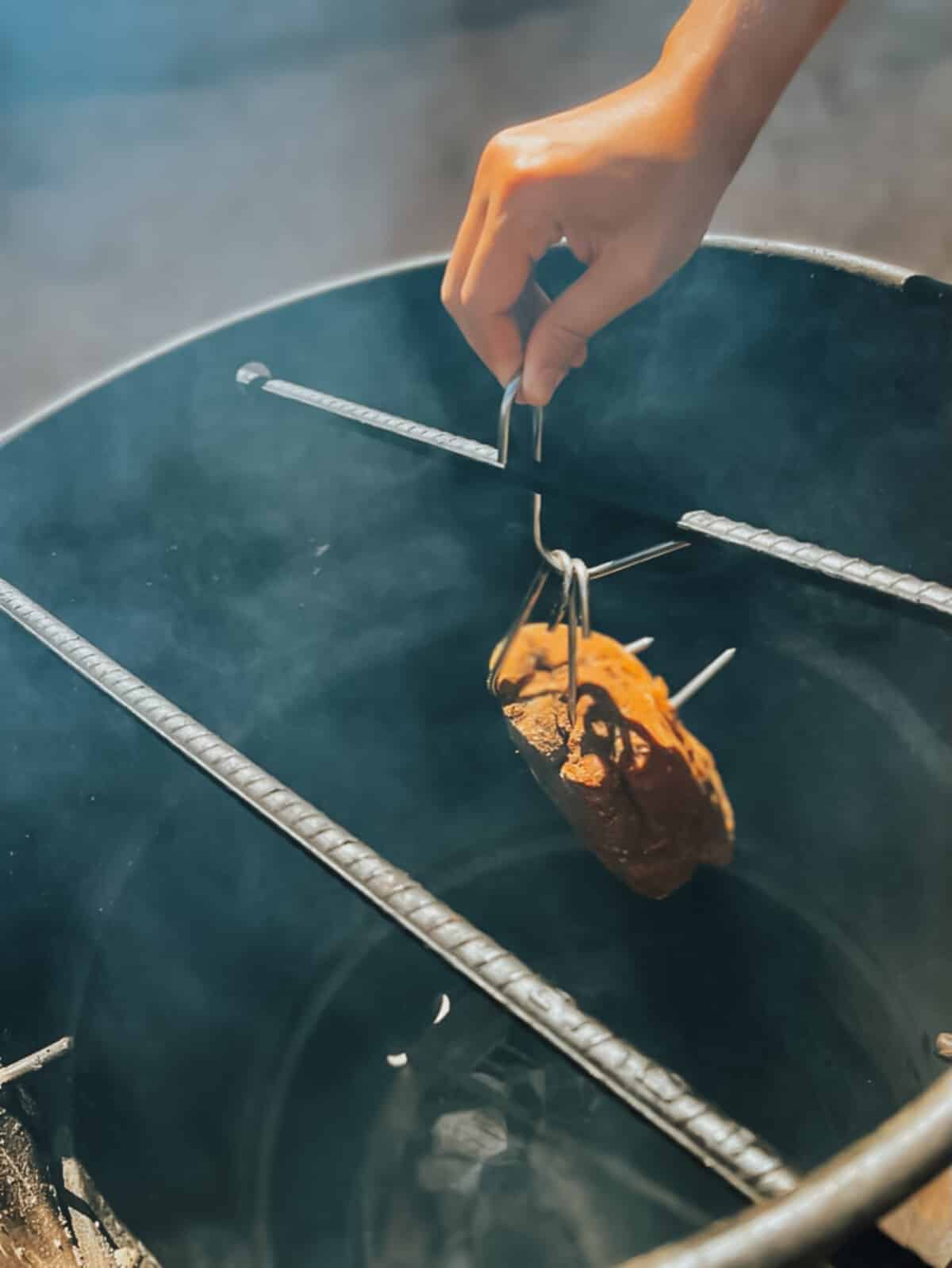 Remove the smoked leg of lamb from the grill and rest. When it's safe to handle, shred the lamb.
Arrange the shredded lamb in a foil baking pan, pour in the beer, then cover with foil and steam until the fat and cooking liquid reduce by half.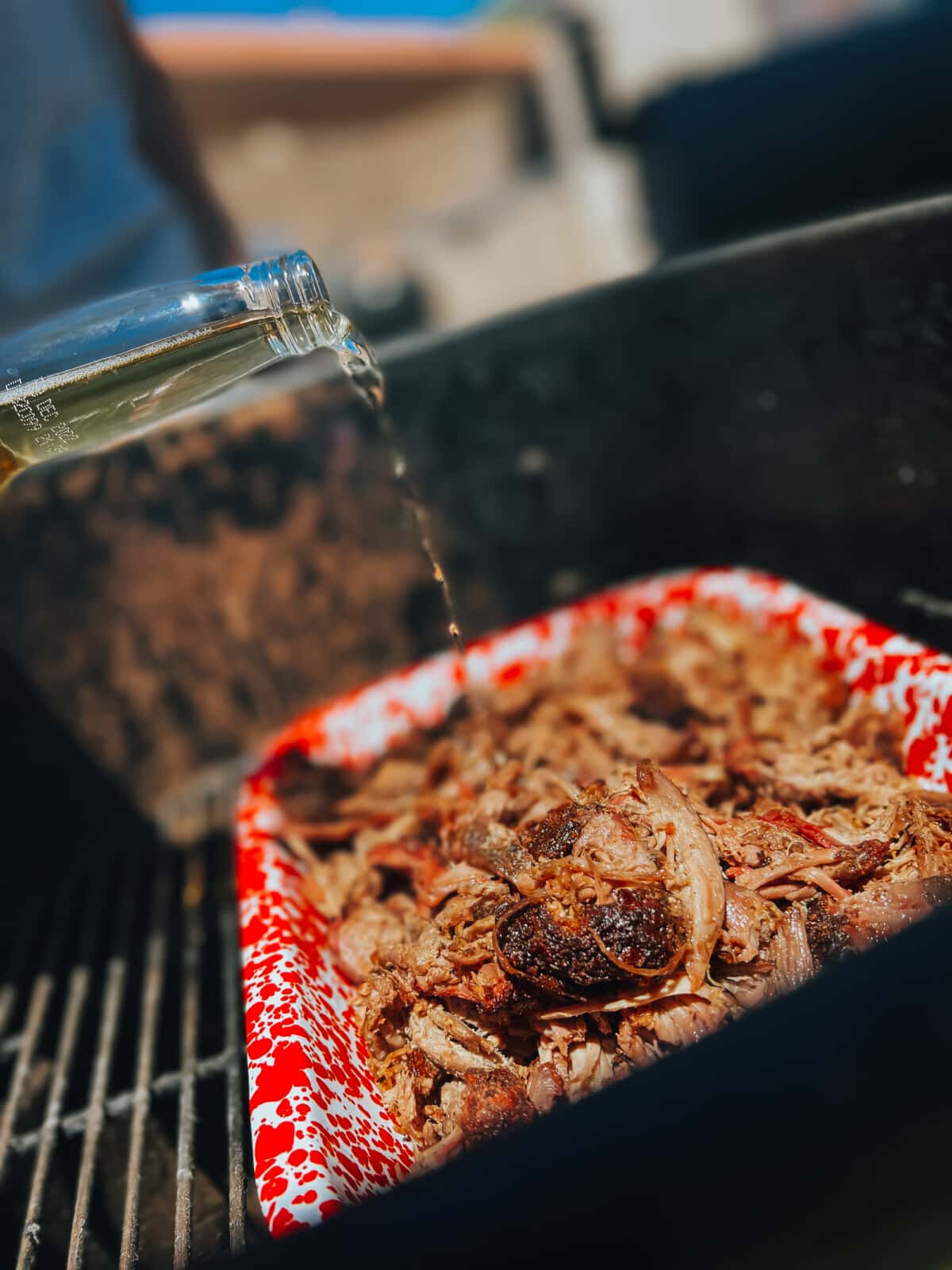 Serve with salsa, pickled red onions, lime wedges, avocado, and corn tortillas.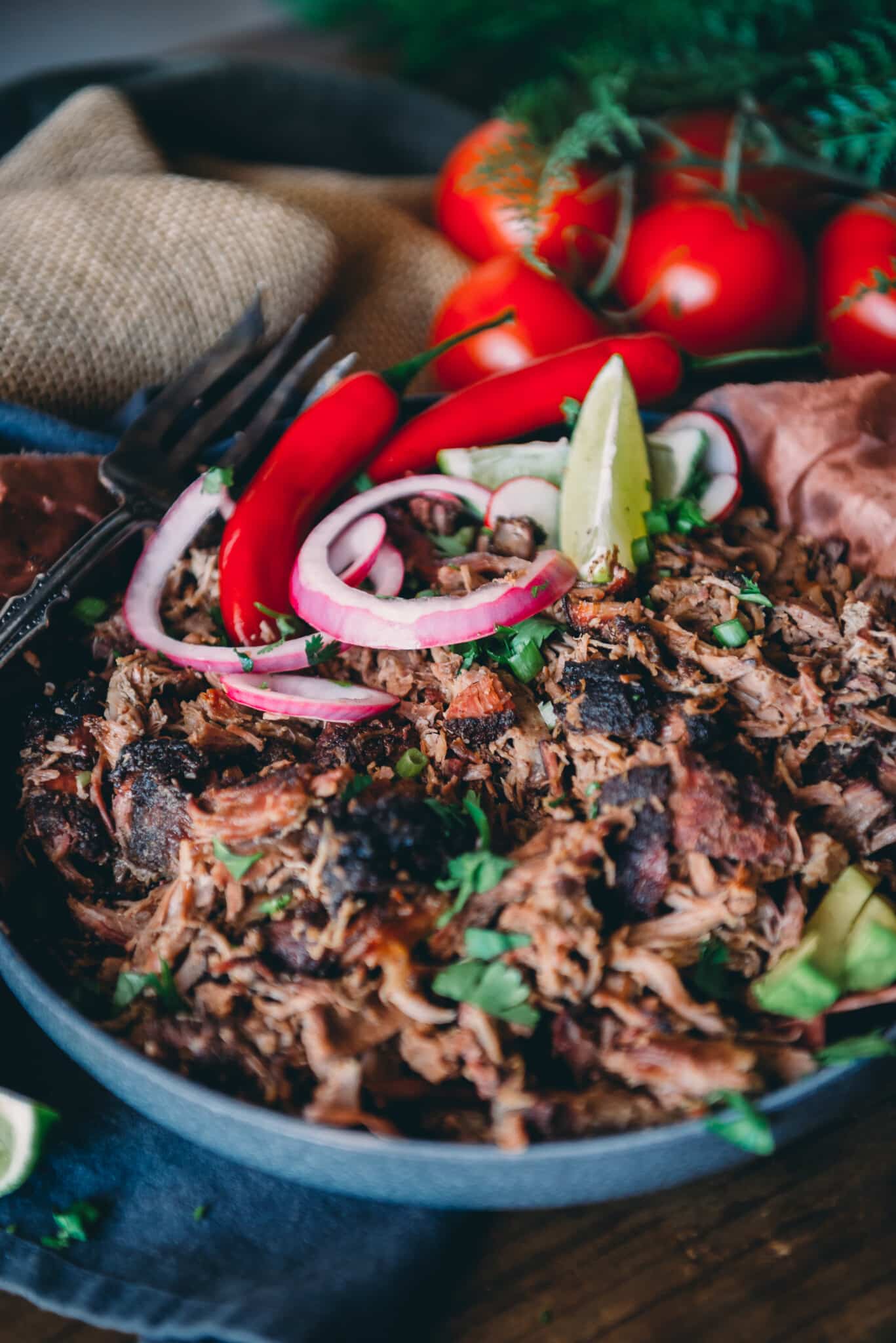 Expert Recipe Tips
Keep in mind that a different-sized leg of lamb will cook at different rates. The best way to tell that it's done is to check the internal temperature with a meat thermometer. Smoke it to 185-190ºF for easy shredding!
Season ahead of time. I like to add the dry rub to the meat ahead of time so it can marinate for a little bit. This allows the flavor to really penetrate the meat.
Smoke fat side up. Smoking fat side up allows the fat to drip down and baste the meat as it cooks for a juicier, more tender texture.
Don't open the smoker. Opening the smoker too often releases heat, which causes fluctuations in temperature. Avoid opening it as much as possible for more even cooking!
Check the temp. As always, use a wireless digital thermometer to ensure that the meat is temping correctly. You can cook it to 145ºF and slice or chop the meat, but for authentic pulled lamb, cook it to 195-205ºF, so it's easily shreddable!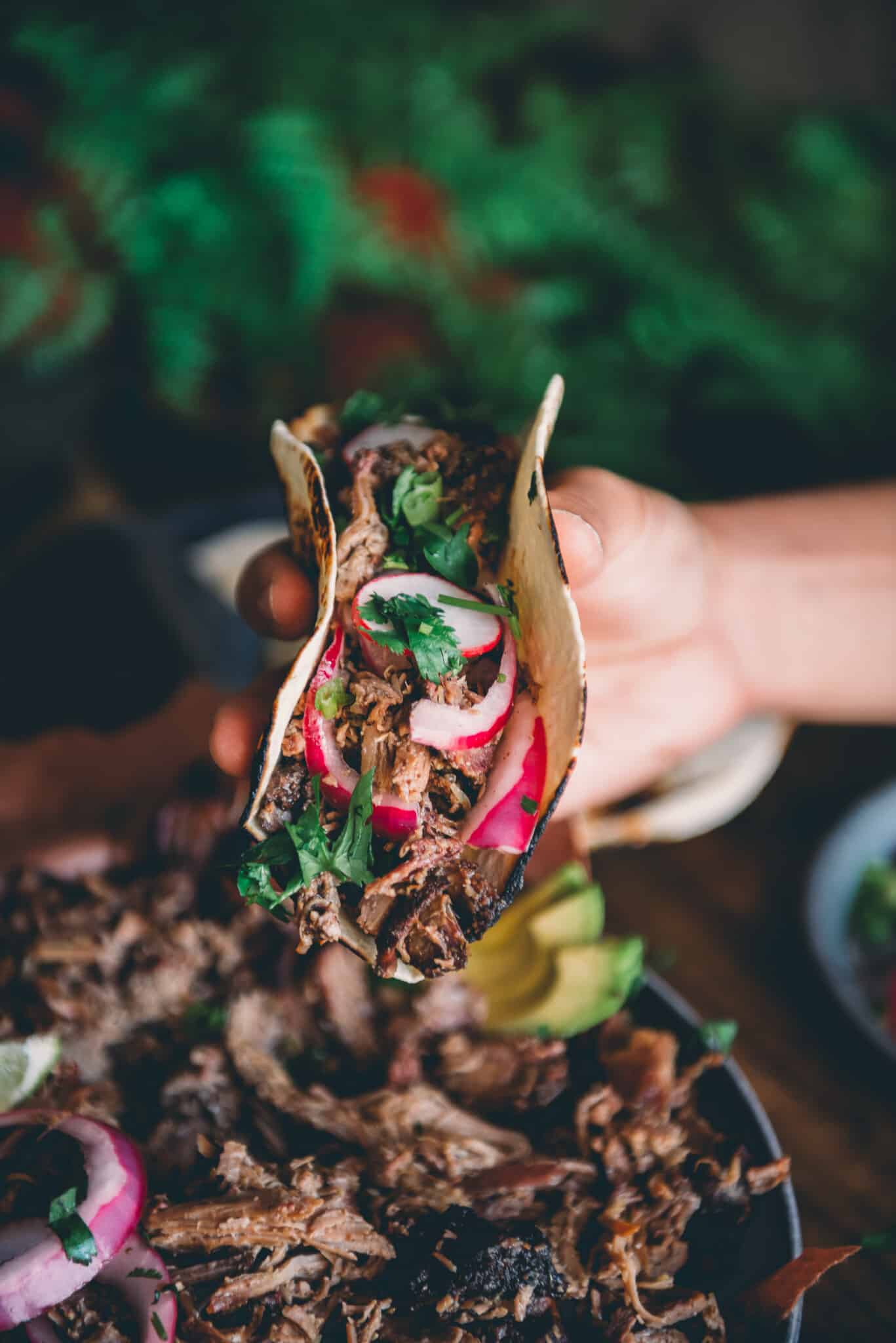 Leftovers & Reheating
Leftover lamb barbacoa will last in an airtight container in the fridge for 3-4 days or in the freezer for up to 3 months. To freeze, divide the leftover shredded meat into small resealable bags for individual servings. Be sure to mark the date and contents on the bag with a permanent marker.
To reheat, thaw in the fridge if frozen, then warm on the stove in a large skillet on medium-high heat with a splash of broth to moisten until heated through.
What to Serve With Lamb Barbacoa
Serve this smoked shredded lamb with a side of Grilled Jalapeno Popper Fries, Air Fryer Cheesy Potato Taquitos, Smoked Corn on the Cob, or Smoked Mac and Cheese!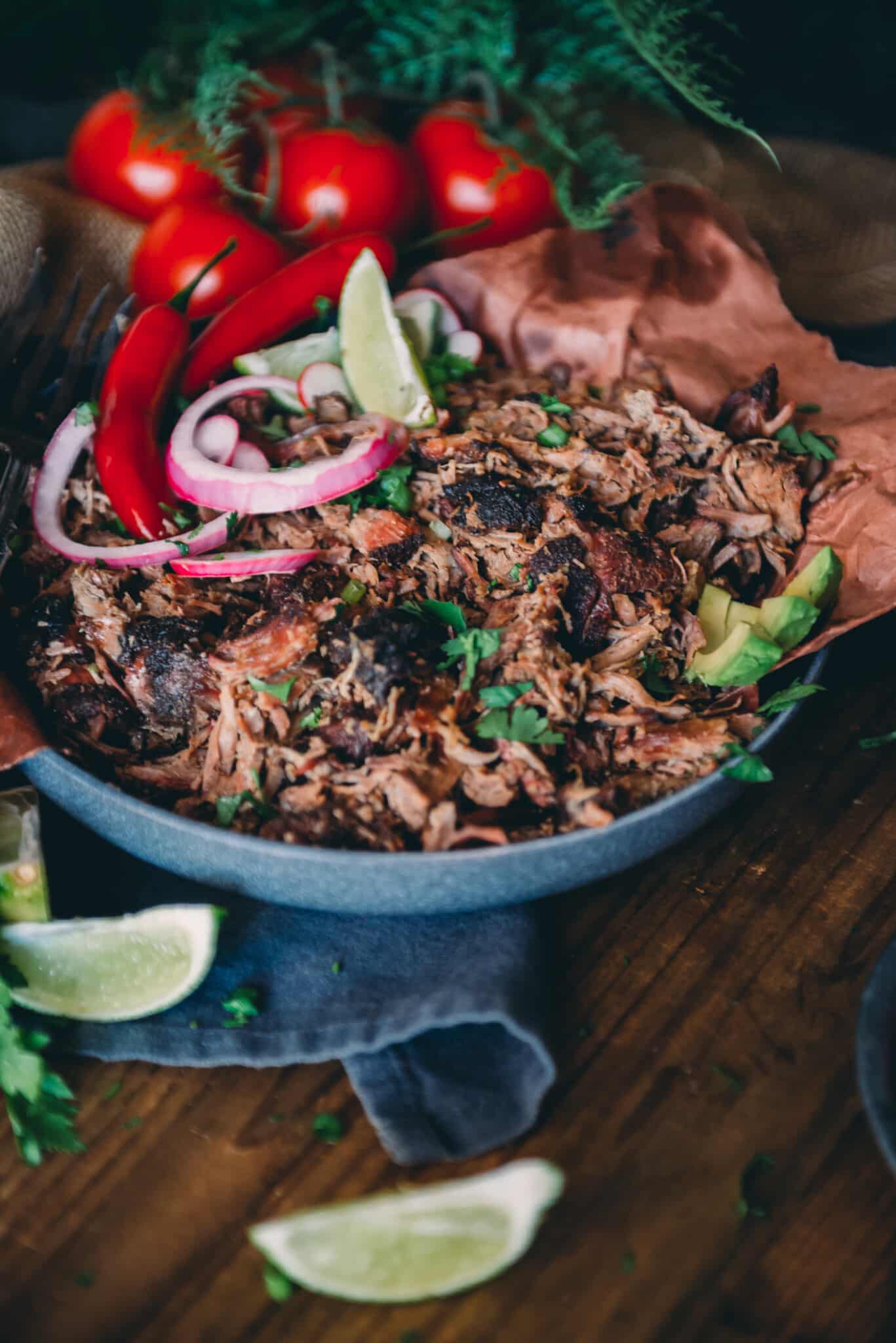 Recipe FAQs
HOW LONG DO YOU SMOKE LAMB?
We're smoking the 10-pound leg of lamb extra low and slow at 210-225ºF for 8-10 hours. Smoke to internal temp, not time. Aim for a temperature where the meat shreds easily with a fork 185-190 degrees F.
What if I don't have a smoker?
You can use a slow cooker, large Dutch oven, or pressure cooker for cooking the lamb barbacoa! The slow-cooker's cooking time may take around 6 hours instead of 8-10. For cooking lamb barbacoa in a Dutch oven, the cooking time may be around 3 and a half to 4 and a half hours! Lastly, for the pressure cooker, the lamb may take around an hour to an hour and a half.
However, none of these cook methods give the same smoke flavor you get from cooking in a grill or smoker.
What other ingredients and spices can I add to this recipe?
Here are some simple ingredients and spices to jazz up this recipe:
Lemon Juice
Bay Leaf
Raw Onions
Whole Garlic Cloves
Your Favorite Spice Mix
Rehydrated Guajillo Chiles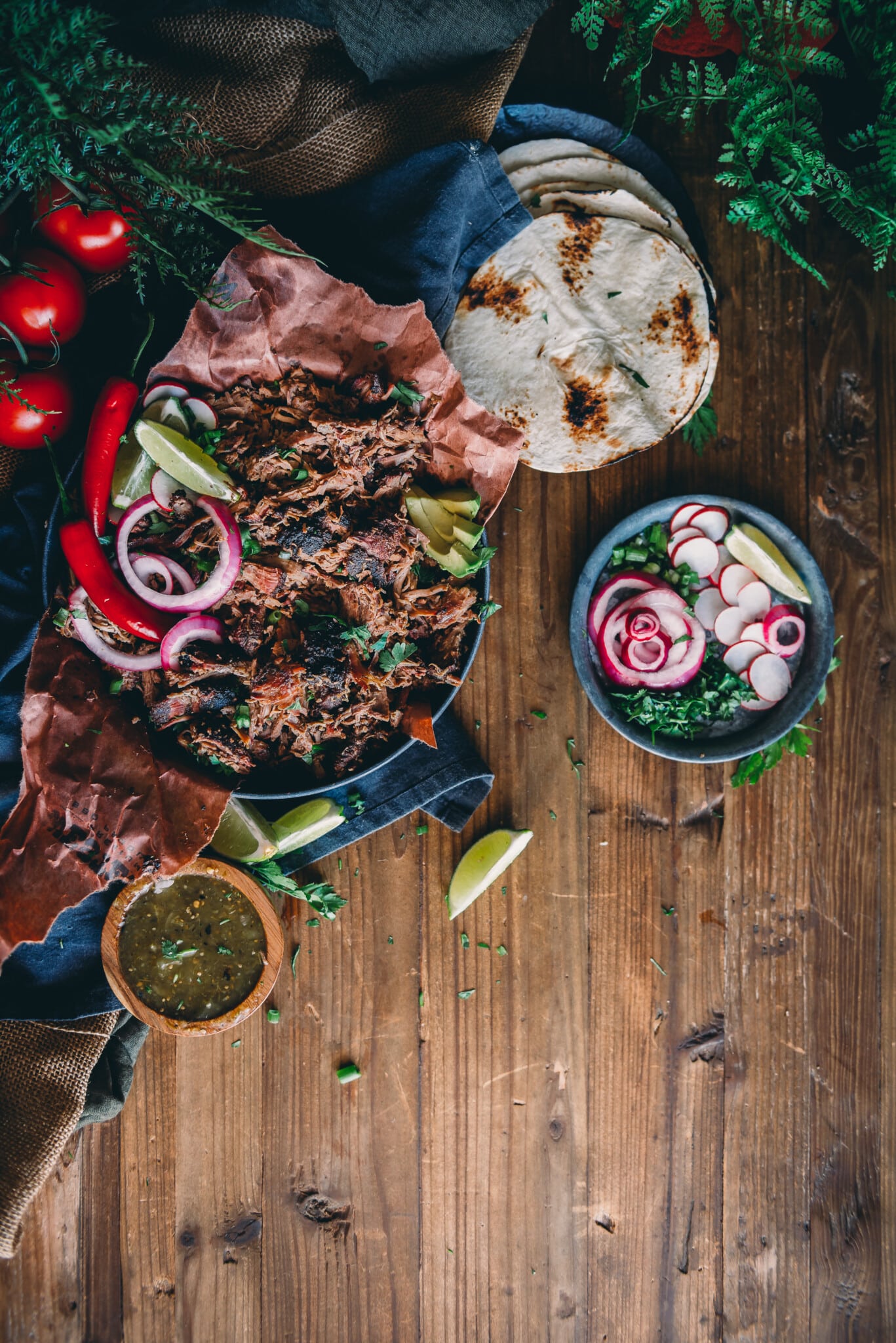 This Lamb Barbacoa recipe is the perfect dish for any special occasion! You can't go wrong with a juicy, tender leg of lamb smoked to perfection with notes of savory spices and soaked in light beer. Your dinner guests will be uber-impressed with the amount of time and effort you put into this delicious dish, and it will be so worth it! Be sure to rate the recipe card and leave a comment below to help out the next reader.
Smoked Lamb Barbacoa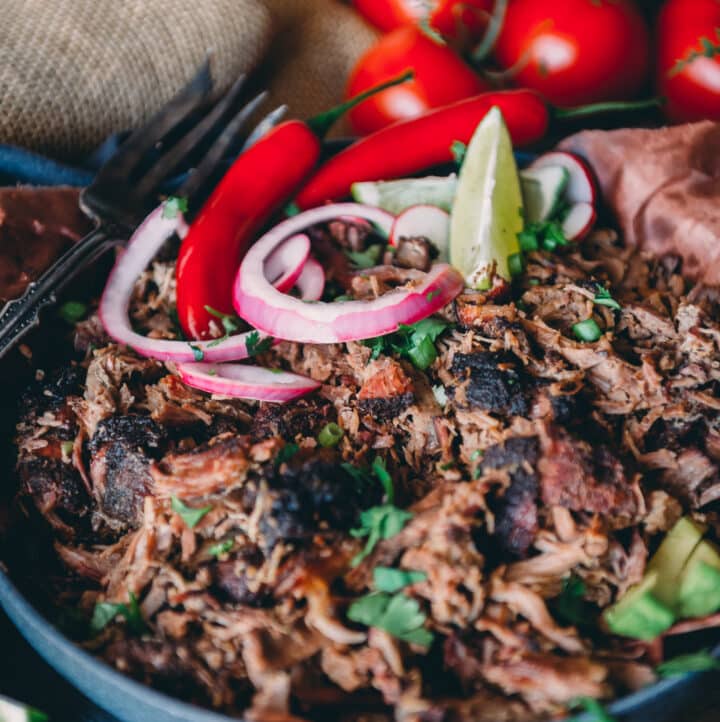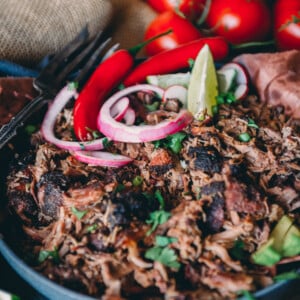 Transport your taste buds to Mexico with our tender, flavorful Lamb Barbacoa recipe, perfect for creating delicious tacos, burritos, or enjoying on its own. Delight in this succulent, low and slow-smoked dish that's sure to leave a lasting impression on friends and family alike.
Ingredients
10

lbs

leg of lamb

boneless
For the Lamb Rub
2

tbs

Cumin

1/2

tsp

Oregano

1/2

tsp

Coriander

1/2

tsp

Cinnamon

1/2

tsp

Garlic powder

1/4

tsp

Chili powder

Salt and pepper

12

oz

light beer
For Garnish
Salsa verde

pickled red onions

limes

sliced

avocados

sliced

Tortillas
Instructions
Prep the Lamb
Combine the rub ingredients in a small bowl.

2 tbs Cumin,

1/2 tsp Oregano,

1/2 tsp Coriander,

1/2 tsp Cinnamon,

1/2 tsp Garlic powder,

1/4 tsp Chili powder,

Salt and pepper

Rub the spice mix liberally all over the leg of lamb, being sure to get in between the seams.
Prep the Grill
Prep your smoker 210 – 225 degrees F.

When the temperature is steady add wood chunks, if desired and wait until the smoke is clean.
Smoke the Leg of Lamb
Hang the lamb in your smoker, or lay flat if using an offset or pellet smoker.

Smoke the lamb for 4 to 5 hours and check the internal temperature.

At around 165F, start spritzing the lamb every 35 to 45 minutes.

Cook the lamb until it reaches and internal temperature of 195 to 203F with an instant read thermometer.
Rest
Carefully remove the lamb from the smoker.

Tent with foil and allow the lamb to rest for 40 minutes or until cool enough to handle.
Pull the Lamb
When safe to handle, shred the lamb with your hands or 2 forks.

Discard any fatty chunks.
Simmer
Arrange the shredded lamb in a foil baking pan.

Pour in the beer and toss to coat.

Return the pan to the grill and steam the pulled lamb on the cooler side f the grill, or low heat, until the fat and cooking liquid have combined and are reduced by half.
Serve
Serve with the salsa verde, homemade pickled red onions, lime wedges, avocado, and tortillas for a down home lamb barbacoa bar.

Salsa verde,

pickled red onions,

avocados,

Tortillas,

limes
Notes
This recipe works on a pellet grill, gas grill, offset smoker, or barrel-style cooker. As long as you can maintain a temperature of 210 to 225 for a low and slow cook, any grill works.
We tested this lamb with hickory wood chunks over lump charcoal.
Our lamb came trussed for ease, but if your boneless leg of lamb isn't, asked your butcher to tie it for you, or tie it up for ease and even grilling.
You can chill the lamb after you shred it and reheat it later. This recipe is best smoked and shredded a day before serving.
Nutrition
Serving:
1
g
|
Calories:
382
kcal
|
Carbohydrates:
1
g
|
Protein:
59
g
|
Fat:
13
g
|
Saturated Fat:
5
g
|
Polyunsaturated Fat:
1
g
|
Monounsaturated Fat:
5
g
|
Cholesterol:
183
mg
|
Sodium:
182
mg
|
Potassium:
860
mg
|
Fiber:
0.3
g
|
Sugar:
0.1
g
|
Vitamin A:
32
IU
|
Vitamin C:
0.1
mg
|
Calcium:
33
mg
|
Iron:
6
mg