This Alabama white sauce recipe may be the most versatile of the traditional barbecue sauce recipes. It's a mayonnaise-based bbq staple with many more uses than slathering over smoked meats. It's a tangy sauce that's smooth and incredibly dippable for just about anything savory! And it may also be the easiest. With no cooking, this is about as straightforward as it gets.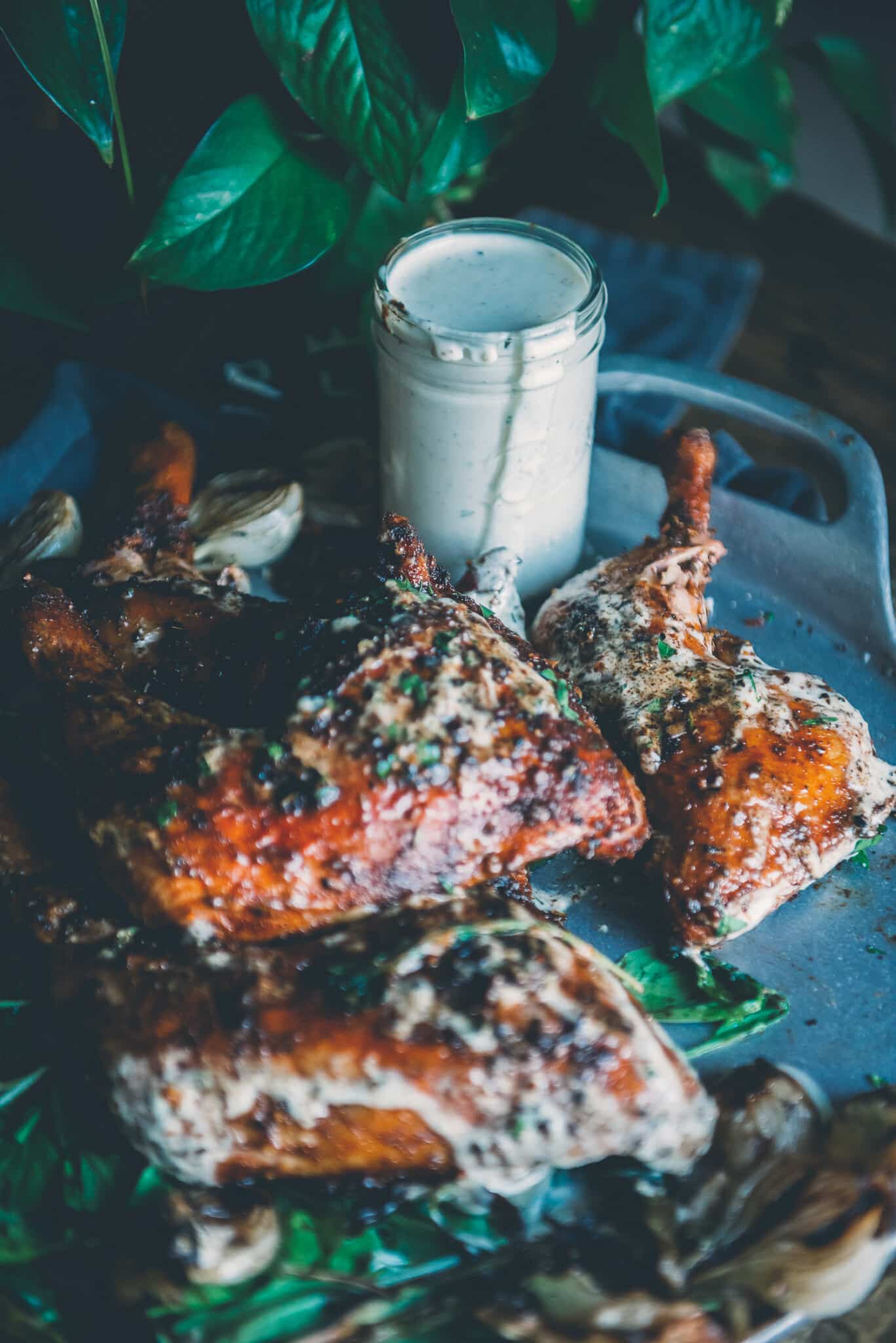 What is Alabama white sauce?
If all you have ever had is thick tomato-based bbq sauce, white sauce is going to blow your mind. Made famous by Big Bob Gibson Bar-B-Q restaurant in Decatur, Alabama, I can't imagine not dunking a juicy spatchcock grilled chicken in a bucket of this sauce, which also serves as a coating of fat to help keep the birds moist according to this in-depth article on Mental Floss.
This homemade barbecue sauce has a mayonnaise base, a distinct tanginess from black pepper, and a creamy texture. Which makes a smooth, creamy coating begging to transform just what you think barbecue sauce is. This isn't tangy like a mustard sauce or spicy like our vinegar-based sauce. It's a thick, smooth bbq sauce that balances the heat and spice with rich flavor. It's a versatile condiment that's begging to be enjoyed with smoked meats and everything from hot wings to ribs.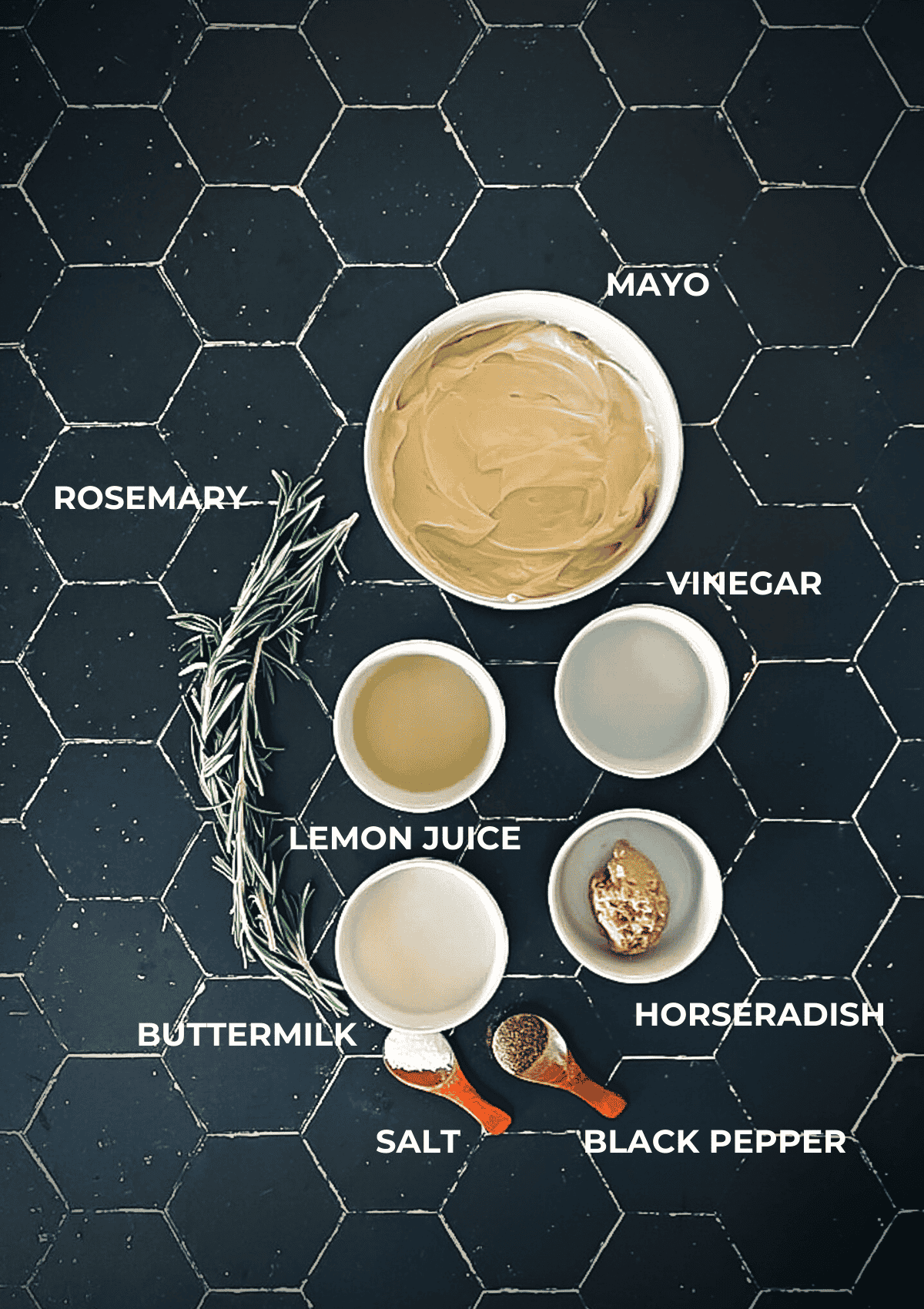 Ingredients
Mayo
Buttermilk
white vinegar – apple cider vinegar also works
Lemon juice
Horseradish – make sure it's just prepared horseradish and not horseradish cream.
Rosemary
Course ground black pepper – the more coarse the pepper, the better, in my opinion, as I like the nice bite of heat you get from it.
Salt – we use kosher salt
How to make white bbq sauce
Whisk together all if the ingredients in a large bowl. (No, really, it's that simple).
Store in an airtight container or resealable glass jars in the fridge.
This sauce is best made at least 24 hours in advance so the flavors develop and be used the next day. When ready to use, be sure to give the jar a good shake.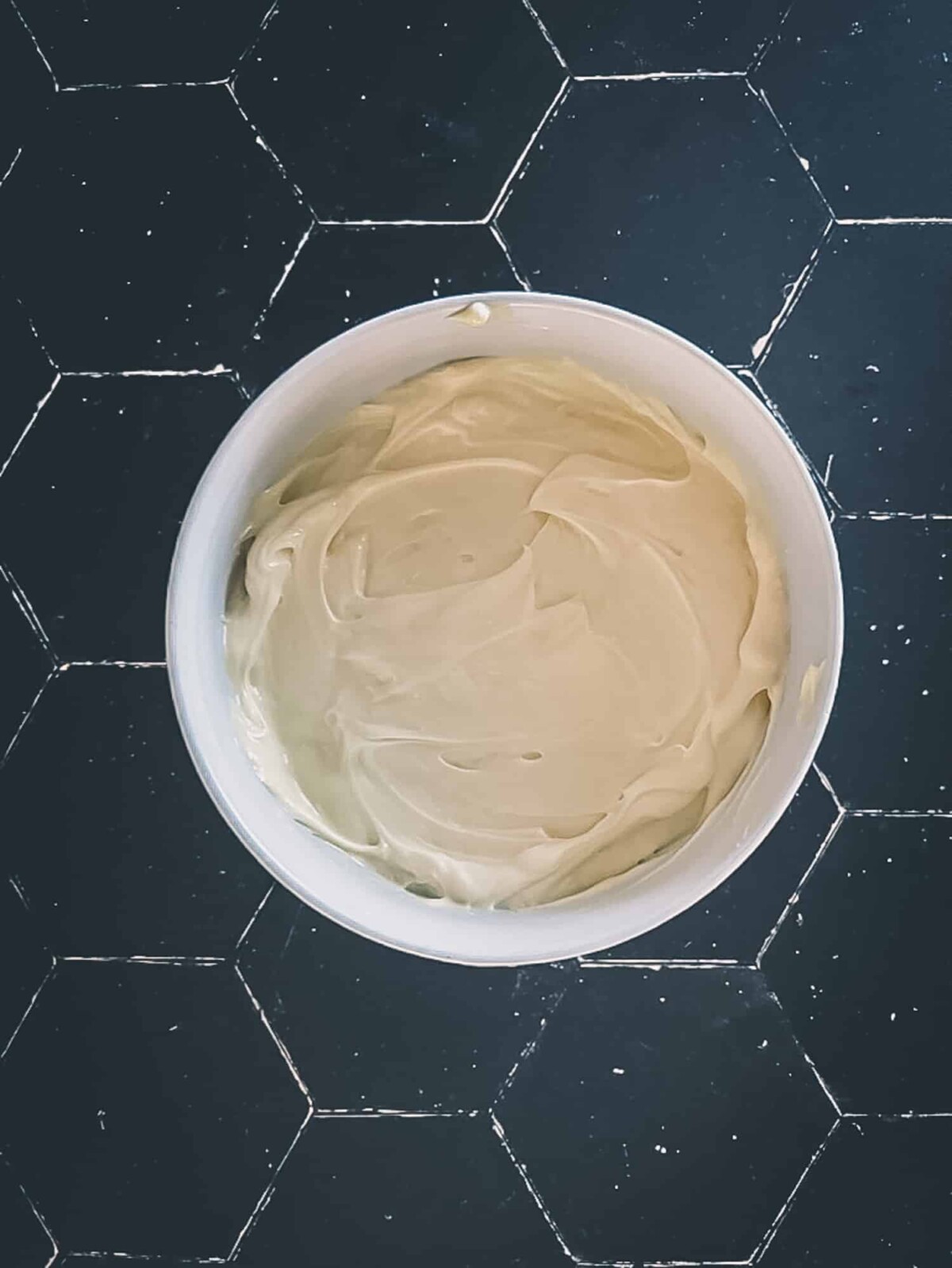 Storage
This Alabama bbq sauce recipe lasts up to 5 days in an airtight container or mason jar stored in the fridge. Anything after that, and I recommend just whipping up a fresh batch.
This recipe can't be frozen and is best made as needed (aka, keep a fresh jar in the fridge all season long).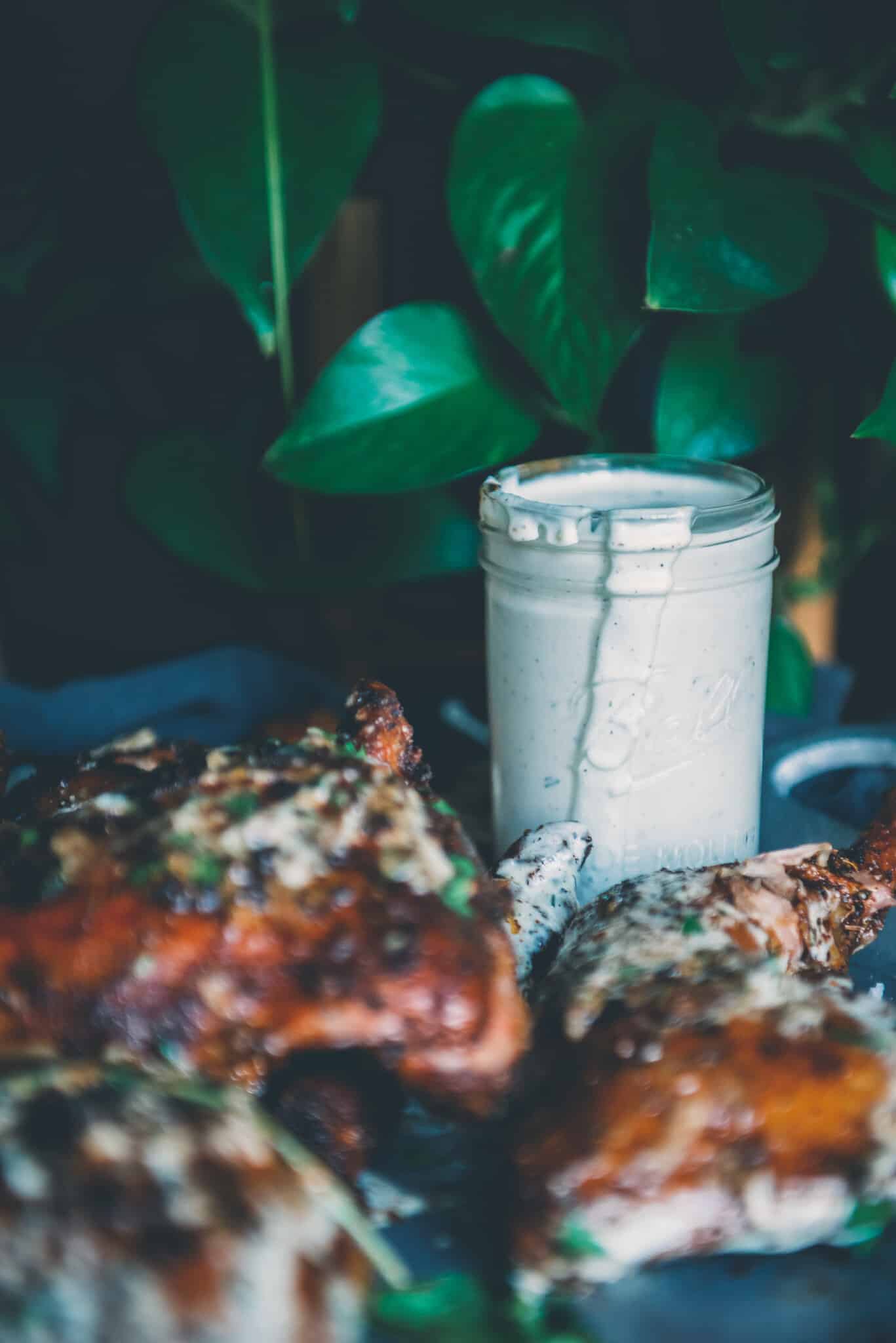 How to use white barbecue sauce & what to serve with this sauce
You can put Alabama white barbecue sauce on a whole chicken, smoked chicken quarters, and smoked chicken thighs, which is my favorite way to use it. But it's also a perfect pairing on spicy bbq chicken wings, smoked pulled pork, pork chops, pork tenderloin as a finishing sauce. And white bbq sauce tastes delicious slathered on a beef brisket sandwich. This mayo base sauce also works as a base for coleslaw or salad dressing.
Also, it's pretty impressive on fried pickles or dunking french fries too. Just sayin'. There's a reason it's a Southern favorite.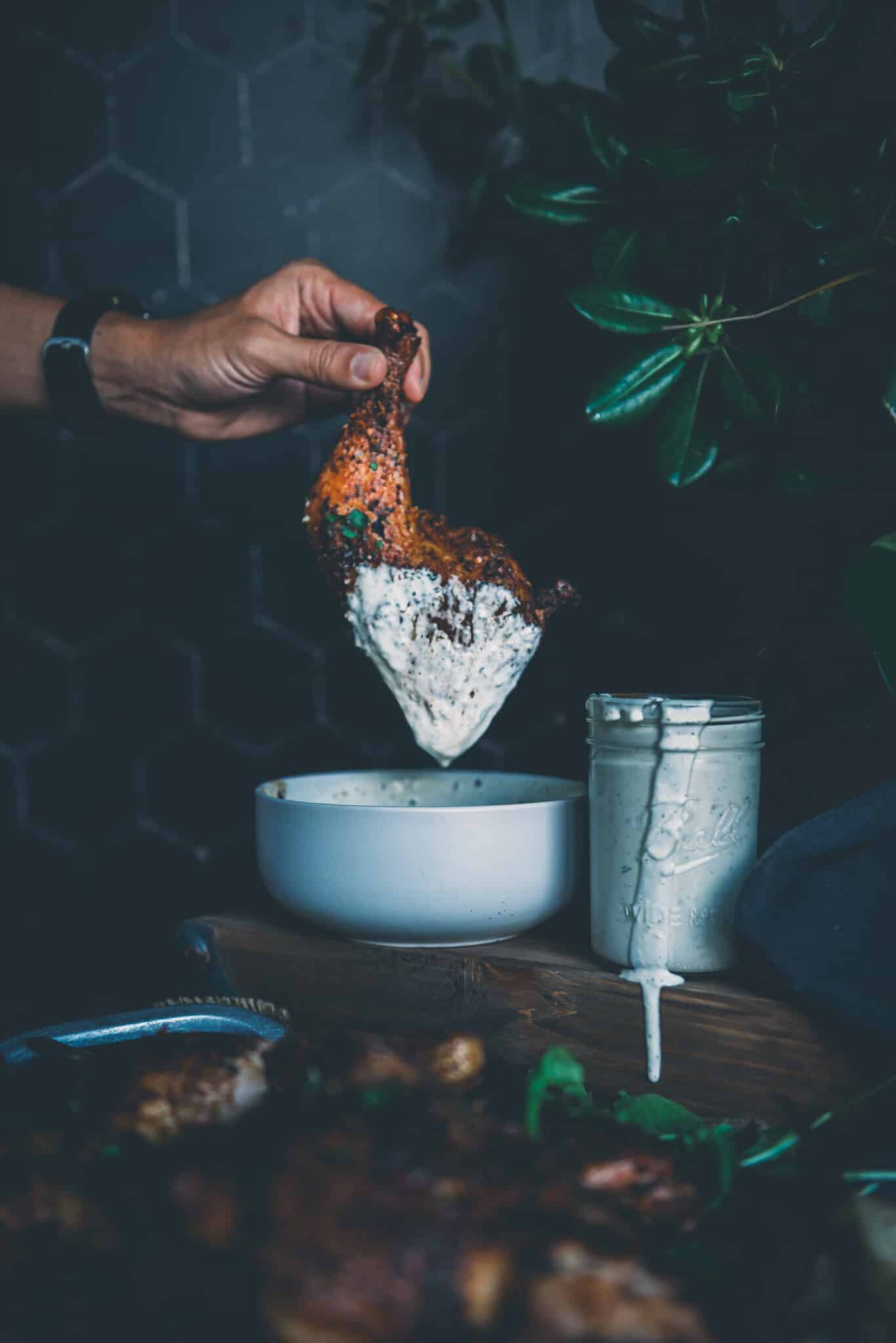 Girl Carnivore Expert Tips
Use the best mayo. Most southern's will argue that Duke's mayonnaise is the best way to go for this recipe, but we each love our own brand of mayo. So stick to the one that you love the best. However, we do not recommend Miracle Whip for this recipe.
Like a hint of sweet? Add a little brown sugar to this Alabama white bbq sauce recipe. But not too much, or it will change the flavor altogether.
Recipe FAqs
Is Alabama white sauce spicy?
No, this Alabama white sauce recipe is not spicy. The mayo balances out the horseradish for a smooth, zesty flavor. Now, if you're like us and love a little heat, we highly recommend a pinch of cayenne pepper whisked into this sauce for a slow, smooth heat.
How to thicken White Alabama bbq sauce?
If your homemade white bbq sauce is too thin, you can simply add more mayo. If you don't want to do that, try a little bit of corn syrup to thicken without adding flavor.
Is it Keto?
We love making this with avocado mayo for a keto barbecue sauce (and dipping sauce) that we can use all of the time.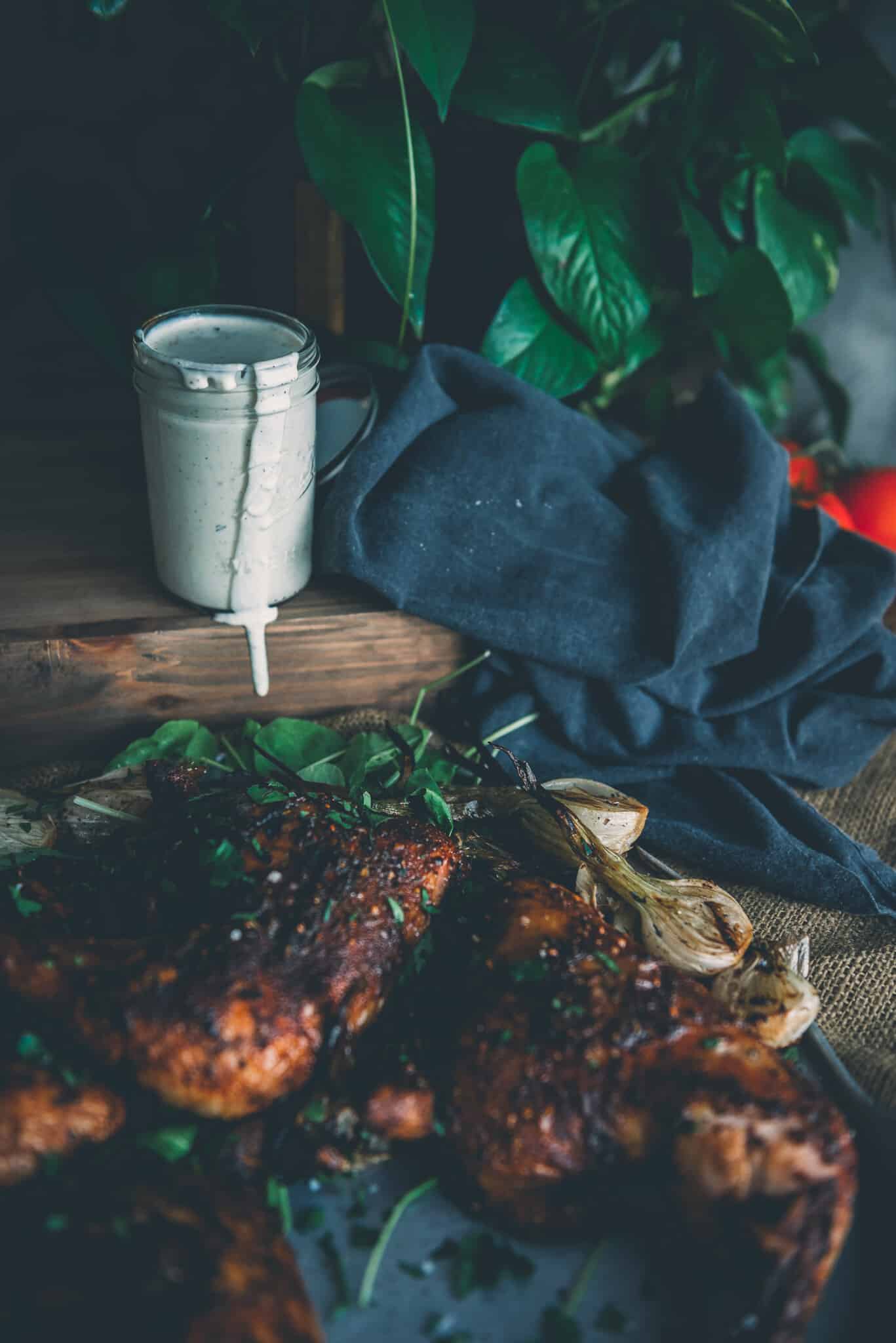 More Delicious BBQ Sauce Recipes
Sauces, Mops, & Condiments
Alabama White Sauce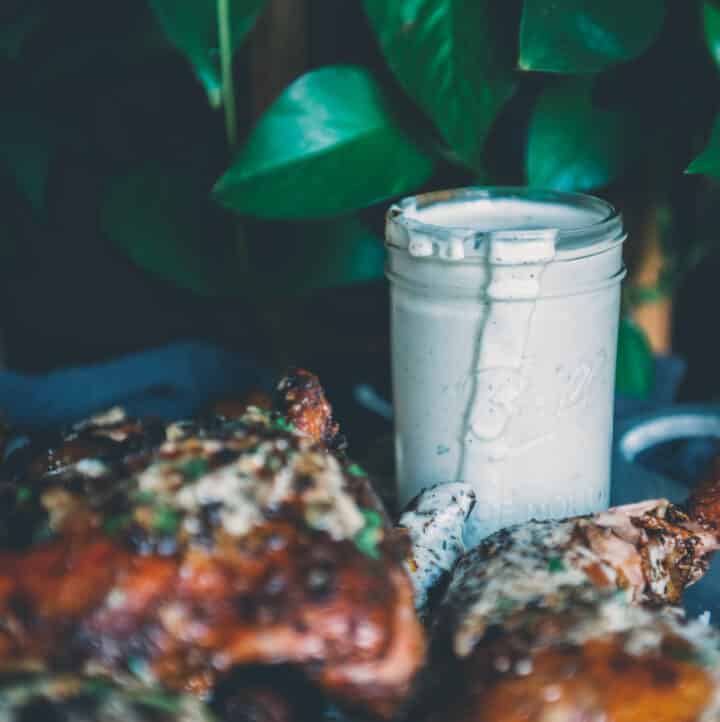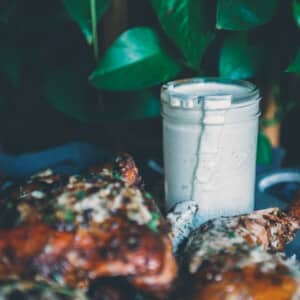 This Alabama White Sauce may be the best bbq sauce you've ever tasted. With creamy mayo and a mild peppery bite, it's begging to be your new go-to sauce for chicken, beef, and more!
Ingredients
2

cups

mayo

¼

cup

buttermilk

⅛

cup

vinegar

⅛

cup

lemon juice

1

tbsp

horseradish

2

tbsp

rosemary

freshly minced

1

tsp

course ground black pepper

1/2

tsp

Salt
Instructions
Make the Sauce
Whisk together the ingredients in a large bowl.
Store
Poud into a wide-mouthed jar and seal.

Store in the fridge for 24 hours so the flavors can develop before use.
To Use:
Remove from fridge and shake well to use.
Notes
This recipe is best made 24 hours before serving. That allows the flavors to develop fully.
It can be stored in an airtight container in the fridge for up to 5 days.
Use freshly prepared horseradish for the best flavor. Add more to your taste.
Nutrition
Serving:
1
g
|
Calories:
312
kcal
|
Carbohydrates:
1
g
|
Protein:
1
g
|
Fat:
34
g
|
Saturated Fat:
5
g
|
Polyunsaturated Fat:
20
g
|
Monounsaturated Fat:
8
g
|
Trans Fat:
0.1
g
|
Cholesterol:
19
mg
|
Sodium:
414
mg
|
Potassium:
30
mg
|
Fiber:
0.3
g
|
Sugar:
1
g
|
Vitamin A:
53
IU
|
Vitamin C:
2
mg
|
Calcium:
18
mg
|
Iron:
0.2
mg