From perfect gifting to daily staples, we're testing out the best places to order meat online. We tested over 20 of the best online meat delivery services; from fine meats, wild game, and monthly subscription boxes to high-quality cuts, to see who made the cut as great choices for online butchers.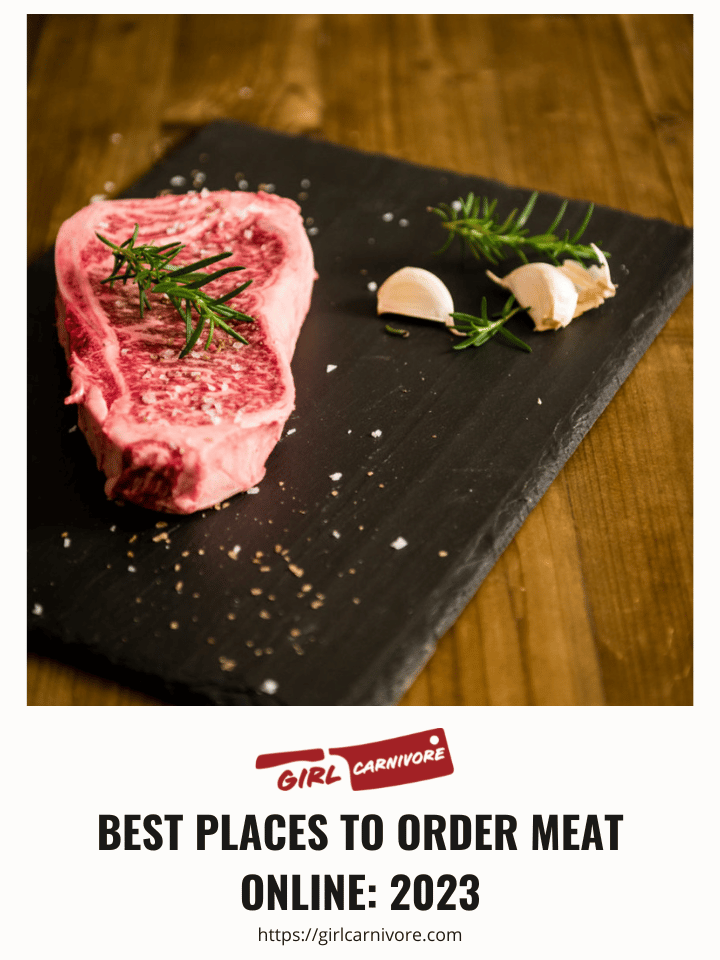 When it comes to where to order meat online, the idea alone can be foreign to most. Not seeing and choosing what ultimately ends up in your cart can be nerve-wracking.
But, online meat store purveyors have elevated the standards and quality, niching into what their consumers want, expanding the selection and quality available at your local grocery store.
Whether you are looking for pork, beef, chicken, lamb, wild game, or wild-caught seafood, you can order it all online and have it delivered right to your door, on ice. Though nothing can top a quality relationship with an excellent local butcher, ordering meat online has become a great way to source anything you want!
What we looked for in each order:
We've carefully reviewed, considered, and compared the location, quality, transparency, and shipping for each store. This way, you can make an informed decision you feel good about and find the best online meat delivery services.
We're in the process of ordering meat from over 20 different online meat butchers buying selections from each to see how they stack up. In some cases, the meat was shipped to us for consideration. However, no promise of any review was given. We hope to give you an idea of the best meat delivery services available and where you should buy meat online in 2023.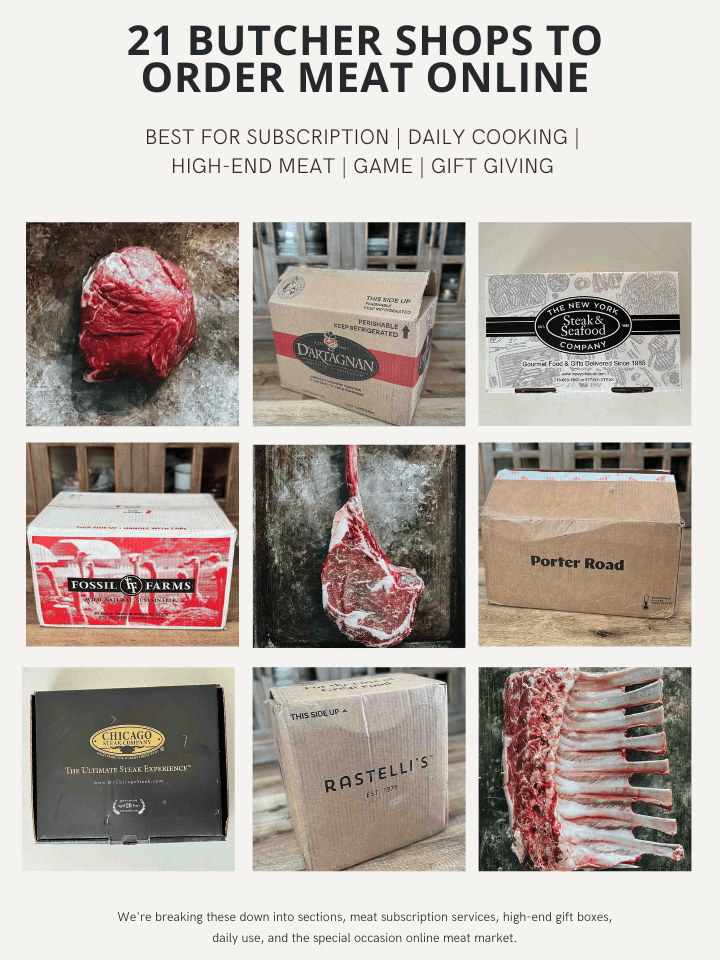 ---
21 Butcher Shops to Order Meat Online in 2023
We're breaking these down into sections of online meat sellers: meat subscription services, high-end gift boxes, daily use, and the special occasion online meat market. 🔪 indicates GirlCarnivore favorite choice.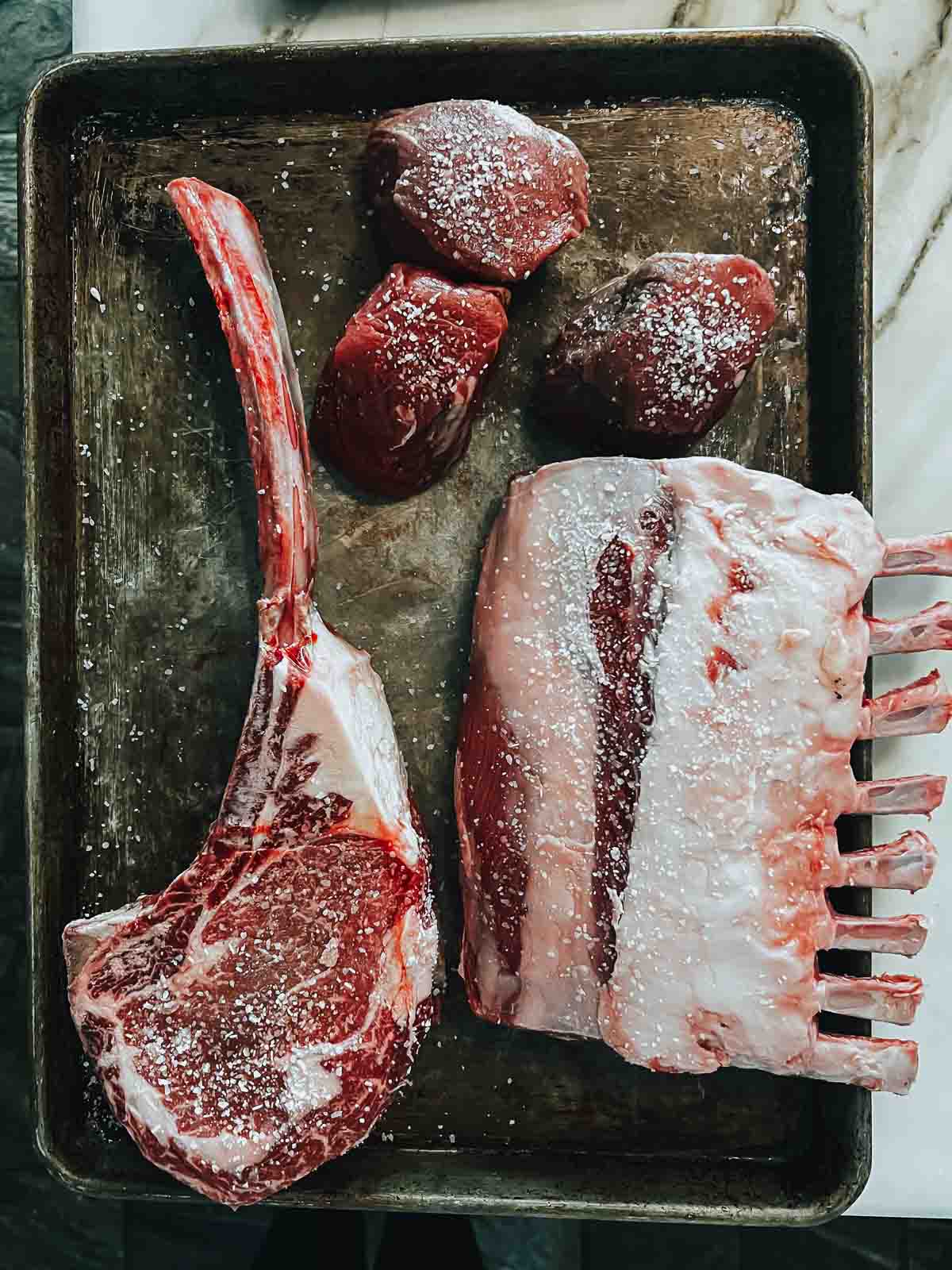 Best for Subscriptions:
Good Chop
What they have: Shop a variety of beef, chicken, pork, seafood, sausages, and turkey from Good Chop. They offer subscription boxes with prices ranging from $149 to $269.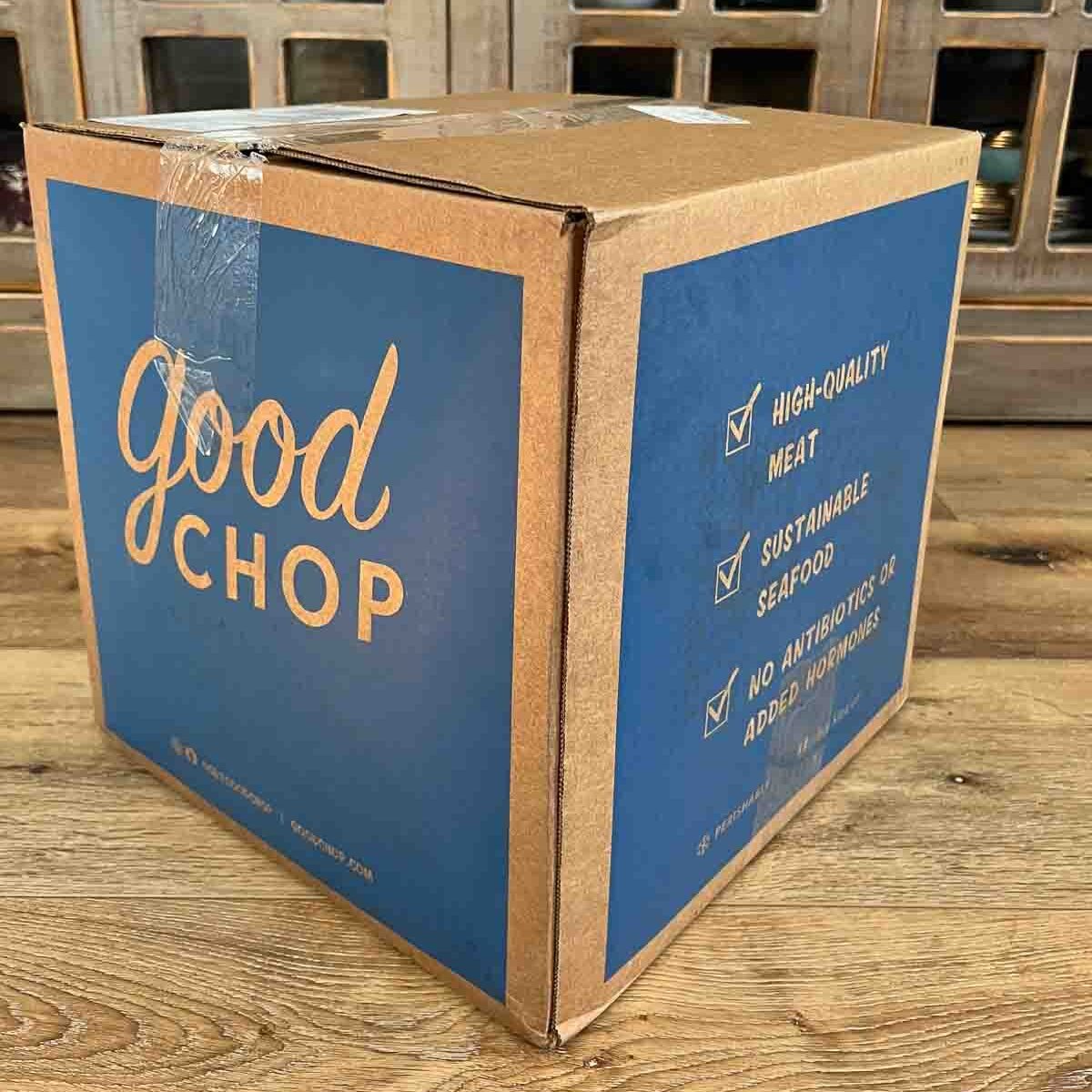 Source: Good Chop is very transparent about how they source their meats. They work with family farms and independent ranchers across America who care about animal welfare and take pride in treating their animals with care.
Shipping & offers: Currently, you have the chance to receive $100 off your first three boxes for new customers. Standard shipping is $9.99
Packaging: All meat is flash-frozen, packed in an insulated box with dry ice, and shipped to your doorstep.
Review Notes: We loved the ease of selecting a variety of proteins and felt the value was good for the medium-sized box at $149.
---
Moink Box
What they have: Moink Box is an ethically conscious meat subscription box. They currently offer a free filet mignon with every order for a year if you sign up now. They offer curated subscription boxes filled with top-notch meats.
Source: Moink Box takes pride in its small family farms and how they care for its animals. You can learn more about its farms on its website.
Shipping & offers: You can customize each box to your liking, and they start at a standard rate of $159 per box. Boxes change every week, so you'll get something different each time. If you don't like something you see, you can always make a substitution, as long as you make that change the Friday night before your box ships.
Packaging: Each box is frozen and packaged with dry ice, so even if your box is delivered 2 days before you can bring it in, it should still be frozen, depending on your climate. You are also free to skip a delivery anytime.
Review Notes: While we love the idea of a grab-and-go box (decision fatigue is real), we felt the 'swaps' were limited compared to the competition).
---
Crowd Cow
What they have: Crowd cow offers Authentic Japanese Wagyu Beef, American Wagyu, seafood, beef, chicken, and pork. With regular promotions and discounts, you'll usually be able to redeem some form of discount. With so much to choose from and a range of discounts, you'll surely find what you need.
Source: Crowd Cow sources its products from a variety of best-in-class producers located all over the world, including the United States, Uruguay, Japan, and more.
Shipping info and packaging: When you place an order, your package will be shipped in planet-first packaging and frozen to ensure freshness and reduce waste.
---
Cook's Venture
We called in Ally of AllysKitchen for her thoughts on Cooks Venture.
What they have: Cook's Venture sells curated meat boxes via subscription with prices ranging from $159 – $289. You can customize your box with their selection of beef, chicken, pork, and lamb.
Regular (6 items): About 15 lbs. of meat/your choice/beef, lamb, chicken, pork
Large (12 items): About 28+ lbs. of meat/your choice/beef, lamb, chicken, pork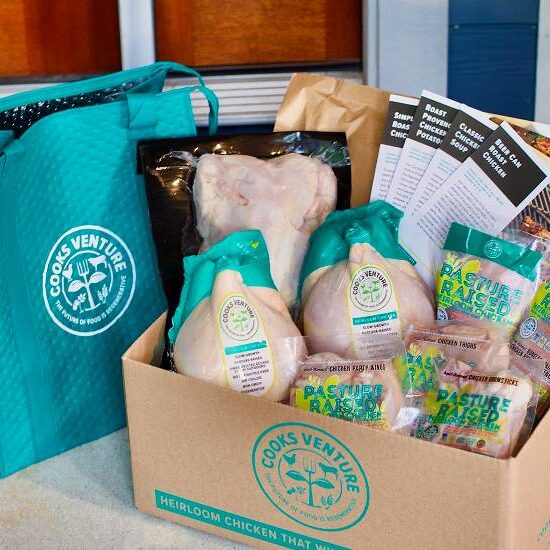 You choose your box size, then select items to fill your box with the options. Remember, 'one item' could be 3 1 lb. packages of ground pork or chicken.
Source: They are very transparent about where their product comes from. You can easily find information on their website. The gist is that their product is sourced from New Zealand and California, and animal welfare is a top priority.
Shipping info & offers: You'll receive free shipping with every box.
First Time Customers: Use AK50 for $50 off + Free Shipping
Second order: Use AK20 for $20 off + Free Shipping
Returning Customers: Use ALLY10 for 10% off + Free Shipping
Packaging: Your meat will be flash-frozen and packed in an eco-friendly insulated box.
🔪 Why Ally recommends it:
Pasture-raised/grassfed regenerative farmers who care about the Earth. I'd rather eat 'less' meat and high-quality like Cooks Venture. Guaranteed more nutrient dense and healthy for you. It's our meat of choice all the time. Order when you see what you want because it's not mass-produced. Great customer service, too.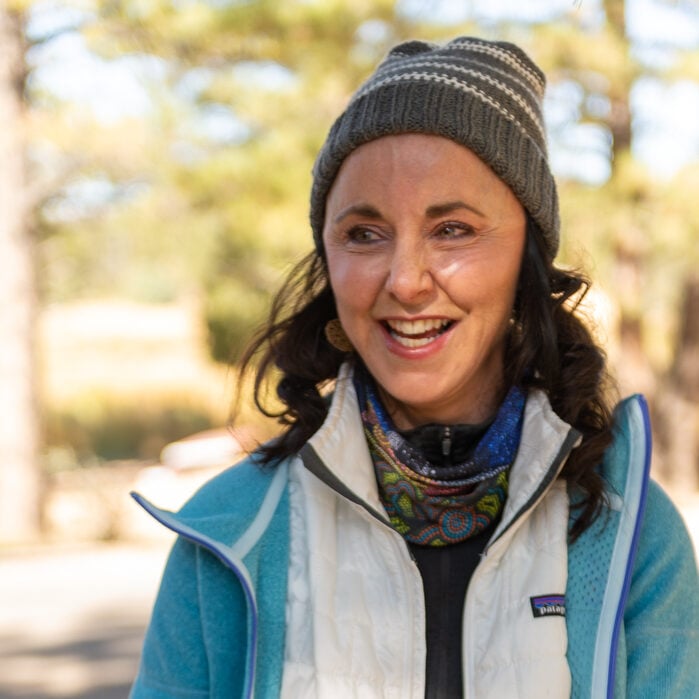 ---
Best for Gift Giving
Omaha Steaks
What they have: Located in Nebraska, Omaha Steaks claims to be the original butcher, serving quality meat products since 1917. They offer gift packages, notoriety, seafood, and beef and you'll recognize the household name. You'll choose from an extensive list of high-quality meat and different combination packages.
Source: Their beef is sourced from Omaha, Nebraska, and carefully selected by experts with decades of experience.
Shipping & offers: You can expect a few special offers when spending over a certain threshold. Currently, Omaha Steaks offers a free gift of 4 to 6 oz burgers when you place an order exceeding $149 or 4 to 5oz Crown Ribeye Steaks when your order is more than $139. Omaha Steaks offers free shipping for their members or orders over $169.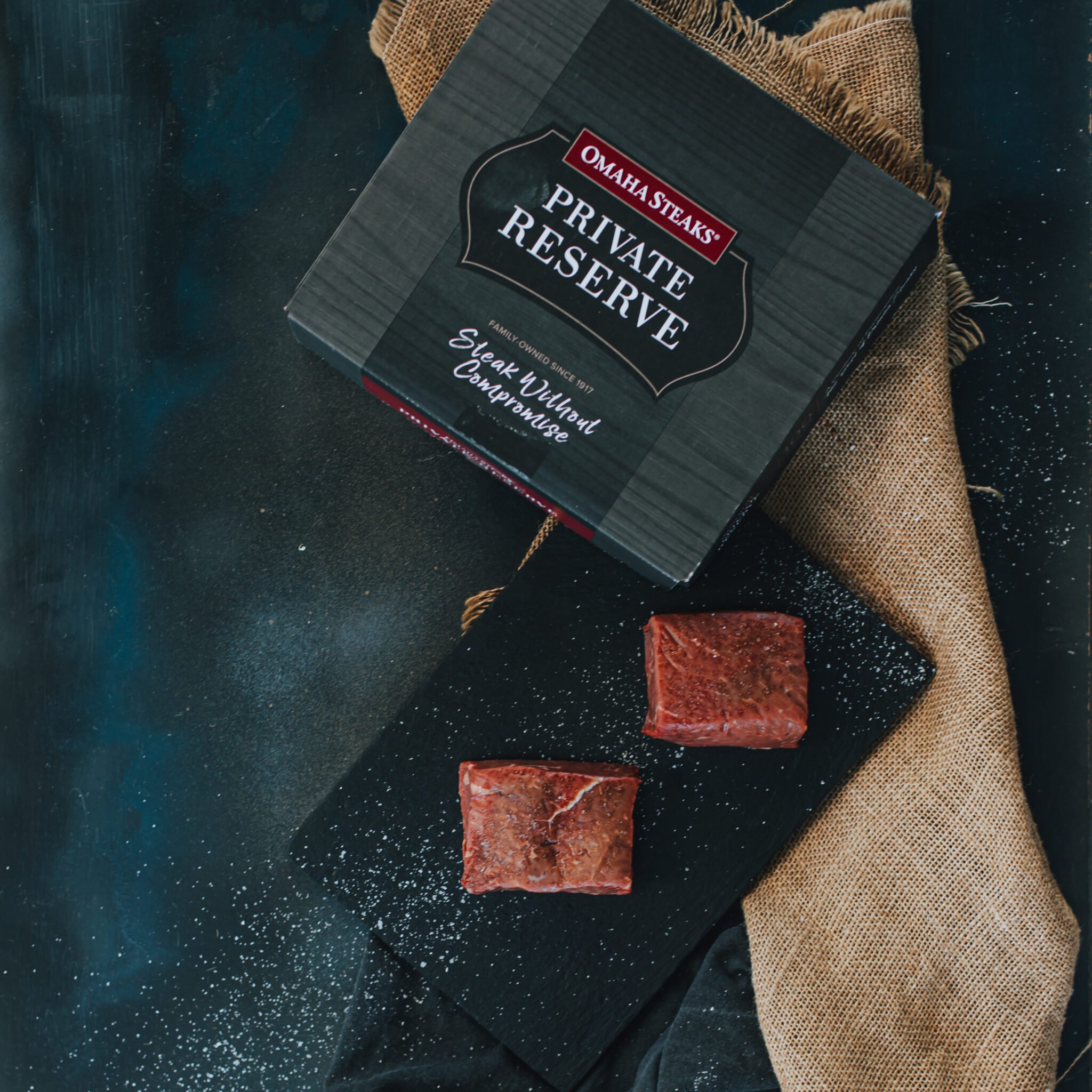 Packaging: Their products are shipped on ice to all 50 states and will arrive frozen. Each item is packed in a small labeled box inside of the larger box, which makes storing for later use easy.
If you're shopping for a special occasion, Omaha Steaks is the place to go. With a selection of custom packages and the added appeal of sides and starters, wine, and gift options.
Review Notes: for brand recognition alone, Omaha steaks earns a point from us.
Check out these beautiful Omaha Steaks grilled top sirloin filets.
---
Kansas City Steak Company
What they have: Since 1932, this Kansas City butcher shop has been serving quality meats with the promise to exceed their customer's expectations by serving up perfectly tender, juicy cuts of steak with the best flavor. You'll find a wide selection of meats ranging from steaks, ground beef, poultry, pork, seafood, and more. And just like the rest of the mid-west, their name has become synonymous with the good stuff.
At Kansas City Steak Company, you can order curated boxes of steak cuts perfect for stocking up for the holidays or sending a loved one presents.
Source: They state their meat comes from trusted producers in the golden wheat and cornfields of the Midwest.
Shipping info & offers: With their scheduled delivery option, it makes gift-giving easy. You can even shop overnight for a small fee. Although they don't offer free shipping on any orders.
Packaging: Every order is packaged in a styrofoam cooler with dry ice. Meats are vacuum sealed and flash-frozen before being packaged and shipped to your doorstep.
---
Harry and David
What they have: You may be thinking pears, but Harry & David is your one-stop shop for all things, gift baskets. With a wide selection of meat and cheese gift boxes to their selection of beef, chicken, ham, and seafood. There's so much to choose from.
Source: Harry and David distributes quality meats from Stock Yards, with over 100 years of experience in gift choice meats with a brand known nationwide offering USDA Prime and Choice selections.
Shipping info & offers: You can expect weekly deals and discounts, which you'll find on their website. Shipping costs extra. The price ranges depending on the size of your order. The price ranges from $7.99 – $24.99 or 17% of your order total if your order exceeds $150.
Packaging: It's not clear how they ship meat specifically, just that they use temperature-controlled trucks to ship from the city nearest you.
---
GoldBelly
What they have: Goldbelly boasts a selection of beef, ham, poultry, and seafood, but they also have a wide range of other products you can shop for, from pies to ice creams!
Source: GoldBelly isn't an online meat delivery store, its more a store for buying regional specialties and sending them. That cheesesteak you love from Philly, send it to friends in Kansas. Maine lobster rolls, send them to your aunt in Nevada for the holidays. GoldBelly lets the independent shops handle their ingredients and supplies.
Shipping info & offers: Currently, when you enter your email into the popup on their website, you get $15 off your first order. They also have a point system that rewards you for each dollar spent.
Packaging: Once again, this will vary depending on who you are ordering from but often, the products are shipped on dry ice.
🔪 Why GirlCarnivore Recommends It
We have used GoldBelly to send novelty holiday gifts for years across the country, from Maine lobster rolls to salamis – this is the GirlCarnivore choice for meaty gift-giving when you want a targeted gift for a targeted someone.
---
Best for Daily Cooking
Porter Road
What they have: Originally an actual butcher shop (and still has a brick-and-mortar location in Nashville), Porter Road sources its meat from family-run farms in Kentucky and Tennessee. You'll find a great selection of dry-aged beef, ground meats, sausages, hot dogs, and entire birds available for purchase individually or as part of a curated box.
Because Porter Road advocates for nose-to-tail butchery, they often feature specialty cuts that you won't see in other markets. From picanha roasts to volcano shanks, beef hearts to pork jowls, they make use of the whole animal.
Source: Not only do they make an effort to deliver the best quality meat to their customers, but they also regularly visit the farms they source from to ensure the cattle, poultry, and pork are raised humanely and follow sustainable practices.
Shipping info & offers: They offer flexible subscription service options allowing you to receive deliveries of two, four, or eight weeks. They offer free shipping for orders over $125.
Packaging: Their pasture-raised meats are delivered fresh nationwide. There is an additional service charge if going across the country, but considering how far the meat is being shipped, this service charge for proper shopping is minimal.
The meat arrives in a box lined with biodegradable foam and on ice packs.
🔪 Why GirlCarnivore recommends it:
Porter Road has become our go to shop to order meat online for daily needs. We have tested and can trust the sausages and grind mixes with our limited ingredient diet friends and use them for our weeknight staples.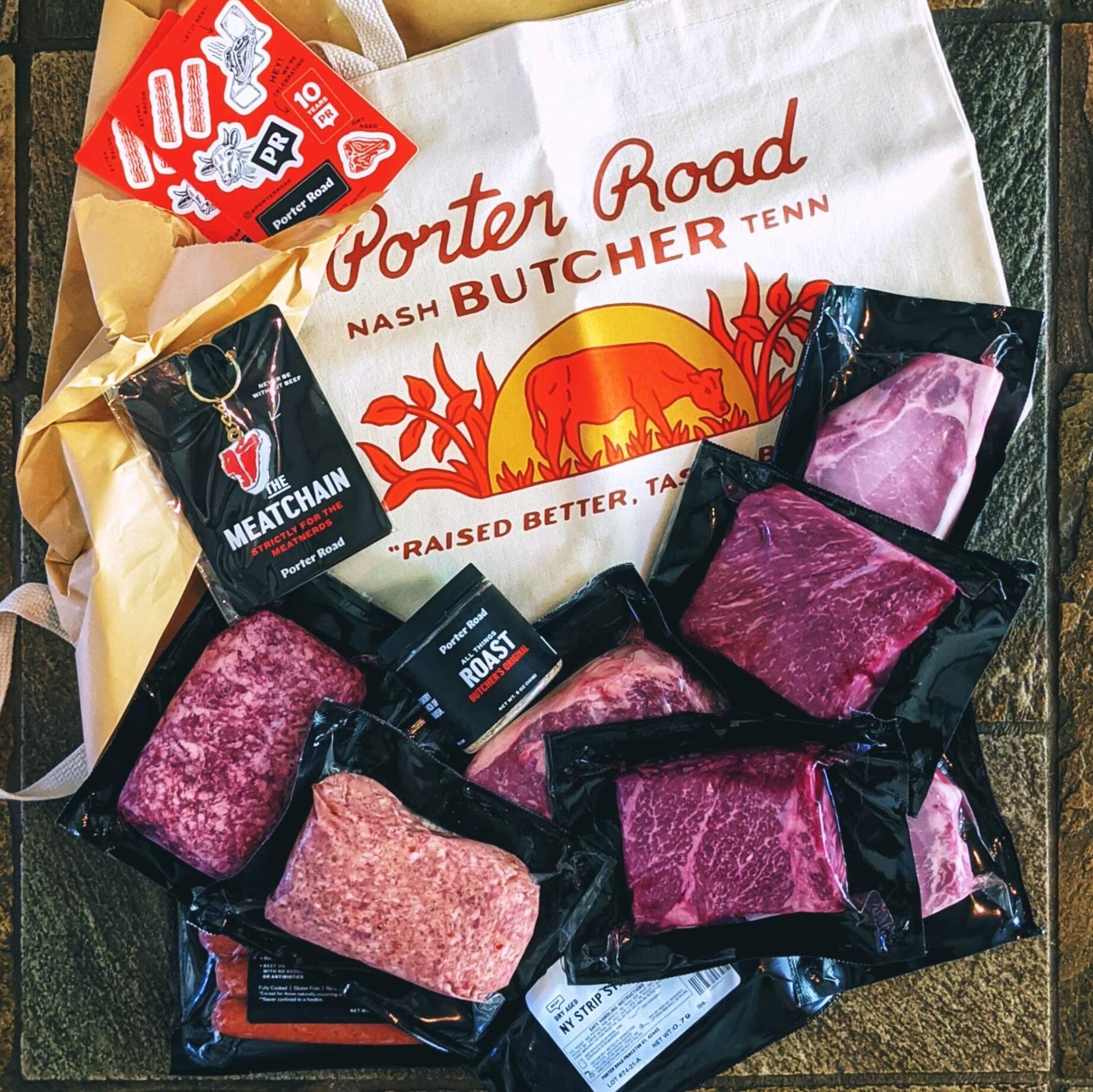 See Porter Road in action with our perfect oven roasted eye of round roast.
---
DeBragga
What they have: You'll find a nice selection of beef, poultry, pork, lamb, and sausage at DeBragga.
Source: DeBragga is located in the meat district of Manhattan and was founded in 1920. They are not super upfront about where they get their meat from. They talk about the history of raising cattle but not their current best practices. Though they do mention some of their farmers being small with a sporadic supply.
Shipping info & offers: They do not offer free shipping, and the price varies depending on where you live, ranging from around $20 up to $50.
Packaging: All orders arrive overnight and will ship fresh unless otherwise noted.
---
Chicago Steak Company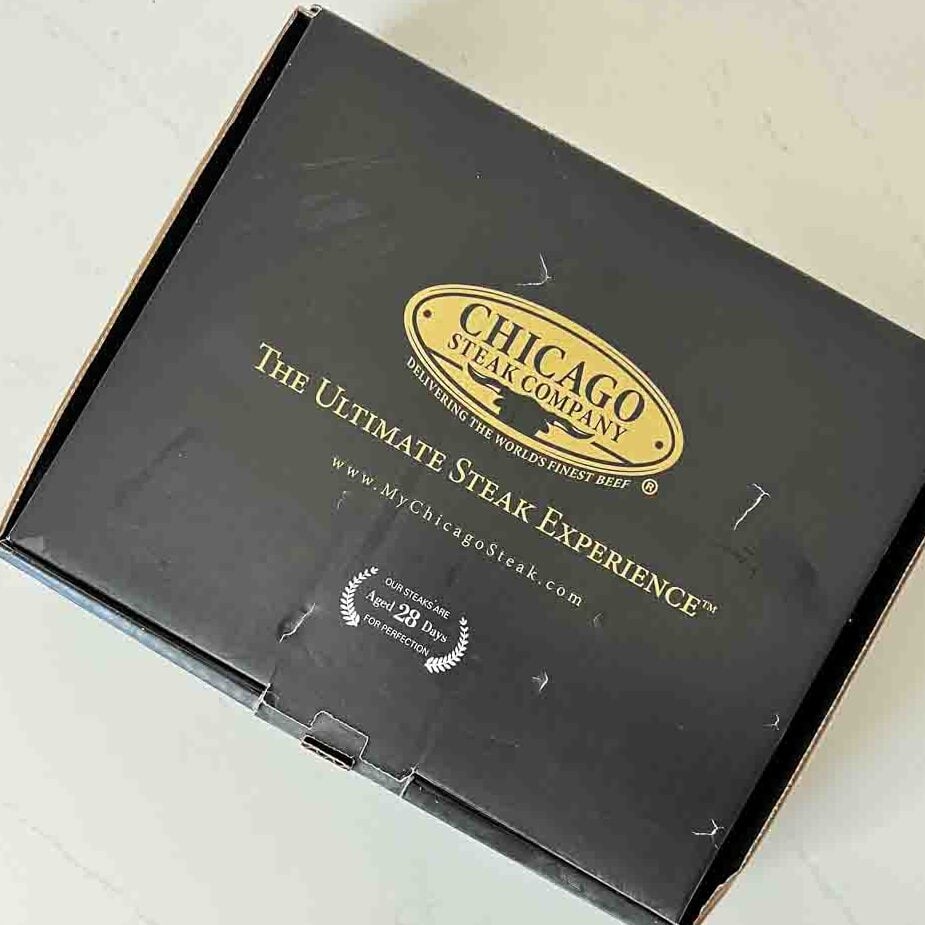 What they have: Chicago Steak Company sells steaks, burgers, and seafood. If you're looking for the perfect online meat store for burgers, Chicago Steak Company is perfect for you.
Source: They claim that their beef is sourced from midwest-raised heritage cattle.
Shipping info & offers: Enjoy free shipping on orders over $129 if you sign up for text messages on their website, plus 12 free steaks and free steak seasoning. Tip: Subscribe to their emails for immediate bonus offers!
Packaging: Your order will be shipped frozen and packaged with dry ice. Ours arrived in a sealed styrofoam cooler.
Review Notes: We found this website not as easy to navigate as others, and if you're hunting for a deal, be sure to look for coupon codes. However, our order was incredibly well packaged, everything arrived quickly and frozen, and their follow-up customer service is amazing.
---
Pat LaFrida
What they have: At PatlaFrida, you'll find a wide selection of beef, pork, lamb, veal, chicken, and poultry. In a name with a long history in NY, they have been family owned and operated since 1922.
Source: Their beef comes from small, domestic farm partners across the country.
Shipping info & offers: They do not offer free shipping, nor do they appear to have any discounts or offers at this time.
Packaging: The meat is shipped fresh with frozen gel packs. If your box arrives and the gel packs are no longer frozen, that's okay as long as they are still cold. Your meat should still be cool to the touch.
🔪 Why GirlCarnivore Recommends:
We love ordering from a family butcher, and Pat is one of the best.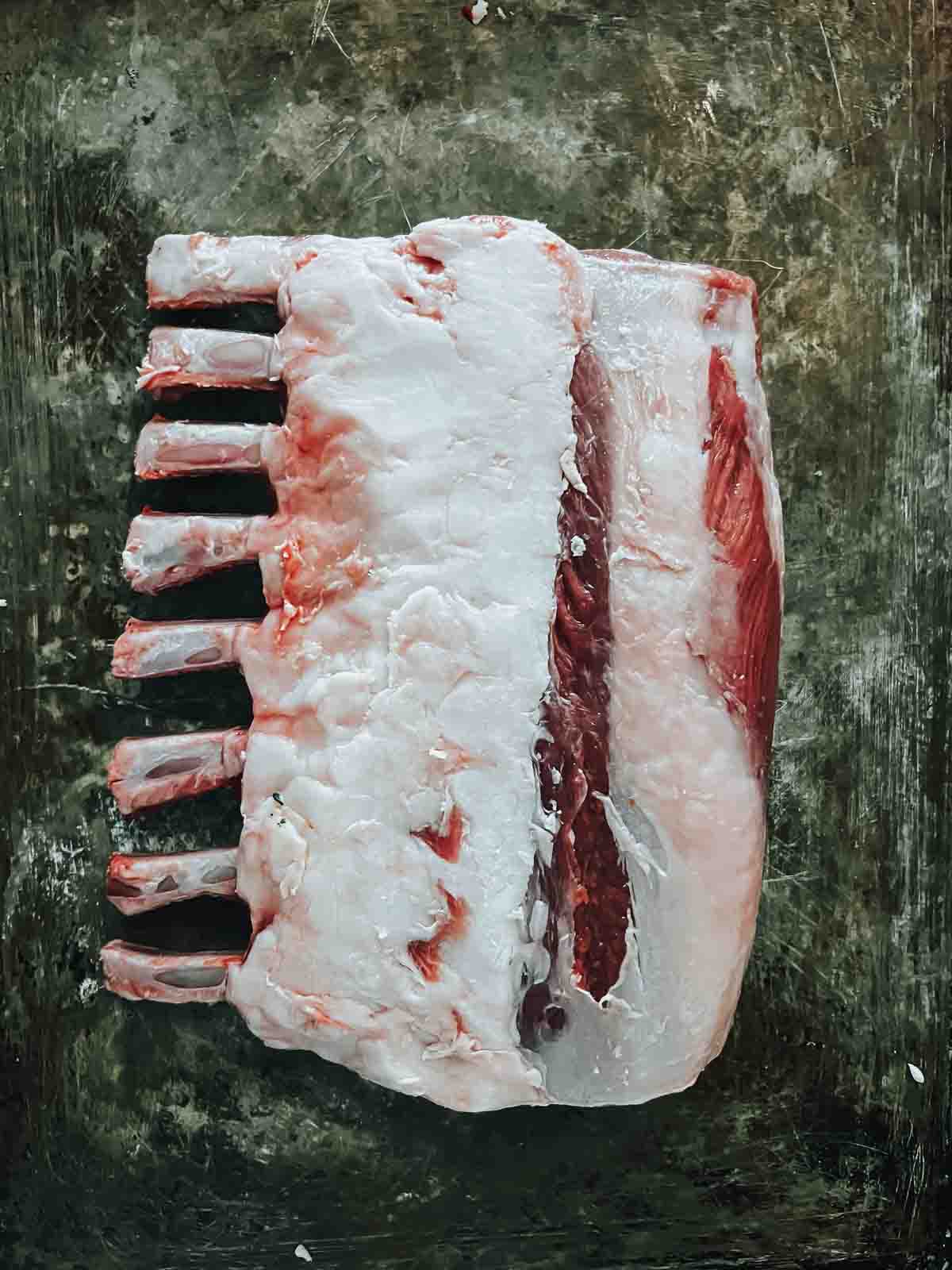 See the grilled rack of lamb recipe we used to serve this at a recent dinner party.
---
New York Seafood & Steak Co
What they have: Shop their selection of steaks, veal, pork, lamb, and seafood. Essentially a huge online grocery store with great options like red snapper and grouper to catch our attention!
Source: New York Seafood & Steak Co sources its prime selection of meat and seafood from all over, with a huge selection to pick from online.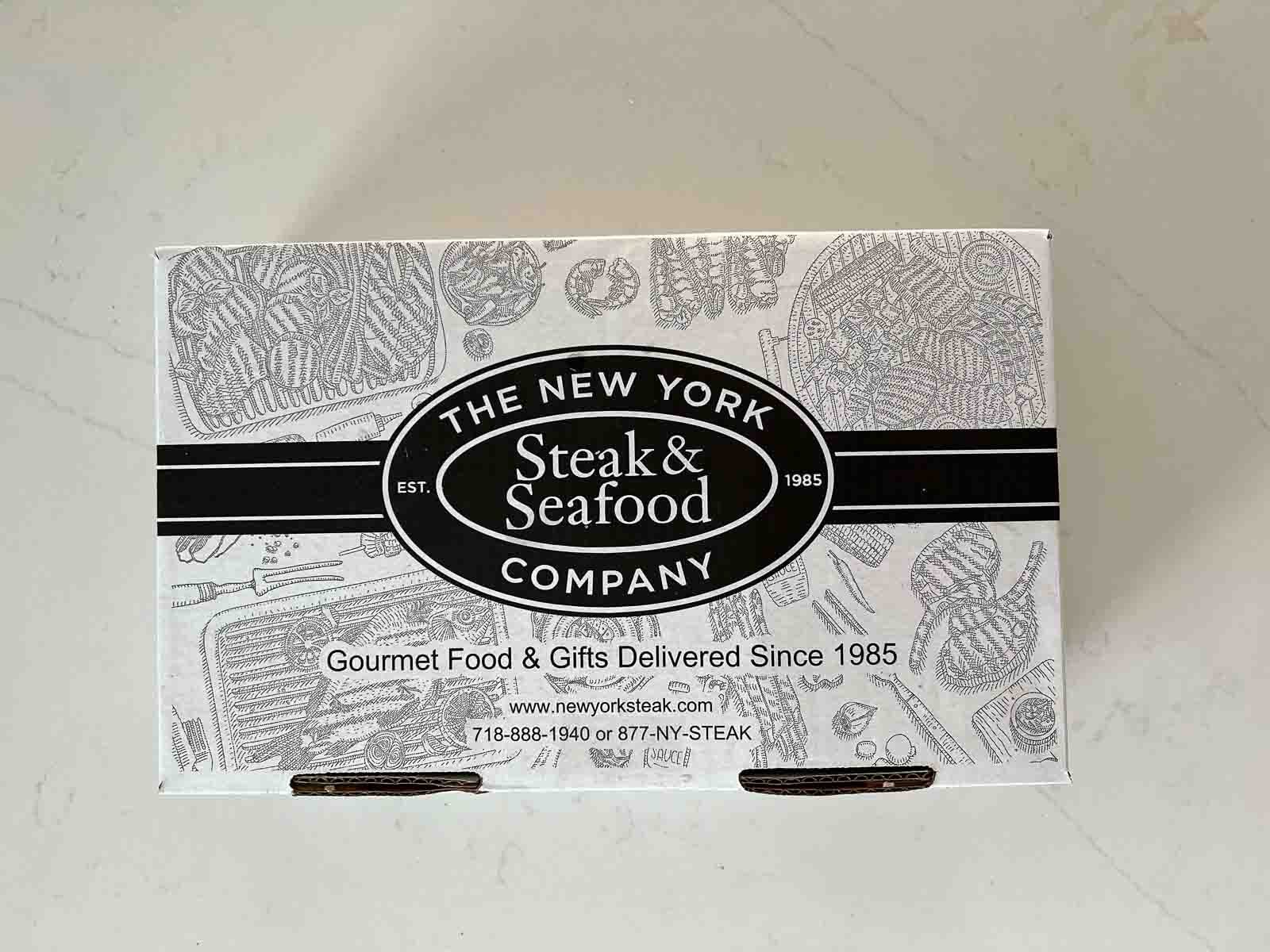 Shipping info & offers: For every order, you have to pay standard shipping of $19.99 except for the mountain and pacific time zones which is $29.99. If you need overnight shipping, expect to pay $89.99. First-time customers can use promo code SHIPSAVE to receive a $19.99 discount on orders over $129.
Deals change weekly!
Packaging: Your meat will be individually portioned, flash frozen and vacuum sealed with dry ice, and shipped to your doorstep.
See how we put New York Seafood and Co Veal cutlets to use in veal scallopini.
---
Best for High-End Cuts
Snake River Farms
We reached our to Christie of GirlsCanGrill for information on Snake River Farms:
What they have: Snake River Farms was founded in American Falls, Idaho, and is known as the pioneer of American Wagyu Beef. They also sell high-end heritage breed pork.
Source: The beef herd grazes on the Double R Ranch in Loomis, Washington. Snake River Farms owns the feed yards and processing plant so they can control the animal welfare at every stage. The Berkshire hogs are raised on small family farms across the Midwest.
Shipping info & offers: 1-3-day ground shipping is only $9.99.Overnight shipping is also available. You can also schedule your delivery date. Subscribe to their newsletter for instant savings and weekly coupons.
Packaging: Meat is vacuum sealed and placed in a thermal bag. Then, it's placed in a box lined with a biodegradable plant matter thermal cooler with dry ice.
🔪 Why GirlsCanGrill recommends it:

I'm a fan of Snake River Farms, because the American Wagyu provides consistent, delicious marbling. It's the only brisket I use in BBQ competitions. Because you're getting such amazing quality, their meat is more expensive, so I buy the smaller steak cuts for special dinners.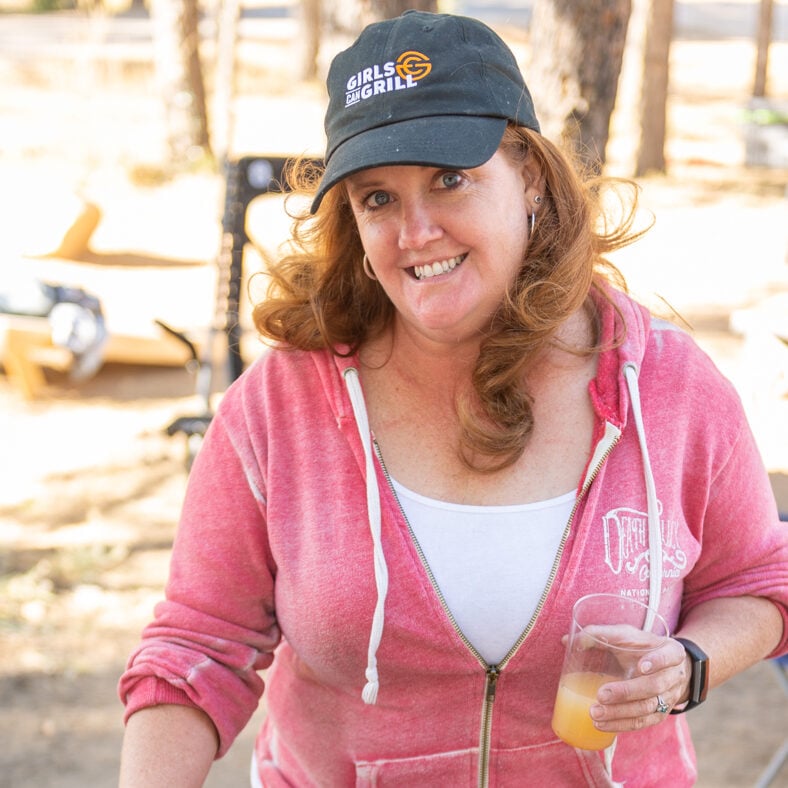 See how to cook a Snake River Farms Wagyu New York Strip here.
---
Peter Lugers
What they have: Peter Lugers is an iconic Steak House in New York known for its aged steaks, but it's also an online butcher shop for those looking to order meat online and bring that experience home.
Source: Going on their deep tradition, their USDA prime beef is selected from wholesale markets after being inspected for standard and then aged in-house. Once ready, they are sliced into individual steaks.
Shipping info & offers: They don't have a huge selection, but they do offer steak, burgers, and bacon, which is all you want from them. Their prices range from $59 to $587 depending on what you order, but that doesn't include shipping. All packaged orders come with an additional charge.
Packaging: All their packages ship overnight via FedEx to ensure the highest quality meat arrives at your home.
---
Blackbox Meats
What they have: With stores all across the country, Blackbox meats offers a selection of beef, pork, chicken, and seafood and a variety of affordable options at that.
Source: They are not particularly transparent about where they source their meat, apart from saying " local farms."
Shipping info & offers: Shipping is to select cities throughout the country so check first to see if you can order from Blackbox Meats. Blackbox Meats claims to have exceptional customer service and no minimum orders. Although they offer no free shipping, the order is hand-delivered to your door.
Packaging: Your meat will be delivered fresh, not frozen, right to your doorstep. They do have a same-day delivery option. Because it is delivered fresh, someone needs to be available to accept the package and put the meat in cold storage until ready to serve.
🔪 Why GirlCarnivore Recommends:
If you are looking for a great cut for a local dinner party, this is a great option for a quick solution.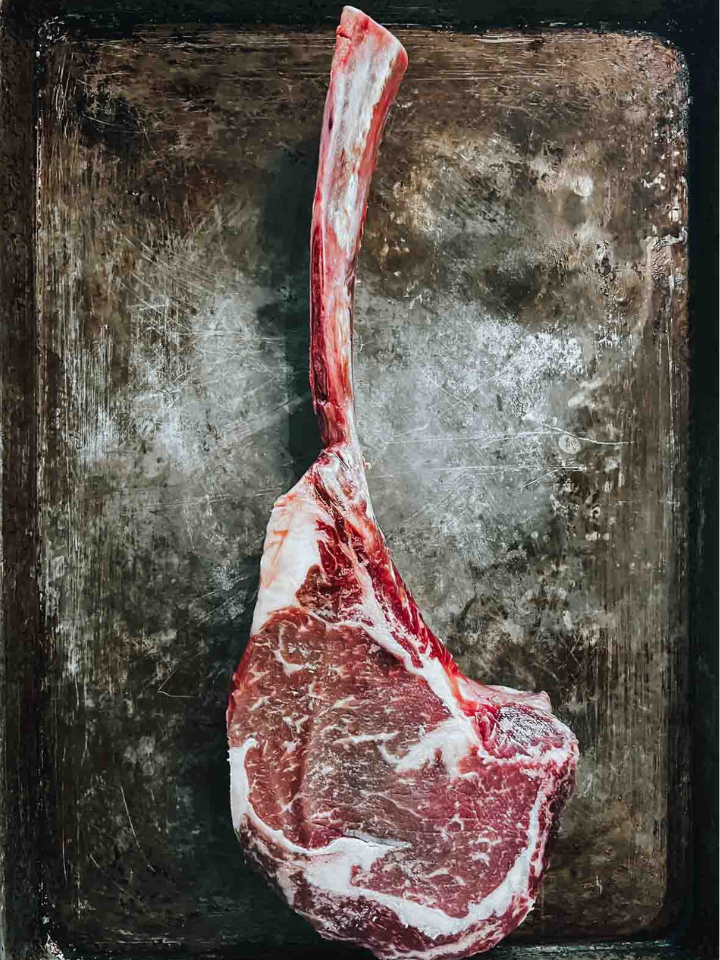 We used our grilled tomahawk recipe with cilantro chimichurri to showcase this cut from Blackbox Meats at a recent dinner party.
---
Rastelli's
What they have: Rastelli's offers lamb, beef, poultry, seafood, and pork. They also stock primal cuts, for those who want to butcher their own meat for savings. We have used them to trim our own beef tenderloin for the holidays and love that they ship full primals.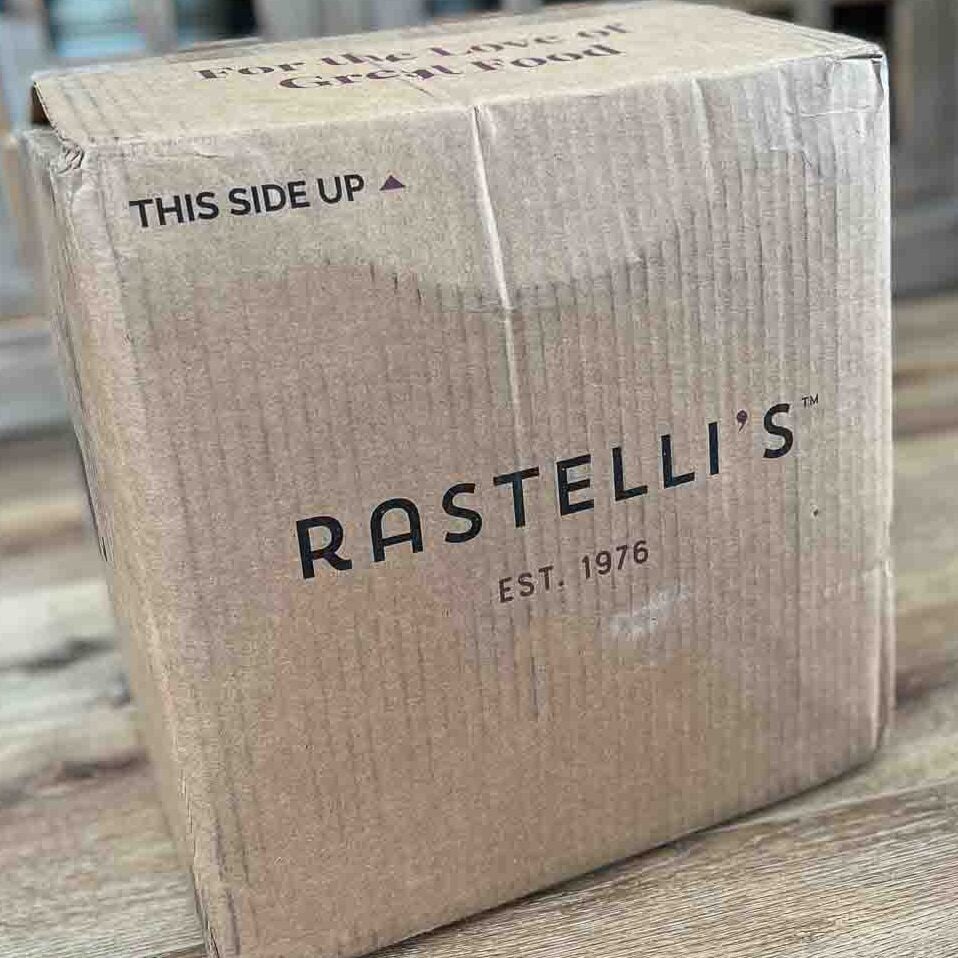 Source: They were established in 1976. Rastelli's prides themselves in raising their cattle "the right way." Their family farms are free of antibiotics, steroids, and hormones, resulting in their tender, flavorful beef.
Shipping info & offers: They offer daily discounts, points for shopping, referrals, and free shipping for orders over $200. Base shipping starts at $10
Packaging: Each package is shipped frozen, with the meat placed in a cooler bag and packed with dry ice.
Review Notes: We loved the shipping and quality of the tenderloin we ordered and will use Rastelli's in the future for primal cuts.
---
Holy Grail Steak Co
What they have: Holy Grail Steak doesn't pretend to be anything but a luxury steakhouse. You'll find a hearty selection of beef and various cuts of steak of different origins and levels of quality.
If you are in the market for authentic kobe, they have a selection of A5-grade Japanese Wagyu, among other rare and unique choices.
Source: Although they are not specific about where they source their meat. They mention that they partner with farms and ranchers that claim to use sustainable practices and are conscious of animal welfare. They also claim that their animals enjoy "luxurious farms."
Shipping info & offers: Holy Grail Steak Co offers free shipping for orders over $199.
Packaging: Items are packaged frozen with dry ice in a recyclable outer wrapper in a box.
🔪 Why GirlCarnivore Recommends:
Want a unique high-end steak? This is the place to go. We enjoy picking a few exceptional cuts a year to test, and the carrot-finished filet mignon did not disappoint at a recent dinner party we cooked for.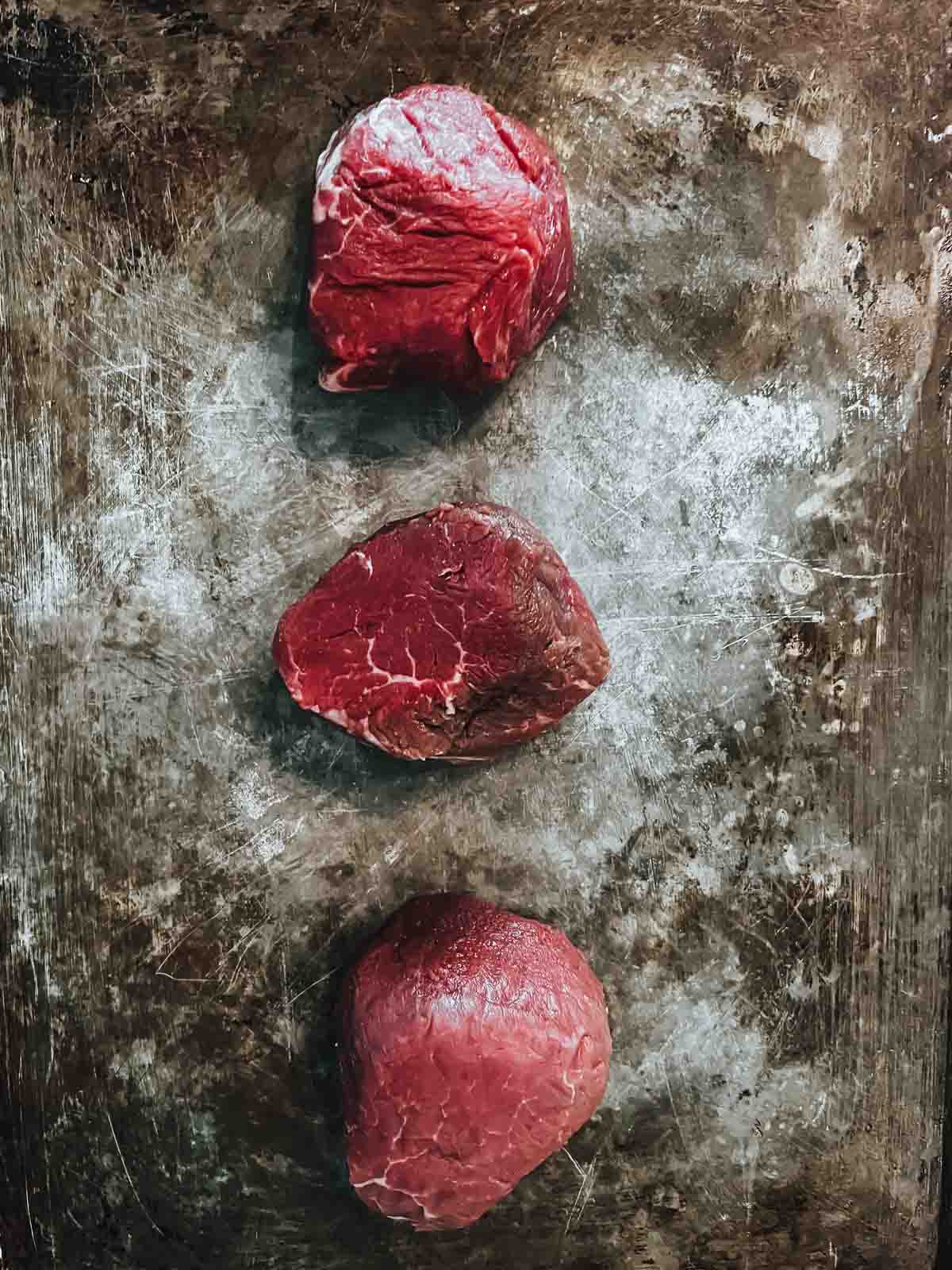 ---
D'Artagnan
What they have: D'Artagnan has a massive selection of beef, pork, lamb, seafood, duck, poultry, and even charcuterie. Probably most widely known for their duck, D'Artagan probably has the widest selection of duck we discovered on the web and curated bundles for confit and other fun cooking projects.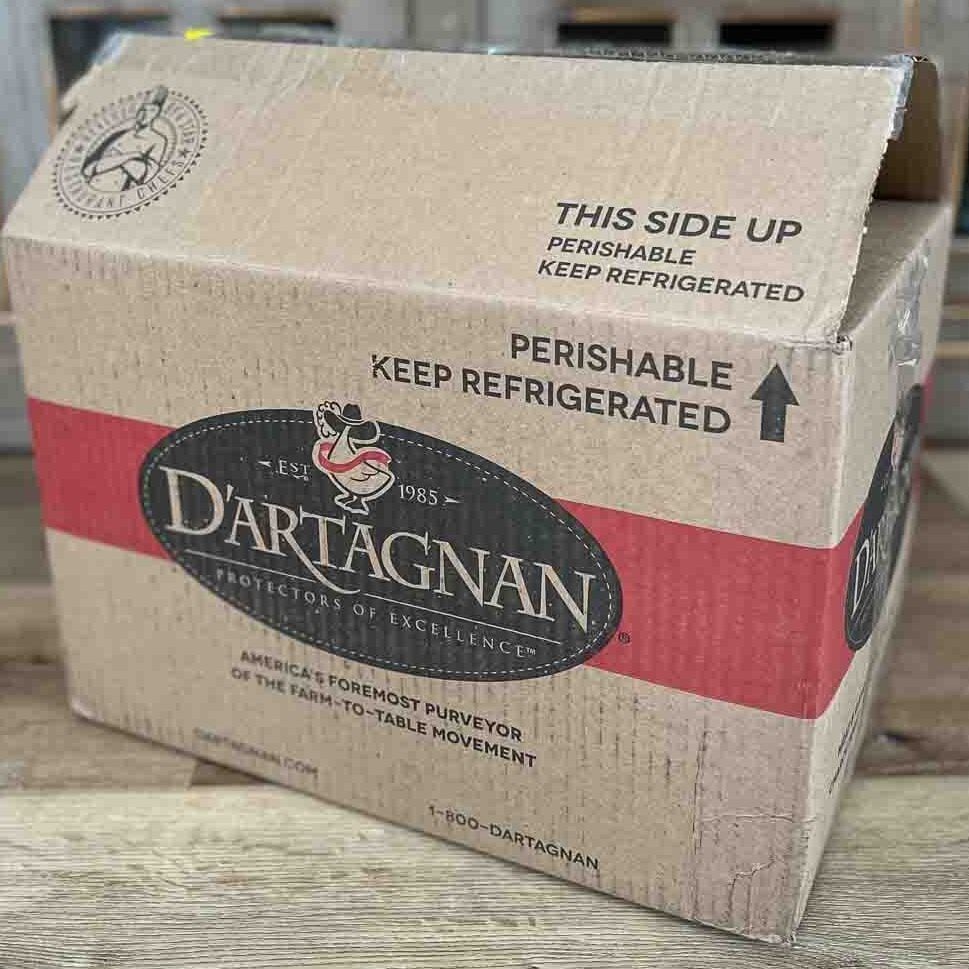 Source: Their products are sourced from small family farms with strict rules to ensure animals are raised humanely.
Shipping info & offers: Currently, you can save 20% off orders over $175. Seafood shipped with them comes packed in it's own box separately but doesn't add to the shipping costs. Shipping is calculated based on the day you select and the ammount in the cart.
Packaging: All of your orders will be shipped in a reusable/biodegradable insulated box with ice packs.
🔪 Why GirlCarnivore Recommends:
We ordered some random cuts from D'Artagan but are looking forward to expanding our duck knowledge by stocking up on some of the bundles after the holiday season. We are currently testing the duck confit kit.
---
Best for Wild Game and Unique Cuts
Wild Fork Foods
What they have: Wild Fork Foods offers an extensive range of meats from beef, poultry, pork, seafood, sausages, lamb, and more. They promise to bring their customers the largest selection of the highest quality meats for the most affordable price.
They also offer ready-made meals you can reheat at home and build your own meal kit options.
Wild Fork Foods also has a few locations around the US if you want to walk through a carnivore candy land.
Source: Their meat is sourced from "the best quality slow feeders in Nebraska and Colorado." Due to the colder climate and lush grasslands, this region produces some of the top cattle. However, their seafood, game, and lamb are sourced from all over.
Shipping info & offers: For $29 a year, you get unlimited free delivery. For any order over $35, they will deliver to your doorstep. If you are not satisfied with your order, you can return it for a refund. Free shipping is only offered to members. For nonmembers, you'll pay a shipping fee of $9.95 – $19.95, depending on your order. Although, even if you are a member, you must spend at least $35 to qualify for free delivery.
Packaging: Every order is blast frozen at peak freshness, packed with insulation and dry ice.
🔪 Why GirlCarnivore Recommends:
We love Wild Fork Foods when looking for something unique that we can't source locally. We know they will have a good selection of products we can't find in our local markets (Argentinian blood sausage, anyone?) and let us explore global ingredients in our own kitchen.
See how we use Wild Fork Foods to grill veal loin chops in this recipe.
---
Fossil Farms
What they have: Fossil Farms provides healthy, sustainable products from independent ranches and farms. You'll find a hearty diverse selection of natural meat and farm-raised game from beef, authentic Japanese wagyu, antelope, bison, elk, alligator, and other exotic meats, as well as a good selection of game birds.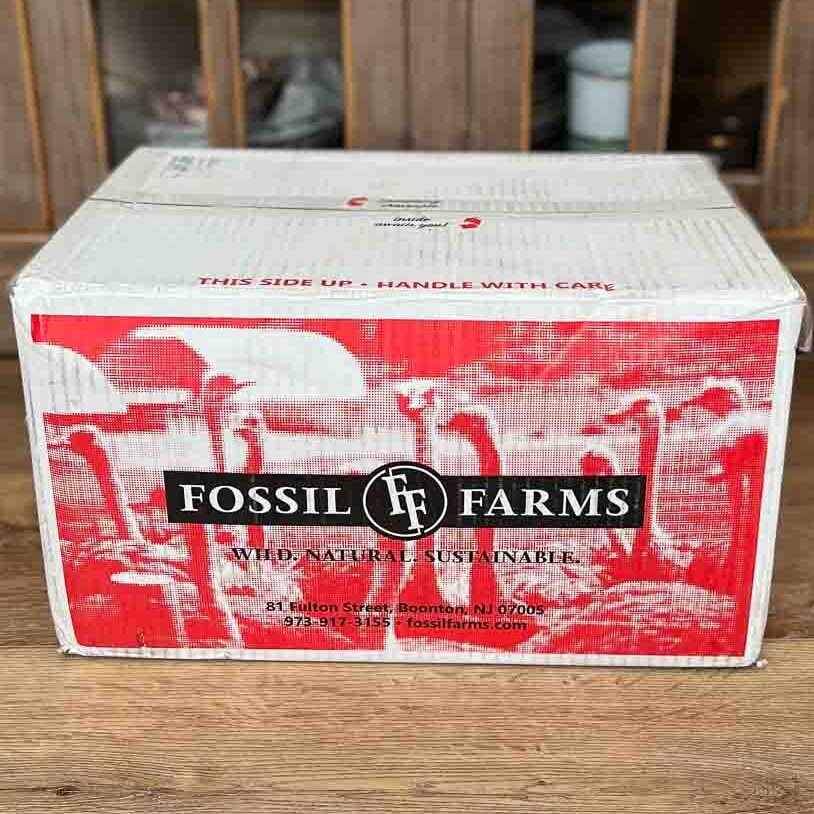 Source: Founded in 1995 in New Jersey by two brothers with a love for healthy, sustainable meat. Although their mission is not to be the biggest, it's to be the best provider of high-quality farm-raised games, game birds, and exotic meats.
Shipping info & offers: They offer free shipping on all orders over $175 dollars.
Packaging: Everything arrives sealed in a box with foam and ice packs, along with clear labeling on the outside of the box that there is perishable food inside.
Our Review Notes: Fossil Farms is another great source for wild game and their follow-up customer service is great!
Check out these delicious venison steaks we put to use from Fossil Farms foods
---
A quick note about the brands that made the cut: We love ALL options to buy meat, and are excited to see so many online resources for consumers. We in no way believe there is one choice that is better than another and this list is meant to be a tool for consumers to use to help guide them with so many options. There are a lot of fantastic options out there that we have yet to add to this living list.
FAQs for buying meat online:
Is buying meat online cheaper?
No, buying meat online is not cheaper than watching the sales ads at your local market. However, it does provide a wider selection. For day-to-day meat purchases, nothing will beat a local butcher, farmers market, or your daily market.
Is ordering meat online safe?
Yes, ordering meat online is safe. We have lived in both extremely remote and cold and extremely hot climates and have rarely had a problem with delivery. When meat does arrive above a food-safe temperature, the vendor has always made it right and immediately ships new product.
As long as the meat is below 40 degrees F and cold to the touch, it should be ok.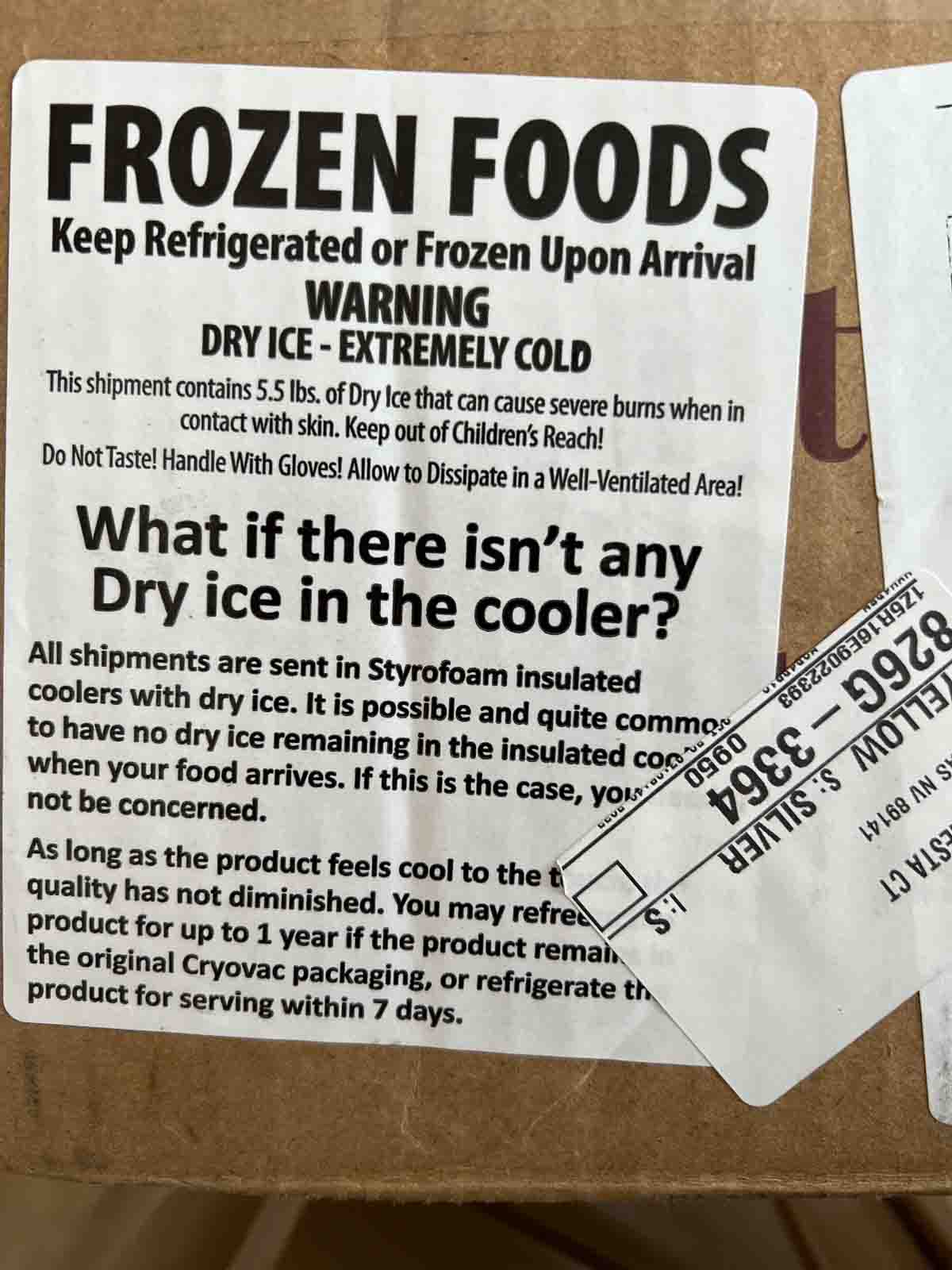 How long does it take to get your meat?
Each vendor listed above is different, but most either ship within 10 days or allow you to choose the shipment date or week so you know exactly when to expect your product.
If you are ordering for the holidays, we recommend ordering 15 days ahead to avoid any shipping issues or delays.
Shopping online is one of the best places to find delicious cuts of meat that taste as fresh as if they came from your local butcher. With so many options to choose from, it can be difficult to determine where to buy meat online in 2023. But, we're hoping we narrowed it down for you. Did we miss a place to buy meat online you think we need to try? Let us know!