Smoked Corn on the Cob, elote-style, takes corn to a whole new level. Hot, smoky, creamy, salty, and spicy, this smoked corn recipe has it all going on! And it's crazy easy – jazz up your cookout today with this show-stopping recipe!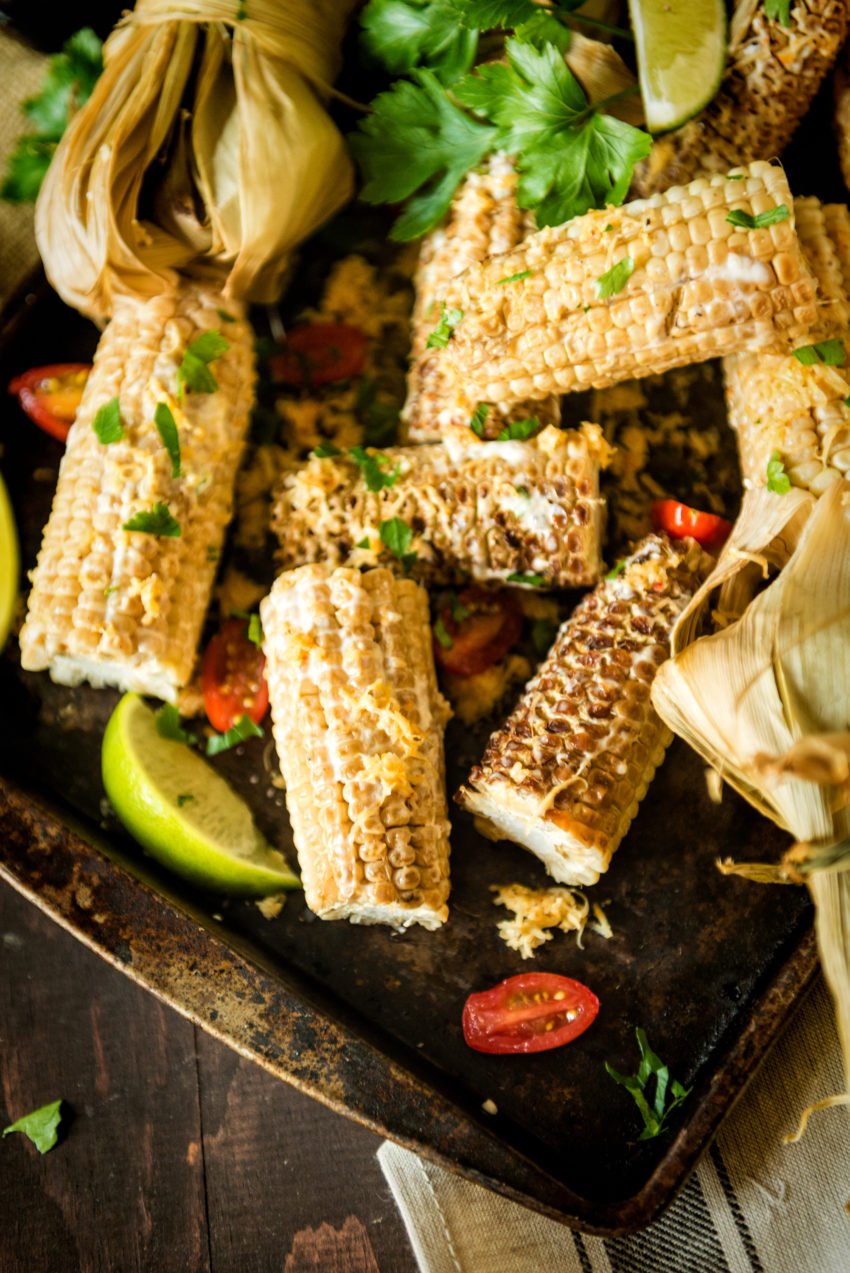 Well, hello there! Are you ready to step up your corn on the cob game and impress your friends and family at your next backyard BBQ? Look no further than this easy and delicious smoked corn on the cob recipe! With just a few simple ingredients and your favorite smoker, you can make the best smoked corn you've ever tasted! So get ready for that great smoky flavor that will make this classic summer staple your new favorite way to enjoy corn on the cob!
What Is Smoked Corn on the Cob?
Smoked corn on the cob is basically the superhero version of regular corn on the cob. Think tender kernels infused with a great smokey flavor, perfectly complemented by a seasoned butter mixture that's so good, you'll be tempted to lick the bowl clean. It's the ultimate side dish for any backyard BBQ or outdoor gathering. Plus, it's an easy way to elevate your grilling game and impress your guests with your newfound culinary skills. So, if you're tired of the same old boring side dish recipes, it's time to up your game and give this recipe a try. Trust us, your taste buds will thank you!
Smoked Corn on the Cob Ingredients
Corn on the Cob – For the best presentation, buy corn with the husks still on.
Mayonnaise
Sour Cream
Fresh Cilantro – Chopped; fresh basil will also work.
Paprika
Cumin
Sea Salt and Black Pepper
Spicy Chipotle Cheese – Shredded.
Fresh Lime – Sliced.
How to Make Smoked Corn on the Cob
This is basically a recipe for elote or Mexican street corn. Traditionally, elote is grilled corn on the cob, but with a hint of smoke, this corn reaches new levels of taste sensation!
Prepare your smoker for a 2-3 hour smoke and get it up to about 200 degrees F with mild wood chips.
Carefully fold back the layers of husks on the corn and remove the silks.
Tie the corn husks together with a piece of corn husk or butcher's twine and place corn cobs on the smoker.
Smoke the cobs for 2-3 hours; your corn will get some nice char marks.
Whisk the mayonnaise, sour cream, cilantro, paprika, cumin, and salt and pepper in a small bowl.
Remove the corn from the smoker and slather the hot corn with the mayonnaise mixture.
Sprinkle the Mexican Smoked Corn on the Cob with the shredded cheese and serve with sliced limes.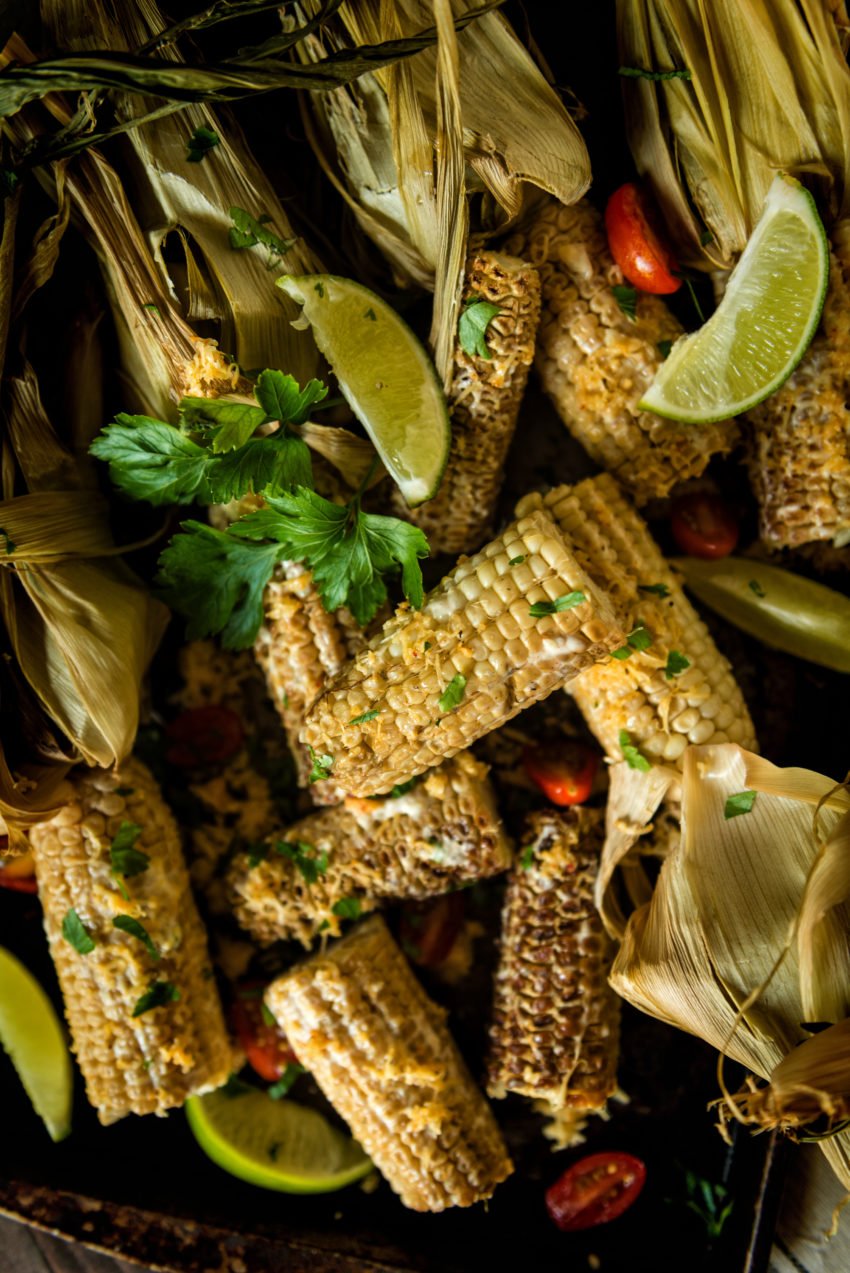 Girl Carnivore Expert Recipe Tips
Use fresh corn on the cob – frozen won't work for this recipe.
Instead of tying back the husks, you can go caveman on them and tear them off.
Mix it up with pepper jack or cotija cheese instead of the spicy chipotle cheese!
Add some chili powder for an added kick!
Pass the napkins – this is a messy side dish!
Make more than you might need – it'll get gobbled up!
Wrap cobs of corn in aluminum foil before slathering on the mayo mixture to keep them warm if you're not ready to serve yet.
Leftovers & Reheating
Once slathered in the spiced mayo, the cobs won't keep or reheat very well. If you think you might have leftovers, store the uncoated corn cobs in an airtight container in the fridge for up to 3-4 days. The mayo mixture can also be stored in the fridge for the same amount of time.
What to Serve With Smoked Corn on the Cob
Smoked street corn (elote) pairs fabulously with so many dishes. Make it a Mexican-themed night with dishes like birria, carnitas, and grilled tri tip! You can also serve this as a tasty side to Reuben hot dogs or a meaty burger!
Recipe FAQs
Can you smoke corn on the cob with the husks on?
Yes, but that's a different recipe. For this one, to get all that spicy mayonnaise and smoky goodness onto the corn, the husks need to get pulled back.
How long does it take to make Smoked Corn On The Cob on a Traeger pellet grill?
At 200 degrees F, it'll take 2-3 hours to get the corn nice, smoky, and tender. It should take a similar amount of time on a Pit Boss or any other pellet smoker.
Is smoked corn on the cob without husks easy?
You can use regular yellow corn or sweet corn for this recipe! It totally depends on your personal preference.
More smoked side dish recipes
So, there you have it, folks – the perfect side dish to elevate your summer grilling game! Whether you're a seasoned pro or a newbie to the smoker game, this recipe is sure to become one of your favorite ways to enjoy fresh ears of corn. With its smoky flavor and tender, juicy kernels, it's the best way to transform good corn into a showstopper on your plate! Also, please rate the recipe card and leave a comment below to help out the next reader!
Smoked Corn On the Cob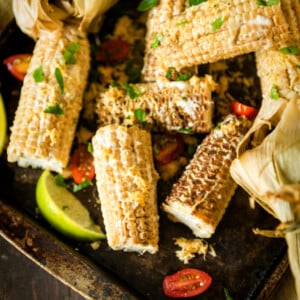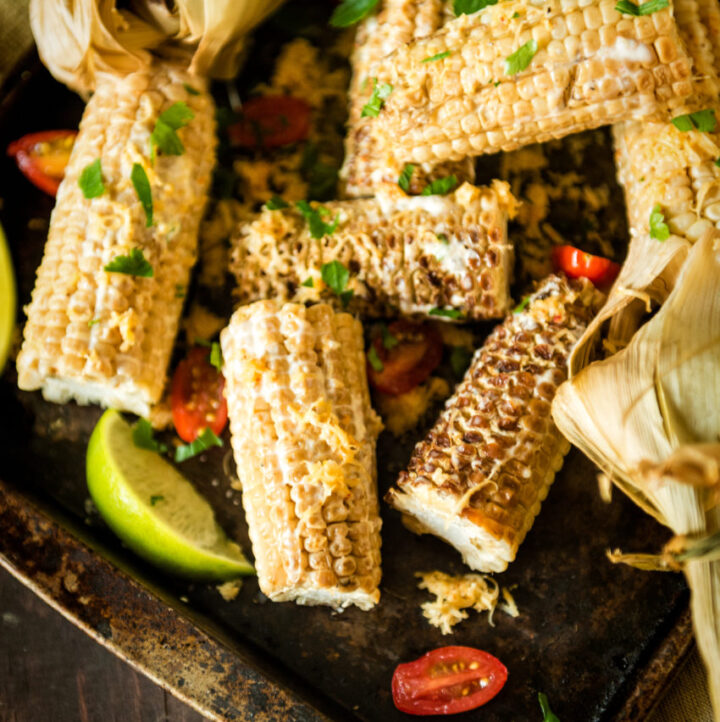 Elevate your BBQ with our smoked corn on the cob recipe 🌽🔥, an exciting twist on traditional elotes, a favorite street food. This dish, with its smoky depth of flavor, perfectly complements the sweetness of corn and the zest of Mexican spices. 🌶️
Ingredients
6

ears of corn

1/4

cup

mayo

1/4

cup

sour cream

1

handful basil or cilantro

fresh and chopped

1

tsp

paprika

1/2

tsp

cumin

Salt and Pepper

2

oz

spicy chipotle cheese

shredded

1

lime

sliced
Instructions
Prep the corn
Prep your smoker for two to three hours around 200 degrees with a mild wood.

Carefully fold husks back on the corn and remove the silk.

Tie the husks together around the bottom and arrange the corn in your smoker.
Smoke the Corn
Smoke for two to three hours. The corn will have a nice char in some spots.

Meanwhile, whisk the mayo, sour cream, basil, paprika, cumin, and salt and pepper to taste in a bowl.

1/4 cup mayo,

1/4 cup sour cream,

1 handful basil or cilantro,

1 tsp paprika,

1/2 tsp cumin,

Salt and Pepper

Remove from smoker and chop in half for fun portions if desired.
Garnish and Serve
Using a cooking brush, immediately slather the hot corn with the mayo mixture.

Sprinkle with cheese and serve with sliced limes for garnish.

2 oz spicy chipotle cheese,

1 lime
Notes
If you don't find a chipotle cheddar, look for a pepper jack or other spiced cheese. 
Nutrition
Serving:
1
g
|
Calories:
82
kcal
|
Carbohydrates:
9
g
|
Protein:
1
g
|
Fat:
5
g
|
Saturated Fat:
1
g
|
Cholesterol:
4
mg
|
Sodium:
40
mg
|
Potassium:
138
mg
|
Fiber:
1
g
|
Sugar:
3
g
|
Vitamin A:
210
IU
|
Vitamin C:
4.7
mg
|
Calcium:
8
mg
|
Iron:
0.4
mg