Nothing tops the flavor of a medium-rare perfectly grilled steak over charcoal. Wood fire and beef are a match made in heavy. But can a lean delicate cut like the filet hold up to the heat? We put it to the rest with this reverse-seared grilled filet mignon.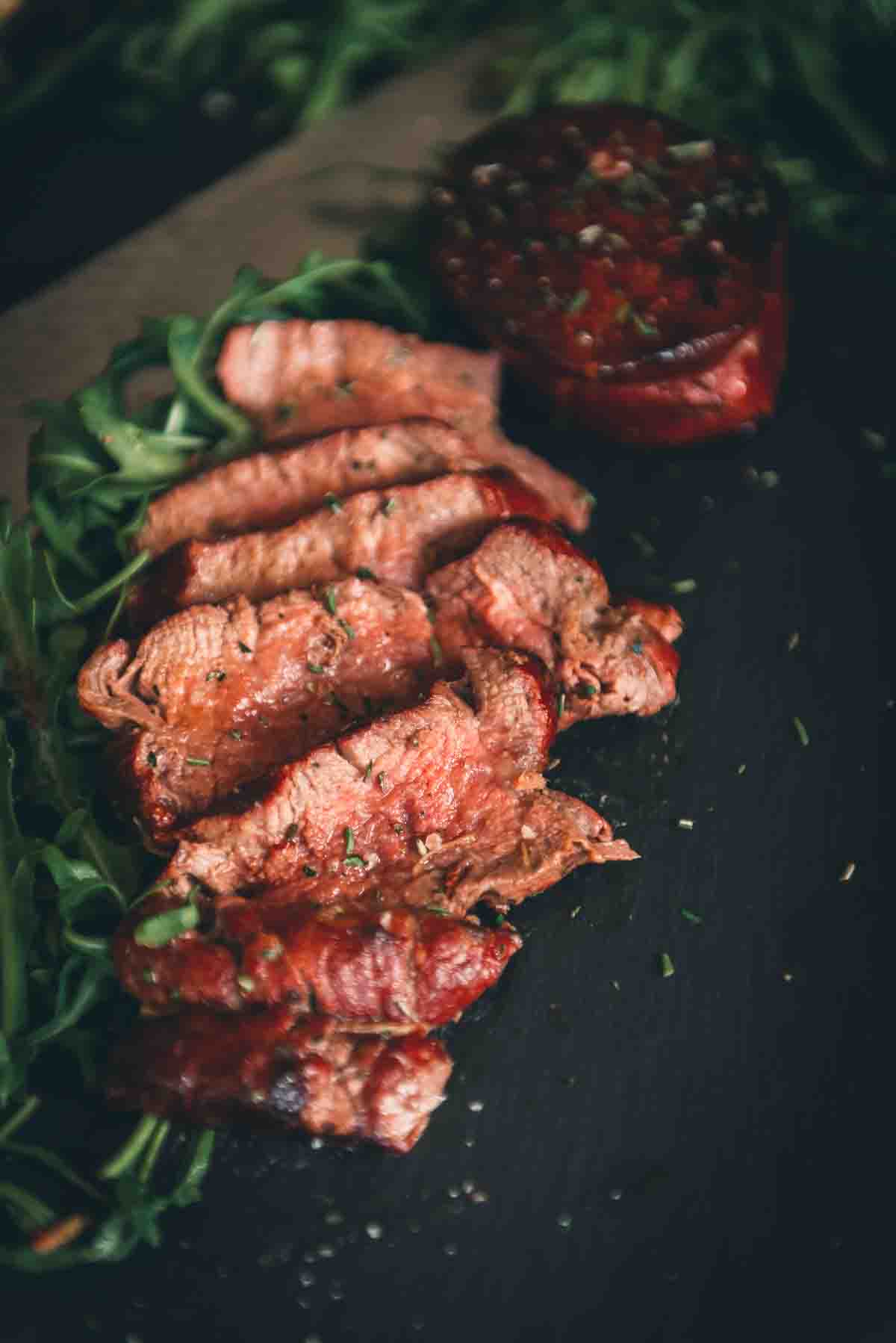 When you think of rosy pink medium-rare slices of juicy steak, cooking filet mignon on the grill is not what comes to mind. But it turns out; the filet picks up the beautiful aromatic of charcoal like a champ, just like a whole grilled beef tenderloin. And with some strategic timing, grilling filet mignon may be your new favorite way to prepare this delicate steak cut not only on special occasions.
The Cut: Filet mignon
Filet mignon steaks are an incredibly tender cut from the tenderloin on the lower upper back of the cow. The muscle is rarely worked, making it an incredibly tender cut of beef. But, also is notorious for being a very lean and expensive cut of meat with minimal marbling. Making it a tricky cut to master. Cooked to anything over medium, and the steak can dry out and become tough. We love pan-seared filets in a good cast iron skillet. Or even perfectly cooking them in the sous vide to make sure their internal temp remains perfect for slicing into. But every now and then, the flavor you can get grilling filet mignon makes it worth the effort.
Keep the flavor and juices locked in with this reverse-seared filet mignon recipe on the grill by cooking it over indirect heat to pick up that amazing char-grilled flavor. Then finishing it hot and fast directly over the coals to lock in a crust.
Timing is everything, and a digital meat thermometer will be your best friend for cooking filet mignon to a perfect 125 degrees F and allow for carryover cooking. When you slice into it, it will be a perfect 130 degrees F.
Because tenderloin steaks are so lean and have a mild beefy flavor, we pair them with compound butter or a rich steak sauce like our peppercorn sauce, red wine steak sauce, or a classic bearnaise sauce to amp up the umami.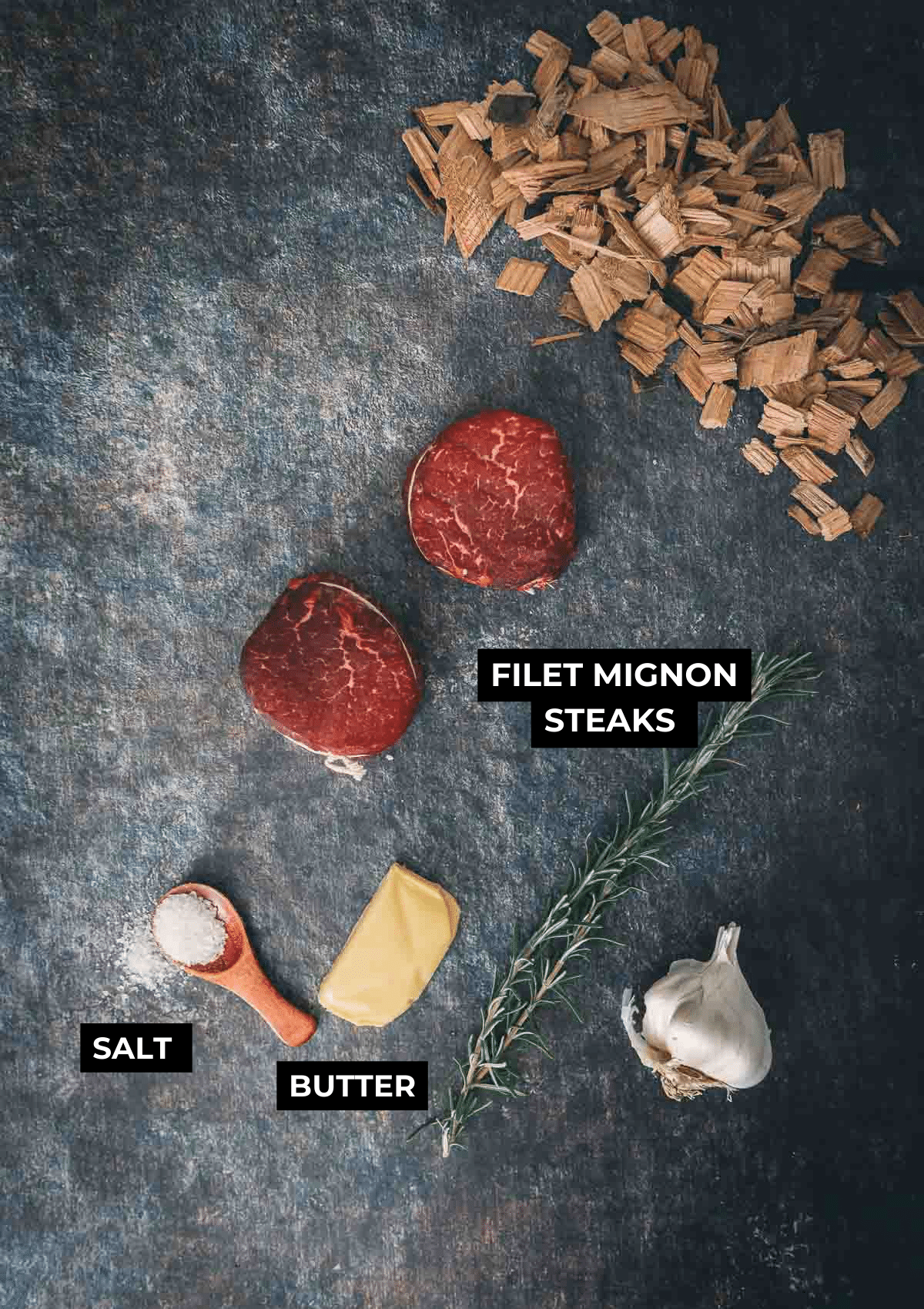 Ingredients
Thick filet mignon steaks, about 2″ thick and 6 to 8 ounces. Want to save some money? See our guide on how to trim a whole beef tenderloin to cut your own filet steaks. We get 9 to 12 out of every tenderloin. Or check out our trusted list of where to buy meat online for high quality steaks delivered to your door.
Salt – we use kosher salt
Butter – use one of our favorite compound butter recipes to finish this steak with flavor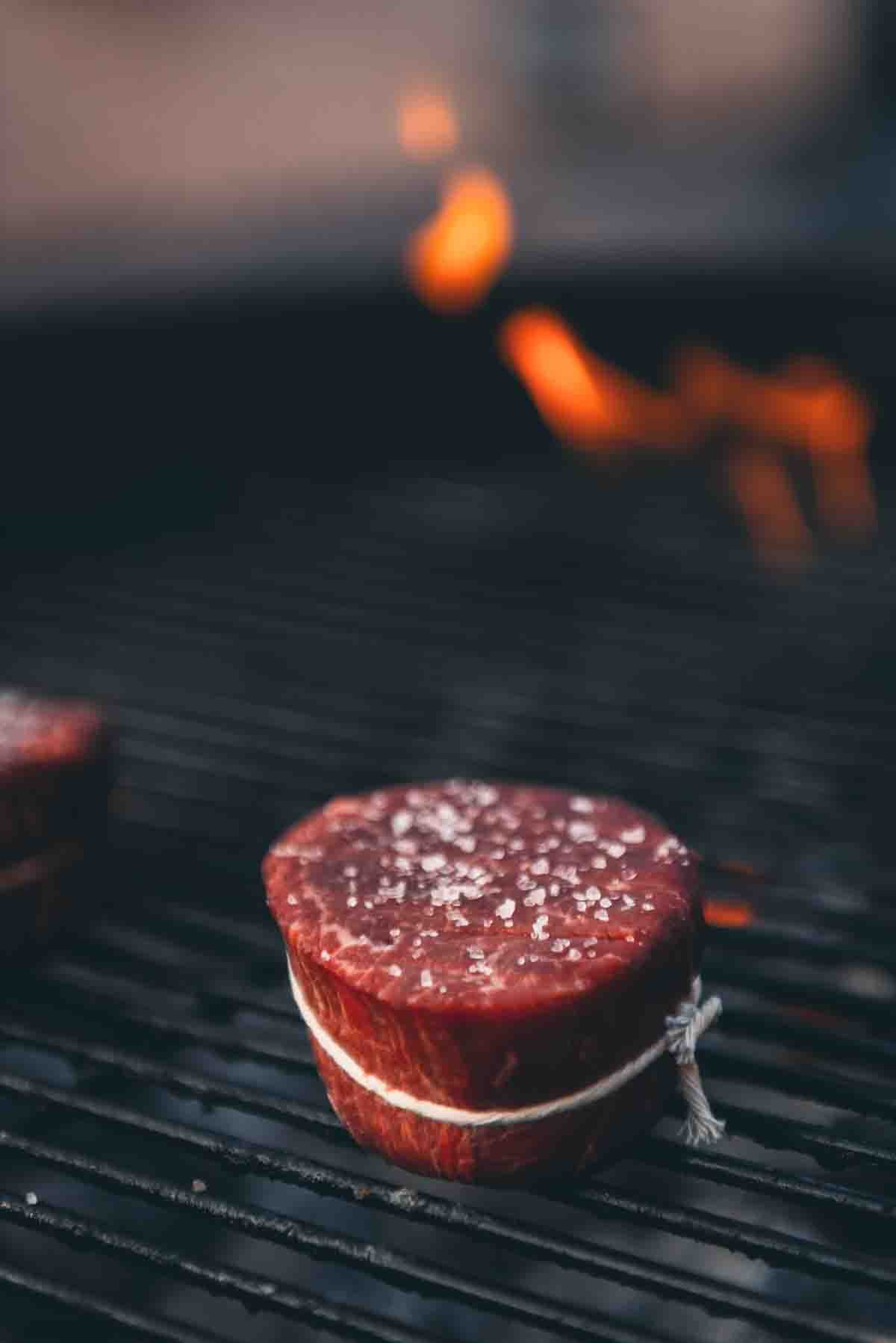 How to grill Filet Mignon
Start by patting the steaks dry with paper towels and secure the steaks with butcher's twine. Place a wire rack on a baking sheet. Season the filet mignon steaks liberally with salt and place them on the wire rack for 2 to 24 hours to air dry.
When you're ready to grill the filets, allow them to sit at room temperature for 45 minutes.
Prep your charcoal grill for indirect heat by building a 2-zone fire. To build a 2-zone fire, stack lit coals on one side of the grill. This creates a cool zone, the side without coals, and a direct heat zone, with the coals underneath. Add woodchips to the coals and pop the grate back on top, and clean and oil it. Place the grill lid on with the vents open, and let the grill heat for another 10 minutes.
When the grill temperature has reached 400 to 450 degrees F, place the steaks on the cooler side of the grill grates, over low heat, and cover and grill for 5 to 7 minutes, or not past 110 degrees F.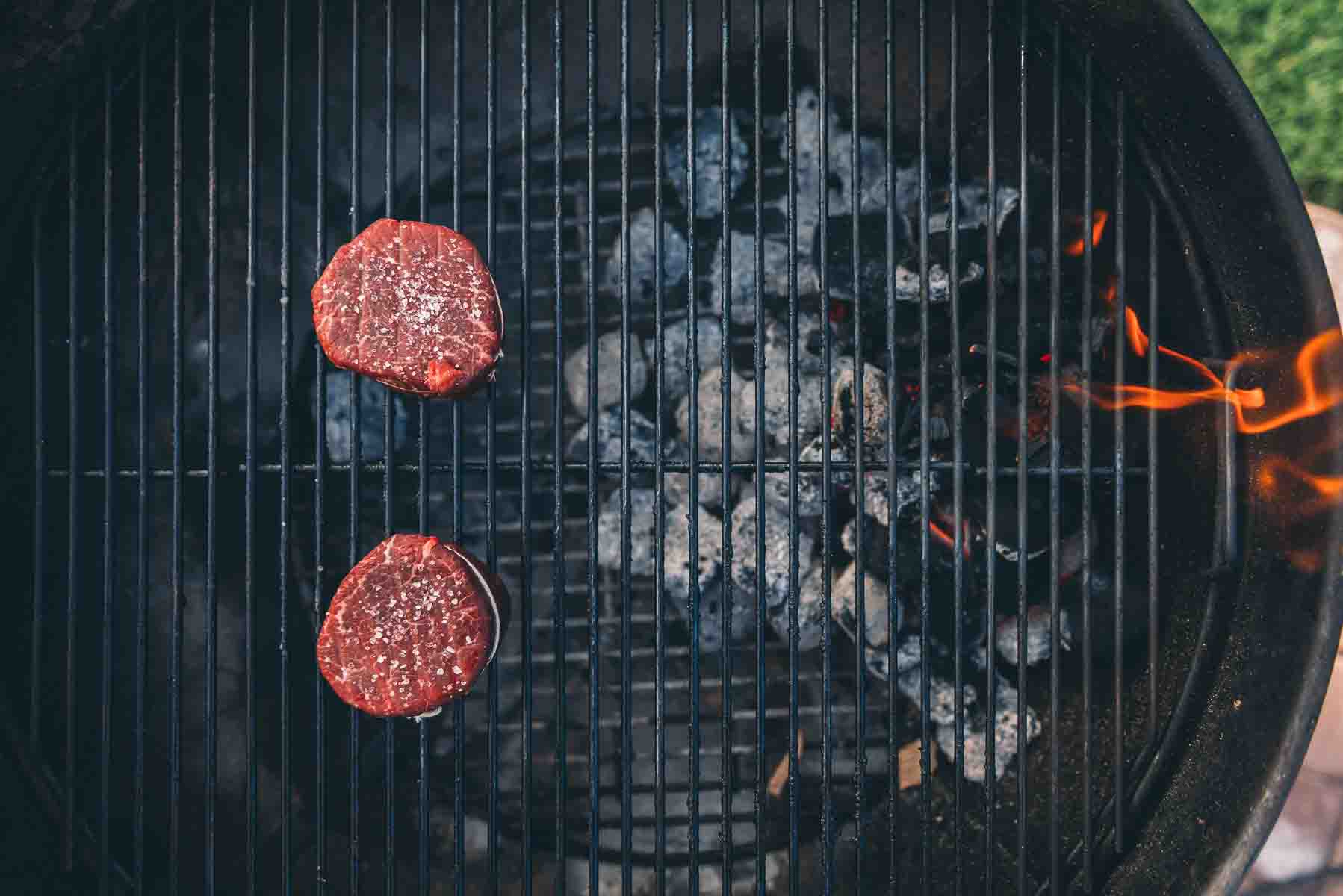 Immediately transfer the steaks to the hottest part of the grill, directly over the hot coals, and sear them for 2 minutes on each side for a nice crust, ensuring the internal temperature reaches only 125 degrees F for excellent results.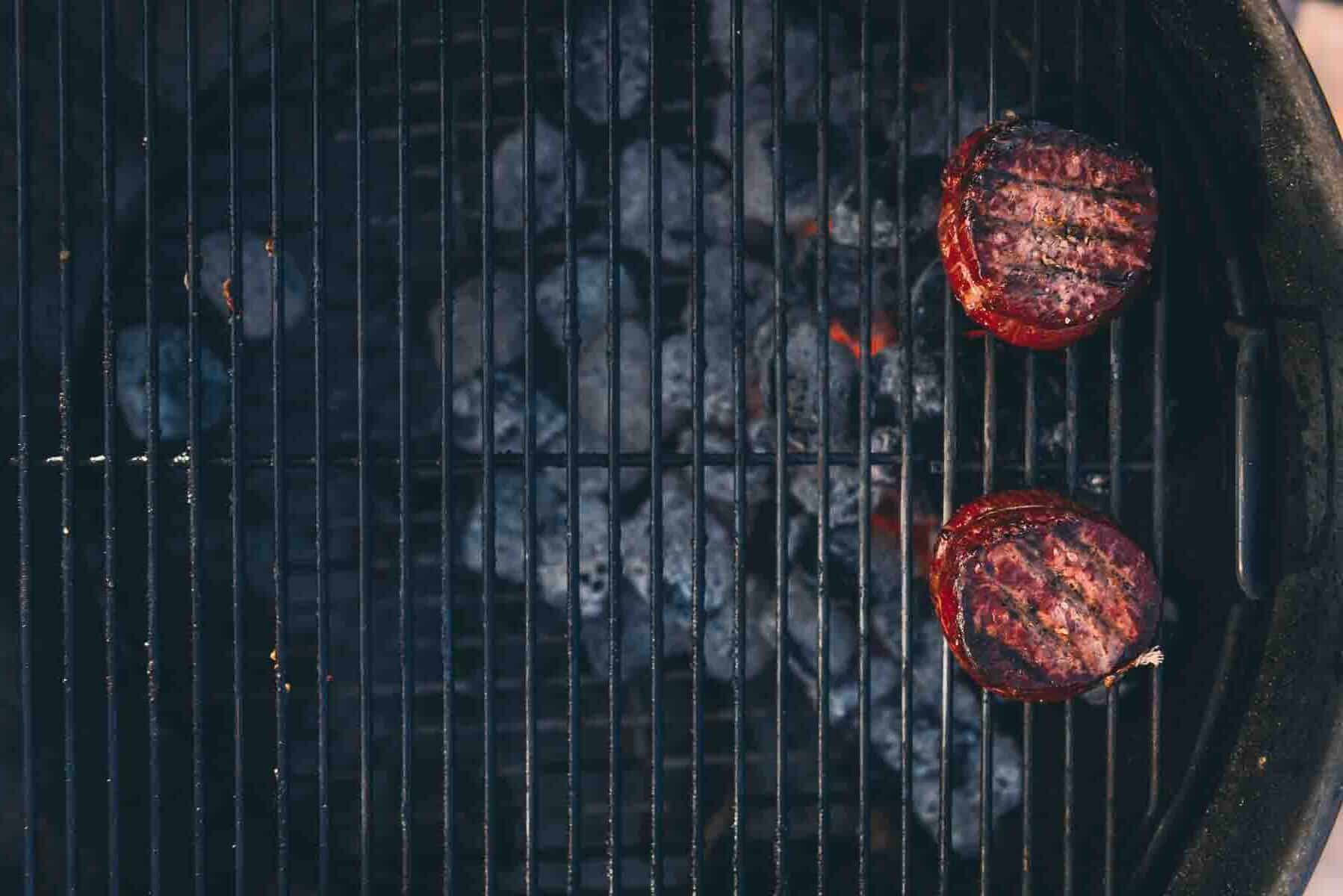 Remove the filets from the heat, remove the butcher's twine, and let the steaks rest with heaping tablespoons of the compound butter for 5 minutes before serving.
Grilled filets are best enjoyed immediately and won't reheat well. If you need to store leftovers, place them in an airtight container or wrapped in foil in the fridge for up to 3 days. Leftovers are best enjoyed cold.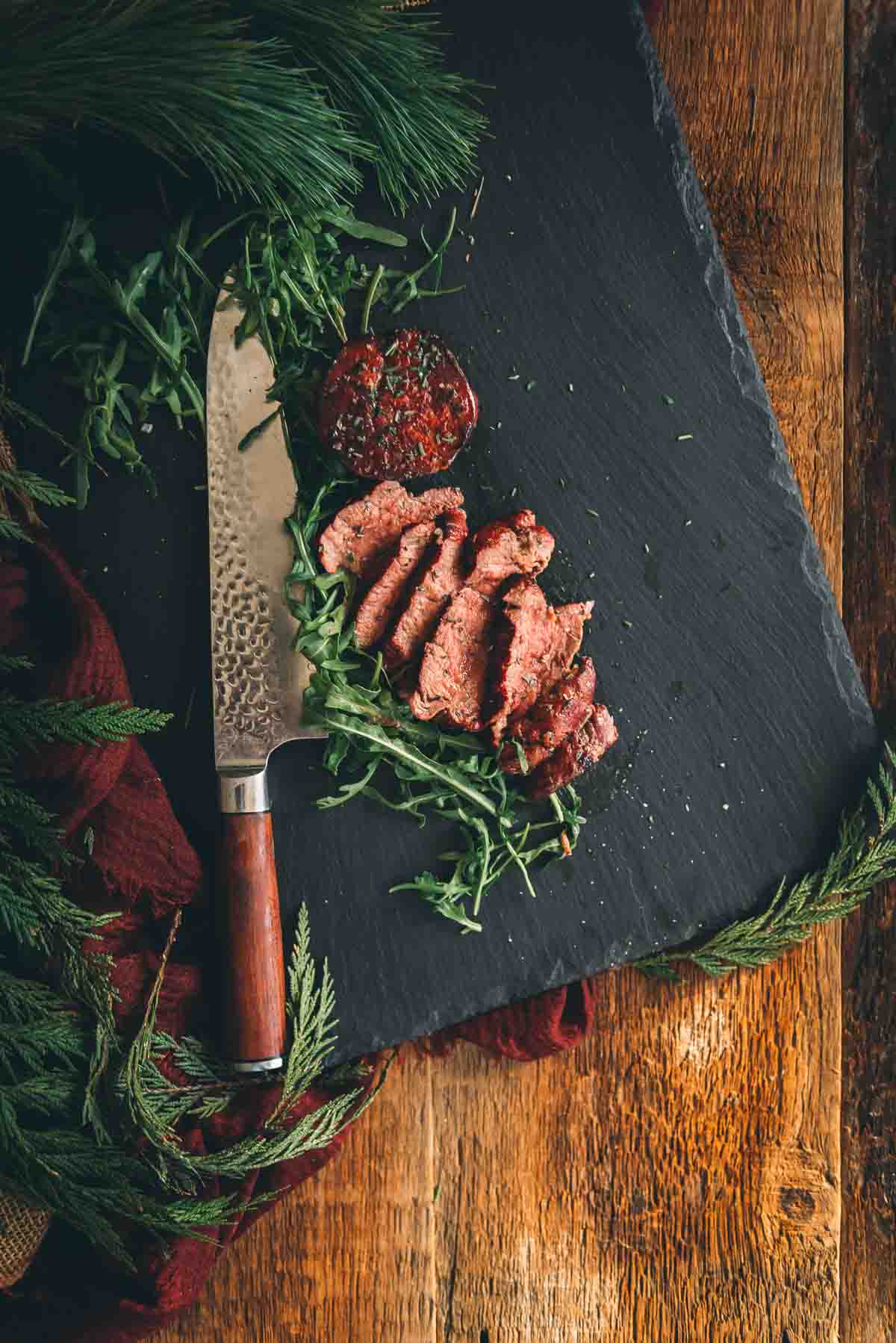 Expert Tips
It's necessary to keep in mind a lot of things affect the heat of a live fire. Airflow, elevation, outside temperature, type of grill, and wind. This recipe is quick, so we do not recommend walking away from the grill for the perfect filet mignon, unless you want shoe leather (trust us).
To infuse even more flavor, use wood chips on the coals. For more tips on how to use them, read how to use wood chips while grilling over charcoal.
We keep a digital thermometer on hand for this entire recipe, and if you have one, an infrared thermometer is a great tool for temping the hot side of the grill for these delicate steaks.
Filet, where fork tender, is best paired with a sauce. Consider the mentioned steak sauces or compound butter to really enjoy every bite of this perfectly grilled steak.
Filet mignon is not a steak to cook to a desired doneness; it's best at 130 degrees F with a perfect medium-rare steak. Anything over that is a huge difference in the quality and enjoyment of this cut.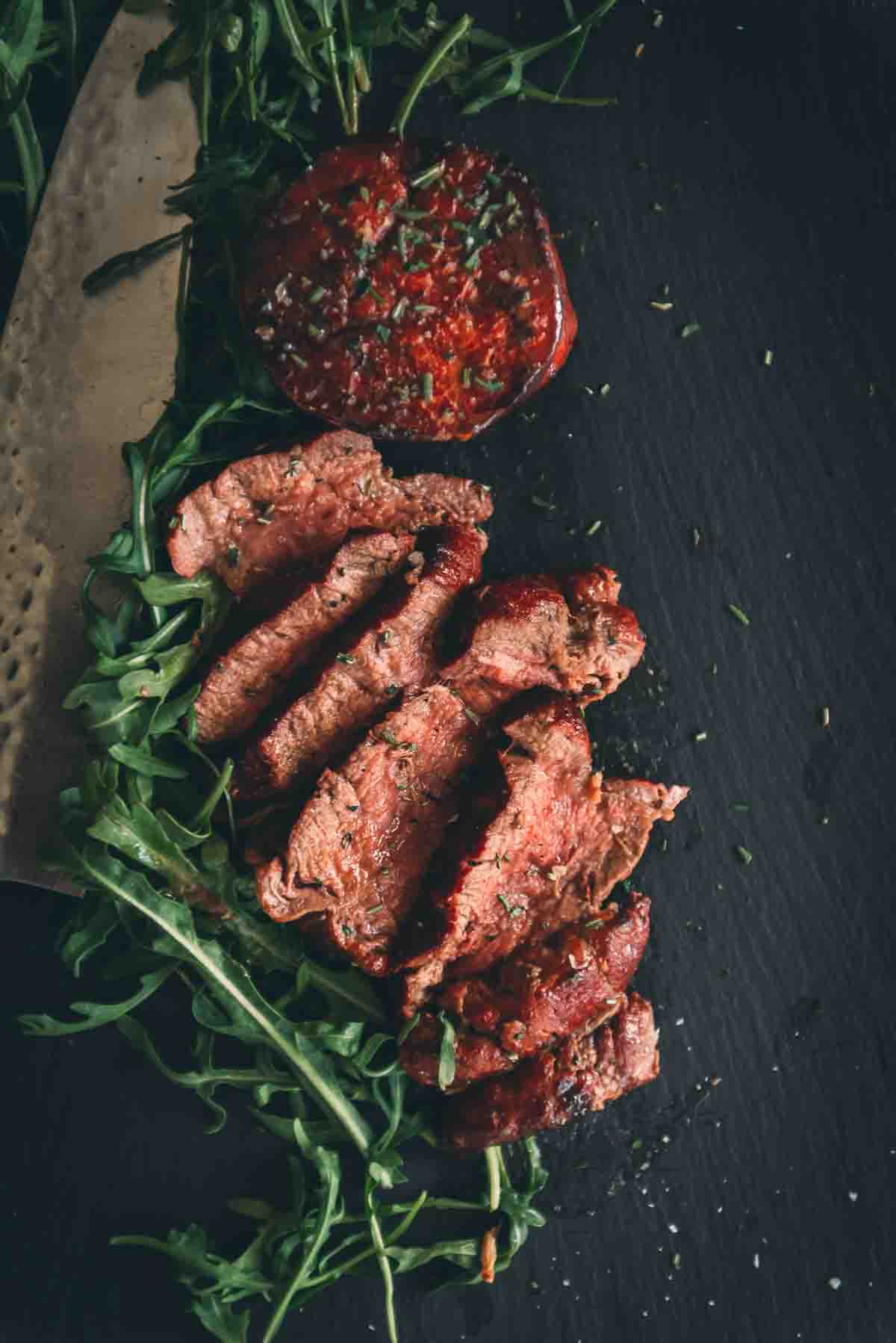 What to serve with reverse-seared filet mignon
Filet has a mild flavor, and it's best served with a rich compound butter (like our roasted garlic compound butter recipe), a savory steak sauce (like our red wine sauce for steaks), and a rich side. We love topping a perfect filet mignon with smoked crab imperial for an indulgent meal and serving it with fresh green beans, steakhouse creamed spinach, and a hot smoked baked potato.
Pair grilled filets with a smooth, light-bodied red wine like a pinot noir.
FAQs
How long to grill a 2″ filet mignon?
Reverse sear filet mignon steaks that are 2″ thick for a great sear by starting them over indirect heat for 5 to 7 minutes and then searing each side for 2 minutes over direct heat. For thinner or thicker filets, adjust the time to accommodate the steak thickness. We don't recommend grilling filets under 1 1/2″ thick as they cook too quickly and dry out.
Why do you wrap a filet in butcher's twine?
Wrap your filet steak in butcher's twine to secure it and help it maintain that signature circular shape when serving. Beef plumps as it heats through while cooking, and tieing the steak along the circumference helps it to stay thick and plump when serving. It's not a necessary step, but it helps the steak to cook evenly.
Have you char-grilled tenderloin steaks before? If so, what did you top it with? If you loved this grilled filet mignon, be sure to rate the recipe and drop a comment below!
Grilled Filet Mignon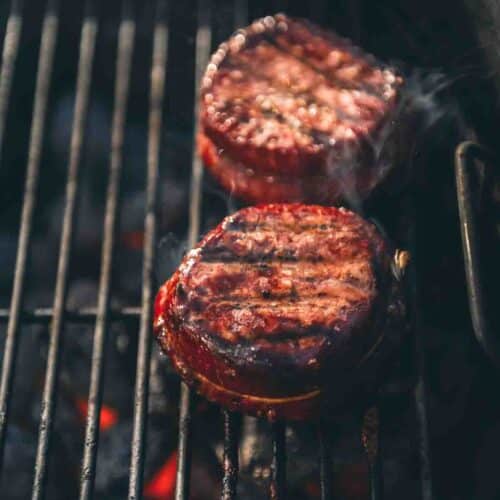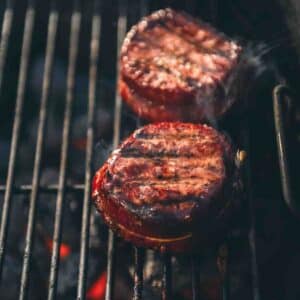 Get perfectly grilled filet mignon steaks with char-grilled flavor and pink medium rare centers by using the reverse sear method every time. Pair with a rich steak sauce or compound butter for an amazing steak dinner.
Ingredients
4

filet mignon steaks

about 6 oz each and 1 ½ to 2 inches thick

1

tbsp

Salt

2 to 4

tbsp

Butter

try one of our compound butters
Instructions
Prep the tenderloin steaks
Pat the steaks dry and secure the circumfrance with butcher's twine.

Season the filets liberally with salt on both sides.

Let the steaks air dry on a wire rack in the refrigerator for up to 24 hours.
Prep the grill
When ready to cook, remove the steaks from the fridge and let them sit at room temperature for 45 minutes. Meanwhile, pre your grill by building a 2 zone fire in your grill by pouring hot coals to one side of the grill.

Cover with the grill grates and oil well.

Allow the grill to preheat to 400 – 450 degrees F, adjusting the airflow vents as needed.

When the grill has preheated, add wood chips to the coals and allow them to form smoke

When the fire subsides and the woodchips are smoldering and giving off clean blue smoke, you're ready to grill.
Grill the filets
Place the steaks on the cooler side of the grill and cover the grill with the lid.

Cook the filet mignon steaks for 5 to 7 minutes, until the internal temperature, reaches 110 degrees F.

Then move the steaks to the hot side of the grill, directly over the hot coals to sear.

Sear 2 minutes without moving, flip and sear 2 minutes more.

It's important not to let the steaks cook past 125 to 130 for a perfect medium rare center and the most tender, delicious bite. The internal temperature of the steak will continue to rise 5 or so ingredients while it rests.

Remove the steaks from the grill and transfer to a cutting board to rest.
Rest and serve
Top with generous tablespoons of compound butter and rest 5 minutes before removing the butchers' twine and serving.

Serve with a compound butter or one of our favorite steak sauces.
Notes
To grill a filet mignon steak on a pellet grill: Simply preheat your Traeger smoker for the sear setting and let it preheat for 15 to 20 minutes.
We love Western Wood hickory, oak, or even mesquite wood chips for this quick-cooking recipe. We recommend Cowboy Brand all-natural hardwood briquets for grilling. 
Nutrition
Serving:
1
g
|
Calories:
516
kcal
|
Carbohydrates:
0.01
g
|
Protein:
31
g
|
Fat:
43
g
|
Saturated Fat:
19
g
|
Polyunsaturated Fat:
2
g
|
Monounsaturated Fat:
17
g
|
Trans Fat:
0.2
g
|
Cholesterol:
134
mg
|
Sodium:
1872
mg
|
Potassium:
519
mg
|
Sugar:
0.01
g
|
Vitamin A:
175
IU
|
Calcium:
15
mg
|
Iron:
4
mg