Who doesn't love chicken? Smoked Chicken Quarters are meaty and flavorful and so easy to make. In fact, they're smoking chicken 101, and you can be feasting on meaty chicken in about an hour!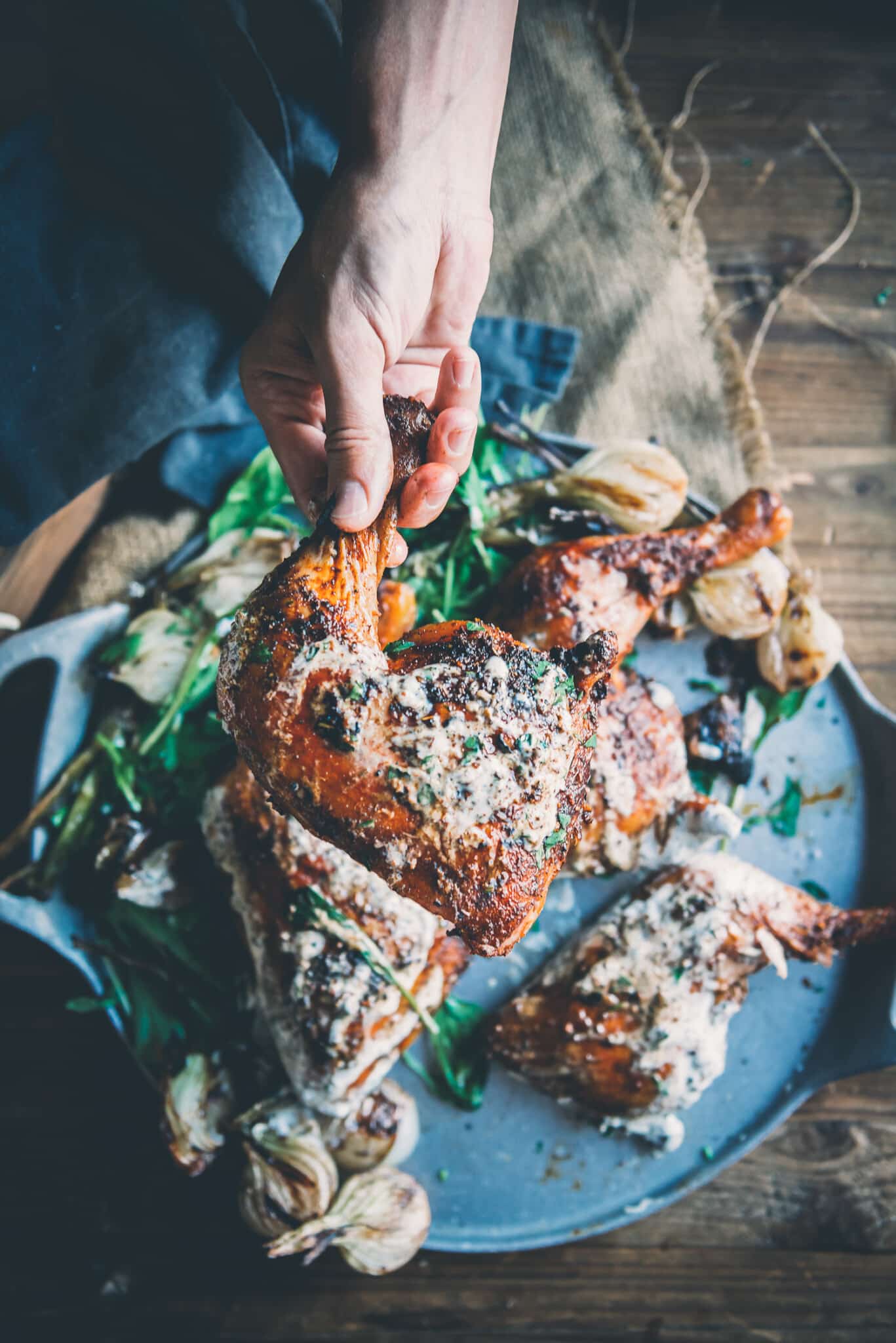 Infused with flavor, meaty and juicy chicken is always a hit. Whether you're feeding your family or a bunch of friends, there's nothing like tearing into chicken leg quarters and feasting on big, bold flavor.
The best part about these chicken legs is how easy they are, just like smoked turkey legs! A simple rub is all it takes to infuse flavor into the chicken, and then a trip through the pellet grill to add that smoked flavor. This takes easy baked chicken quarters to a whole new level. Ready in about an hour; these chicken leg quarters are so easy!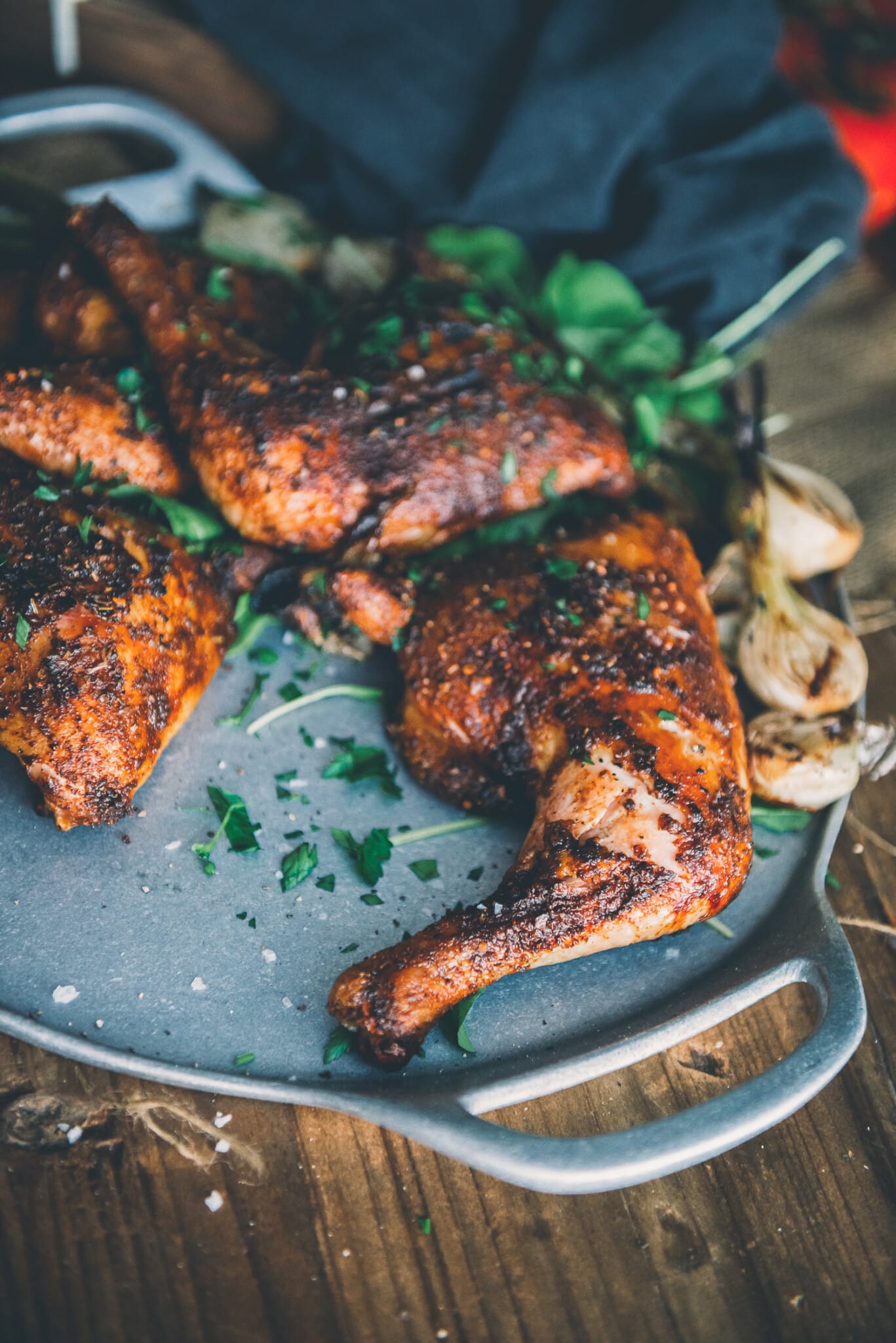 🍗 What Are Chicken Leg Quarters
A whole chicken can be butchered in various ways, but one of the more economical cuts is the chicken leg quarter. These often go on sale for not very much cash, and when they do, I stock up and load my freezer.
A chicken leg quarter is the chicken leg and thigh still attached. It has two main bones in it – one in the leg and one in the thigh, and it features the dark meat of the chicken. With plenty of fat and skin to crisp up, chicken quarters are good eating.
Pass the napkins, and let's get cooking!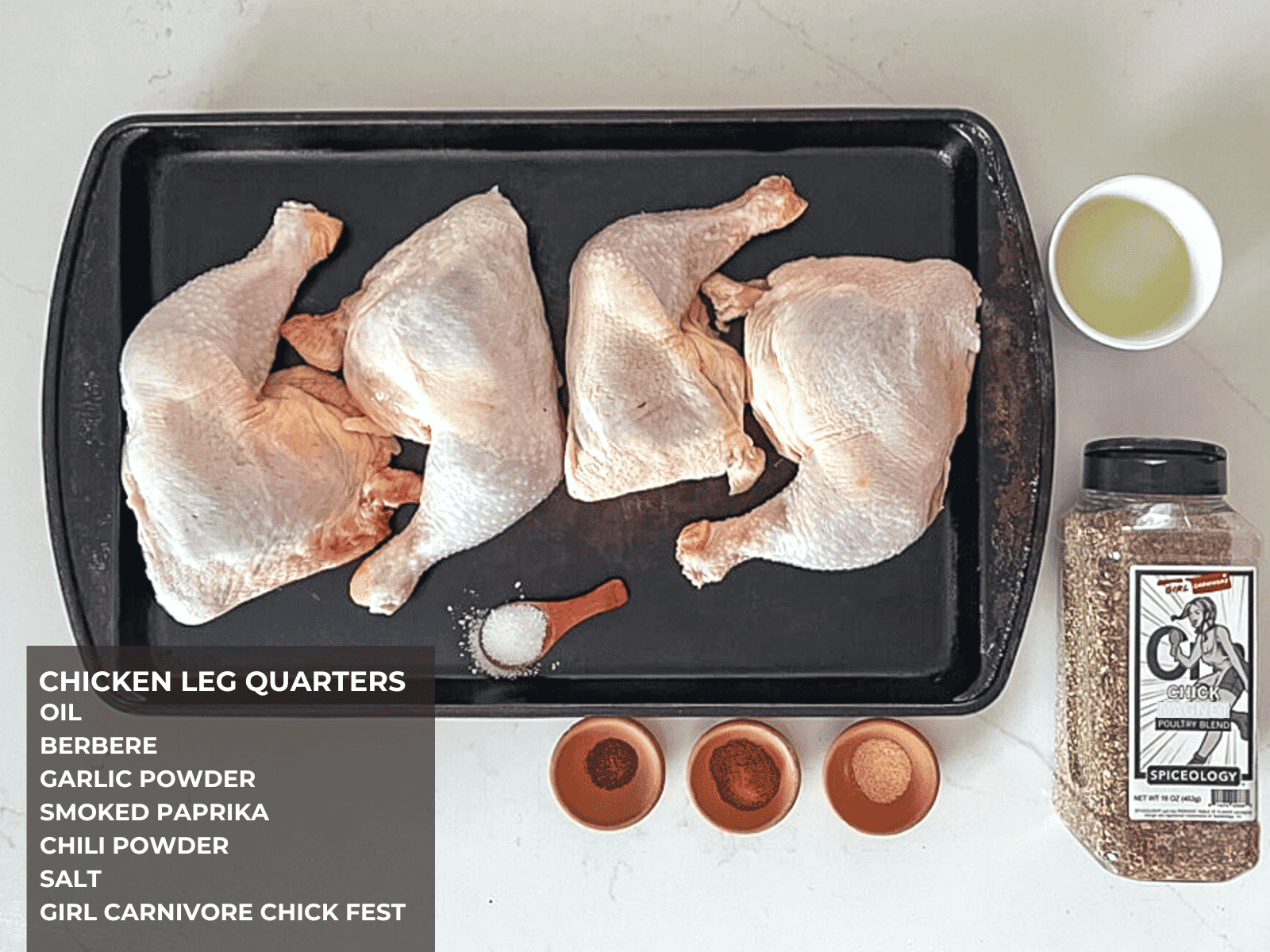 📋 What You'll Need
Chicken leg quarters – these are meaty chicken portions of the thigh and the leg (drum) that tend to be cheaper at the grocery store. We love cooking them because they take well to smoking, grilling, or oven baking and have tons of flavor.
Olive oil
Berbere – This is a spice blend with plenty of flavors that we're using as a dry rub.
Garlic powder
Smoked paprika – Adds extra smoky flavor.
Chili powder
Salt
Girl Carnivore Chick Fest – Or your favorite all-purpose chicken rub.
🔥 How To Make The Best Smoked Chicken Quarters
Pat the chicken dry and cut away any excess skin or fat. Rub the chicken with the oil.
Combine the spices in a small bowl, then liberally coat both sides of the chicken leg quarters with the spice rub.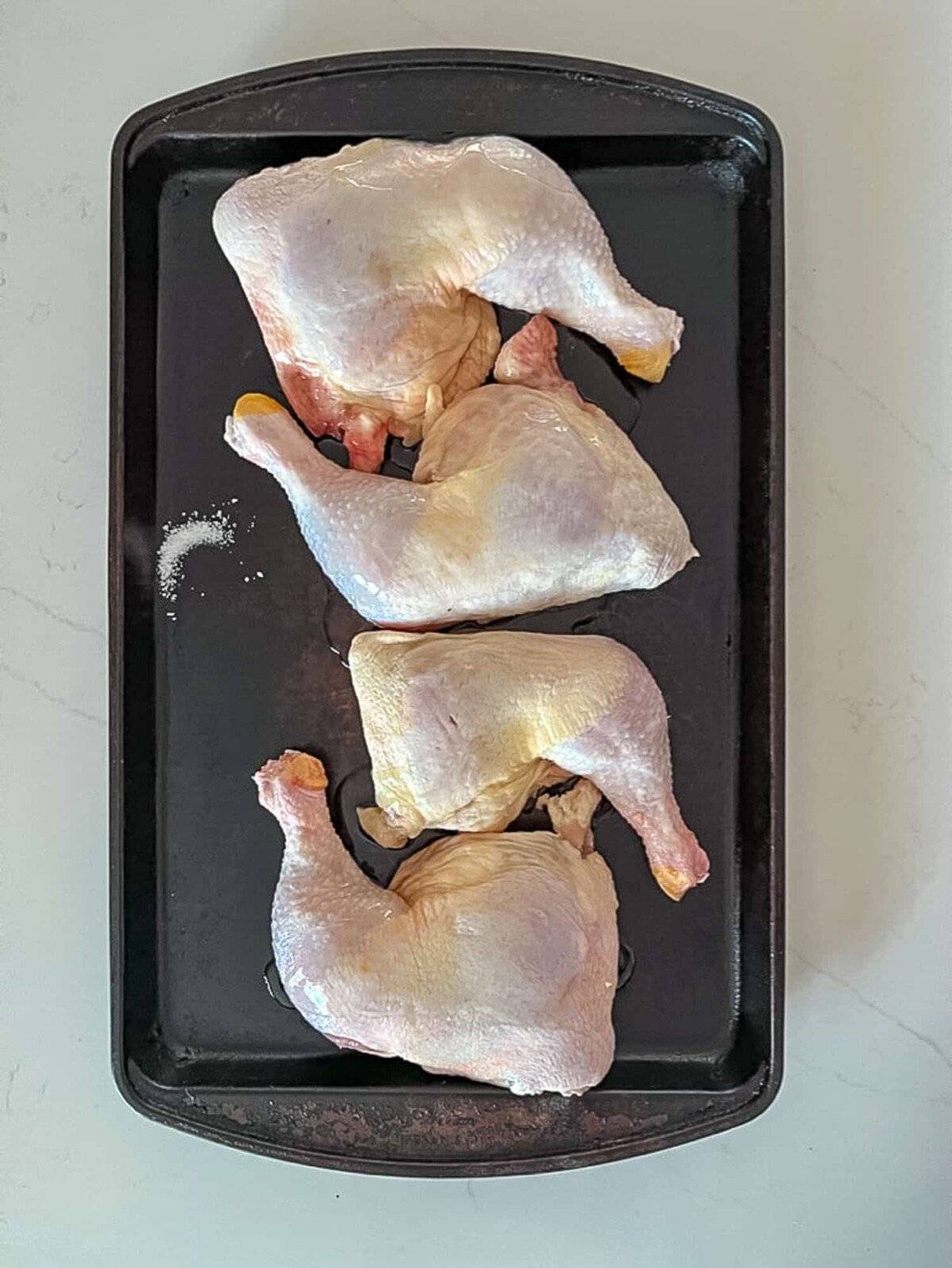 Preheat your pellet smoker to 250-275 degrees F and close the lid, letting the smoker come to temp.
Arrange the seasoned chicken quarters on the grill grates. Smoke the chicken skin-side up for about an hour to an hour and a half, or until it reaches 180-190F with a digital meat thermometer.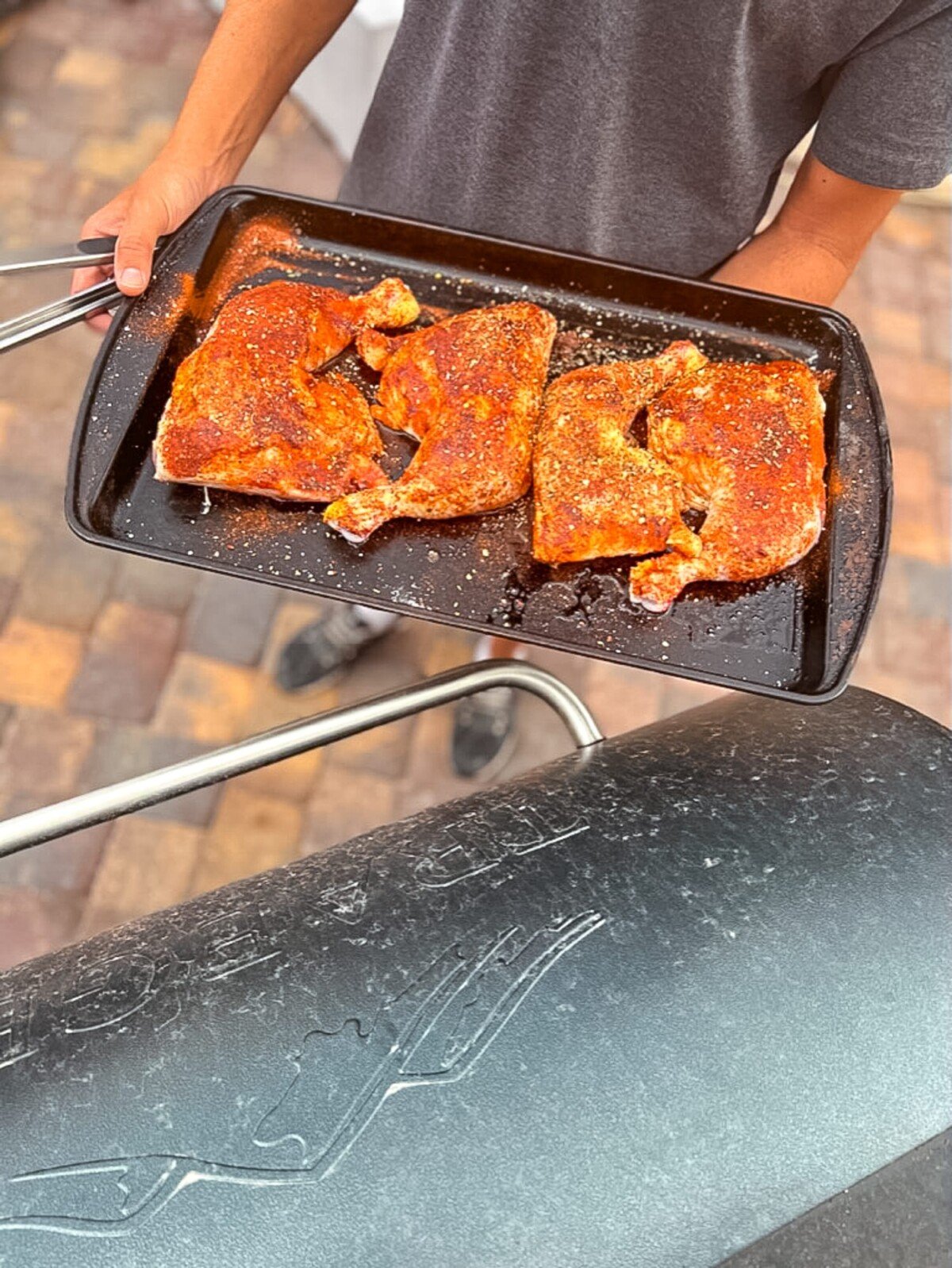 Remove the chicken from the grill and turn the heat up to a higher temperature to sear on your smoker, or 450 degrees F.
Return the chicken to the grill skin side down. Sear the chicken for 5-10 minutes or for crispy skin, rotating it as needed to avoid any charring.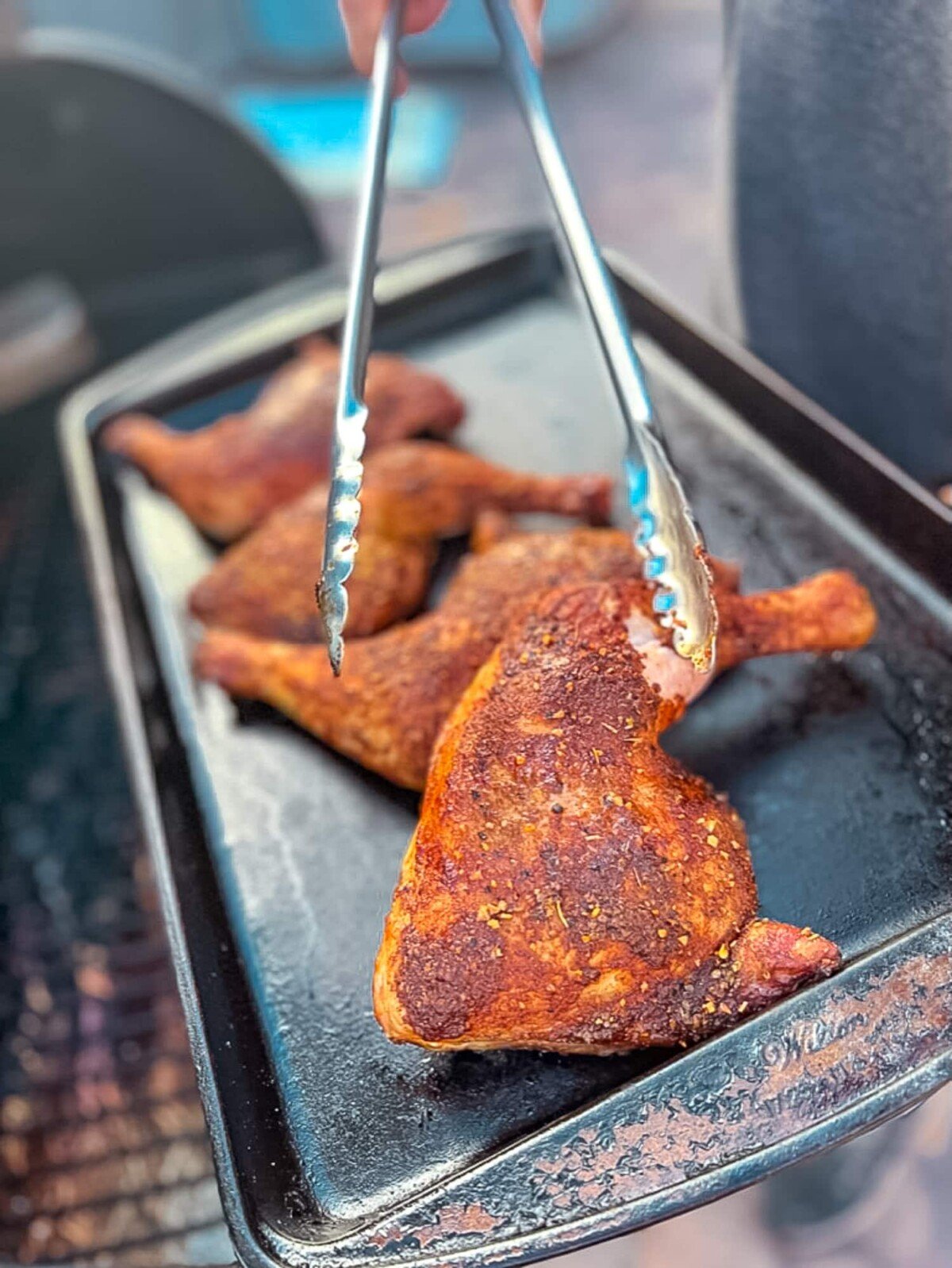 Remove the chicken from the smoker, making sure the internal temperature of the meat is 185-195F, and let the chicken rest for 10 minutes before serving.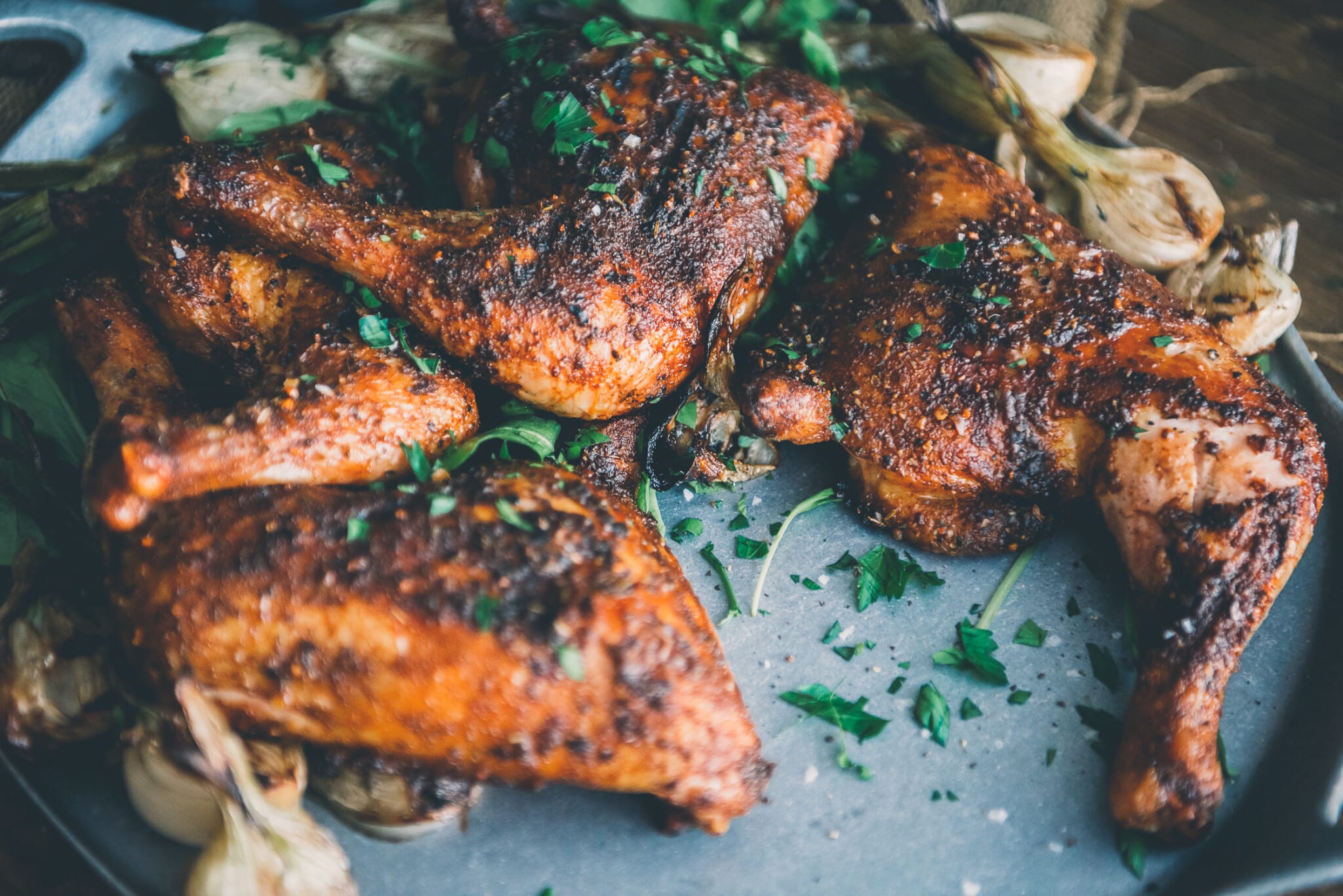 ❓FAQs
How much chicken should I buy?
How many smoked chicken leg quarters per person is a good question. I usually count on one per person, but heavier eaters may want more.
How long does it take to smoke chicken leg quarters?
Smoking chicken leg quarters should take about an 1 to 1 1/2 hours but always cook to temp and not time. Use a good digital meat thermometer to ensure they're fully cooked, and don't forget to sear the quarters to crisp the skin. Resting time should also be accounted for when planning your meal.
Are Smoked Chicken Quarters good?
Yes! If you love chicken and flavor and smoke, then you will love these. They're meaty and juicy, and you can totally channel your inner caveman and rip into the meat with your hands. They are one of my favorite cuts for value and flavor!
What's
Berbere?
Berbere is a chili-forward spice blend from North Africa, specifically Ethiopia and Eritrea. It's not overwhelmingly spicy though, and I find the complex blend of coriander, garlic, ginger, and other earthy spices a great alternative to traditional barbecue blends when you want to mix it up.
If you don't have a berbere spice blend, a traditional bbq chicken seasoning mix works just as well. My choice always being GirlsCanGrill Chicken Rub.
🥗 What Goes With Smoked Chicken Quarters?
Anything goes! Make your favorite fries, whip up a fresh and leafy salad, or go carb-happy with tasty eats like Smoked Potato Salad or Skillet Corn. When in season, we love grilling spring onions to serve with these for dinner. And for dessert, an old school butter pound cake hits the spot!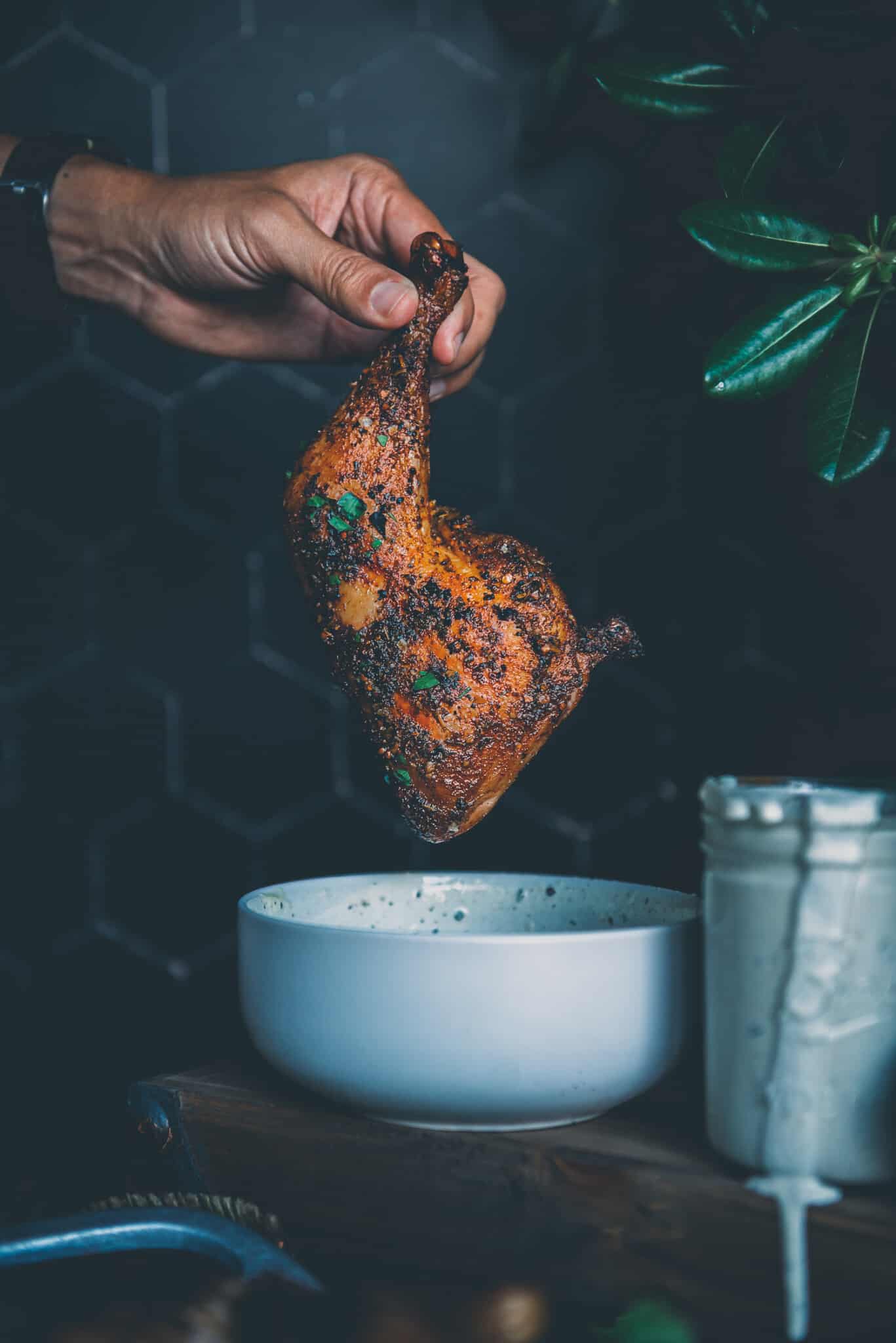 Sauce or No Sauce?
These Smoked Chicken Quarters are well-seasoned with a fabulous rub, but whether you sauce them or not is up to you. Grab your favorite barbecue sauce or choose something deliciously different, like Alabama White Sauce. This tangy sauce pairs so nicely with this Smoked Chicken Quarters recipe!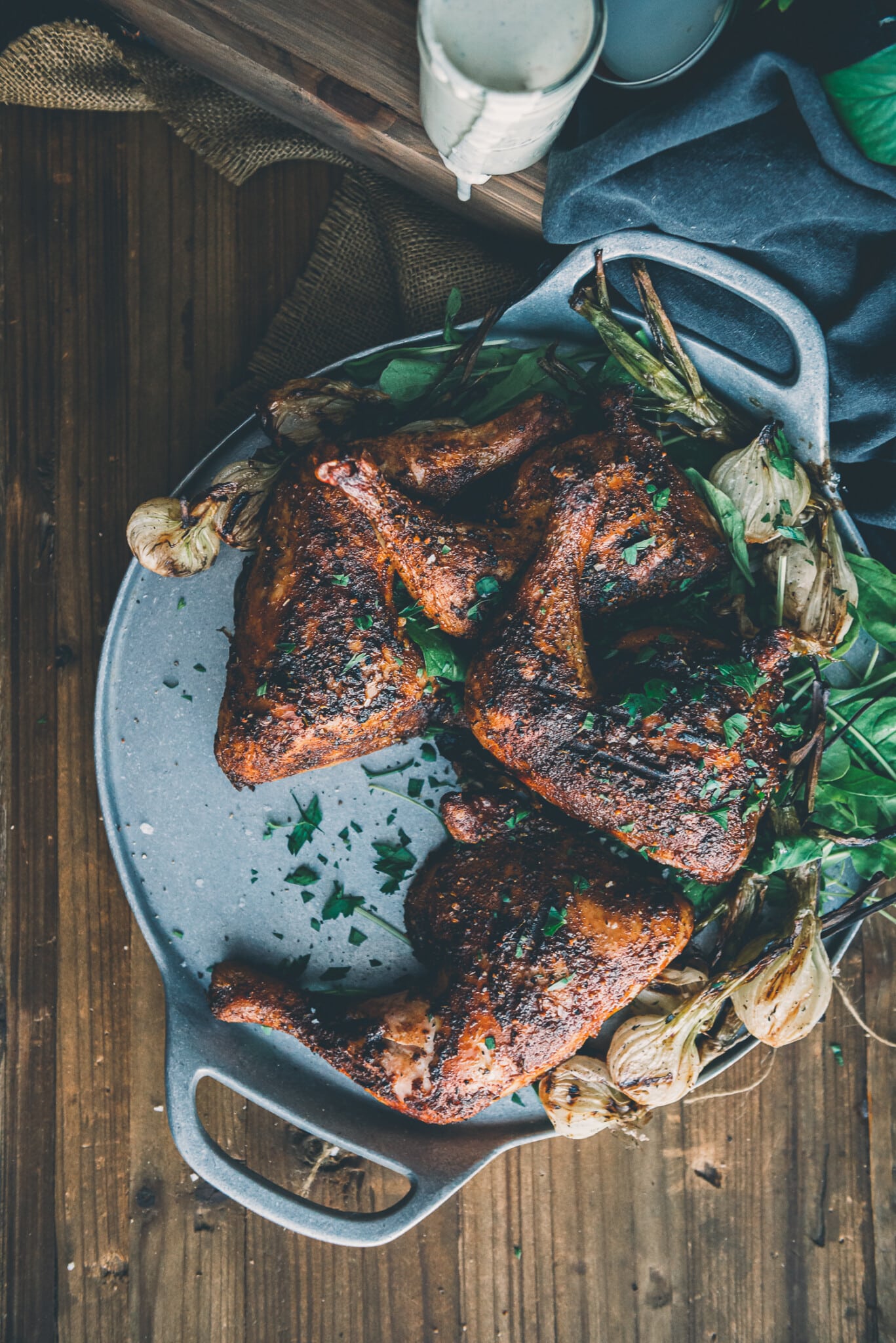 Storage
Store any leftover chicken leg quarters in an airtight container in the fridge for 3-4 days. You can use your leftover chicken in all your favorite recipes, including Smoked Chicken Nachos, Chicken Mac and Cheese, and bbq chicken mac and cheese.
MORE DELICIOUS SMOKED CHICKEN RECIPES
Smoked Chicken Quarters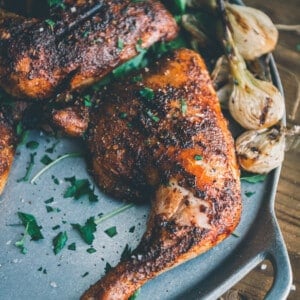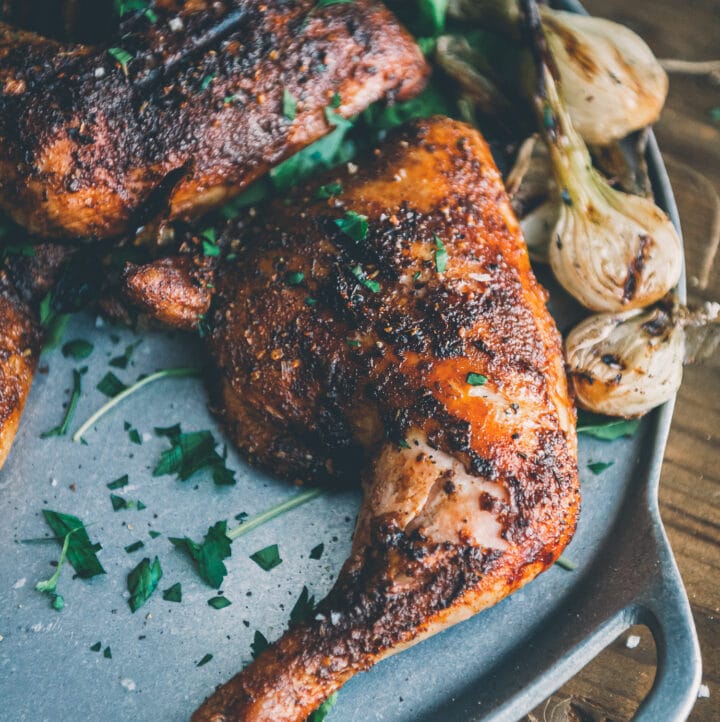 Talk about flavor! This easy smoked chicken quarter recipe get a simple spice rub before being smoked and then finished with a quick sear for perfectly crispy skin and delicious bites.
Ingredients
5

lbs

Chicken leg quarters

2

tbsp

oil

2

tbsp

berbere

1

tsp

Garlic powder

1

tsp

smoked paprika

½

tsp

Chili powder

½

tsp

Salt
Instructions
Prep the Chicken
Pat the chicken dry and trim as needed to remove excess skin or fat.

5 lbs Chicken leg quarters

Rub the chicken with the oil.

Whisk the spices together in a bowl.

2 tbsp berbere,

1 tsp Garlic powder,

1 tsp smoked paprika,

½ tsp Chili powder,

½ tsp Salt,

1 tsp Girl Carnivore Chick Fest

Liberally coat both sides of the chicken leg quarters with the spice blend.
Smoke the Chicken Quarters
Temp your Traeger or pellet smoker for 250-275 F.

Arrange the chicken on the grill grates.

Grill chicken skin side up and the lid closed.

After 1 hour, check the chicken for a temp of 180 to 190 F.
Sear the Chicken
Remove chicken from grill, set aside.

Increase heat for sear, around 400 to 450 degrees.

Sear chicken to crisp the skin 5 to 10 minutes, rotating as needed.
Rest And Serve
Allow the smoked chicken quarters to rest before serving 5 minutes.

Serve hot
Notes
Serve with Alabama White Sauce for dipping.
Grill Options: This recipe was made on a Traeger pellet smoker but could be made on an electric smoker, charcoal, or gas grill.
If using gas or charcoal, set your heat up for indirect heat and grill the chicken legs on the cooler side of the grill until you're ready to sear them at the end.
Nutrition
Serving:
1
g
|
Calories:
536
kcal
|
Carbohydrates:
2
g
|
Protein:
39
g
|
Fat:
40
g
|
Saturated Fat:
11
g
|
Polyunsaturated Fat:
8
g
|
Monounsaturated Fat:
17
g
|
Trans Fat:
0.2
g
|
Cholesterol:
236
mg
|
Sodium:
448
mg
|
Potassium:
508
mg
|
Fiber:
1
g
|
Sugar:
0.1
g
|
Vitamin A:
359
IU
|
Vitamin C:
1
mg
|
Calcium:
22
mg
|
Iron:
3
mg