This post may contain affiliate links. Please read my disclosure policy
Looking for a killer smoked barbecue pork and bean recipe? This is it! Pop this dish in the smoker and let the flavors infuse. Perfect as a side or for toppings on baked potatoes, hot dogs, and more! These slow smoked pork and beans are your new summer go to.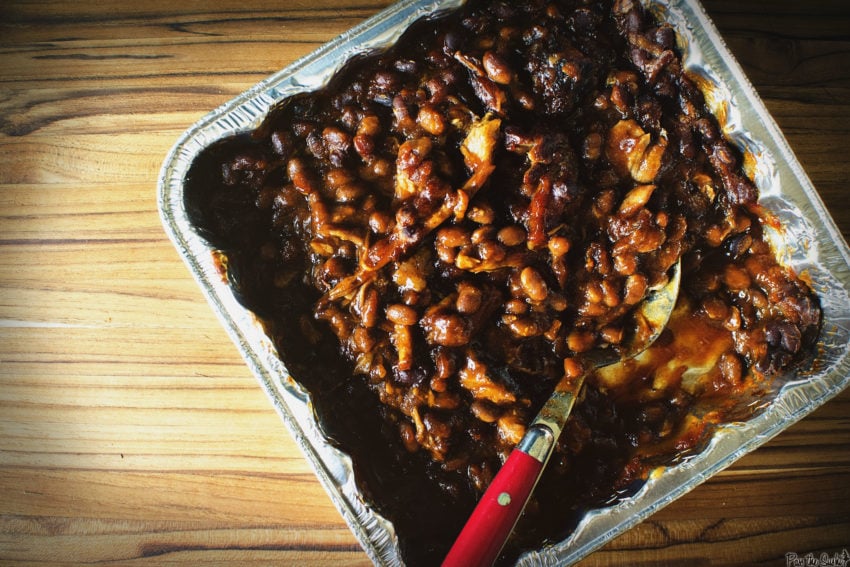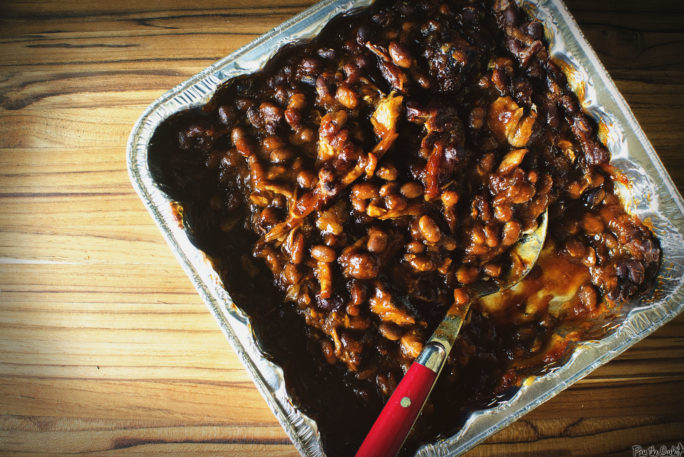 Today we are doing something a little special.
Sit back and grab a cold one, I am about to tick off some self-proclaimed pitmasters. The smoking purists.
But that's OK, I have a little secret to that low and slow smoke flavor that they just don't want to talk about. It's an electric smoker.
See, the thing is, smoking is an art. A time-honored tradition.
It requires patience and a ton of practice. Hours and hours spent finding your style of barbecue. What type of woods you like, how long to smoke your favorite cut, how to maintain the perfect temperature. It's true dedication.
And then along came the electric smoker.
And let me just tell you something they don't want you to know.
It's easy.
Flat out easy.
About the Electric Smoker
A regular old set it and forget it technique. The Deluxe Digital Electric Smoker from Char-Broil lets you pop your chunk of meat in and walk away. You've already programmed the time and temp, or popped the thermometer in for your desired temperature, and come back when it's all set and ready.
Now, I still prefer to mop occasionally, but I don't have to worry about maintaining the temperature and can just go about my business until I want to peek in on my slow smoky perfection.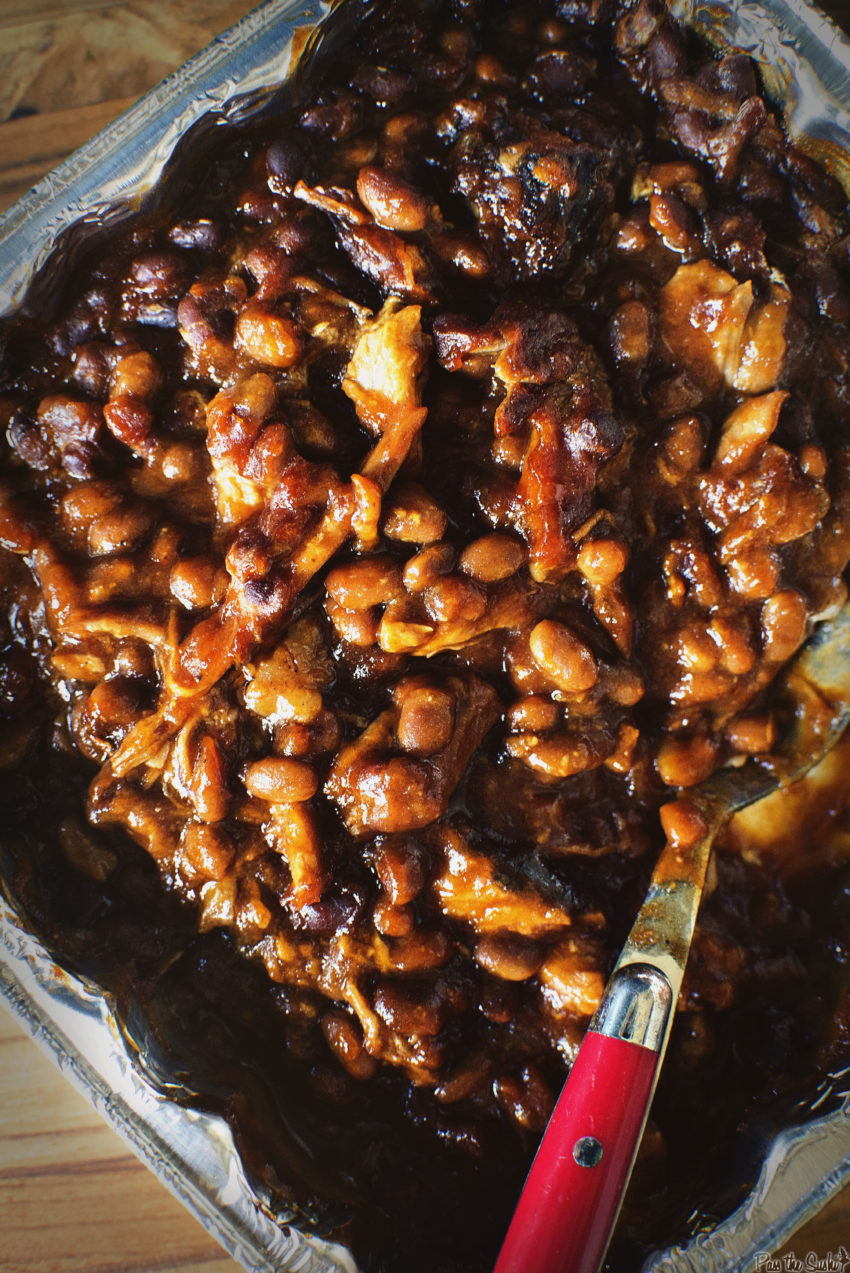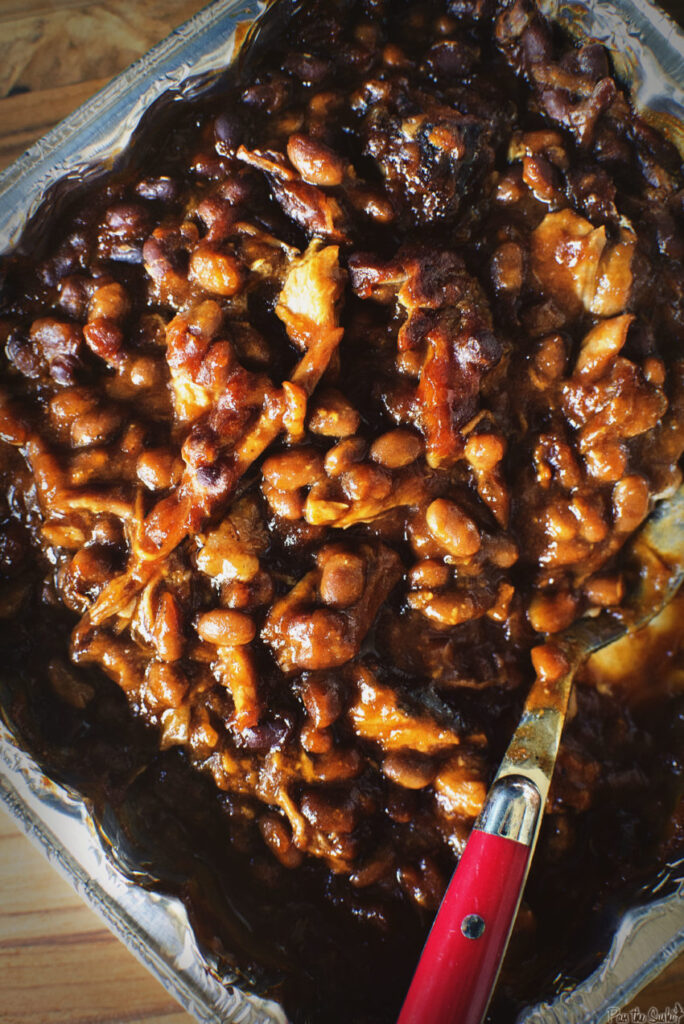 Features I am digging of the Deluxe Digital Electric Smoker.
The drip pan is angled. This doesn't seem like a big deal, but I have had a few electric smokers, and normally they just have a pan for liquid and catching the liquid that slides in under everything. The slight angle so that everything pools into a well, brilliant. Clean up was so much easier.
The racks. Because of the area for the wood chips and the drip pan sliding in next to one another, the internal area for arranging big slabs of ribs or a couple of pork shoulders is a wee bit roomier than other models.
The Deluxe Digital Electric Smoker heats up quick and powers through. I have used it three times since it's arrival two weeks ago (and I am currently writing this in an airport as I have been traveling for the past 5 days – so that says a lot).
Electric smokers are perfect for everything – they are the only way I cook my chickens, they work for several slabs of ribs or mountains of wings for the hungry football party, or go low and slow all day with a huge slab of pork or beef for the perfect fork shredding texture.
Is it the hard-earned tradition of a classic wood only smoke? No. And it never will be. But is the Deluxe Digital Electric Smoker a great option for the introductory smoking fan who wants to whet her appetite for grilling and get used to the 9 hour smoke time, yet.
Does it allow you to play with wood flavors to experiment on the cheap?
Yep. And will it cook a damned fine bit of BBQ for your next party? You bet it will. So, if you were considering it, eyeing one up, but worried it wasn't the real deal, go for it. It's well worth the moderate investment the first time you bite into that juicy pulled pork sandwich.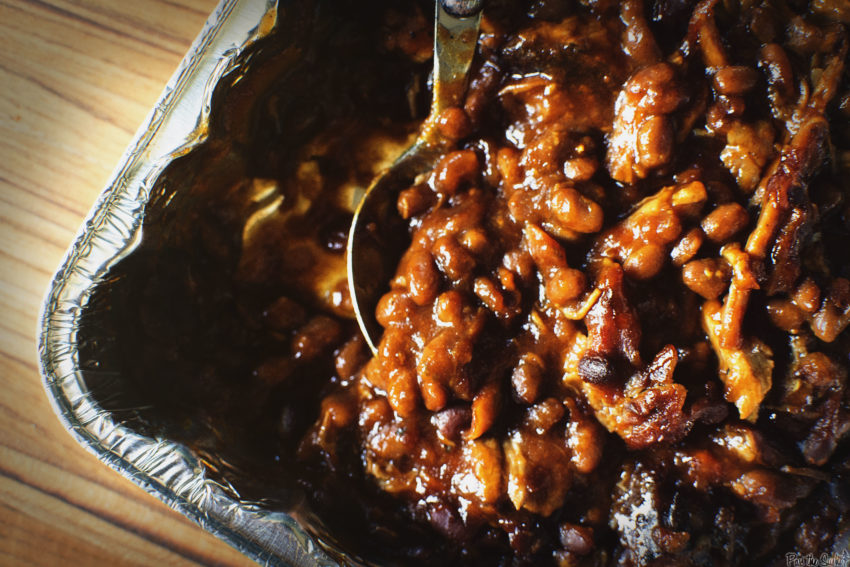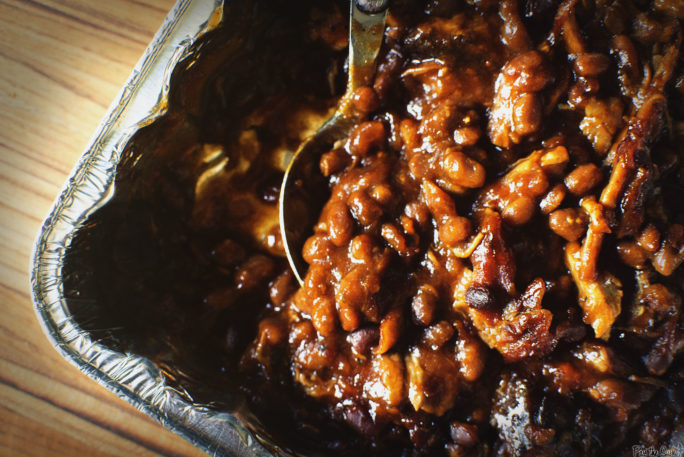 Slow Smoked Pork and Beans
Slow smoked pork and beans is a recipe that you can customize with your signature flavor. Mix in leftover barbecue, from shredded beef to barbecue pork butt, or event burnt ends and bacon chunks, there's nothing that won't add a huge kick of flavor to these.
Be brave with your seasonings and test out small changes for making these beans the best you have ever had.
These are cheater pork and beans, starting with a huge can and jazzing it up. But, once you master this recipe, starting from scratch is easy. The question is, when a recipe is this easy, why would you change it?
More Smoking Recipes
If you are new to smoking, you are going to want to try a few recipes out just to get used to how hot your new baby runs. For some tips on smoking your first chicken, check out this post. To see the recipe for the smoked porked mixed into my beans, see my Ancho Rubbed Smoked Pork.
And if you are just looking to play with your new smoker and want to taste test something awesome – wrap a brat in bacon and call it a night.
Now, let's show them how it's done.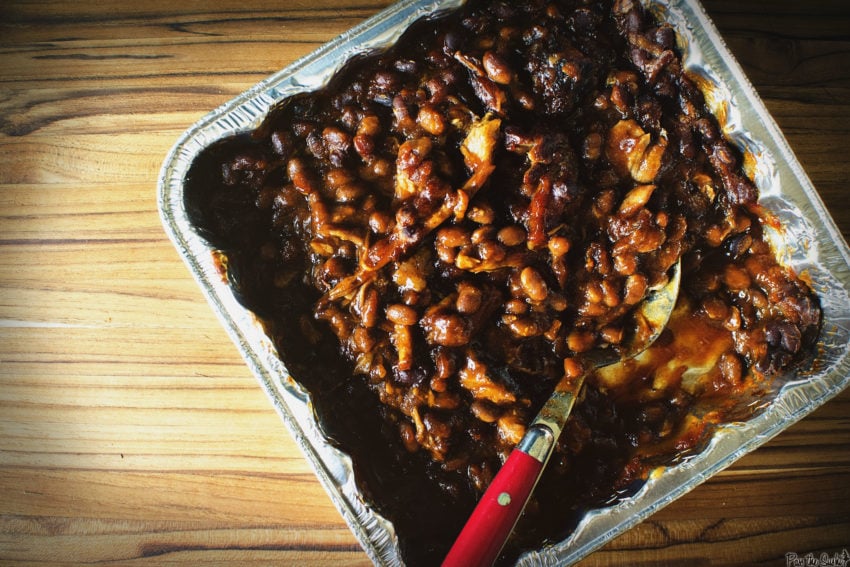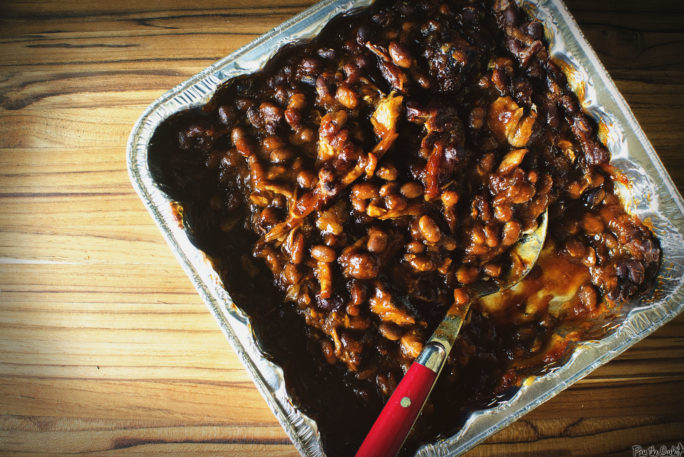 Need more smoking inspiration? Check out these recipes:
If you've tried my Slow Smoked Pork and Beans recipe, or any other recipe on GirlCarnivore.com please don't forget to rate the recipe and let me know where you found it in the comments below. I get inspired by your feedback and comments! You can also FOLLOW ME on Instagram @girlcarnivore as well as on Twitter and Facebook.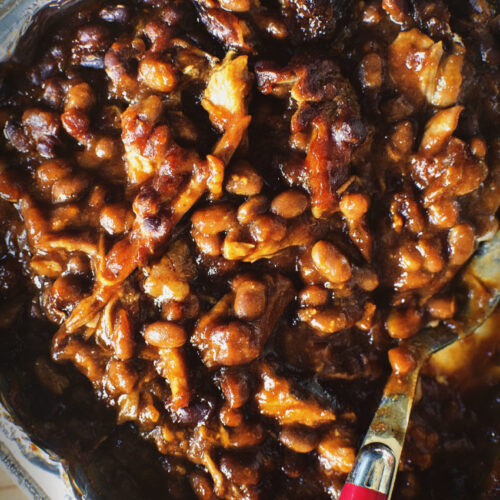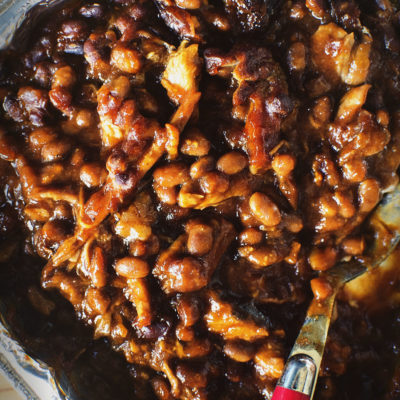 Slow Smoked Pork and Beans
Every family has their version of pork and beans. Usually something a little tinkered with by mom or dad, then tinkered with some more when you start dabbling in your own kitchen. This is a basic version of that. Adjust it to your families traditions and tastebuds.
Print
Pin
Rate
Total Time:
3
hours
10
minutes
Ingredients
1 16

oz

can pork and beans

1

cup

leftover shredded pork

1/2

onion

minced

1/4

cup

maple syrup

1/4

cup

brown sugar

1/2

cup

ketchup

1

tbs

dijon mustard

4

strips bacon

cooked and chopped
Instructions
Prep your wood and smoker for 225 degrees and get things going.

Mix the pork and beans in an 8×8 aluminium pan with the pork, onion, maple syrup, brown sugar, ketchup, mustard and bacon.

Place in the smoker for 2 to 3 hours, until bubbling and hot through.

Remove, cover with foil and let cool 5 to 10 minutes before serving.

Spoon out deliciousness.
True story, Char-Broil sent me the Deluxe Digital Electric Smoker to test out and asked me to share my thoughts. The thoughts on this smoker are my own – and the beans are damned delicious.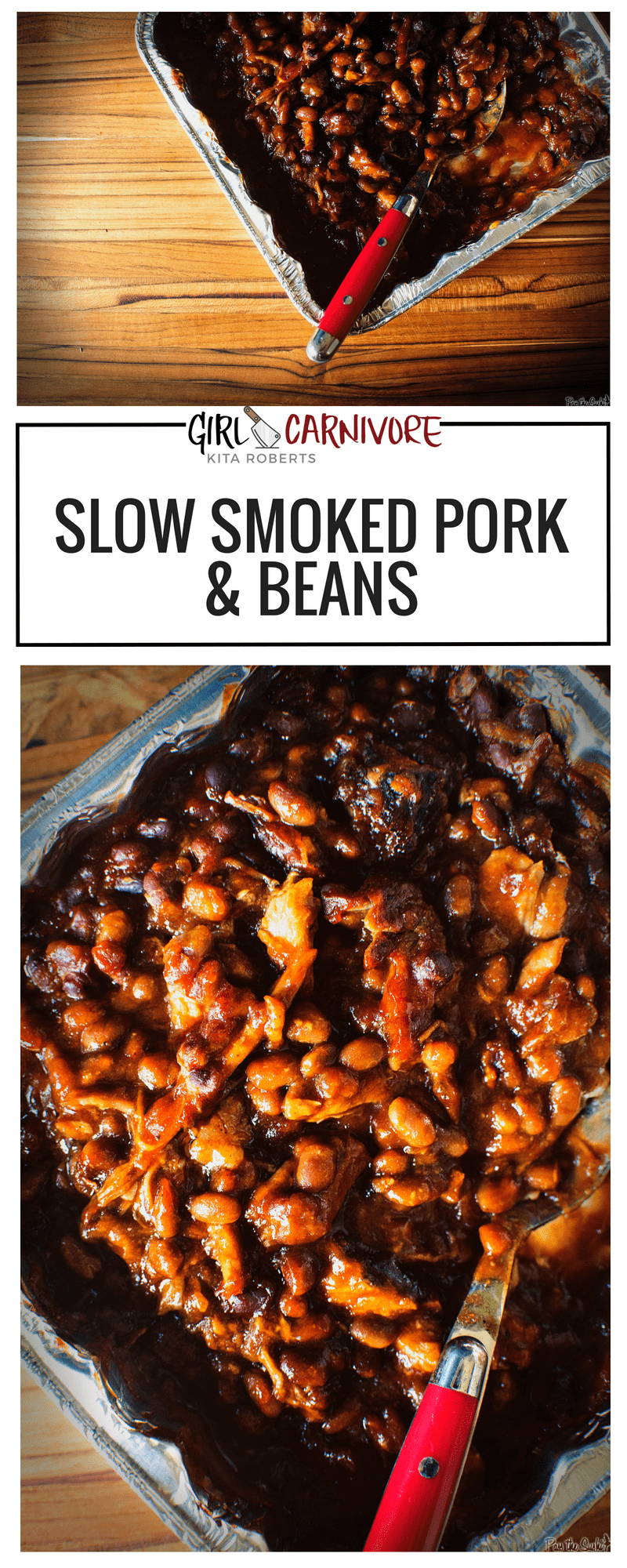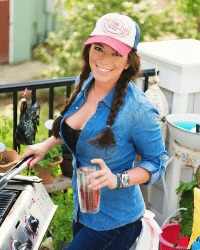 Hey, I'm Kita, the Meat Maven, outdoor junkie, campfire connoisseur, adventure-seeking and world traveled recipe developer and photographer behind GirlCarnivore.com. My mission is to break down savory eats and inspire you to get a little grit under your nails while having fun with your food. READ MORE