This Slow Smoked Pork and Beans recipe is your new summer go-to! Canned pork and beans create an easy base, then arere kicked up a notch with shredded pork, crispy bacon, and onion in a sweet and spicy sauce!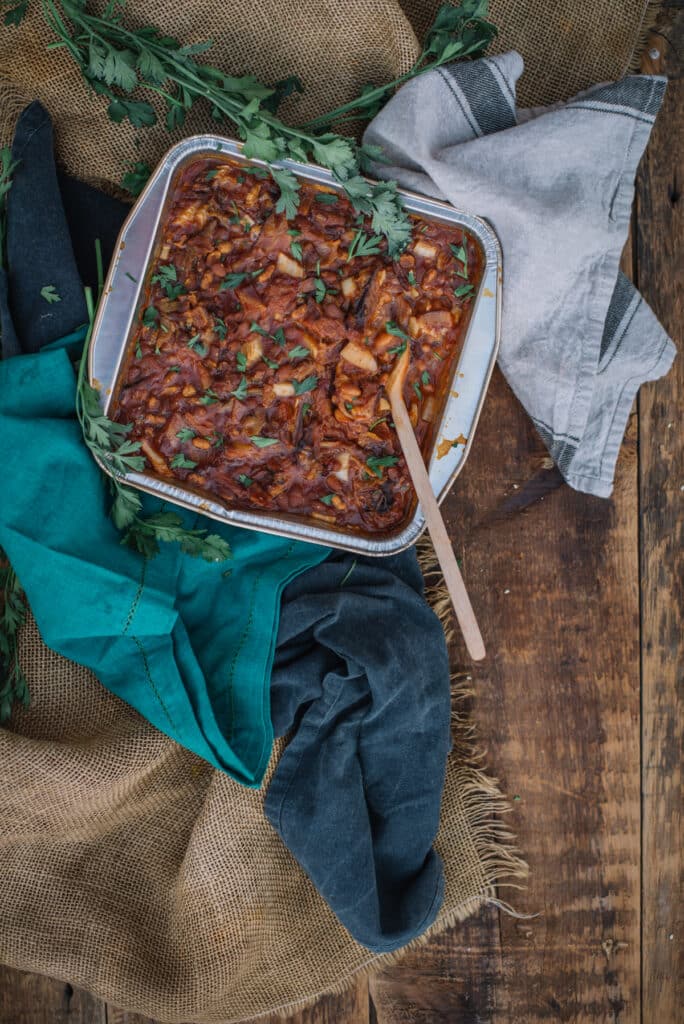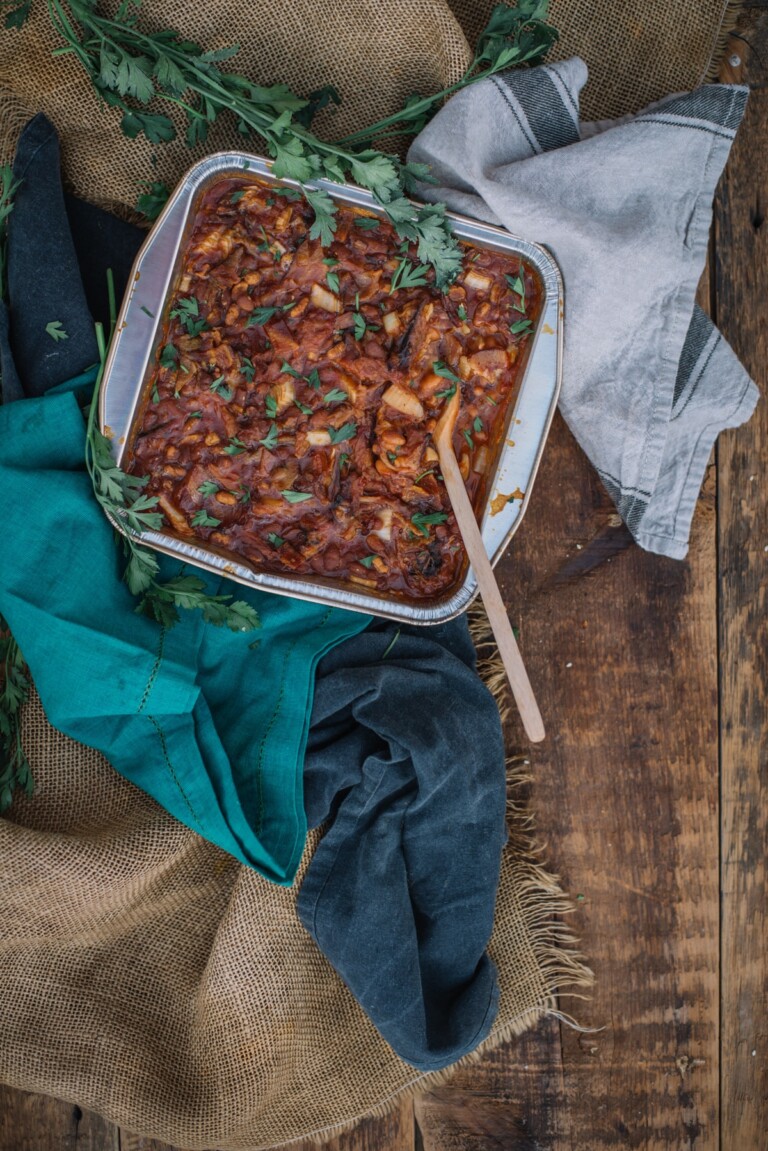 Can anyone actually resist a good pork and beans recipe? I know I can't. And this slow-smoked pork and beans recipe is here to prove that no one can actually resist pork and beans. It's that one recipe everyone asks you to bring to family gatherings because it never gets boring. Bonus: it's so easy to make and uses canned pork and beans as the flavor base for you to do with what you want!
What are pork and beans?
What most of us know to be pork and beans are American pork and beans. It's a simple, canned meal made up of navy beans and salt pork in a tomato-based sauce.
What we're making in this recipe is just that but taken to another level with the addition of more pork (win!), brown sugar, dijon mustard, bacon, and more!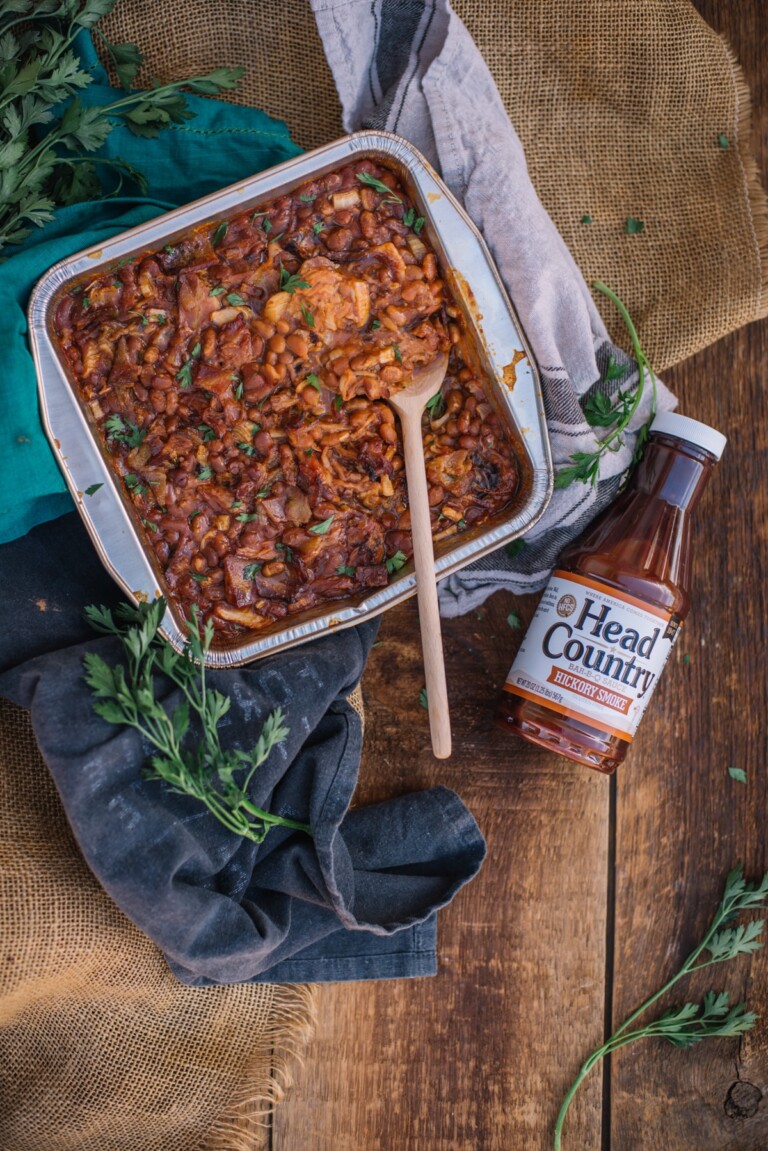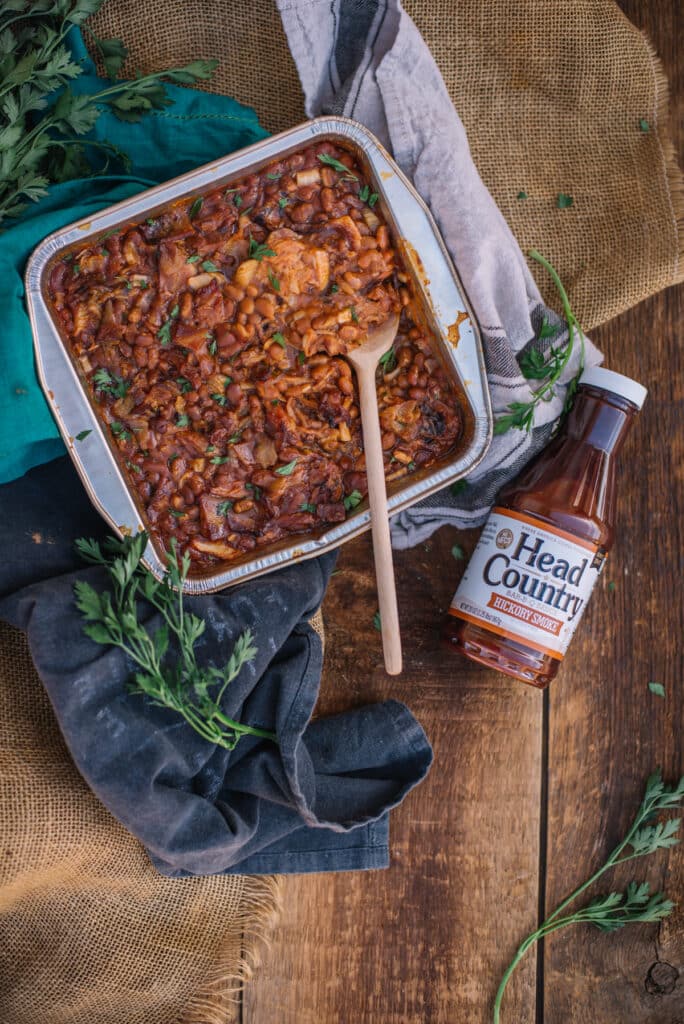 Are pork and beans the same as baked beans?
Nope! Although both pork and beans and baked beans are made up of navy beans in a tomato-based sauce, they are quite different.
Baked beans are lighter in color and much sweeter since they're made with brown sugar or molasses. Pork and beans, on the other hand, are darker in color and made with more savory seasonings.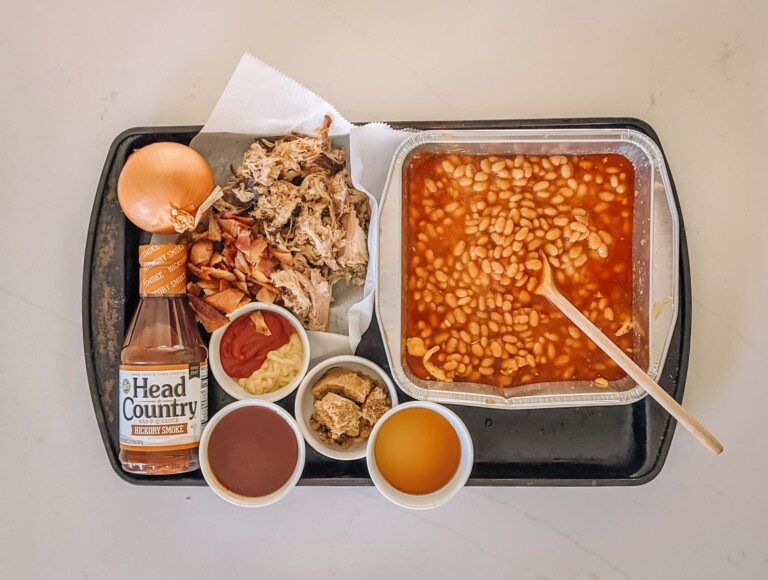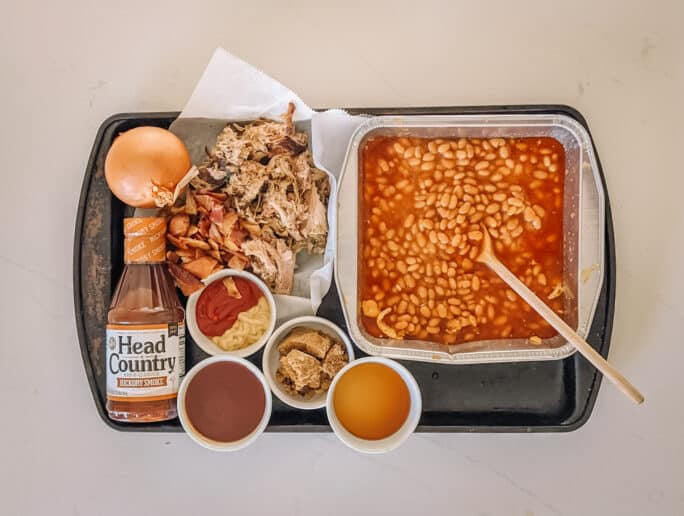 What you need to make this recipe
Pork and Beans – you'll use canned pork and beans as the base, but then add more ingredients to take them to the next level.
Shredded Pork – this pork and beans recipe is the perfect way to use any leftover shredded pork you might have in your fridge.
Onion – adds a subtle sweetness to highlight the sweet flavors of the sauce.
Maple Syrup, Brown Sugar, Ketchup, and Dijon Mustard – a sweet, spicy sauce to add to the pork and beans to kick the flavor up a notch.
¼ up your favorite BBQ sauce – I used Head Country Hickory Smoke to double down on the rich smoked flavor.
Bacon – cooked and chopped to add a crispy texture and another layer of smoky flavor.
How to make slow smoked pork and beans
First, prep your wood and smoker for 225ºF.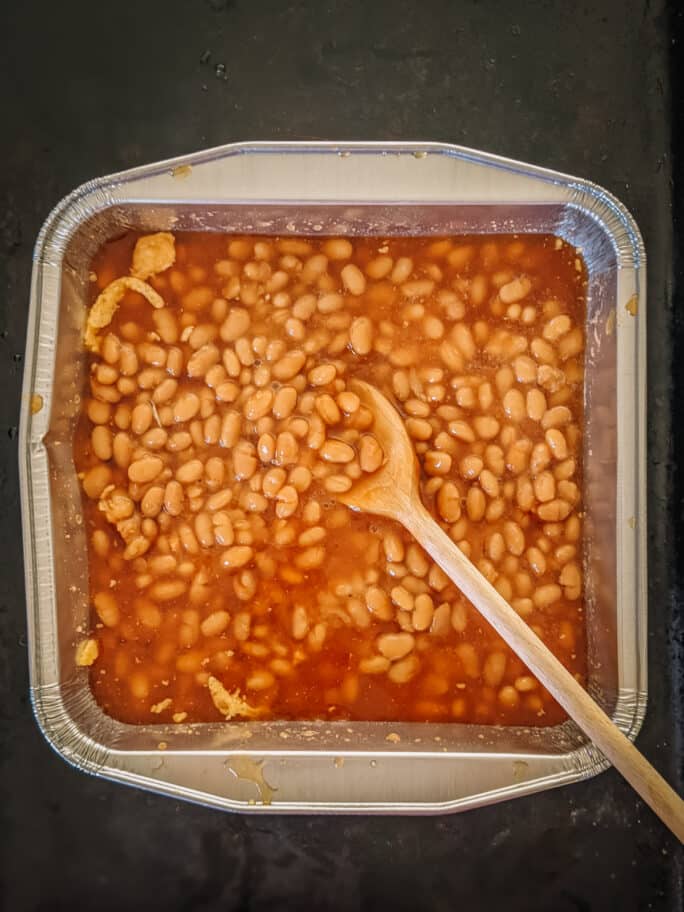 Add the pork and beans to an 8×8 aluminum pan. Add in the onion, maple syrup, bbq sauce, brown sugar, ketchup, mustard, bacon, and shredded leftover pork.
Then mix it all up.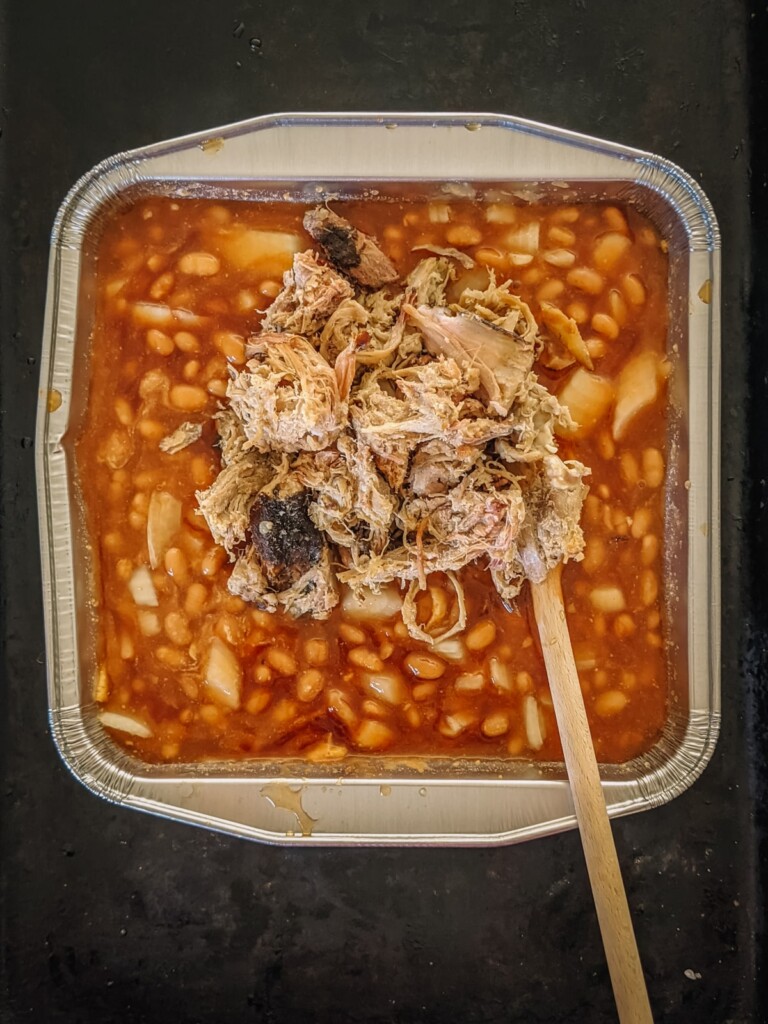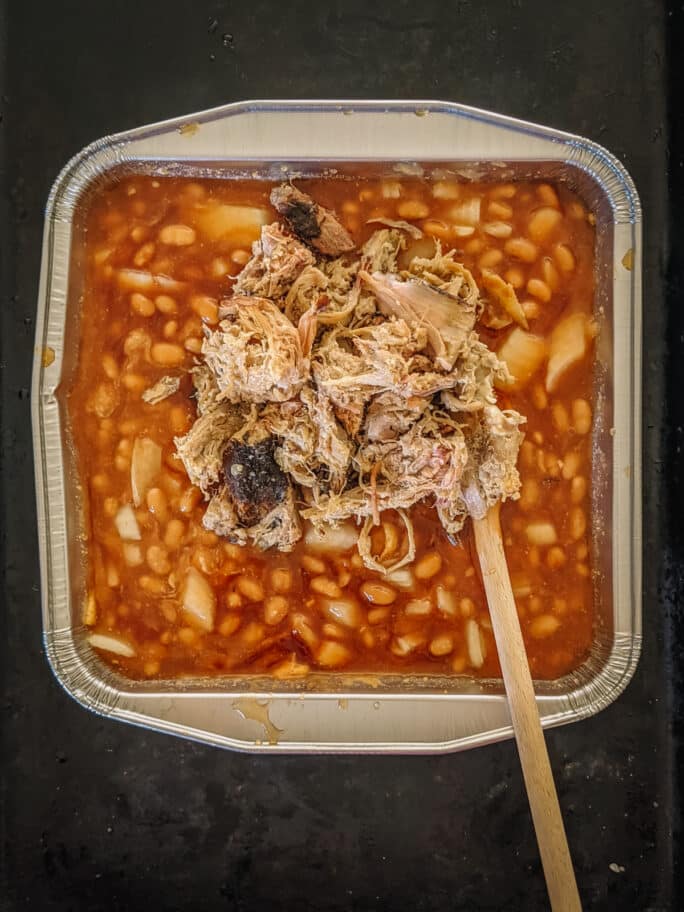 Place the pan in the smoker and cook for 2-3 hours, until it's bubbling. Remove, cover with foil, and cool for 5-10 minutes before serving!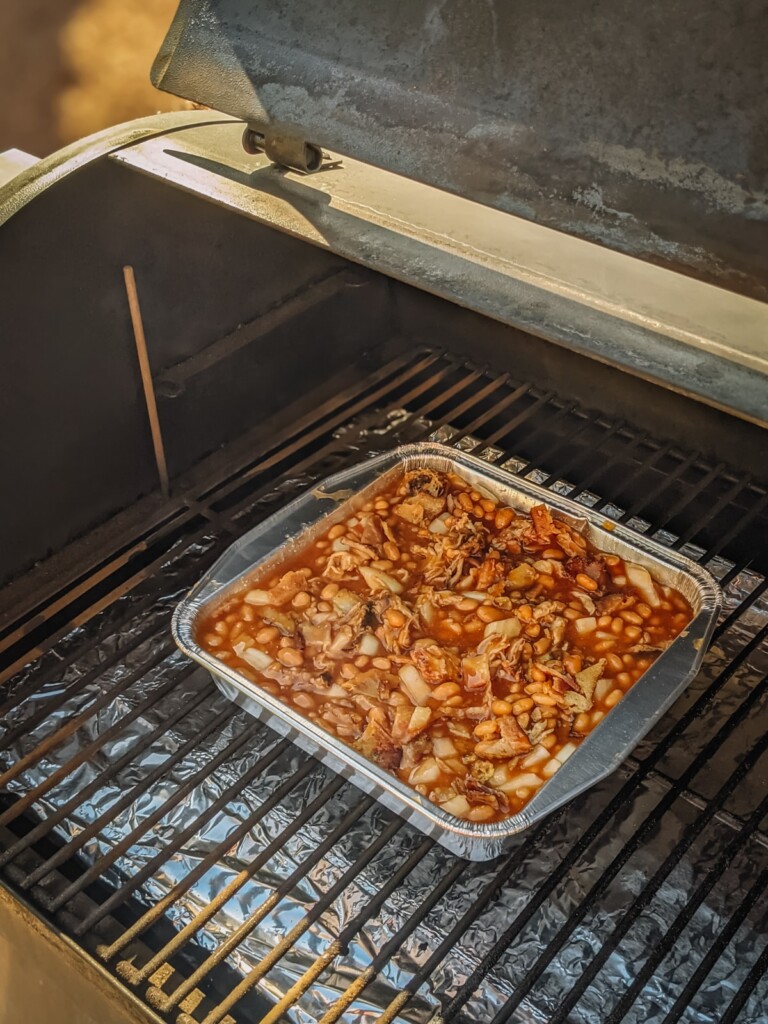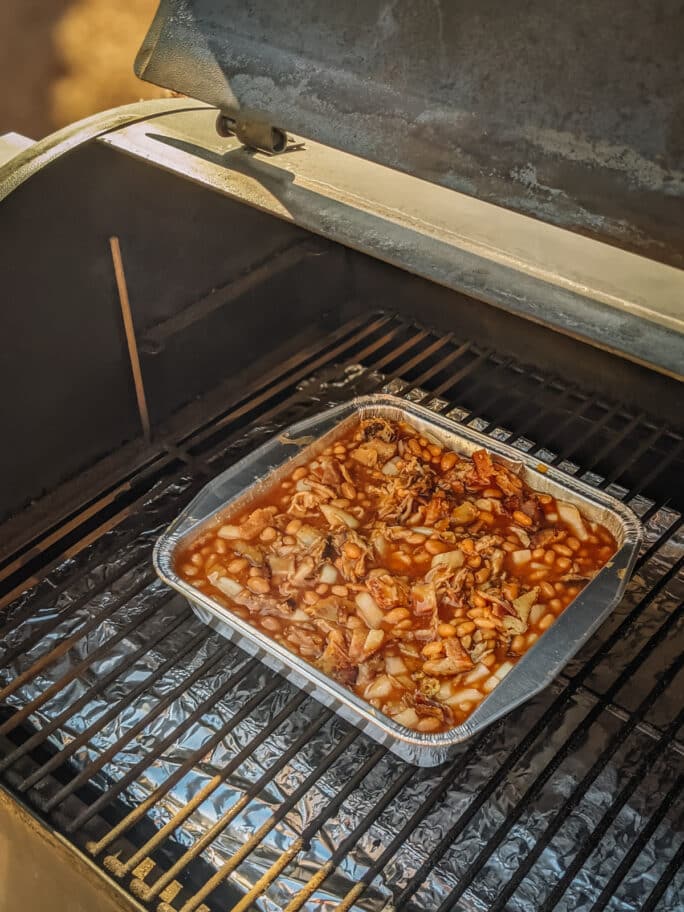 How to make canned beans taste better
Okay, I admit it, these are cheater pork and beans. You start with a huge can of pork and beans, then jazz it up yourself! Here are a few ways you can level up the flavor:
Leftover BBQ: mix in leftover BBQ such as shredded beef, BBQ pork butt, or even burnt ends and bacon chunks.
Spice: go crazy with your seasonings. I like to spice mine up with a sprinkle of cumin or mustard powder.
Beer: add a little beer to the liquid for a unique, hoppy flavor.
Cola: the sugary sweet from the cola is magic in smoked beans. Be careful though. A little goes a long way!
Gourmet Ketchup: add in fancy ketchup like balsamic ketchup or chipotle ketchup. This will not only layer in unique flavors, but it will also keep the beans nice and thick.
Different BBQ sauces: Play with the sublte flavors that different sauces could bring like apple habanero or chipotle. Just don't use a thin bbq sauce for this, stick with the thicker ones to really help coat the beans.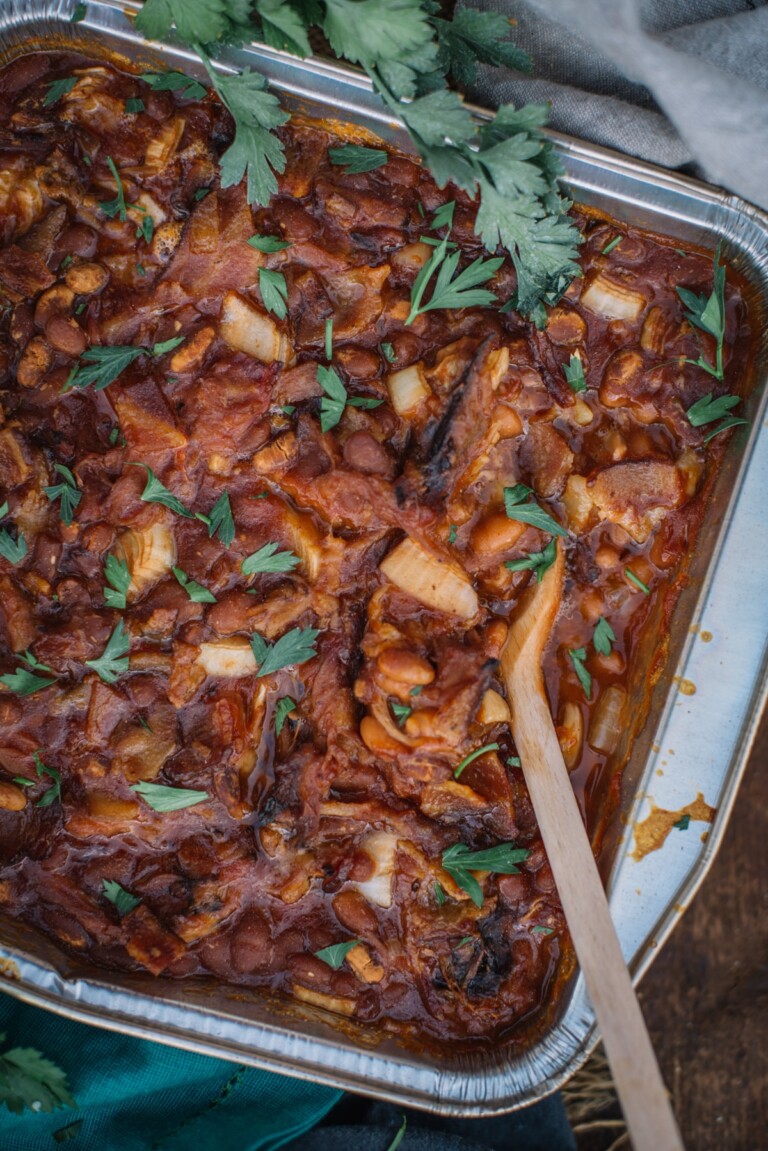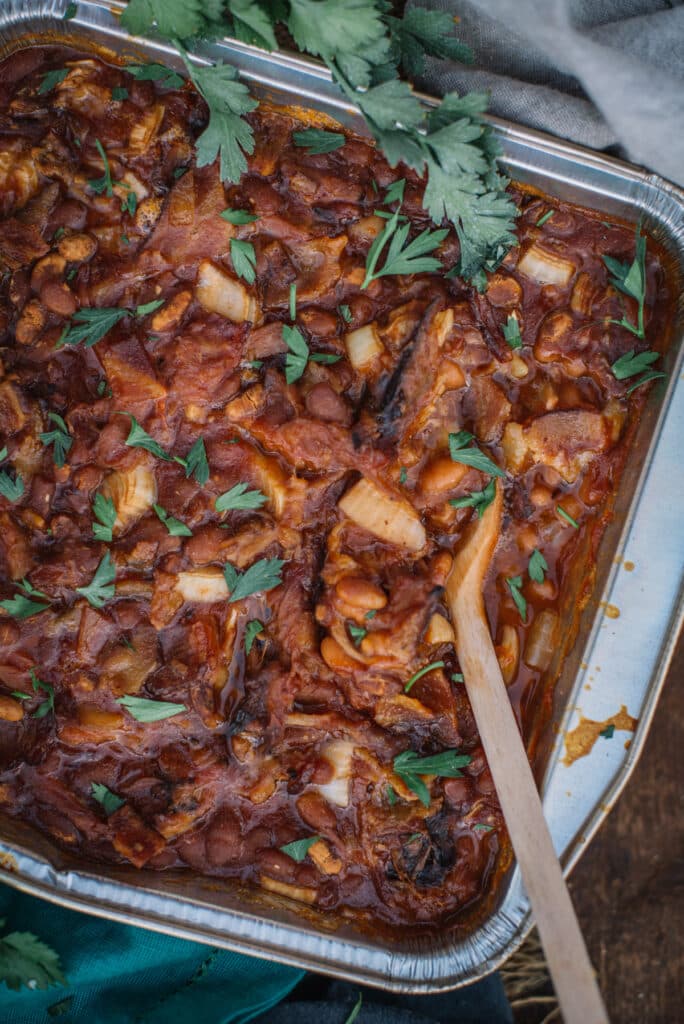 Can you make homemade pork and beans?
You sure can! If you'd rather make this recipe completely homemade, you'll just need to mix navy beans with ketchup, brown sugar, mustard, and either maple syrup or molasses. Simply play around with it until it's just the flavor you want!
Do you have to use an electric smoker?
Nope! If you don't have an electric smoker, you have a couple of other options:
Pellet smoker. Set to smoke before programming the smoker to 225ºF, then proceed with the recipe as directed.
Gas grill. Create smoke by using a two-zone indirect heat fire. Turn ⅔ of the burners to low and place a smoker box with chips (or homemade aluminum packets with chips) on the burners to create smoke. Allow the chips to start smoking (about 10-15 minutes) before cooking the pork and beans.
Charcoal grill. Create a two-zone fire for indirect heat. When you're ready to smoke the beans, place them on the cooler side of the grill and add wood chips or chunks to your fire.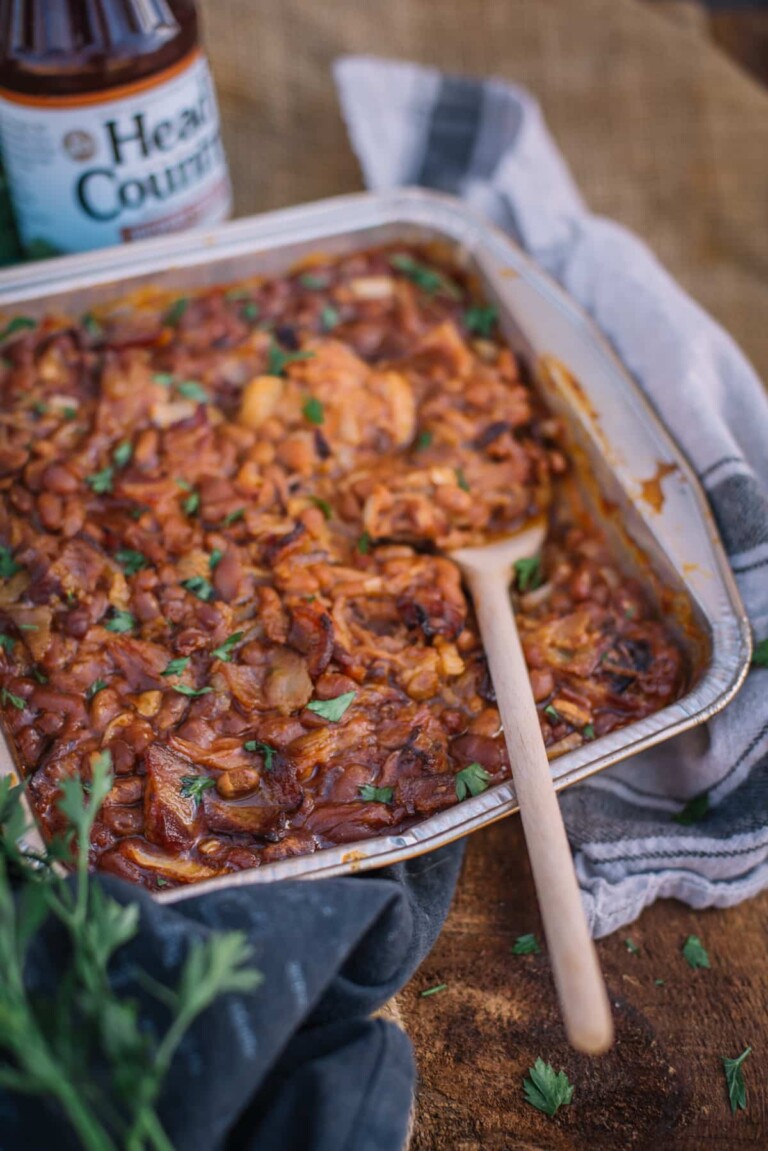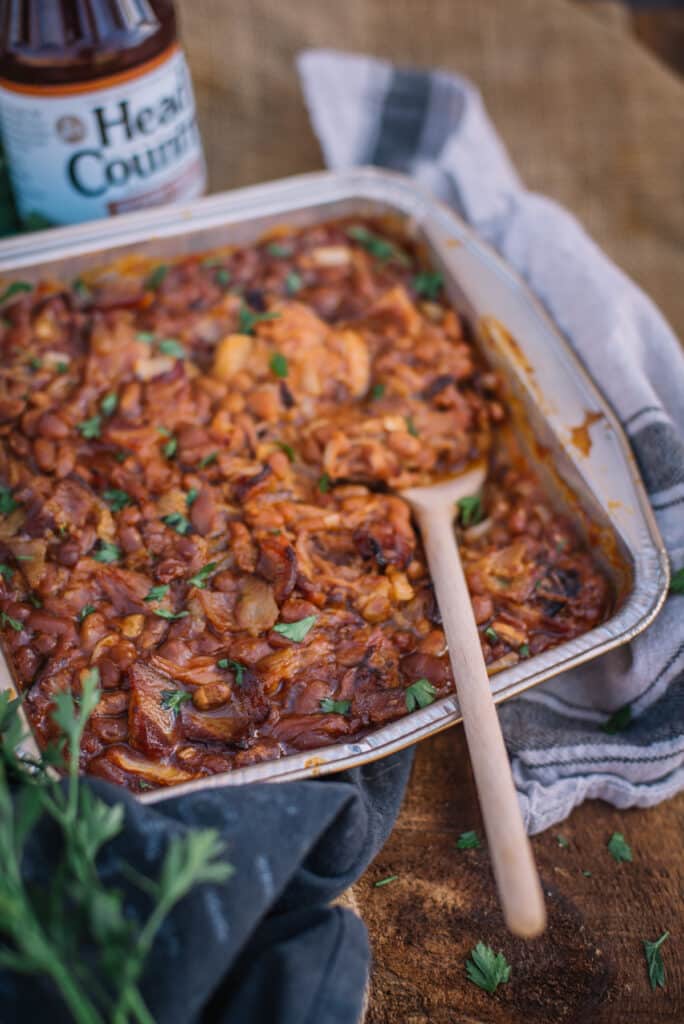 What to serve with pork and beans
You can serve these slow smoked pork and beans on their own, in hot dogs, or as a side dish next to pulled pork sandwiches, grilled chicken wings, or smoked pork chops.
You could also skip the big meat entree, since these are loaded with pork, and serve them with creamy mac and cheese, mashed potatoes, deviled eggs, or a nice chunk of crusty bread!
How to store
If you have leftover pork and beans, you can cover them with foil or store them in an airtight container in the fridge for 3 days. To reheat, warm them on low heat in the oven or in 30-second intervals in the microwave, stirring after each interval, until heated through.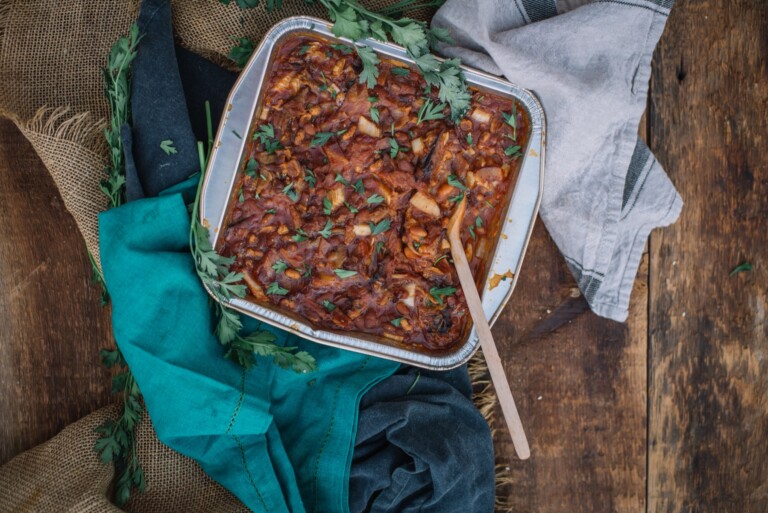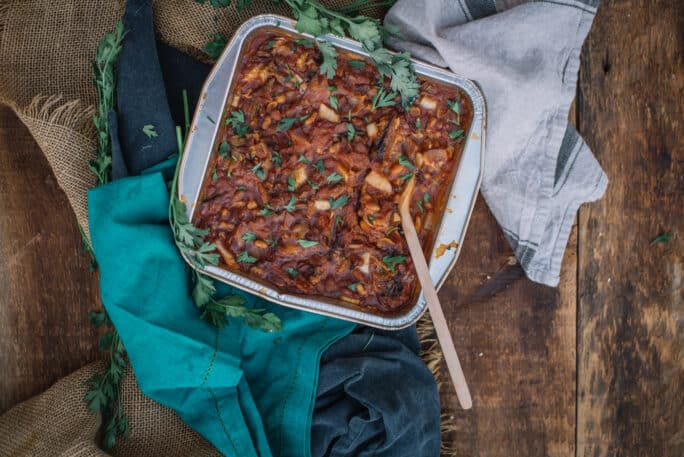 More smoking inspiration
If you've tried my Slow Smoked Pork and Beans recipe, or any other recipe on GirlCarnivore.com please don't forget to rate the recipe and let me know where you found it in the comments below. I get inspired by your feedback and comments! You can also FOLLOW ME on Instagram @girlcarnivore as well as on Twitter and Facebook.
Slow Smoked Pork and Beans
Every family has their version of pork and beans. Usually something a little tinkered with by mom or dad, then tinkered with some more when you start dabbling in your own kitchen. This is a basic version of that. Adjust it to your families traditions and tastebuds.
Ingredients
1 16

oz

can pork and beans

1

cup

leftover shredded pork

½

onion

minced

¼

cup

maple syrup

¼

cup

Head Country Hickory Smoke BBQ Sauce

¼

cup

brown sugar

½

cup

ketchup

1

tbs

dijon mustard

4

strips bacon

cooked and chopped
Instructions
Prep the pork and beans
Prep your wood and smoker for 225 degrees and get things going.

Add the pork and beans to an 8×8 aluminium pan.

Mix in the onion, maple syrup, barbecue sauce, brown sugar, ketchup, mustard and bacon.

Add in the leftover shredded pork and mix to combine.
Smoke the pork and beans
Place in the smoker for 2 to 3 hours, until bubbling and hot through.

Remove, cover with foil and let cool 5 to 10 minutes before serving.
Serve
Garnish with parsley if desired and serve.
Notes
This recipe is a great base recipe. See my notes above on other additions you can mix in to create your own unique flavors. 
Another great way to mix up the flavor here is to get several smaller cans of different versions of baked beans and letting their flavors mingle while they smoke. 
Nutrition
Nutrition Facts
Slow Smoked Pork and Beans
Amount Per Serving
Calories 238
Calories from Fat 63
% Daily Value*
Fat 7g11%
Cholesterol 24mg8%
Sodium 658mg29%
Potassium 297mg8%
Carbohydrates 35g12%
Protein 8g16%
Vitamin A 120IU2%
Vitamin C 2.9mg4%
Calcium 67mg7%
Iron 1.5mg8%
* Percent Daily Values are based on a 2000 calorie diet. Nutrition information provided is an estimate. For specific health concerns, please put the recipe into your Dr recommended nutrition calculator.