Looking for a fun spin on steak appetizers? Try these bite-size Grilled Flank Steak Pinwheel pops for your next party with a variety of dipping options. They are a hit every time!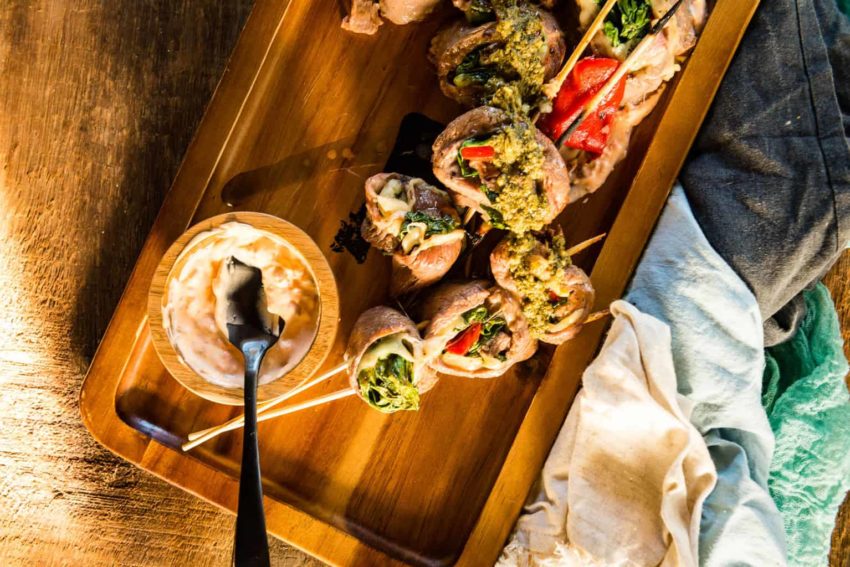 Grilled Flank Steak for an appetizer? Yeah, we're doing something outside of the frozen party box for this one 😉
Ok, raise your hand if you are always cruising around the party looking for something to nibble on.
Right? Ok, if you're at work reading this, lower the hand slowly, no one noticed.
Confession, I am the late friend. The one who is ALWAYS 10 minutes late – working on it. I joined a program and everything. But it's usually cuz I fit a run or a ride in before the shindig or before work and forgot to eat at some point in the day and wanted to at least bathe before ringing the doorbell (bike spandex gets stinky). And when I walk in post crazy hectic ride work run shower, I'm usually starving.
Nothing's worse than pacing around and drinking a little socially with friends and not having anything to quite that rumbling tummy.
So at my parties, I play a little Mrs. Cleaver and make sure there's a cocktail and appetizers on the table when everyone walks in (and with my friends, that's usually 10 minutes early).
And, I love throwing me some parties.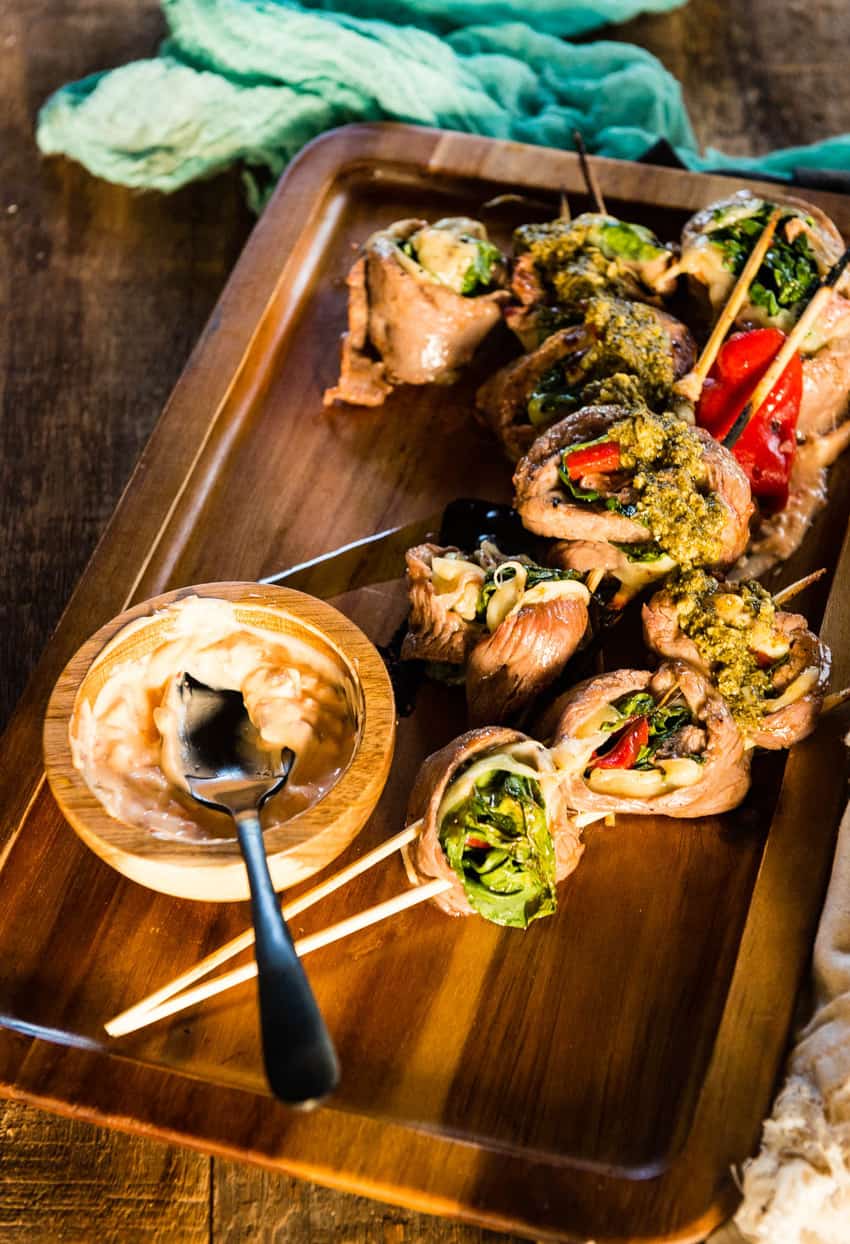 With the Fourth of July right around the corner, these apps are the perfect addition to any soiree.
Now, we can all play hostess all day, but I promise if you skip to the notes in the back of the June Cleaver Domestic Goddess Guide Book, (trademarked me, now, I'm writing that), there's a large chunk on how its no fun to be in the kitchen all day prepping every single thing. So I cheat. Or at least, I use shortcuts. A lot of pre-prepping and fast but oh-so-fancy recipes (like these char-grilled lobsters I made last week!).
These pinwheels pops are one of those recipes that look like a ton of work, but come together with some easy shortcuts, like the Lawry's Honey Bourbon Marinade grab and go marinade and the chance to prep the recipe in stages. These tips and tricks are sure to have you grilling your best for a special event or any tasty weeknight meal.
Always look for ways to take things off the table, so that the day, or evening of your shindig, you can relax and enjoy the company. Everyone else will think you are a rock star at the whole host / hostess thing and you roll out the killer apps and drinks with a smile.
So, who's ready to party?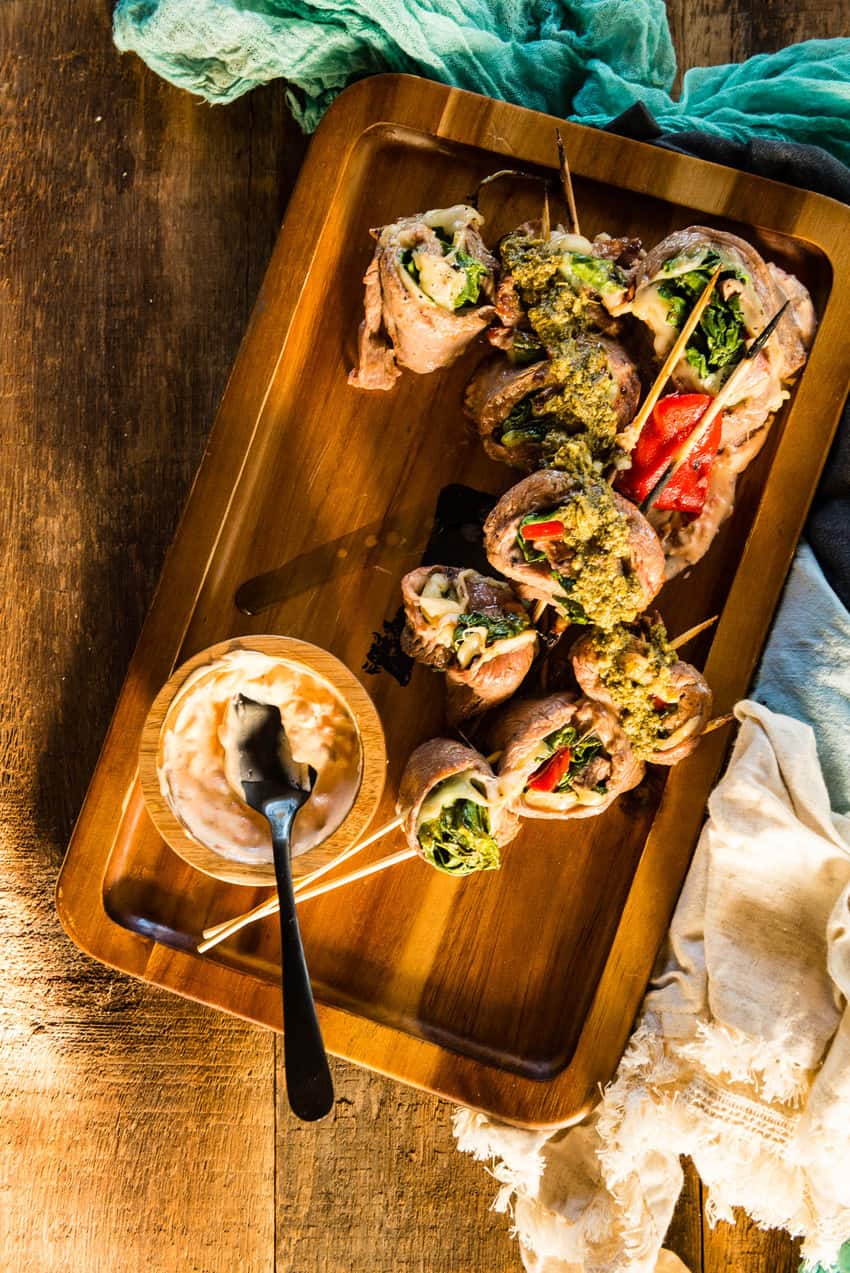 Try these killer appetizers to throw out an epic spread that people will be talking about for years! (Or at least until your next party)
If you've tried my Grilled Flank Steak Pinwheel Pops, or any other recipe on GirlCarnivore.com please don't forget to rate the recipe and let me know where you found it in the comments below. I get inspired by your feedback and comments! You can also FOLLOW ME on Instagram @girlcarnivore as well as on  Twitter and Facebook.
Grilled Flank Steak Pinwheel Pops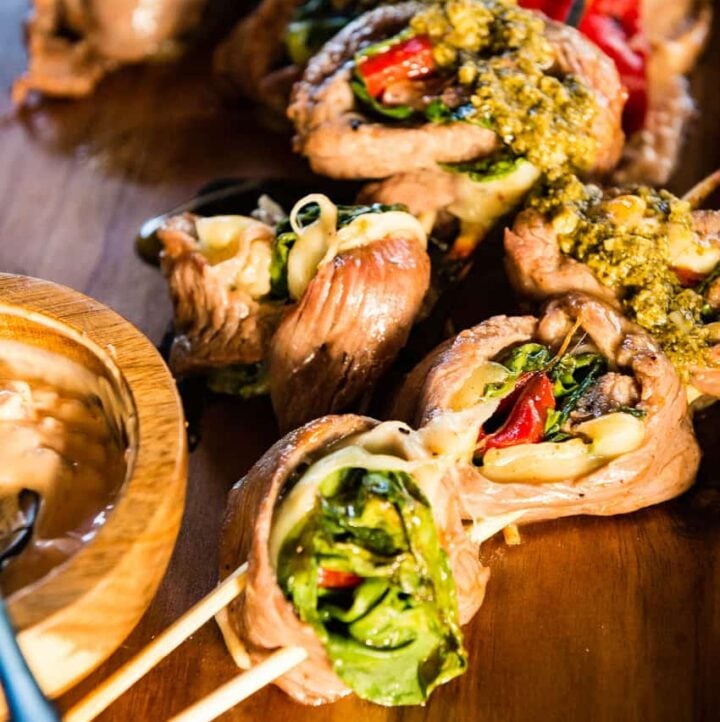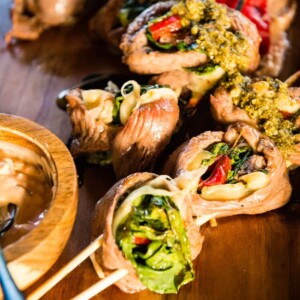 Looking for a fun spin on steak appetizers? Try these bite-size Grilled Flank Steak Pinwheel pops for your next party with a variety of dipping options.
Ingredients
2

lbs

flank steak

1

Lawry's Honey Bourbon Marinade

12

slices

provolone cheese

sliced thin

1 16

oz

can roasted red peppers

chopped

2

cups

fresh spinach
For the Roasted Pepper Aioli
¼

cup

mayo

2

tbsp

roasted red peppers

minced

2

tbsp

sundried tomatoes

1

clove

roasted garlic

minced

½

teas Grill Mates Herb Chipotle Seasoning Blend

dash of lemon juice

Salt and pepper to taste
Additional Needs
Bamboo skewers

soaked per packaged direction

Pesto Sauce for dipping
Instructions
Prep the flank steak by chilling it in the freezer for 20 minutes.

Remove it and on a clean work surface, slice the steak in half, and then butterfly each half open until completely sliced through.

Pound the meat to ¼" thickness.

In a resealable bag or coverable dish, marinate the steak in the

Lawry's Honey Bourbon

marinade for 4 hours.

When ready to prep, drain the meat from the marinade and discard.

On a clean work surface, arrange each of the slices of meat out. Layer with the cheese, roasted red peppers and spinach. Wrap tightly in on itself. Chill for another 20 minutes to making slicing easier before slicing into 1" pieces and securing with 2 bamboo skewers, no more than 3 per set of skewers with a ½" room between each for air circulation while cooking.

Pre-heat your grill for indirect heat by piling your charcoal to one side. Clean and oil your grill grates. Cover the grill and allow to pre-heat for 5 to 10 minutes.

Grill the flank steak pops, rotating as needed with a careful eye. As the cheese melts, it can cause flare ups so it is best not to leave these without someone standing by. Cover and cook 3 minutes per side.

Remove from grill and let rest.

Meanwhile, make the Roasted Pepper Aioli.

Combine the mayo, minced red peppers, garlic,

Grill Mates Chipotle Seasoning Blend

, lemon juice and a pinch of salt and pepper in your food processor. Pulse until smooth. The aioli can be made up to three days ahead and stored in an air-tight container in the refrigerator.

Serve the grilled flank steak pinwheel pops with the roasted red pepper aioli for dipper and garnish with fresh pesto sauce.
Nutrition
Calories:
265
kcal
|
Carbohydrates:
2
g
|
Protein:
14
g
|
Fat:
21
g
|
Saturated Fat:
10
g
|
Cholesterol:
42
mg
|
Sodium:
621
mg
|
Potassium:
141
mg
|
Sugar:
1
g
|
Vitamin A:
535
IU
|
Vitamin C:
3.1
mg
|
Calcium:
427
mg
|
Iron:
0.5
mg