Inspired by Peruvian anticuchos, these beef heart kabobs are marinated in a spicy sauce before being char-grilled for perfection. Serve with thick-cut steak fries and a quick yellow pepper sauce for bonus flavor.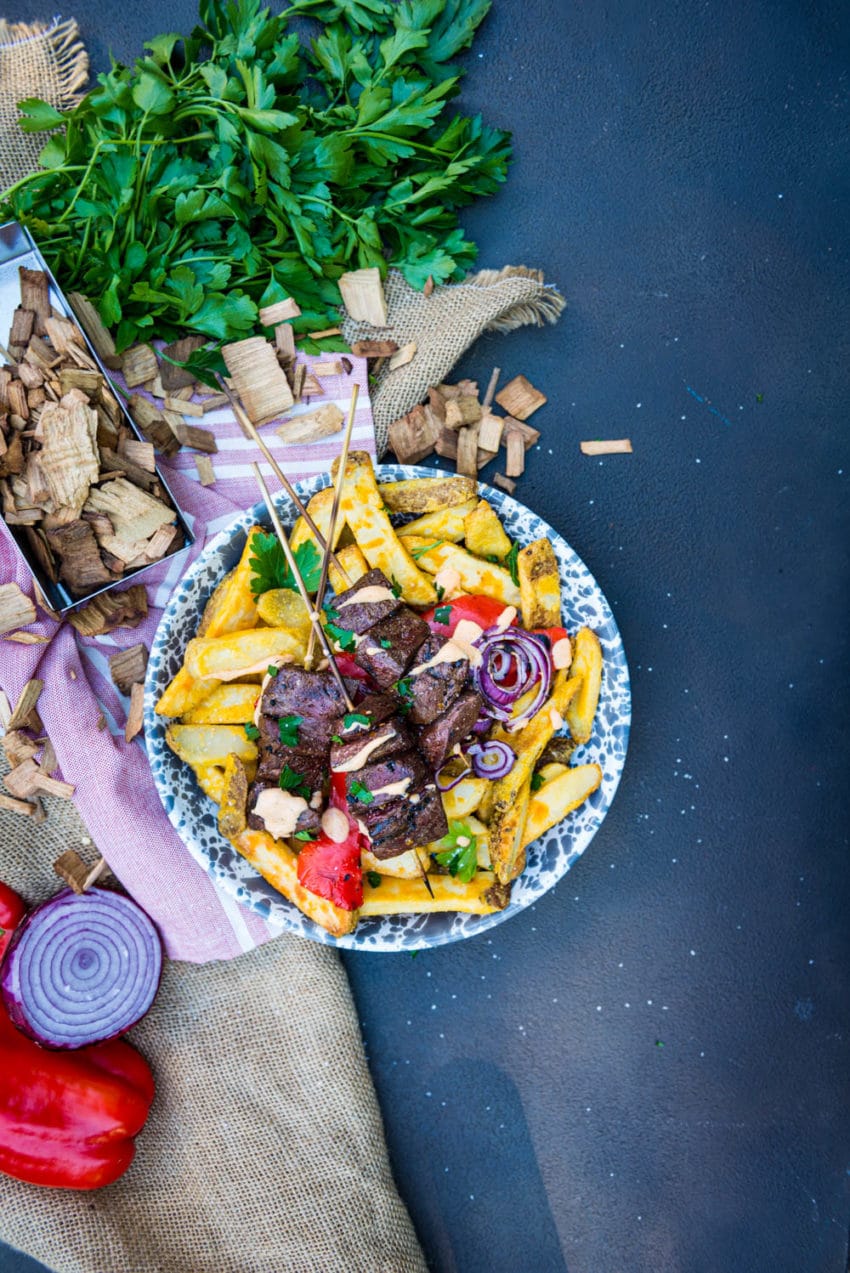 Grilled beef heart may be something that doesn't pop into your mind as a normal grilling staple. You know, hot dogs, hamburgers, steaks, oh yeah, anticuchos. But in reality, we have been eating beef heart since we've been eating beef and it's a delicious cut, when seasoned and cooked well, just like any other.
There is something primal that comes from utilizing diverse cuts, and you should be proud that you aren't freaked out by it, but open to the experience. Push comes to shove, you can go all Dances with Wolves and have a bit of fun with it (no, I am not suggesting you eat raw heart. Don't take that sentence literally).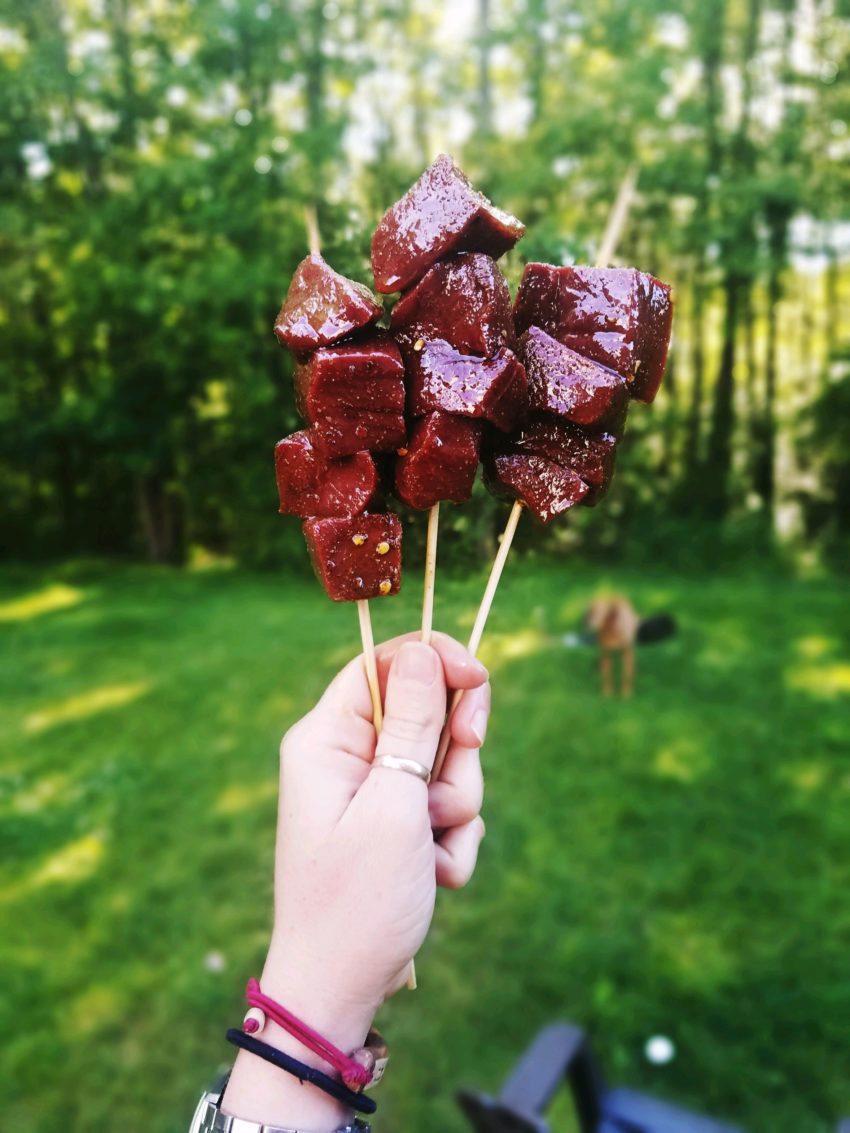 One of my favorite memories from Peru was playing at the town square around dusk, with a street vendor set up selling meat on a stick. There's something about the adventure of travel, or maybe it's just me, but I don't ask a lot of questions when I am being offered food. I take and enjoy. The meat sticks had potatoes as well and were a perfect inexpensive snack.
Part of being the brains behind girl carnivore makes me curious on how to become more proactive for using more of the animal and not being afraid to try less popular cuts like tongue and heart (no lie, best tacos you ever have will be tongue).
In many cultures, since the dawn of time, we have been making use of our stock from nose to tail and it's only in modern supermarkets that we see less diversity.

What does beef heart taste like?
What most don't realize though, is beef heart tastes (and looks) like any other cut of steak, not 'metallic' like liver or kidney. It has the same mouthfeel as well as other cuts and looks similar to any lean steak.
I have had it a few times, and if I hadn't been asking about specificity, I wouldn't have known it was anything other than beef.
For this recipe, we marinate the beef in a recipe inspired by my experience with Peruvian street food. We grill the kabobs for a close to the traditional feel, infusing smoky flavor by adding Western wood chips to the grill and creating the best kabobs you will enjoy this summer.
Where to buy beef heart
My beef heart came from an online butcher, Porter Road, but you can also often find them at international markets or order them directly from your butcher.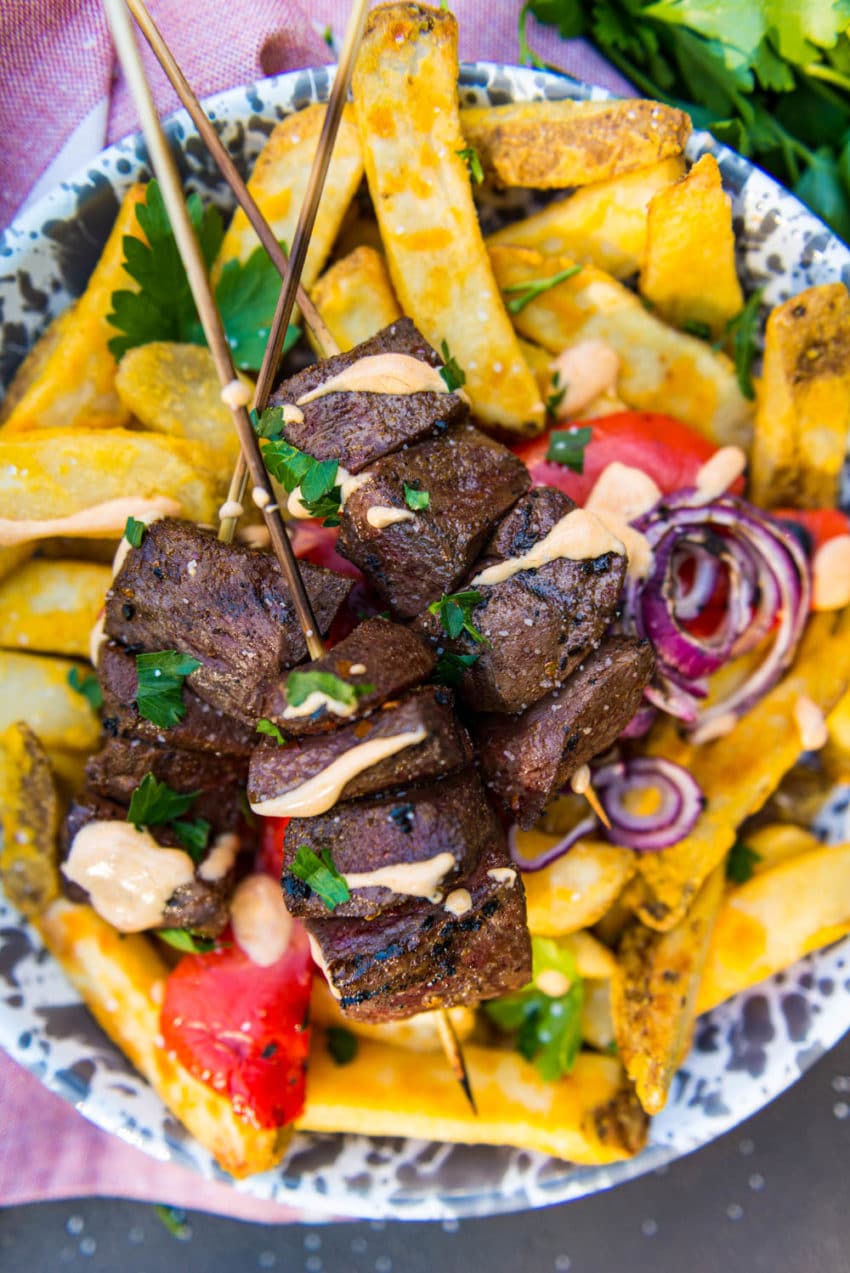 How to grill beef kabobs:
After you have marinated your kabobs, prep your grill for indirect heat. The meat will cook quickly and we don't want it over done. Beef heart is like any lean steak, too much heat can cause it to become tough. Grill to 145, rotating the kabobs as needed.

What temperature to grill beef heart too:
Grill beef heart to medium rare, and temp with a good instant thermometer, like my favorite Thermpan, for a temp of 145 degrees F.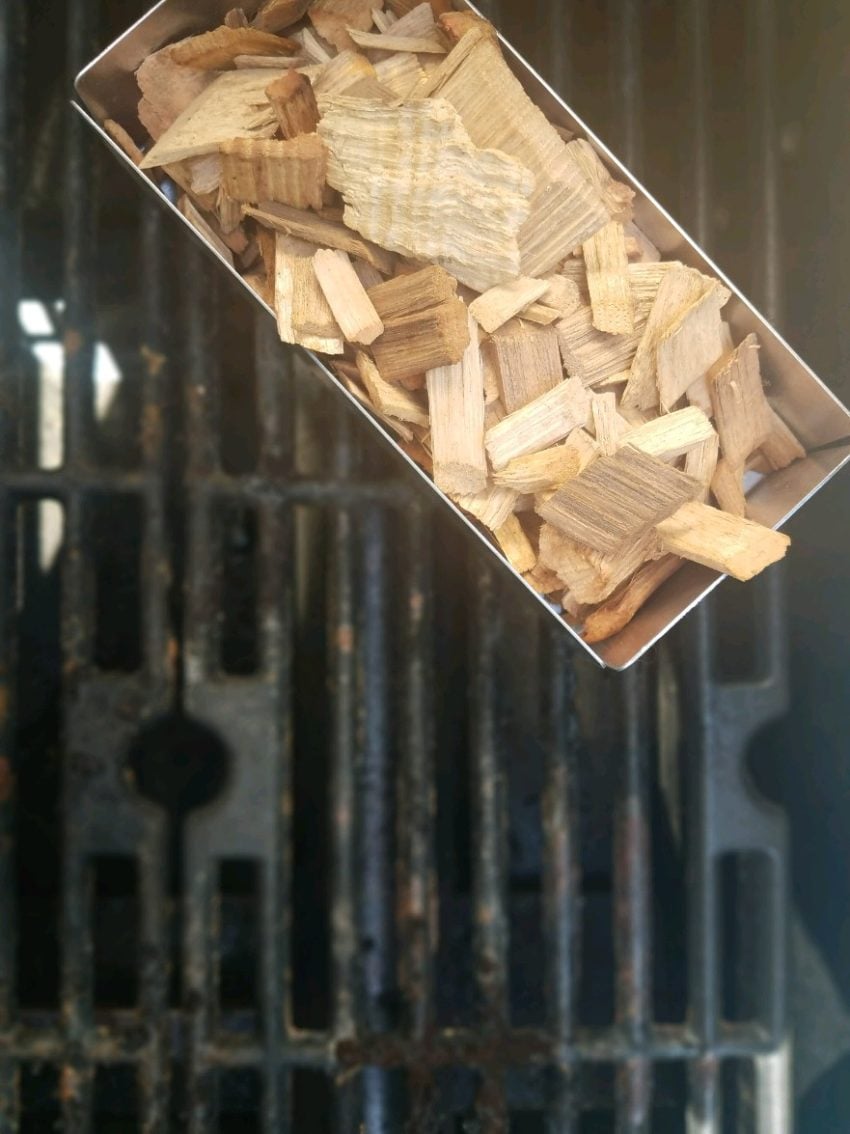 GirlCarnivore Pro tip: Whether you are using coals on a classic kettle grill or cooking over gas, add some smoky flavor to the beef by using Western wood chips. I love tossing chips right over my coals for quick things like kabobs, or using a smoker box on a gas grill for that added layer of flavor.

It's subtle, but good smoke flavor should be, and adds the perfect layer to these kabobs. For this recipe I love the mesquite chips. It doesn't over power the beef, but adds a rustic flavor that makes me feel like this quick recipes was slow roasted for hours.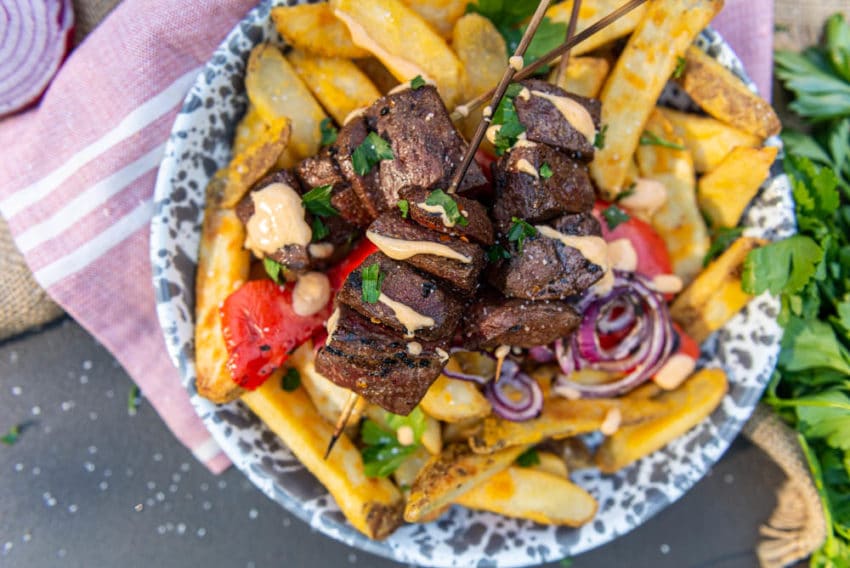 Want more crazy good – but totally easy – grilling inspiration? Try some of my favorite recipes
If you've tried my Peruvian Grilled Beef Heart Kabobs Recipe or any other recipe on GirlCarnivore.com please don't forget to rate the recipe and let me know where you found it in the comments below. I get inspired by your feedback and comments! You can also FOLLOW ME on Instagram @girlcarnivore as well as on Twitter and Facebook.
Peruvian Grilled Beef Heart Kabobs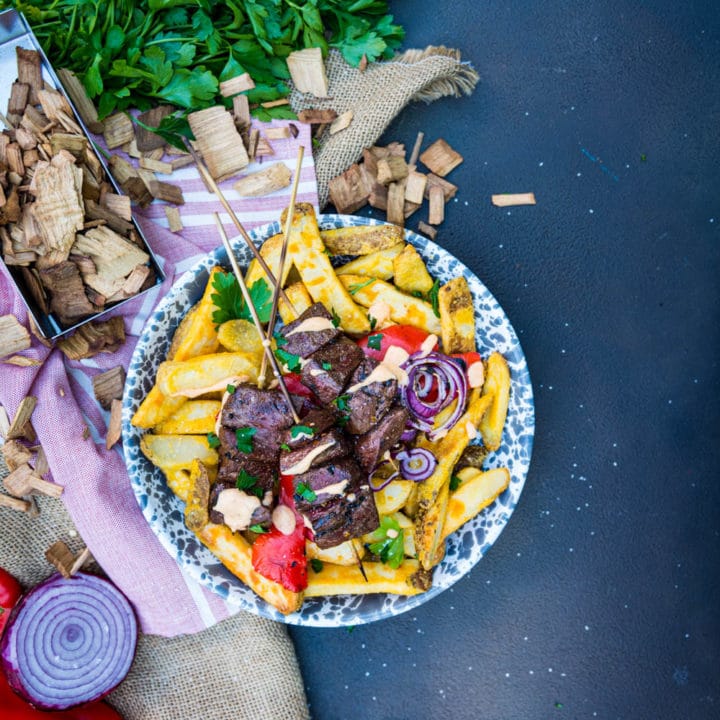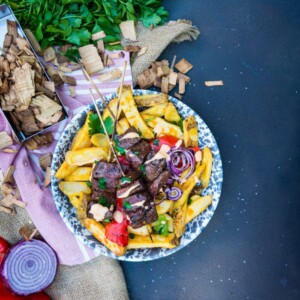 Inspired by Peruvian anticuchos, these beef heart kabobs are marinated in a spicy sauce before being char grilled for perfection. Serve with thick cut steak fries and a quick yellow pepper sauce for bonus flavor.
Ingredients
For the marinade:
2

Garlic cloves

minced

1

tsp

Cumin

½

tsp

Chili powder

½

tsp

Red pepper flakes

¼

tsp

Achiote powder

¼

cup

Oil

1

tbsp

Soy sauce

1

tbsp

Red wine vinegar

Lime juice from one lime
For the kabobs:
1 3

lbs

beef heart

cut into 1" cubes

Red Onion

sliced

Red Pepper

seeded, stemmed and sliced
For the quick yellow pepper sauce:
2

tbsp

Aji amaillo (yellow pepper) paste

2

scallions

1

Garlic clove

½

tsp

Salt

½

cup

Mayo or Sour Cream

Cilantro to garnish
Instructions
For the marinade:
Whisk all of the marinade together in a large bowl. Pour over the beef in a resealable container and allow to sit for 4 to 8 hours.
To grill the kabobs:
Preheat the grill for indirect heat. Add wood chips to your grill 7 to 10 minutes before ready to grill to allow the smoke to form.

Remove the beef from marinade and place on skewers.

Grill the beef over indirect heat, rotating as needed, to a temp of 145 degrees F.

Grill the onions and peppers, until softened along side the beef. Alternatively, grill the pepper and onion on the skewers with the beef.
For the quick yellow pepper sauce:
Combine all ingredients in a blender and pulse until smooth. Traditional recipes call for queso fresco. Feel free to mix that in instead of the mayo if you have it on hand.

Garnish with freshly snipped cilantro and serve.
Nutrition
Serving:
1
g
|
Calories:
373
kcal
|
Carbohydrates:
2
g
|
Protein:
36
g
|
Fat:
24
g
|
Saturated Fat:
5
g
|
Polyunsaturated Fat:
8
g
|
Monounsaturated Fat:
8
g
|
Trans Fat:
1
g
|
Cholesterol:
255
mg
|
Sodium:
390
mg
|
Potassium:
613
mg
|
Fiber:
1
g
|
Sugar:
1
g
|
Vitamin A:
47
IU
|
Vitamin C:
5
mg
|
Calcium:
21
mg
|
Iron:
9
mg