The round roast is an iconic supper roast with an affordable price tag and a very lean cut. It has roots in oven cooking, but by giving it a thick garlic and herb crust and grilling it over charcoal with a hint of smoke the flavors become deep and rich with sublime slices of medium-rare beef made for slicing, sandwiches, wraps, and more.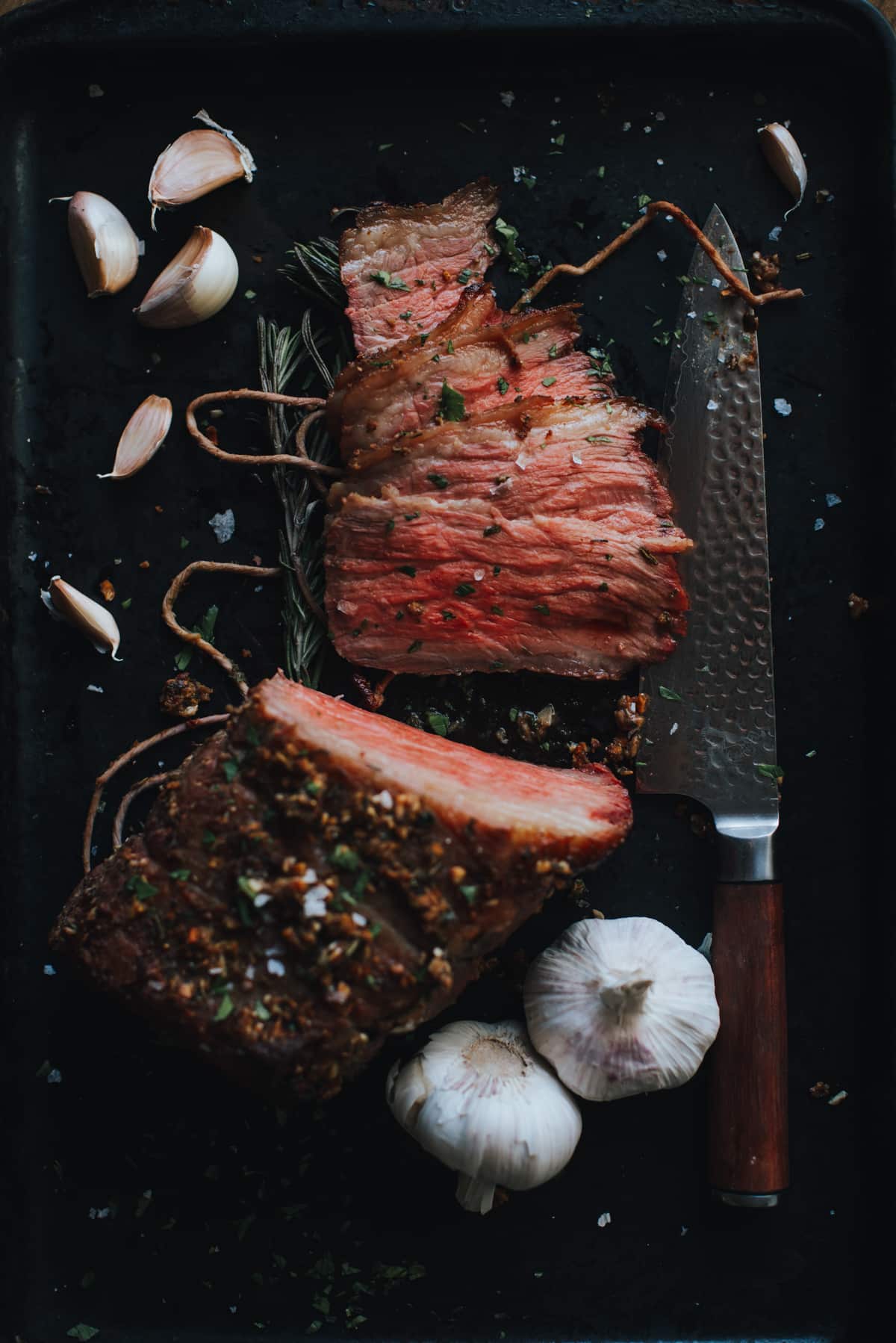 When I think of roast beef, I immediately think of Sunday supper and thick gravy. Mashed potatoes and carrots. It wasn't until much later, when I mastered the eye of round roast, that I started playing with these big inexpensive cuts again.
And it turns out, I don't know what took me so long.
The round roast holds a ton of rich flavor at a less expensive price point than the eye of round or its big brother, the prime rib, and comes in a manageable weight for dinner and then a few creative meals inspired by leftovers, averaging 2.5 to 4 pounds.
With minimal marbling, it's an incredibly lean cut, so cooking it without drying it out or causing it to become tough requires a bit of T.L.C. Or in this case, a moderately temped grill, some savvy tech, and patience.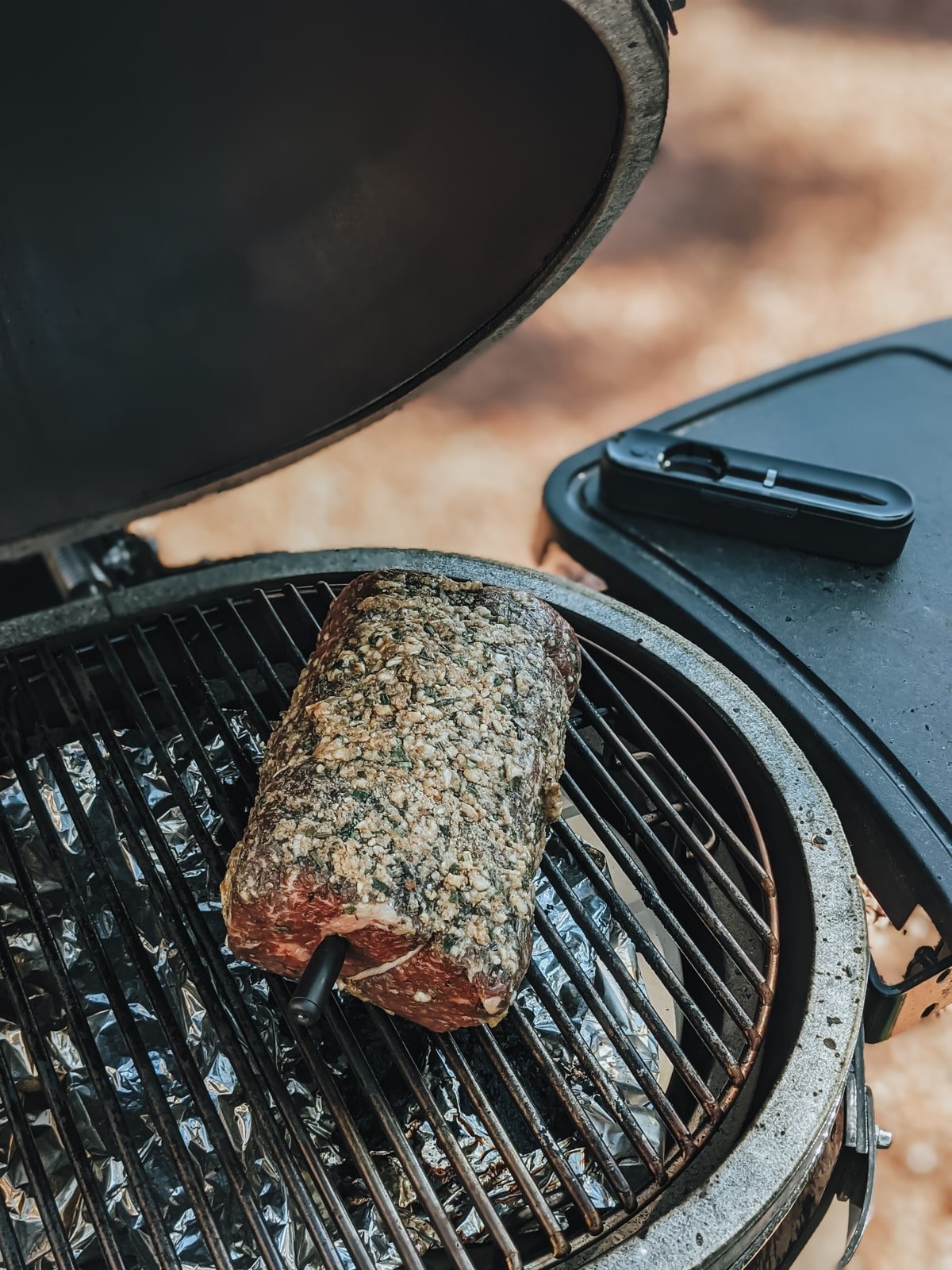 But, can you cook roast beef on a grill?
Grilling isn't too different than turning the oven on and letting things get preheated. In this case, the goal was to barbecue a roast with charcoal. Which meant creating a charcoal heat source that was able to remain stable for the duration of the cook and grilling with the lid closed to create a convection heat for even cooking.
It turns out, once the temp was holding, you can grill a roast and the flavors of charcoal and smoke from wood add a whole new layer to the classic meat. Warning, you may never go back to oven roasting.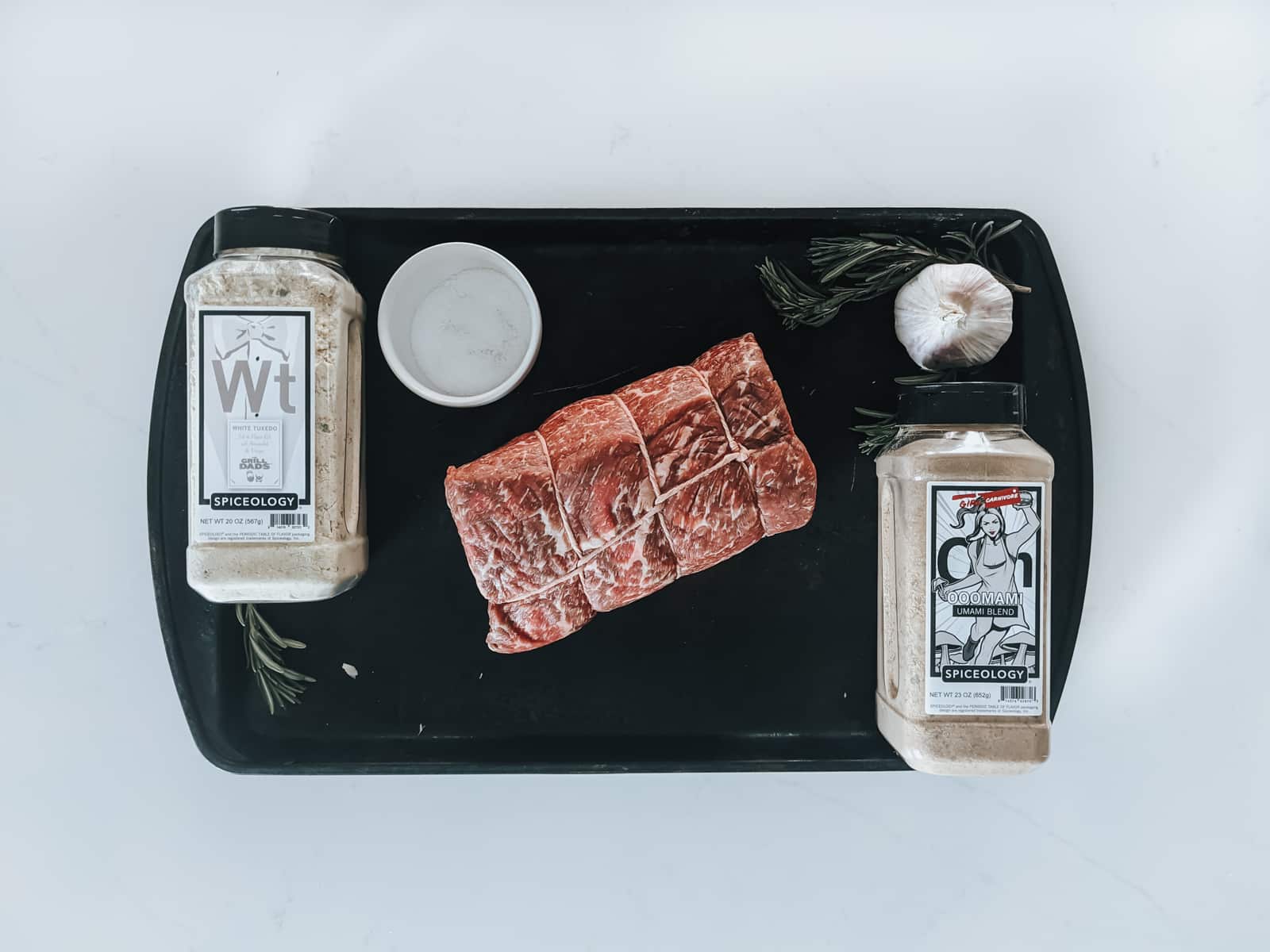 What you need
For the recipe, all you need is a 3-pound round roast, trimmed of any excess fat and some garlic, rosemary, oil, Ooomami, and White Tux Spice blends.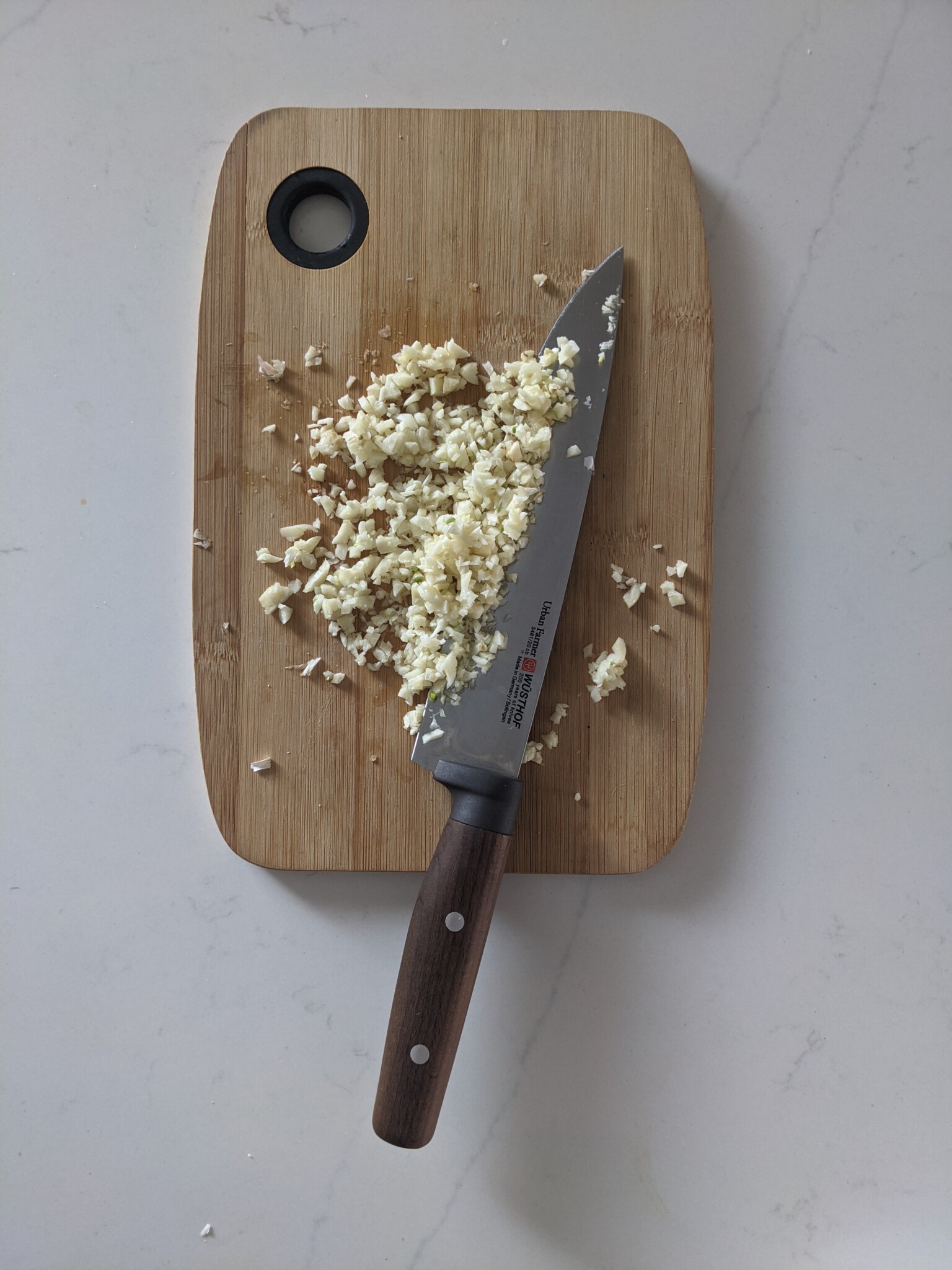 However, for true success, this recipe needs a thermometer. The internal temp of the beef, not going above medium rare (or your desired temperature) is the key to keep the meat juicy and not over-cooking it.
GirlCarnivore Pro Tip:
Don't have a round roast? Other beef roasts work perfectly for this recipe – just make sure they have (or truss to maintain shape) an equal width from end to end for even cooking.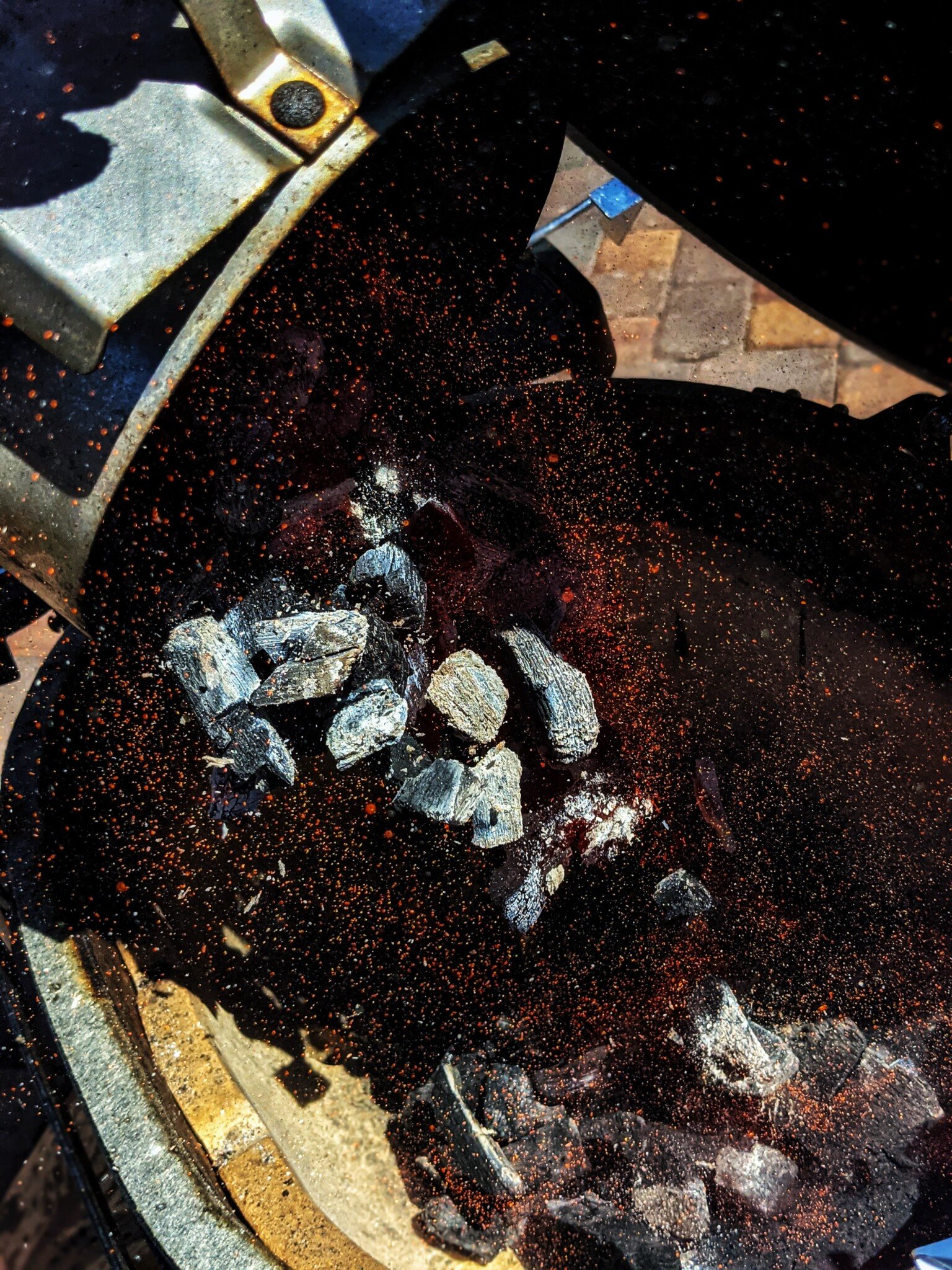 How to Grill Roast Beef
Start with an indirect fuel source. For this cook, I create offset heat by arranging the coals to one side of the grill. I used the Primo grill and added the deflector plates as well. After letting the grill come to a stable temperature, for 30 minutes, I added woodchips and put the meat in, closing the lid and walking away.
How long the roast will take on the grill depends on the size of your roast and the heat of the grill. Like all things, the bigger the weight, the longer the cooking time. However, this is when the handy internal thermometer is the most valuable tool you can own.
For a 3 pound roast, with a grill around 350 to 400 degrees, it takes about 1 hour to grill to an internal temperature of 125 degrees, with a 20-minute rest before slicing.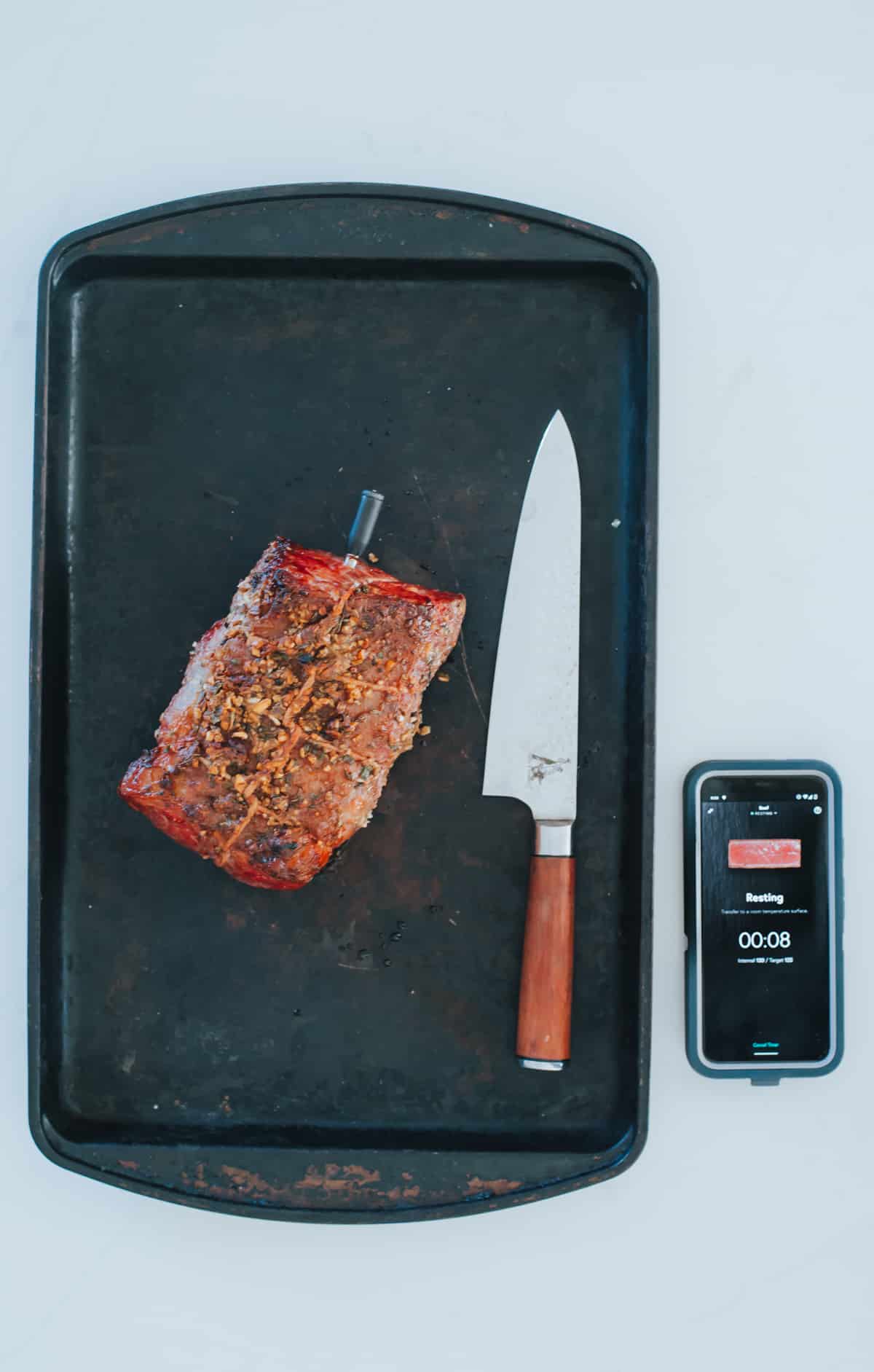 What to do with leftovers
After the meat has cooked and rested, serve it as a main course, in thick slices. If you have leftovers, wrap the beef in a thick layer of foil and store it in the fridge for up to 3 days. Once it's chilled, shave it thin for sandwiches, wraps, pho, and really, in anything you want some beef layered on.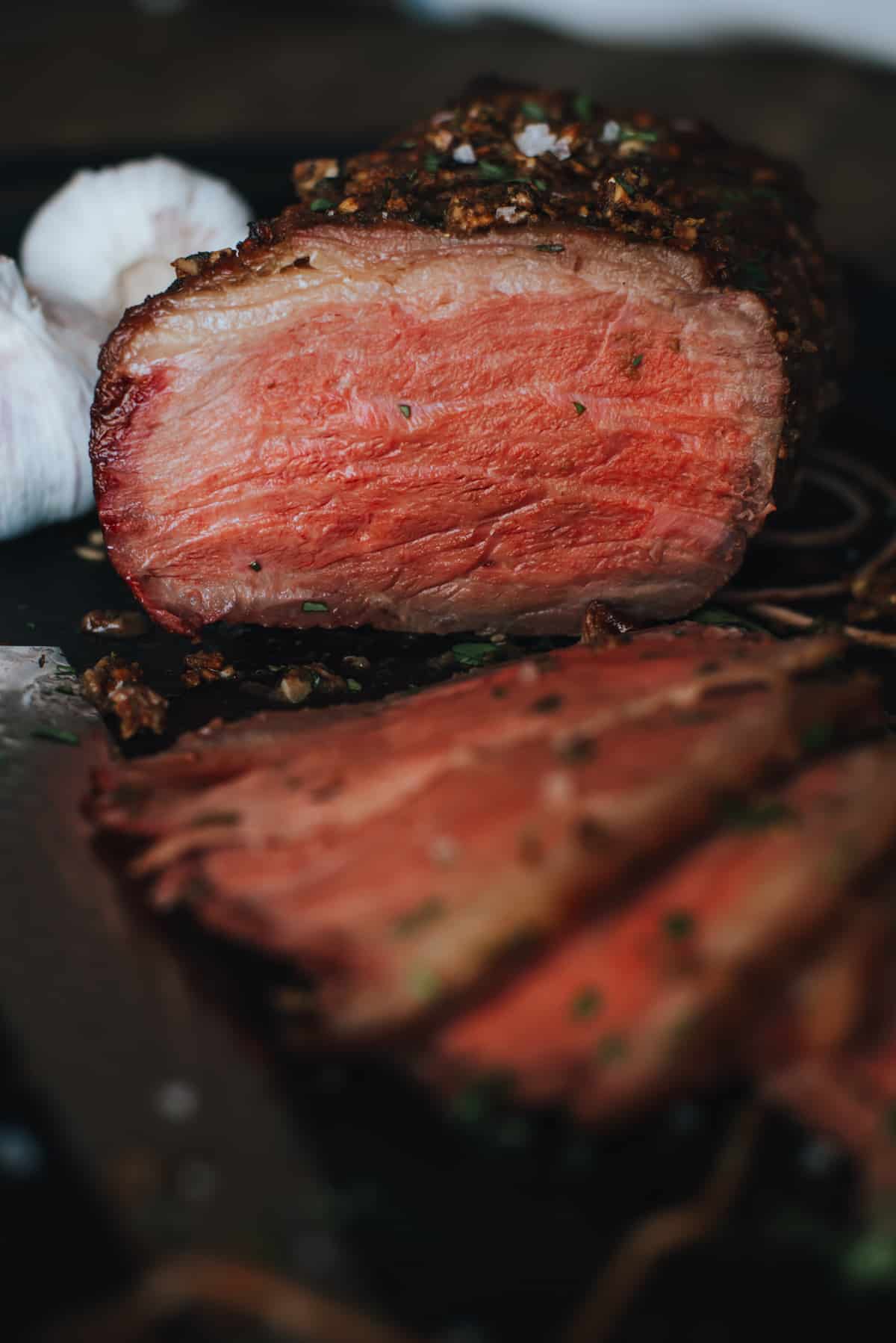 What to serve with grilled roast beef
If serving as a main dish, try these smoked brussels sprouts, or mac and cheese to pair with it. Charred carrots or asparagus would also go great as a pair and domino potatoes would help make a perfect meal out of it all.
If you've tried my Smoked Maple Pork Tenderloin with Cayenne Recipe or any other recipe on GirlCarnivore.com please don't forget to rate the recipe and let me know where you found it in the comments below. I get inspired by your feedback and comments! You can also FOLLOW ME on Instagram @girlcarnivore as well as on Twitter and Facebook.
Char-Grilled Roast Beef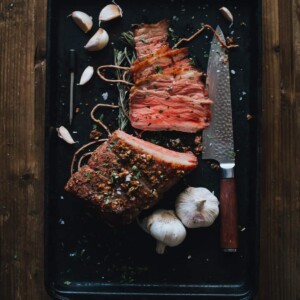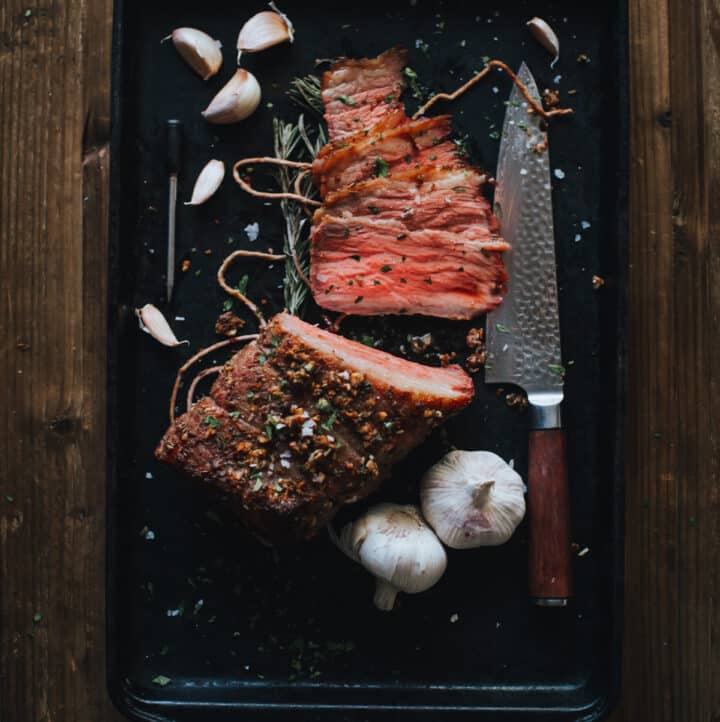 Want to master grilled roast beef – with tender juicy slices? This is my favorite method for grilled beef over charocal – with just a hint of smoke and a thick herb and umami crust. Perfect every time!
Ingredients
For the Roast
3

lbs

Round Roast

1

tbsp

olive oil
Instructions
Prep and Marinate
Combine the minced garlic, minced rosemary, Ooomami, horseradish spice blend and salt in a bowl.

Mash the ingrediants with the tines of a fork until almost a paste.

Pat the beef dry with a paper towel and place on a clean work surface.

Rub the beef all over with the oil.

Coat the beef with the garlic blend on all sides.

Wrap the roast in plastic wrap and place in fridge overnight.
Prep Grill
When ready to grill, allow the beef to sit out for 1 hour.

If you are using a grill-safe thermomteter insert it now.

Using a chimney starter or other desired method, allow charcoal to become ashen before pouring it to one side of the grill to create an eoffset heat source.

Place your diffuser plate, if your grill has one, and grilling grate on the grill and oil grate for smoking.

Add hickory chunks or chips to the grill and allow to smoke.
Grill
Place the roast over the cooler side of the grill and close the lid.

Grill for 1 hour to 1 1/2 hours, or until the beef reaches an internal temperature of 125 degrees F, rotating once 180 degrees, halfway through cooking.
Rest
Remove the roast from the grill and a cover with foil.

Allow to rest for 20 minutes.
Serve
When ready to serve, slice into even portions for as many servings as needed. Do not slice additional portions ahead of time.

Sprinkle with a little salt and serve hot.
Notes
This roast was prepared with Cowboy lump charcoal and Western Wood hickory woodchips in a Primo kamado style grill. However, this method works on all types of grills.
For a gas grill, preheat the grill, and when ready to cook, reduce or turn off the heat completely on one side of the grill. Place the roast on the cooler side to cook. Use a smoker box or foil packet for the woodchips.
For a classic charcoal grill, create a 2-zone fire by arranging the coals in a pile on one side of the grill.
For pellet or other offset heat sources, you already have indirect heat, so be sure to place the beef on the cooler side and add wood chunks or chips as needed.
Store leftovers in the fridge for up to 3 days. Reheating only desired portions as needed.
Nutrition
Serving:
1
g
|
Calories:
263
kcal
|
Carbohydrates:
2
g
|
Protein:
38
g
|
Fat:
10
g
|
Saturated Fat:
3
g
|
Cholesterol:
105
mg
|
Sodium:
97
mg
|
Potassium:
602
mg
|
Fiber:
1
g
|
Sugar:
1
g
|
Vitamin A:
19
IU
|
Vitamin C:
1
mg
|
Calcium:
48
mg
|
Iron:
4
mg