Tri-tip is one of those cuts that when cooked well is mouth-wateringly delicious. Perfect shaved thin for sandwiches, nachos, and of course, tacos. This grilled tri tip is rubbed with a blend of umami and beer blends and then char grilled to perfection. Excellent for the weekly meal prep and bold beefy flavor.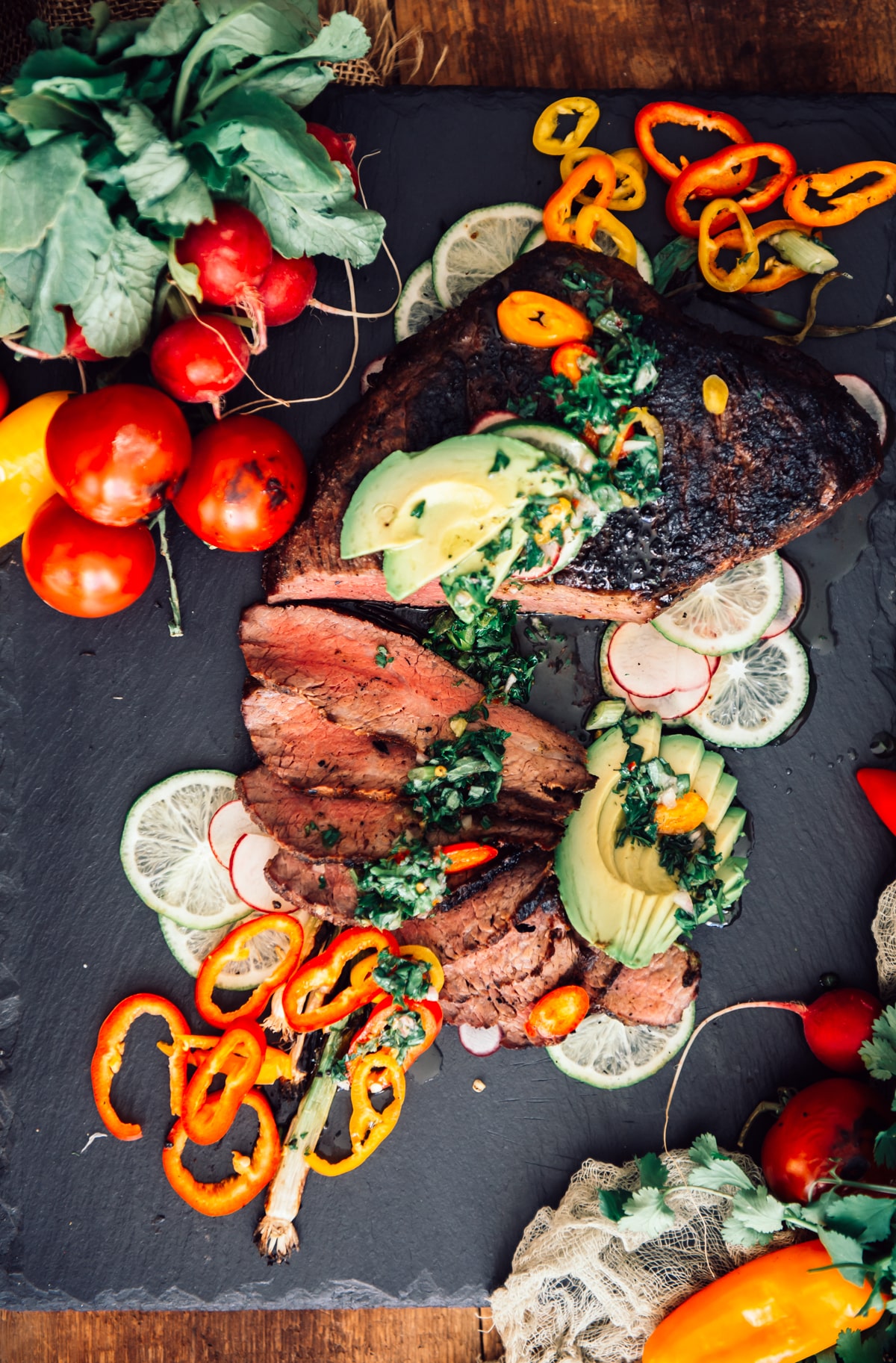 Being from the east coast, tri-tip was a mythical cut from the West where cowboys still roamed vast and open lands. Well, at least when I was a kid that was true. Now, it's a common cut in most markets, but personally, I feel like the West won the battle when it comes to mastering this cut (they had some time to perfect it).
Tri-tip is most commonly associated with Santa Maria-style grilling, which is a west coast thing from way back in the actual Cowboy and ranching days. Now, the grill associated with Santa Maria grilling is a charcoal-based grill with a grate that you can raise and lower to control heat.
The same control can be mastered on any grill, but it made a name for itself along with this signature cut of beef that stuck.
However, lacking aforementioned grill, I wanted to infuse what I associate with California flavors and see if I couldn't nail a fresh flavor twist on the iconic cut.
Turns out, a good bed of coals and some great spices is all you really need (not that I wouldn't have played with the grill had I the chance).
You only need 3 ingredients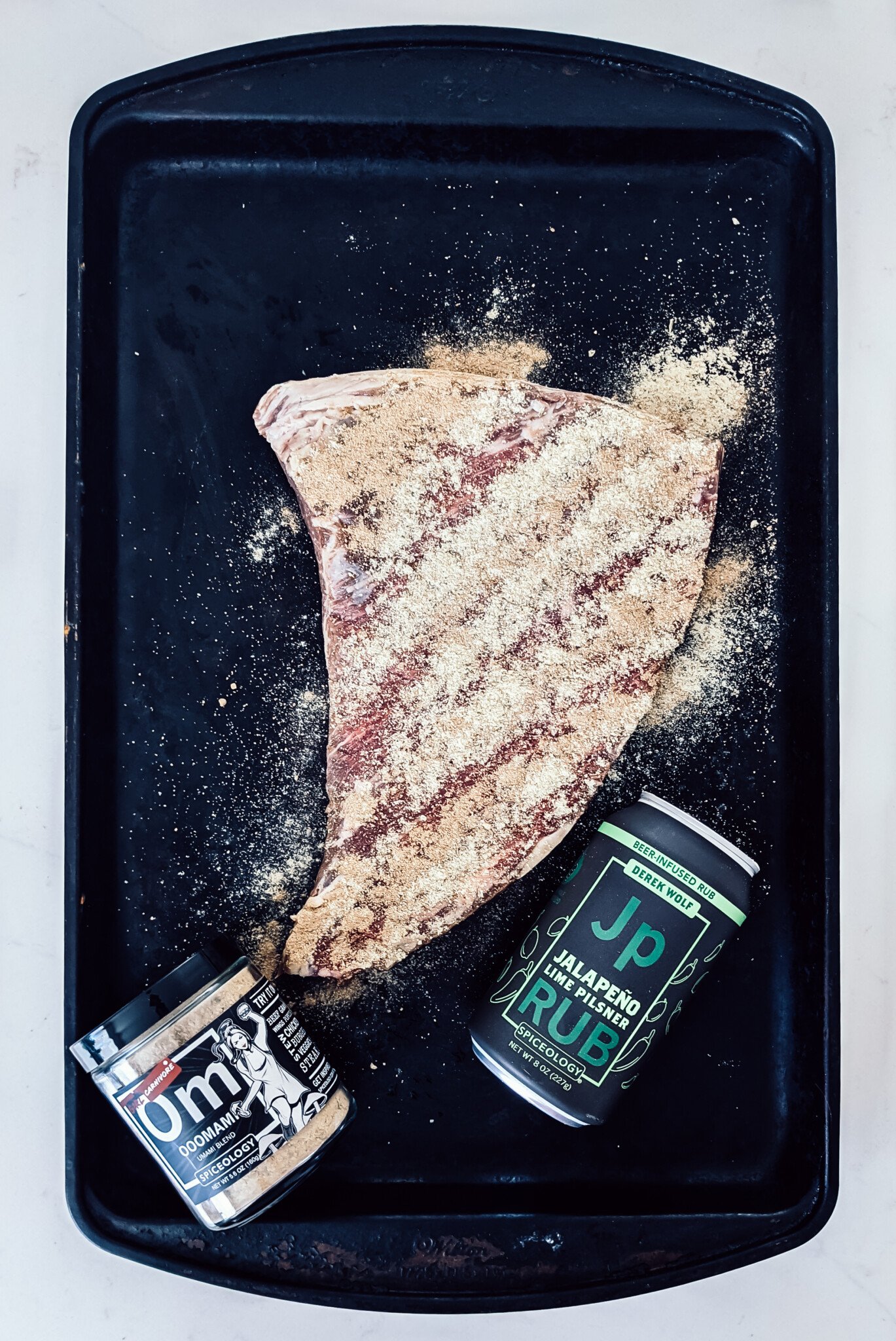 Start with top-quality tri-tip, being sure to trim it as needed to remove any unnecessary fat or silver skin from the surface. Then gather your spices, for this one, I used a base of my Ooomami with the pop of OvertheFireCookings Jalapeno Lime Pilsner for my blend. That was it.
And dang, it was good.
How to grill a perfect tri-tip
For this tri-tip recipe, the beef is coated in a dry rub and allowed to marinate before going over low heat and cooking for 45 minutes or so.
Because of the connective tissue in tri-tip, a low and slow cook helps the overall tenderness, with a quick finish on the sear.
Setting up your grill for a 2-zone fire is the key to success here. For a Santa Maria-style grill, you can raise and lower the height, increasing or decreasing heat. WIth indirect heat, aka, a 2-zone fire, you are able to manipulate the heat in a similar fashion, moving the steak from hot to cool zones.
Like all cuts of steak you end up slicing thin, you can cook to 130 – 135 for doneness, but the longer you can milk that cook time getting there, by keeping it on the cooler side, to an internal temperature of around 140, the more time the beef has to become tender and absorb the signature grilling flavor.
Alternatively, the rotisserie is also a great method for grilling tri-tip and getting that outside crust perfect!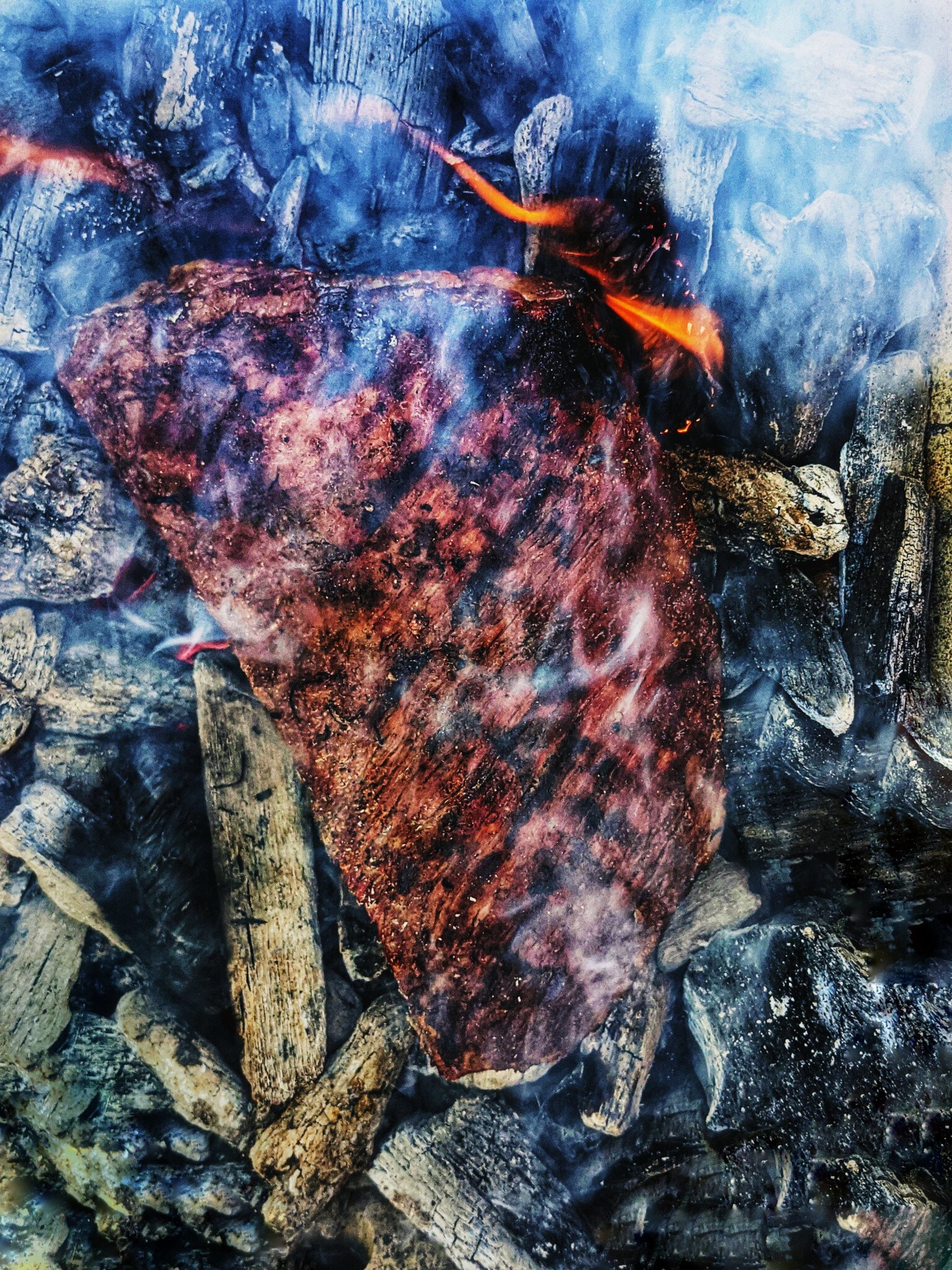 Grill your tri-tip like a pro with these tips and tricks
Due to the muscles that make a tri-tip, well, a tri (triangular) tip (point), the grain actually runs in 2 different directions. So when you slice "against the grain" you actually have to rotate the steak, about halfway through cutting to be sure to follow the grain and continue slicing.
Girl Carnivore Pro Tip: Tri-tip has a thicker and thinner point, so one will cook faster than the other. When you temp the beef, make sure to temp at the thickest part and time your cook to that. The thinner point will be more done but sliced thin and on a biased, it is still incredibly delicious.
Remember, slicing against the grain in thin strips is what creates tender bites. You can actually cause a perfectly cooked steak to become tough by not slicing it properly. "Against the grain" and on a bias minimizes the long muscle fibers, making the beef easier to chew.
Meat myth debunked. Does cutting against the grain keep the steak juicy? No, but allowing a steak to rest properly does. Give a your tri-tip a good 15 minutes of resting time before you even think about slicing into it.
Nailing the rest and slice is what separates a good griller from a master chef! (I just made that up, but I dare you do go up against your buddy who doesn't wait with this knowledge and not use it to flaunt your skills a little bit).
I served this steak with a batch of quick homemade chimichurri, one of my master sauces, knowing it's quick to drizzle on as the steak is sliced over the weeks (or seriously, try it on eggs in the morning. Thank me later).
Want more recipe inspiration? Try some of my favorite recipes
If you've tried this easy grilled tri-tip recipe or any other recipe on GirlCarnivore.com please don't forget to rate the recipe and let me know where you found it in the comments below. I get inspired by your feedback and comments!
FOLLOW Along on Instagram @girlcarnivore as well as on Twitter and Facebook.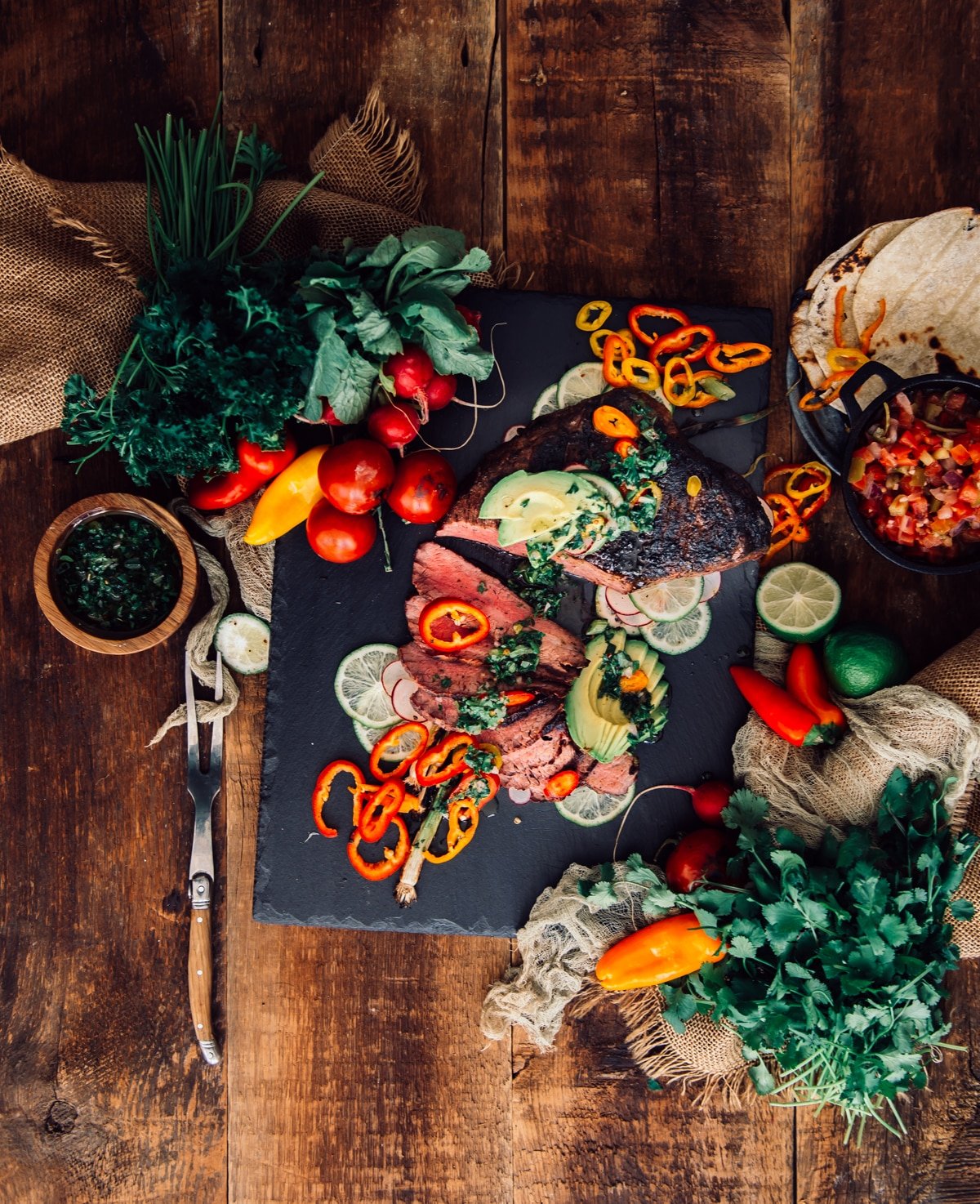 Easy Charcoal Grilled Tri-Tip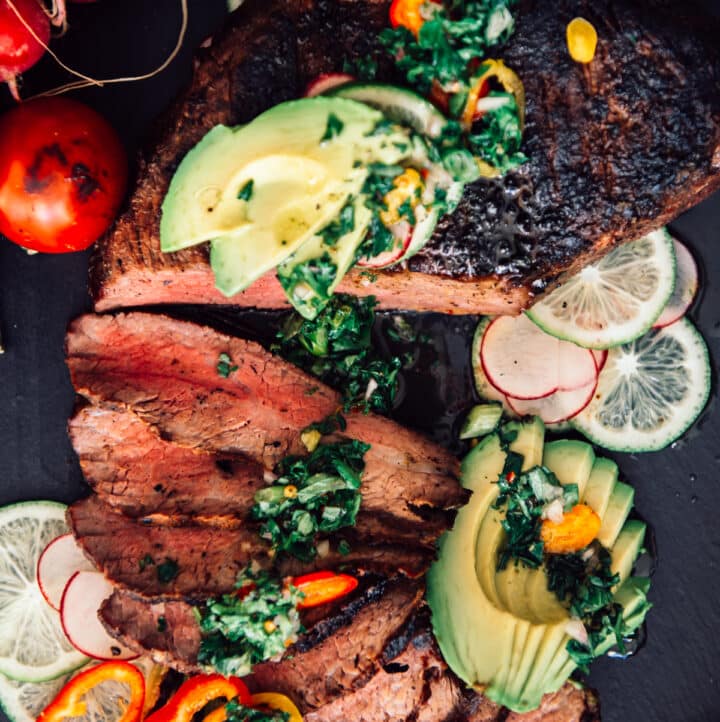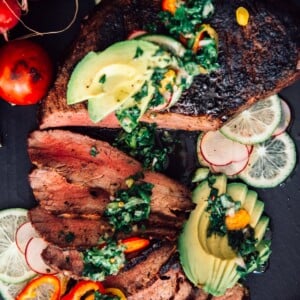 This charcoal grilled tri-tip is about as easy as it gets when it comes to cuts that feed a lot of people. Make this for a big party, serving as sandwiches, tacos or nachos or make for meal planning to have esy beef slices to grab all week long. With a simple spice rub and easy grill, it's the perfect way to master your tri-tip steak game.
Instructions
Clean the Tri-Tip
Remove the beef from the package and pat dry.

Trim the steak of any excess fat or siver skin.
Season
Liberally season the steak with the umami powder and then coat in the jalapeno pilsner rub, being sure to cover all sides.

Allow the steak to come to room temperture for 20 minutes with the rub on it, or place in fridge for up to 6 hours until ready to grill.
Grill
Preheat your grill for indirect heat by building a 2-zone fire with the charocal stacked to one side.

For added flavor add oak wood chunks.

When the grill is holding steady at around 250 degrees, place the steak on the cooler side of the grill.

Allow the steak to cook low and slow for about 45 minutes until it temps at 125 to 130 degrees.
Sear
Finish the steak by searing it over high heat, open up your air intake and allow the grill to get hot.

Place the steak on the hot side of the grill or directly on the hot coals, getting a good crust on the outside.
Rest
Allow the beef to rest for 15 to 20 minutes, to an internal temp of 135 to 140, befor slicing into thin strips against the grain.

*See my notes above on how to slice a tri-tip
Notes
Serve this with fresh chimichurri, taco shells, and sliced fruits and veggies for everyone to build their own taco bar. 
Both spice blends can be found on Spiceology.com. However, you can substitute other umami powders, beef blends, and steak seasonings for this recipe. Use your favorites and experiment. The blend here is pretty outstanding, and I highly recommend it. 
Store leftovers wrapped in foil in the fridge for up to 1 week, slicing as needed.  
Nutrition
Serving:
1
g
|
Calories:
186
kcal
|
Carbohydrates:
2
g
|
Protein:
24
g
|
Fat:
9
g
|
Saturated Fat:
3
g
|
Polyunsaturated Fat:
1
g
|
Monounsaturated Fat:
4
g
|
Cholesterol:
74
mg
|
Sodium:
61
mg
|
Potassium:
380
mg
|
Fiber:
1
g
|
Sugar:
1
g
|
Vitamin A:
6
IU
|
Vitamin C:
1
mg
|
Calcium:
44
mg
|
Iron:
2
mg