Grilled tri-tip is one of those cuts that, when cooked well, is mouth-wateringly delicious. Perfect shaved thin for sandwiches, nachos, and of course, tacos. This grilled tri-tip is rubbed with a blend of umami and beer blends and then char-grilled to perfection. Excellent for the weekly meal prep and bold, beefy flavor.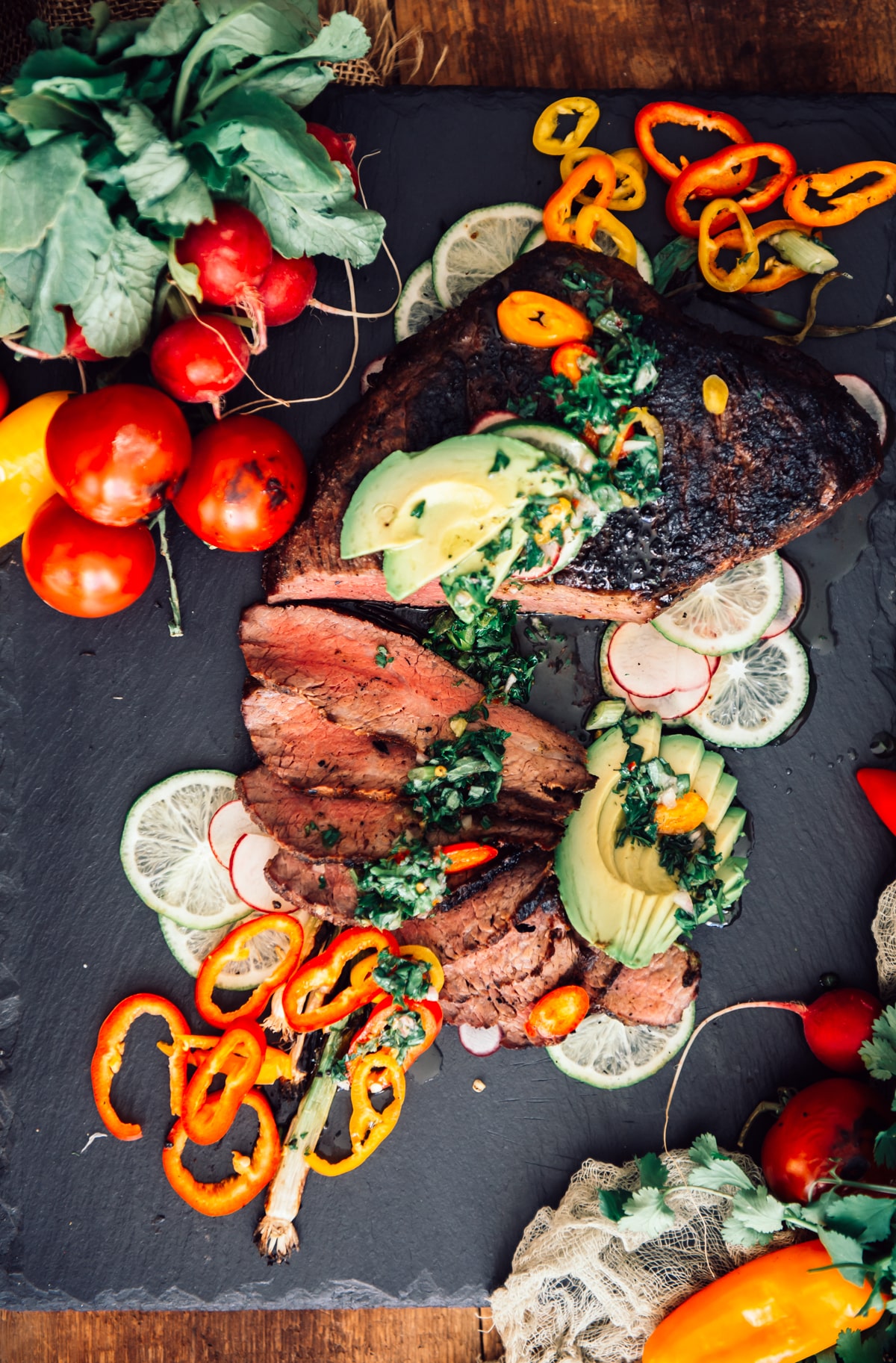 Why Tri-Tip?
Being from the east coast, tri-tip was a mythical cut from the West, where cowboys still roamed vast and open lands. Well, at least when I was a kid, that was true. Now, it's a common cut in most markets, but personally, I feel like the West won the battle when it comes to mastering this cut (they had some time to perfect it).
The tri-tip cut is most commonly associated with Santa Maria-style grilling, which is a west coast thing from way back in the actual Cowboy and ranching days. The grill associated with Santa Maria grilling is a charcoal-based grill with a grate that you can raise and lower to control heat over smoldering embers of red oak wood, making it perfect for this lean cut of meat. And a heck of a fun way to cook over live fire.
Tri-tip roast is from the bottom sirloin and a lean and tender cut of beef that's rich in meaty flavor while staying low in fat. It's a relatively inexpensive triangular cut of beef that slices so nicely when you pay attention to the grain of the meat and works beautifully as a topping on sandwiches, salads, tacos, fajitas, and more. We even love tri-tip steaks, aka Newport Steaks, for individual quick servings of this cut.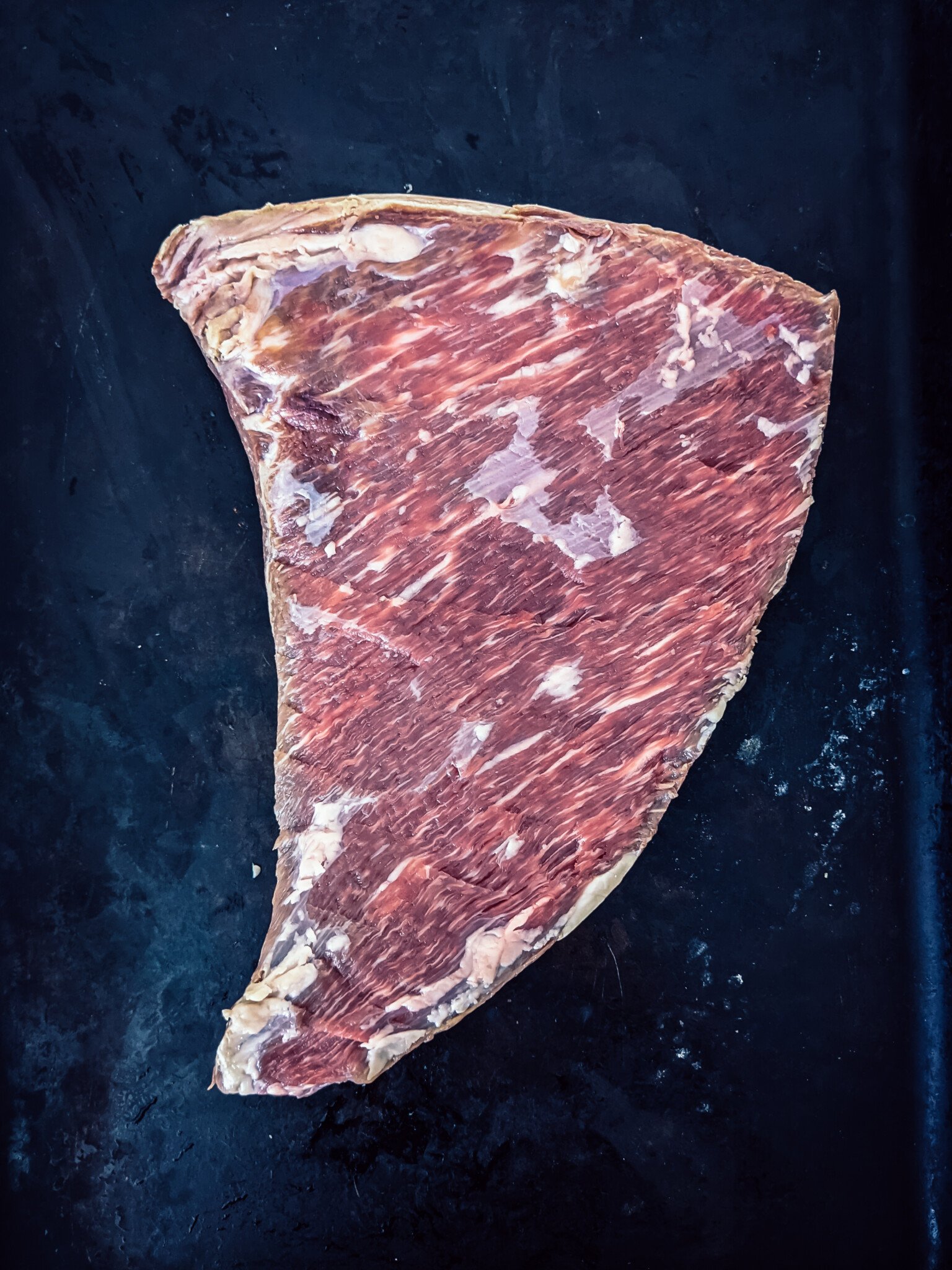 Why You'll Love This Recipe
Altho this beef roast can be a little intimidating at first, once you master this recipe, you'll love this iconic California cut for a variety of reasons. This super simple grilling method is the perfect way to make a big roast to feed the whole family and still have some for leftovers. The deliciously tender thin slices of juicy steak are so versatile–you'll have a variety of meals to throw together all week.
Plus, the acidic, umami, slightly spicy seasoning blend forms a crunchy crust that you'll dream about. If you're looking for a relatively healthy and inexpensive but still flavor-packed steak, this grilled tri-tip is for calling your name.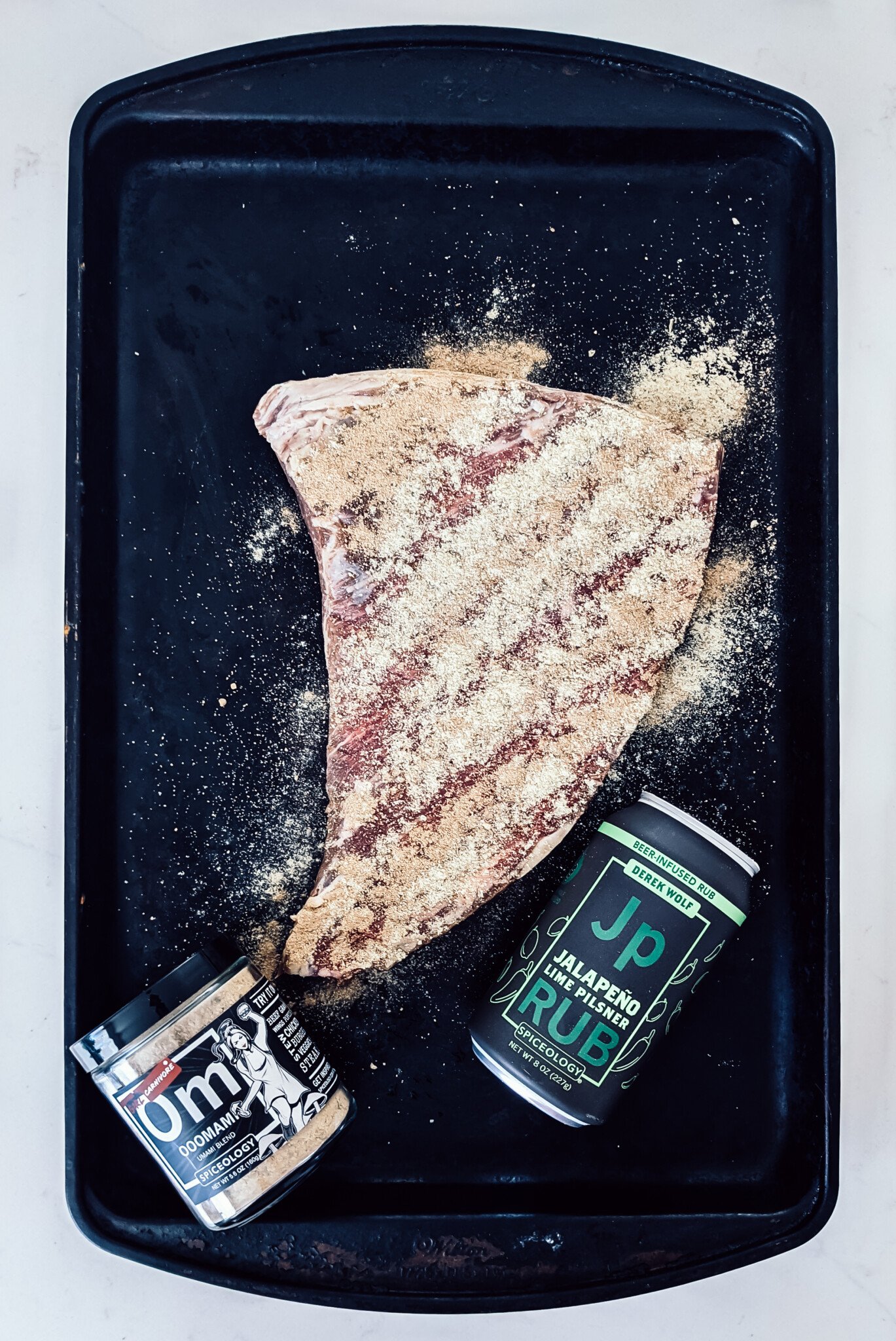 How to Make Grilled Tri-Tip
Start by removing your beef from the package and patting it dry with paper towels. Trim any excess fat or silver skin with a sharp knife (this filet knife is our favorite for carefully trimming meat). Season the meat generously, first with the Ooomami seasoning and then with the jalapeño lime pilsner rub, coating all sides evenly. Allow the steak with seasoning rub to reach room temperature (or store it in the refrigerator for up to six hours until you're ready to grill it).
Next, you'll want to preheat the charcoal grill for indirect heat. You can do this by building a two-zone fire with all the charcoal stacked on one side. Optionally, for added flavor, you can add oak wood chunks to the charcoals. Once the grill reaches a steady 250 degrees, place the tri-tip steak on the cooler side of the grill grates. Allow the meat to cook for about 30-45 minutes or until its internal temperature reaches 125 to 130 degrees F with a meat thermometer inserted into the thickest part of the meat (remember, low and slow).
Finally, sear the steak over high heat to finish it. Open up the air intake, allowing the grill to get hot, and place the tri-tip on the hotter side (or directly on the hot coals and wood chunks). Allow it to get a nice crust of seasoning on the outside.
Let your beef rest with a dollop of homemade compound butter on a clean cutting board after searing for 15 to 20 minutes. Then, slice it against the grain into thin strips. (See Expert Recipe Tips–since the grain on this cut runs in different directions, you'll have to rotate the meat while slicing it.)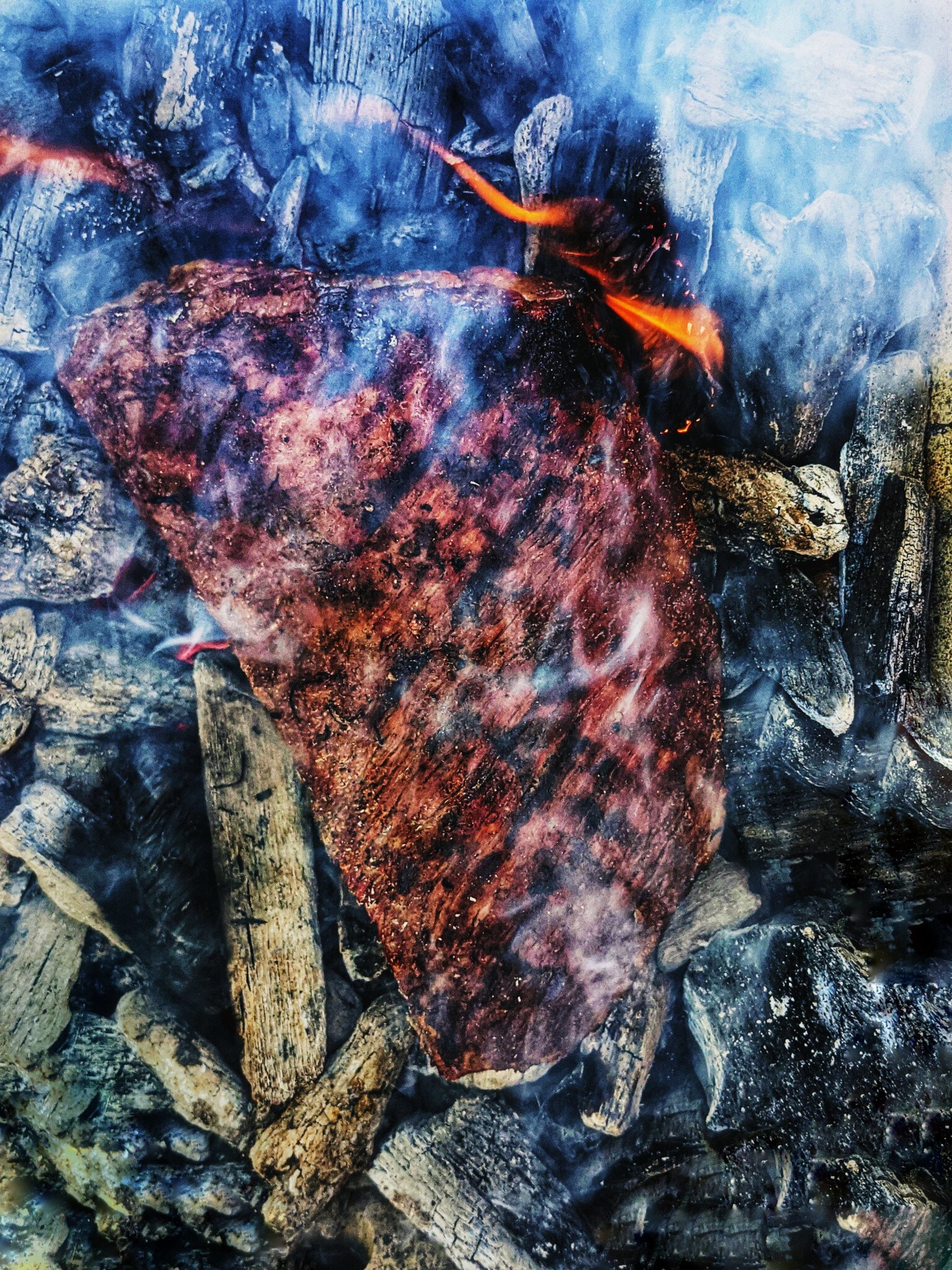 Perfectly Grilling Your Tri-Tip
For this tri-tip recipe, the beef is coated in a dry rub and allowed to sit before going over low heat and cooking for 45 minutes or so. Because of the connective tissue in the tri-tip, a low and slow cook helps the overall tenderness, with a quick finish on the sear.
Setting up your grill for a 2-zone fire to grill the tri-tip is the key to success here. You can raise and lower the height for a Santa Maria-style grill, increasing or decreasing heat. With the indirect heat, aka a 2-zone fire, you can similarly manipulate the heat, moving the steak from hot to cool zones.
Like all cuts of steak you end up slicing thin, you can cook to 130 – 135F for doneness, but the longer you can milk the cooking time getting there by keeping it on the cooler side, to an internal temperature of around 140F with an instant-read thermometer, the more time the beef has to become tender and absorb the signature grilling flavor.
Alternatively, the rotisserie is also a great method for grilling tri-tip and getting that outside crust perfect!
GIRLCARNIVORE RECIPE TIPS:
Due to the muscles that make a tri-tip, well, a tri (triangular) tip (point), there are two different grain directions. So when you slice "against the grain," you actually have to rotate the steak about halfway through cutting to be sure to follow the grain and continue slicing.
Tri-tip has a thicker and thinner point, so one will cook faster than the other. When you temp the beef, make sure to temp at the thickest part and time your cook to that. The thinner point will be more done but sliced thin and on a bias, it is still incredibly delicious.
Remember, slicing against the grain in thin strips is what creates tender bites. You can actually cause a perfectly cooked steak to become tough by not slicing it properly. "Against the grain" and on a bias minimizes the long muscle fibers, making the beef easier to chew.
Meat myth debunked. Does cutting against the grain keep the steak juicy? No, but allowing a steak to rest properly does. Give a your tri-tip a good 15 minutes of resting time before you even think about slicing into it.
Nailing the rest and slicing is what separates a good griller from a master chef! (I just made that up, but I dare you do go up against your buddy who doesn't wait with this knowledge and not use it to flaunt your skills a little bit).
I served this steak with a batch of quick homemade chimichurri sauce, one of my master sauces, knowing it's quick to drizzle on as the steak is sliced over the weeks (or seriously, try it on eggs in the morning. Thank me later).
How to Store Leftovers & Reheating
Store any leftover tri-tip wrapped in aluminum foil or in an airtight container in your fridge–they should keep for about a week. Grilled steak can also be frozen for up to six months, but keep in mind that the freezer may dry it out.
The best way to reheat a grilled steak while maintaining its texture and flavor is to stick it in n a low-temperature oven (preheat to about 275 degrees F) for around 30 minutes.
What to Serve with Grilled Tri-Tip
My favorite way to serve this tri-tip steak is on a build-your-own taco bar alongside chimichurri and sliced fruits and veggies. You can also serve it in a sandwich, atop a salad, as fajitas, or with classic sides like rajas con crema, smoked brussels sprouts, beef tallow fries, or smoked baked potatoes.
SAUCES FOR TRI-TIP AND GRILLED MEATS
Grilled tri-tip loves a good sauce, and these are our favorites that compliment this juicy grilled beef.
Sauces, Mops, & Condiments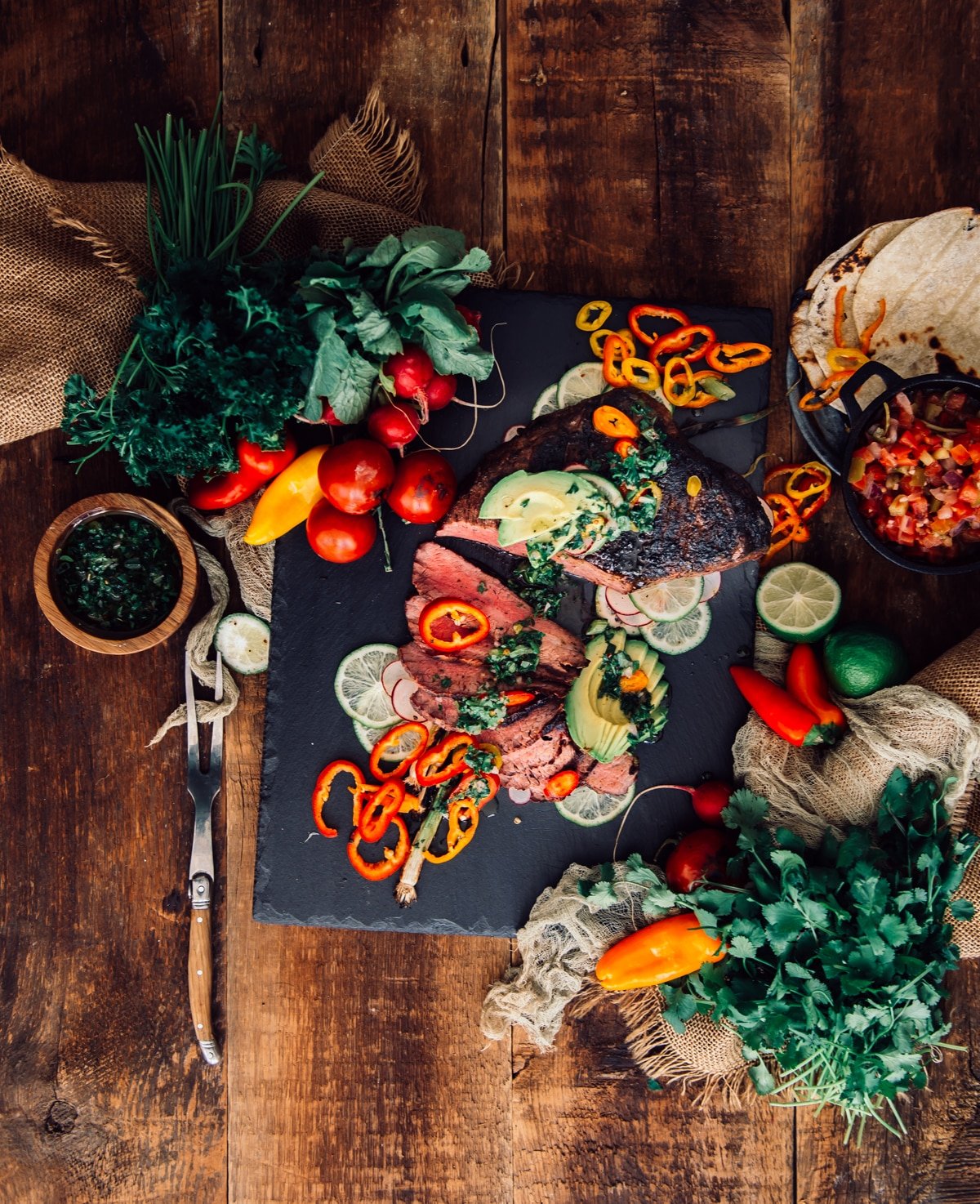 FAQs
HOW LONG SHOULD I COOK TRI-TIP ON THE GRILL?
Grilling tri-tip generally takes about 30-50 minutes. This recipe calls for 45 minutes–right in the sweet spot–followed by a quick sear to finish it off.
DO YOU FLIP A TRI-TIP WHEN GRILLING?
Yes, you should flip your tri-tip to ensure it grills evenly on both sides (and again to ensure it sears on both sides). There's no shame in flipping your steak as often as needed.
WHAT CUT IS THE TRI-TIP?
The tri-tip is the very tip of the bottom of the sirloin, which means it's found in the cow's lower abdomen (right above the flank, between the short loin and the round).
Very popular in Southern California, it's a triangular roast, often referred to as the "California cut." It's also often called the "triangle steak," the "Santa Maria steak," or even the "poor man's brisket" (since it's similar to and often confused with brisket). Low in fat but packed with beefy flavor, the tri-tip is a quicker way to achieve the thick, tender slices of beef (i.e. brisket) you've been craving.
More Delicious grilled beef recipes:
If you've tried this easy grilled tri-tip recipe or any other recipe on GirlCarnivore.com please don't forget to rate the recipe and let me know where you found it in the comments below. I get inspired by your feedback and comments! FOLLOW along on Instagram @girlcarnivore as well as on Twitter and Facebook.
Easy Charcoal Grilled Tri-Tip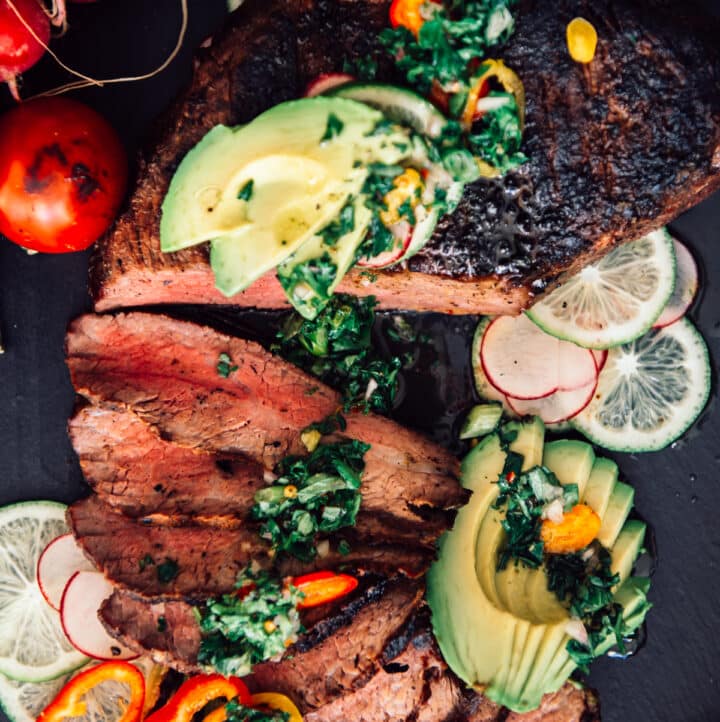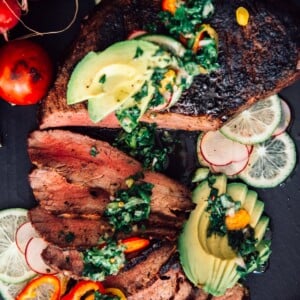 This grilled tri-tip will quickly become a meal prep staple. Bursting with meaty flavor and coated in a crust of tangy, savory seasonings, this cut will revolutionize your next barbecue.
Instructions
Clean the Tri-Tip
Remove the beef from the package and pat dry.

Trim the steak of any excess fat or siver skin.
Season
Liberally season the steak with the umami powder and then coat in the jalapeno pilsner rub, ensuring to cover all sides.

Allow the steak to come to room temperture for 20 minutes with the rub on it, or place in fridge for up to 6 hours until ready to grill.
Grill
Preheat your grill for indirect heat by building a 2-zone fire with the charocal stacked to one side.

For added flavor add oak wood chunks.

When the grill is holding steady at around 250 degrees, place the steak on the cooler side of the grill.

Allow the steak to cook low and slow for about 45 minutes until it the internal temperature reaches 125 to 130 degrees F with a digital meat thermomterter.
Sear
Finish the steak by searing it over high heat, open up your air intake and allow the grill to get hot.

Place the steak on the hot side (direct heat) of the grill or directly on the hot coals, getting a good crust on the outside.
Rest
Allow the beef to rest for 15 to 20 minutes, to an internal temp of 135 to 140 degrees F, befor slicing into thin strips against the grain.

*See my notes above on how to slice a tri-tip
Notes
Serve this with fresh chimichurri, taco shells, and sliced fruits and veggies for everyone to build their own taco bar. 
Both spice blends can be found on Spiceology.com. However, you can substitute other umami powders, beef blends, and steak seasonings for this recipe. Use your favorites and experiment. The blend here is pretty outstanding, and I highly recommend it. 
Store leftovers wrapped in foil in the fridge for up to 1 week, slicing as needed.  
Nutrition
Serving:
1
g
|
Calories:
186
kcal
|
Carbohydrates:
2
g
|
Protein:
24
g
|
Fat:
9
g
|
Saturated Fat:
3
g
|
Polyunsaturated Fat:
1
g
|
Monounsaturated Fat:
4
g
|
Cholesterol:
74
mg
|
Sodium:
61
mg
|
Potassium:
380
mg
|
Fiber:
1
g
|
Sugar:
1
g
|
Vitamin A:
6
IU
|
Vitamin C:
1
mg
|
Calcium:
44
mg
|
Iron:
2
mg