Barbecue shrimp is one of those simple and yet perfectly summer recipes. Perfect as a side dish to a masterfully grilled steak or tacos, or as a stand-alone alongside a grilled salad, this grilled shrimp skewers recipe is an essential summer dish. And one we can't get enough of.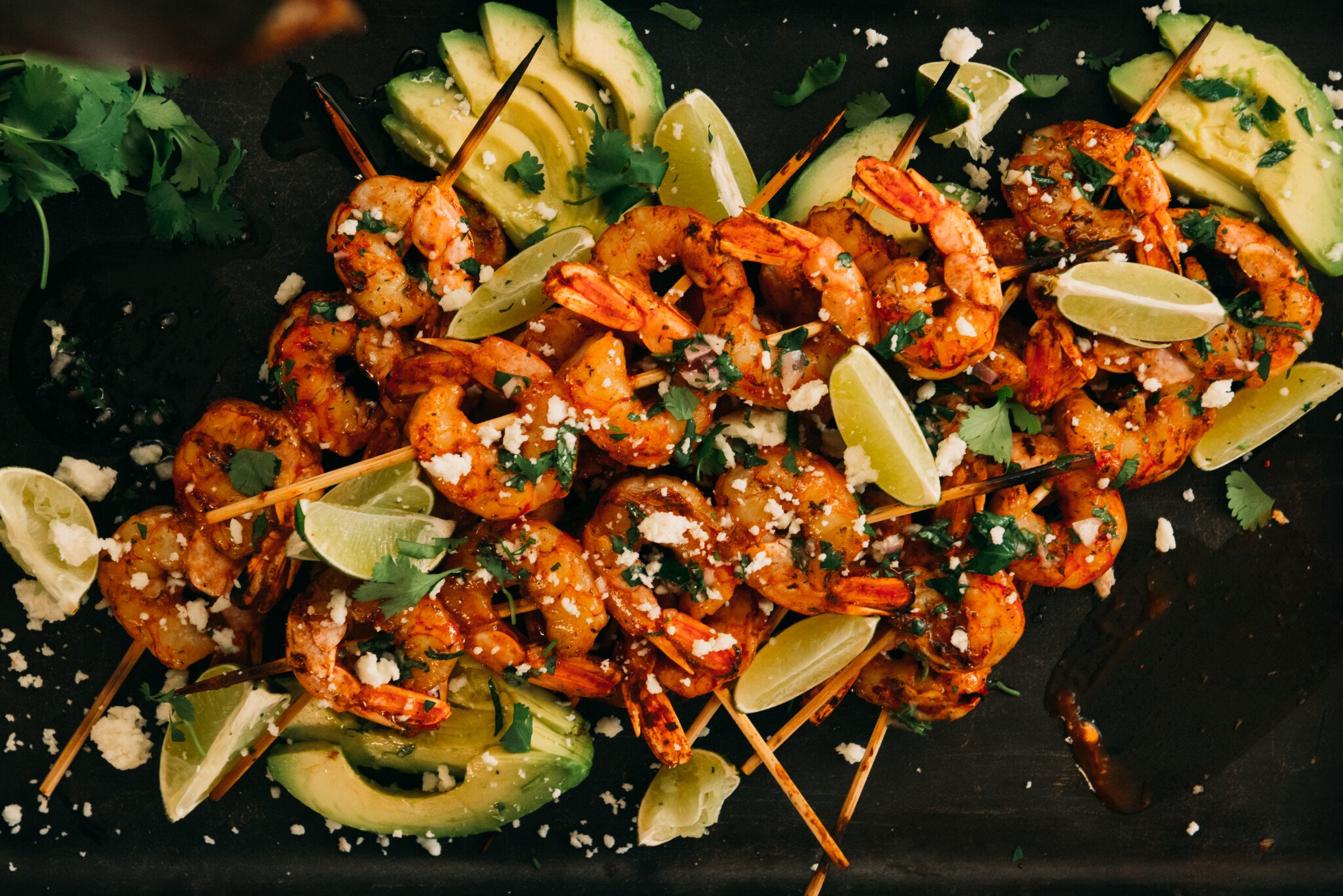 Shrimp are one of those little bites that I absolutely love to devour. But, didn't really cook a lot until last summer, when I decided I was going to master shrimp (and when Grilling Grandma enlightened me to the simple joy of a grilled shrimp wedge salad). Before then, it was a cocktail or bust.
Now, it's grilled with layers of flavors all the way. Once I got over my fear of the shrimp drying out, sticking, and overcooking on the grill, I've become a master of popping shrimp on the grill a few times a month as a low-calorie satiating dinner plan. Or even fast recipes in the cast iron skillet like our shrimp saganki.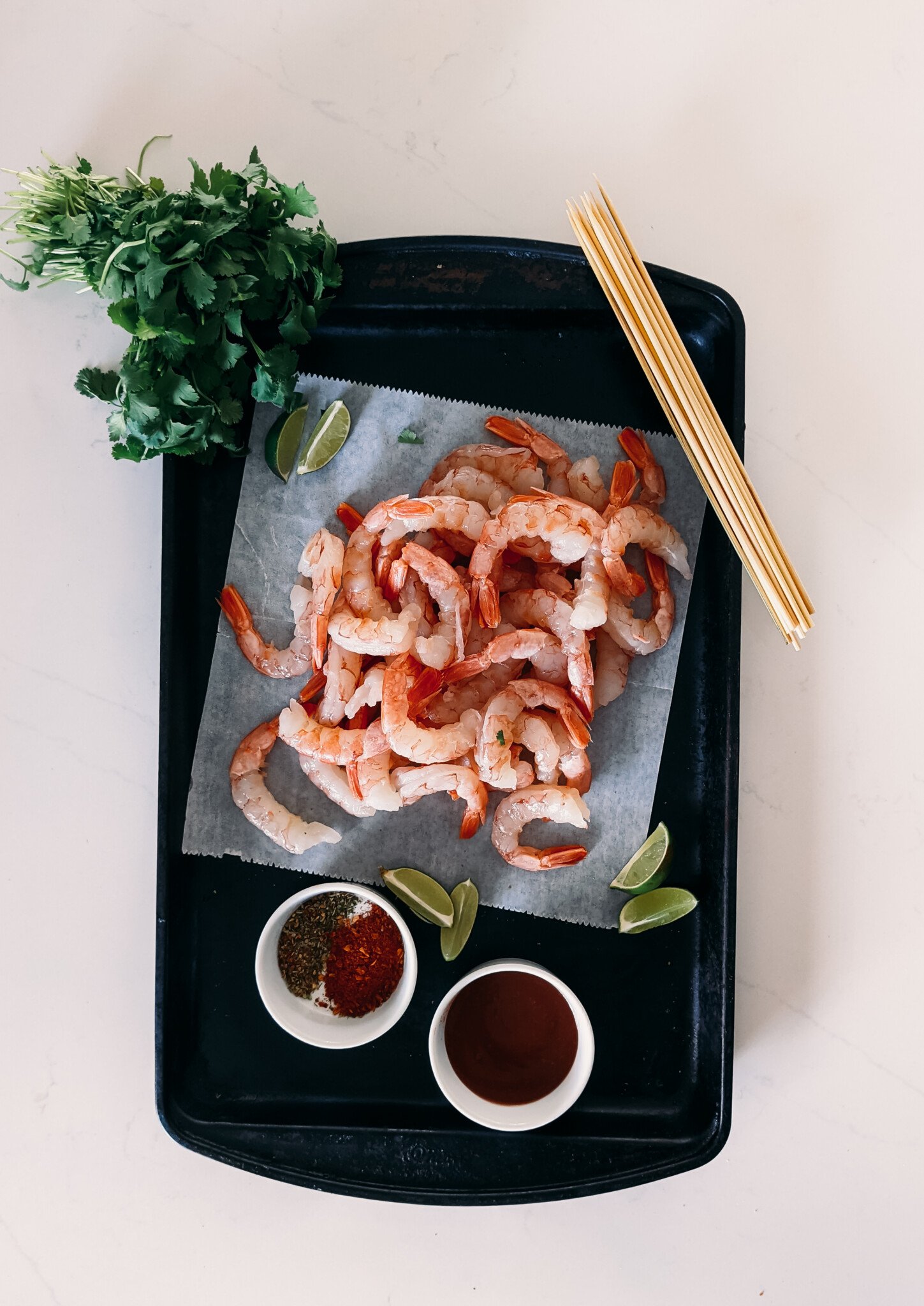 What you need for barbecue shrimp
This recipe, unlike the New Orleans BBQ Shrimp (where the sauce isn't an actual barbecue sauce), uses barbecue sauce and grills the shrimp for a true bbq experience. It's actually barbecued shrimp. And you won't believe how easy it is.

All you need is jumbo shrimp, I prefer Alaskan or Gulf pink shrimp, taco seasoning, GirlCarnivore Over Easy spice blend, barbecue sauce (to keep it keto-friendly, I opted for Head Country Sugar-Free Bar-b-que Sauce), limes, and then some fun herby garnishes to keep the flavors bright and fresh.
I paired these with quick chimichurri recipe and fresh citrus for plating and a simple slaw. Elotes and Maque Choux are also great pairings.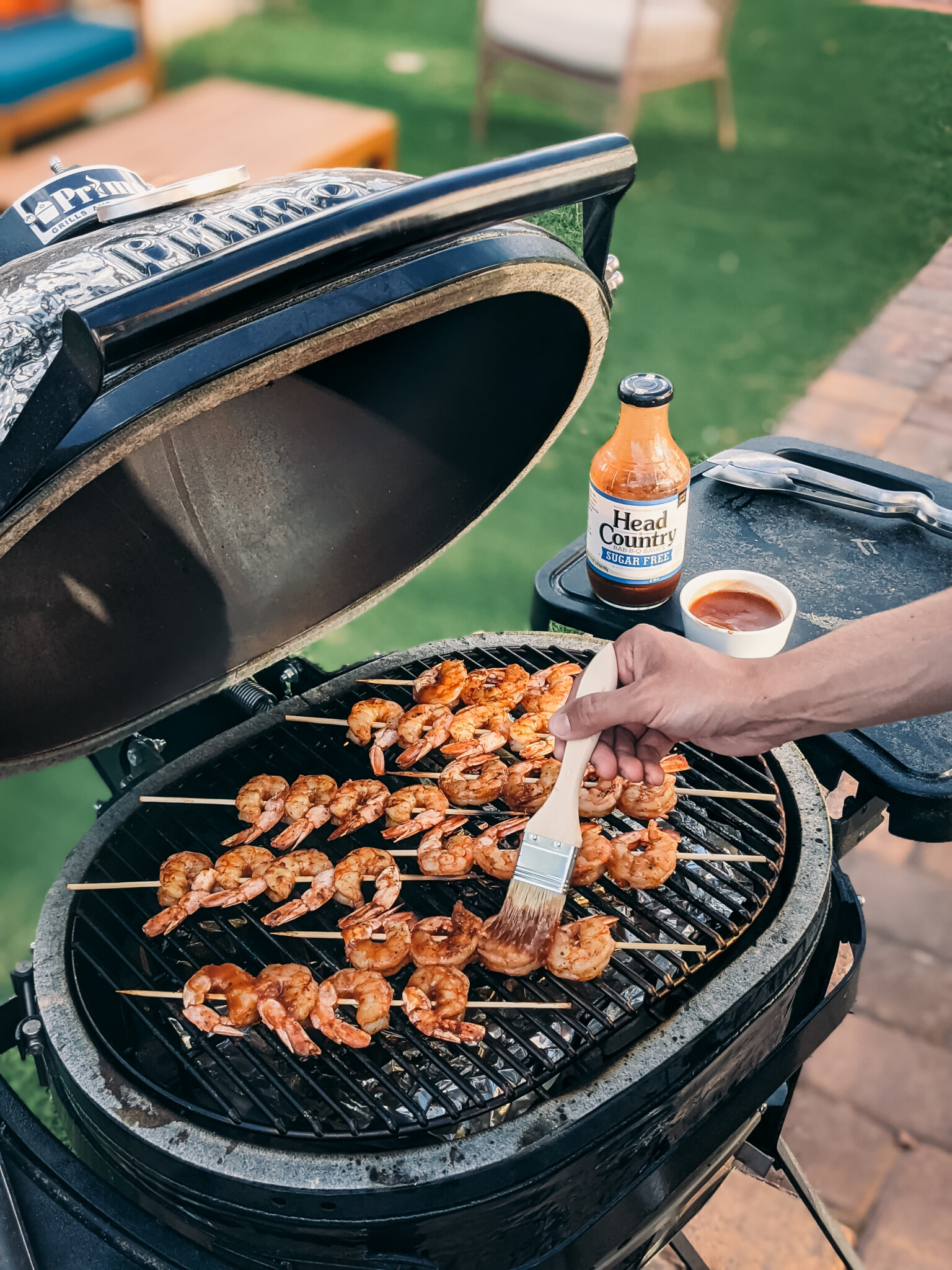 How to grill shrimp
Because shrimp is such a mild protein they pick up the flavors of the marinade quickly. A 10 to 20-minute marinade gets the job done and makes this meal one of our favorite quick grilled shrimp recipes.
Shrimp cook incredibly quickly, taking only about 5 to 7 minutes on the grill. However, the trick to not losing the shrimp to the flames is to use either a grill basket with small holes for the shrimp to not fall through or to use skewers to make sure you can easily maneuver the shrimp over the grilling grates.
The other trick is making sure the grill has preheated long enough and has well-cleaned grates to prevent the peeled shrimp from sticking to the grate and ripping when you move the skewers.
GirlCarnivore Pro Tip: Use a hot grill with well-cleaned and well-oiled grilling grates to prevent any unnecessary sticking for this grilled shrimp recipe.
Leaving the shell on allows for a more robust shrimp flavor and helps keep moisture in. However, for this recipe, the shrimp are peeled ahead of time, which helps the marinade to permeate deeper into the shrimp and make for easier eating when the shrimp are served.
Shrimp Skewers recipe in the Oven
No grill, no problem.
You can make this recipe in an oven by marinating and skewering the shrimp as the recipe calls for. Just line the shrimp on a baking sheet lined with foil and place in an oven preheated to 375 degrees for 7 to 12 minutes, flipping once halfway through cook time.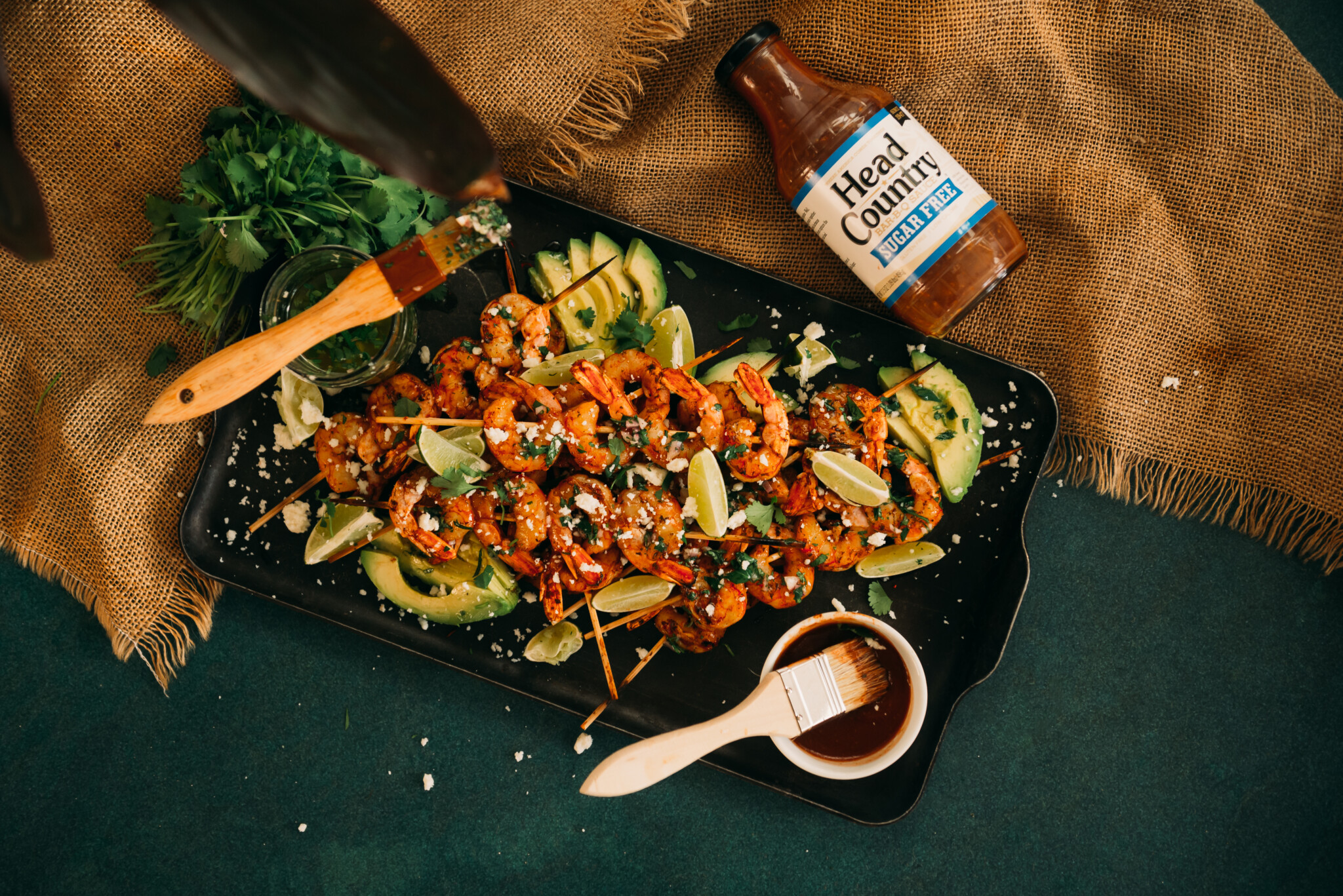 If you've tried this Meatball Stroganoff Recipe or any other recipe on GirlCarnivore.com please don't forget to rate the recipe and let me know where you found it in the comments below. I get inspired by your feedback and comments!
FOLLOW Along on Instagram @girlcarnivore as well as on Twitter and Facebook.
Grilled Shrimp Skewers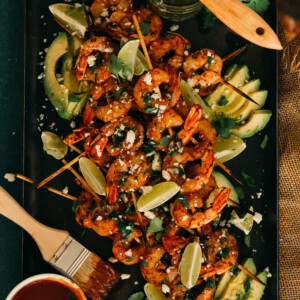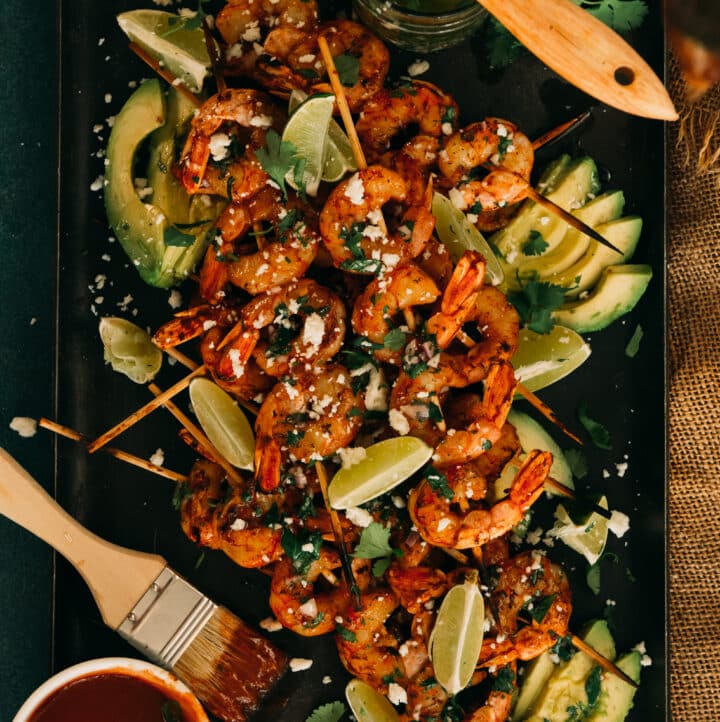 This grilled shrimp recipe takes the guesswork out of grilling shirmp. With a quick marinade, skewer and grill they are perfect every time. Baste them in homemade chimichurri and serve hot!
Recommended Equipment
Grilling Skewers

Grilling Brush
Ingredients
Garnish
1

Lime

cut into wedges

Cotija

Cilantro
Instructions
Thaw:
Thaw the shrimp and remove the skins.

Pat dry.
Marinate 10 minutes:
Whisk the Taco seasoning and GirlCarnivore Over Easy spice blend in a small bowl or jar.

1 tsp Taco Seasoning,

1 tsp Girl Carnivore Over Easy

Sprinkle the shrimp with spices.

Add the shrimp and the Head Country BBQ Sauce to a large resealable bag and marinate for 10 minutes.

1 cup Head Co Sugar-Free BBQ Sauce,
Prep Grill:
Meanwhile, prep the grill for indirect heat

Make a 2-zone fire in your grill by arranging the coals to one side.

Clean and oil the grilling grates.

Allow the grill to heat, adjusting the airflow as needed for around 350 to 400 degrees.
Grill Shrimp:
Arrange the shrimp on skewers, 5 to 6 per skewer.

Place the shrimp over direct heat and grill 5 to 7 minutes, flipping as needed to cook evenly and prevent excess charring.

Brush once or twice with additional barbecue sauce, as you flip the skewers.

Remove from heat and immediately brush with chimichurri.
Serve:
Serve immediately with fresh lime wedges, cilantro, and cotija sprinkled over top.
Notes
If using bamboo skewers, be sure to soak the skewers for 10 minutes before grilling to prevent the skewers from burning.
Pair these shrimp skewers with a wedge salad for a truly flavorful warm-weather meal.
Nutrition
Serving:
2
g
|
Calories:
278
kcal
|
Carbohydrates:
22
g
|
Protein:
32
g
|
Fat:
6
g
|
Saturated Fat:
1
g
|
Polyunsaturated Fat:
1
g
|
Monounsaturated Fat:
1
g
|
Cholesterol:
382
mg
|
Sodium:
1763
mg
|
Potassium:
245
mg
|
Fiber:
1
g
|
Sugar:
16
g
|
Vitamin A:
323
IU
|
Vitamin C:
10
mg
|
Calcium:
258
mg
|
Iron:
4
mg