This really is the perfect Grilled Rack of Lamb. It's tender in the middle, loaded with flavor from a simple spice rub, and seared to create a crispy browned crust.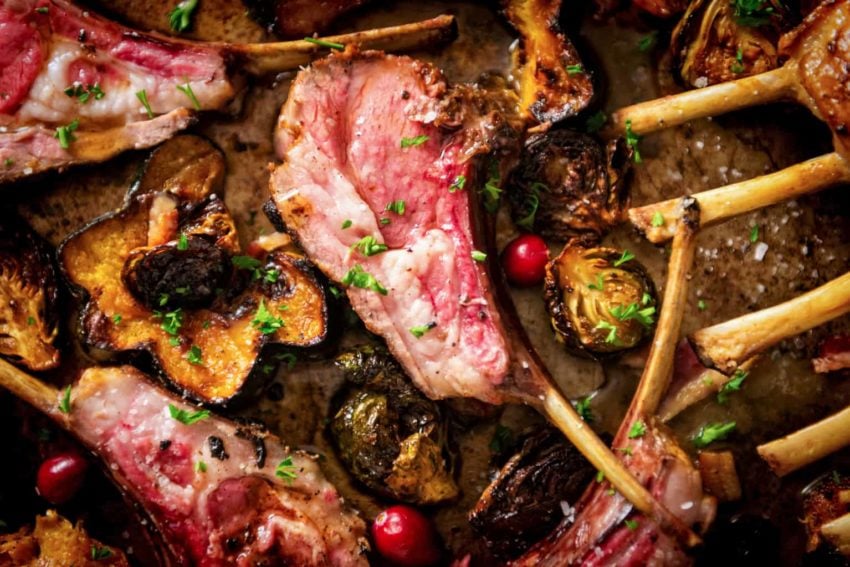 Table of contents
Lamb seems to be the one protein that people immediately have a strong opinion on. You either love it or you don't. Want my opinion? Anyone that doesn't like lamb just hasn't had the right lamb.
And let me tell you, this perfect grilled rack of lamb will convert any non-lamb lovers right over to the other side. This is one of the most delicious recipes you can sink your teeth into! And altho this looks like a 5-star restaurant-worthy meal, it's really an easy recipe.
Prepare to be amazed.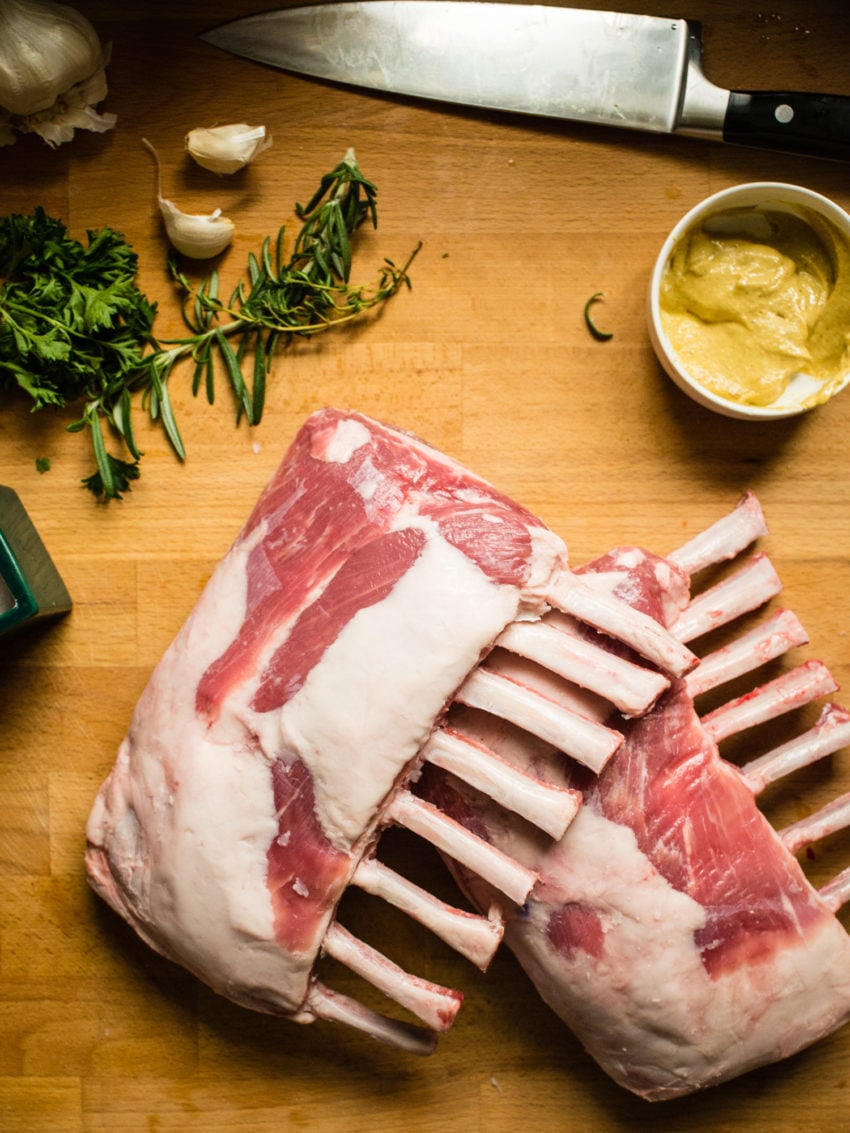 What you need to make this recipe
Dijon Mustard – make sure you use a good quality dijon mustard for the best flavor!
Salt and Pepper – brings out the flavors of the other ingredients and adds just a touch of spice to the marinade.  We always use kosher salt and freshly ground black pepper.
Rosemary – I use fresh rosemary for the best flavor. Be sure to chop it well before adding it to the rub.
Brown Sugar – gives a touch of sweetness to the meat to offset the spicy tanginess of the other ingredients and the smokiness of the grilled lamb.
Garlic – I recommend freshly minced garlic cloves for a more vibrant flavor, but if you have pre-minced garlic that will work as well.
Apple Cider Vinegar – gives a subtle tangy flavor and works into the meat to create a more tender texture.
Lamb – you'll need two racks of lamb, frenched.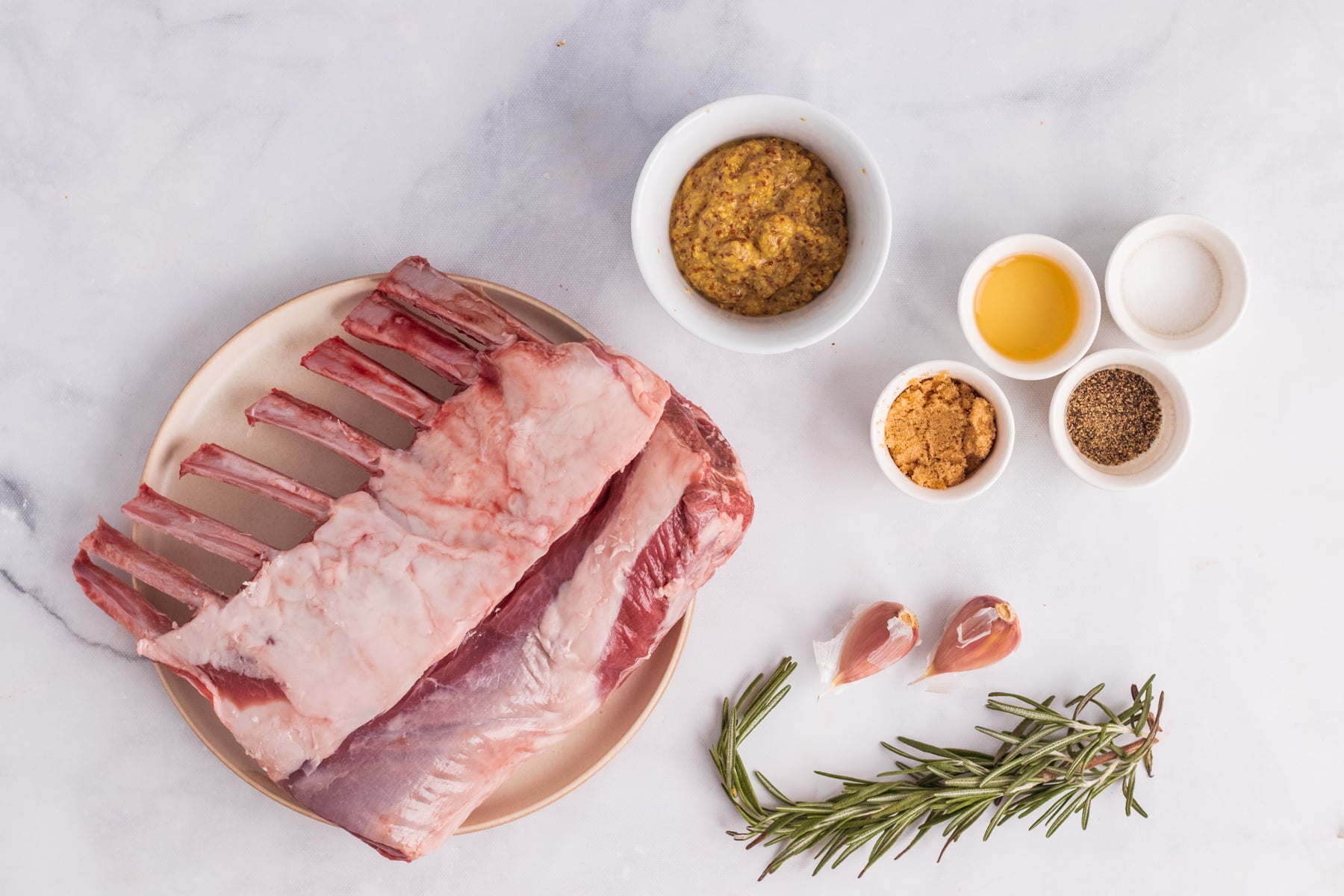 This stunning cut can look intimidating to cook, but if it's your first time grilling lamb, this is a simple recipe that you will master!
How to make the perfect grilled rack of lamb
First, be sure to clean and oil your grill, then preheat for indirect heat by building a fire only on one side of the grill.
In a small bowl, whisk together the mustard, salt, pepper, rosemary, brown sugar, garlic, and apple cider vinegar.
Rub the spice mixture liberally over the racks of lamb and then let it rest for 20 minutes.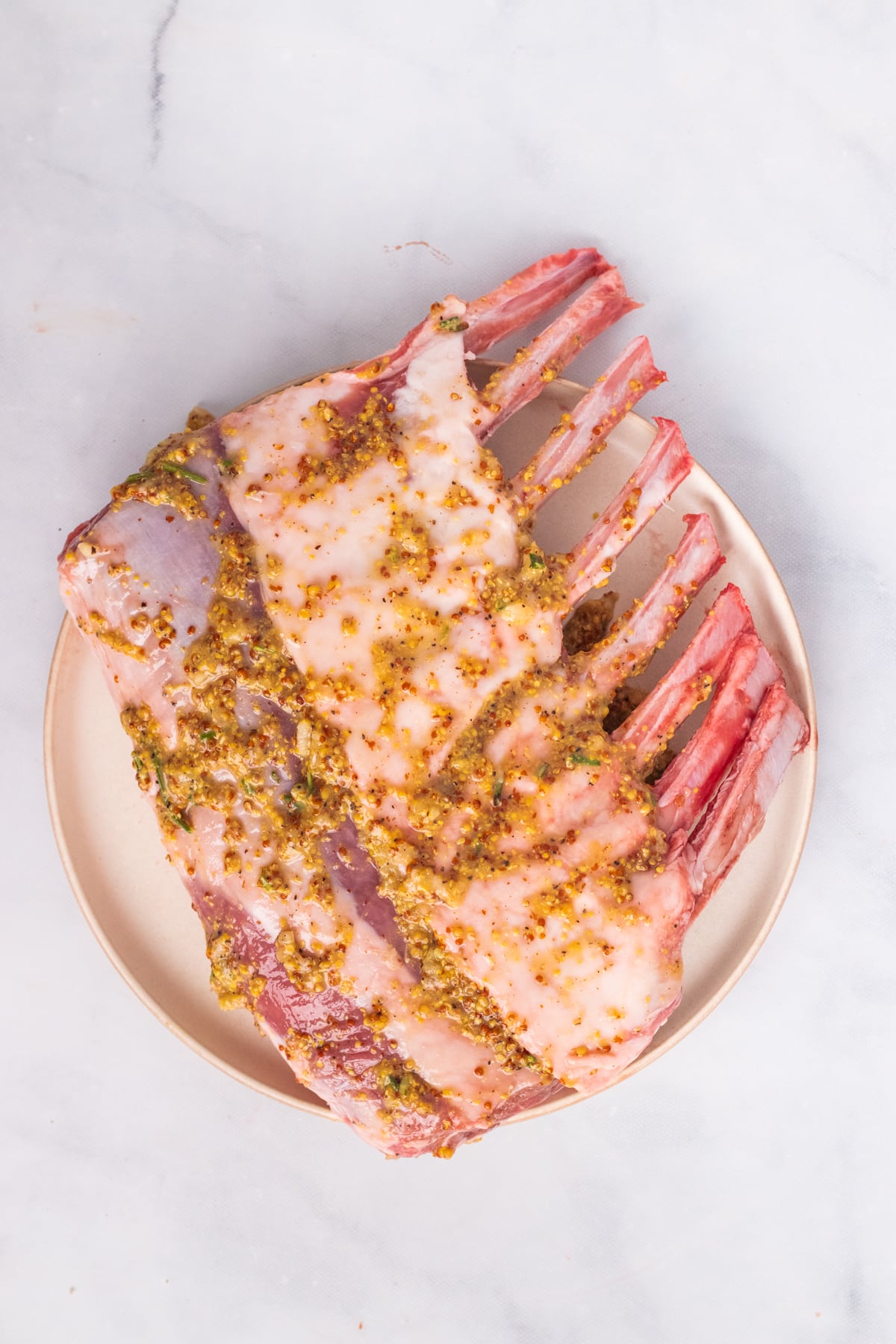 Next, place the lamb, fat cap side down, on the hot side of the grill and allow grill marks to appear for a hard quick sear. This will take anywhere from 3-6 minutes. Watch for flare ups while over the direct heat source and be sure to move the rib rack as needed to avoid burning.
Pro Tip: I stand by at this point with tongs, moving the rack of lamb and making sure all sides get a good sear without charring the meat.
Transfer the lamb to the cooler side of the grill, fat side up, and cook for another 15-25 minutes until the internal temperature reaches 130 degrees f.
The overall thickness and weight of your rack will determine how long this takes. Always be sure to insert your temperature probe in the thickest part of the meat.
Remove from the grill, wrap in foil, and allow to rest for 10 minutes before slicing and serving.
You can choose to serve this as an entire rack of lamb chops to be sliced tableside for presentation or slice and serve them as lamb lollipops.

How to buy rack of lamb
When you're looking for rack of lamb at the store, look for a frenched rack of lamb. That means it has been trimmed with the top of the rib bones have been cleaned of meat. If you want a slightly cheaper option, you can buy a whole, untrimmed rack and do the trimming yourself. This will just require a little more work for you.
As far as the amount goes, that depends on how many people you're serving. I usually plan on 2-3 chops per person and then buy accordingly!
How long should you grill rack of lamb?
In this recipe, I grilled the lamb on the hot side of the grill grates for 3-6 minutes, then for an additional 15-25 minutes on the cooler side. 
The exact amount of time will depend on how well-cooked you like your lamb, which is best determined by the internal temperature with a meat thermometer. Here are my rough guidelines for doneness:
Rare: 115-120ºF
Medium-Rare: 120-125ºF
Medium: 130-135ºF
Medium-Well: 140-145ºF
Well-Done: 150-155ºF
Remember the internal temp will rise about 5 degrees while the meat rests. For best results, pull the meat from the grill 5 degrees earlier than your ideal serving temperature.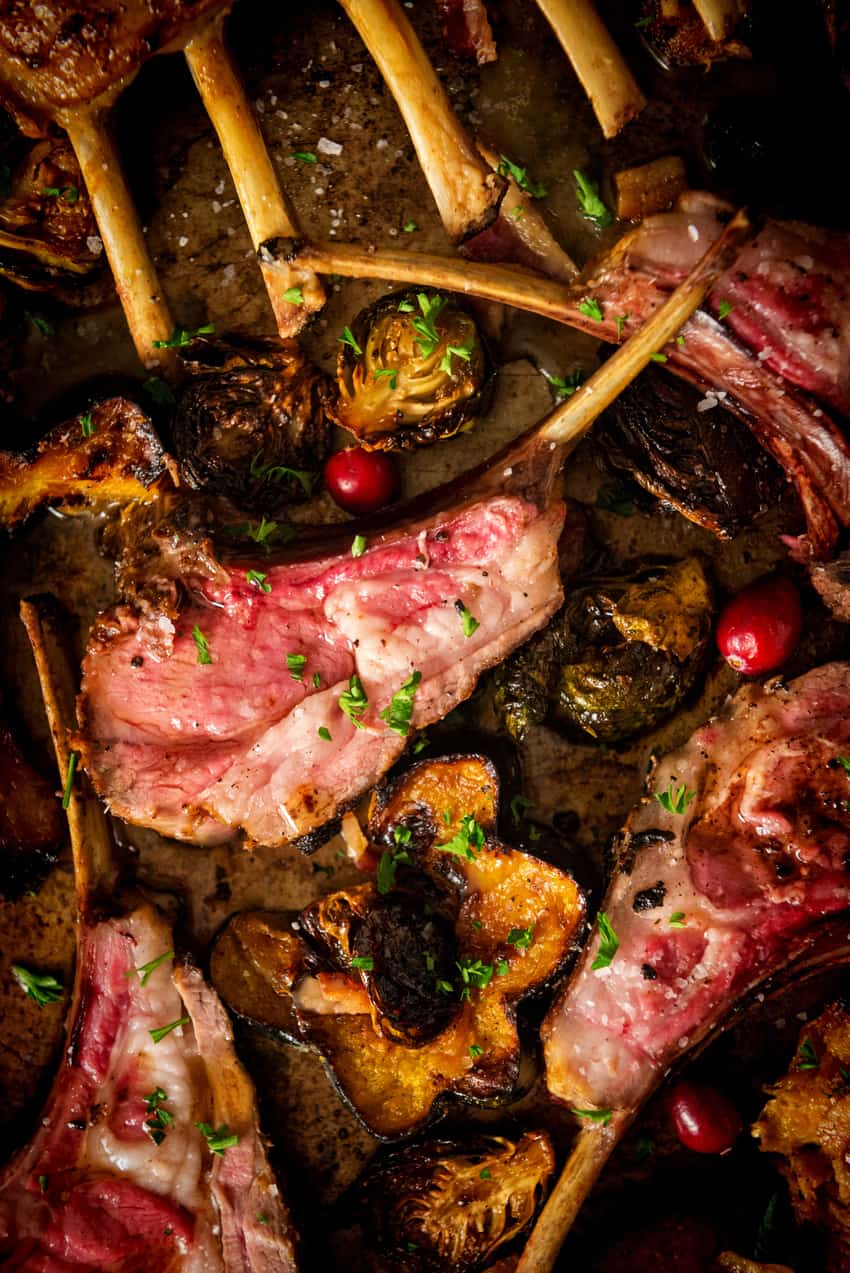 Tips, tricks, and notes for this recipe
Let the lamb rest before you cook it. After you rub the spice mixture over the lamb, let it sit for 20 minutes before you grill it. This allows the vinegar to begin breaking down the meat and the flavors to soak in for better taste and texture.
Sear on direct heat first. The first 3-6 minutes over direct heat sears the lamb which locks in the moisture and flavor and creates that rich crust on the exterior of the meat.
Let the lamb rest after you cook it. This gives the juices and flavor time to settle back into the meat. If you cut into it right away, the moisture could run out and you'll lose a ton of flavor.
If the lamb isn't quite as crispy as you prefer, you can broil it for a bit after you grill it to crisp it up a little more.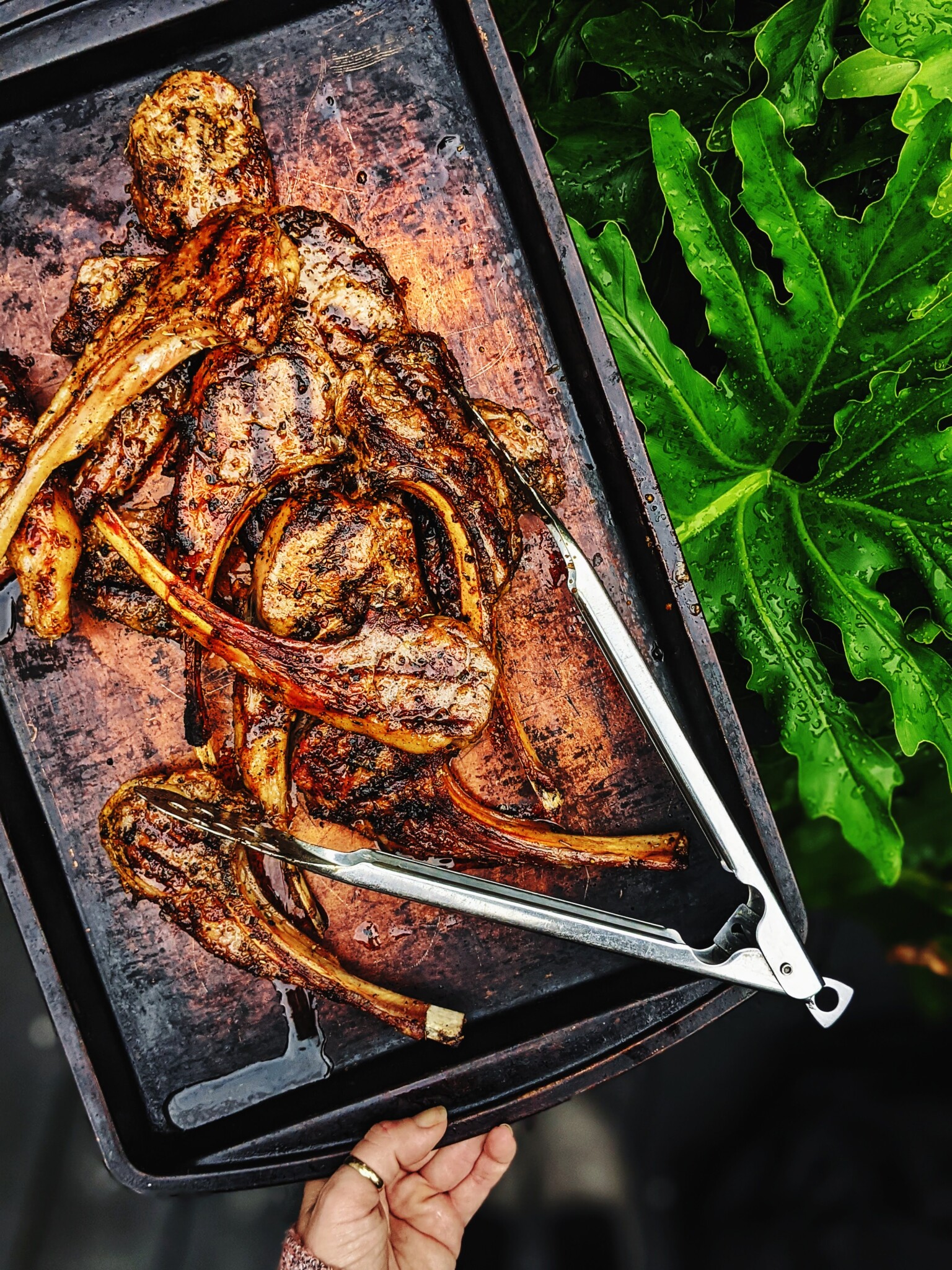 What to serve with rack of lamb
Pair this lamb with a dry red wine, a lemon wedge and amazing side dishes. I love to serve grilled rack of lamb next to a couple of delicious side dishes. Here are a few of my favorites: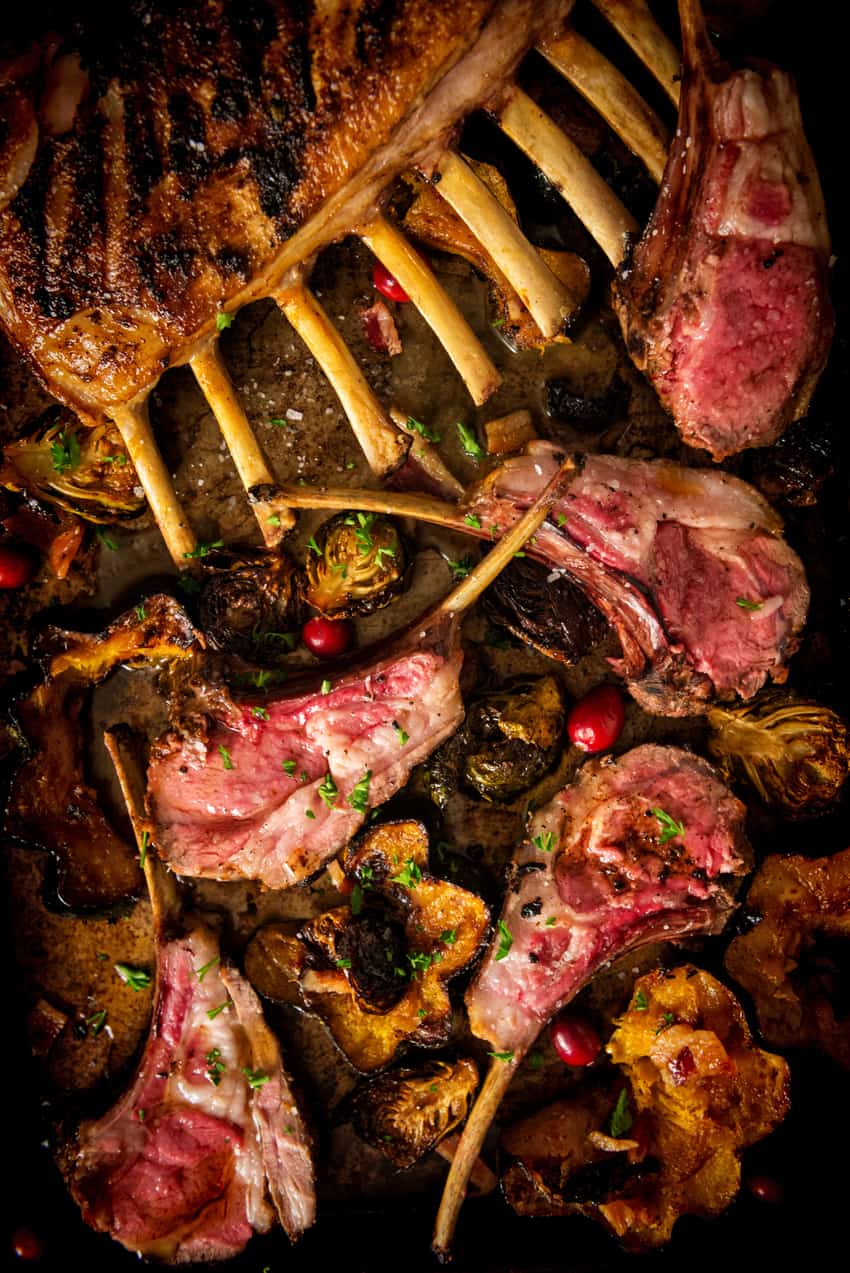 How to store
Leftover grilled rack of lamb will last wrapped in foil or in an airtight container in the fridge for up to 3 days. To freeze cooked lamb, divide it into smaller portions, wrap it in cling wrap followed by foil, then place it into a ziplock bag and store it in the freezer for up to 2 months.
To reheat, thaw if frozen, then warm on a sheet pan under a broiler for 2-4 minutes or in the microwave until warmed through.

More delicious lamb recipes you'll love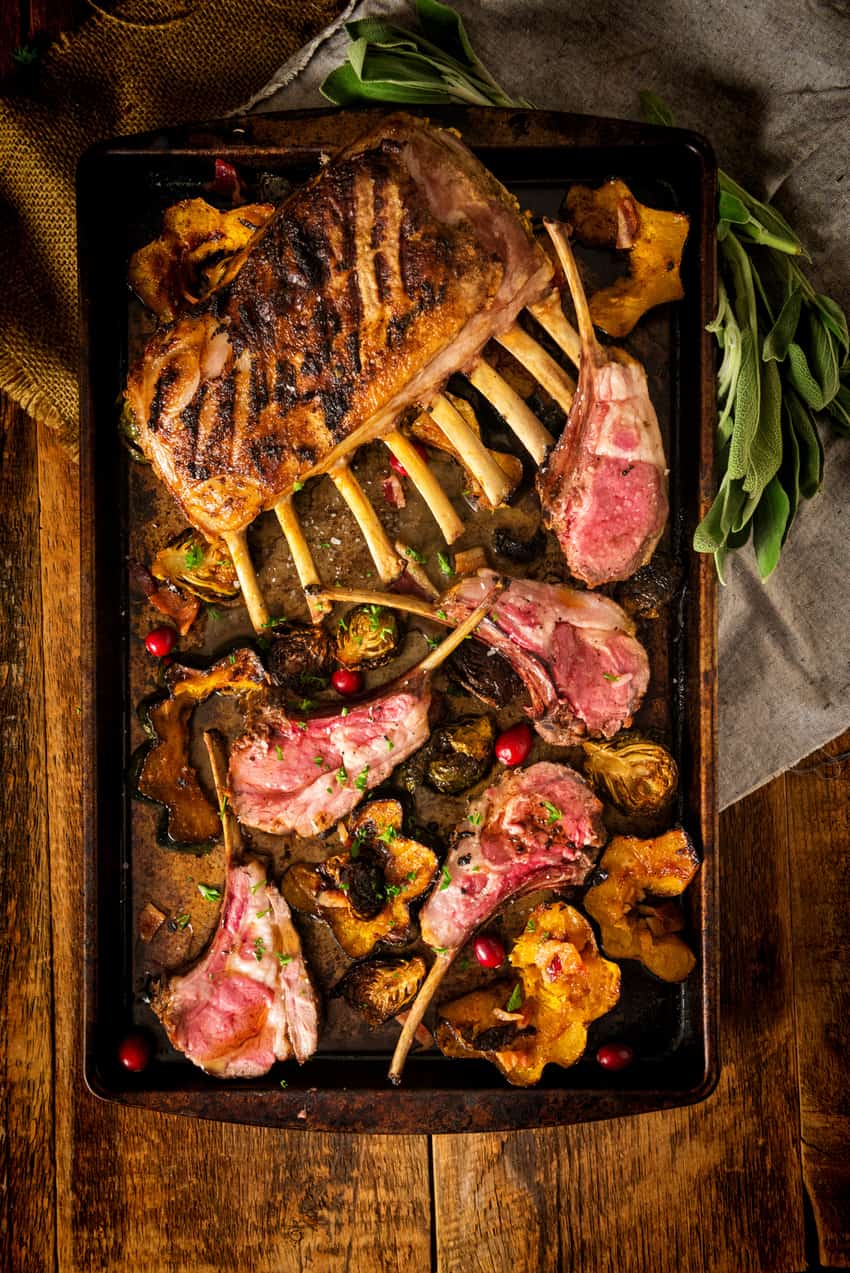 If you've tried my Perfect Grilled Rack of Lamb recipe, or any other recipe on GirlCarnivore.com please don't forget to rate the recipe and let me know where you found it in the comments below. I get inspired by your feedback and comments! You can also FOLLOW ME on Instagram @girlcarnivore as well as on Twitter and Facebook.
📖 Full Recipe
Perfect Grilled Rack of Lamb
This is a perfect holiday or fancy date night meal. The quick char and slow roast finish the lamb to a perfect medium rare, with a proper rest. Serve over a simple roasted vegetable for a photo-worthy dish.
Ingredients
4

tbs

good quality dijon mustard

1

teaspoon

kosher Salt

½

teaspoon

Pepper

1

teaspoon

fresh Rosemary

chopped

1

teaspoon

Brown sugar

2

Garlic cloves

minced

½

teaspoon

Apple cider vinegar

2

racks lamb

frenched
Instructions
Clean and oil your grill. Preheat grill for indirect heat by building a fire only on one side of the grill.

In a small bowl, whisk the mustard, salt, pepper, rosemary, brown sugar, garlic, and apple cider vinegar together.

Rub liberally all over the racks of lamb and allow the lamb to rest 20 minutes before grilling.

When ready to grill, place the lamb, fat side down on the hot side of the grill, and allow grill marks to appear, 3 to 6 minutes.

Transfer to the cooler side of the grill and cook, lid down, for another 15 to 25 minutes for a temperature of 130 internal.

Remove from grill, wrap in foil and allow to rest 10 minutes before slicing along the ribs to serve.
Notes
Store leftover lamb chops wrapped in foil in the refrigerator for up to 3 days. 
Eat cold or reheat on a sheet pan under a broiler for 2 to 4 minutes, or in a microwave in 30-second bursts until heated through. 
Nutrition
Calories:
469
kcal
|
Carbohydrates:
1
g
|
Protein:
18
g
|
Fat:
42
g
|
Saturated Fat:
18
g
|
Cholesterol:
94
mg
|
Sodium:
445
mg
|
Potassium:
246
mg
|
Vitamin C:
0.3
mg
|
Calcium:
24
mg
|
Iron:
1.8
mg
Save this recipe
Sign up to save all your favorite recipes!
Yay, you saved!
What's the difference between Lamb and Mutton?
Lamb is a sheep under 12 months of age at slaughter. It can be cooked in a variety of ways, from ground ragus to slow-smoked barbacoa (and of course, crazy good chops). The flavor is mild and earthy.
Mutton, which is often described as 'gamey' and finds itself much less preferred, is a little older when slaughtered and was a staple of the food we used for our soldiers in World War II. That 'gamey' flavor people talk about is very present in mutton.
That's right, mutton.
And since the 1940's the sheep industry in America has been on the decline. There are other reasons as well, but I am sticking to food here.
Bear with me, I am getting somewhere here.
A little about Mutton
Mutton also requires different cooking methods to ensure that it is tender and has a wonderful flavor, not a chewy overpowering mouthfeel.
So, think about it. Your father, grandfather or great-grandfather probably had an awful experience with mutton. And, it wasn't just mutton, it was canned mutton.
And yes, in the 40's everything was canned and boiled beyond any point of return, but even I wiggle my nose at the sound of canned mutton. I'd bet your lack of experience with lamb has little to do with it at all, but more about preferences that were established at a very different point in our culinary history and under rather terrible circumstances.
Returning from WW II, most people had no desire to ever eat mutton again. Which means there was an entire generation of young people never exposed to the real deal. It's the same time that farmers were becoming more rural and big box stores and convenience took over.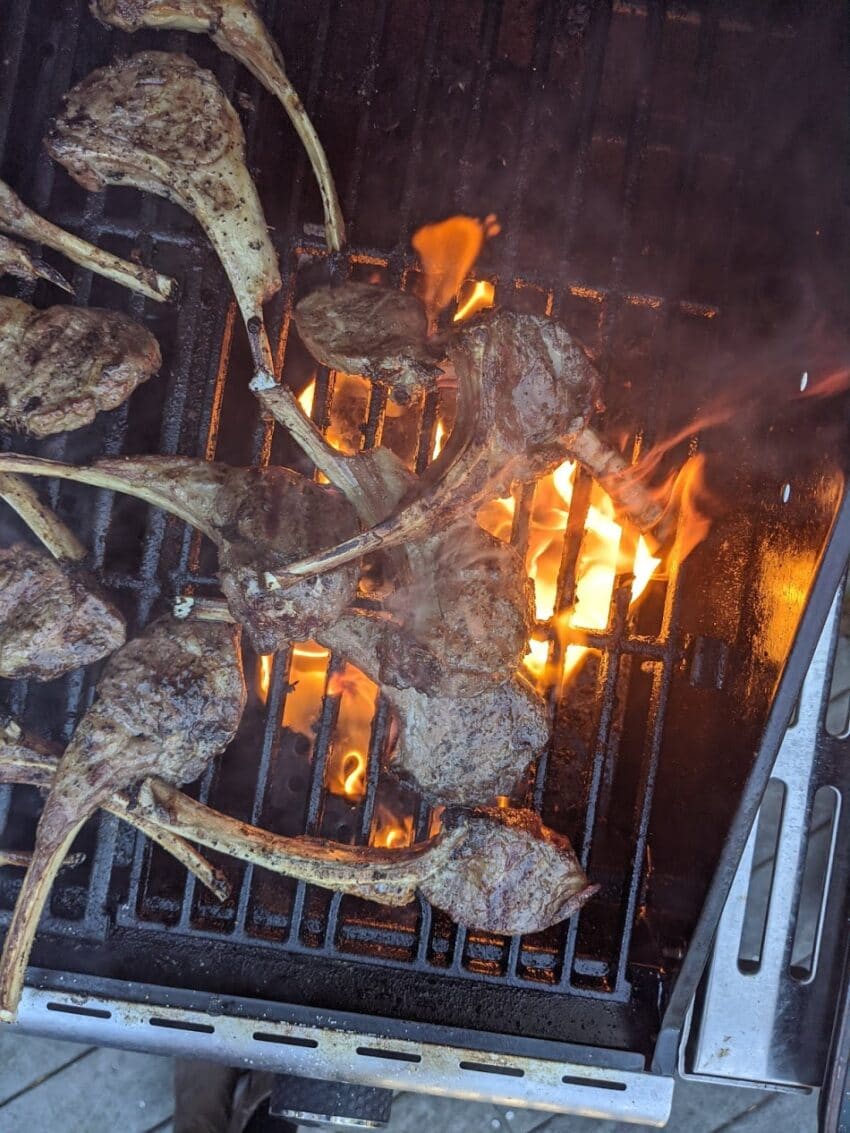 Even if there was a chance to try lamb, how would one prepare or safely cook a cut they weren't familiar with?
Oh, and since it wasn't on every ranch anymore, at the same time that pork, poultry, and beef harvesting were becoming more efficient, the price tag went up to. Now we have an expensive cut of meat most grandparents believed they didn't like. It's easy to see why sales declined. A lot.
Global Lamb
Travel outside of the States, and you will see a lot of countries still eating a fair share of it (and mutton). Many global dishes use various cuts of savory stews and braises. I loved the fork-tender meat-filled tagines while in Morocco with fresh fruits and olives.
Australia has its lamb barbecue game on point and their production is rising rapidly (notice the label when you are sourcing your meat). And even in some places here and there throughout the US, it's starting to make a comeback on regular menus. (Try the sausage. Seriously. Try it.)
So I am issuing a personal challenge: Do some homework. Chat with a local butcher and bring home a cut for an upcoming date night or impromptu friends celebration.
Let's see if we can make room in our repertoire of recipes for lamb and give it a much-needed second (first?) chance.