This simple sauce is a staple for great barbecue. With roots in North Carolina, it's a thin vinegar-based bbq sauce that packs a lot of heat, is easy to make, and is perfect to use as a mop while smoking and to add moisture and flavor to pulled pork, brisket, and chicken.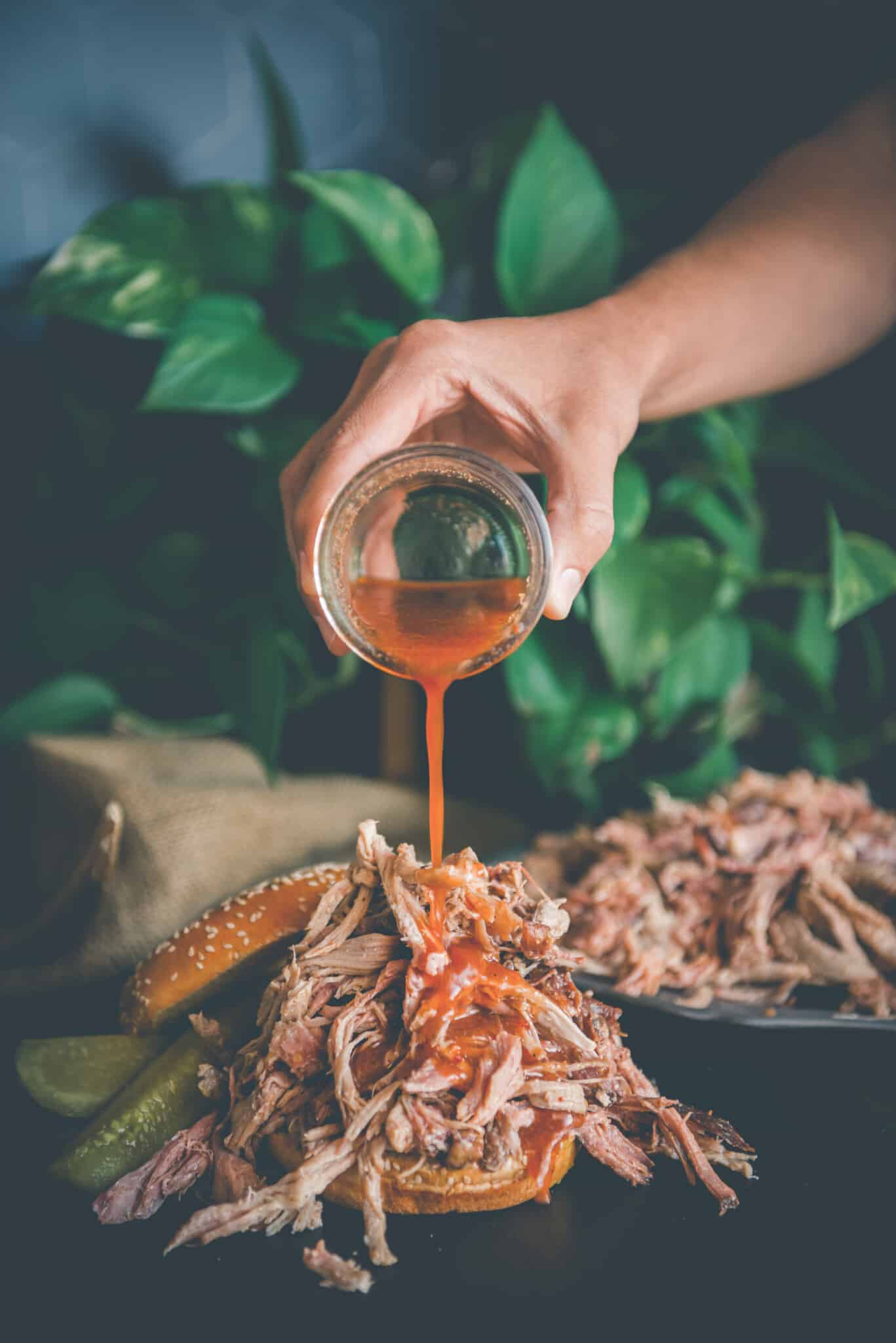 What is vinegar based bbq sauce?
When it comes to classic bbq sauces, there are several that come to mind, and all are equally polarizing when speaking to passionate grilling aficionados. Classic Kansas City-style thick and tangy sauces are made for basting ribs, mustard sauce is a true South Carolinian treasure, Alabama white is perfect for dunking ribs, and then there's vinegar bbq sauce, a personal favorite.
Vinegar sauce is liquidy and peppery and is distinctly an eastern North Carolina style. With humble roots, Carolina is a defining region of BBQ. Cooking whole hogs dates back to the settlers and Eastern NC has been chopping and serving whole hog with their signature spicy sauce for hundreds of years.
Unlike Western North Carolina bbq sauce, which later added ketchup as a sweet thickener, or Southern, which uses yellow mustard, Eastern NC Vinegar-based bbq sauce is thin, loaded with heat, and is more universally used.
Because of the acidity and heat, it is ideal for fatty cuts of meat. We toss our pork in a little of this before reheating to moisten the meat. Let people pour on more if desired for perfect shredded pork sandwiches.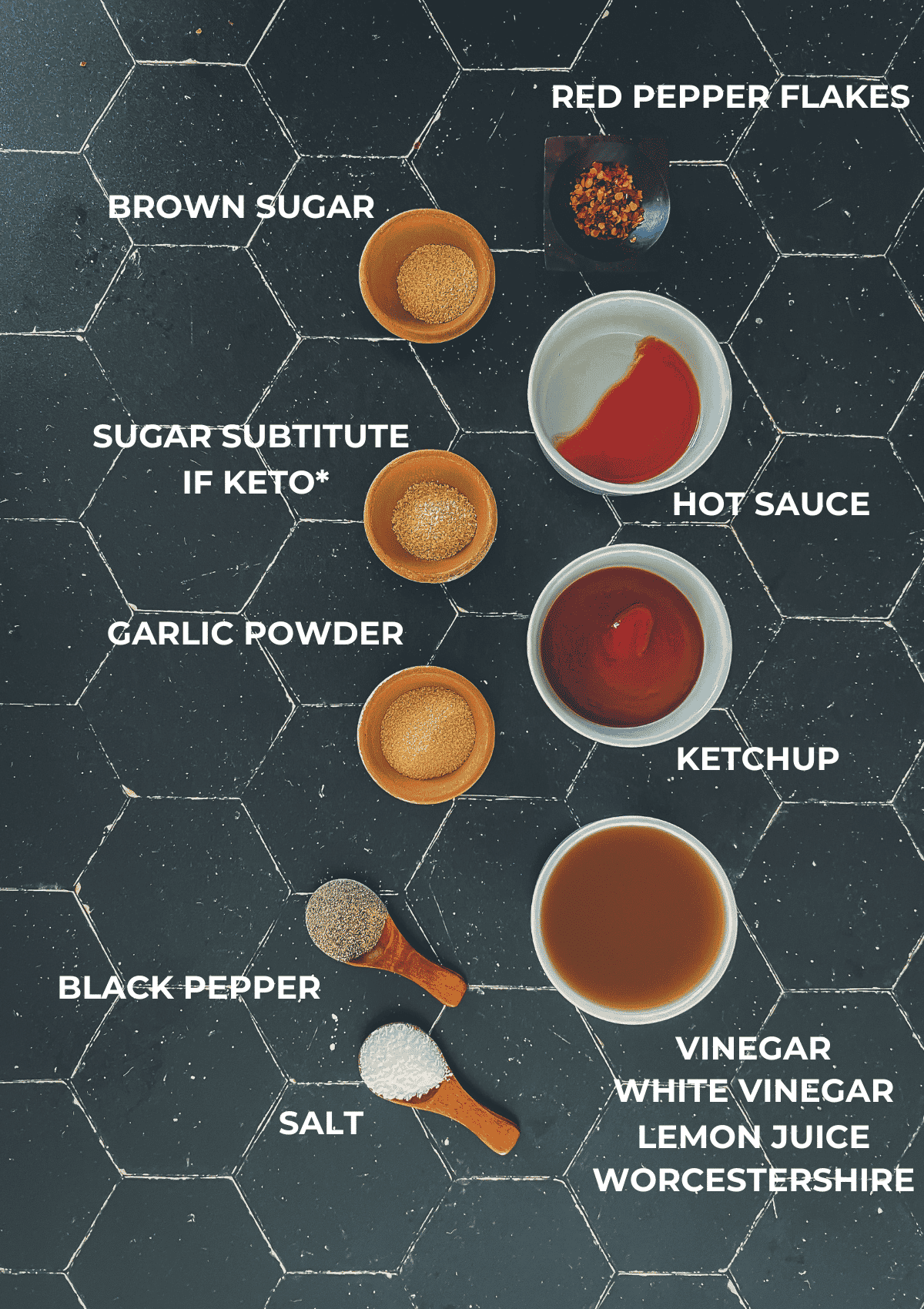 Ingredients:
Vinegar – I use apple cider vinegar for my bbq sauce but if you find that too strong you can use a 1 to 1 apple cider and white vinegar ratio.
Ketchup – any ketchup will do the job.
Brown sugar – Use light brown sugar for this or try agave. See our notes in the recipe card for Keto ingredients and alternatives.
Worcestershire – coconut aminos or soy sauce work as substitutes
Hot sauce Or Cayenne pepper – both add a punch of heat.
Splash of white vinegar – just to balance things out
Lemon juice – the brightness offsets the vinegar a touch
Red pepper flakes – make sure your red pepper flakes haven't lost their potency by sitting in the pantry for over 6 months.
Garlic powder – for a little added depth
Black pepper – yes, more pepper
Salt – use Kosher salt or fine sea salt to help dissolve quickly.
How to make vinegar barbecue sauce
This sauce recipe is about as easy as it gets. Simply simmer the vinegar in a saucepan over medium heat for a gentle simmer with the rest of the ingredients.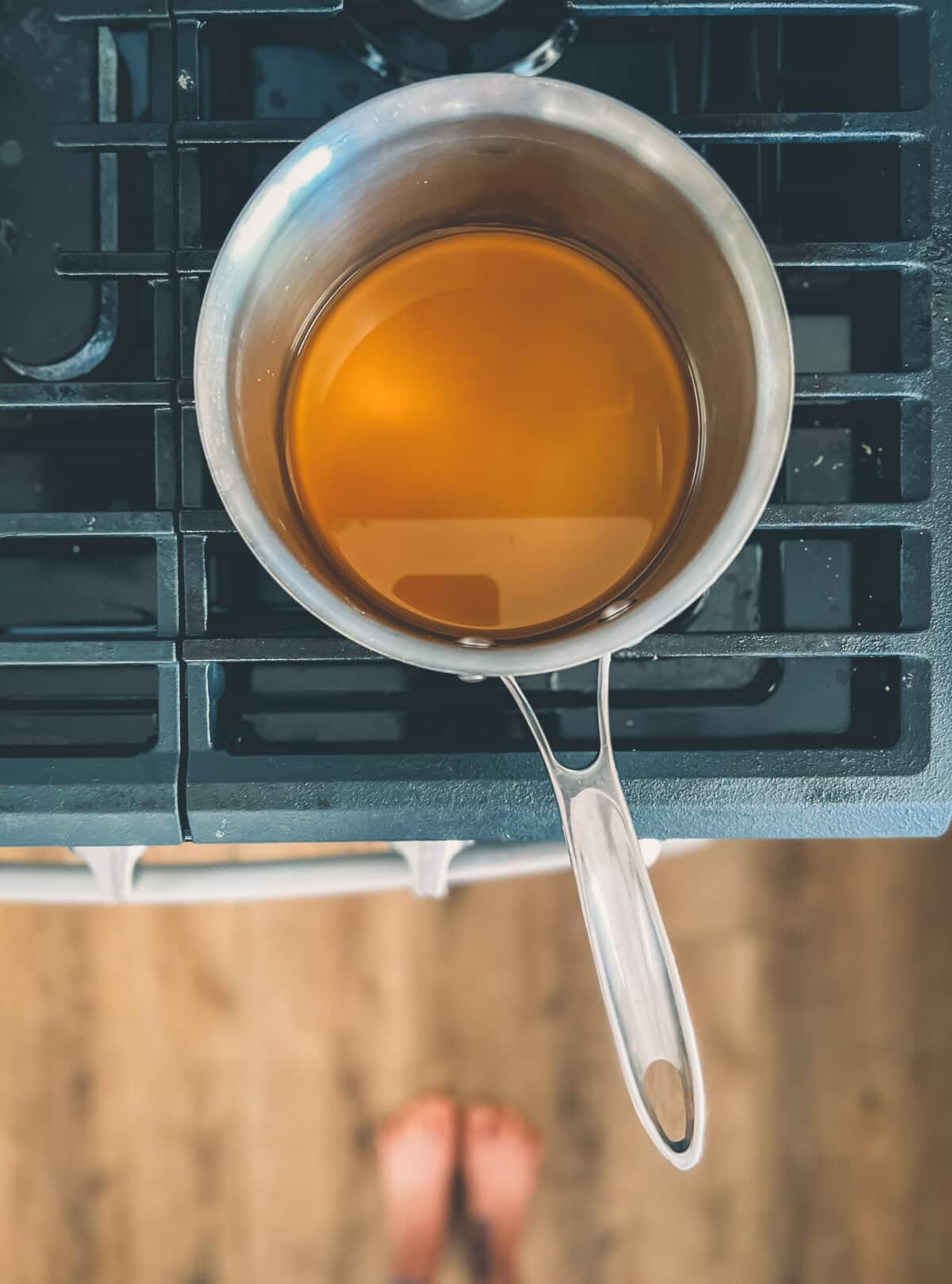 Stir until the brown sugar has dissolved and then remove from heat to cool. Once cooled, pour the liquid into a wide-mouthed mason jar and seal.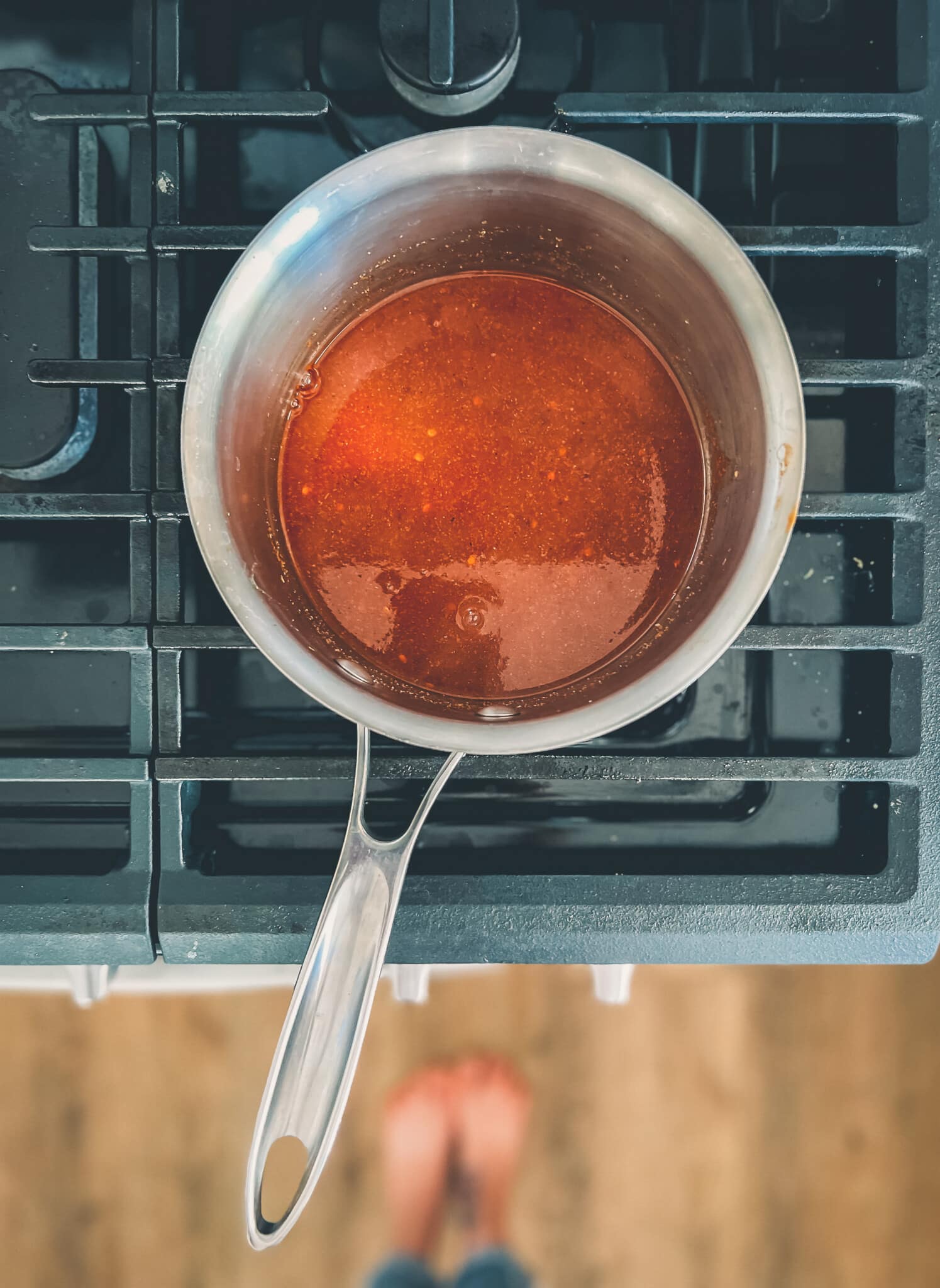 How to Store Homemade BBQ Sauce
Once cooled and sealed in air-tight containers, this sauce should be stored in the refrigerator. It will last up to one month.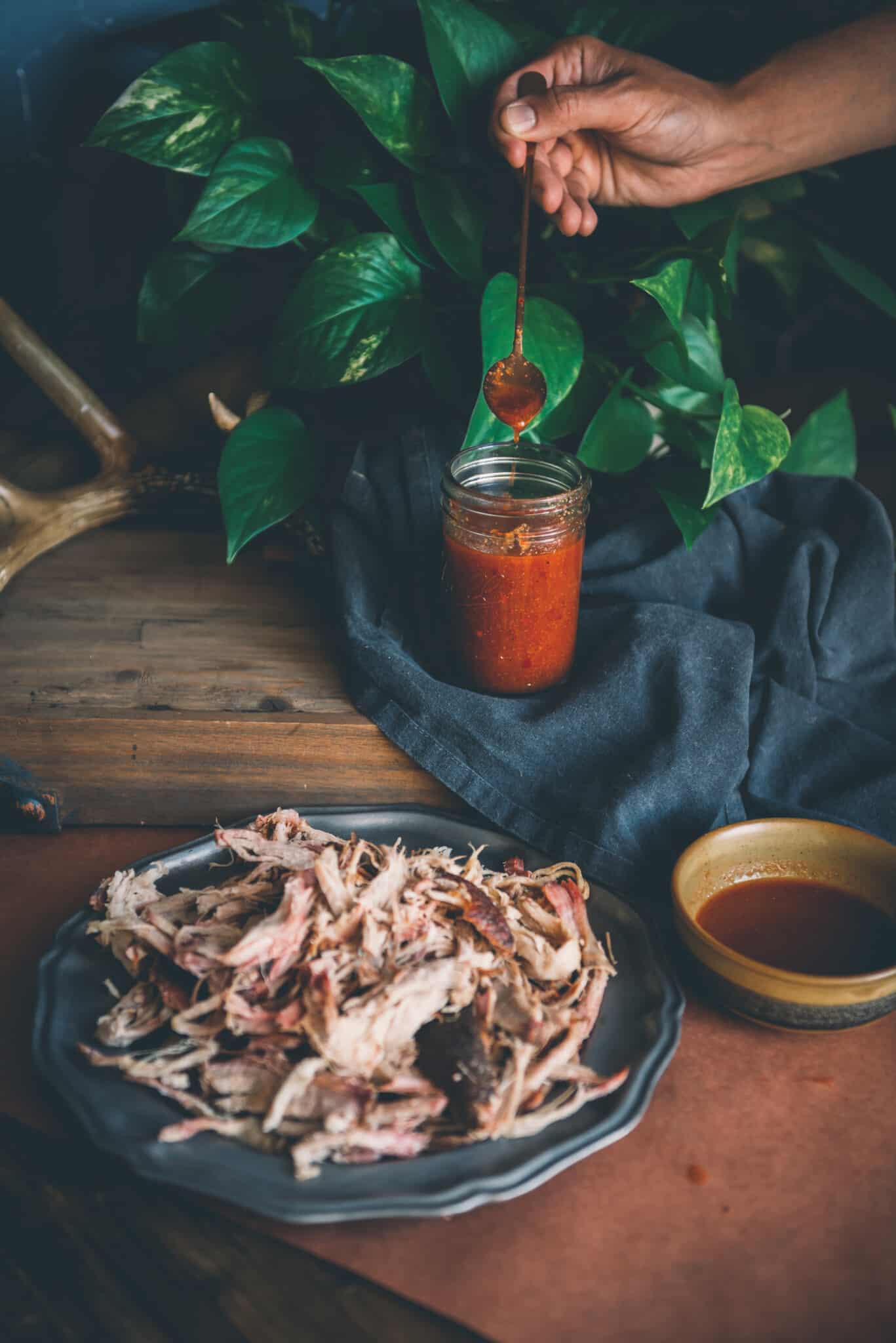 How to use / What to serve with this sauce
Because this sauce is so easy to make, I whip up a bottle once a month during the summer (grilling) months to have it ready to use.
Use it as a mop when smoking pork shoulders or butts, to moisten meat when it's shredded and ready to serve, or as an additional sauce over pulled pork or chicken sandwiches.
Make sure to shake the jar or stir before using every time to redistribute the spices.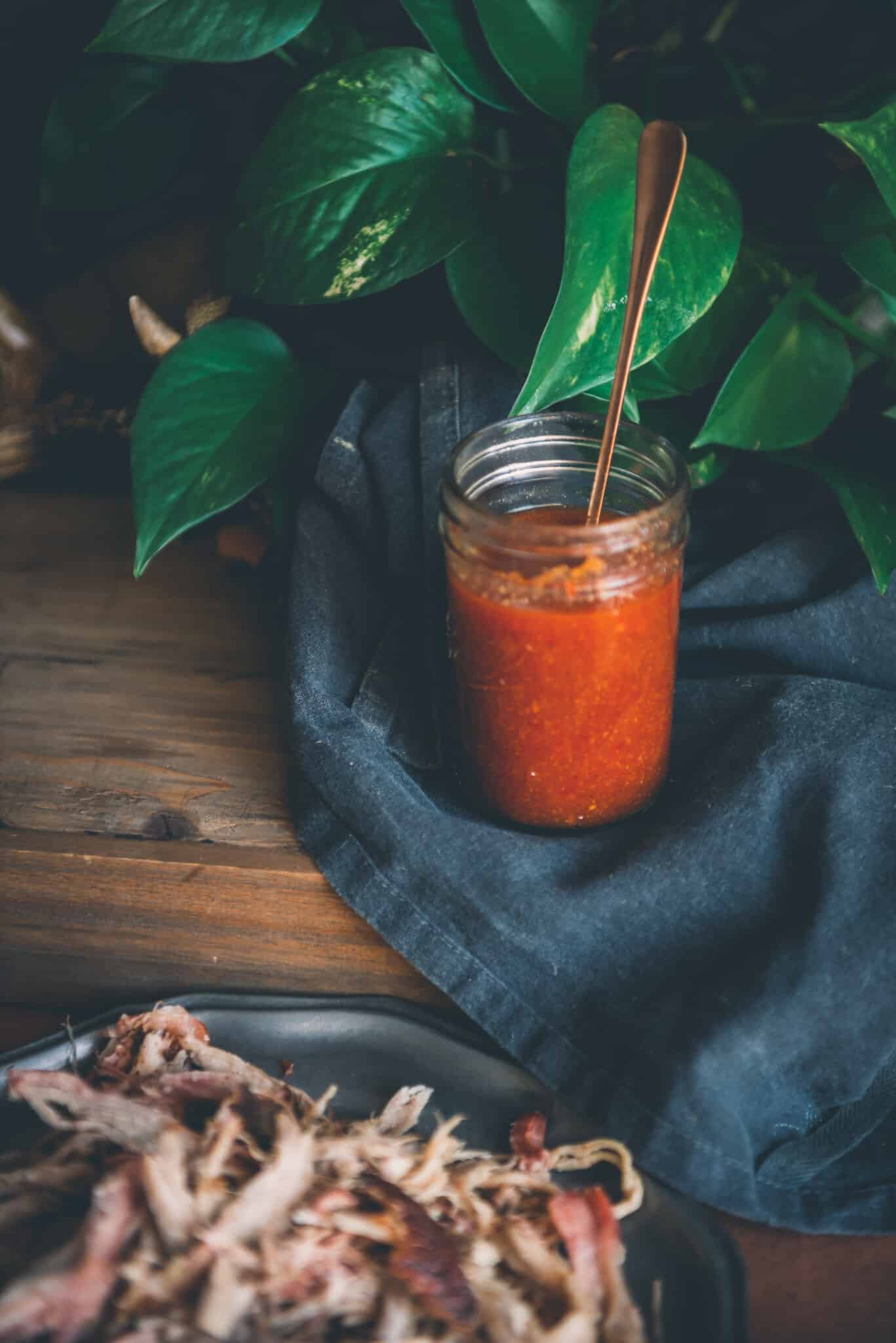 Recipe Tips
Avoid a rolling boil and have a window open when making this. The smell of vinegar simmering can be pretty piquant if you're not used to it.
This sauce has hot sauce, pepper flakes, and black pepper and should be spicy. But if it's too much heat for you, tame it back a little. The real key here is the vinegar, not the extra heat.
This sauce is best made 24 hours before you want to use it. It does not freeze well, and we don't recommend it.
Want to take this to the next level? Add in a little of the rendered juices from what you're grilling when simmering the sauce. It adds a fatty and subtle smoked balance to this amazing recipe. However, if you do this, we only recommend storing in the fridge for up to 1 week.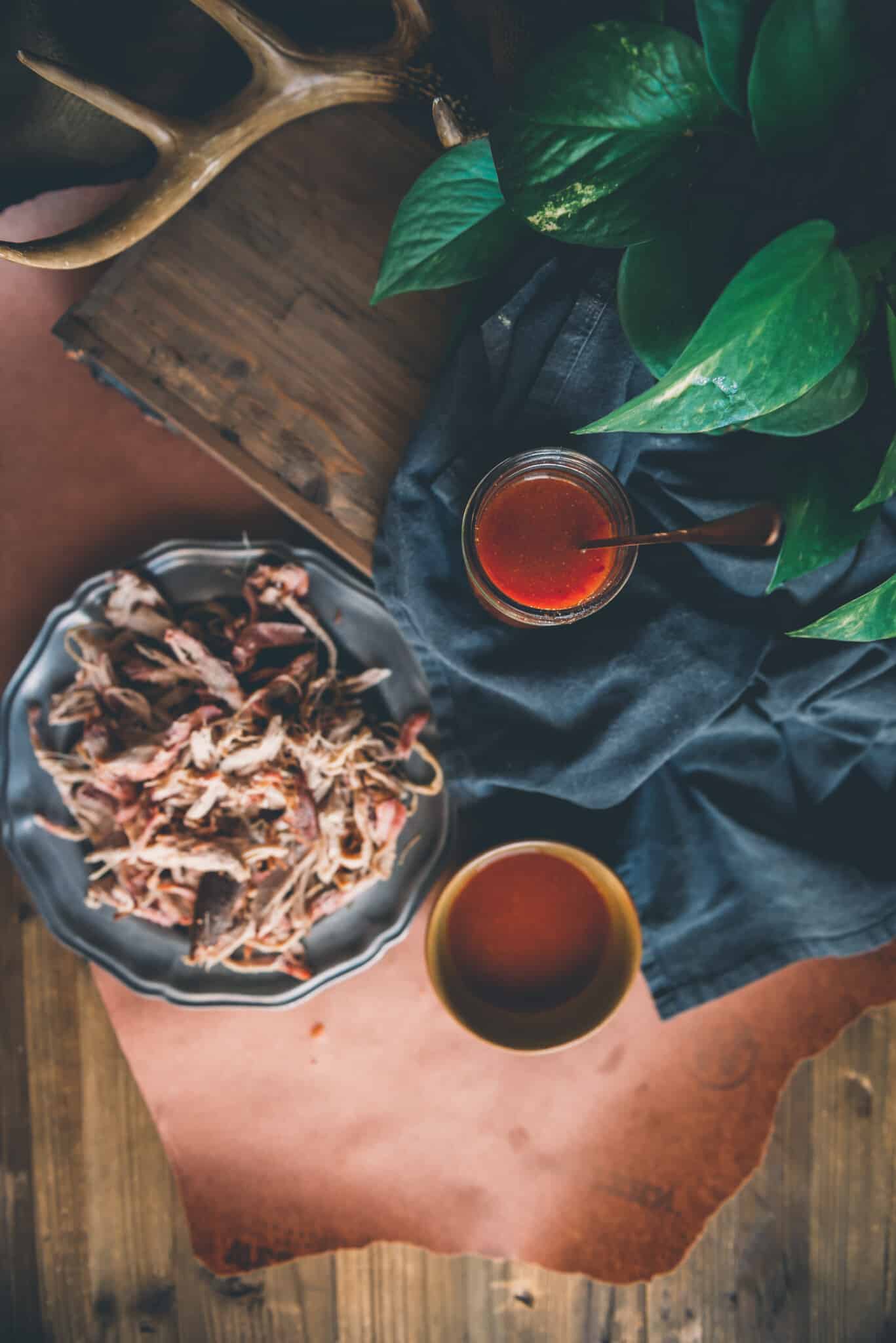 Frequently Asked Questions
Is it spicy?
Oh, you bet it is! This vinegar-based BBQ sauce is not sweet at all, and is indeed spicy. But when you use it to cut a heaping pile of pulled pork or beef brisket, the heat balances out creating an enjoyable flavor. However, if you are not a fan of heat, start with a little before dousing your sandwich in this stuff.
Is vinegar-based BBQ sauce keto?
Most sauces have a pinch of sugar in them for sweetness but see our notes for keto alternatives that we use to make this a keto-approved bbq sauce.
How to thicken vinegar-based BBQ sauce?
If you thicken this sauce, it won't technically be an Eastern Carolina vinegar sauce, but it will still be great. Use more ketchup and a hint of tomato paste and allow it to simmer over low heat to add thickness to this sauce.
More Traditional BBQ Sauces
If you've tried this fundamental sauce recipe or any other recipe on GirlCarnivore.com, please don't forget to rate the recipe and let me know where you found it in the comments below. I get inspired by your feedback and comments! You can also FOLLOW ME on Facebook.
Homemade Vinegar-Based BBQ Sauce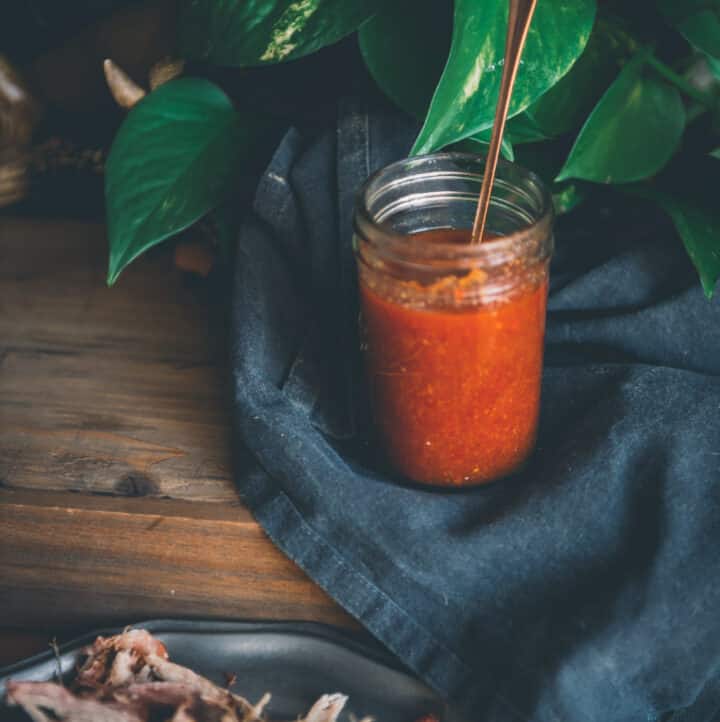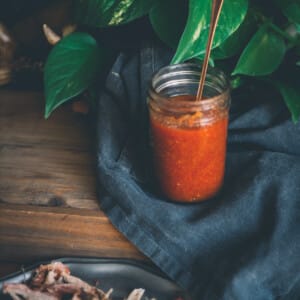 This recipe is a fundamental bbq sauce recipe begging to be used as a mop or sauce on pork, chicken, or beef.
Ingredients
2

cups

Vinegar

1

tbsp

Ketchup

1

tbsp

Brown sugar

1

tsp

Worcestershire

2

tsp

Hot sauce / Cayenne

1

tsp

White vinegar

1

tsp

Lemon juice

1

tsp

Red pepper flakes

1/2

tsp

Garlic powder

1/2

tsp

Black pepper

1

tsp

Salt
Instructions
Simmer the Sauce
Add all of the ingredients to a saucepan over medium-low to medium heat.

Bring to simmer in pan, stirring until sugar is dissolved.
Chill and Store
Remove from heat and allow the sauce to cool.

When cool, pour into jars or air tight containers.

Store chilled for 24 hours before use for best flavor.
Notes
Keto Vinegar Sauce Substitutes: We use Golden Monk Fruit Sweetener with Erythritol or Maple syrup (Choczero) as substitutes for the brown sugar in this recipe. Cooking instructions and storage stay the same. 
Technically speaking, a true eastern NC BBQ sauce doesn't have ketchup. But, we love the depth and umami this teeny bit injects to the sauce.
Nutrition
Serving:
1
g
|
Calories:
22
kcal
|
Carbohydrates:
3
g
|
Protein:
0.1
g
|
Fat:
0.05
g
|
Saturated Fat:
0.01
g
|
Polyunsaturated Fat:
0.03
g
|
Monounsaturated Fat:
0.01
g
|
Sodium:
350
mg
|
Potassium:
25
mg
|
Fiber:
0.1
g
|
Sugar:
2
g
|
Vitamin A:
87
IU
|
Vitamin C:
1
mg
|
Calcium:
8
mg
|
Iron:
0.2
mg