Get on trend with this viral cowboy butter recipe, the easy dipping sauce that takes grilled steaks, meats, seafood, and veggies to a whole new level. But be warned; this recipe may quickly become part of the weekly meal plan.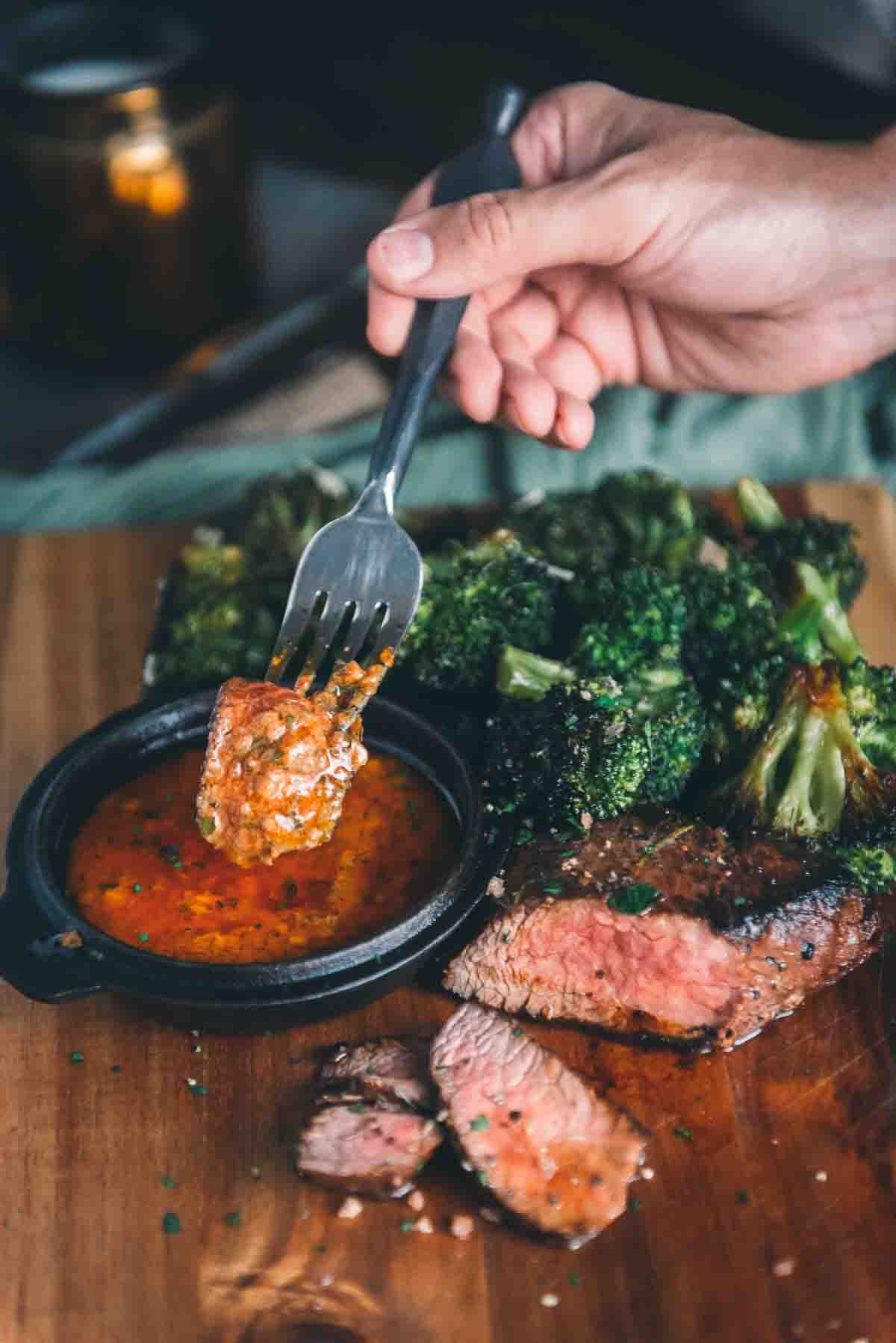 This viral dipping sauce is rich and indulgent. But really, it's also just a bunch of ingredients added to butter to make grilled meats taste even better. Just like with our compound butter recipes, this melted butter is the perfect finishing sauce or secret ingredient for taking average meals and making them extraordinary.
What is Cowboy Butter?
Cowboy butter is simply a flavorful sauce made with melted butter, herbs, spices, and other ingredients to jazz it up to be served with various meats like you're favorite steak recipe, seafood, and veggies. It has garlic, lemon juice (for acidity), mustard, parsley, chives, smoked paprika and heat from horseradish, hot sauce, and a pinch of cayenne pepper. But, since it's just a fancy dipping sauce, you can adjust it to what fresh herbs you have on hand and increase or decrease the heat to your desired tastes.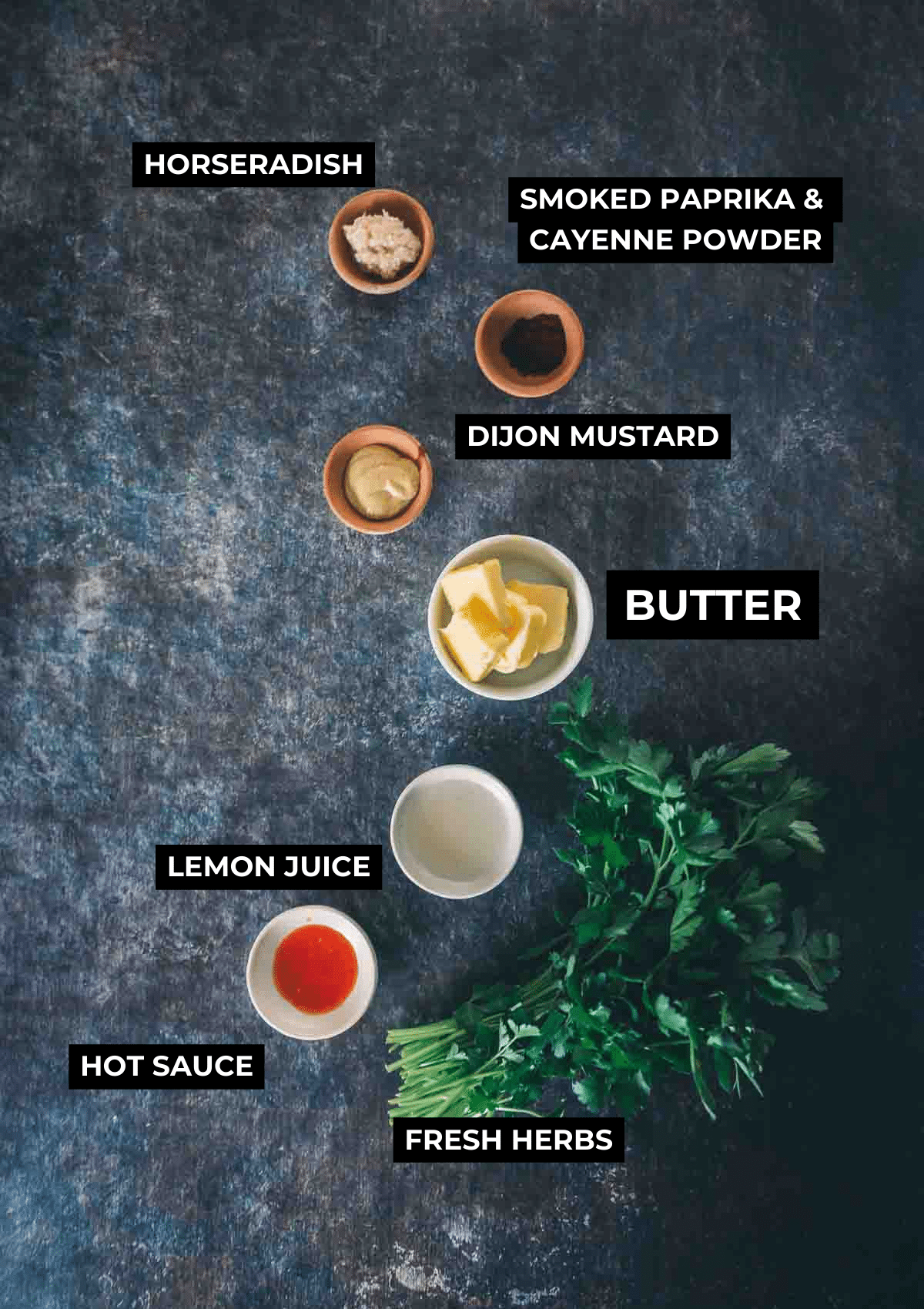 Ingredients
Grab high-quality salted butter and then fresh lemon juice, garlic, horseradish (not the creamed kind), fresh herbs, spices, and a little hot sauce for this recipe. You can use unsalted butter instead and add a bit of salt and black pepper to the melted butter as you whisk in all the other fresh ingredients. I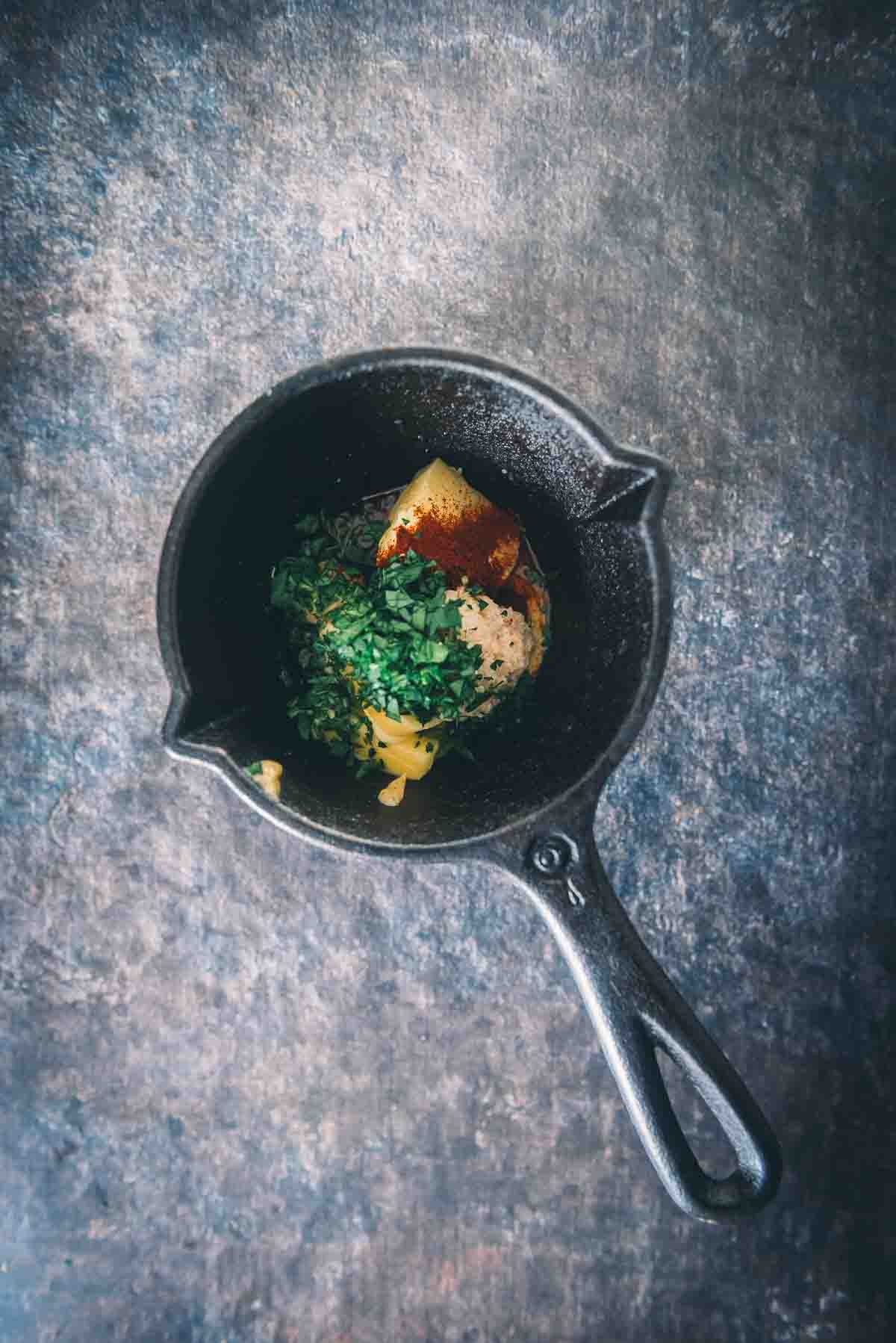 How to make cowboy butter
This simple cowboy butter is an easy recipe. Simply heat the sticks of butter in a small saucepan over low heat to melt it. Add in the minced garlic and other ingredients and adjust the level of spiciness to your liking by adding more or less hot sauce. You can omit the cayenne pepper entirely or add crushed red pepper flakes instead of hot sauce.
Like all things labeled 'cowboy,' this is about making the best of what you have on hand. Use whatever pantry ingredients your family likes in this versatile sauce without a special trip to the market. Don't have fresh chives? Use a minced small shallot instead.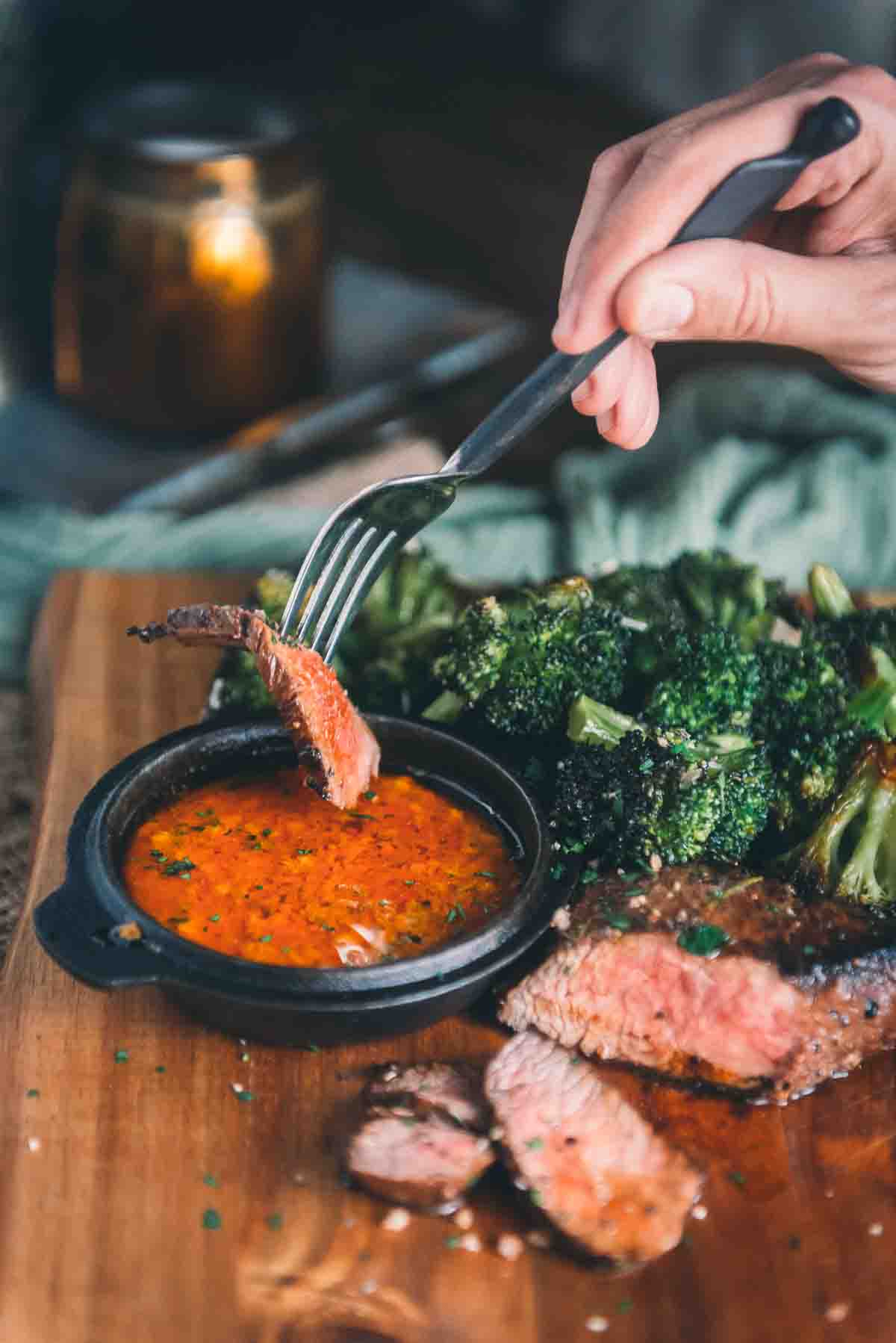 GIRL CARNIVORE EXPERT RECIPE TIPS
The quality of the butter will affect the flavor of this cowboy butter recipe. For a smooth, luscious sauce, splurge and get quality salted butter like Kerrygold.
Consider pulling a steakhouse trick like the famous Peter Luger steakhouse and serving a hot steak on a platter with this style of compound butter melted and spooned onto a warmed plate with the medium-rare steak nestled on top.
What does Cowboy Butter go with
One of our favorite sauces to turn a cheap steak into a restaurant-worthy meal. It's great to really dress up inexpensive cuts like merlot steak, Sierra steak, top sirloin filets, or even chuck steaks. Use it on crusty French bread as a sauce for a spicy steak sandwich, dip-sliced pan-seared ranch steaks, or pour it all over a perfectly grilled ribeye steak.
But it's not just for beef recipes; cowboy butter is versatile and goes with a variety of dishes. Try it on grilled steaks, roasted pork, or drizzled over seafood like grilled shrimp skewers, scallops, grilled lobster, or fish like grilled tilapia. It's also great on side dishes like grilled or roasted veggies or drizzled over a smoked baked potato or elevated street corn.
Leftovers and Reheating
Store leftover cowboy butter in an airtight container in the refrigerator. Stored in the refrigerator, it can last up to one week.
To store it as a roll of butter, allow the butter mixture to cool completely in the fridge before spooning it onto a long piece of plastic wrap or wax paper. Wrap the paper around it while rolling it to form a log of butter. Return to the fridge for up to a week or freeze for up to 3 months. Like this, it's wonderful to slice off and place over steaks as they rest.
To reheat, gently warm the cowboy butter sauce recipe in a saucepan over low heat, stirring often, or in a small bowl in the microwave in 10-second intervals, stirring between each until it reaches your desired consistency. However, it will be smoother and more cohesive in a saucepan.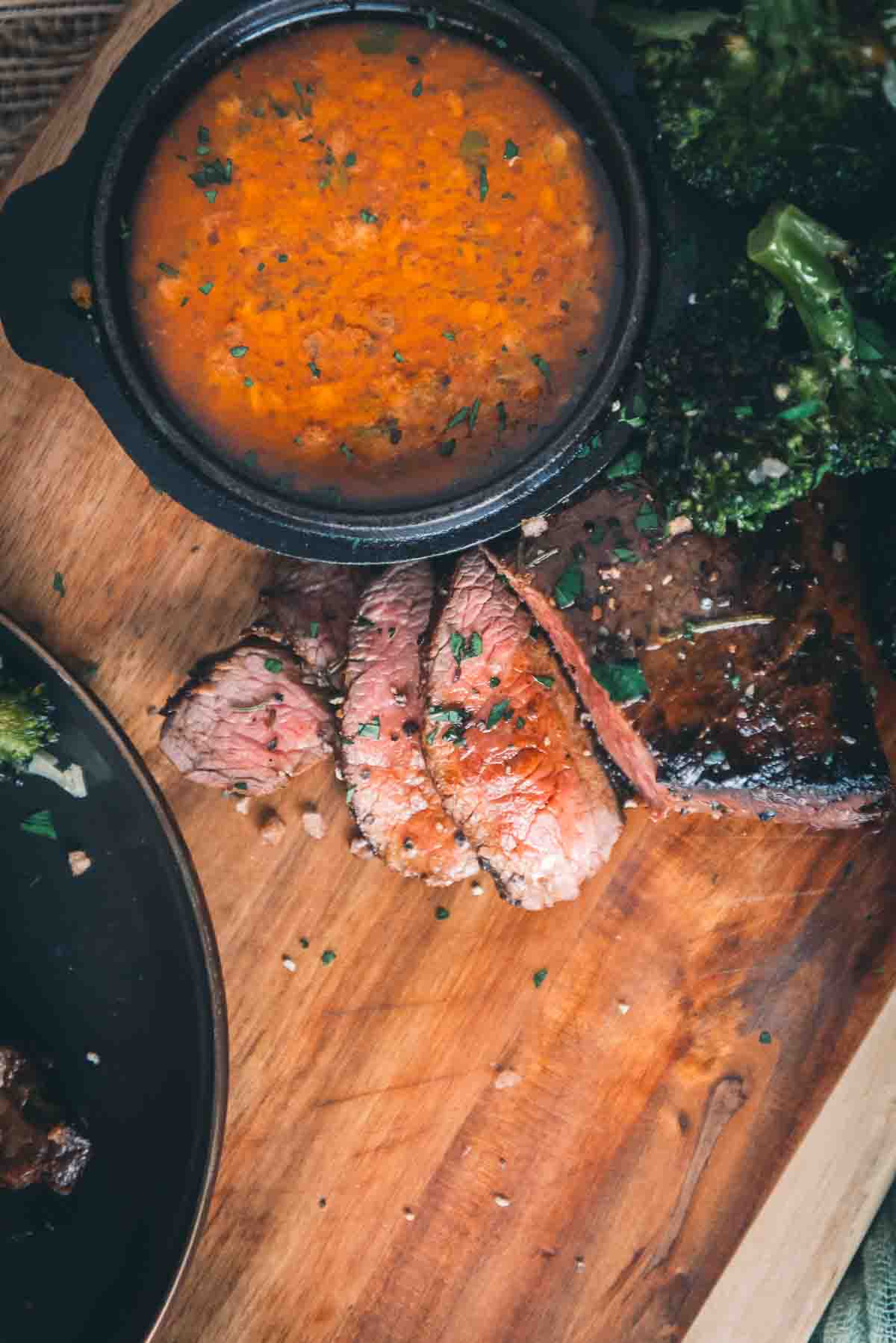 Recipe FAQs
Can I make cowboy butter ahead of time and store it for later?
Yes, you can make cowboy butter ahead of time and store it for later use. Once prepared, let the cowboy butter cool to room temperature, then transfer it to an airtight container and refrigerate. Simply reheat it when ready to use in a small saucepan over low heat.
Can I substitute dried herbs instead of fresh herbs in a cowboy butter recipe?
Yes, you can always use dried herbs in place of fresh herbs in a cowboy butter recipe. Dried herbs have a more concentrated flavor when freshly opened, so use less. However, if they have been sitting in your pantry for more than 60 days, you will need to test them as you add for the best flavors. As a general rule, substitute one teaspoon of dried herbs for every tablespoon of fresh herbs called for in a recipe.
What is the ideal consistency for cowboy butter?
Unlike traditional compound butter recipes, Cowboy butter should be smooth and pourable but not too thin or as runny as melted butter. It will coat the back of a spoon like velvet, meaning the thicker butter sauce will also coat your steak, fish, or meat when served as well.
To keep it warm, consider using a warm ramekin elevated over a small candle while serving or a small cast iron pan as it will hold heat longer.
Can I use cowboy butter as a marinade for meats and seafood?
Yes… you could use homemade cowboy butter sauce as a marinade for meats and seafood. However, since it's butter, it will harden and not coat meats and tenderize proteins in the way an oil-based marinade would when stored in the fridge for safe handling. We recommend a traditional steak marinade to tenderize and add deeper flavor, then use this cowboy butter recipe as a dipping sauce.
More delicious steak sauce recipes
Sauces, Mops, & Condiments
Have you tried this fun steak sauce recipe yet? It's fun and easy to make, but you can really take a good piece of meat and make it great! Whether you want to light a few candles and serve this as a romantic meal or just make your next bbq a little more flavorful, it's the perfect recipe. If you have tried it, please rate the recipe card and drop a comment below to help out the next guy!
Cowboy Butter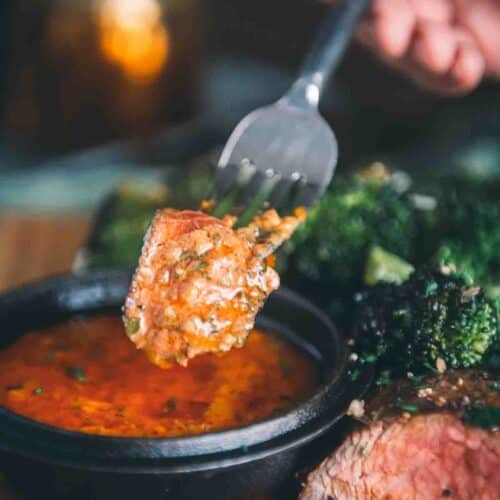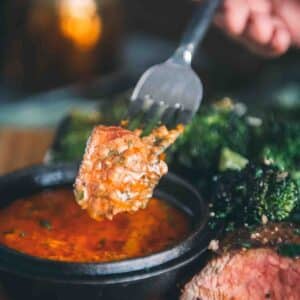 Elevate your culinary game with our scrumptious cowboy butter recipe. 😋 Indulge in a zesty, flavor-packed sauce perfect for grilled meats, seafood, and vegetables, taking your meals to new heights.
Ingredients
6

tbsp

butter

1

tbsp

lemon juice

4

Garlic cloves

1

tbsp

Horseradish

1

tbsp

fresh Parsley

minced

1

tbsp

fresh chives

minced

1

tsp

Dijon mustard

1/2

tsp

Smoked Paprika

1/4

tsp

Cayenne powder

1

tsp

Hot sauce

plus more to taste
Instructions
Place a small saucepan over low heat.

Add the butter, lemon juice, garlic cloves, and all the other ingredients.

Whisk slowly as the butter melts to incorporate all of the ingredients into a smooth, rich sauce.

Remove from heat and serve immediately.

To keep the sauce warm and help any natural separation from occurring, serve this in small ramekins over a candle to keep warm or in a small cast iron sauce pan to hold the heat longer.
Notes
Feel free to add minced shallots, change out the herbs for others and have fun with this recipe!
Reduce the heat by omitting the cayenne or hot sauce. Add more with chili flakes.
Mix and match whatever you have on hand.
We normally cook with unsalted kosher butter. But for this recipe, we use high-quality salted butter. You can use unsalted butter, just add a pinch of salt and freshly ground black pepper to the ingredients when whisking.
Nutrition
Serving:
1
g
|
Calories:
80
kcal
|
Carbohydrates:
1
g
|
Protein:
0.3
g
|
Fat:
9
g
|
Saturated Fat:
5
g
|
Polyunsaturated Fat:
0.4
g
|
Monounsaturated Fat:
2
g
|
Trans Fat:
0.3
g
|
Cholesterol:
23
mg
|
Sodium:
96
mg
|
Potassium:
25
mg
|
Fiber:
0.2
g
|
Sugar:
0.3
g
|
Vitamin A:
410
IU
|
Vitamin C:
3
mg
|
Calcium:
8
mg
|
Iron:
0.1
mg