From a luscious medium-rare to a decadent well-done, we're demystifying the art of steak temperature. No frills, just culinary finesse. Follow our comprehensive guide to achieve the perfect steak doneness every time. Learn the key temperatures for rare, medium-rare, medium, and well-done steaks, ensuring your meat is cooked to perfection.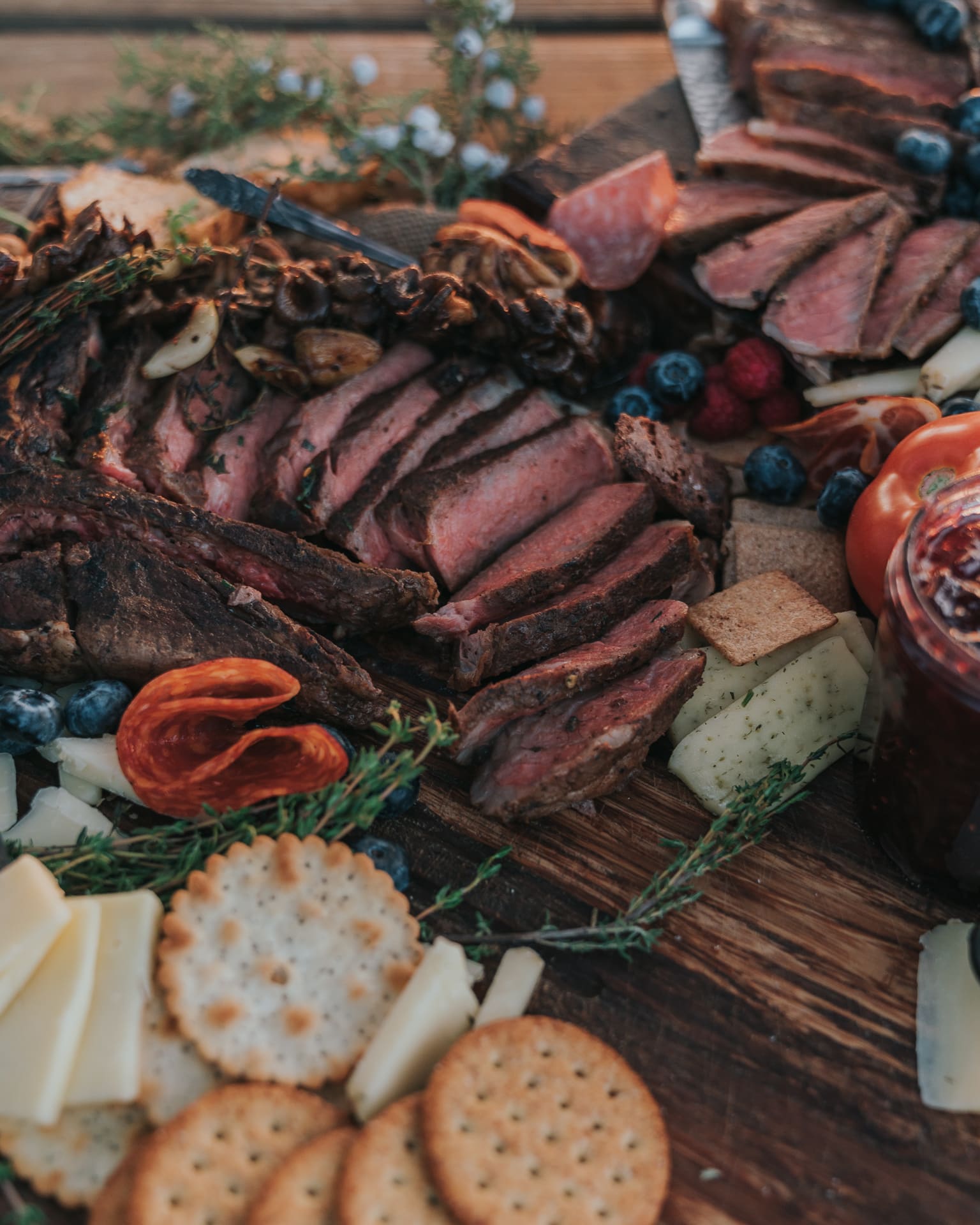 When it comes to a perfectly cooked steak, there are several factors that come into play. The heat of the cooking surface, the starting temperature of the steak, your desired finished doneness, the thickness of the steak, and the environment.
These all play a crucial role in cooking exactly the way you like it, no matter the type of steak. A thicker steak needs more time to reach medium rare than a thin cut. And a steak recipe being grilled over a fire in the rain may take longer than one in the convection heat of an oven. It's important to understand how these things can all make or break your delicious meal.
TL;DR SUMMARY
This article covers:
Achieving precise steak doneness, from medium-rare to well-done.
Understanding key factors influencing cooking outcomes.
Temperature ranges and descriptions for each doneness level.
Effective use of a meat thermometer for accurate results.
The science behind cooking steaks and resting importance.
The long and short of it is, use a digital thermometer.
Have you ever wondered how to achieve that perfect juicy, tender, and flavorful steak? No, it's not all in the steak marinade. It really comes down to temperature, no matter if you're grilling, searing on the range top, or sous vide cooking. With this guide, the next time you grill a steak on a gas grill or a charcoal grill, or get that edge-to-edge crust when you learn how to sear a steak, your big cut of beef will turn out perfectly.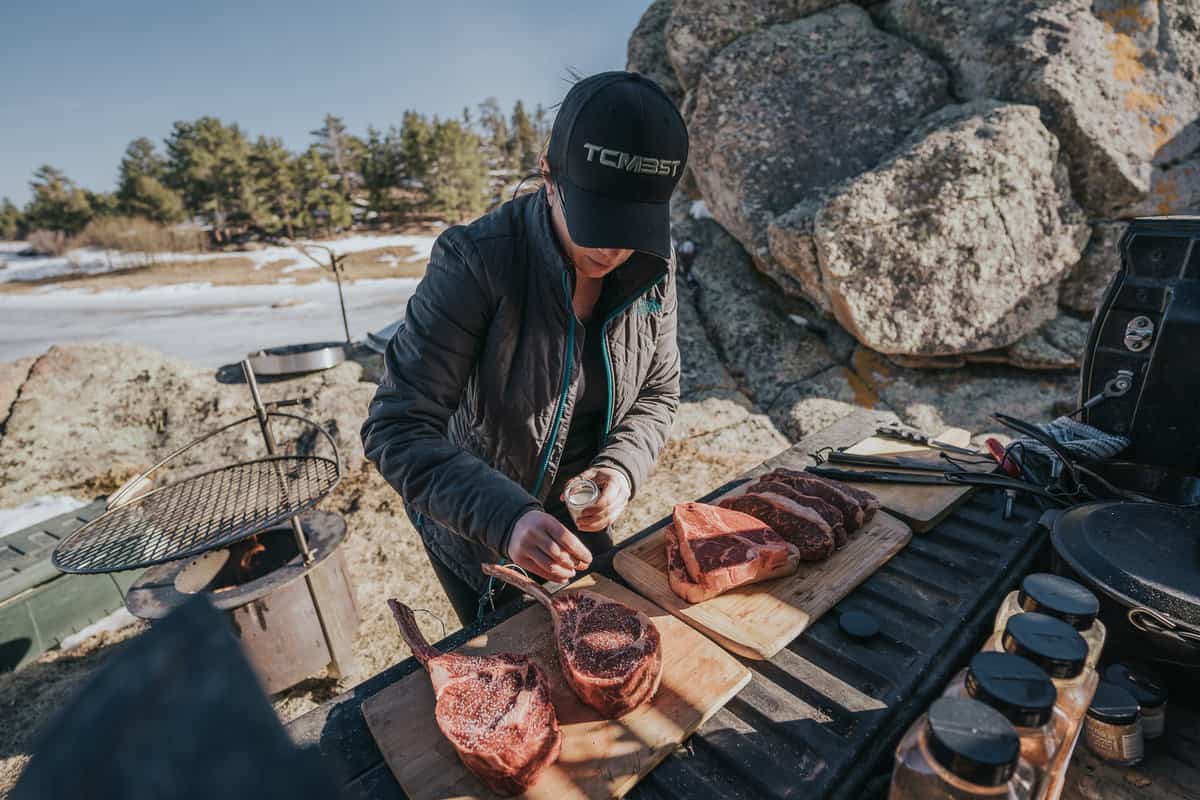 Steak Doneness Levels
The most accurate way to measure the internal temperature of a steak is to use an instant-read thermometer. While the steak is cooking, insert the meat thermometer through the side into the center of your steak. Make sure the tip of the thermometer is surrounded by meat. If it touches bone, gristle or fat, the temperature can be skewed.
Some experienced chefs can tell a steak's doneness by feeling it. If you press on the steak, the proteins will be looser, the rarer it is. As it cooks, the steak will become firm. But this method isn't failproof and different steaks have different textures. Filet mignon is naturally more tender than a tri-tip steak. We recommend always using a thermometer.
Blue steak temperature
Temperature: 115-120 F
Color: Bluish-red inside with a quick thin sear outside
Tenderness: Can be chewy depending on the cut
Rare steak temperature
Temperature: 120-125 F
Color: Bright red center with slight char on the outside
Tenderness: Very soft
Medium-rare steak temperature
Temperature: 130-135 F
Color: Warm red center with more browning on the edges
Tenderness: Evenly soft and tender
Medium steak temperature
Temperature: 135-145 F
Color: Light pink center with a thicker ring of brown
Tenderness: Soft in the center with firm edges
Medium-well steak temperature
Temperature: 145-155 F
Color: Light brown with a touch of pink in center
Tenderness: Stiff
Well-done steak temperature
Temperature: 155 F plus
Color: Brown all the way through
Tenderness: Firm and chewy
Steak temperature chart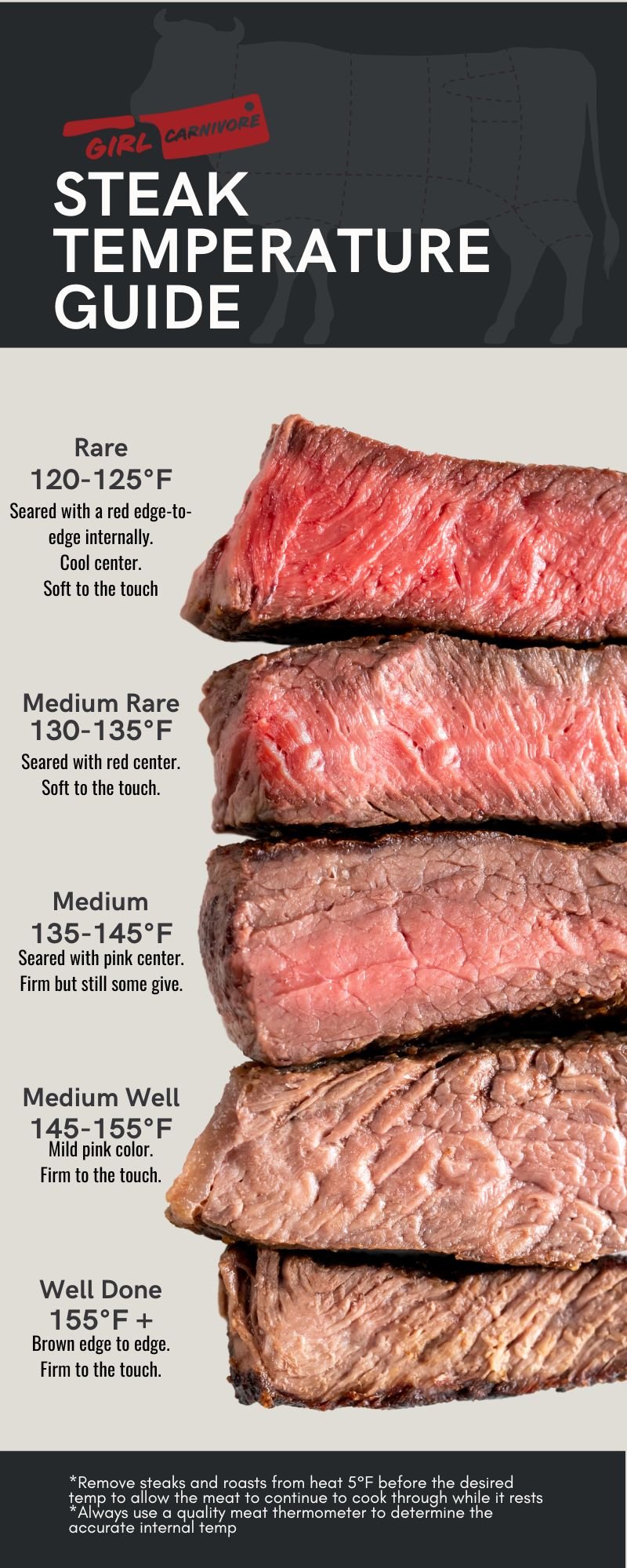 Resting and carryover cooking
We've all been there, slicing into a perfectly cooked steak salivating like Pavlov's dogs just to find it's over cooked…. Resting and carryover cooking are crucial steps in achieving a perfectly cooked steak. When you take the steak from the heat, it's important to know that the residual heat trapped within the steak will cause it to continue to cook 5 to 10 degrees. This phenomenon is known as carryover cooking.
To ensure your steak reaches your preferred level of doneness, we suggest taking it off the heat a few degrees before it reaches that temperature. For example, if we want a medium rare steak, we will take meat off of the heat 5 degrees below what our ideal temperature will be after the rest time.
This anticipates the extra cooking that will occur due to carryover heat, preventing your steak from overshooting your desired doneness with its final temperature. This technique accounts for the heat transfer within the tender steak and helps you achieve a consistent and precise outcome, be it rare, medium-rare, or any other level of doneness.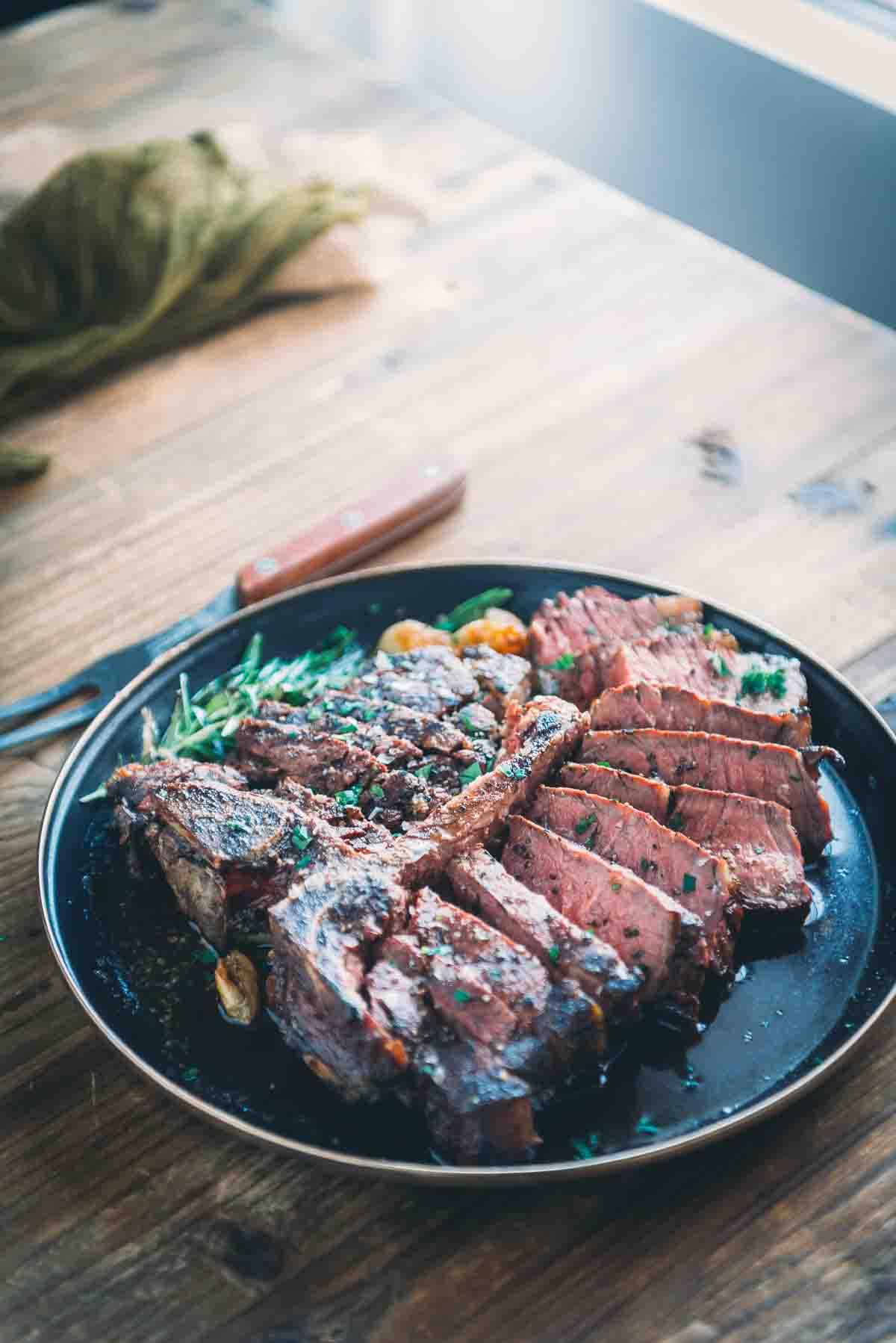 HOW TO USE A MEAT THERMOMETER
Knowing where to probe the meat is just as important as taking the temp:
Insert: Insert the thermometer's probe into the thickest part of the steak, avoiding bone or fat.
Wait for Stable Reading: Wait a few seconds for the temperature reading to stabilize. Ensure the probe tip is in the center of the meat for accurate results.
Check Temperature: Read the temperature on the display. Different meats have different target temperatures for doneness. Check our steak temperatures chart to master the perfect cook.
Remove and Clean: Clean the thermometer probe between uses, especially when switching between different types of meats, to prevent cross-contamination.
Rest the Meat: After checking the temperature, let the meat rest before slicing. This allows the juices to redistribute, resulting in a juicy and flavorful dish. Remember, carryover cooking will happen as the steak rests. Expect the steak doneness level to rise another 5 to 10 degrees while you wait to slice into it.
Curious about what our favorite grills, tools, and spices are? Be sure to check out our shop page.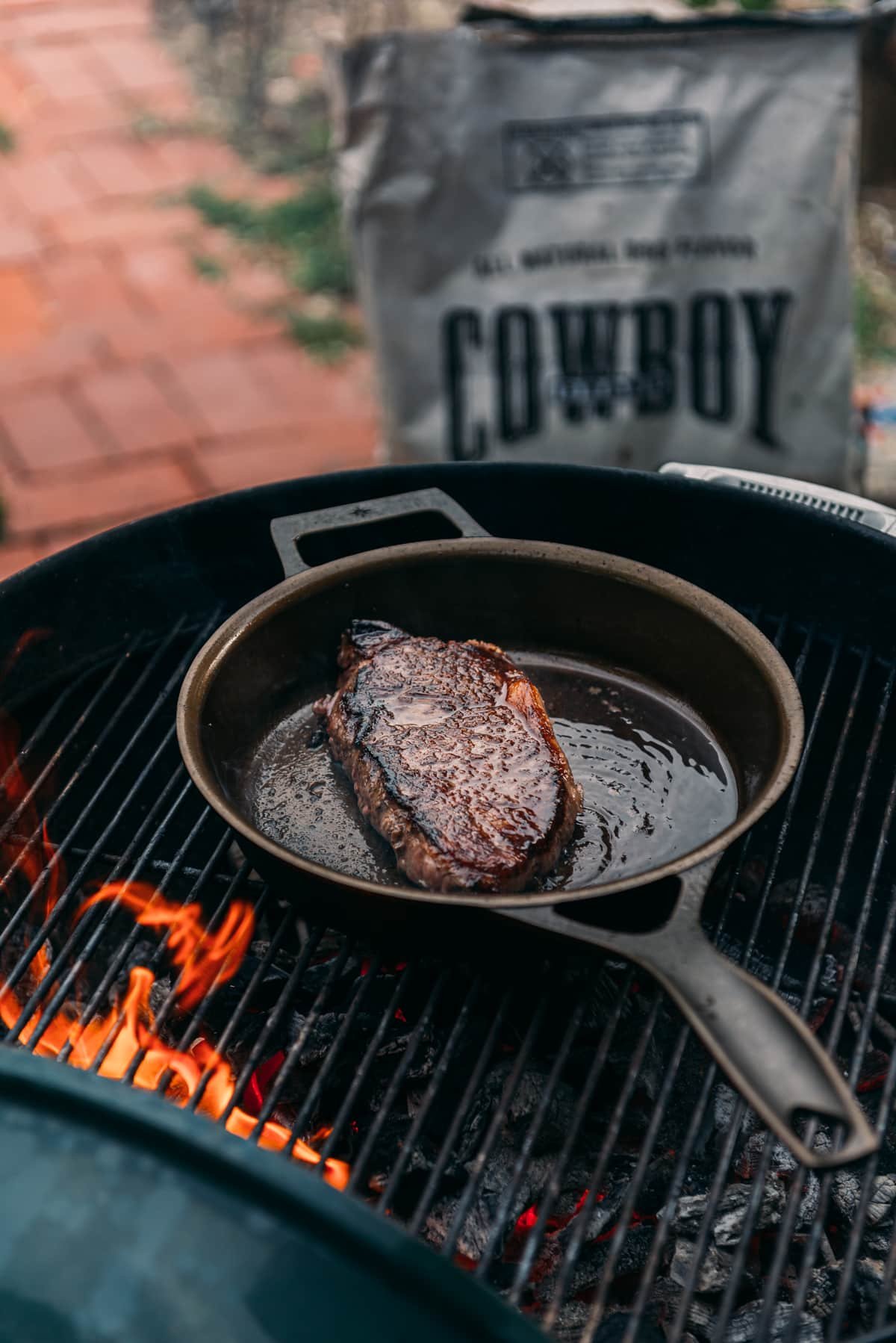 What Cooking Does To Your Steak
Cooking a steak is more than just applying heat to the meat; it's an art and science, that transforms a raw piece of beef into a delectable and tender delicacy. Understanding what happens during the cooking process can help you perfect your steak-cooking skills and achieve the desired flavors, textures, and juiciness.
Maillard Reaction: Unlocking Flavor Profiles
The Maillard reaction is a chemical reaction that occurs when proteins and sugars are exposed to high heat. This process results in the delicious browning and caramelization on the surface of your steak, creating complex flavor compounds that enhance its taste. As you cook your steak, amino acids react with reducing sugars through this reaction, releasing aromas and adding depth to its flavor profile and creating that perfect crust, sear, or grill marks that are amazing to slice through.
Tenderizing via Heat: Breaking Down Collagen
Heat plays a crucial role in breaking down collagen present in tougher cuts of meat like chuck eye steaks or flank steaks. As temperatures rise during cooking, collagen gradually converts into gelatin, making the meat more tender and easier to chew. This means, yes, some steaks are better cooked past medium-rare, resulting in melt-in-your-mouth tenderness.
Retaining Juiciness: Sealing in Moisture
When cooked correctly, even well-done steaks can retain their juiciness! Applying high heat initially helps form a flavorful crust while sealing the moisture within the steak by caramelizing its natural juices. Searing locks in these juices before completing the cooking process at lower temperatures for uniform doneness throughout without losing moisture content. Alternatively, for thicker cuts, like a 2 " king cut porterhouse steak, the reverse sear method allows the steak to cook evenly through while finishing with a perfect cast iron sear.
Personalized Doneness Levels: Achieving Preferred Cooking Levels
Cooking a steak to your desired degree of doneness is crucial for ultimate enjoyment. Whether you prefer rare, medium-rare, medium, or well-done steaks, understanding cooking temps is critical for your personal satisfaction.
Resting Time: Allowing Flavors to Settle
After removing your perfectly cooked steak from heat, it's essential to let it rest for several minutes before cutting into it – this step shouldn't be overlooked! Resting allows time for internal temperature equalization and redistribution of juices throughout the meat, resulting in a more evenly cooked and flavorful steak. Additionally, this resting period helps retain juiciness by preventing immediate moisture loss when cutting into the steak. And its a great time to add another layer of flavor by adding a slice of compound butter atop the steak. This is a steakhouse trick for bathing the steak in an additional layer of rich umami flavor.
Although we love cooking campfire recipes, our favorite way to get a mouthwatering steak every time is using a seasoned cast iron pan. We love the edge-to-edge crust. Another great way to guarantee perfect results is the sous vide method. Neither of these may be as fun as live fire cooking, with the amazing aroma of real charcoal and smoking wood, but they produce results that wow consistently.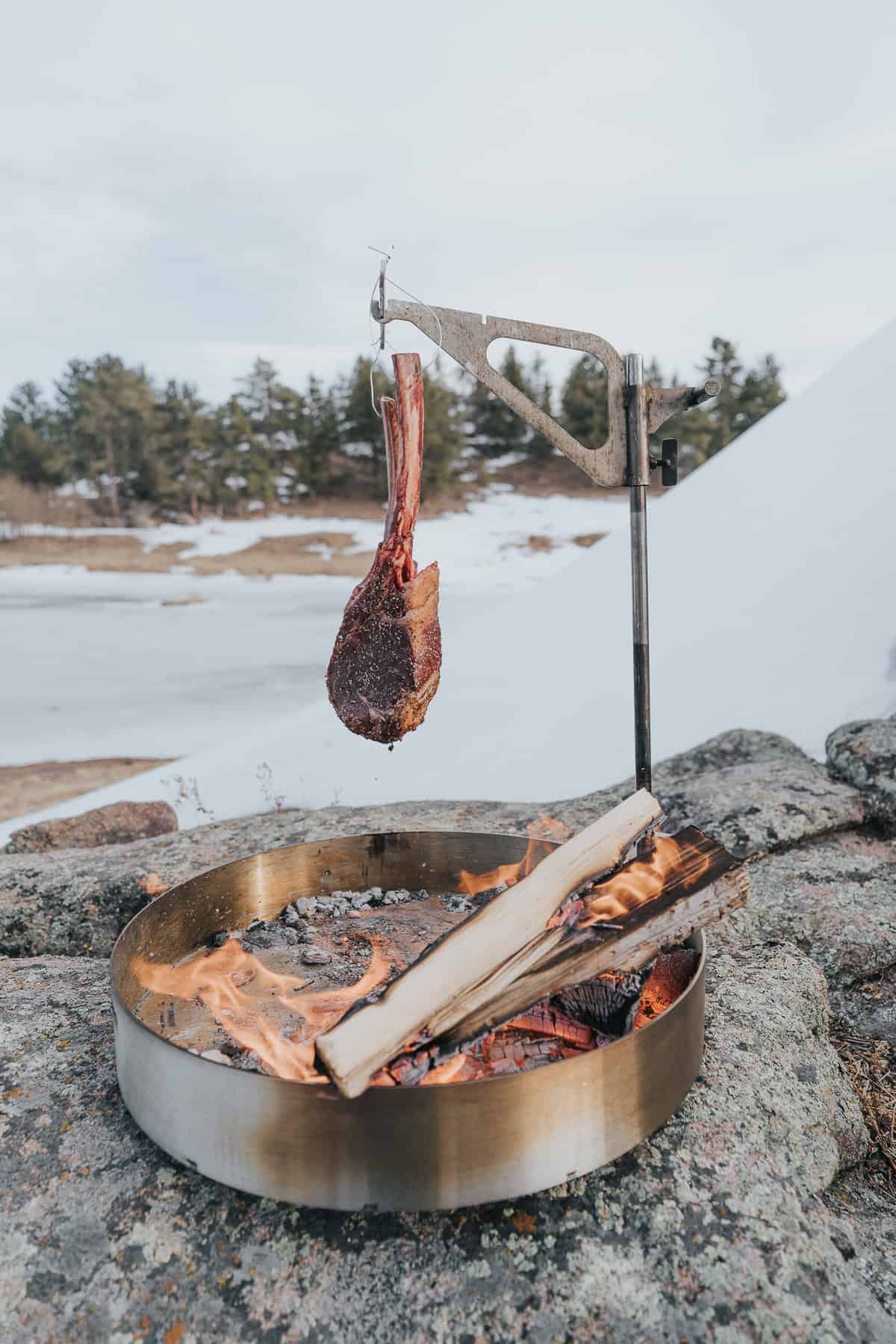 The next time you're cooking steak, consider these tips and cook to your desired temperature. If you source great quality beef and don't fall into a high-risk category, try cooking it to medium-rare for a flavorful steak that is guaranteed to be juicy and tender. Then practice your chef skills with a brandy peppercorn sauce or a Classic Béarnaise Sauce to finish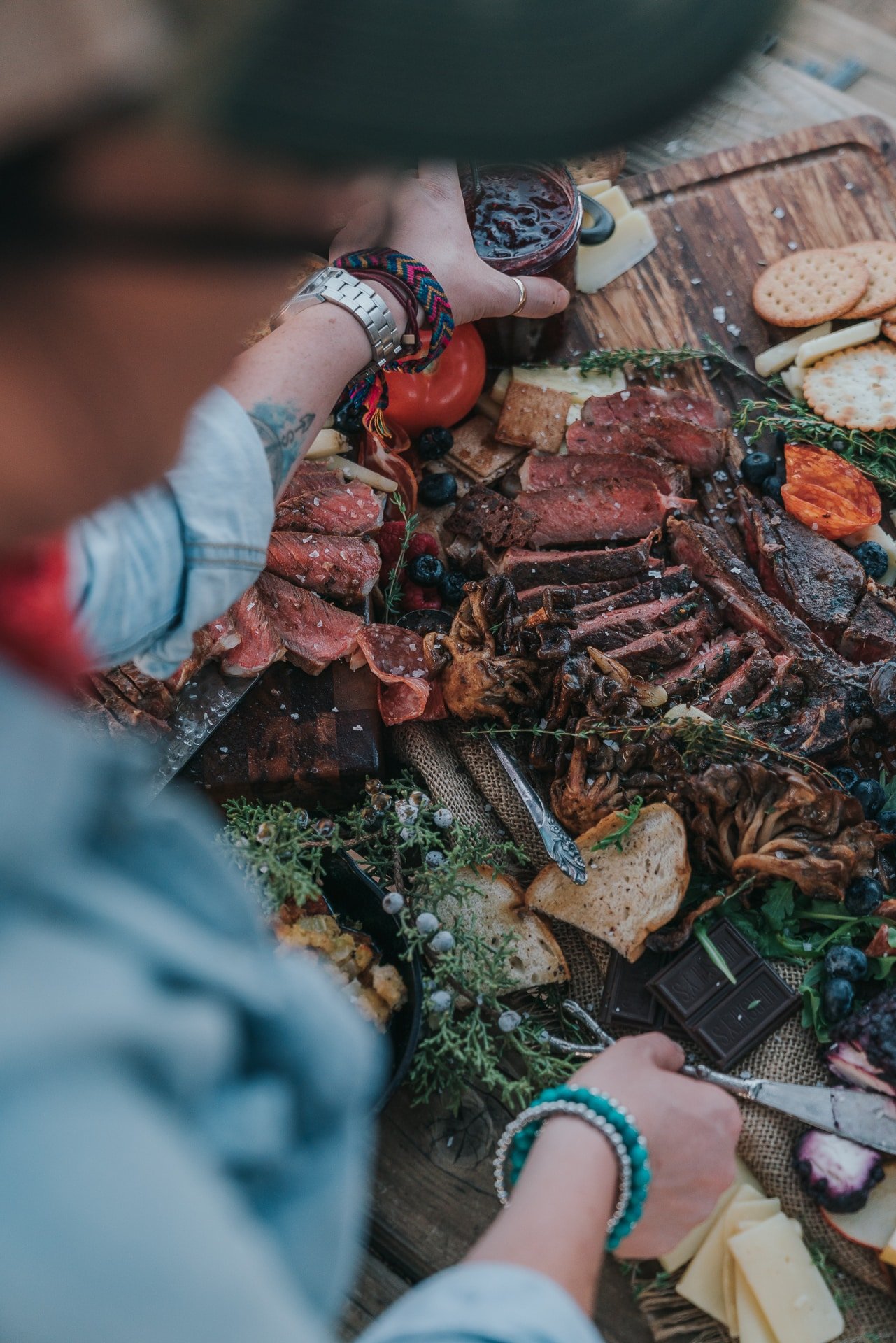 USDA safety considerations
Before breaking down different steak doneness levels, it's important to consider the USDA recommended temperature for cooked steak.
They advise cooking raw beef, including steak, to an internal target temperature of 145 F with a minimum 3 minute resting period. This is considered the safe minimal internal temperature to prevent foodborne illness. They also recommend using a digital thermometer to get the most accurate temperature reading.
Restaurants around the U.S. offer steaks cooked below 145 degrees F. To do so, the FDA requires them to include a consumer advisory statement on their menus about the risks of eating raw or undercooked items.
Diners who are very young, elderly, pregnant, or have compromised immune systems are most at risk if steaks are prepared below that temperature.
If you're concerned about going below that temperature or you fall into the high-risk category, you can also obtain great tenderness, juiciness, and flavor by cooking beef that's graded USDA prime. Check the labels to know what you're buying. Certain cattle breeds like Angus and Wagyu are also known for more marbling and better tenderness.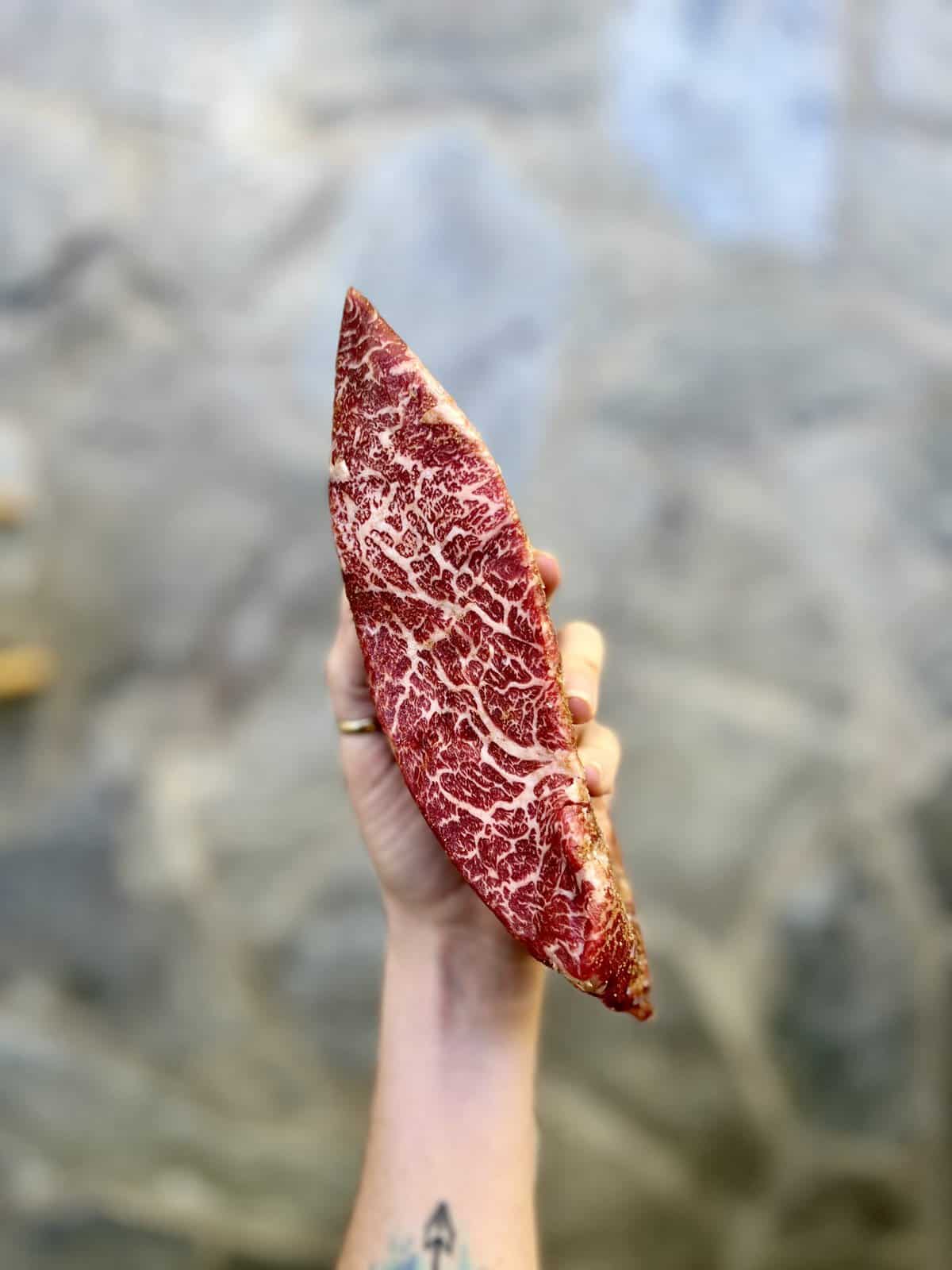 So why do restaurants offer steaks cooked below what the USDA recommends?
Because steaks cooked to medium-rare or rare have a more enjoyable mouthfeel, taste, and texture for many diners. Plus, the restaurants are confident in the safety protocols followed while sourcing their meat.
If you plan to cook your steak at home below the USDA recommended temperature of 145 F, be sure to choose beef from a quality meat source. Not sure where to buy meat, we have a full list of trusted sources we use when we buy meat online.
Cooking a steak to rare means that the internal temperature reaches around 125 F, which is below the USDA-recommended safe minimum internal temperature of 145 F for beef. While the risk of harmful bacteria is reduced at higher temperatures, the safety of rare steak depends on factors like the source of the meat, handling, and cooking methods.
Then, all that's left for juicy steak is to season it with a good steak rub and cook it in a skillet or on a grill or griddle.
Now that you've mastered cooking steak learn how to grill the perfect burger on a gas, charcoal or pellet grill.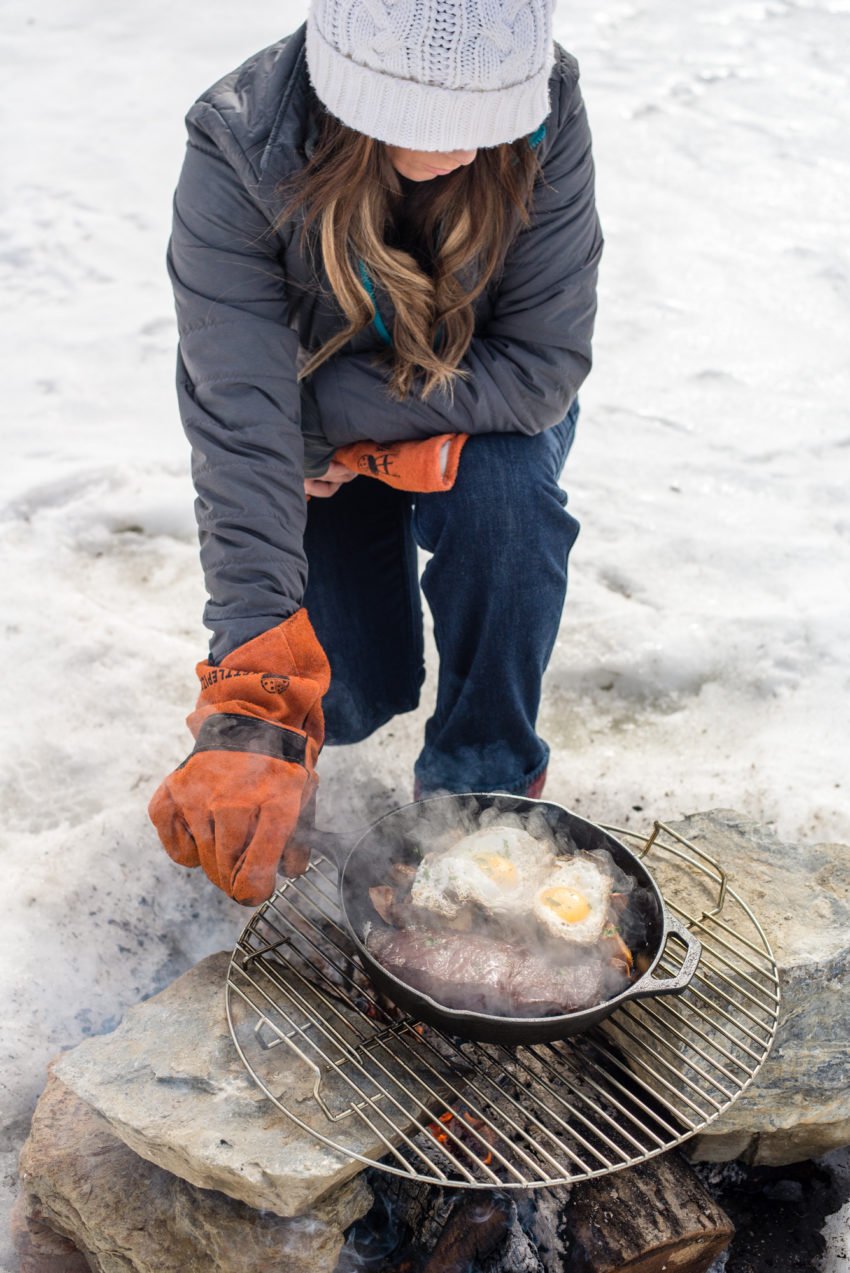 FAQs
Where should I insert the thermometer in the steak?
Insert the thermometer probe into the thickest part of the meat without touching bone, fat, or the cooking surface for an accurate reading.
What's the difference between rare, medium-rare, and well-done steak?
Rare steak has a cool center, medium-rare is warm and slightly pink, while well-done steak is fully cooked with no pink. A meat thermometer helps you achieve your desired doneness.
Should I check the temperature from the side or the top?
For the most accurate reading, insert the thermometer probe from the side of the steak to the center.
Can I rely on cooking times alone?
Cooking times vary based on factors like steak thickness, how you cook your steak, and pan or grill temperature. A meat thermometer provides accurate results, helping you avoid overcooking.
IS THE RED COLOR IN MEDIUM-RARE BEEF BLOOD?
No. The red color comes from a pigment called myoglobin, which is a protein found in muscle tissue that helps deliver oxygen to the muscles. Raw beef appears red because the myoglobin is in its natural state. When heat is introduced to the meat, the myoglobin undergoes a chemical change.
Parts of this article were originally written by Christie Vanover of GirlsCanGrill.com. This article originally appeared on Food Drink Life.