The tenderloin is the be-all end-all of juicy, flavorful pork cuts. It's small enough to cook quickly and retains a fork-tender bite. But can it be cooked over the coals and still lock in all of its qualities? Absolutely, and it just may be your summer grilling trick of choice. This is how to grill a pork tenderloin perfectly every time.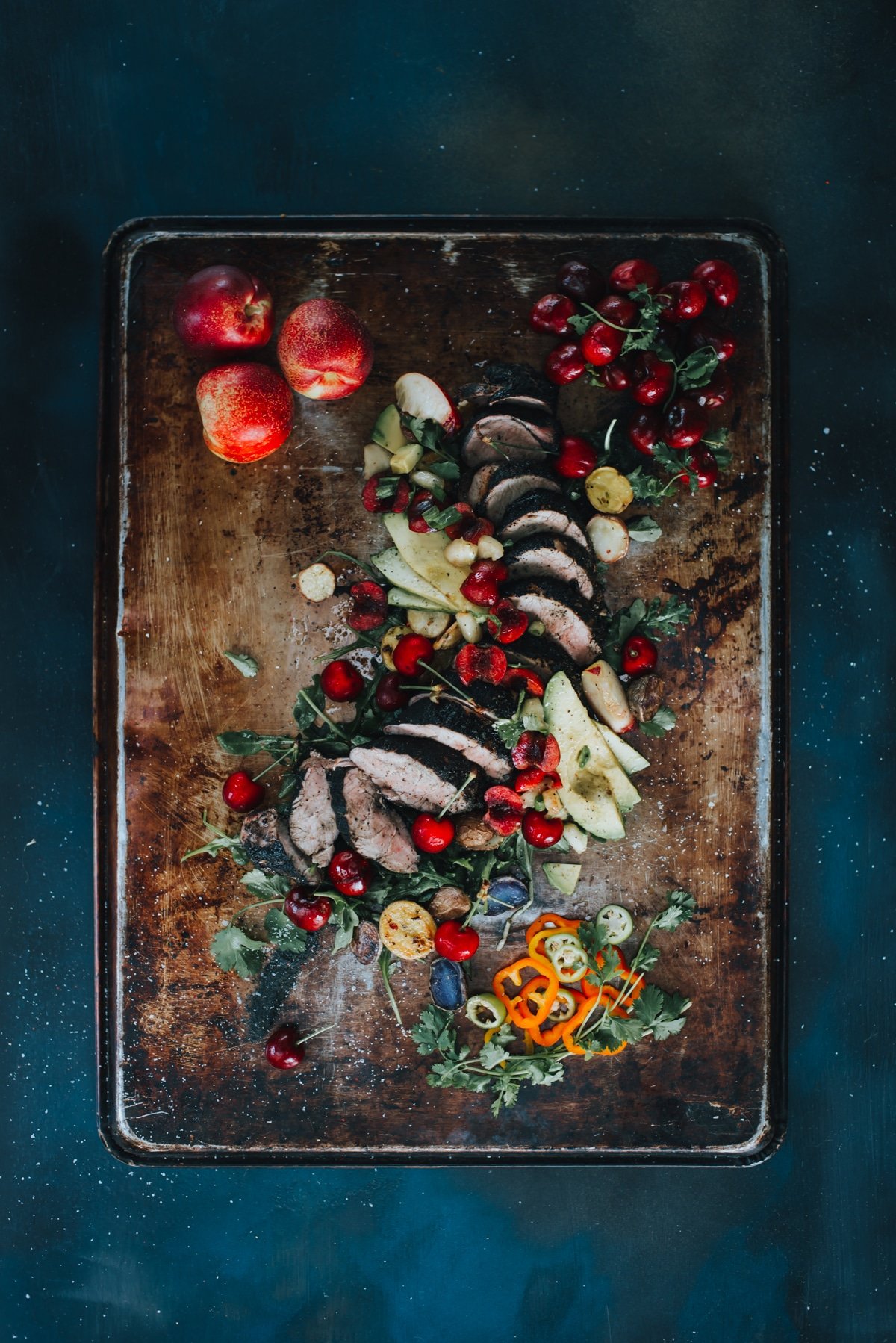 With the long hot nights of summer settling in, grilling outdoors becomes part of the daily routine. But oftentimes, people get stuck… burgers, hot dogs, steaks… Pretty much the standard summer holiday menu. Which is why I love mixing my menu up.
Taking cuts like double-cut pork chops and smoking them or like with this char-grilled tenderloin recipe, showing how everything can have that signature charcoal flavor and still retain a luscious tender bite.
That's why pork tenderloin on the grill is one of my favorite pieces to show off when grilling for company. It's a luxury cut – and one many overlook when it comes to grill season because they are afraid of overcooking it. Sure, it's perfect roBut I am here to change that thinking and challenge you to toss it over the smoke. It's a seriously easy one for the grill and once you master it, your grill mastery just got that much stronger.
I love when I serve this for friends and they can't believe I made it over live fire!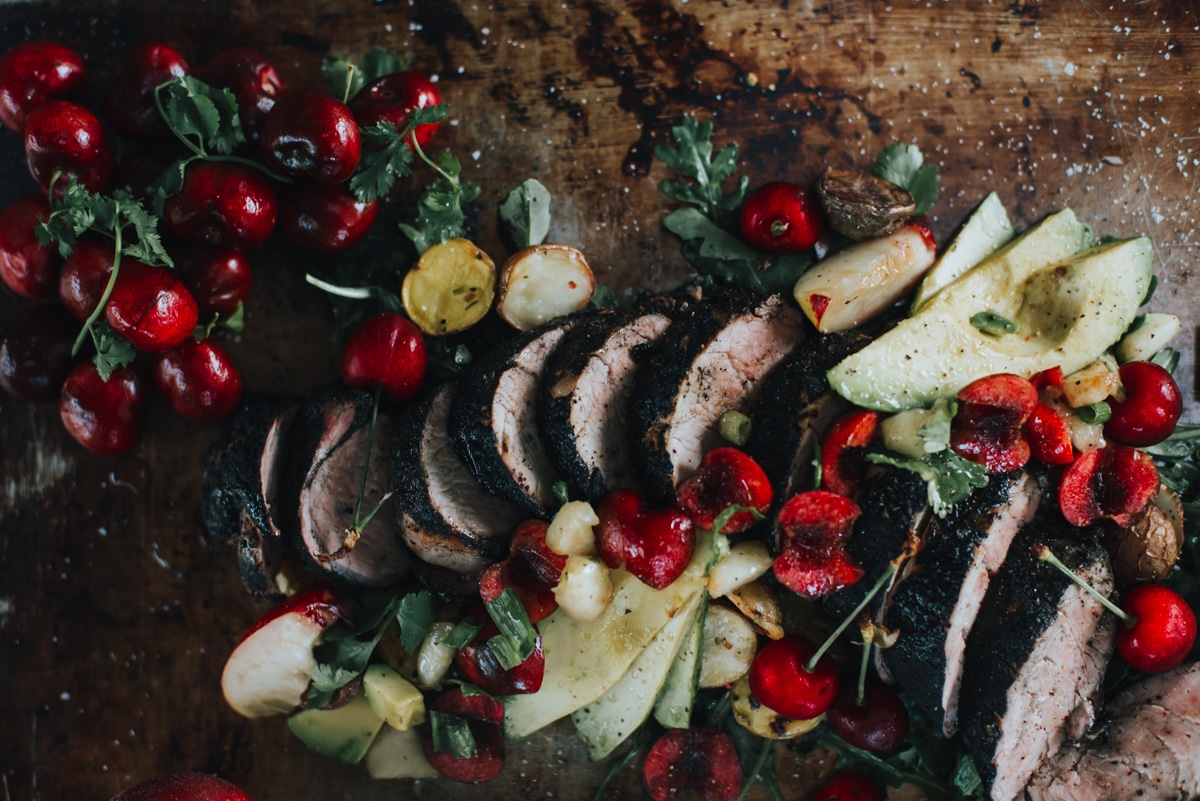 The tenderloin, the Gentleman's Cut.
Often overlooked, the tenderloin is one of my go-to cuts for impressive meals.
Take the pork tenderloin, the gentleman's cut of pork, is from the back section of the pig, and is significantly smaller and not to be confused with the loin itself.
GirlCarnovore Pro tip: a name is not just a name when it comes to meat cuts. It's easy to tell what something is all about (hint, it's in the title). With the title being tender + loin, you know this is an exceptional cut, lean, and ready to be devoured.
The tenderloin is often found in small packages with two one-pound tenderloins that are often a light pink color, for around $5.50 a pound. The tenderloin is significantly more expensive than the loin, but pork is still an overall affordable protein when keeping a variety in the diet.
If you are curious more about pork and the farming behind it, I have a write up on the top consumer Q and A's for a deeper dive.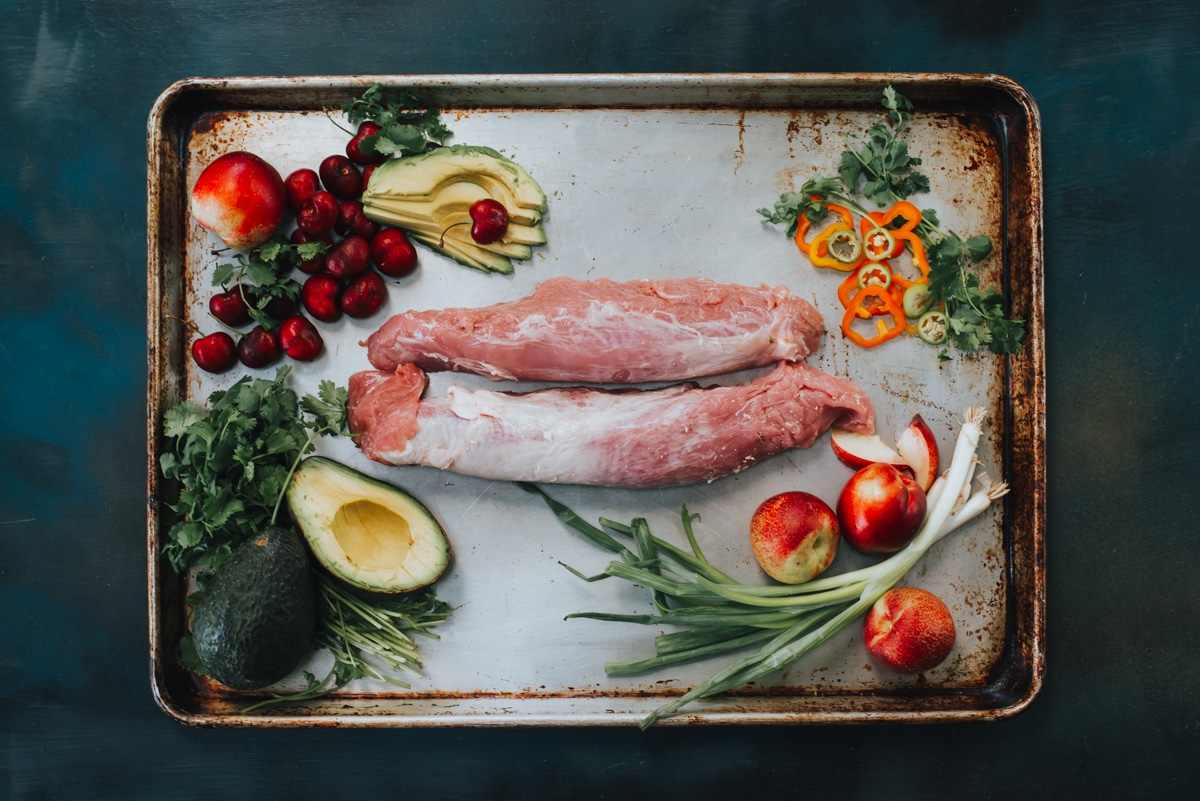 Best Way to Cook Tenderloin
Often, you will see tenderloin pan-seared quick to brown up the edges and then finish gently in the oven. Due to its small size and only needing to reach 145°F for serving, it cooks incredibly quickly.
Any quick cooking method is the way to go for this cut. Oven roasting, smoking, and of course, grilling are all perfect options. Avoid long slow cooks as the tenderloin will shred but lacks the fat that enriches a braise or slow cook.
Unlike the loin, which I love to slow cook, or the rack that needs more time due to its size, this cut is best served sliced into thin medallions so you still get a fork-tender bite.
Pork is amazing with a variety of flavors, from sweet to savory to celebrate the meat. It takes well to any pork marinade, complex Asian flavors, simple Latin flair, and homey, comforting classics like onions and apples. It is truly a versatile cut that can be paired with just about any combination you can think of, which is what makes it such a fun one to experiment with.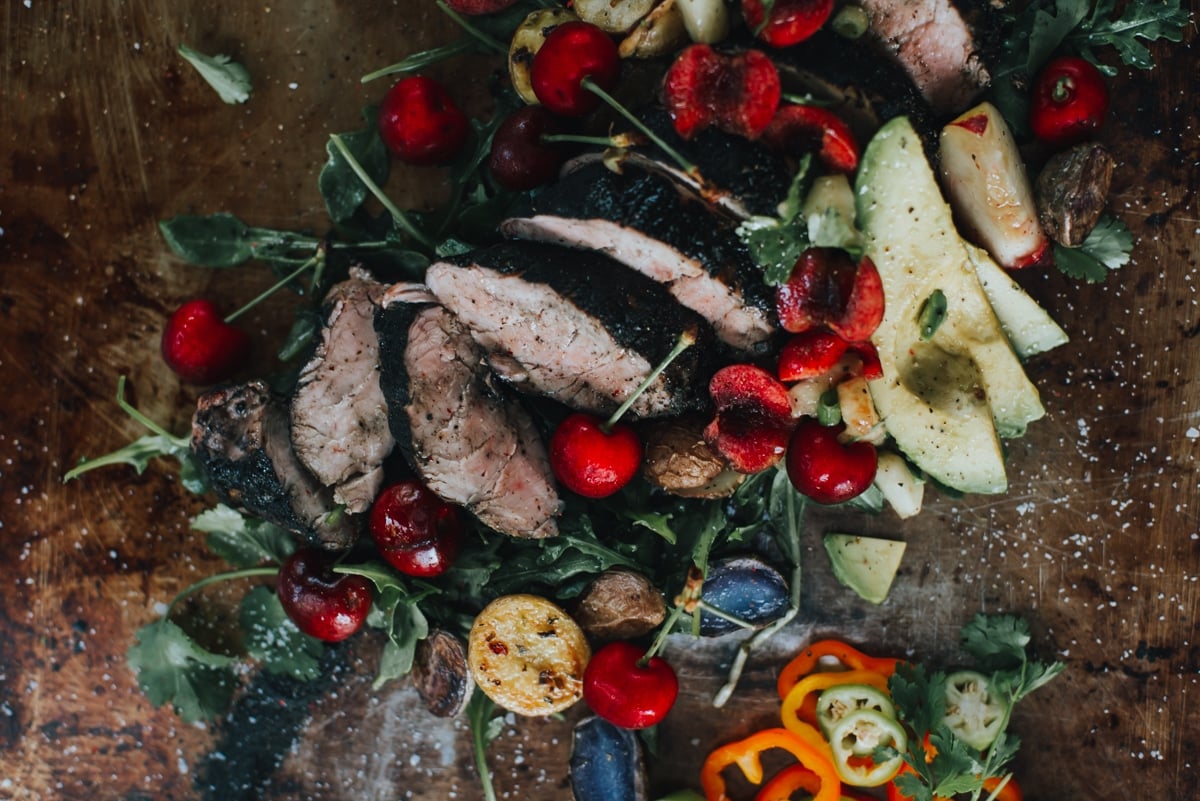 Tips for Grilling Pork Tenderloin
What to season it with?
Season the pork tenderloin with a simple dry rub of herbs and spices. In the recipe below, we feature Latin flavors, like cumin, chili powder, and a touch of sweet. The idea is to lock in flavors that harmonize with the mild flavor of the pork. Drenching this one in sauce would drown out the simplicity, and like all great cuts, I feel keeping it simple showcases the meat better.
Adding the splash of acid at the end along with the fresh cilantro brings a little pop of summertime flair to the dish and liven it up.
How many does it serve?
One pork tenderloin, about a pound of meat, serves on average 3 people. You know your eaters best though, who will graze more or less. However, when planning on a party, 1 pound per 3 people is a good place to start. (Which also makes a single tenderloin perfect for those date night dinners. Just sayin') 
How to Grill it?
Because of its quick-cooking time, pork tenderloin is the perfect cut for controlled direct heat, whether that's gas or coals. Rolling it over a medium level fire for 10 to 15 minutes, rotating as often as needed to ensure even cooking is the perfect way to get that crisp on the outside crust and a succulent slice.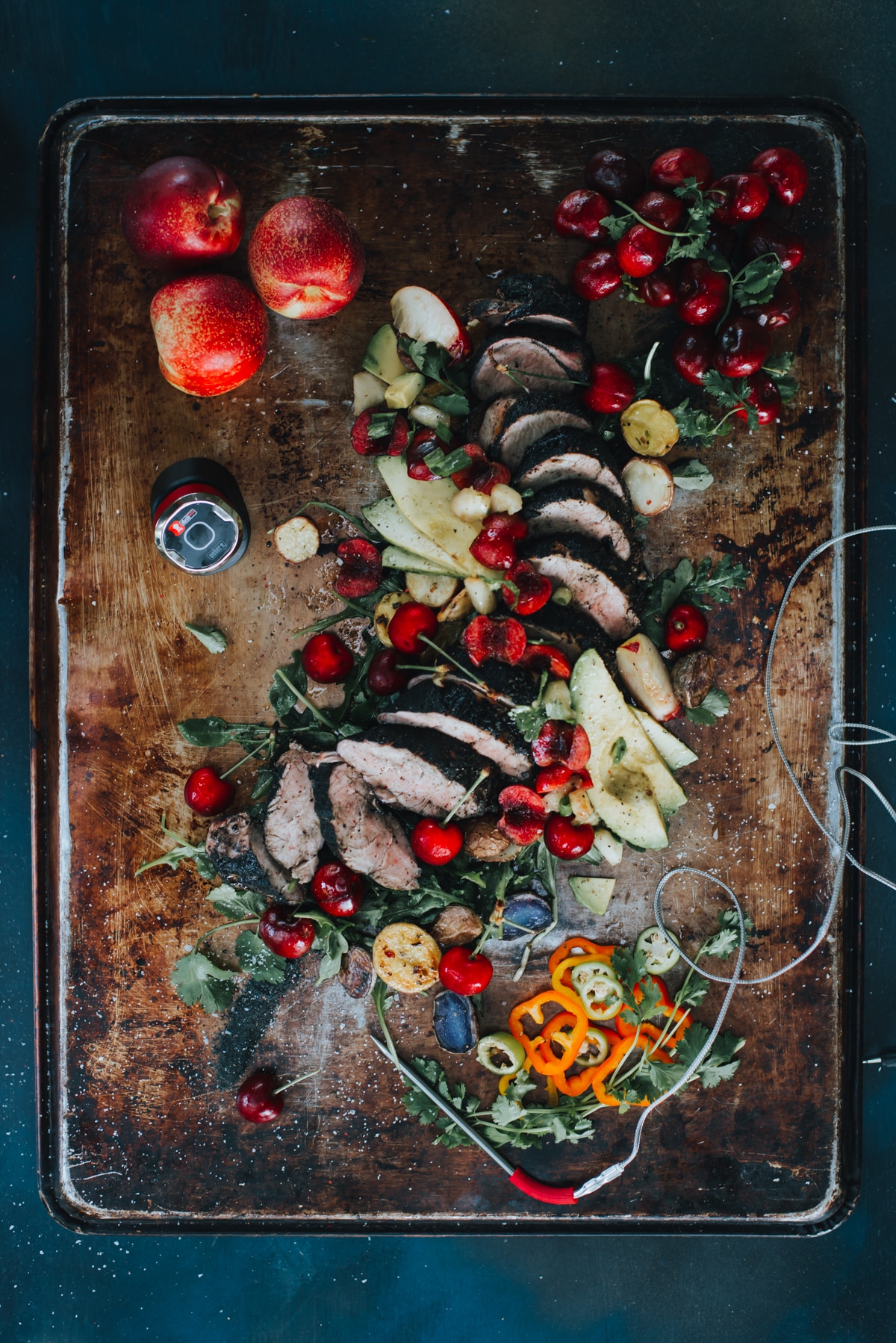 A meat thermometer is a must.
Overcooked pork is the nightmare our parents' generation lived through. Don't do it. Science has proven that pork is best served with a light pink center at 145 degrees. Trust me, anything past this is no bueno.
Use a meat thermometer while cooking to know exactly when to pull and rest your meat. Also, yall rest your meat before slicing. This allows the juices to settle down and will keep each slice moister when you cut.
It's that easy! Simple rub, quick grill, perfect temperature, and a rest. That's all it takes to master this cut.
Pro tip: Don't have a smoker? Try using wood chips on a gas grill to get that rich barbecue flavor.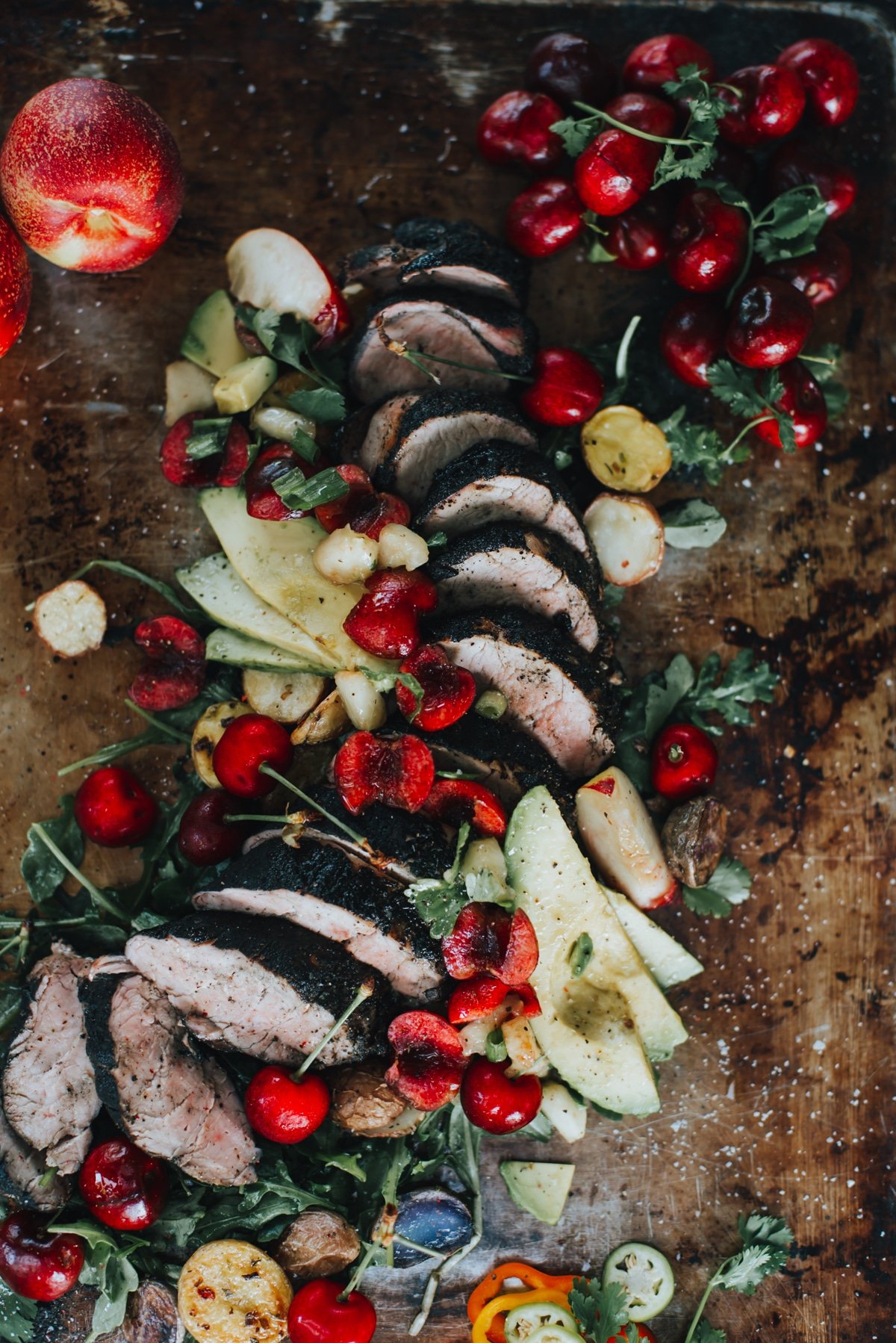 What to serve with char-grilled pork tenderloin
In the summer months, shave off medallions and serve in lettuce cups paired with fresh fruit salsa (mango or pineapple), black beans, and a cilantro chimichurri along with some rice if you are feeling up to it. This also works well with corn or flour tortillas. Or over a crisp fresh summer salad, roasted sprouts, or fingerling potatoes.
If you have tried this recipe, I would love to know what you pair it with!
Char-Grilled Pork Tenderloin with Stone Fruit Salsa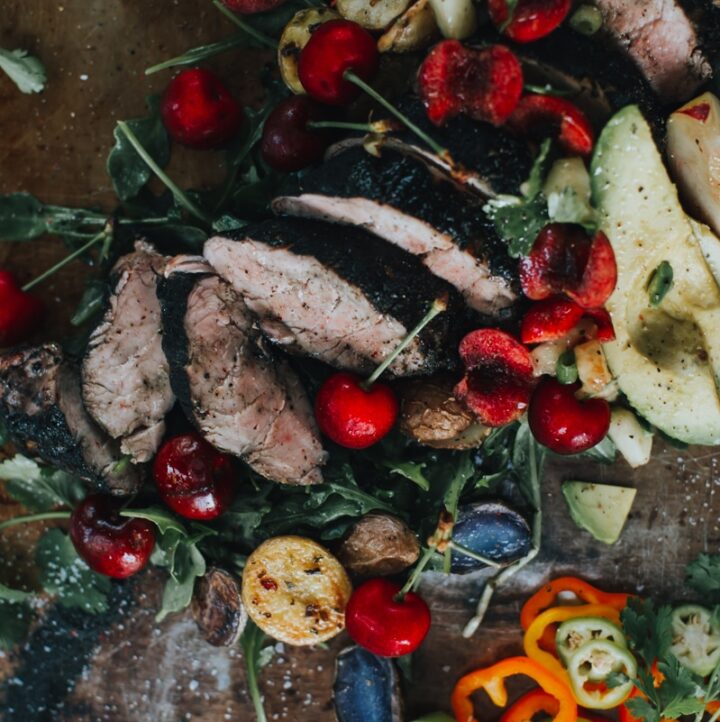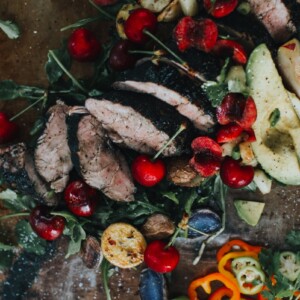 This quick-cooking Char-Grilled Pork Tenderloin locks in the signature smokey grilled flavor while keeping the meat tender, succulent, and incredibly good.
Ingredients
For the Char-Grilled Pork:
For the Stone Fruit Salsa
1

avocado

seeded and sliced

2

nectarines

seeded, skin removed, sliced

2

cups

cherries

pits and stems removed, cut into quarters

Cilantro

Salt
Instructions
Prep grill:
Preheat your grill for 400 degrees direct heat and clean the grates.
Prep pork:
Remove the pork from the fridge and allow it to come to room temperature for 30 minutes.

Whisk the spices together and rub over all sides of the pork.
Make the Salsa:
In a small bowl, combine the avocado, nectarines, and cherries in a bowl.

Add the cilantro and toss to combine.

Season with salt as desired.
Grill pork:
When the grill has heated to 400-425F, place the rubbed pork tenderloin on hot the grill and rotate every 2 minutes.

Allow the pork to cook to 140 degrees F, flipping as often as needed to get a good char but not over cook.

While resting, ensure the meat hits 145⁰F before consuming.
Serve:
Slice the pork into thin ½ medallions on a bias against the grain.

Serve over a bed of rich greens with a fresh stone fruit salsa.
Notes
I paired this with a rich green salad and simple roasted fingerling potatoes. 
For this recipe, the spices I used were Derek Wolf's Adobo honey and Sasquatch BBQ's Black Gold. 
Nutrition
Serving:
1
g
|
Calories:
293
kcal
|
Carbohydrates:
17
g
|
Protein:
33
g
|
Fat:
11
g
|
Saturated Fat:
3
g
|
Cholesterol:
98
mg
|
Sodium:
82
mg
|
Potassium:
968
mg
|
Fiber:
4
g
|
Sugar:
10
g
|
Vitamin A:
306
IU
|
Vitamin C:
9
mg
|
Calcium:
48
mg
|
Iron:
3
mg