Thick-cut pork chops are an inexpensive luxurious meal begging to be tossed over the coals for that perfect barbecue flavor. But, is it possible to smoke a chop and still have it come out juicy, tender and flavorful. The answer is yes and you're going to want to give it a try first hand.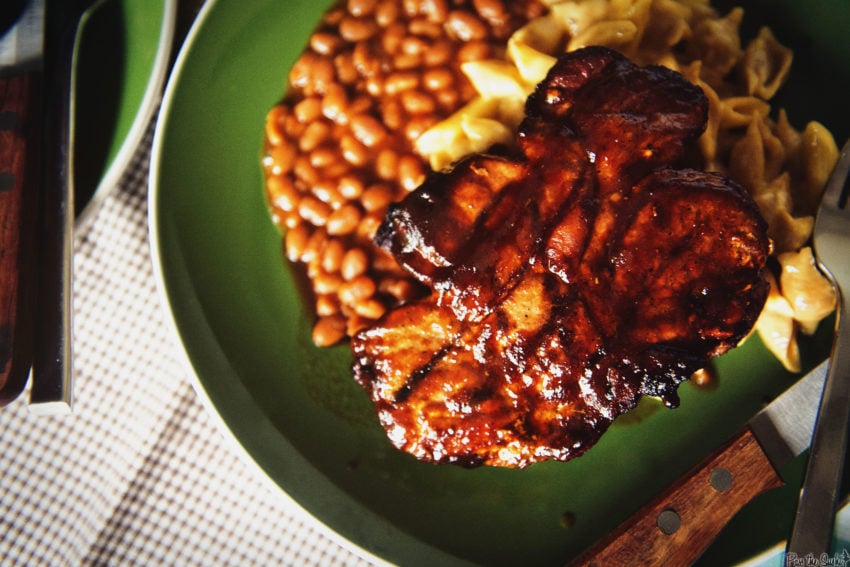 Smoked Pork Chops? Pork chops are one of those cuts that I consider old school. Often just hearing the words pork chop triggers a childhood Shake and Bake nostalgia, where, more often than not, pork chops are overcooked, dry, boring, and bland as hell.
But, does this have to be the case? As one of our most affordable proteins, I felt it was time to get a hold on this pork-pocalypse and figure out how to craft tender juicy pork that could hold it's own against a top-quality steak.
Turns out, this comes back to a little modern-day science. The new standard is to cook chops to a lower food-safe temperature so the pork remains succulent and perfectly palatable! We have come a long way and know pork doesn't have to be boiled or charred to death to be safe to eat. So, let's break down just why these thick-cut smoked chops are so damned good.
What you need for this recipe: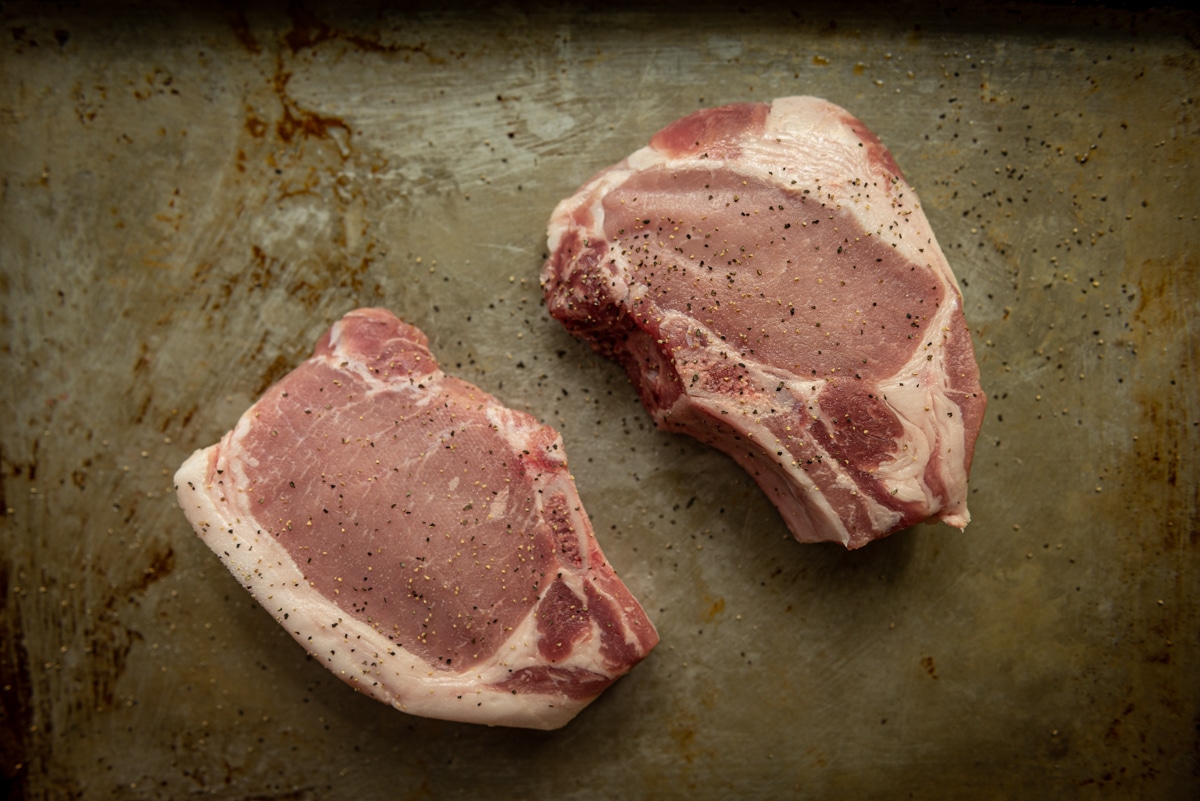 Thick cut bone-in chops – this means chops that are over 1 1/2″ thick and if they have a good layer of fat on the outside, that's a bonus.
You'll need a grill for smoking, charcoal and wood chunks or chips (depending on your smoker).
And a few pantry staples like salt, pepper, and a homemade barbecue sauce, if you're feeling wild.
How to Smoke Pork Chops:
For these thick-cut pork chop we smoke them over charcoal and apple wood chunks in a barrel-style smoker. But, any grill or smoker can be used to master this recipe.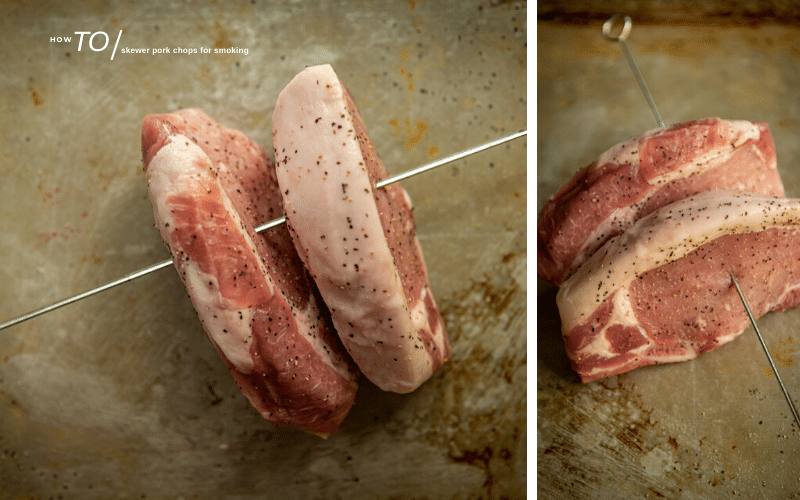 This recipe calls for using a skewer to stand the chops up right, like a rib roast, so that they smoke without picking up too much char on any surface. This can be a bit tricky but once you have two on the skewer it works like table legs.
Just make sure to give a little space between each chop so that the smoke hits all the surface to add flavor.
From there you smoke the chops until almost cooked through, about 120 degrees and finally lay them on the grate to achieve that signature grill mark and finishing temp. Basting in barbecue sauce at the end isn't necessary if you are using wood chunks, as the chops have a ton of flavor.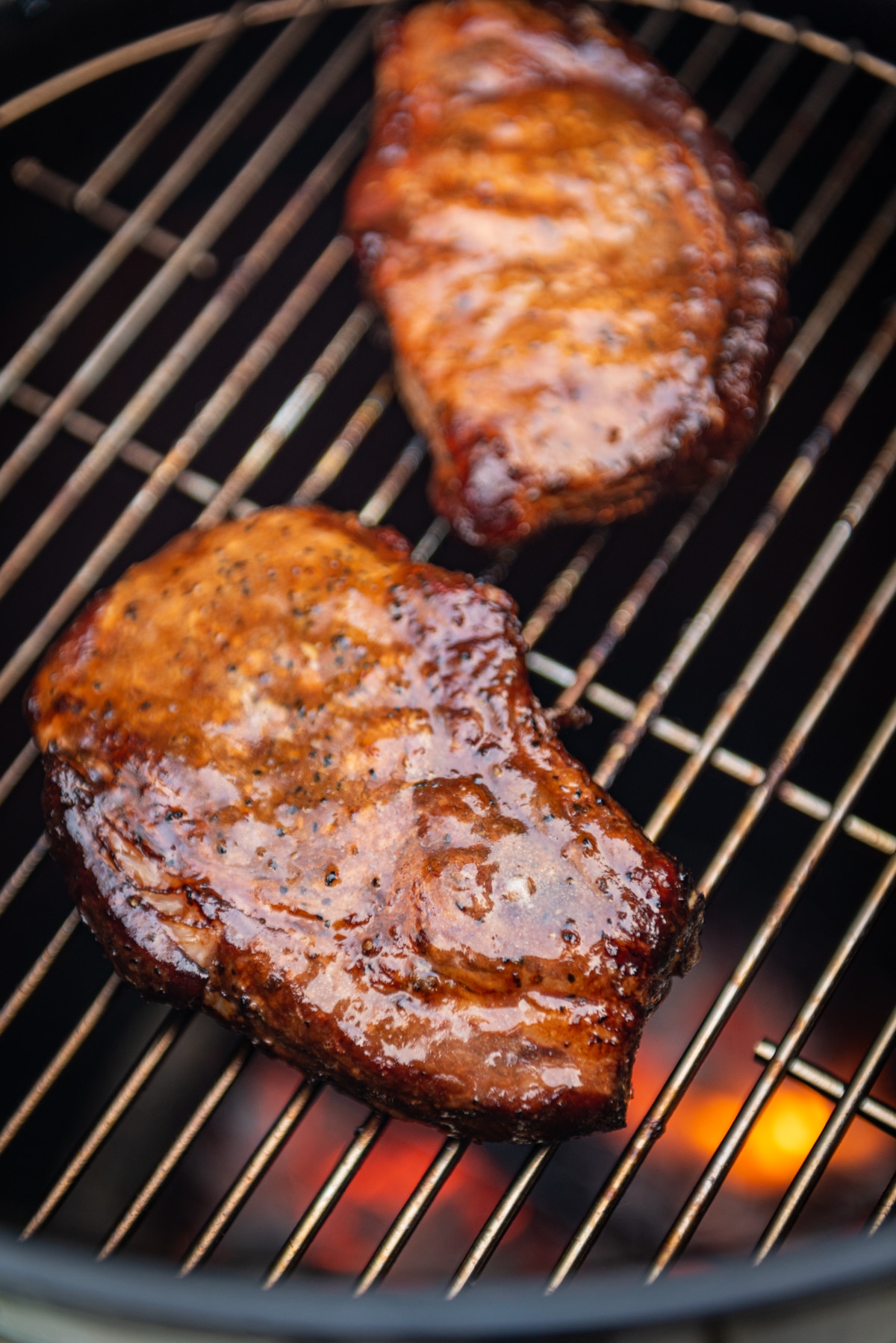 What temp to Cook Pork Chops To
For pulled pork you need to cook the pork to a 'shredded' texture, that means, low and slow for a temp right past 200 – which allows the meat to shred to that perfect barbecue consistency.
But for these thick chops, we want to cut them with a fork and knife, so it's important to not overcook them. This is where that digital thermometer will come in handy. Cook the chops to 145 degrees for a perfect juicy slice.
All in all – these only take about 40 minutes on the grill to smoke all the way through.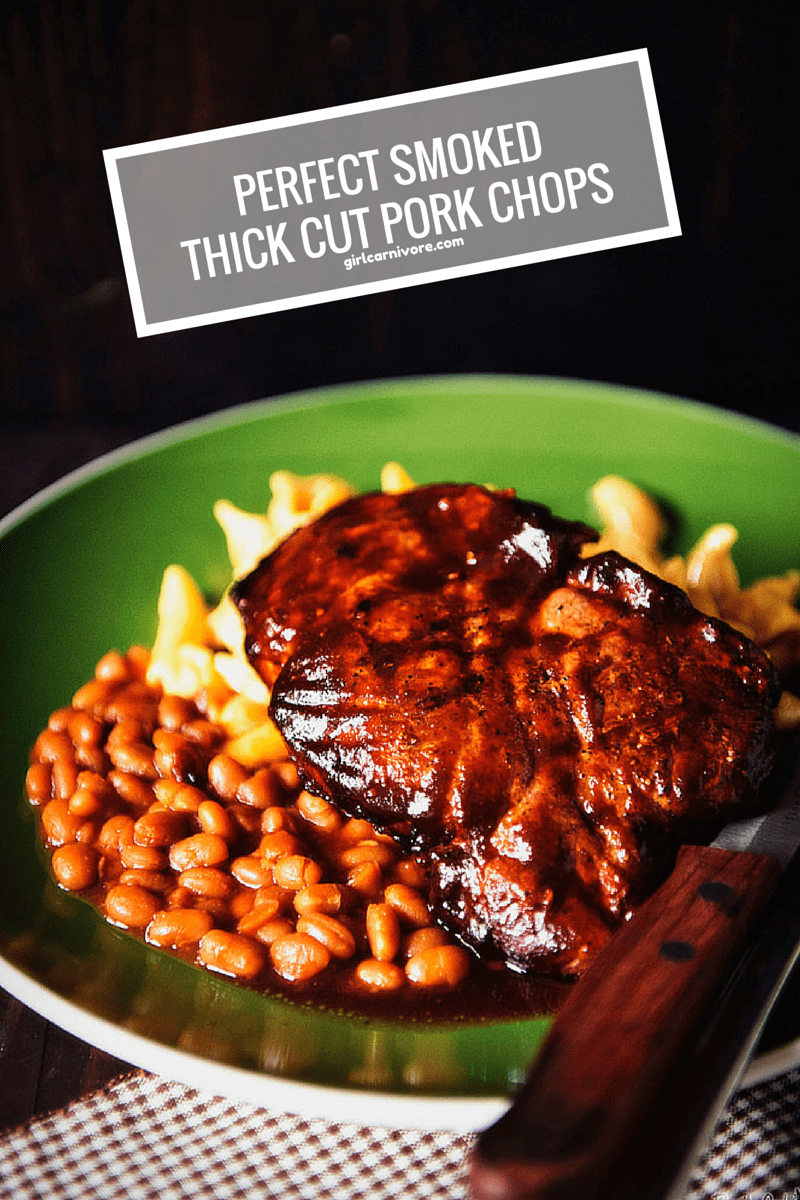 What to serve with Smoked Chops
I am a sucker for pairing barbecue chops with macaroni and cheese and baked beans. A great side salad and slaw, like this light broccoli apple salad, are also great to serve alongside this. And if you really want to win dinner points, add a pickle for that classic platter style.
Want more delicious chop inspiration? Try some of my favorite recipes
If you've tried these smoked chops please rate the recipe and let me know where you found it in the comments below.
I get inspired by your feedback and comments! You can also join in on the adventures on Instagram @girlcarnivore, Twitter & Facebook.
Perfect Smoked Thick Cut Pork Chops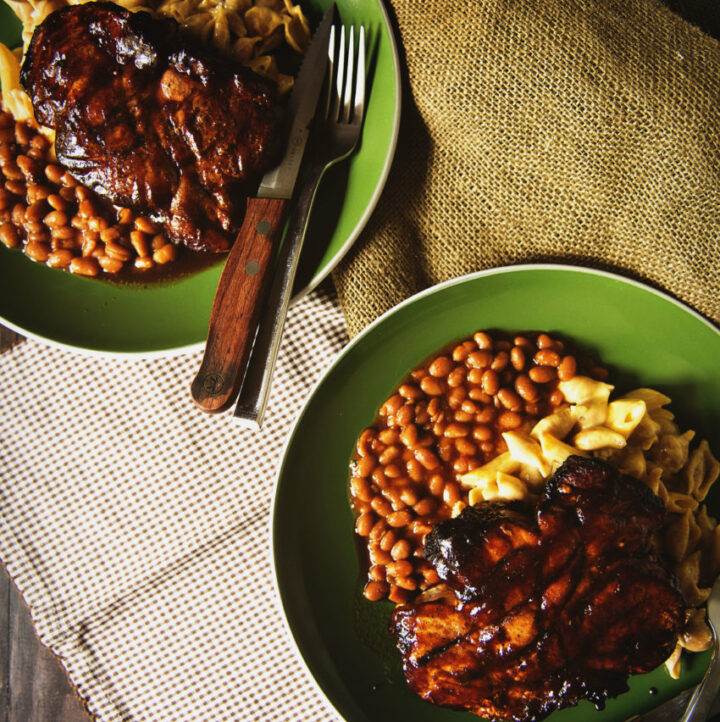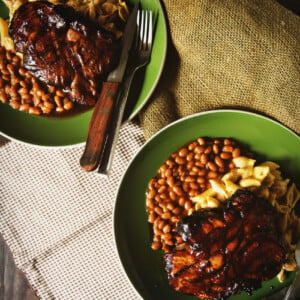 These smoked chops are tender, juicy, and loaded with flavor. Best of all – this isn't a complicated grilling recipe to master at all!
Recommended Equipment
grill

1 Chimney starter

Charcoal

Wood chunks

Grilling Skewers

Grilling tongs

Grilling Gloves
Ingredients
4

pork chops

bone-in, thick-cut about 1 1/2" thick

Kosher salt and pepper

6

tbsp

Sweet tangy barbecue sauce of choice
Instructions
Prep the Grill
Get your charcoal started in your chimney starter.

For a kettle grill: Arrange a disposable aluminum pan in the center area of the grate for the coals.

When the coals have a nice layer of ash on them, arrange them on either side of the pan. Add a few chunks of wood to the embers.

Nestle the top cooking grate in place.

Clean and oil the cooking grate and cover.
Prep the Pork
Pat the chops dry and season with salt and pepper.

Using 2 long metal kebob skewers, skewer the chops through the thick middle.

Slide each chop on and space out evenly on skewers, about an inch apart.
Smoked the Pork
Place the chops, bone side down, standing upright on the grill (your kebob skewelers should be parralell with the grate).

Cover and cook until the chops temp at 120 degrees F, about 30 minutes.

Carefully, remove the chops from the kebob skewers and brush with barbecue sauce.

Arrange the chops, sauce side down, over the direct heat of the coals (around the edges) and grill 2 to 4 minutes.

Brush with more sauce and flip to sear the other side another 2 to 4 minutes. Chops are done when they temp 140 degrees.

Remove from the grill and let rest 5 minutes before dishing out with additional sauce if desired.
Nutrition
Serving:
1
g
|
Calories:
288
kcal
|
Protein:
35
g
|
Fat:
15
g
|
Saturated Fat:
5
g
|
Cholesterol:
117
mg
|
Sodium:
93
mg
|
Potassium:
581
mg
|
Calcium:
32
mg
|
Iron:
1
mg