Possibly my mother sauce, this bright herbaceous cilantro chimichurri recipe is the perfect accompaniment to grilled meats, smoked veggies, and fresh fish. Or right over crispy tortilla chips. It's my simple sauce with fresh ingredients that's quick to make and gets rave reviews (and trust me, I make this one every time I do a live-fire demo).
Everyone always asks for the recipe. So, here ya go.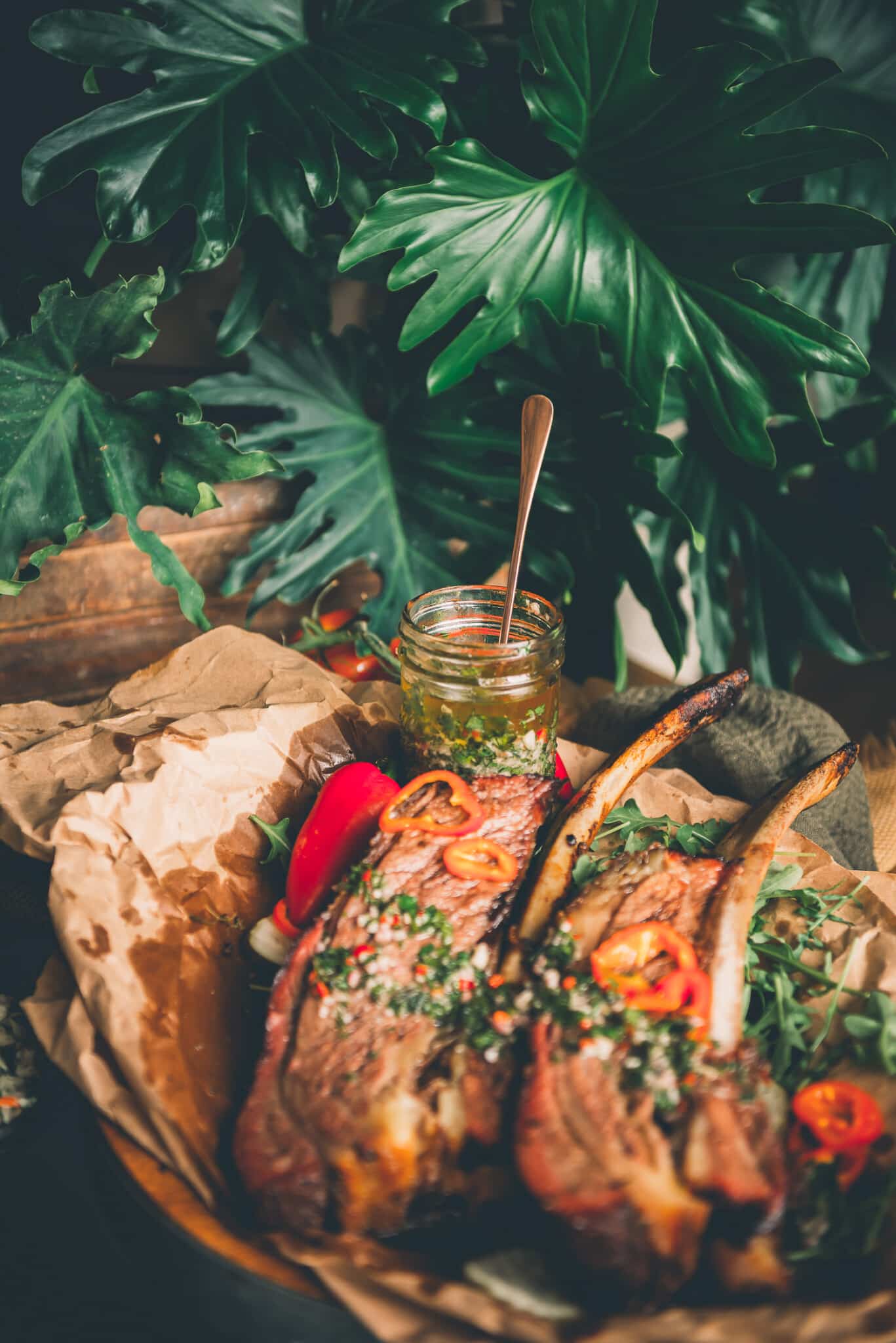 What is chimichurri?
Have you been to one of those steakhouses with meat right on the giant skewers? They probably had a savory sauce on the table filled with green herbs that were over the top delicious as they served you fire-roasted meats shaved right from the skewers. This gaucho-style barbecue is signature to the ranching life of Argentina and South America.
And the green sauce, iconic.
Tho, the exact origin of its name remains a mystery, as explored in this BBC article, authentic chimichurri has roots in Argentina and Uruguay. Where this condiment is made with fresh herbs like parsley, it gets a little bite from garlic and spicy peppers, balance from vinegar, a hint of acidity from citrus, and smooth richness from oil. It has a clean bold flavor that melds incredibly well with pretty much anything but particularly over rich grilled meat dishes.
Authentic Argentinian chimichurri has so much flavor and is an incredibly versatile sauce that can be used as both a marinade and a condiment. Personally, there is a fresh jar made every week, ready to spoon over everything from scrambled eggs to butter burgers.
When I do live fire cooking demos, I travel with mason jars just so I can whip up batches of this to have fresh and on hand as a condiment for whatever I pull off my grills. It is the one recipe that is essential to any menu I am planning.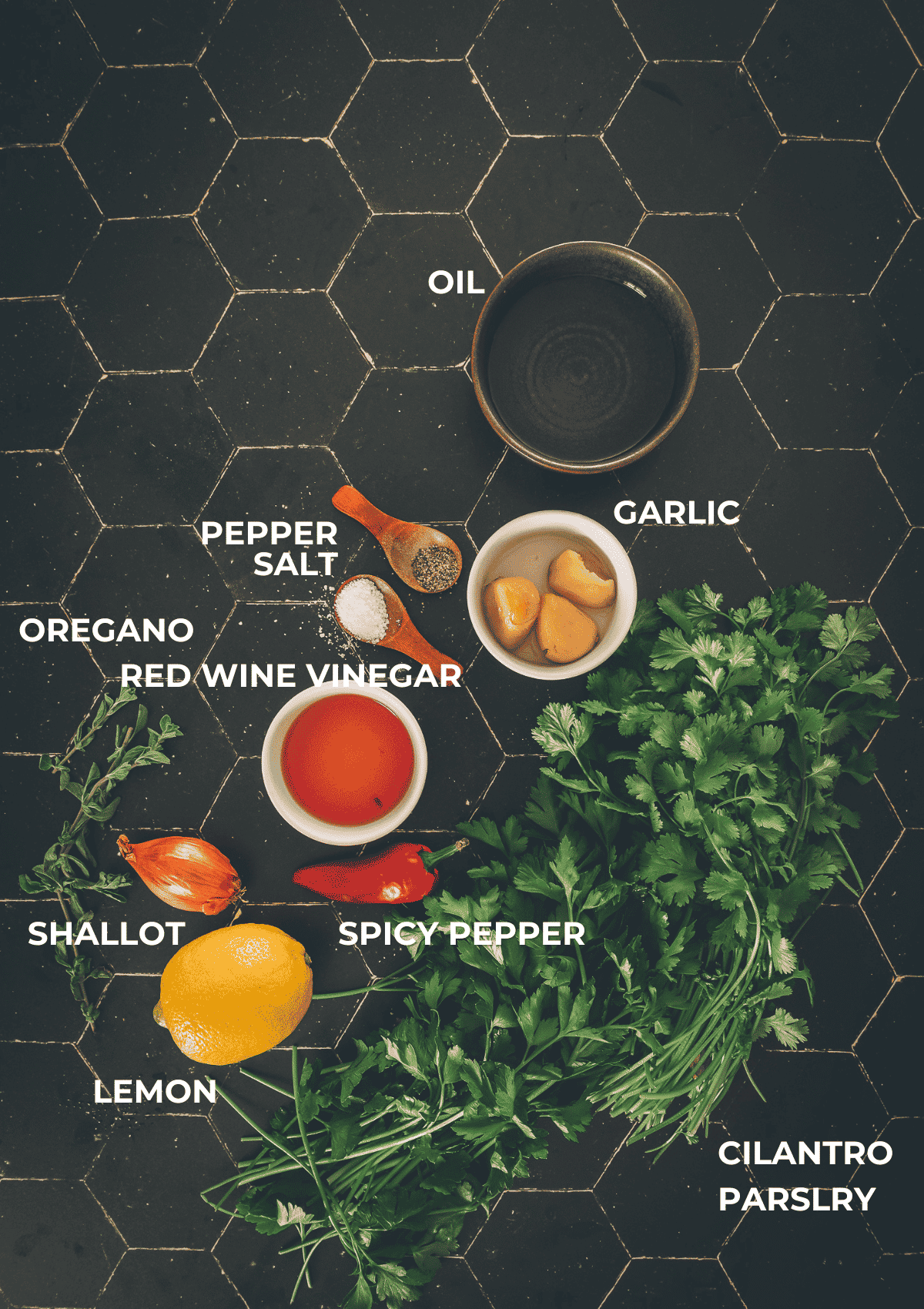 Ingredients
An authentic chimichurri recipe relies on parsley as the key ingredient, but in this cilantro version, we're adding a few other tweaks that have made this easy recipe one of my signature recipes!
Fresh Cilantro, Parsley, and Oregano – you want fresh and not dried for this sauce for texture. Dried works great if you are making a chimichurri marinade, but as a dipping sauce, stick to fresh.
Shallot – If I don't have a shallot on hand, I swap out a red onion or green onions (scallions) from time to time.
Fresno chili – you can also use a jalapeno or serrano depending on how much or little heat you like. Just be sure to remove the seeds and pith from the pepper. If I don't have any spicy peppers on hand, I add a dash of red pepper flakes. A little heat is a must!
Fresh Garlic cloves – to really add a depth of flavor, try using smoked garlic confit
Red Wine Vinegar
Kosher Salt
Lemon juice from a fresh lemon
Oil – Extra virgin olive oil can be very strong, so to balance it I always cut it with a neutral oil like avocado oil or canola oil in about a 50 / 50% blend.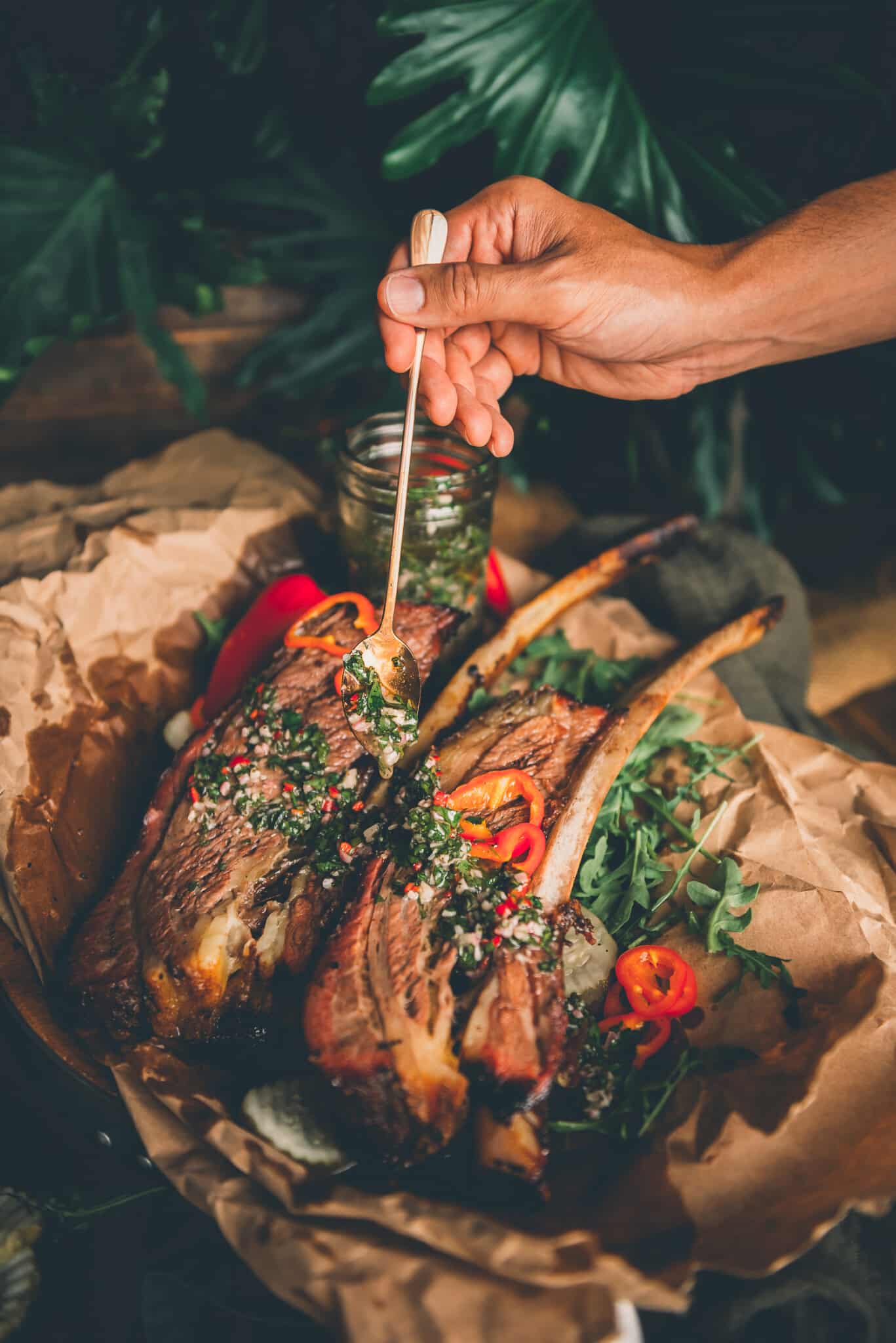 How to make Cilantro Chimichurri
Feel like a pro asador by adding this chimichurri verde to your menu. Once you've made it a few times, you'll have this simple sauce committed to memory and be able to create your own delicious variations!
Start by finely chopping the fresh parsley, cilantro and oregano.
Then mince the shallow, pepper (making sure you've taken the time to remove the seeds, unless you really like heat), and garlic.
Next, add them all to a bowl with your red wine vinegar, salt, lemon juice and oil.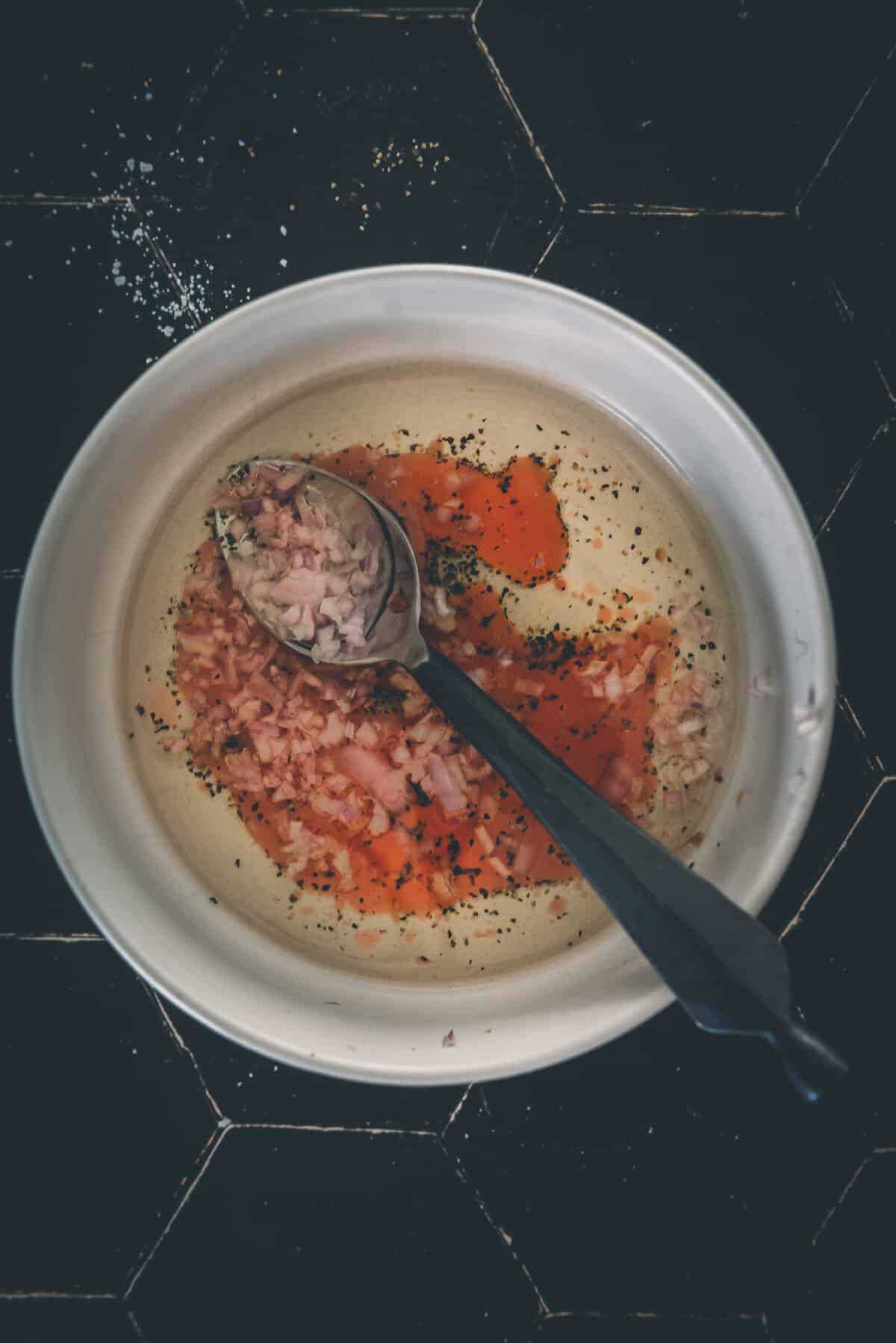 Mix in the chopped herbs and drizzle in the remaining oil to a consistency of your liking.
Make your chimichurri at least a few hours to a day ahead of time to allow the flavors to marry.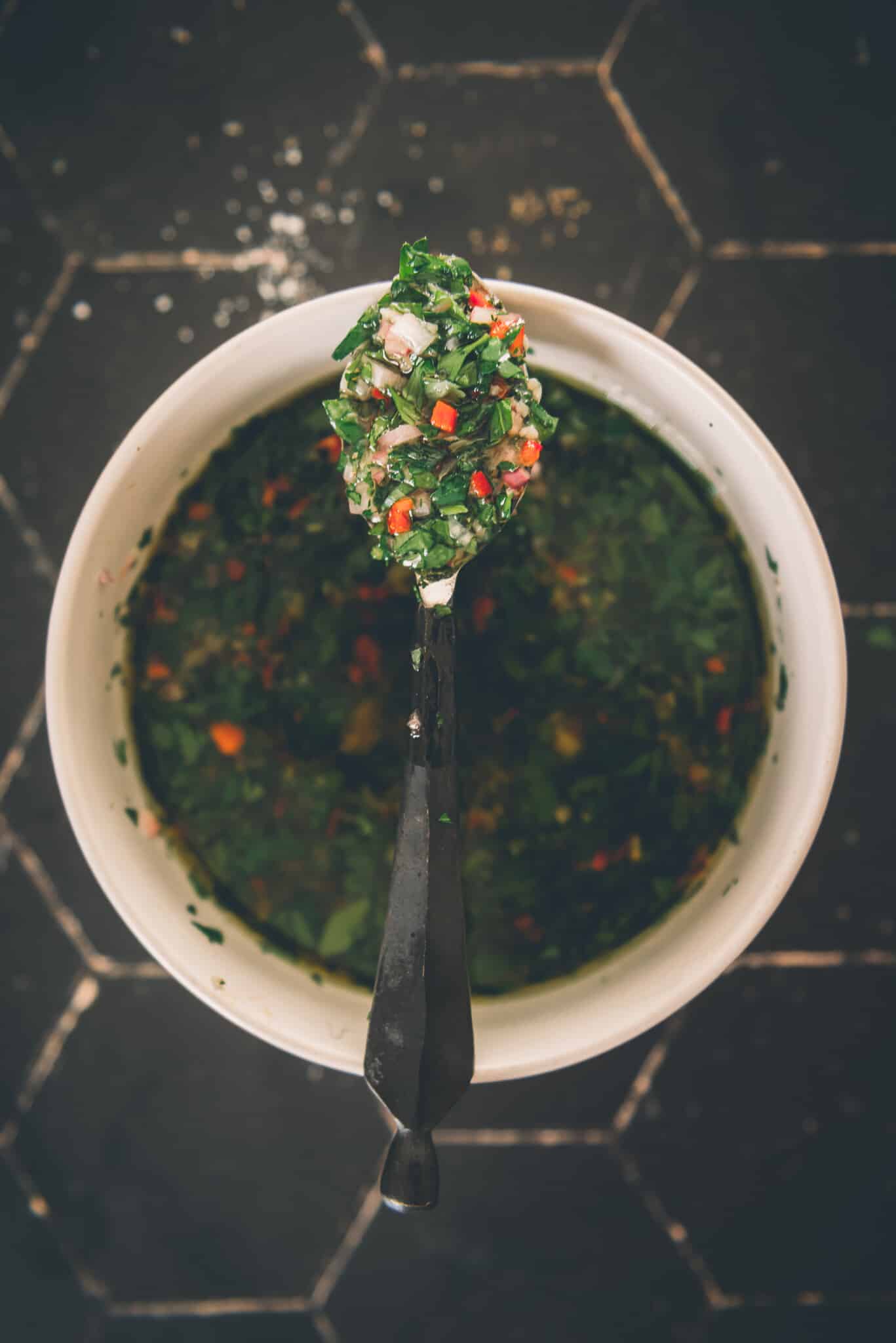 Storage
Store this cilantro chimichurri recipe in an airtight container (like a wide-mouthed mason jar) on the counter at room temperature for up to 3 days or in the fridge for one week. Because it is oil-based, always allow it to return to room temp before using.
Bonus, you can freeze this sauce! This sauce will freeze for up to 3 months. And the best trick to doing so? A silicon ice cube tray. That way, you can pop out chimichurri and use them in small portions as needed. I divide batches into a tray, freeze, and then transfer each cube to a zip lock bag to keep them fresh.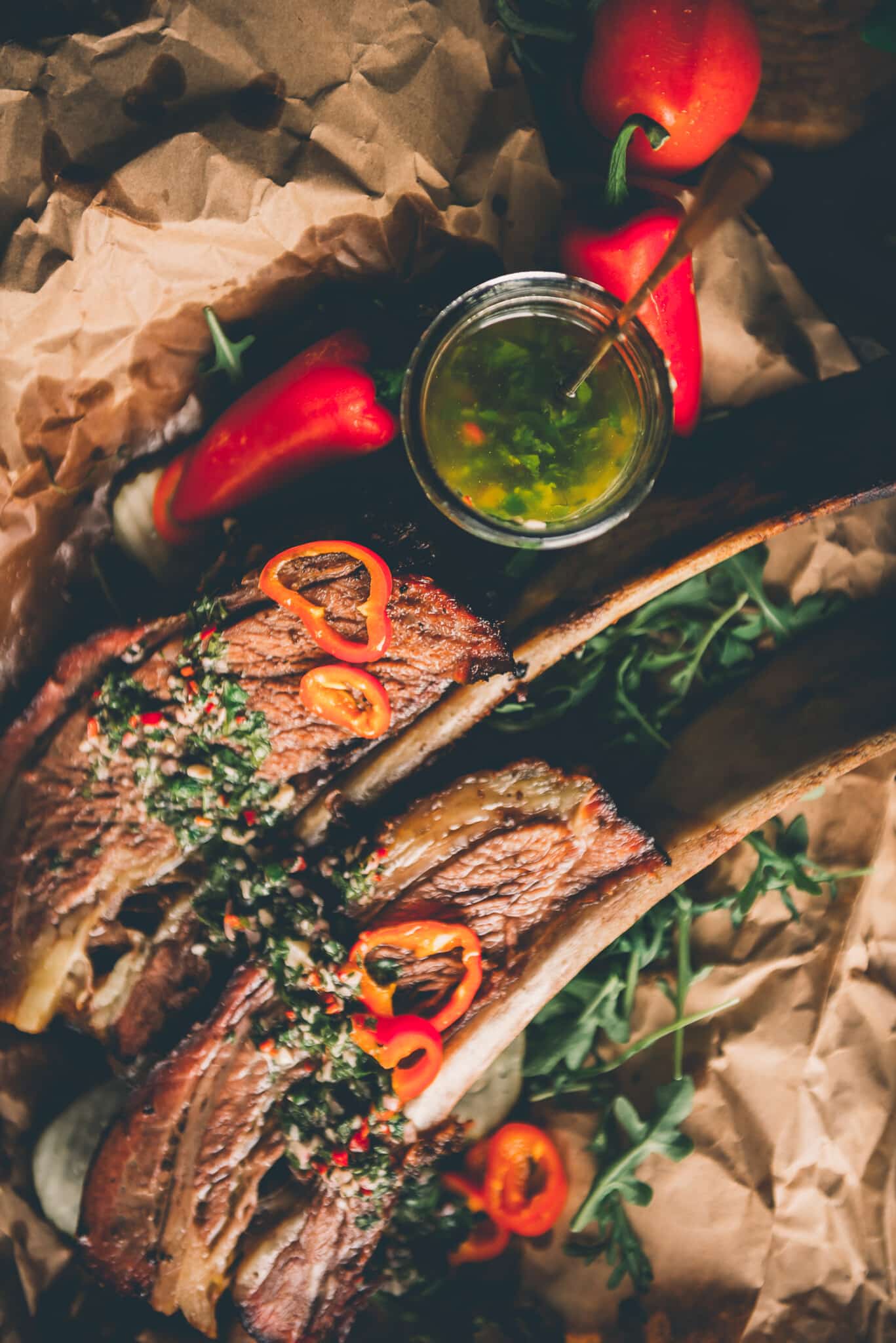 How to use chimichurri sauce / what to serve with this sauce
Where great barbecue sauces are essential to master for some dishes, this homemade chimichurri recipe is my go to for daily use in many delicious ways. Spoon it over bavette steak tacos, grilled flank steak, Argentinian choripan, rotisserie picanha, and even grilled king crab legs. It's my favorite sauce for literally all the things.
That's the best thing about classic sauce, it can be a go-to condiment served along just about any food or recipe.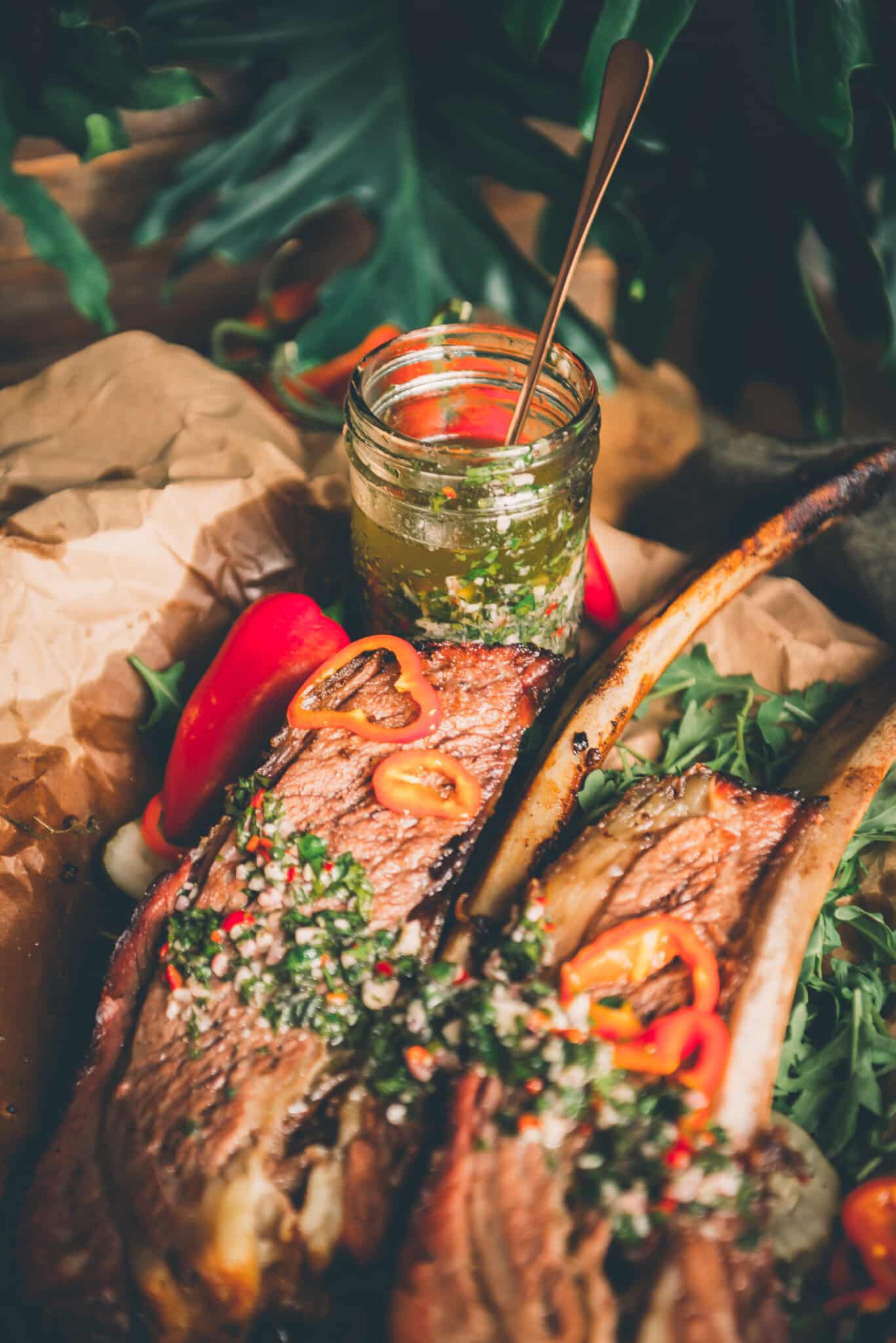 Girl Carnivore Expert Recipe Tips
Where you can chop your parsley and other ingredients in a small food processor, we don't recommend adding the oil and pulsing. This creates an emulsion which doesn't result in the same as simply mixing the oil in at the end.
Take your time to remove the stems of the parsley. Where it can be tempting just to chop away at the herb to get the job done, parsley can have a heavy woodsy flavor and even a bitterness. Before I make a batch of sauce, I take a nibble of the parsley to make sure it's not already too strong, and then I remove the stems that carry a harsh flavor.
One of the best things about this sauce is that it's so versatile. Don't have a lemon; use a lime. Don't have red wine vinegar, swap it for white wine vinegar (and then add red wine vinegar to the market list). Be willing to adjust the ingredients to make a flavorful chimichurri sauce that your family loves, and don't hesitate to make substitutions. Start with fresh parsley, good quality oil, and go from there!
MORE DELICIOUS BBQ SAUCE RECIPES
Sauces, Mops, & Condiments
Homemade Cilantro Chimichurri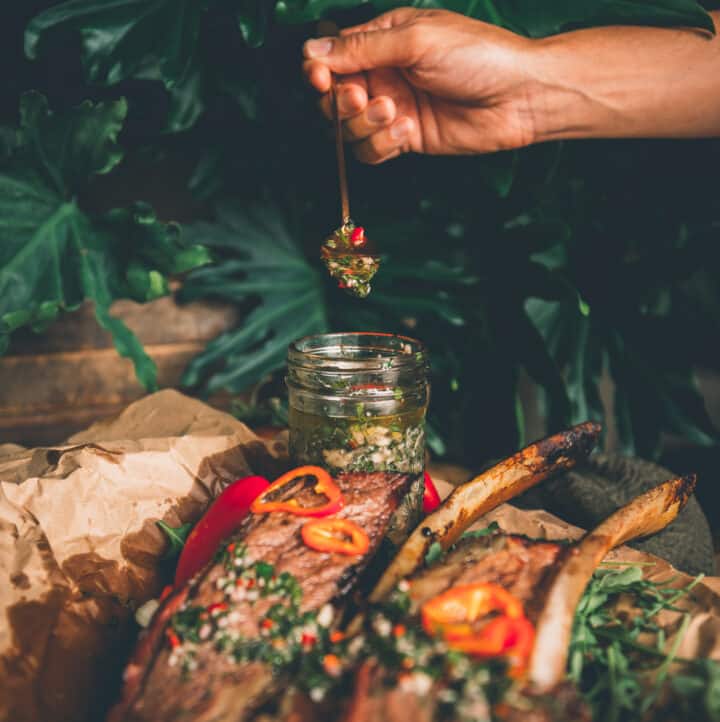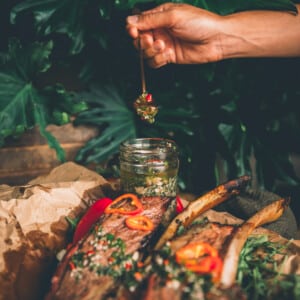 This delecious chilantro chimichurri sauce recipe is my favorite simple recipe. It can be used on just about any meat or veggie and is incredibly versatile and easy tomake.
Ingredients
2

tbsp

Fresh Cilantro

chopped

6

tbsp

Fresh flat-leaf Parsley

stems removed and chopped

1

tbsp

Fresh Oregano

stems removed and chopped

1

Shallot

minced

1

Fresno chili pepper

stem and seeds removed, finely chopped

3

Garlic cloves

minced

1

tbsp

Red Wine Vinegar

1

tsp

Salt

1

Fresh Lemon

1

cup

Oil

plus more as needed
Instructions
In a small bowl, whisk together the chopped cilantro, parsley, and oregano

In another bowl, add the chopped shallot, chili and garlic cloves to half of the oil, the red wine vinegar and salt.

Squeeze in the juice from one fresh lemon.

Add in the chopped herbs and whisk.

Then pour in the remaining oil, making the sauce as thick or thin as you would like it.
Notes
Make your chimichurri sauce at least a few hours to a day ahead of time to allow the flavors to marry.
If you don't have a Fresno pepper, substitute with jalapeno, serrano, or red pepper flakes.
If you don't have a shallot, substitute with minced red or white onion or green onions.
Lime juice can be used in place of lemon juice.
We use a blend of 50% olive oil and 50% canola or avocado oil for this sauce.
Always taste your fresh sauce immediately after mixing it to make sure its balance suits your taste. Make adjustments immediately and then store in an air-tight container.
Nutrition
Serving:
1
g
|
Calories:
9
kcal
|
Carbohydrates:
2
g
|
Protein:
0.4
g
|
Fat:
0.1
g
|
Saturated Fat:
0.02
g
|
Polyunsaturated Fat:
0.03
g
|
Monounsaturated Fat:
0.01
g
|
Sodium:
235
mg
|
Potassium:
50
mg
|
Fiber:
1
g
|
Sugar:
1
g
|
Vitamin A:
234
IU
|
Vitamin C:
11
mg
|
Calcium:
17
mg
|
Iron:
0.5
mg
VIDEO: WAtch how to make homemade Chimichurri