This mouthwatering Smoked Pork Loin is made with simple ingredients like barbecue seasoning and wrapping the roast in bacon with a delicious maple glaze. Each juicy bite of this smoked pork loin roast has a burst of flavor! And who doesn't love anything wrapped in a bonus layer of bacon?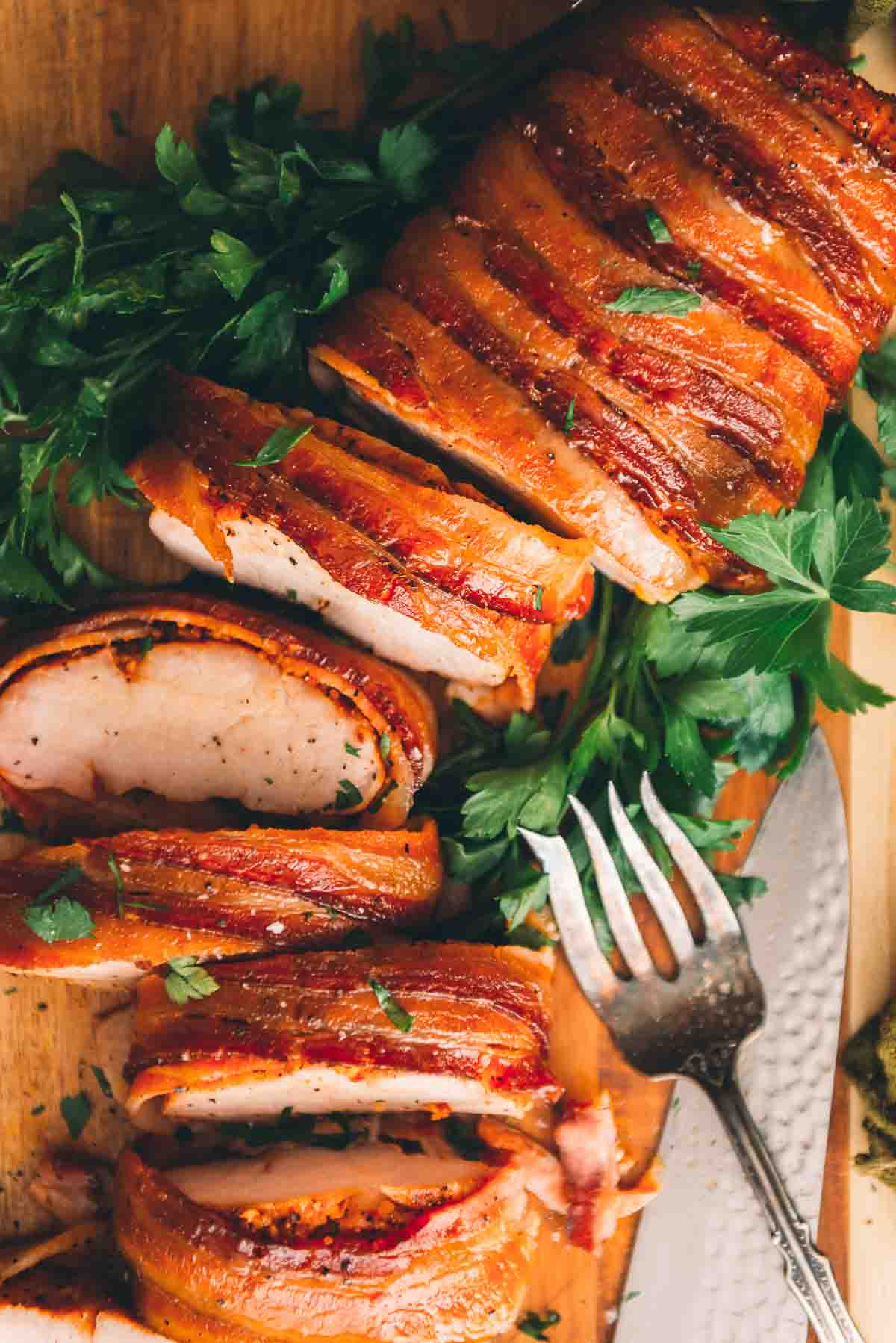 The first time we tested this recipe on the smoker, we were concerned the large lean roast would simply dry out on the smoker, so we decided to wrap it in bacon as an effort to layer on flavor and envelop the meat in a fatty layer to help it stay moist while cooking. It turns out that smoking pork loin was pretty basic save for a delicious meal that we have used over and over again.
Making pork loin on a pellet smoker (or any grill) only takes a few simple steps and can make for an amazing meal that's simple to make and everyone loves. This smoked bacon-wrapped pork loin recipe gets that subtle smoke flavor without being overpowering, doesn't dry out like a lot of pork roasts can, and makes use of the Traeger to keep the cooking outside. It's just a beefed-up version of our favorite smoked pork tenderloin on a charcoal grill made to feed a bigger crowd!
This smoked pork loin recipe is our favorite when we want to make the most of a cheap cut but also not give up on rich seasoning and sweet maple flavor. It's both moist and savory at the same time. Traeger smoked pork loin is excellent for a winning feast during the holiday season, but it's also a simple recipe to make it any time of year. Each slice of pork will have friends and family raving about this roast!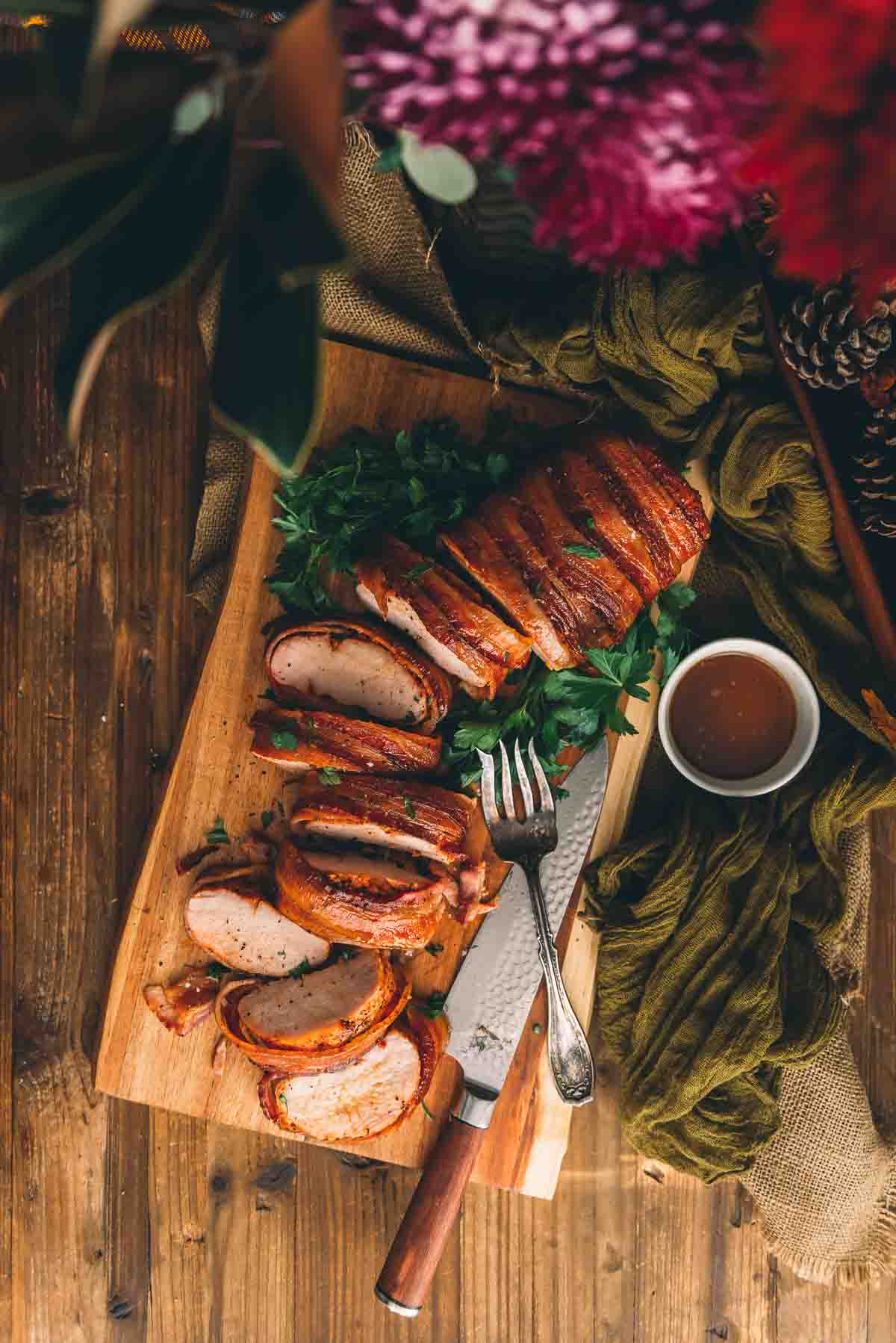 What is Pork Loin?
A pork loin is a large roast cut from the top of the loin, or rib cage, of the pig. It's can be cut into pork chops or served as a bone-in roast but is most commonly found as a large boneless roast at the market. One of its biggest advantages is that it tends to be a relatively inexpensive cut, especially when you need to feed a lot of people.
Loins get a bad rep, as being dry and dull, because it also is a lean cut of meat. But when cooked properly to an internal temperature of 145 degrees F, they remain juicy and can be layered with sweet and savory notes that make it an amazing and affordable cut when feeding many people.
One thing to keep in mind is that the loin and tenderloin are two different cuts entirely, and to understand the difference between the two, keep reading or jump to the frequently asked questions section.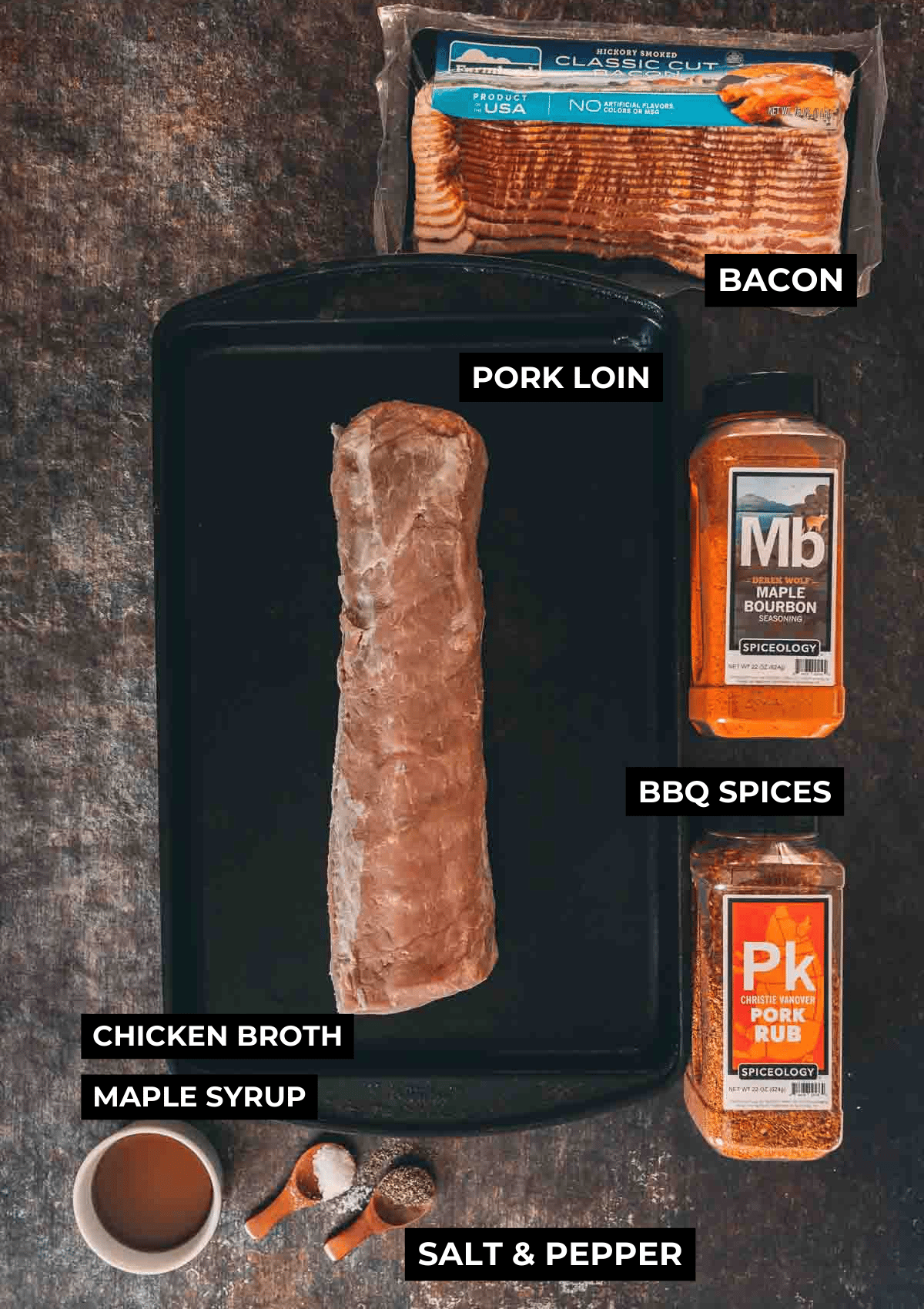 Smoked Pork Loin Ingredients
Boneless Pork Loin Roast
Salt – we always use kosher salt
Freshly ground Pepper
BBQ Seasoning – we love GirlsCanGrill PK pork rub seasoning and OvertheFireCooking Maple Bourbon blended together for this recipe, but any paprika-based, slightly spicy rub or barbecue spice blend will work.
Bacon – use regular bacon. Thick-cut or aggressively spiced bacon will change the flavor (though, pepper crusted may be fun if your guests don't mind the peppery punch).
Chicken broth
Maple Syrup – we use Choczero maple syrup to keep this keto.
How to Make Smoked Pork Loin
Prep pork:
Remove the pork from the packaging and pay dry it with paper towels. Trim excess fat if needed and any exposed silverskin with a sharp knife. We love this flexible filet knife when trimming meat. Then, score the meat in single cuts on an angle along the length of the pork through the top of the fat cap, rotate 90 degrees, and score again to make a diagonal pattern. This helps the spices permeate the meat.
Next, liberally season the whole loin all over with the bbq spices. Then layer the bacon over the seasoned pork loin roast, folding the edges of the bacon under as you place the bacon-wrapped pork on a wire rack nestled over a foil-lined baking sheet. If needed, you can slice the roast in half to help it fit better.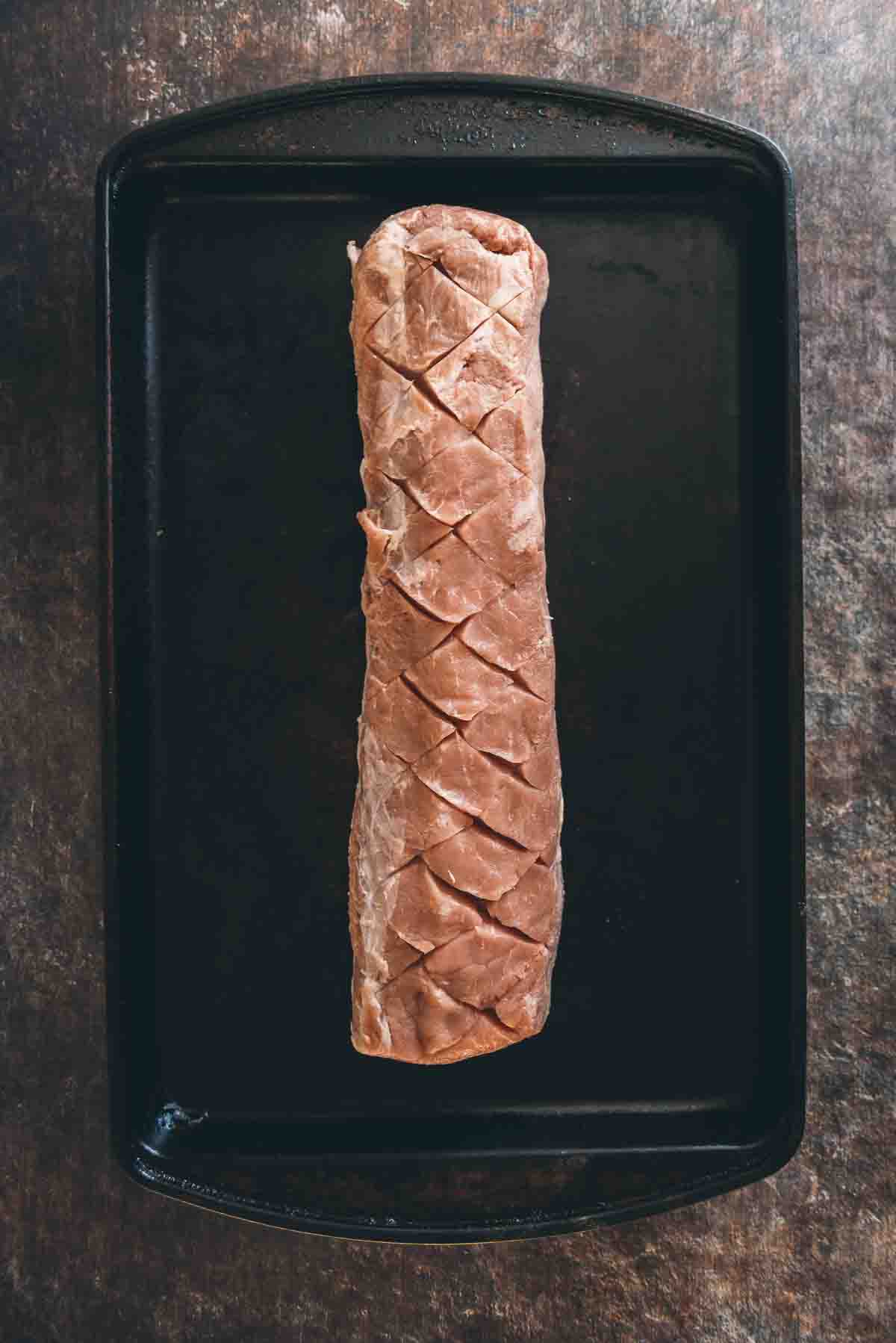 Prep the smoker:
Prep the pellet grill and place a smoker box filled with wood chips or a single wood chunk on the smoker's hottest corner to help deepen the smoky flavor. We love maple wood chips for this but will use apple, cherry, or hickory if we have those on hand.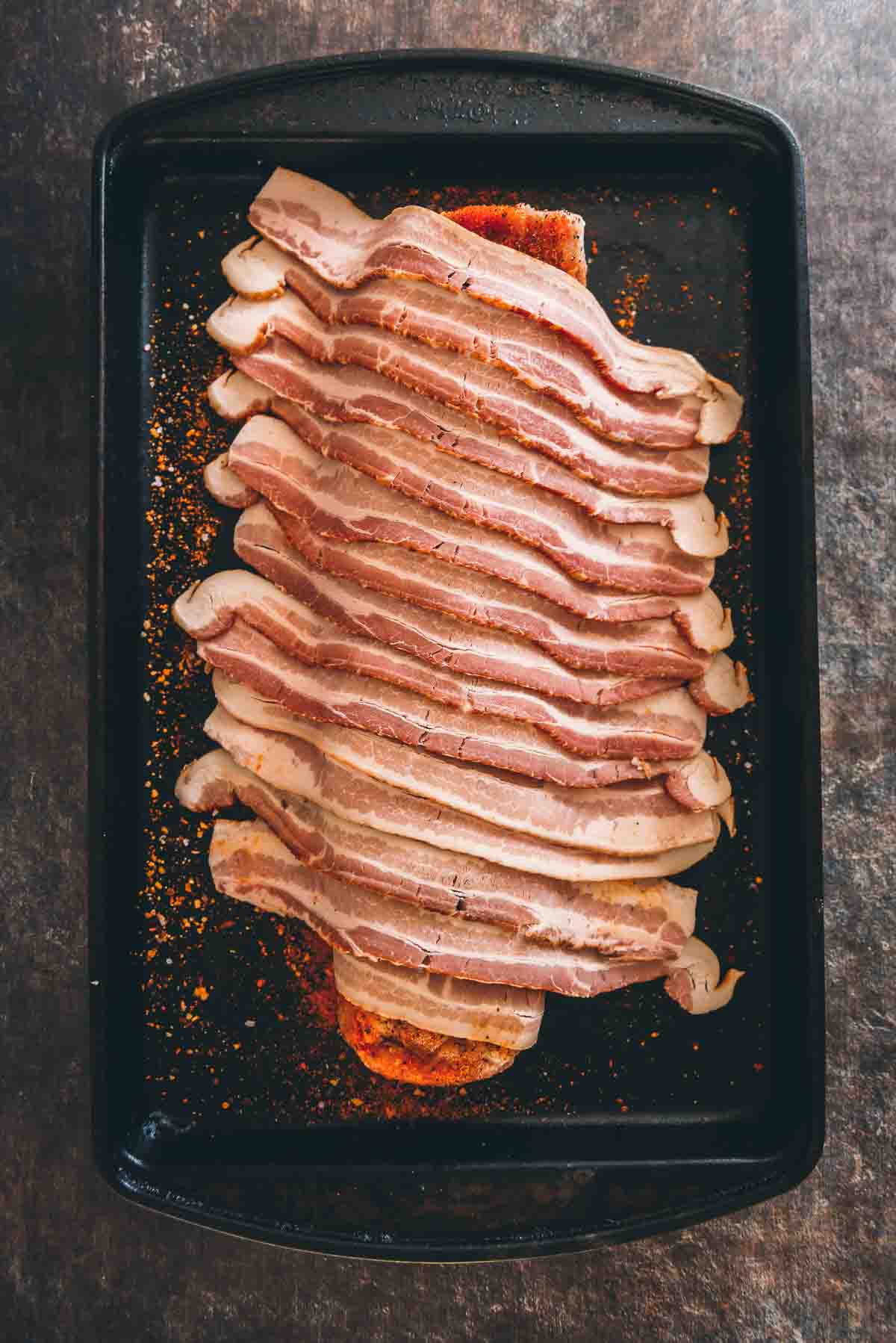 Smoke the pork loin:
Once the grill reaches 225 degrees F, place the baking sheet with the pork loin on the grill grates. Carefully pour the chicken stock into the baking sheet to help create a moist atmosphere for the roast. You could also use beer, cider or water if you want. Close the lid and smoke for an hour.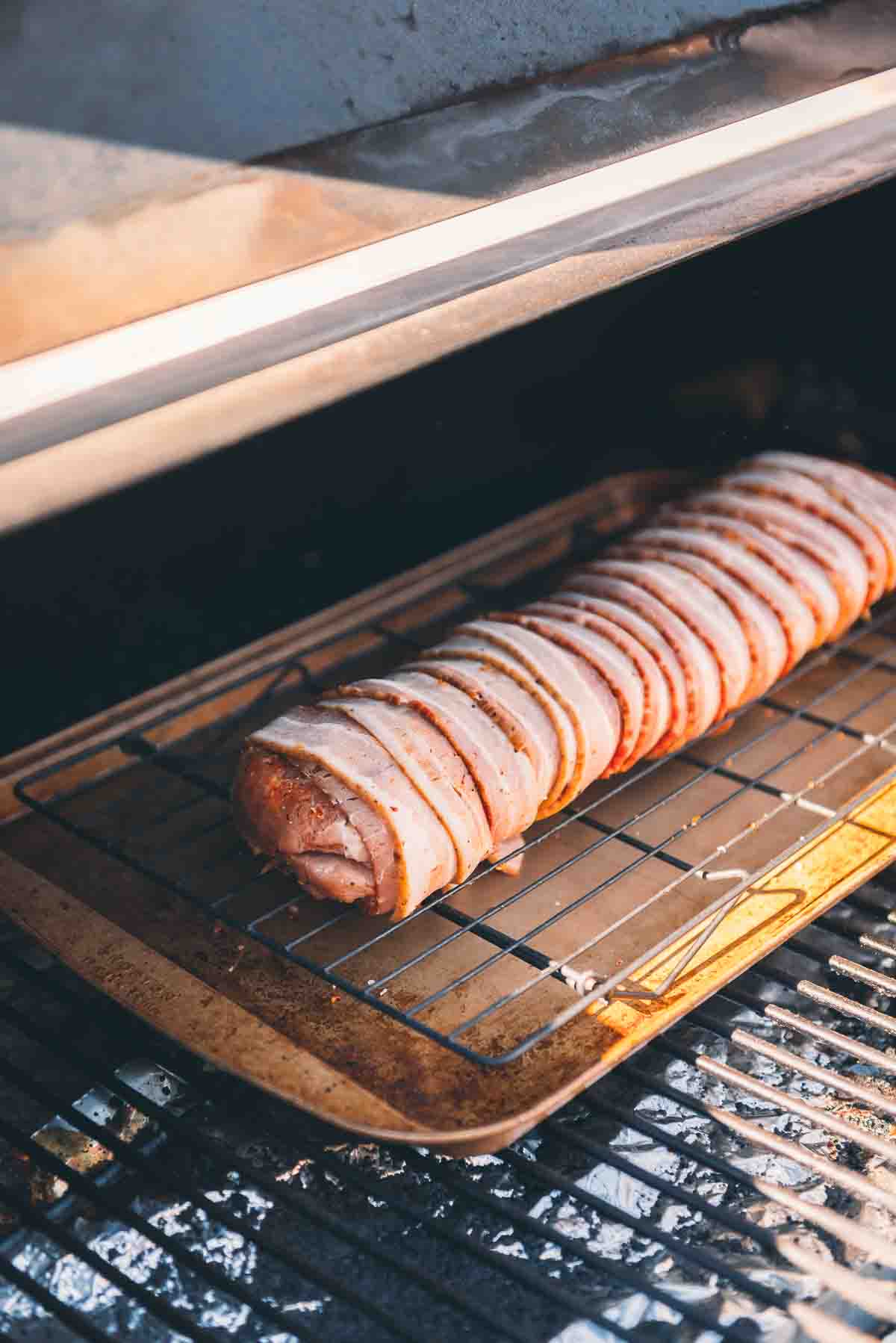 Baste the pork loin:
Once an hour has passed, whisk the maple syrup into the pan drippings and baste the bacon with it.
Close the lid and cook for another hour to an hour and a half, basting every 25 minutes to keep the pork moist and glaze the bacon in a sweet coating until the pork reaches 140 degrees F. Always use a meat thermometer to check internal temp to ensure the meat is cooked. Carefully remove the entire baking sheet from the grill when done.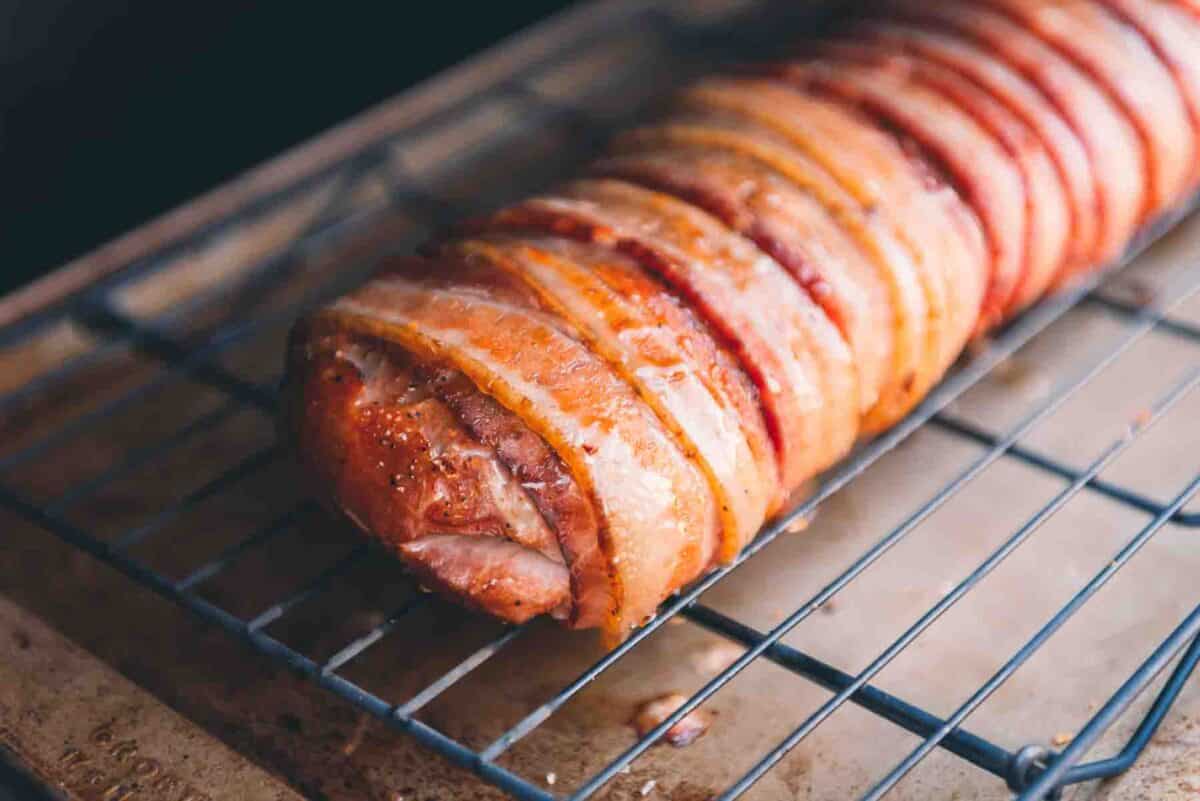 Rest & serve:
Tent the pork loin with aluminim foil and allow it to rest at least 10 minutes, as it will continue to cook and the internal temperature reaches 145 °F, before slicing and serving. 
Meanwhile, strain the drippings into a small saucepan and bring them to a boil. Brush the pork loin with the maple reduction once more before serving.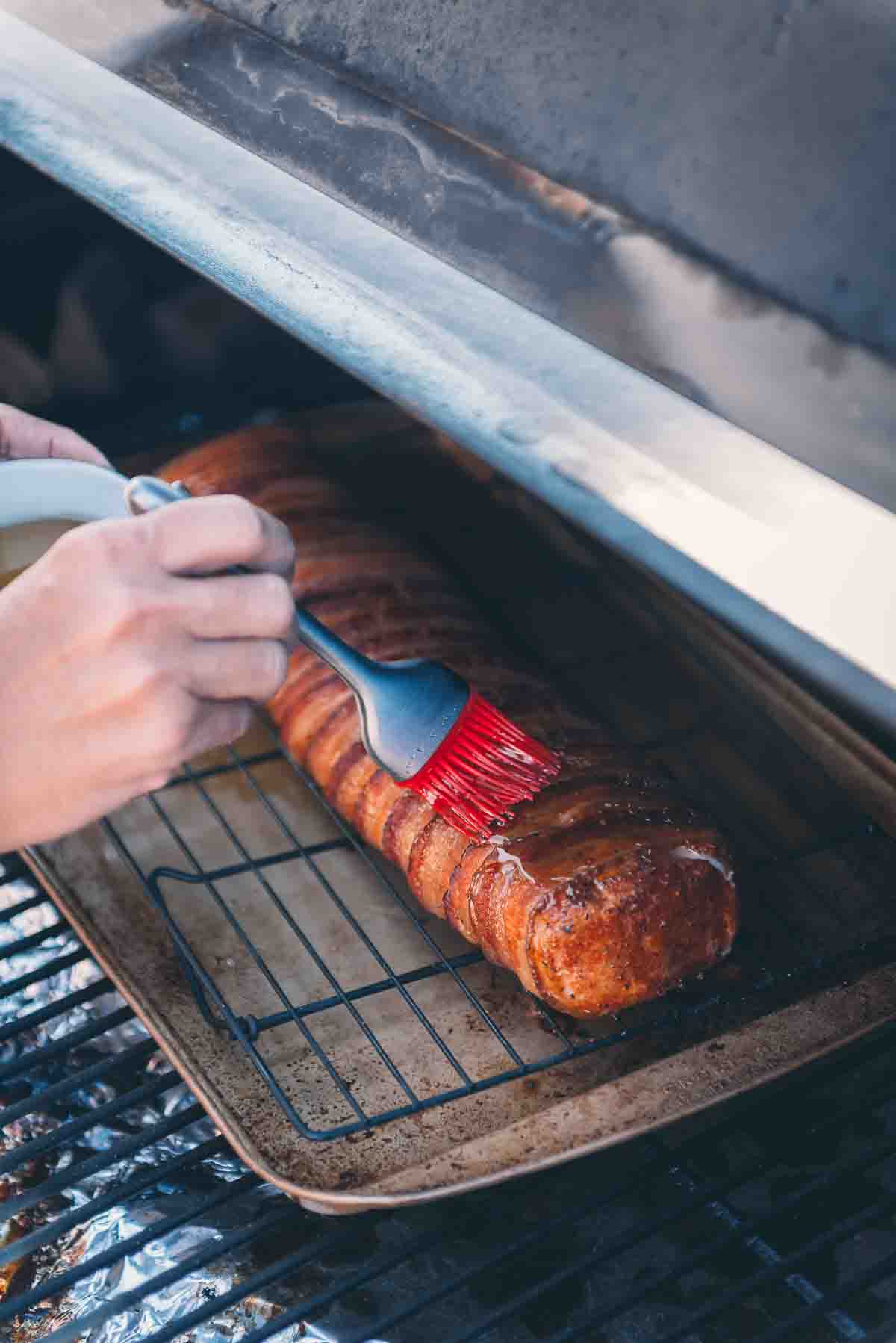 EXPERT RECIPE TIPS
Luckily, this pork loin recipe is simple. If you follow the directions closely, it should turn out as desired. The secret to juicy delicious pork is not overcooking the meat. Even slightly overcooked pork can dry out and become tough. If your pork loin came out tough, it's likely because the internal temperature of the pork reached above 160 degrees Fahrenheit. 
For perfect pork with a slightly pink center, the smoked pork loin's finished temperature should be 145°F at slicing; cook to 140, and rest for 10 minutes.
We developed this recipe for a Traeger grill, but it works over ANY grill. Simply set up your grill for 225 with indirect heat (a cooler side, and a hotter side) and smoke the pork on the cooler side as directed in the recipe card. If using a gas grill add a smoked box filled with wood chips for added flavor. Read more tips about smoking on a gas grill.
We love to use apple juice or apple cider vinegar to spritz our pork during the smoking process to help with its moisture, but this recipe doesn't require this specific step if you continue to baste with the drippings.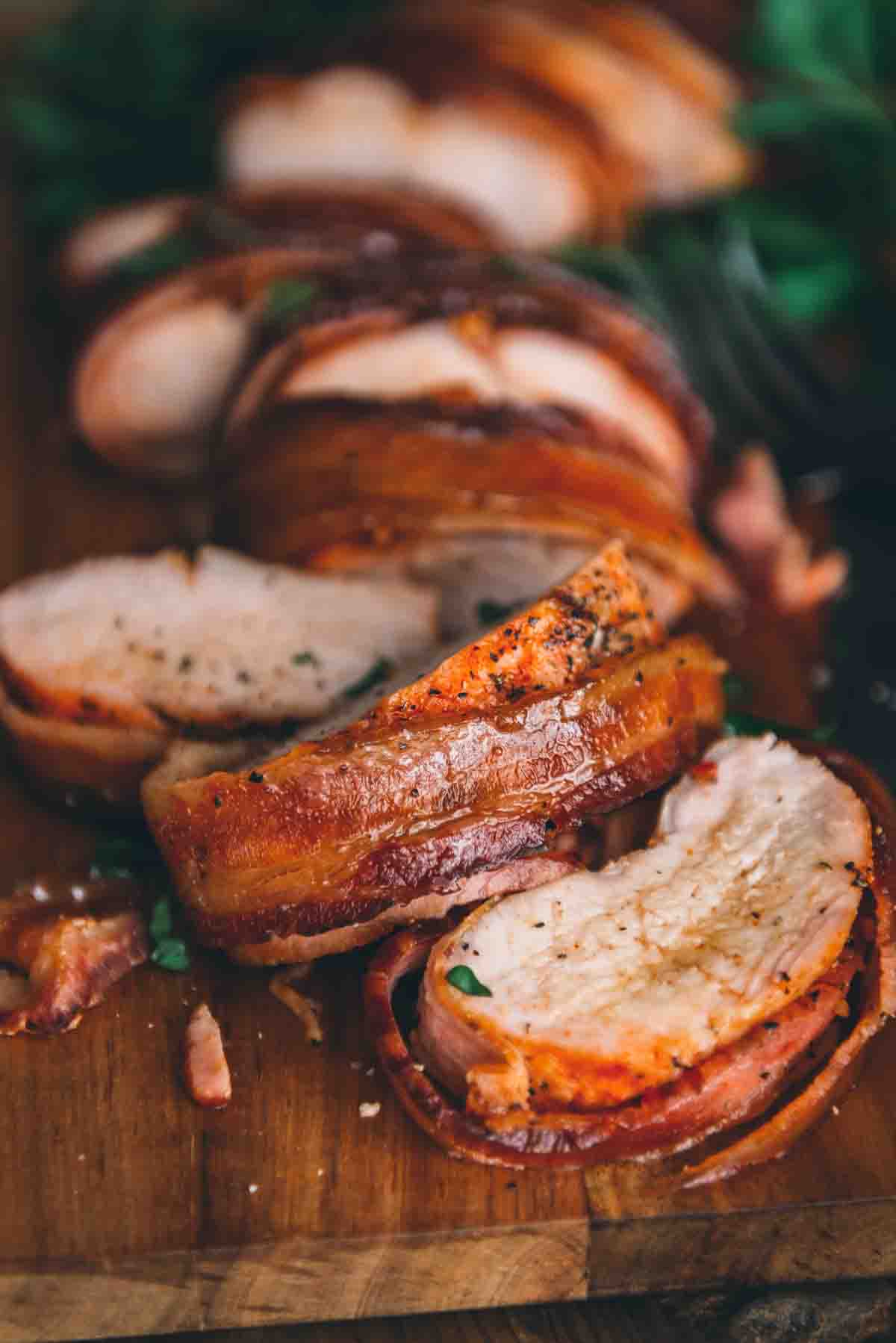 LEFTOVERS & REHEATING
The U.S. Department of Agriculture suggests keeping cooked pork for three to four days in the refrigerator after making it. Store in an airtight container or double-wrapped plastic wrap tightly to keep it as fresh as possible.
To reheat, preheat the oven to 325 Fahrenheit, and when ready, place the leftover smoked pork loin in a baking dish. Add a little broth or water in a thin layer to help the pork stay moist. You can brush the pork with a bit of olive oil or leftover maple drippings to help keep it moist. Place in the oven and heat for roughly a half hour, if whole. Or 10 to 15 minutes if sliced, until it's reheated through.
Sliced thin, leftover smoked pork loin makes delicious sandwiches!
What to Serve With
Looking for great side dishes? The best way to serve smoked pork loin is with a delicious vegetable-based side dish. Consider pairing it with Smoked Cabbage, Umami Smoked Mushrooms, or a large bowl of Steakhouse Keto Creamed Spinach. If you're looking for another or simply not a fan of veggies, consider this delicious Dutch Oven Mac and Cheese. This mac and cheese is made with three kinds of cheese, umami powder, an espresso powder spice blend, and beer. It's not your average bowl of mac—with each bite, you will experience a burst of flavor!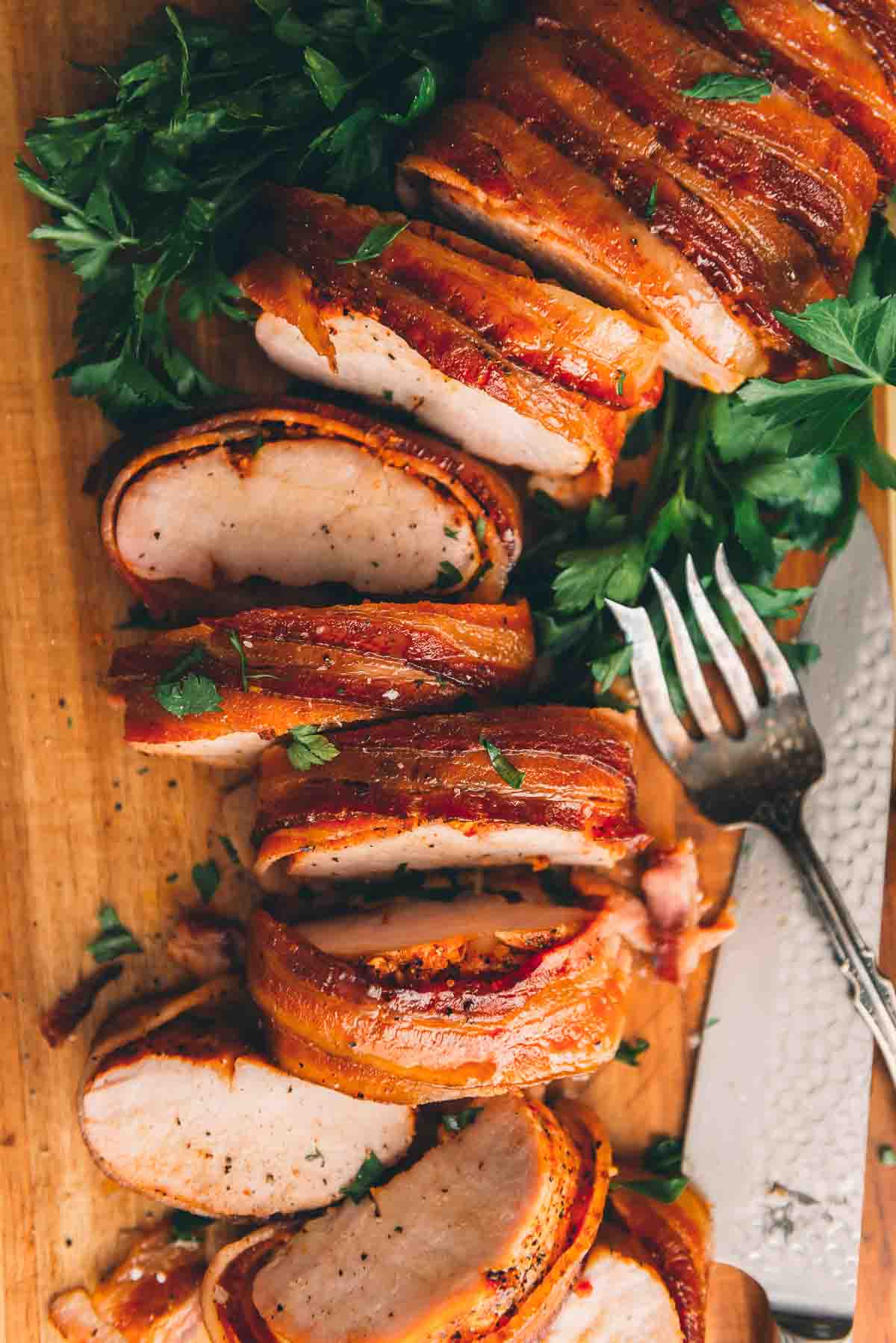 FAQs
Are pork loin and pork tenderloin the same thing?
Pork loin and pork tenderloin may appear similar when you look at the packages in the market but they are different cuts of pork that come from two different areas of the pig. One big difference is that pork loin is simply a larger portion of pork. While tenderloin is more petite and also known to be a more tender cut of pork (granted its namesake).
It can be confusing in the market as pork tenderloin is often sold tightly sealed in a two-pack, making it appear bigger than it is, looking similar to the loin.
If you're curious about how to grill pork tenderloin, see this guide: How to Grill Pork Tenderloin.
How long should a pork loin be smoked?
Pork loin smoke times may vary depending on the size of the loin and the recipe, but for this one, the pork will smoke at 225 Fahrenheit for around 2 to 2 1/2 hours.
How do you keep a smoked pork loin from drying out?
Because it's a lean and large cut, the pork loin is known to dry out pretty quick. In general, a good way to keep a loin moist while grilling is to add a drip pan to the grill to help maintain a moist cooking environment (this is especially crucial in more arid climates.
Another option is to spritz with apple juice or a good vinegar-based mop, and in the case of this great recipe, we use basting as well as the liquid in the pan below the roast to keep the loin moist.
Most importantly, not overcooking with help your pork to not dry out.
MORE MOUTHWATERING PORK RECIPES
If you love this pork recipe, check out these delicious recipes!
Sauces, Mops, & Condiments
Bacon-Wrapped Smoked Pork Loin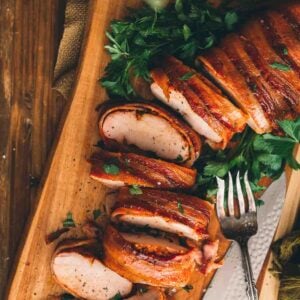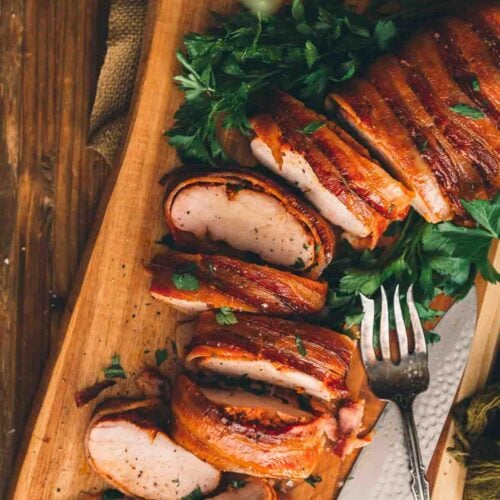 You're going to love this easy recipe for smoked pork loin wrapped in bacon and brushed with a maple glaze! It works on a pellet smoker, like Traeger, or any grill!
Ingredients
5

lbs

Boneless Pork Loin Roast

1

tbsp

Salt

1

tsp

Pepper

4

tbsp

BBQ Seasoning

12

oz

Bacon

½

cup

chicken broth

4

tbsp

Maple Syrup
Instructions
Prep pork:
Remove pork from packaging and pat dry. Trim any unnecessary fat, if there is excess and score.

Liberally season the loin with salt, pepper, and bbq spice blend.

Then wrap the loin in bacon, making sure all the seams of the bacon align on one side.
Prep the smoker:
Prep the pellet grill for smoke, for 15 minutes to allow it to warm up and then set it to 225F.

Place a smoker box with wood chips or 2 chunks of cherry wood on the hottest corner of the smoker to help deeper the smoked flavor.

Smoke the pork loin

When the smoke has reached 225F, place the pork loin, seam side down on a wire rack over a foil-lined baking sheet.

Carefully pour the chicken stick into the baking sheet.

Place the baking sheet on the grill grates.

Close the lid and allow the loin roast to smoke 1 hour.
Baste:
Check the pork internal temperature and baste the bacon with the drippings.

Close the lid and cook for another hour to hour and half, basting every 45 minutes with a little maple syrup and pan drippings, until the pork reaches an internal temperature of 140 degrees F.

Carefully remove the loin from the grill.
Rest & Serve:
Tent the pork loin with foil and allow it to rest 15 minutes before slicing and serving.

Meanwhile, bring the drippings to a boil in a small saucepan. Brush the pork loin once move before serving with the maple reduction.
Notes
We love a blend of GirlsCanGrill PK rub and OvertheFire Cooking Maple Bourbon for this pork loin, but any blend of your favorite barbecue spices will work. Go for something with a balance of paprika, spice, and sweet. 
We use Choczero syrup to keep this low-carb and keto friendly. However, any maple syrup will work.
Use regular bacon, not thick cut, so that it cooks through and gets crispy. 
When transferring the cooked pork to a cutting board, the bacon that's been folded under will come lose a bit. Simply trim it and before slicing if you want picture-perfect pieces of pork (no one will complain about extra bacon nibbles on the side). 
Nutrition
Serving:
1
g
|
Calories:
482
kcal
|
Carbohydrates:
10
g
|
Protein:
56
g
|
Fat:
23
g
|
Saturated Fat:
8
g
|
Polyunsaturated Fat:
3
g
|
Monounsaturated Fat:
10
g
|
Trans Fat:
0.04
g
|
Cholesterol:
166
mg
|
Sodium:
1080
mg
|
Potassium:
979
mg
|
Fiber:
1
g
|
Sugar:
5
g
|
Vitamin A:
170
IU
|
Vitamin C:
1
mg
|
Calcium:
82
mg
|
Iron:
3
mg