This is one of those easy to make but sounds oh-so-impressive recipes that I come back to over and over again every summer! The grilled flank steak pairs perfectly the rich chimichurri sauce and the saffron-infused cauliflower rice is pure magic.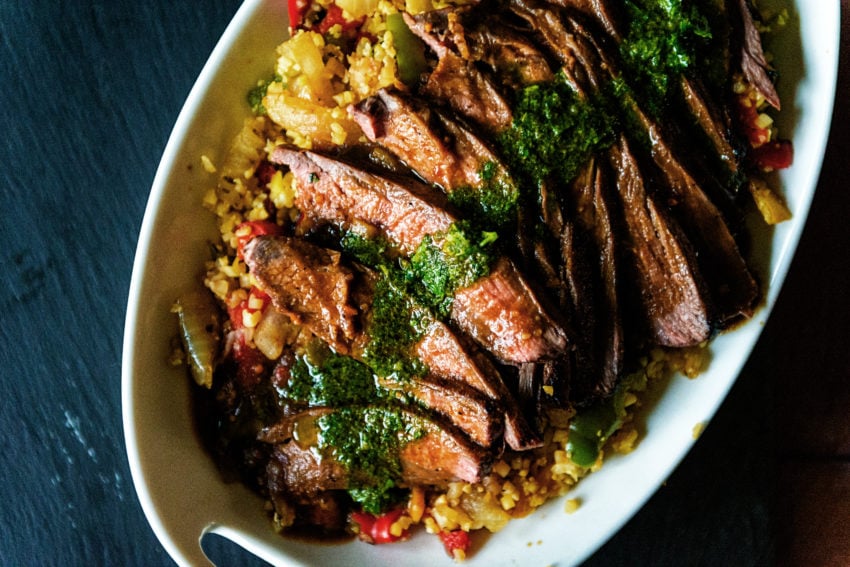 When it comes to succulent delicious thin sliced beef, this grilled flank steak is amazing. Much like bavette steak, it's begging for a hot quick grill and to be sliced and served with tons of chimichurri and toppings.
Trying the Whole30 diet had me locked down on a few simple meals, hundreds of eggs, and pretty much-hating life. Then I remembered that I loved to cook and really started creating recipes that rocked!
This Grilled Flank Steak with fresh Chimichurri over Saffron Cauliflower Rice is my spin on fajitas really taking things up a notch with pineapple marinated steak and saffron-infused 'rice'. Just what I needed to make the rest of my Whole30 diet fun – and a ton of recipes that were totally amazing!
Can you survive the Whole 30 Diet?
A few months ago, I tested out the Whole30 Diet and swore to myself I wasn't going to starve to death. We can get into the long and boring answer of why I would be crazy enough to cut anything from my diet, but the reality is, I wanted to try it.
The first few days, as instructed in the book, did suck. But, I really started to wonder just why. I mean, I cook everything anyway, not allowing myself carbs, cheese, and a few sugary drinks shouldn't really be that hard.
The trick to Whole30 success? Focus on what you CAN have.
Then I realized, it was because I was focusing on the things I couldn't have. All of the hard 'NO's'. I was reading and re-reading the rules as though someone had come down from the mountains with tablets carved of stone and I was sure to muck it up.
Sure enough, this 'I can't' mentality was crushing my creative spirit and leaving me one sulking cuss who was just whining about how hard everything was.
Truth, it's not hard.
It's not hard at all.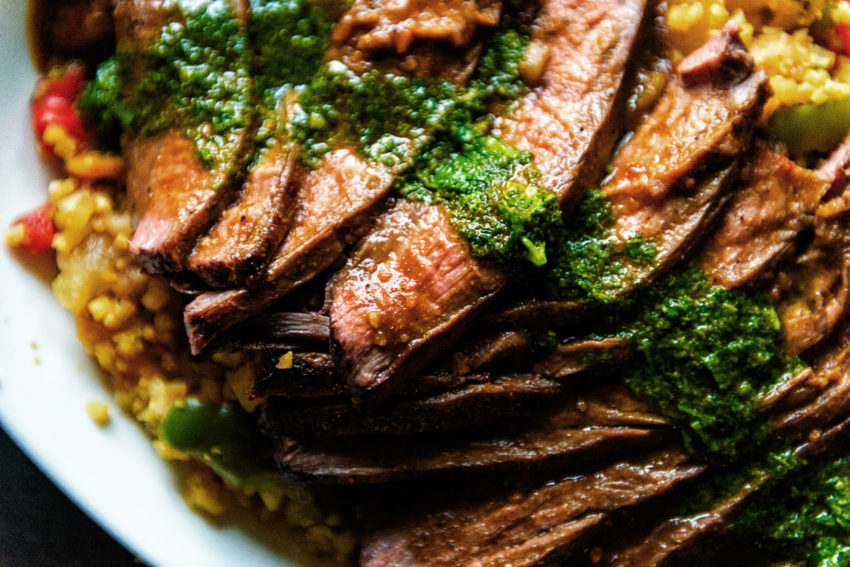 And seriously, don't try to google 75 ways to create Whole30 Approved desserts. That's kind of self-sabotage for the whole thing.
Instead of focusing on all the things you can't have on Whole 30 and locking down like 3 meals to reuse for 30 days in a row, start to think about all of the flavors you can create, the basics of cooking, how to infuse and mingle flavors to appease your taste buds.
How to incorporate texture to keep everything toothsome. Once that switch flipped in my mind, things got good. Real good. Like, pineapple marinated Grilled Flank Steak with fresh Chimichurri over Saffron Cauliflower Rice good.
At the end of the 30 days, I hadn't lost a pound, but I did feel great. I was sleeping really well and really enjoyed the way my body felt. I will admit, I was disappointed it wasn't a miracle weight loss solution, but as a runner, and mountain biker, I realize my body fluctuates pretty evenly from month to month.
Overall thou, the feeling great is a reward all to itself and I ended up using some of the basic principles I learned in many meals since.
For more Whole30 Inspiration – check out my 'How Not to Starve on the Whole 30' Recipe section for recipes like Smoked Stuffed Poblano Enchiladas and Hickory Smoked Pork Ribs, or check out my entire page on Pinterest dedicated to the trend. Chime in and let me know what recipe you have tried that you loved or which one you are looking forward to.
Now, let's eat. Grilled Flank Steak with fresh Chimichurri over Saffron Cauliflower Rice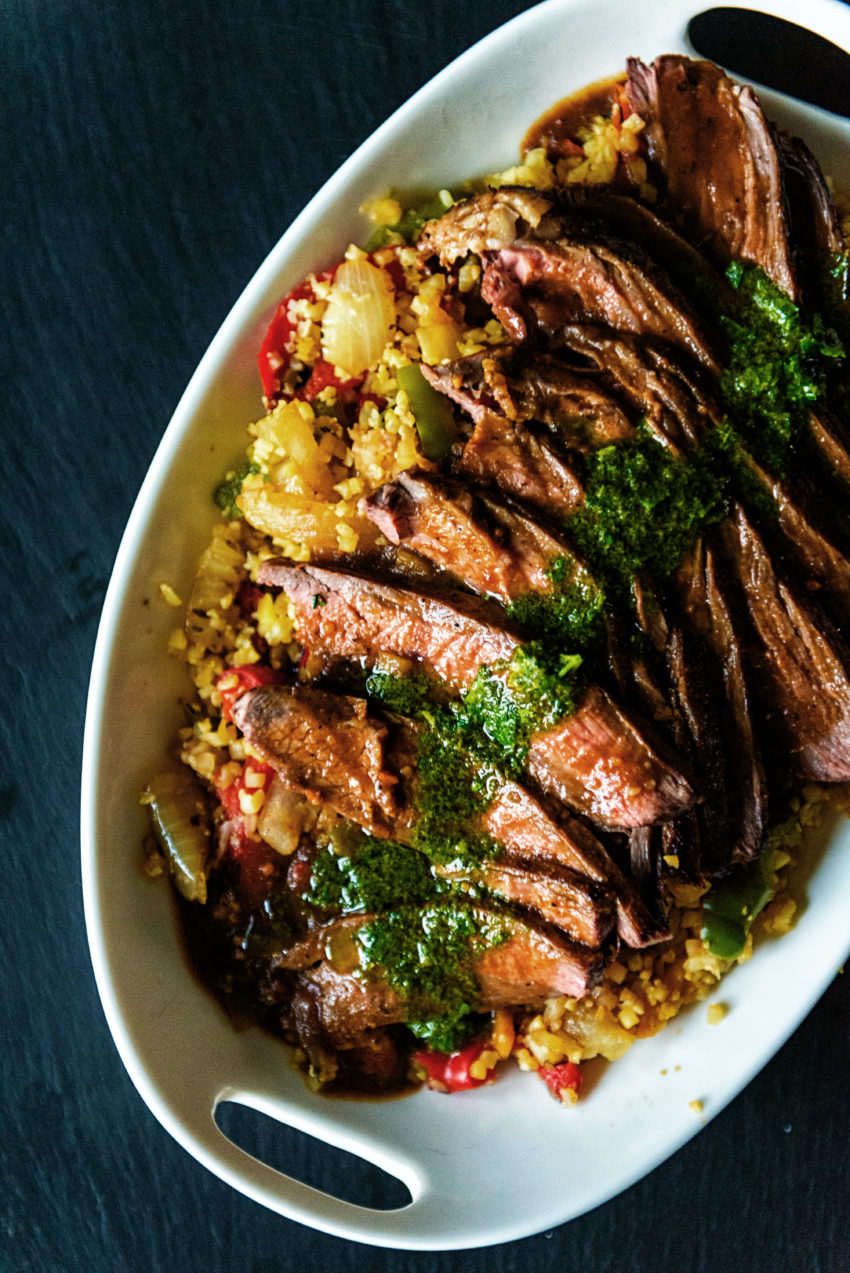 Grilled Flank Steak with fresh Chimichurri over Saffron Cauliflower Rice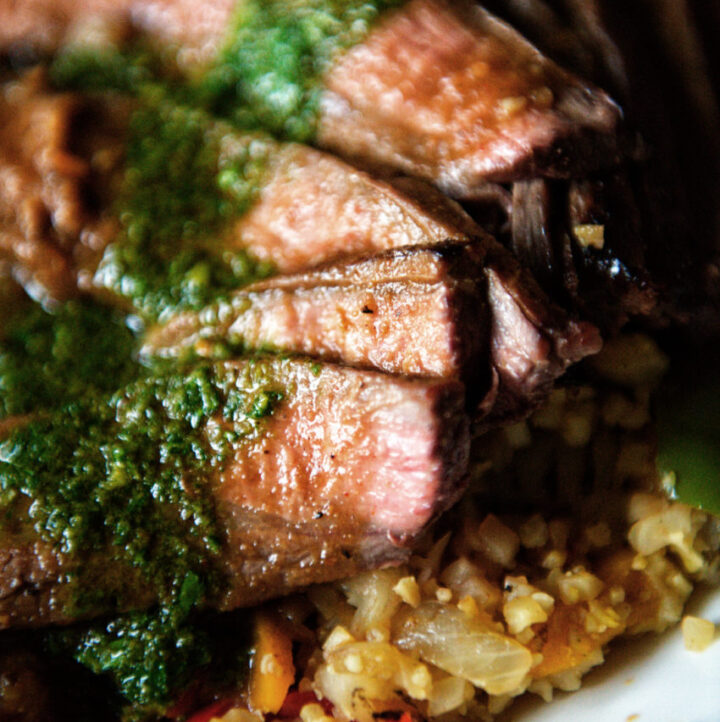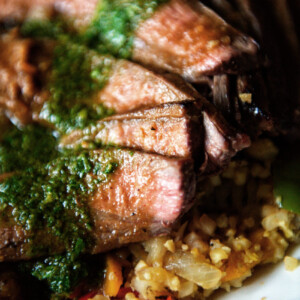 Savory grilled flank steak sliced thin over light cauliflower rice and topped with what I call 'magic sauce' aka, chimichurri may be the best healthy meal you have ever tasted. Oh, and it's not at all as complicated as it sounds. Make and impress the fussiest of eaters.
Ingredients
2

lbs

Flank Steak

Salt and Pepper

1

tbs

Cumin

1

tsp

Red Pepper Flakes

1/3

cup

Coconut Aminos

see note

1/2

cup

Pineapple Juice
For the Chimichurri
3/4

cup

Olive Oil

1

large bunch fresh Parsley

1

tsp

Red Pepper flakes

4

cloves

Garlic

1/2

Red Onion
For the Saffron Infused Cauliflower
1/2

cup

Chicken Stock

pinch

Saffron

2

cups

Cauliflower Rice*

frozen, see note

15

oz

Fire Roasted Peppers and Onions for combining

frozen package
Instructions
Marinate the Steak
Pat the flank steak dry and season with salt and pepper.

Mix cumin, red pepper flakes, coconut aminos, and pineapple juice in a large resealable bag. Add the flank steak and marinate in the refrigerator for 4 to 6 hours.
Grill the Steak
When ready to grill, grease the grill grates and preheat your grill or light and prep your coals if using charcoal.

Remove the steak from the marinade and reserve the marinade.

Pat the steak dry and grill to medium rare, flipping once.

Allow the steak to rest in foil for 10 minutes before slicing.

Meanwhile, in a small saucepan, bring the marinade to a boil. Reduce heat to low and simmer until liquid has reduced by half.
Make the Chimichurri
In a blander or food processor, blend the olive oil, parsley, red pepper flakes, garlic cloves, and red onion until your chimichurri has reached your desired texture. Add more or less oil to thicken or thin.
For the saffron infused cauliflower rice
Simmer chicken stock in a large skillet with saffron to infuse.

Strain into a heat safe jar. Add the cauliflower rice to the skillet and toast.

Add the infused chicken stock to pan and toss to coat the cauliflower.

Finally, arrange the fire roasted onions and peppers on a platter with the saffron cauliflower rice.

Slice the flank steak and arrange over top with a garnish of chimichurri.

Spoon the reserved marinade over the top of the steak.

Serve family style, allowing everyone to take what they want, with more chimichurri on the table for passing.
Notes
This recipe works best if you marinate the steak, then prep the cauliflower rice and chimichurri right before, or while the steak is grilling and resting. 
If you aren't concerned with Whole 30
, you can use Worcestershire Sauce in place of the coconut aminos. 
Rice can be used in place of the cauliflower. If you are making the swap, go with yellow rice. Personally, I love this Vigo brand.
Nutrition
Serving:
1
g
|
Calories:
329
kcal
|
Carbohydrates:
12
g
|
Protein:
22
g
|
Fat:
21
g
|
Saturated Fat:
4
g
|
Cholesterol:
55
mg
|
Sodium:
284
mg
|
Potassium:
554
mg
|
Fiber:
3
g
|
Sugar:
2
g
|
Vitamin A:
2294
IU
|
Vitamin C:
22
mg
|
Calcium:
47
mg
|
Iron:
3
mg