There are few things better than the flavor of perfectly marbled, juicy, beefy steaks cooked over an open fire. This Campfire Grilled Tomahawk Steak gets a kiss of smoke from the flame that puts it over the top! Easier to make than you might think, light that campfire and make this hearty steak today!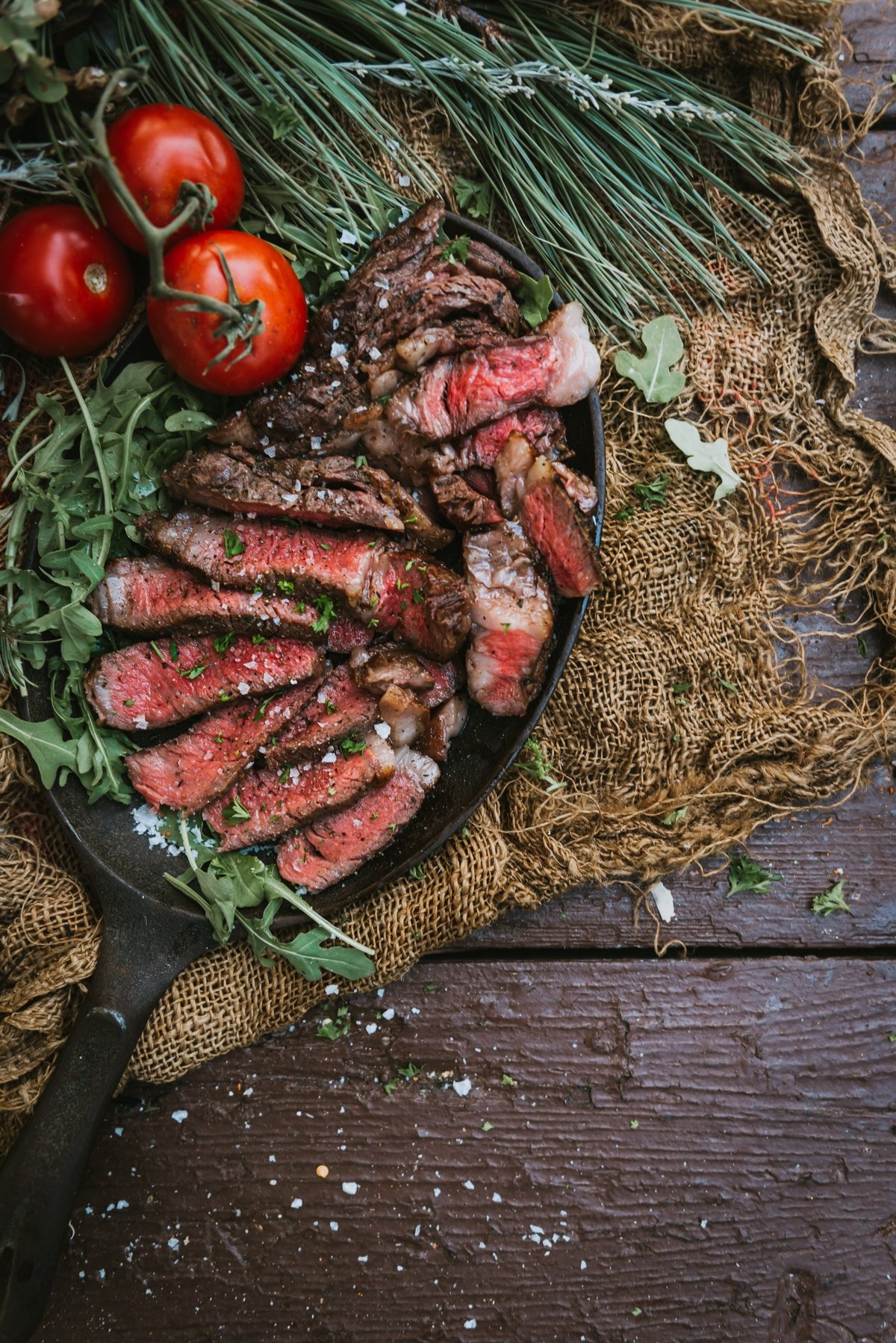 The beauty of this recipe is that if you have a fire, you can make it. This is the perfect camping recipe, but it's also great for backyard cookouts or just because you feel like tearing into a caveman-sized piece of meat; a tomahawk steak is so impressive and delicious.
The pop and sizzle of the fat caramelizing over the open flame is music to my ears, and the smell is heavenly. I love picking up a tomahawk steak (or two) whenever I'm camping because all I need for a fantastic meal is the steak, seasonings, butter, and, to top it all off, a bit of Parmesan.
I can smell it cooking right now, and it's making me hungry! I think it might be time to plan another camping trip!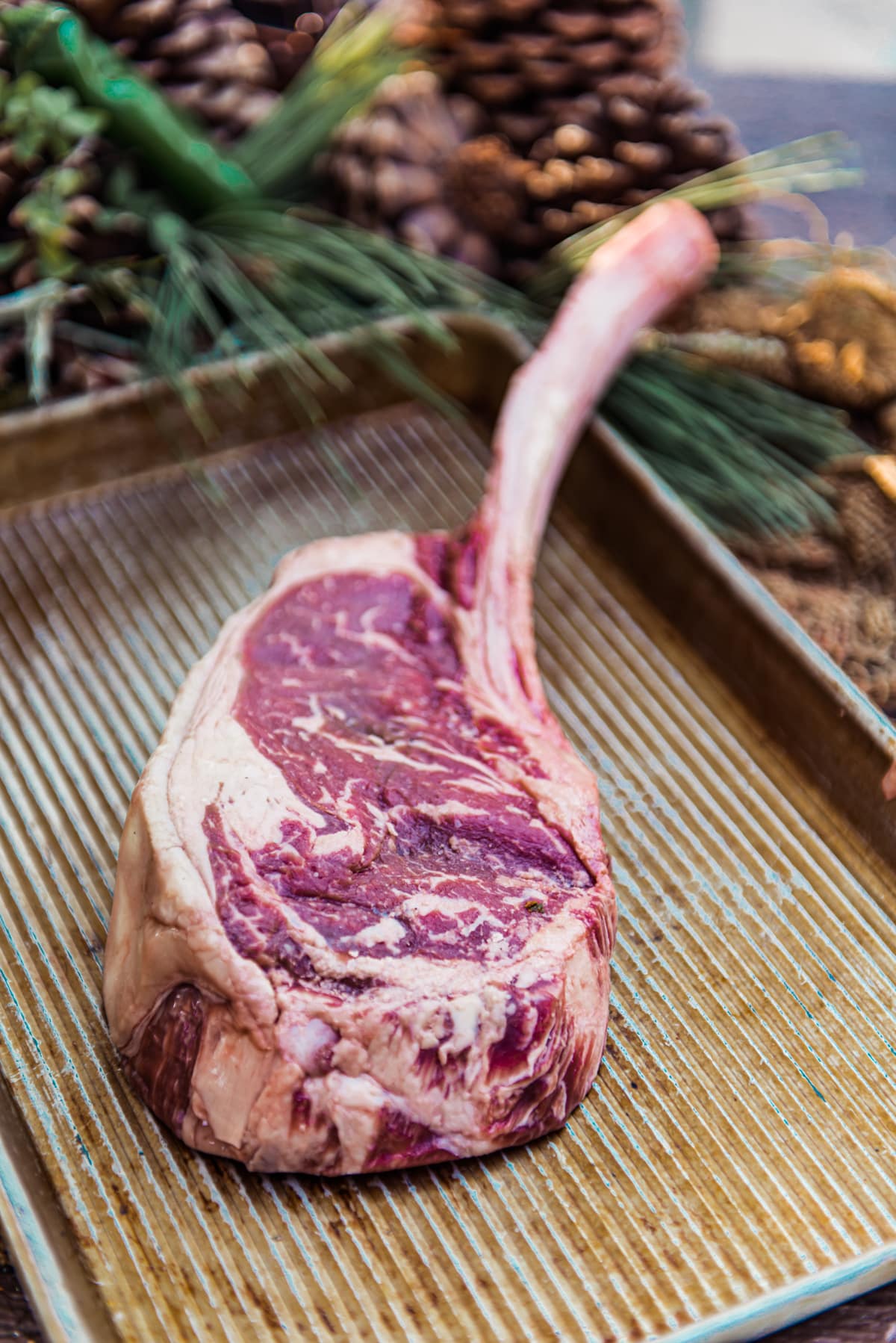 What's a Tomahawk Steak?
Tomahawk steaks are huge steaks! They're colossal ribeye steaks with a giant rib bone on them. Looking like a giant meat tomahawk, this is a specialty cut you'll probably have to get from your butcher. The extra-long bone – at least 5-inches, is trimmed – or frenched – so that the bone is clean. This is an impressive cut of meat that's extra delicious because of the bone.

Also called a tomahawk ribeye, most grocery stores don't carry these steaks, so you'll probably need to order this from your local butcher. Give them a few days notice.
What You Need For Campfire Grilled Tomahawk Steaks
The beauty of grilling tomahawk steaks is how few ingredients you need to make an outstanding meal. This dish is all about the campfire steak – oh, and the butter. Don't forget the butter! Butter on steaks makes everything better – trust me on this!
Tomahawk steak – Place your order with your local butcher a few days in advance.
Girl Carnivore Ooomami Seasoning – Or your favorite steak seasoning.
Salt – I love kosher salt.
Butter
Parmesan cheese – Freshly shaved to garnish (optional but recommended.)
Freshly ground black pepper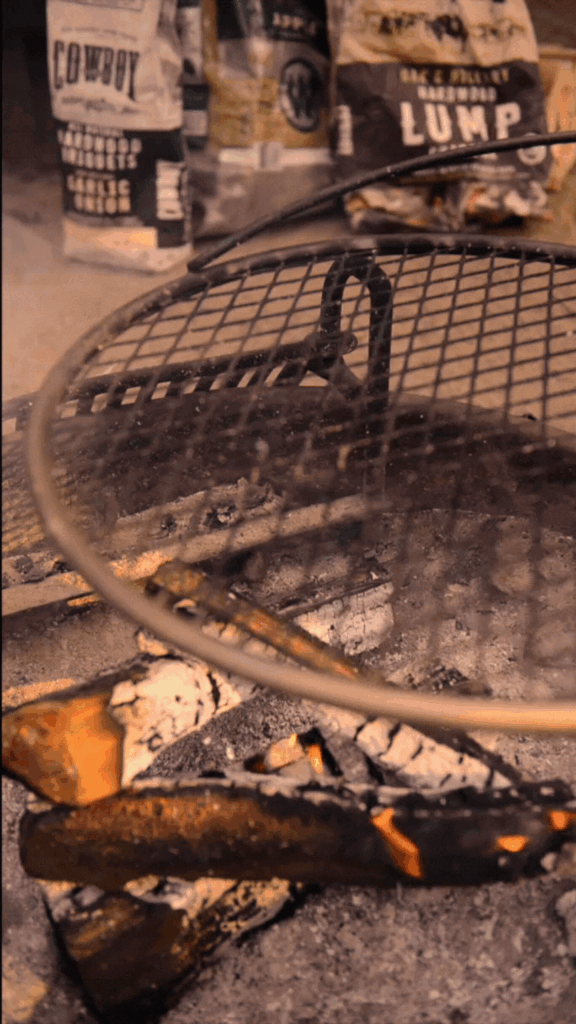 How To Grill The Best Tomahawk Steak
Forget your patio gas or charcoal grill; for the best steak, you need fire. Real fire. Get your fire started early enough to give the flames time to subside and to form coals. Too much smoke of the initial fire smoke will overpower the amazing beefy flavor of the steak.
Build a campfire for 2-zone heat with a hot side with stacked coals and a cooler side. Put the cooking grate over the fire to preheat.
Pat the steak dry and liberally season with salt. Let the steak sit out for about 20 minutes to warm up.
Season both sides of the steak with GirlCarnivore Ooomami, then place the steak on the cooler side of the grill.
Cook the steaks over indirect heat for about 45 minutes or until the steak reaches 120-F.
Transfer the steak to direct heat and sear it, flipping as needed to avoid flare-ups, until a crust forms and the steak reaches an internal temperature of 130-F for medium-rare.
Top the steak with butter and rest it tented with foil for about 5-10 minutes.
Slice the steak from the bone, then cut it into strips against the grain. You'll need a cutting board for this.
Serve topped with shaved Parmesan, freshly ground black pepper, and a pinch of coarse salt.
Dig in!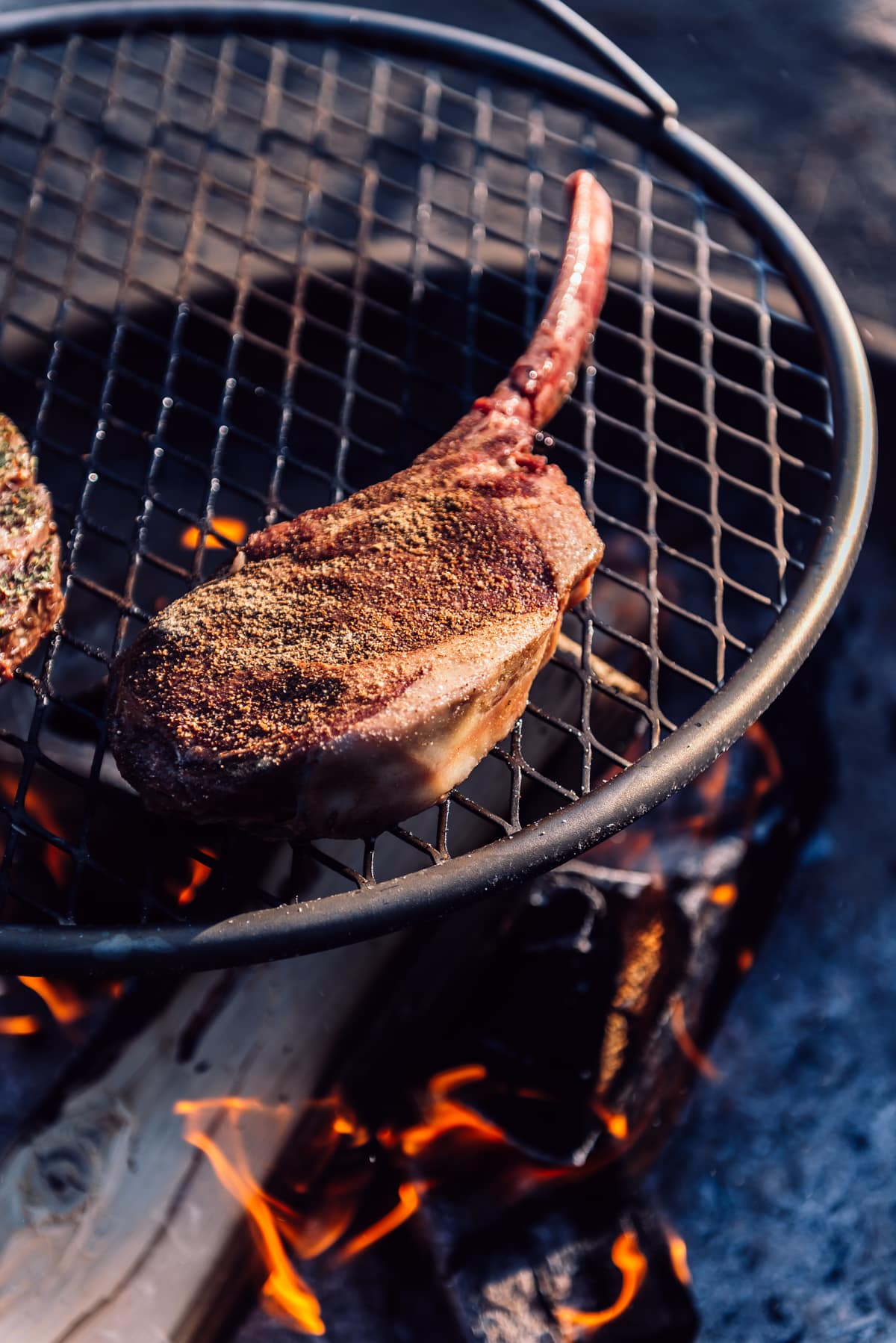 Recipe Tips
Getting the right kind of fire for grilling a tomahawk is essential, so don't rush it! You need hot coals, not a raging inferno. Resist the temptation to load on more wood while cooking it, or the new smoke will overwhelm the meat's flavor.
Letting the steak sit out for a bit to warm up will help it cook more evenly.
Do you know why steakhouse steaks are so damn good? Butter. Yup, every steak is topped with butter before serving. The butter adds richness, salt, flavor, and pools at the bottom to create an amazing sauce.
How many people does a tomahawk steak feed? It'll feed 2, maybe 3 diners.
Use a good instant-read meat thermometer to make sure you don't overcook your steak.
Let the steaks rest! Resting time is important so that the juices don't come out of your perfect grilled tomahawk steak.
What to Serve with a Tomahawk Steak
Who says you need anything with it? I love going GirlCarnivore on this cut of beef and filling up on rich, fatty, and oh-so-good steak. If you must have something else with it, try a pan of Brussels sprouts, mac and cheese, or potato salad.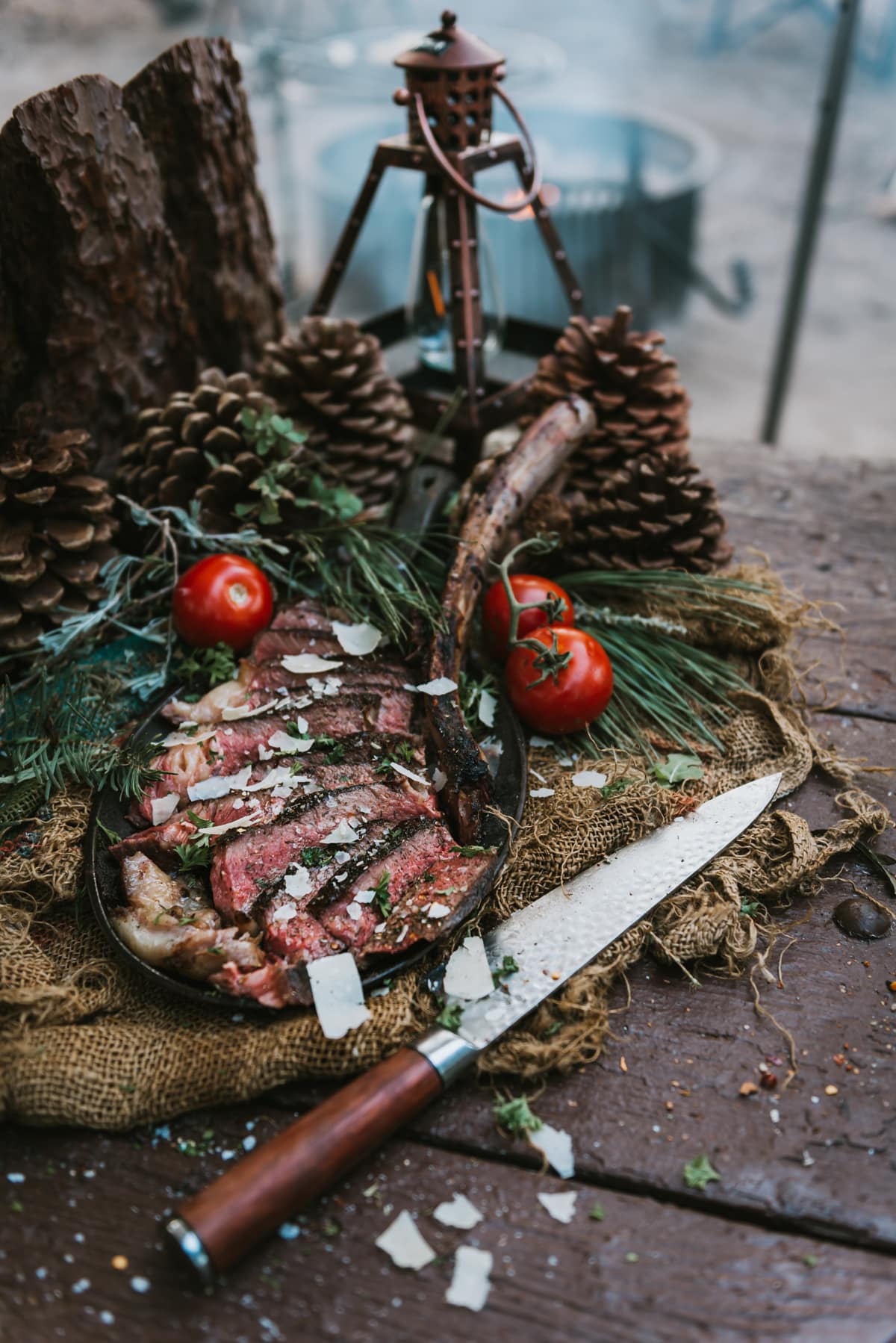 Storage Instructions
Do you mean you've got leftover grilled ribeye steak? To store leftovers, wrap them tightly and pop it in the fridge for 2-3 days, and they'll be fine. Serve the leftovers cold or warm them up gently, so you don't overcook them.
MORE GRILLED STEAK RECIPES
Campfire Grilled Tomahawk Steaks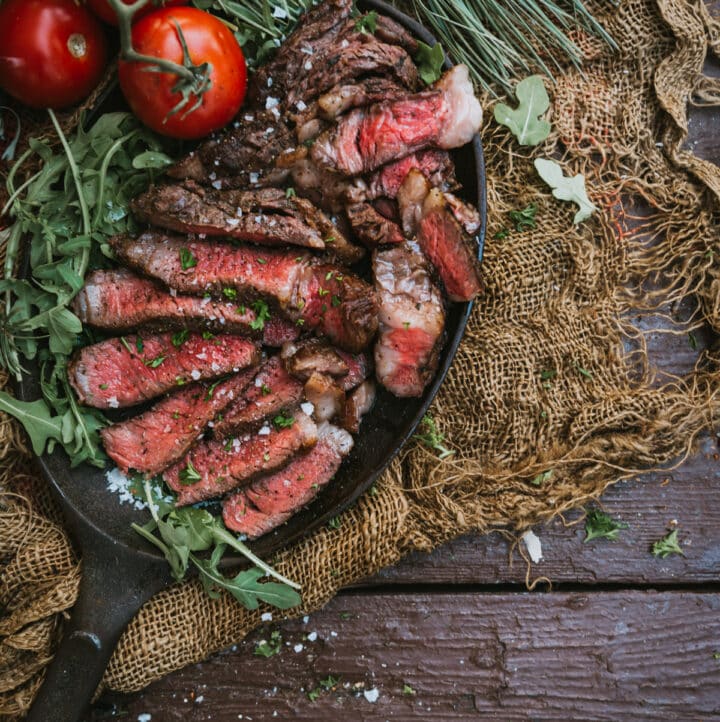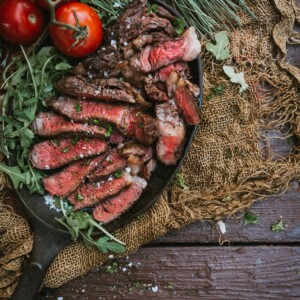 When it comes to showstopping steaks, nothing tops a big bone in grilled tomahawk steak! Perfectly cooked over a campfire and sliced to tender juicy bites.
Ingredients
Garnish
Fresh shaved parmesan cheese

Black pepper
Instructions
Build the fire:
Build a campfire for 2-zone heat, with a hot side where the coals are stacked and a cooler side.

Place cooking grate over the fire to preheat.
Prep the steaks:
Pat the meat and bone dry and season liberally with salt.

Allow the steak to warm up for 20 minutes before grilling while the coals get ready for grilling.

When ready to cook, season the tomahawk steak on both sides with a liberal coating of GirlCarnivore Ooomami.
Smoke the steak:
Place the steak on the cooler side of the grill grate.

Smoke the steaks over indirect heat for 45 minutes to 1 hour until the steak is 120 degrees F, rotating and flipping the steaks as needed to not overcook.
Sear the steak:
Adjust your grill grate as needed to cook over the direct heat side of the grill.

Allow the grate to heat up about 5 minutes.

Sear over direct heat on both sides flipping as needed to avoid flare-ups, forming a crust until the beef reaches 130F.

Remove the tomahawk steaks from the campfire.
Rest:
On a platter, divide the butter over the steaks to melt and tent with foil and rest for 5 to 10 minutes.

Slice the steak from the bone and then into thin strips against the grain to serve.
Serve:
Garnish with shaved parmesan, freshly grated black pepper, and a pinch of salt.
Notes
For cooking build your campfire with enough time for the flames to subside from the wood and coals to form. Cooking in the initial smoke will overpower the food and create an acidic burnt flavor.
Nutrition
Serving:
1
g
|
Calories:
214
kcal
|
Carbohydrates:
1
g
|
Protein:
15
g
|
Fat:
17
g
|
Saturated Fat:
8
g
|
Polyunsaturated Fat:
1
g
|
Monounsaturated Fat:
7
g
|
Trans Fat:
1
g
|
Cholesterol:
61
mg
|
Sodium:
1248
mg
|
Potassium:
217
mg
|
Fiber:
1
g
|
Sugar:
1
g
|
Vitamin A:
191
IU
|
Vitamin C:
1
mg
|
Calcium:
21
mg
|
Iron:
2
mg