There are few things better than the flavor of perfectly marbled, juicy, beefy steaks cooked over an open fire. This grilled Tomahawk Steak Recipe gets a kiss of smoke from the flame that puts it over the top! Easier to make than you might think, so light that campfire and make this thick-cut steak today!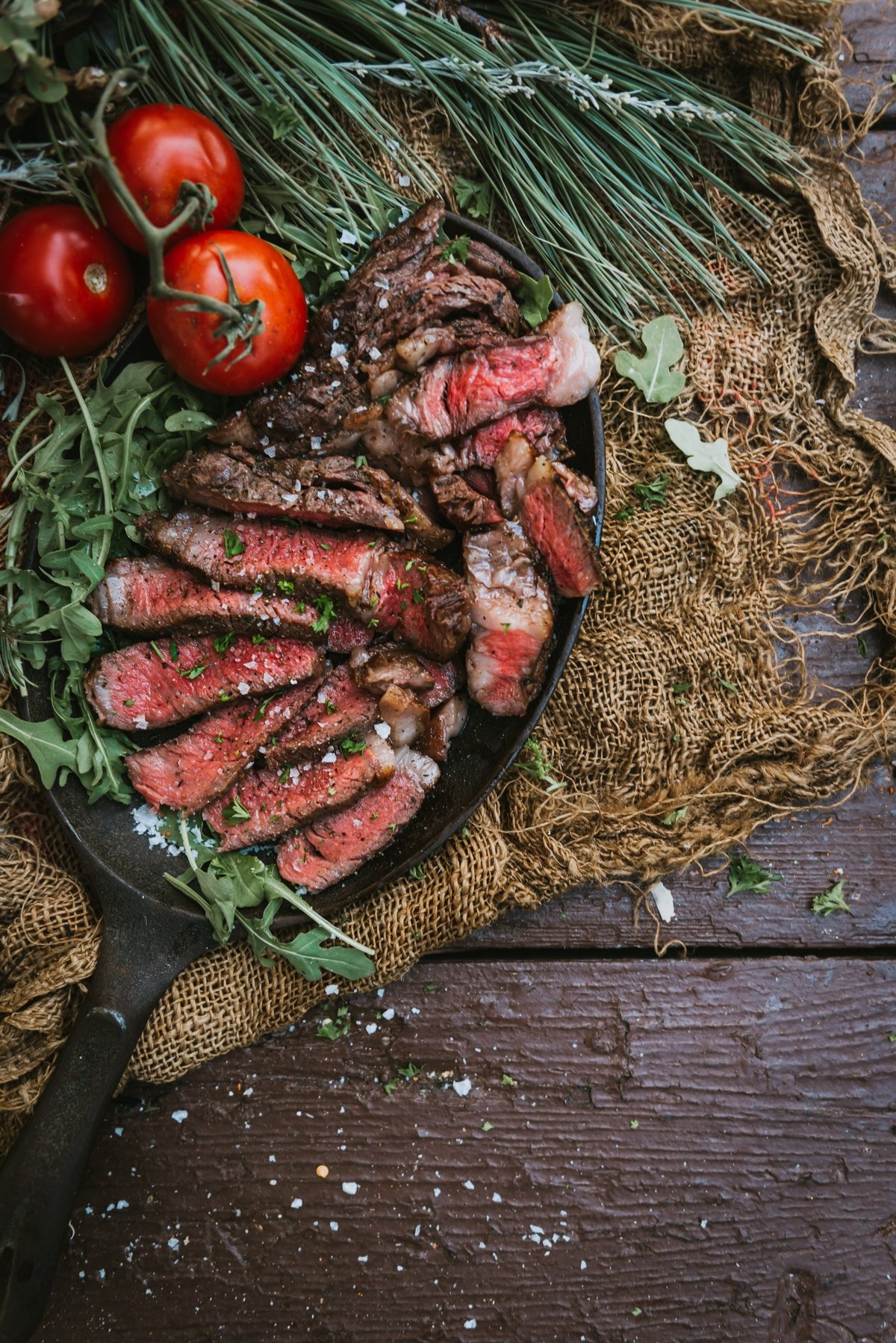 Ah, the mighty tomahawk steak – the ultimate carnivore's delight. This massive hunk of meat is not for the faint of heart (or stomach), but if you're ready to take on the challenge, buckle up and get ready for a feast. The beauty of this recipe is that if you have a fire, you can make it.
This is the perfect camping recipe, but it's also great for backyard cookouts!
With its impressive size and mouth-watering marbling, this massive tomahawk steak is a showstopper that will have your dinner guests drooling with anticipation. So grab your apron and sharpen your knives because it's time to show everyone who's the grill master in town!
Looking for more mouth-watering beef recipes? Click the link to discover more delicious ways to satisfy your carnivorous cravings and take your steak game to the next level.
What Is A Tomahawk Steak?
Tomahawk steaks are huge steaks! They're colossal ribeye steaks with a giant rib bone on them. Looking like a giant meat tomahawk, this is a specialty cut you'll probably have to get from your butcher. The extra-long bone – at least 5 inches, is trimmed – or frenched – so the bone is clean. When it's cut shorter, this steak is known as a cowboy steak.
This is an impressive cut of meat that's extra delicious because of the bone. Also called a tomahawk ribeye, most grocery stores don't carry these steaks, so you'll probably need to order this from your local butcher. Give them a few days notice. And given these are just a bone-in ribeye with an little extra, they are only for special occasions.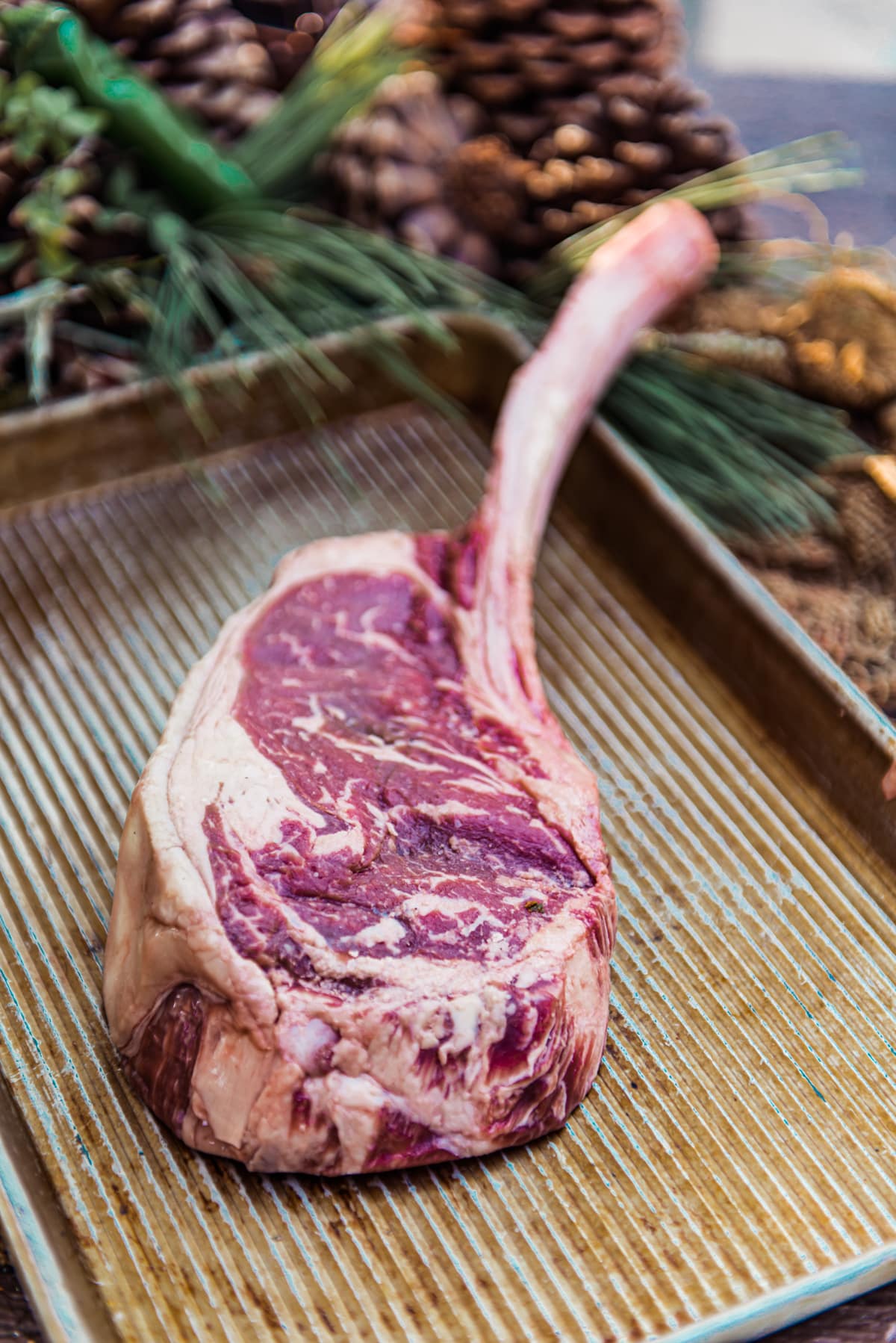 Grilled Tomahawk Steak Ingredients
Tomahawk steak – Place your order with your local butcher a few days in advance. Or check out our reviews of the best places to order meat online.
Girl Carnivore Ooomami Seasoning – Or your favorite steak seasoning.
Salt – We love kosher salt.
Butter – use unsalted butter or level things up and use a compound butter recipe (like our herb butter) for even more robust flavor.
Parmesan cheese – Freshly shaved to garnish (optional but recommended.)
Freshly ground black pepper
How to Grill a Tomahawk Steak
Forget your patio gas or charcoal grill; for the perfect steak, you need fire. Real fire. Start your fire early enough to give the flames time to subside and form coals. Too much smoke from the initial fire smoke will overpower the amazing beefy flavor of the steak.
Build a campfire for 2-zone heat with a hot side with stacked coals and a cooler side. Put the cooking grate over the fire to preheat.
Pat the steak dry and liberally season with salt. Let the steak sit out for about 20 minutes to warm up.
Season both sides of the steak with GirlCarnivore Ooomami, then place the steak on the cooler side of the grill grates.
Cook the thick steaks over indirect heat for about 45 minutes or until the internal temperature of the steak reaches 120 degrees F.
Transfer the steak to direct heat and sear it, flipping as needed to avoid flare-ups, until a nice crust forms on the outside of the steak and the temperature of the meat reaches 130 degrees F for medium-rare.
Top with butter and let steak rest, tented with aluminum foil, for about 5-10 minutes.
Slice the entire steak from the bone, then cut it into strips against the grain. You'll need a cutting board for this.
Serve topped with shaved Parmesan, freshly ground black pepper, and a pinch of coarse salt.
Dig into your perfectly grilled tomahawk ribeye steaks!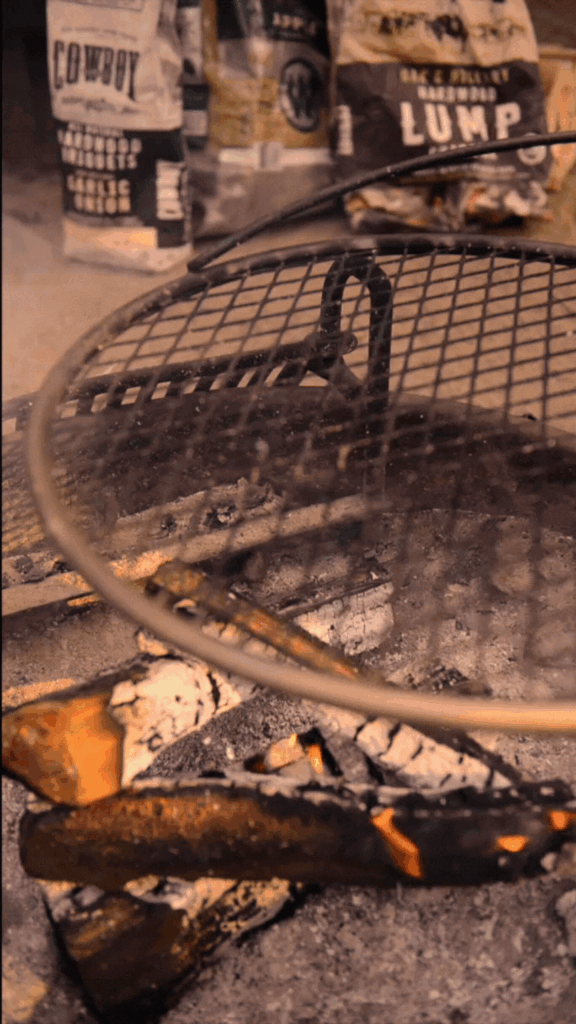 Girl carnivore EXPERT RECIPE TIPS
Getting the right kind of fire for grilling a tomahawk is essential, so don't rush it! You need hot coals, not a raging inferno. Resist the temptation to load on more wood while cooking it, or the new smoke will overwhelm the meat's flavor.
Letting the steak sit out until it reaches room temperature will help it cook more evenly.
Do you know why steakhouse steaks are so damn good? Butter. Yup, every steak is topped with butter before serving. The butter adds a rich flavor and pools at the bottom to create an amazing sauce.
For best results, use a good instant-read meat thermometer to make sure you don't overcook your steak.
Let the steaks rest! Resting time is important so the juices don't come out of your perfect tomahawk steak!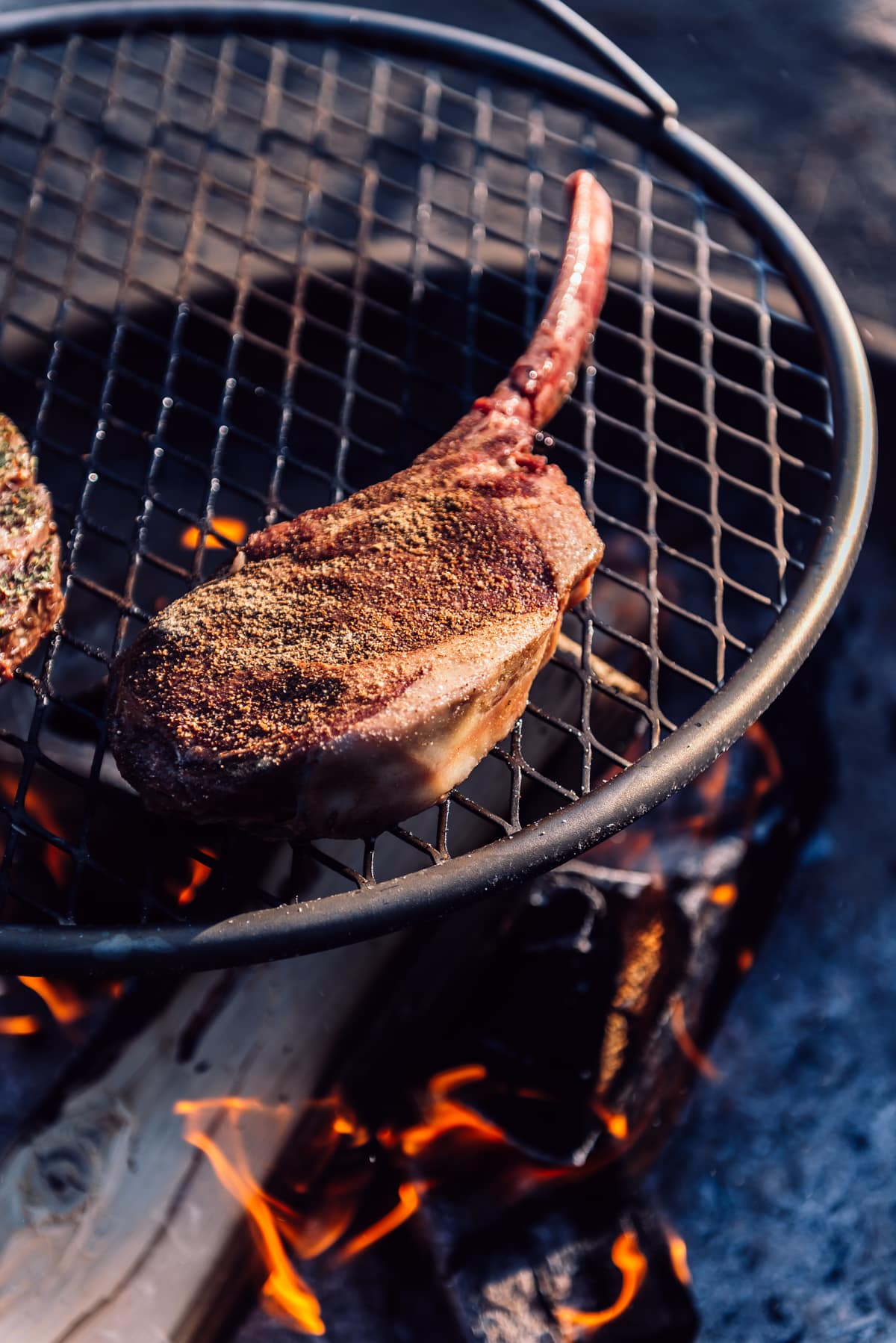 Leftovers & Reheating
Do you mean you've got leftover grilled ribeye steak? With this size of this steak, we get it. To store leftovers, wrap them tightly in aluminum foil or place them in an airtight container and pop it in the fridge for 2-3 days, and they'll be fine. Serve the leftovers cold or warm them up gently in an oven preheated to 325 degrees or a skillet over medium-low heat so you don't overcook them.
What to Serve With Grilled Tomahawk Steak
Who says you need anything with it? I love going GirlCarnivore on this cut of beef and filling up on rich, fatty, and oh-so-good steak. If you must have something else with it, try a pan of smoked Brussels sprouts, smoked mac and cheese, or smoked potato salad. We also love it with smoked cabbage, keto creamed spinach or topped with smoked crab imperial. Or go full surf and turf with a Maryland crab cake on the side or a grilled lobster!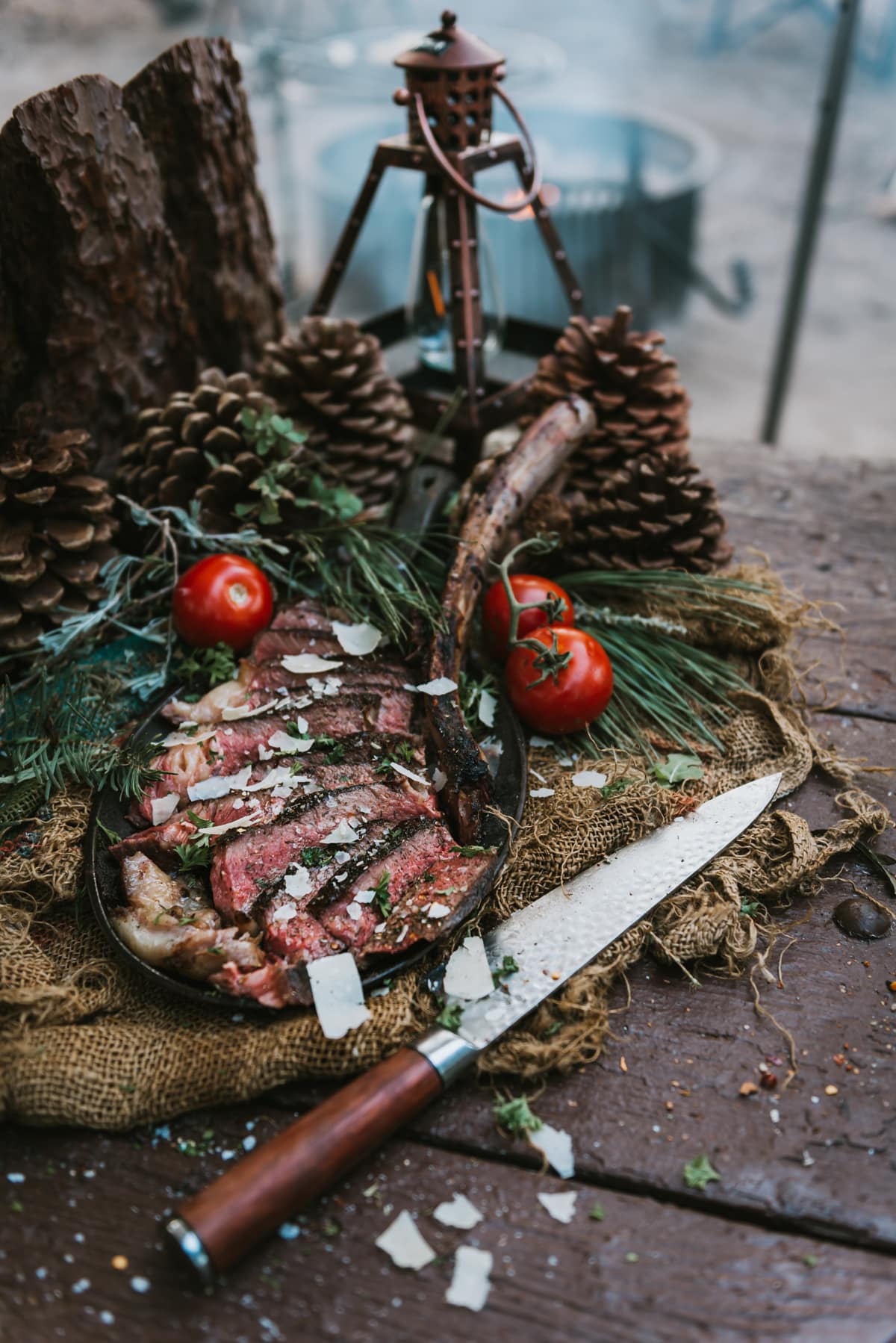 Recipe FAQs
HOW MANY PEOPLE DOES A THICK TOMAHAWK STEAK FEED?
One tomahawk steak can feed 2, maybe 3 people.
CAN I USE A CHARCOAL OR GAS GRILL TO COOK THE STEAK?
Yes, you can cook a tomahawk steak on a charcoal grill, pellet grill or gas grill. Set up your grill for 2-zone heat, a hot and cool side, so you can reverse sear this steak by cooking it low and slow and finishing over the high heat for a good sear.
How do I choose the best tomahawk steak for grilling?
When selecting a tomahawk steak for grilling, consider the following factors like you would any steak:
Quality: Look for steaks with good marbling. Look for USDA Prime or Chioce grades.
Thickness: A thick-cut tomahawk steak should be 2 to 2 1/2 inches. Making it ideal for grilling, as it ensures even cooking without drying out the meat.
Freshness: The steak should have a vibrant red color, without any off-odors.
What is the best temperature for grilling a tomahawk steak?
To grill a tomahawk steak perfectly, you'll want to use a two-zone cooking method, a hot side and a cooler side. Use the reverse sear method by grilling the steak on te cooler side of the grill (300°F to 325 degrees F) and then searing it on the hotter side at the end. Cook the steak Start by searing the steak over direct high heat (around 450°F to 500 degrees F) for a few minutes on each side to develop a crust.
How long should I grill a tomahawk steak for the perfect doneness?
The grilling time for a tomahawk steak will vary depending on its thickness, the heat of the fire/grill, weather, and your desired level of doneness. Here are some approximate times for grilling a 2-inch thick tomahawk steak:
Rare 120°F to 125°F: 20-25 minutes total.
Medium-rare 130°F to 135°F: 25-30 minutes total.
Medium 140°F to 145°F: 30-35 minutes total.
Use a digital meat thermometer to check the internal temperature by inserting the probe in the thickest part of the steak, away from the bone, for the most accurate results.
MORE GRILLED STEAK RECIPES
Congratulations, you've made it to the end of this epic tomahawk steak recipe! If you followed along, you're now the proud owner of some seriously next level steak-making skills. Whether for special occasions or just a fancy dinner at home, this juicy steak will surely impress. So fire up that grill and prepare to take your taste buds on a flavor adventure! Also, please rate the recipe card and leave a comment below to help out the next reader!
Grilled Tomahawk Steaks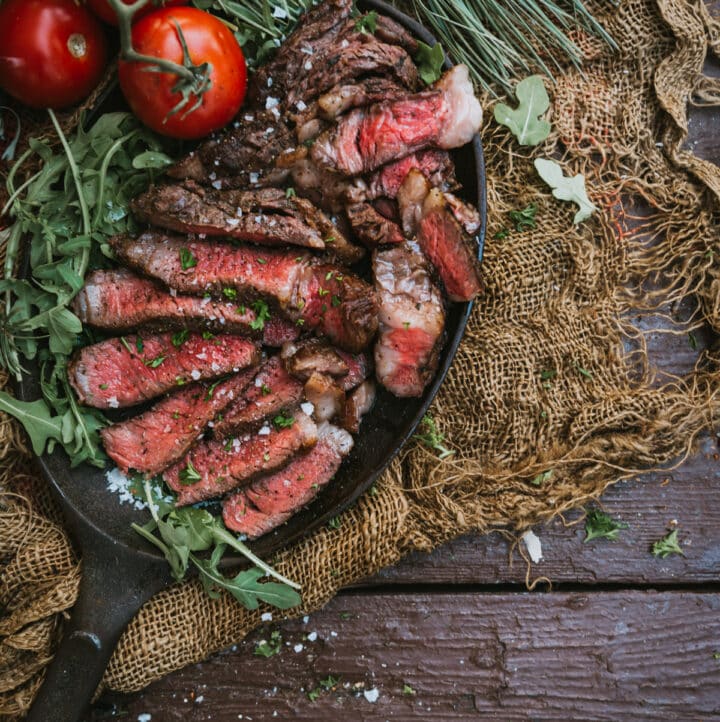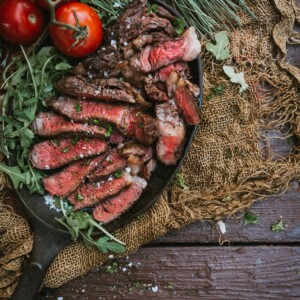 Delight your taste buds with our grilled tomahawk steak recipe, promising juicy, tender, and flavorful results that will leave you wanting more. Transform your next campfire, cookout, or special dinner into a memorable experience with this stunning, delicious centerpiece dish.
Ingredients
Garnish
Fresh shaved parmesan cheese

Black pepper
Instructions
Build the fire:
Build a campfire for 2-zone heat, with a hot side where the coals are stacked and a cooler side.

Place cooking grate over the fire to preheat.
Prep the steaks:
Pat the meat and bone dry and season liberally with salt.

Allow the steak to warm up for 20 minutes before grilling while the coals get ready for grilling.

When ready to cook, season the tomahawk steak on both sides with a liberal coating of GirlCarnivore Ooomami.
Smoke the steak:
Place the steak on the cooler side of the grill grate.

Smoke the steaks over indirect heat for 45 minutes to 1 hour until the steak is 120 degrees F, rotating and flipping the steaks as needed to not overcook.
Sear the steak:
Adjust your grill grate as needed to cook over the direct heat side of the grill.

Allow the grate to heat up about 5 minutes.

Sear over direct heat on both sides flipping as needed to avoid flare-ups, forming a crust until the beef reaches 130F.

Remove the tomahawk steaks from the campfire.
Rest:
On a platter, divide the butter over the steaks to melt and tent with foil and rest for 5 to 10 minutes.

Slice the steak from the bone and then into thin strips against the grain to serve.
Serve:
Garnish with shaved parmesan, freshly grated black pepper, and a pinch of salt.
Notes
For cooking build your campfire with enough time for the flames to subside from the wood and coals to form. Cooking in the initial smoke will overpower the food and create an acidic burnt flavor.
Nutrition
Serving:
1
g
|
Calories:
214
kcal
|
Carbohydrates:
1
g
|
Protein:
15
g
|
Fat:
17
g
|
Saturated Fat:
8
g
|
Polyunsaturated Fat:
1
g
|
Monounsaturated Fat:
7
g
|
Trans Fat:
1
g
|
Cholesterol:
61
mg
|
Sodium:
1248
mg
|
Potassium:
217
mg
|
Fiber:
1
g
|
Sugar:
1
g
|
Vitamin A:
191
IU
|
Vitamin C:
1
mg
|
Calcium:
21
mg
|
Iron:
2
mg