These Beginner Dry Rub Smoked Pork Ribs are easy grilled ribs, perfect for the first time griller, but delicious enough for the seasoned pro.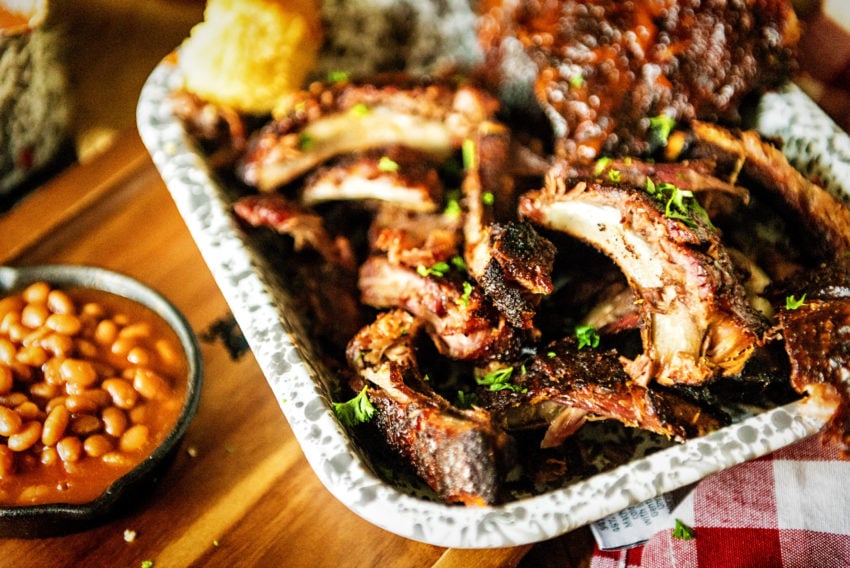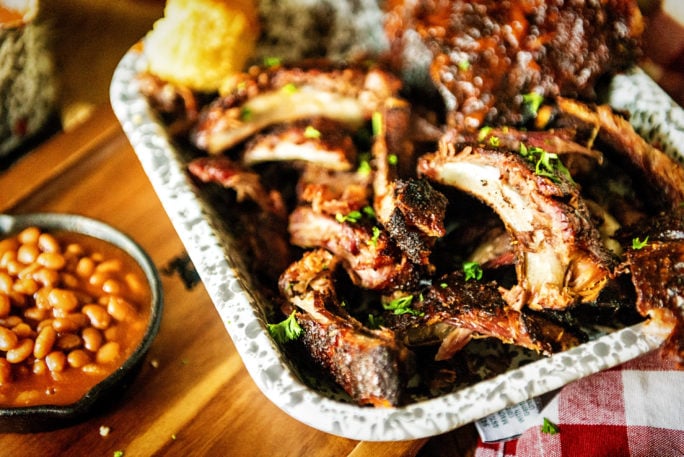 This post is sponsored by Everywhere Agency on behalf of Char-Broil; however, all thoughts and opinions expressed are my own.
'Can you smell that?' A line my grandfather used to say about 45 minutes into the 2-hour drive to the beach. It was more of a statement than a question, his little game with us, his 4 grandchildren loaded in a row in the back seat doing out best to contain our excitement for our families annual trip down to the ocean. He would get us all amped up and excited, and we'd still have so long to go. And then, at some point, something in the air would change, you'd pass the same familiar landmarks and take a deep breath, filling your lungs.
You could smell it.
And that's when we'd really get excited.
That line has become an expression of mine. As the sun lingers longer into the horizon and the morning air fills with songbirds earlier each day, I can't help but think, "Can you smell it?"
It's the waning of winter, cold days, and gray skies. The scent of heavy pollen, fresh cut grass, and the smell of the world blooming with every moment of additional sunlight. It's the smell of charcoal, propane, fire, and most of all meat.
For myself, GirlCarnivore, it's the unofficial start of grilling season. It's when people start throwing the covers off of their rusted out classics and start eyeing up the stainless steel lined aisles like they are shopping for the latest model, and they want all the old fashioned American muscle they can get.
As we inch closer to Memorial Day, getting outside, catching up with family and friends around the grill is going to be on the top of everyone's mind. And guess what, I can smell it coming. Baby, you'd better believe I'm getting excited.
The GirlCarnivore meat lab pretty much exists to fire up the grill – so when I got my hands on the Char-Broil's Commercial Series TRU-Infrared 4-Burner Gas Grill I was stoked to break it in with friends. See, I'm lucky enough to be a hard working, grill-loving Char-Broil AllStar – I create recipes and play with their products as they come out. It's an awesome way for me to explore what's great on the market for you guys – and their TRU-Infrared is one of the best things out there. It makes grilling easy, and no one seems to know about it! What's up with that?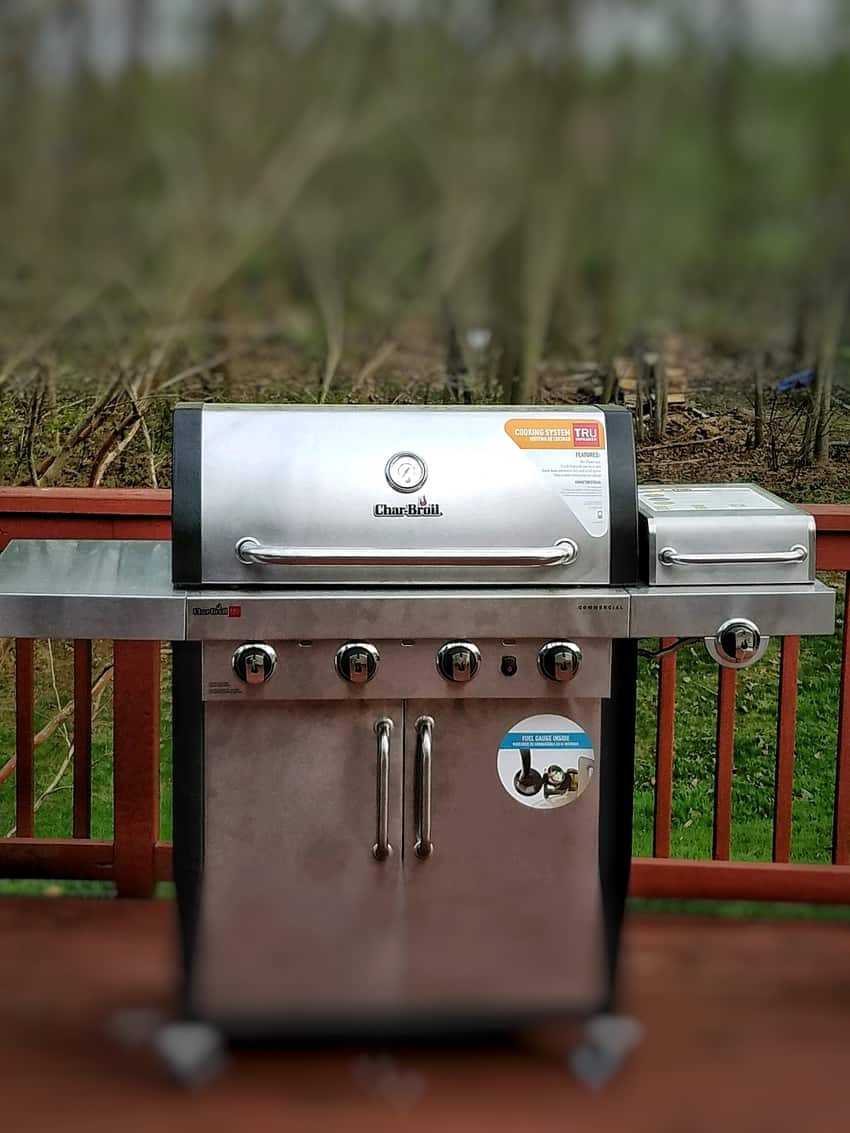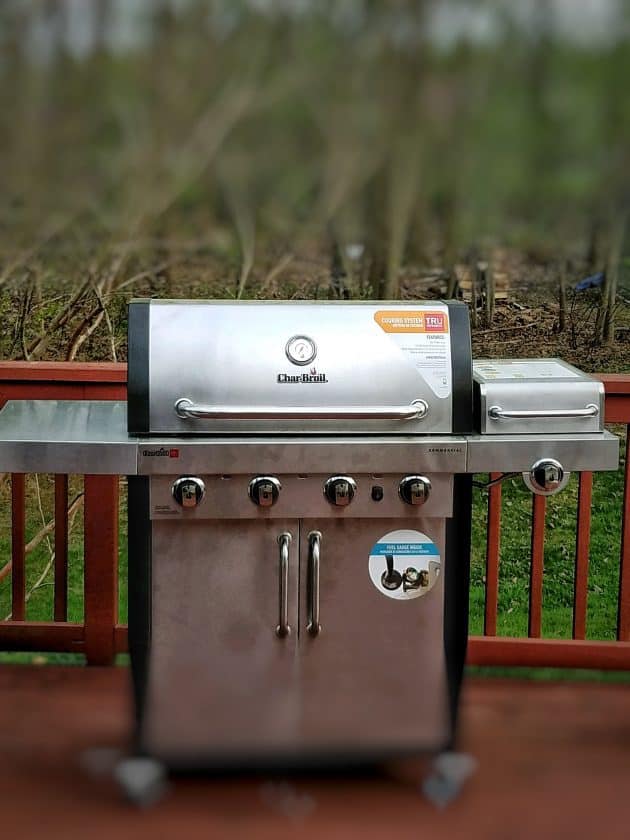 Photo Credit Andy Capone
What is TRU-Infrared?
Let's break it down – simply put, you get 50% juicier food, no flare-ups and even heat every time you grill. 
Well, that's spiffy. But how?
Char-Broil got all wild and crazy in their test labs (and I've been, they are pretty cool), and designed a heating system that evenly distributes the heat throughout the grate, instead of just blazing hot up from the burner. TRU-Infrared distributes even heat that targets the grill grates, allowing the grates to become very hot, not just the air around the grill, making for faster more even cooking. With the individually adjustable burners, it is easy to create the direct or indirect heat source you need for whatever you're grilling, and yes, this means grilled vegetables too.
Their stainless steel grate design pushes any dripping away from the direct flame, ensuring huge flare ups don't overtake your grill. Because we've all been there when Uncle Ed turns to grab a beer and the greasy burgers suddenly become the viewing spectacle of the night, sadly leaving nothing but charred hockey pucks behind.
Less risk, more reward? Now that's what I am talking about. That's what makes Char-Broil a great grill for the weekend warrior, the summer griller, the person who wants to host the parties and do all the entertaining. You can enjoy the fun of outdoor cooking, and not have to be a pro-grill master. Take the stress and fear out of grilling, and follow along with me this season as we smoke, grill and sear everything you can possibly want to taste test.
How about it? Can you smell it?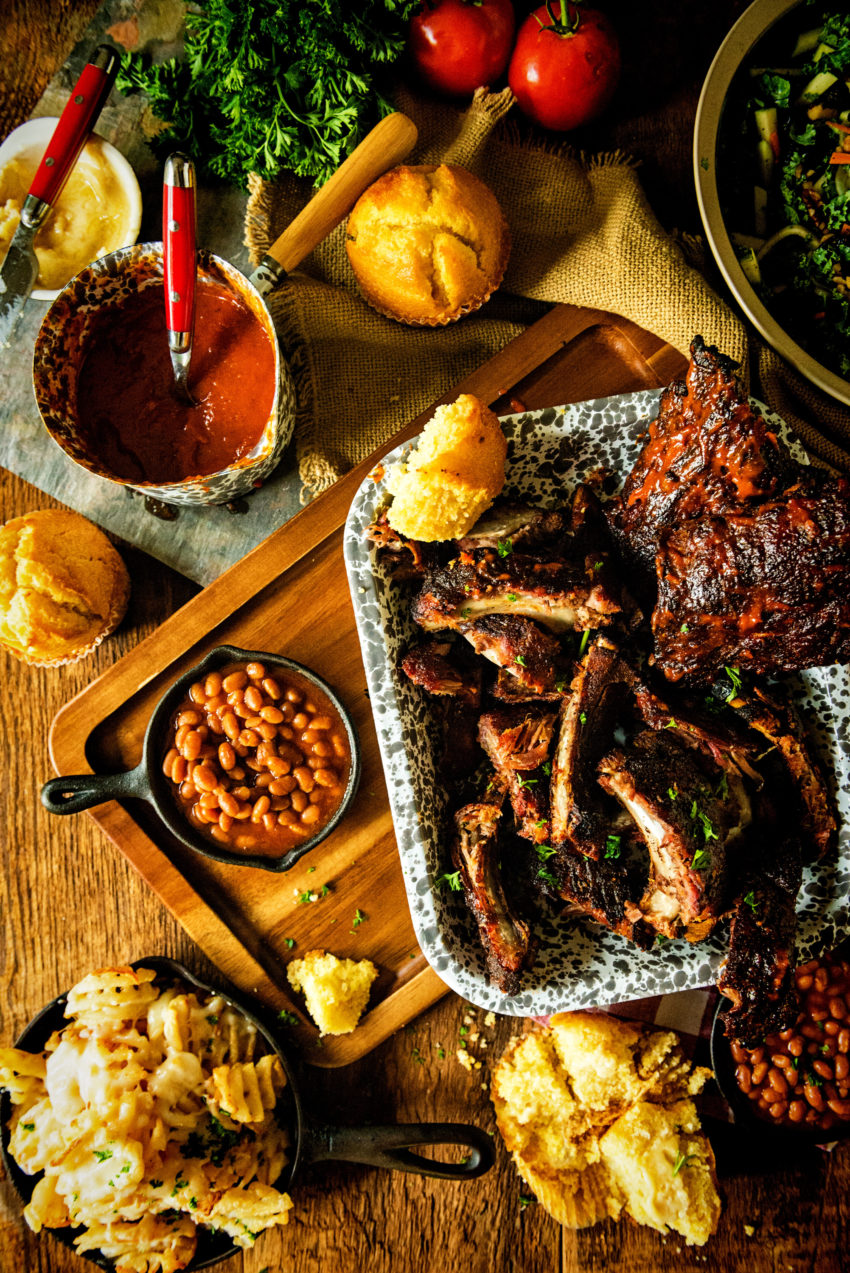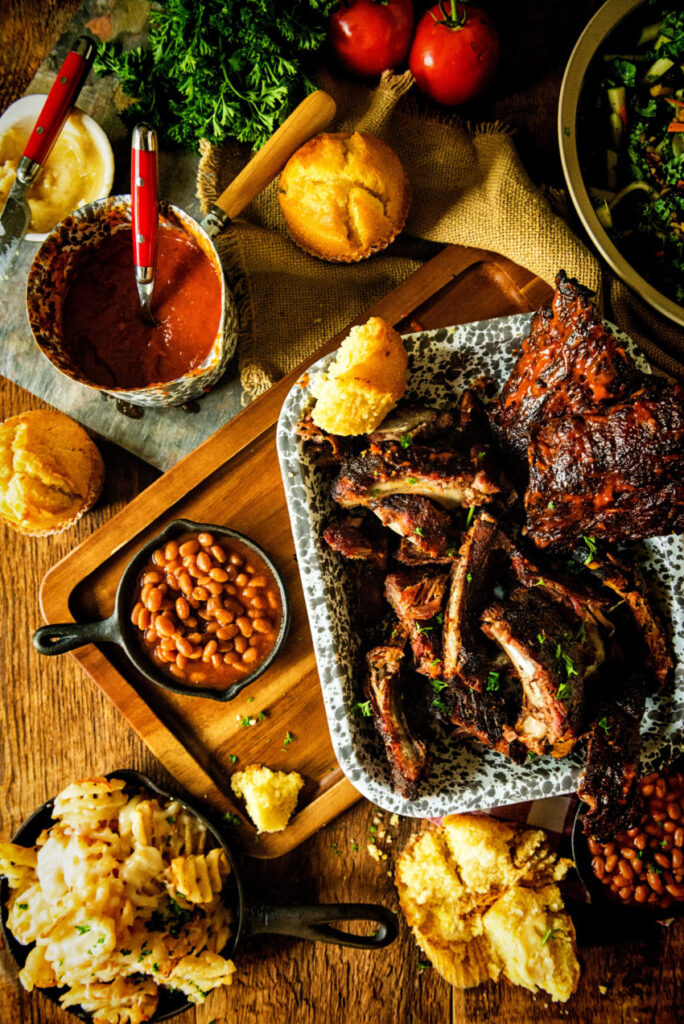 Now let's talk about these sexy pork ribs. This recipe is the perfect outside grilling and entertaining recipe for the season! I broke it down, so you can use pre-made rubs and sauces if you want and still have the best damned finger licking barbecue on the block. Whether you are a pro, or a grilling newb, you can handle this one and everyone will think you're an expert!
Beginner Dry Rub Smoked Ribs
These ribs are perfect for every level griller because they don't rely on a tested homemade spice blend, basting for hours, or careful maintenance. Really, the only additional equipment you may want to have is a rib rack to stand them up. And that's not even a must.
Ingredients
2 to 4

racks pork ribs

Baby backs or St. Louis Style

1

cup

spice blend of choice - use something with a hint of heat and a hint of sweet for a classic hit

*additional salt if needed for the blend

1

cup

apple cider vinegar

2

cups

barbecue sauce* if desired
Instructions
Prep your ribs by removing from the packages, patting dry and arranging on a clean flat work surface. Work carefully to remove the membrane along the back of the ribs, if it hasn't already been trimmed for you.

Rub the ribs in a heavy coating of the spice mixture, wrap tightly in plastic wrap and let rest in the fridge for one hour.

Preheat your grill for indirect heat by lighting the burner on one side to high, and the others to low. Set the grill to maintain a heat around 225/250 degrees F. Arrange a small aluminum pan with a bit of water in it off on to the side of the grill over the grate.

When the grill is ready, arrange the ribs, bone side down (or in a rib rack) over the indirect heat. Cover and let grill for 45 minutes.

Spritz the ribs quickly with a light coasting of the apple cider vinegar and close the grill again. Allow the ribs to continue cooking, spritzing as you feel needed, for a total of 3 hours.

At this point, if you are going to use sauce, quickly baste the ribs in sauce and fire over high heat to get a nice sear - but move quick - as any sugars in that sauce will caramelize quickly and burn!

Rest the ribs for 5 minutes before slicing and serving.
Notes
Add the flavor of real wood smoke to your gas grill by wrapping wood chips in foil and placing them over the direct heat. They can be replaced every 45 minutes, but not really do much good after the first batch.