Are you craving meaty, delicious, tender, fall-off-the-bone ribs? Smoking ribs isn't hard; I'll show you how to smoke ribs – the best BBQ ribs you'll ever eat – and in a few hours, you can roll up your sleeves and dig into a meal of smoked goodness!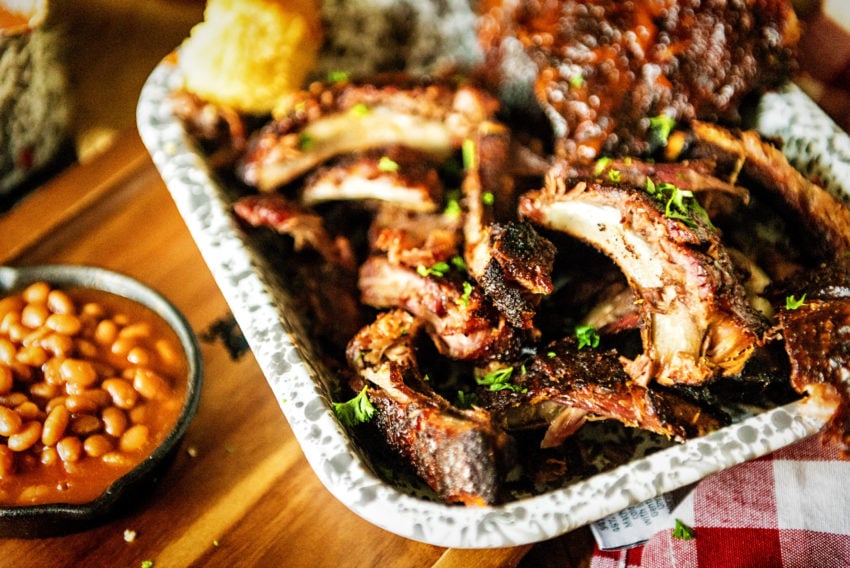 Table of contents
Got yourself a grill and want to master ribs? I'm here to help with down-and-dirty tips, tricks, and a tried-and-true method for making show-stopping ribs. This method is a perfect beginner smoked ribs recipe, but it's also great for anyone who just wants a tried-and-true no-fuss method for smoking ribs.
Starting with a flavor-packed dry rub, these are the best damn finger-licking ribs on the block – pass the napkins and let's get started!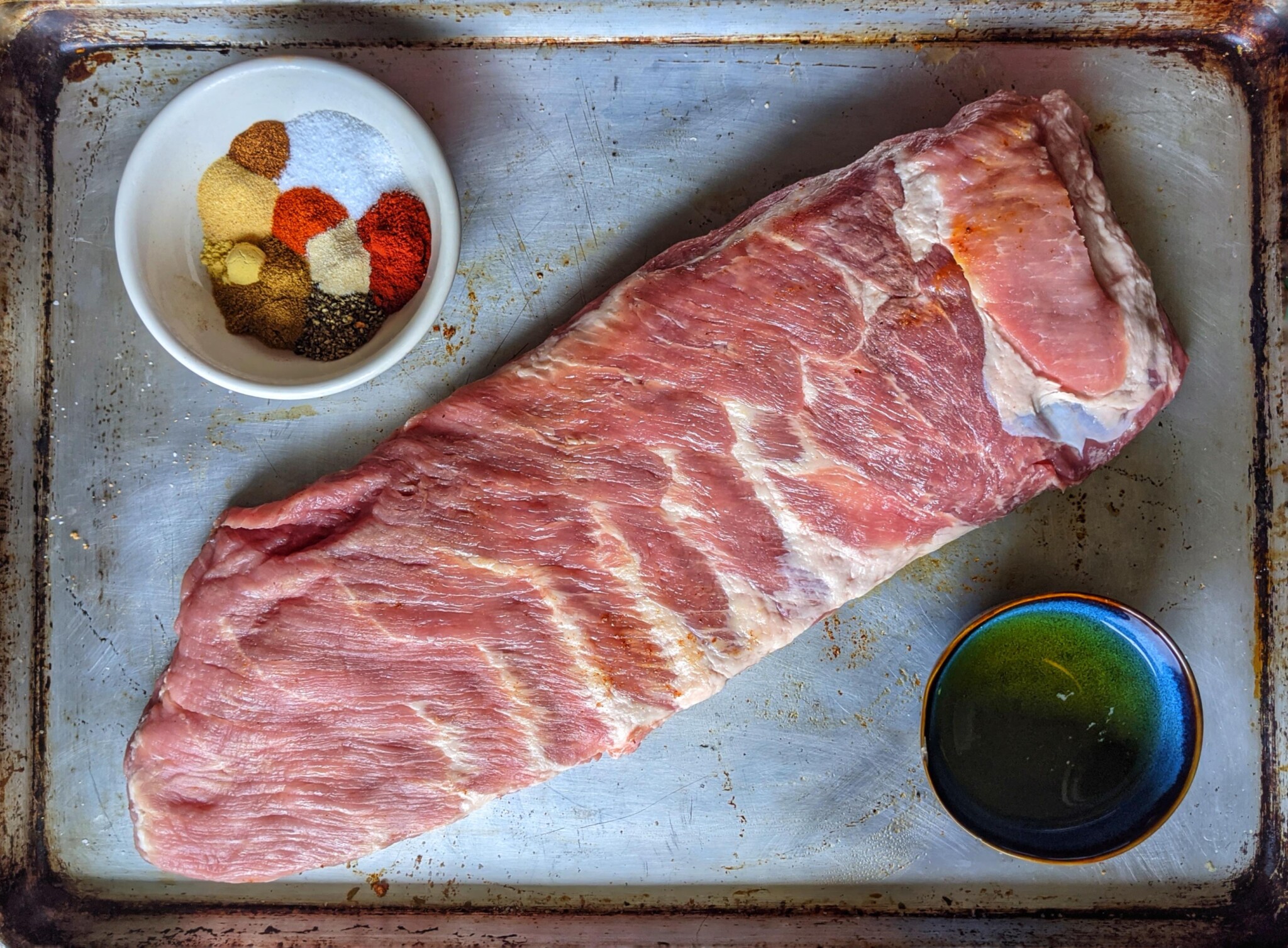 What You'll Need
Knowing how to smoke ribs on a grill starts by knowing what equipment and ingredients you'll need. To make this easy smoked ribs recipe, you'll need:
A grill – With a tight-fitting lid.
Foil pan – You'll fill this with water.
Wood chips – To give your ribs the perfect smoky flavor.
Ribs – I use baby back ribs or St. Louis style ribs.
Dry rub – Use your favorite dry rub for pork ribs in a smoker.
Apple cider vinegar and a spray bottle – For spritzing (more on that below).
BBQ sauce – Pick something a bit spicy, a bit sweet.
Rib rack – Not essential, but this clever contraption can help the ribs get maximum smoke for maximum flavor.
What Kind of Ribs Are Best For Smoking?
Let's talk about sexy pork ribs! I love using meaty baby back ribs, but the larger St. Louis style ribs work well, too. Baby back ribs vs. St. Louis ribs – what's the difference? Baby back ribs are shorter, smaller ribs cut from the upper ribs (where the ribs meet the spine) and have nothing to do with baby pigs. St. Louis ribs are longer and meatier and are cut from closer to the belly.
Baby back ribs can be more tender, but they're both tender and delicious when you're cooking the ribs low and slow like this. The choice is yours – pick your spare ribs, and let's get cooking!
What's The Best Rib Rub?
For smoking spare ribs, I love a bold and assertive rub that's got a good balance of spice and sweetness. Make your own or use a bought blend – it'll all work! If you want a convenient pre-made mix in a jar that always wins, try Girls Can Grill Pork Rub!
How To Smoke Ribs
Prep your ribs by patting them dry and removing the membrane along the back of the ribs, if it hasn't already been trimmed. To remove the membrane, cut a corner of it away from the ribs and grab the membrane with a paper towel and pull it away from the ribs. With a bit of muscle, it'll pull away.
Rub the ribs in a heavy coating of the spice mixture, then wrap them tightly in plastic wrap and let them rest in the fridge for one hour.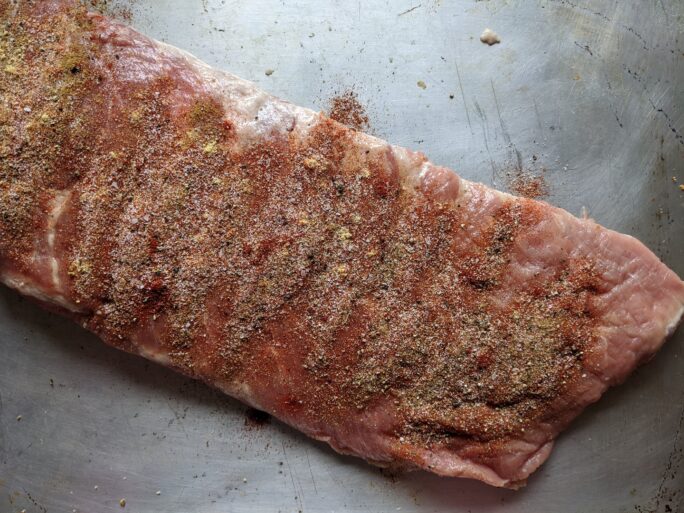 Preheat your grill for indirect heat and arrange a small aluminum pan with a bit of water in it off on the side of the grill over the grate.
Get your wood chips ready for smoking. If you've never done that before, wander over to this article and read about how to use wood chips on a gas grill.
Arrange the ribs over indirect heat, cover, and cook for 45 minutes when the grill is ready.
Spritz the ribs with a light coating of the vinegar, close the grill again, and continue to cook, spritzing as needed, for 3 hours.
After the ribs are done cooking, baste the ribs in sauce and fire over high heat to get a nice sear. Remove quickly, rest for 5 minutes, then slice and serve.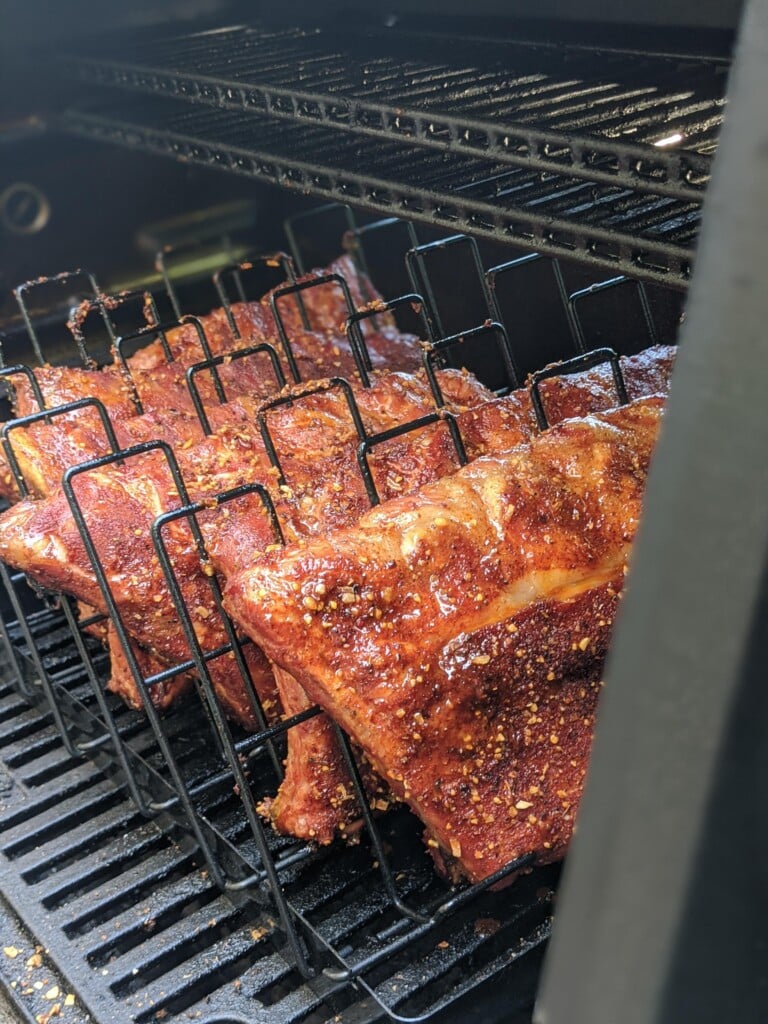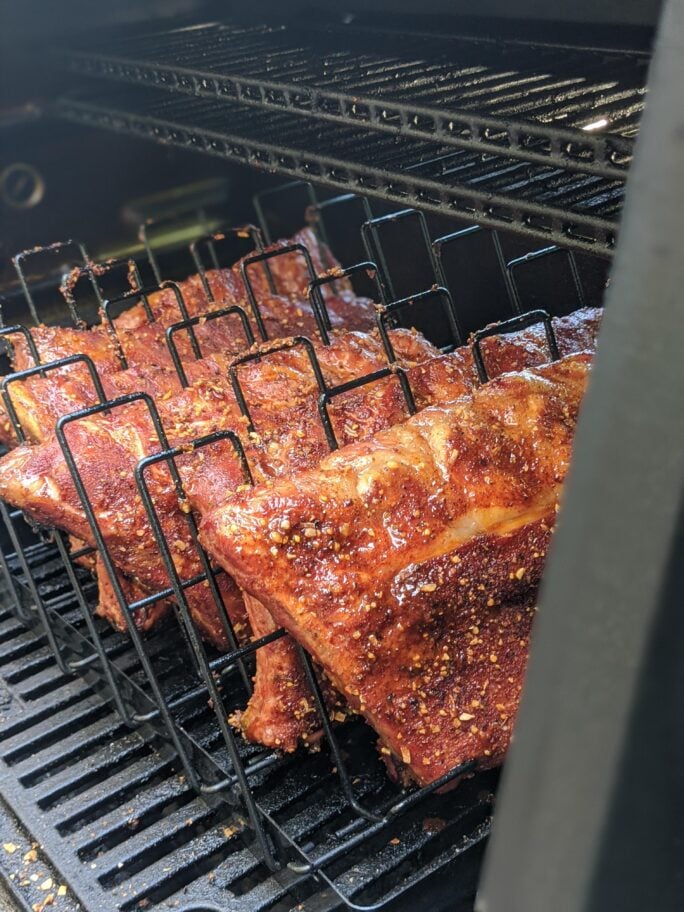 How To Smoke Ribs On A Gas Grill
The process is the same as above, except you'll fire up the grill to get it to temperature, set the wood chips in place, and then turn down enough burners so that the ribs aren't over direct heat. Then, follow the rest of the steps above!
Why Spritz Ribs?
Spritzing ribs is an important part of smoking pork ribs. I like to spritz the ribs every 45 minutes or so; this keeps them moist but also allows for the sugars in the apple cider vinegar to caramelize on the surface of the ribs, giving them that prized flavor-packed coating.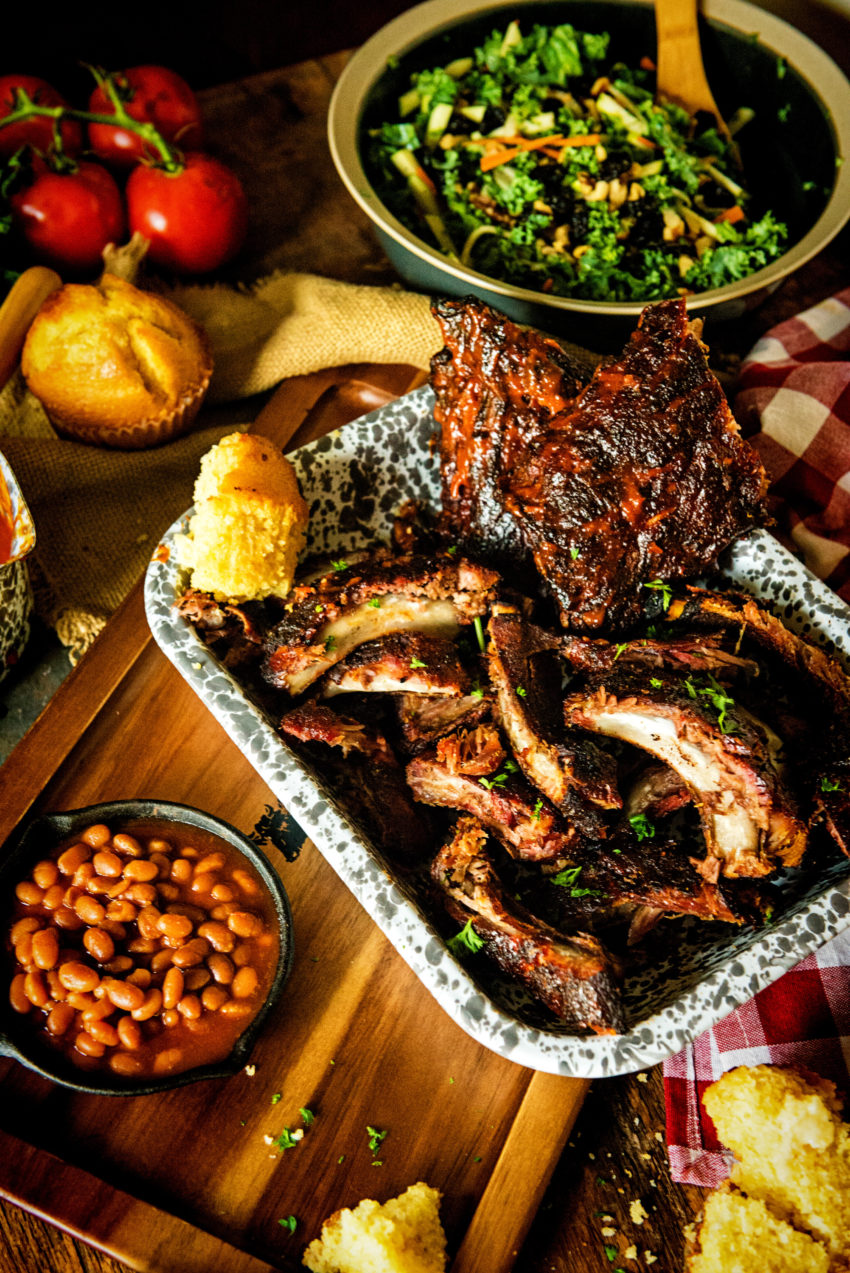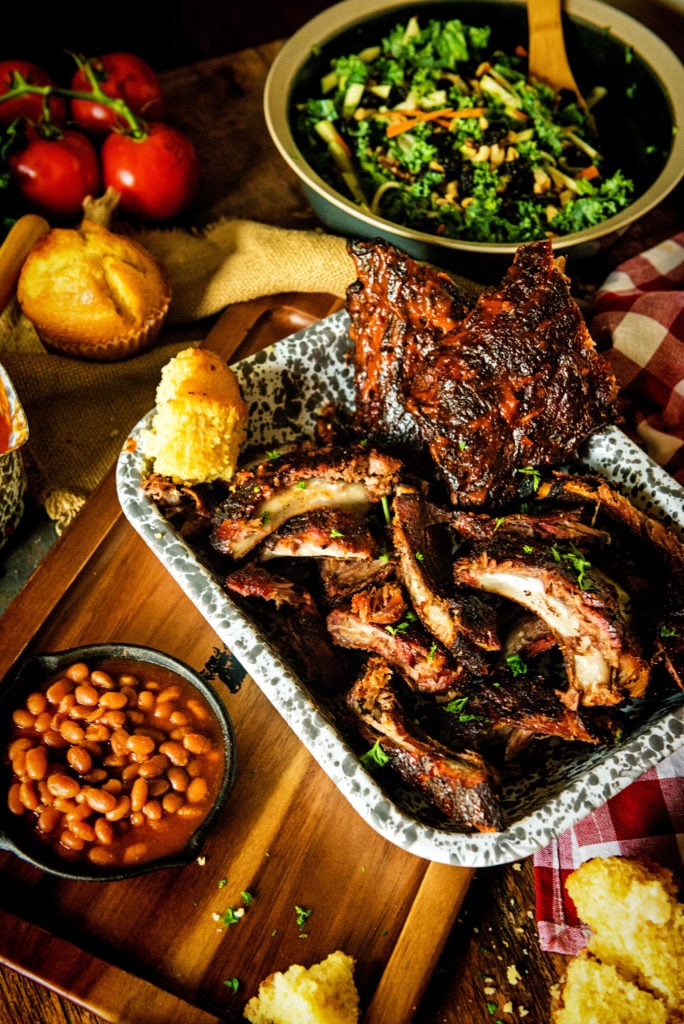 Tips & Tricks
Cook on indirect heat. Indirect heat is perfect for the low and slow cooking process to get super tender meat. The pork will quickly dry out and burn if you cook on direct heat.
Sear quickly. Fire the pork ribs over high heat to get the sear but move them off quickly. If you leave them on too long, the sugars in the BBQ sauce will caramelize and burn very fast.
Let it rest. After the pork ribs are done cooking, let them rest for at least 5 minutes before slicing into them to allow the juices to redistribute into the meat. If you cut them too soon, the moisture will just seep out, and you'll end up with dry meat.
How long to smoke spare ribs? Give yourself some time – the best ribs are never rushed!
Serving Suggestions
You can slice the pork off the bone and serve it next to any of your favorite side dishes! Try it with roasted brussels sprouts, summer scallop and crab pasta, beef tallow furikake fries, or mashed potatoes.
Storage
Leftover smoked pork ribs will last in an airtight container in the fridge for 3-4 days or in the freezer for 2-3 months. To reheat, thaw in the fridge if frozen, then microwave or warm on the stove until heated through.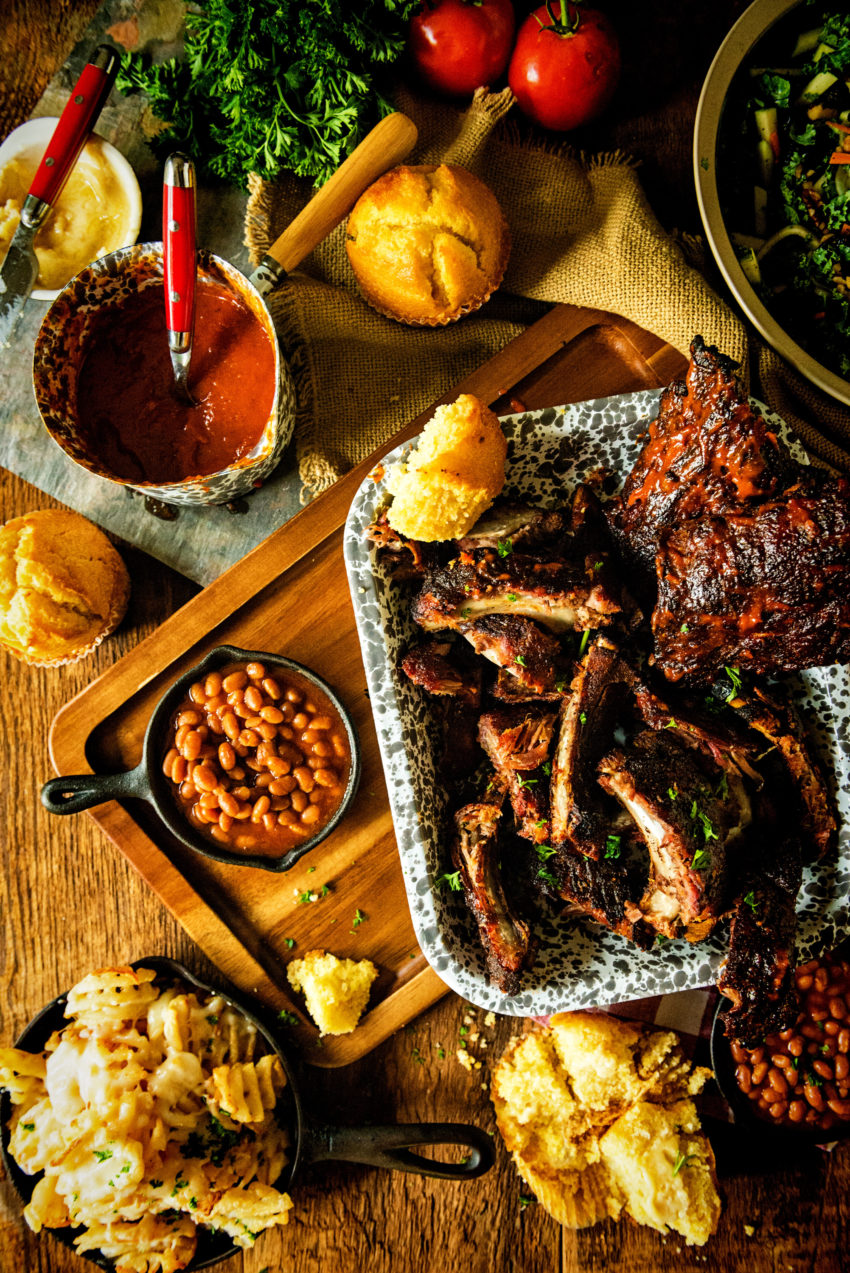 Frequently Asked Questions
What temperature do you cook pork ribs in a smoker?
You'll want to set the grill to maintain a heat of around 225-250ºF. This is the perfect temperature to allow the ribs time to become ultra-tender without drying out.
How long does it take to smoke ribs?
You will smoke the pork ribs for an initial 3 hours, low and slow. After that, you'll take a couple of minutes to sear the pork ribs over high heat to give them that nice crust. I recommend using a meat thermometer to verify that the internal temperature is a minimum of 145ºF before serving!
How to tell if ribs are done?
You can't rely on a meat thermometer – pork is safe to eat at 145-F, but at that temperature, they'll still be tough and chewy. Instead, look for a dark mahogany color, and when cooked, the ribs will pull away from the tips of the rib bones by about ½ to ¾ of an inch. You can also use a long toothpick or skewer – insert it in between 2 of the middle bones. It should go through with very little resistance.
More grilled ribs recipes you'll love
If you've tried this guide on how to smoke ribs or any other recipe on GirlCarnivore.com please don't forget to rate the recipe and let me know where you found it in the comments below. I get inspired by your feedback and comments! You can also FOLLOW ME on Instagram @girlcarnivore as well as on  Twitter and Facebook.
📖 Full Recipe
How To Smoke Ribs
These ribs are perfect for every level griller because they don't rely on a tested homemade spice blend, basting for hours, or careful maintenance. Really, the only additional equipment you may want to have is a rib rack to stand them up. And that's not even a must.
Ingredients
4

lbs

pork ribs

about 2 racks of baby backs or St. Louis Style

1

cup

spice blend of choice

use something with a hint of heat and a hint of sweet for a classic hit

Additional salt

if needed for the blend

1

cup

apple cider vinegar

2

cups

barbecue sauce

if desired
Instructions
Prep the ribs
Prep your ribs by removing from the packages, patting dry and arranging on a clean flat work surface.

Work carefully to remove the membrane along the back of the ribs, if it hasn't already been trimmed for you.

Rub the ribs in a heavy coating of the spice mixture, wrap tightly in plastic wrap and let rest in the fridge for one hour.

1 cup spice blend of choice
Grill
Preheat your grill for indirect heat by lighting the burner on one side to high, and the others to low. Set the grill to maintain a heat around 225/250 degrees F.

Arrange a small aluminum pan with a bit of water in it off on to the side of the grill over the grate.

When the grill is ready, arrange the ribs, bone side down (or in a rib rack) over the indirect heat.

Close the lid and let grill for 45 minutes.
Spritz
Spritz the ribs quickly with a light coasting of the apple cider vinegar and close the grill again.

1 cup apple cider vinegar

Allow the ribs to continue cooking, spritzing as you feel needed, for a total of 3 hours.
Sauce the ribs
Remove the ribs from the grill and arrange on a large bakign sheet. Brush the ribs with barbece sauce

Increase the medium-high and fire off the ribs over high heat to get a nice sear – but move quick – as any sugars in that sauce will caramelize quickly and burn!
Rest & Serve
Rest the ribs for 5 minutes before slicing between the bone and meat to serve.
Notes
Add the flavor of real wood smoke to your gas grill by wrapping wood chips in foil and placing them over the direct heat. They can be replaced every 45 minutes, but do not really do much good after the first batch.
Nutrition
Nutrition Facts
How To Smoke Ribs
Amount Per Serving (1 g)
Calories 647
Calories from Fat 351
% Daily Value*
Fat 39g60%
Cholesterol 127mg42%
Sodium 872mg38%
Potassium 945mg27%
Carbohydrates 50g17%
Protein 28g56%
Vitamin A 663IU13%
Vitamin C 1mg1%
Calcium 522mg52%
Iron 13mg72%
* Percent Daily Values are based on a 2000 calorie diet. Nutrition information provided is an estimate. For specific health concerns, please put the recipe into your Dr recommended nutrition calculator.