Tailgate season is here and don't let healthy chicken take a back seat! Chicken breast takes incredibly well to smoke flavor over fresh coals and makes for amazing platters to serve all of your friends!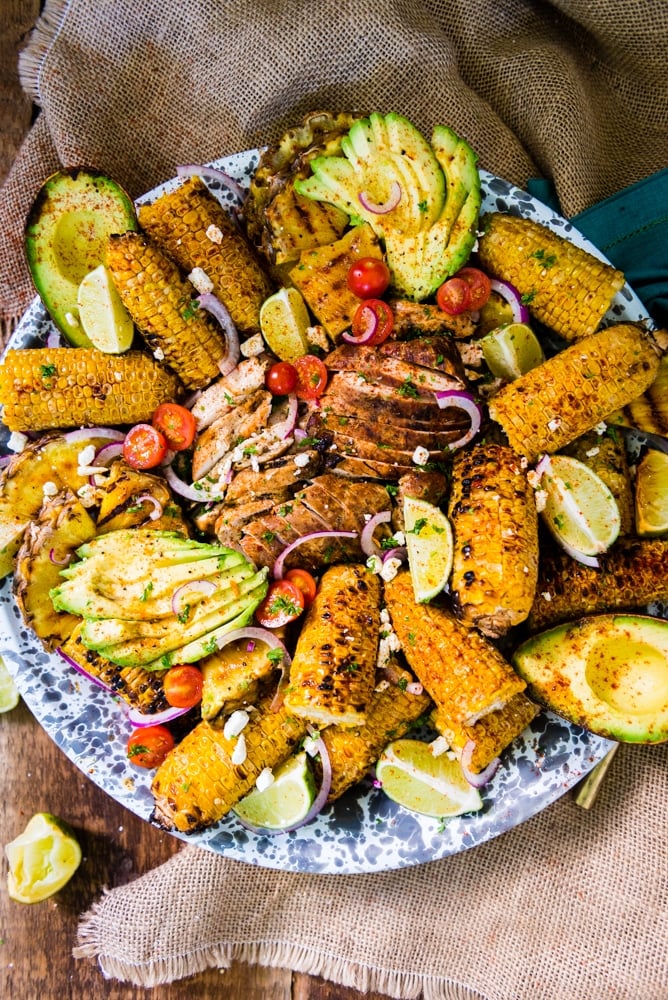 Chicken is one of those proteins I see a lot of people weary of trying new recipes for. Nothing beats their tried-and-true baked version or quick weeknight skillet recipe and that's that. Which, for chicken, makes me sad. Hardly anyone takes on full chicken breasts for tailgating and thats crazy cuz they pack so much flavor!
Chicken breast gets the short end of the stick. It's a lean healthy cut that everyone loves with brown rice and broccoli when they are stocking up for the next CrossFit class. But I see people get stuck in that rut because it's easy (delicious) and familiar.
Chicken breast is great so many ways though, and unless you're serving it with a bacon salad, is healthy grilled, smoked, or made into fajitas (just saying, fajitas are my jam). And especially for tailgating!
But,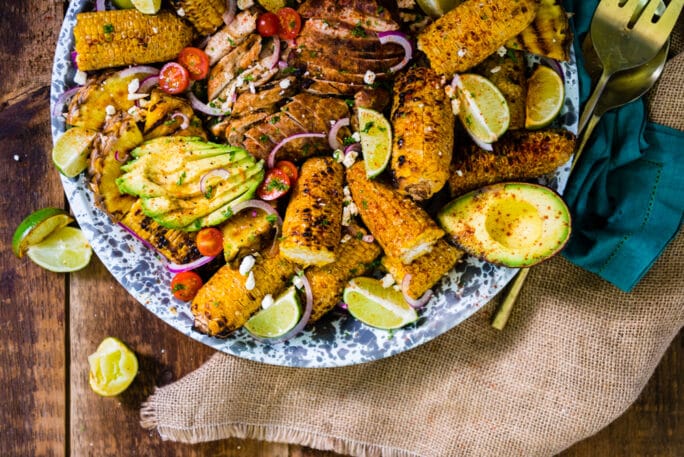 Can you smoke chicken breast?

When you think of low-and- slow smoked meat, lean breast does not come to mind. Certainly not anything without the bones or skin still on (cuz, that is the best). Can chicken breast be smoked and not be dry and flavorless? Totally. And, it's not going to take all day.
Hell yeah, you can smoke chicken breast!
I love white meat over charcoal with wood chips to add a light flavor (and the color you get is amazing) without any basting in barbecue sauce. Oh, and for tailgating, smoked chicken is always an unexpected surprise to dish out.
You just need a good instant-read thermometer.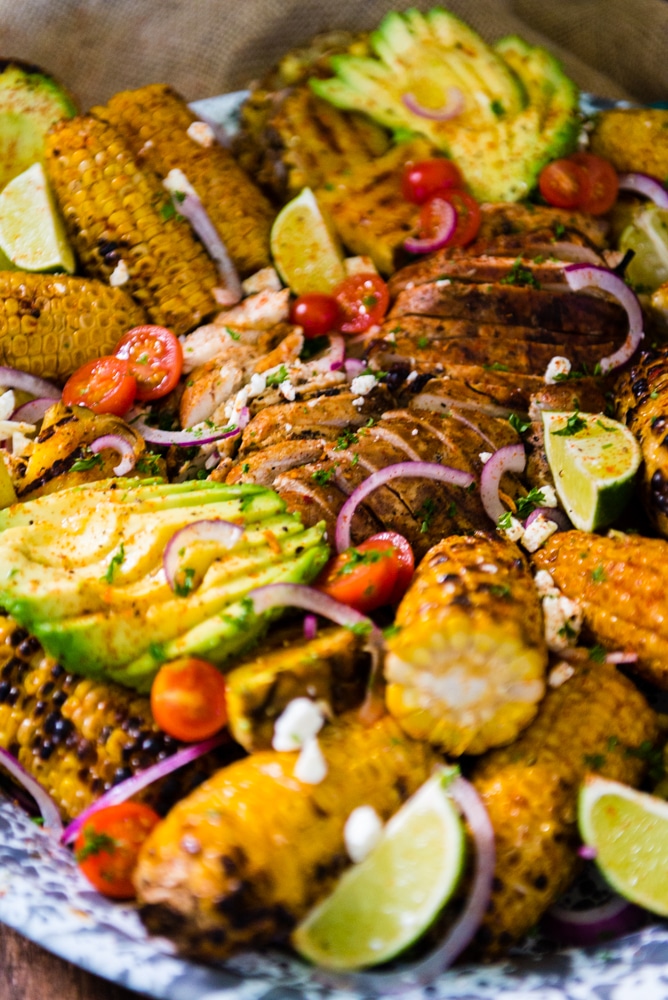 How to smoke chicken breast:
I love smoking chicken breast in my Pit Barrel grill while I have other things smoking as well (like grilled corn) or over a simple kettle grill. Make sure the coals are set to indirect heat with them piled to one side.
You want the coals to have a light ash coating but not be blazing with fire when you smoke. Adding wood chips can cause flare-ups, which is why it's best to have the heat to one side.
Add dry wood chips right to the coals and place the chicken on the clean grates on top on the cooker slide of the grill. Close the lid, going for a controlled temperature in your grill of around 225-250ºF, and let the smoke work its magic.
The thickness of the breast will determine how long the chicken cooks. If you have a probe thermometer, it would be wise to set it up in one of the breasts just to monitor things.
Otherwise, grab a drink and step back a minute.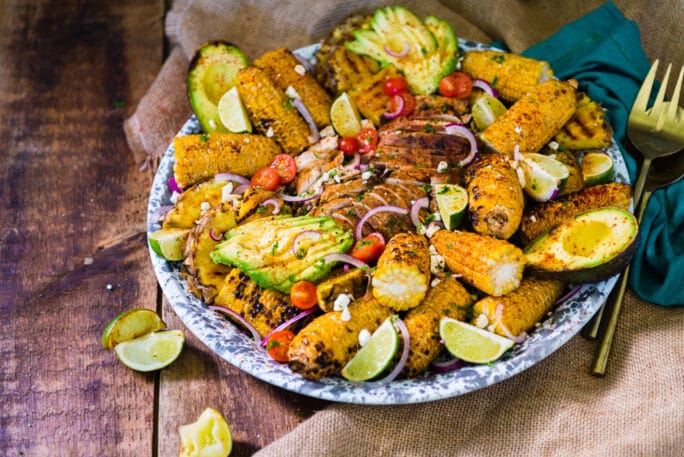 When is chicken breast done?
When grilling chicken, we often open the lid too many times, check, poke, see if it's pulling back, nope, close and repeat until well past the done mark. For chicken breast, you want an instant-read thermometer and a little patience. Close the lid and let the smoke flavor mingle with the chicken and when you're ready to temp, you are looking for a safe internal temperature of 165ºF.
Like all meats, I wrap my chicken and let it rest before slicing it.

I love serving grilled chicken breast on a giant platter with smoked corn, avocado and arugula, and whatever other salad fixings I have. The presentation is amazing, and it creates a fun, build-your-own plate setting.
Laying out a huge platter of smoked chicken and all the fixins is brilliant for tailgating. Everyone loves building their own plates and it's going to earn you a few photo-worthy moments. 
Use up leftovers in nachos, epic chicken street tacos, chilaquiles, and more!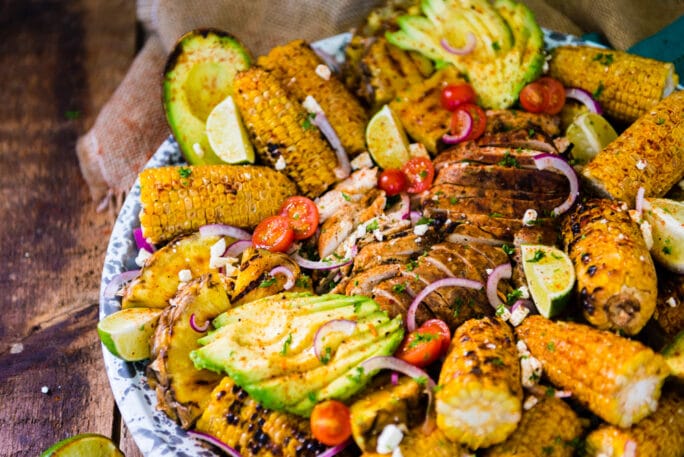 Want more grilled poultry inspiration? Try some of my favorite recipes
If you've tried my Smoked Chicken Breast Recipe or any other recipe on GirlCarnivore.com please don't forget to rate the recipe and let me know where you found it in the comments below. I get inspired by your feedback and comments! You can also FOLLOW ME on Instagram @girlcarnivore as well as on Twitter and Facebook.
Yield: 1 platter
Smoked Chicken Breast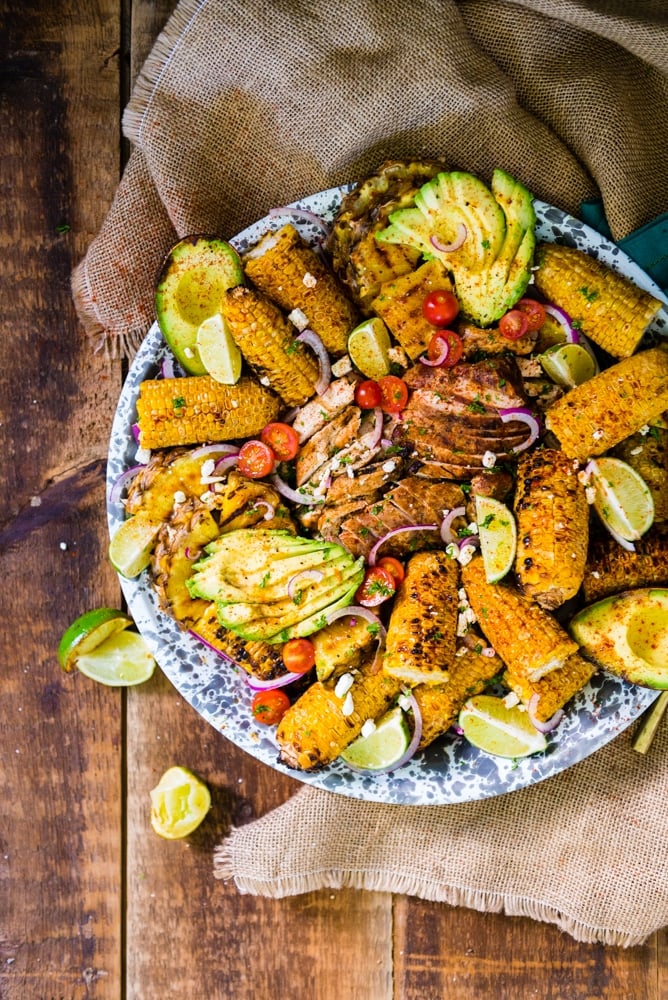 Amazing smoked flavor on a lean and juicy cut? Chicken breast takes incredibly well to smoke flavor over fresh coals. Try this recipe & amaze your friends.
Cook Time
1 hour
30 minutes
Additional Time
5 minutes
Total Time
1 hour
40 minutes
Ingredients
4 lbs boneless skinless chicken breast
1 tbsp olive oil
1 tspn salt
1/2 tspn pepper
1 tbsp sweet and spicy poultry blend of choice
for the platter
4 ears corn, silks and husks removed
1 tbsp olive oil
1 tspn salt
1/2 tspn cumin
1 pineapple, cored and cut into wedges
2 avocados, pit removed and sliced for serving
1/2 cup cherry tomatoes, sliced in half
1/2 onion, sliced thin
1/4 cup cotija, crumbled
lime wedges if desired
Smoked Paprika for garnish
Instructions
Pat the chicken dry and prep the grill for offset smoking aiming for a temperature of 225 to 250 by stacking the coals one side of the grill.
While the smoker comes to temperature, rub the chicken with the olive oil and season liberally with salt, pepper, and your favorite spicy poultry blend (see mine below).
Once the smoker is ready, to lay wood chips over the embers and arrange the chicken on the cooler side of the grill.
Close the lid and allow the chicken to smoke, opening minimally to avoid letting smoke and heat out, until the chicken is cooked through, and an instant read thermometer temps at 160 at the thickest part, abut 60 to 90 minutes. Flipping once if needed.
Add the corn the last 20 minutes or so, to allow the corn to pick up smoke flavor.
When the chicken is cooked, remove from heat and rest in foil.
While the chicken rests, finish cooking the corn, rotating, over the hot side of the grill.
Grill the pineapple until pineapple softens and grill marks appear. Season with salt.
Slice the chicken into thin strips and cut the corn in half.
Arrange the sliced chicken, corn, pineapple, avocado, red onion and sliced tomatoes on a platter for serving.
Sprinkle the cotija and smoked paprika over the top.
Serve with lime wedges, if desired.
Recommended Products
As an Amazon Associate and member of other affiliate programs, I earn from qualifying purchases.
Nutrition Information:
Yield:
8
Serving Size:
1
Amount Per Serving:
Calories:

566
Total Fat:

21g
Saturated Fat:

5g
Trans Fat:

0g
Unsaturated Fat:

14g
Cholesterol:

197mg
Sodium:

501mg
Carbohydrates:

20g
Fiber:

5g
Sugar:

5g
Protein:

74g