Fire, smoke, flavor, and pork – that's all you need to make a knock-your-socks-off amazing BBQ Pork Steak. Thick, meaty pork porterhouse chops are the star of this easy dish that'll make you forget all about that salad or other sides. Craving meat? Grab a knife and fork and get eatin'!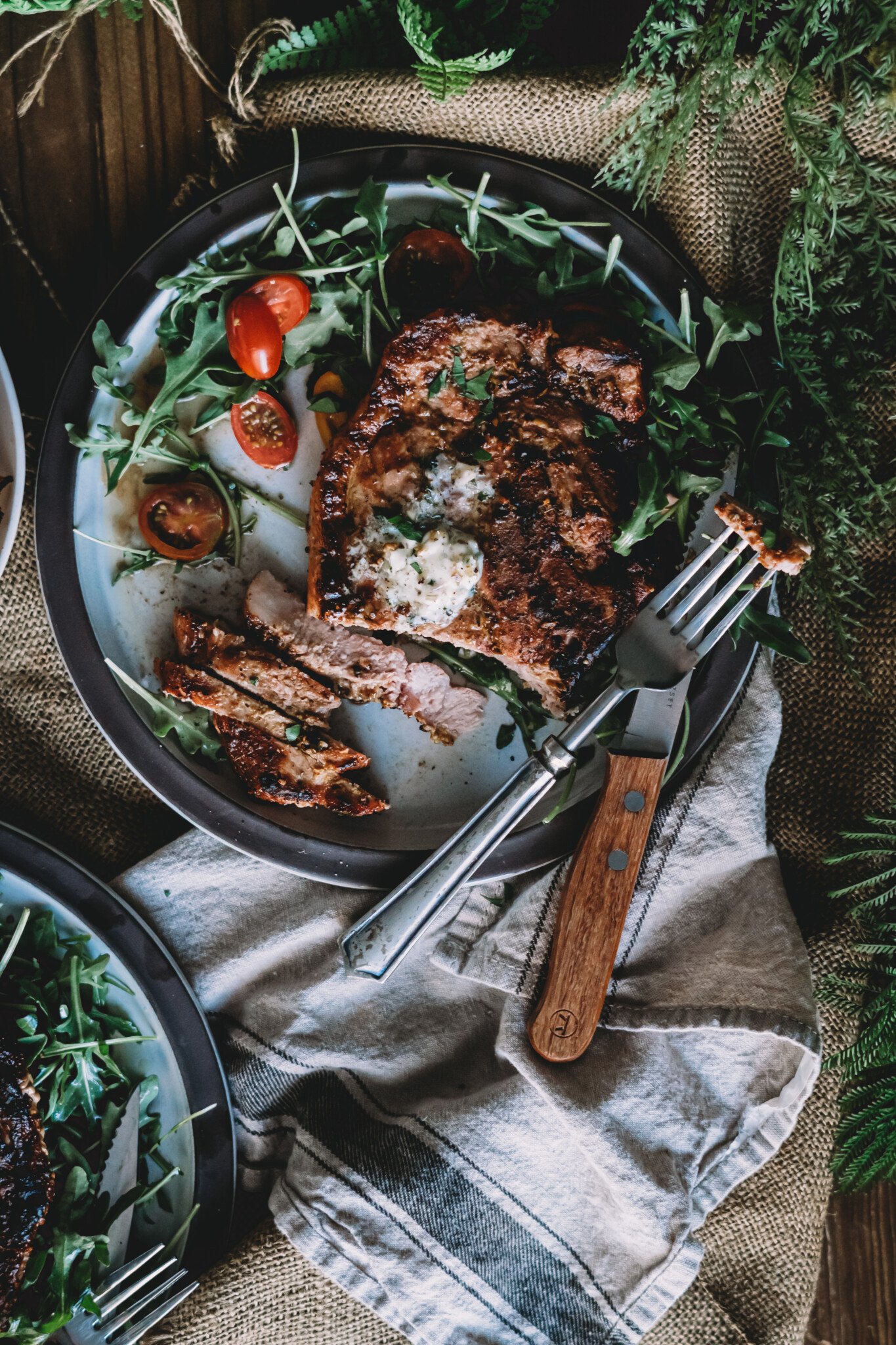 Meaty, juicy, tender, and oh-so-flavorful, this easy BBQ Pork Steak recipe is the perfect meal if you're entertaining or just making dinner on a Tuesday night. Quick-cooking pork porterhouse chops – also called pork loin chops – stay juicy and delicious thanks to the bone, and when topped with herb-filled umami compound butter, they're so crazy good!
When it comes to tender, delicious bites, I feel like pork chops get a bad rep. Overcooked, sad, served dry and tough for years, they weren't anyone's favorite. But, since we've been cooking pork to 145F, it's been the star of many of my favorite dishes, from bacon-wrapped pork tenderloins or grilled tenderloins to full grilled pork roasts! There's always a lean cut of pork in my menu rotation.
I'll admit to just noshing on these char-grilled pork chops for dinner without any other sides, and they're terrific and satisfying, but they also pair nicely with a variety of different sides. Check out my suggestions below, but first, we're getting into the meaty parts.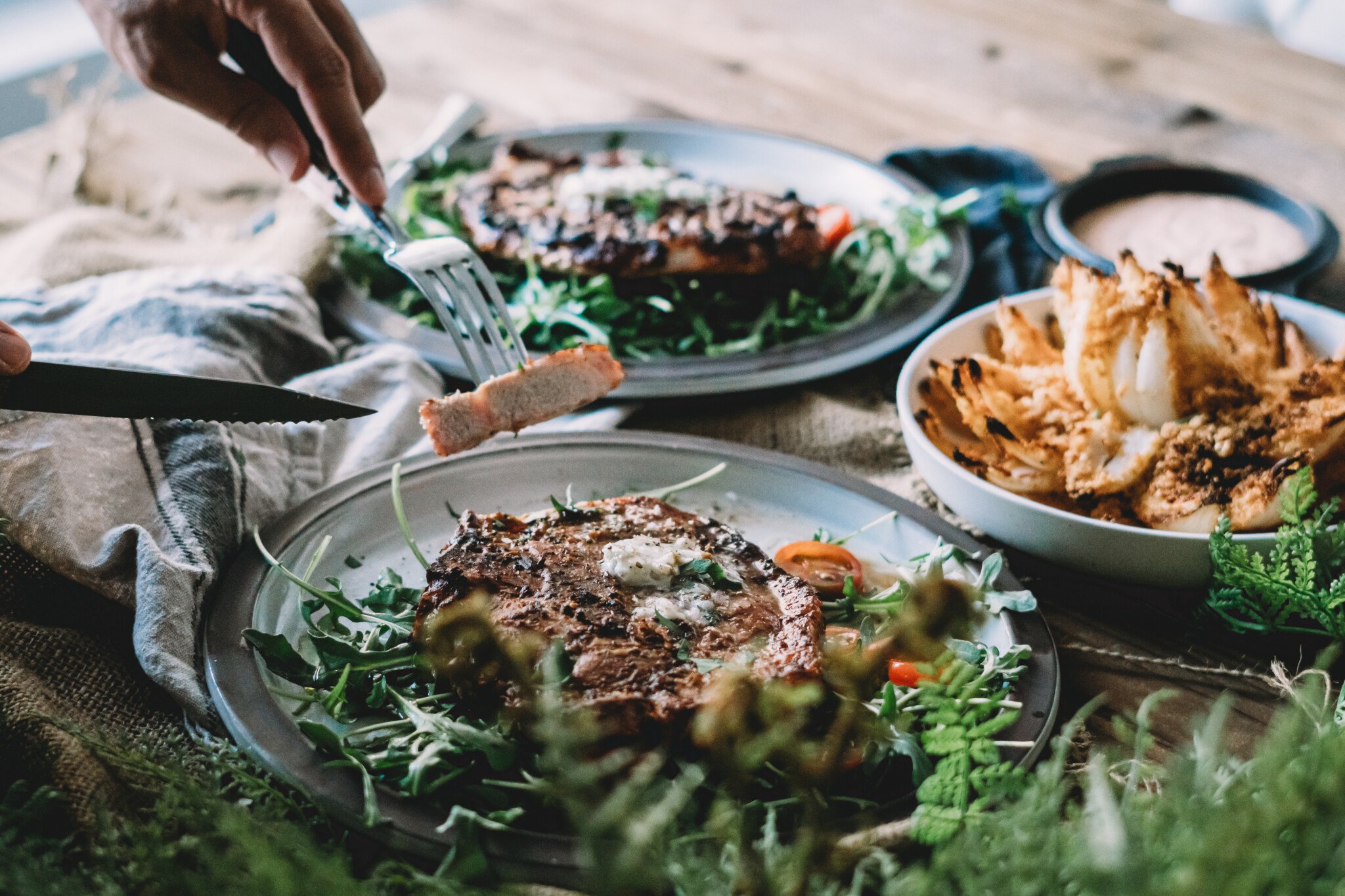 What are Pork Porterhouse Chops?
Once upon a time (and not that long ago), a pork chop was a pork chop. Even though there were different pork chops, they were all called pork chops. Today, to help people differentiate between the different kinds of chops, stores, and butchers are calling them by other names.
A pork porterhouse chop is a bone-in pork chop that features both the pork loin and the pork tenderloin. The loin is on one side of the T-bone-shaped chop, and the tenderloin is on the other.
Some people say that this is the best pork chop because it features meat from two of the most tender cuts of pork. I'd agree; I'm a huge pork steak fan!
Pork porterhouse chops are also called porterhouse steaks, t-bone chops, bone-in loin chops, center-cut loin chops, or top loin chops. If in doubt, look for the t-shaped bone.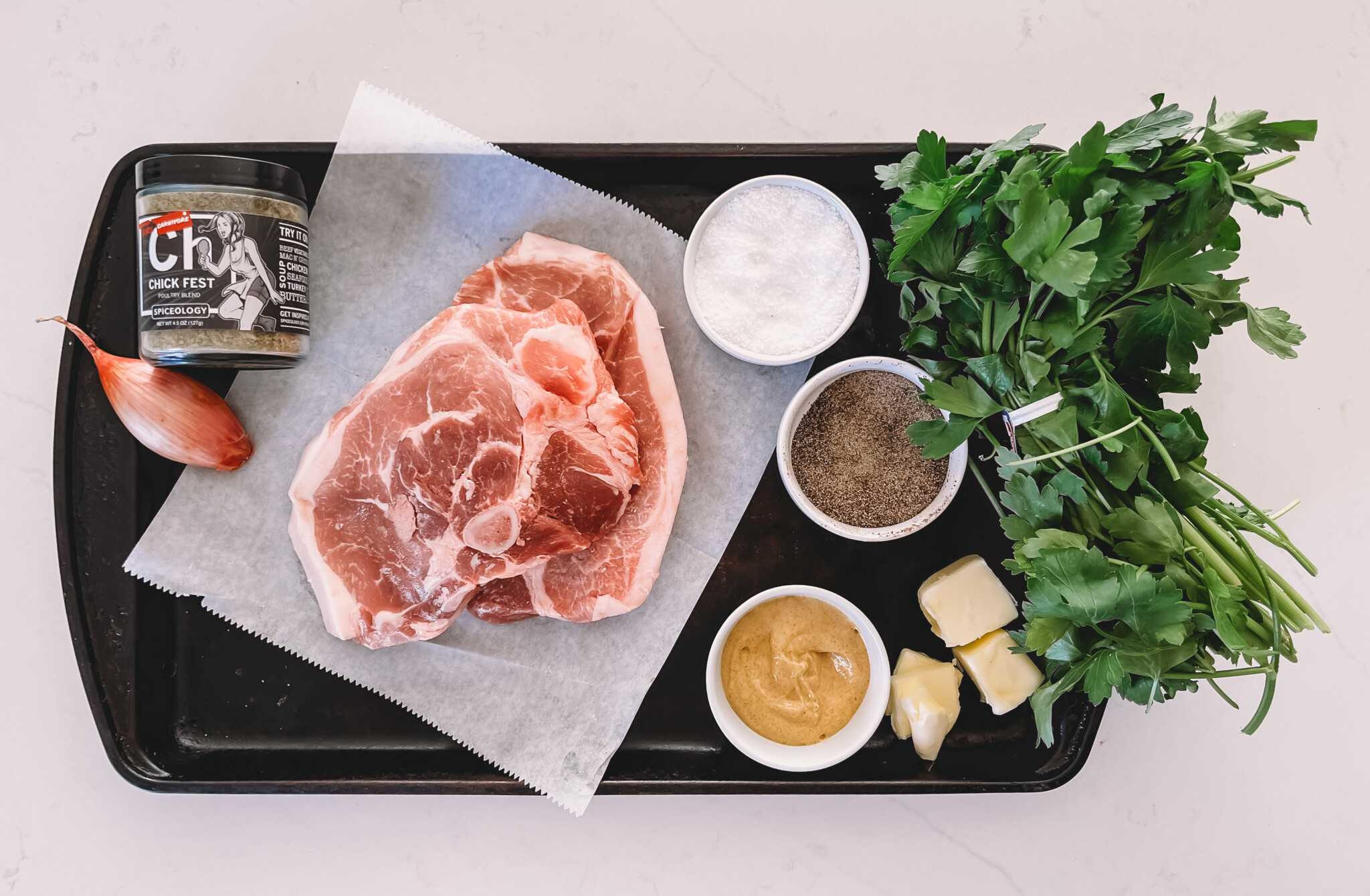 Ingredients to Make the Best BBQ Pork Steaks:
This recipe includes ingredients for the chops and a separate list of ingredients for the compound butter. Don't forget about the butter – it adds SO much flavor when it melts down over the hot chops.
For the grilled pork steaks:
Porterhouse steaks – Count on 1 per person; 1/2 inch thick chops.
Garlic-mustard aioli – Store-bought is fine.
Salt
For the umami compound butter:
Butter – Softened
Shallot – finely minced.
Fresh parsley – Chopped fine.
Salt
Freshly ground black pepper
GirlCarnivore Oomami Seasoning
How to Make the Best Pork Steaks
Cooking pork steaks is easy; start by prepping your charcoal grill for indirect heat.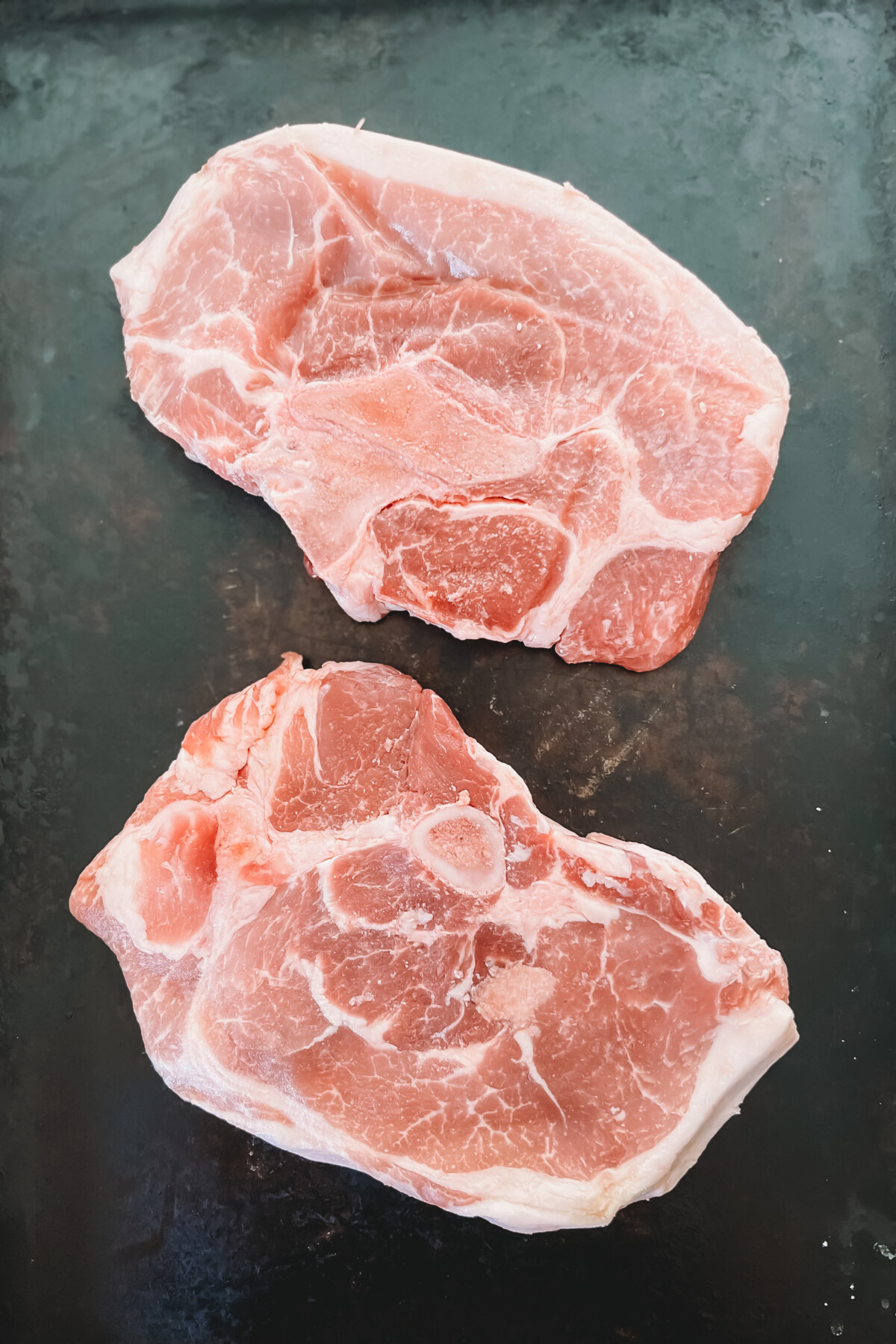 Rub the pork chops with the garlic mustard aioli, then season them with the salt and Girl Carnivore Chick Fest seasoning.
Grill the chops over direct heat for 1 minute, rotate the chops 90-degrees (to get awesome grill lines), and then grill another minute.
Move the pork to indirect heat and grill pork steaks for 6-10 minutes, flipping once until they reach an internal temperature of 140-F.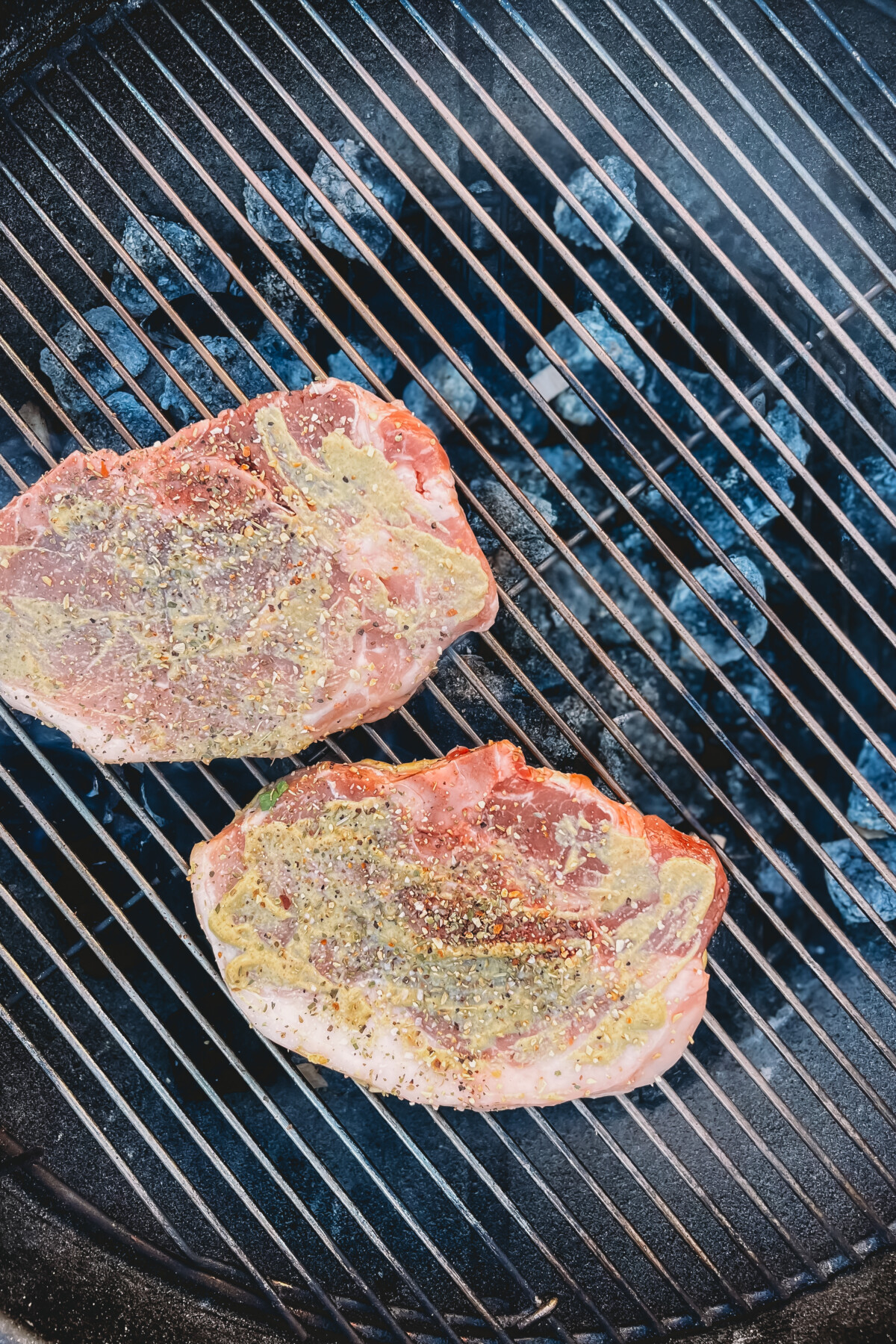 Remove the grilled pork porterhouse steaks from the grill, top them with the butter, then tent them with foil and let them rest for 5 minutes.
How to Make the Herbed Compound Butter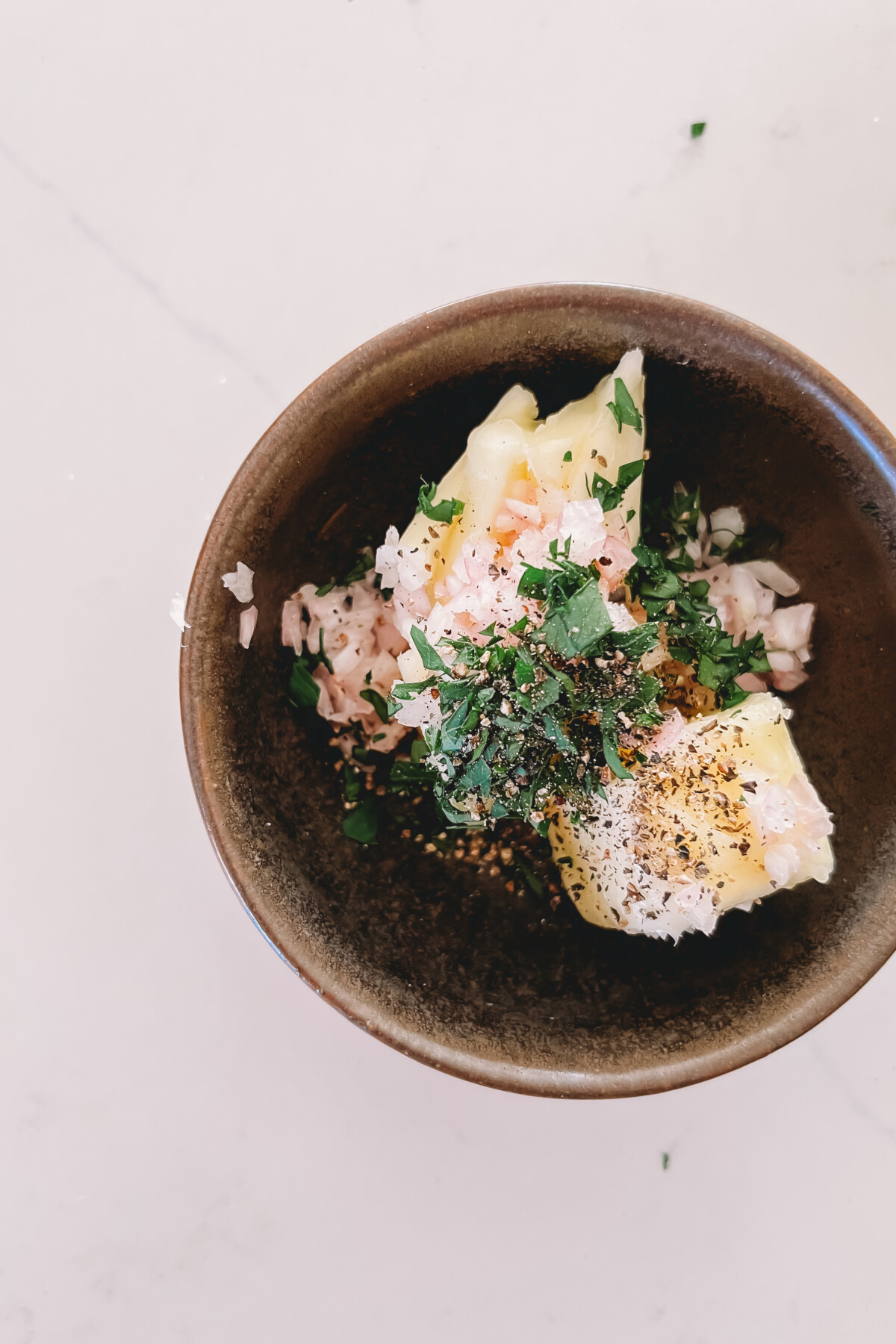 You don't need any BBQ sauce for this dish; instead, this herbed butter melts down over the chops adding maximum flavor!
Mix the softened butter with the finely chopped shallot, fresh parsley, salt, black pepper, and GirlCarnivore Oomami Seasoning.
Place the butter onto a large sheet of plastic wrap, then form the butter into a plastic-wrapped cylinder.
Refrigerate the butter until hard.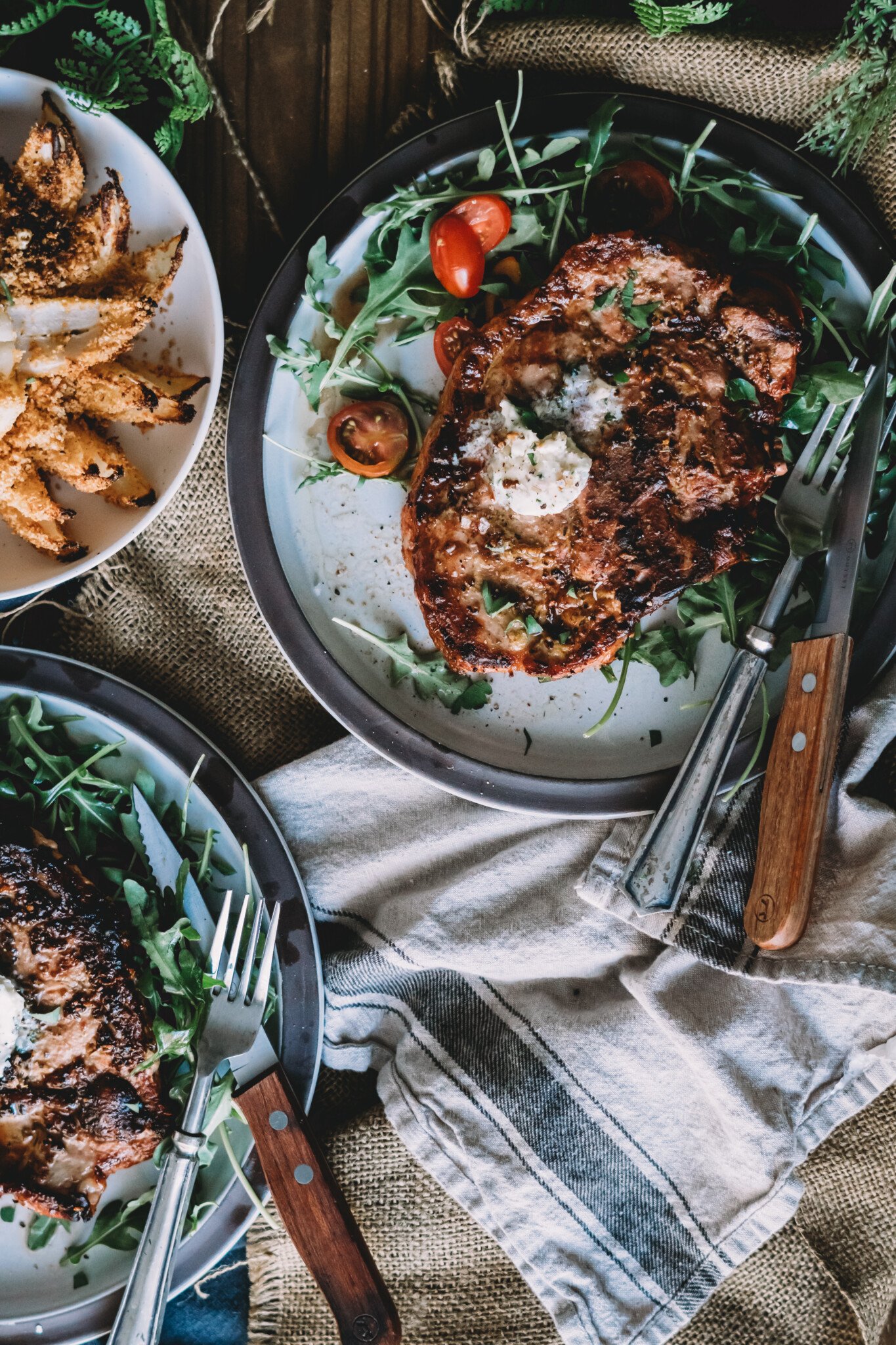 Serving Suggestions
I love serving these grilled pork steaks over arugula or spinach tossed with olive oil. The heat from the chops will slightly wilt the greens, and some sliced tomatoes on the side add color to the plate.
Or, you can go all out and add tasty sides to your meal. My favorites include smoked corn on the cob, hearty smoked baked beans, or a great salad. Finish it off with a slice of this Scratch Made Rum Pound Cake!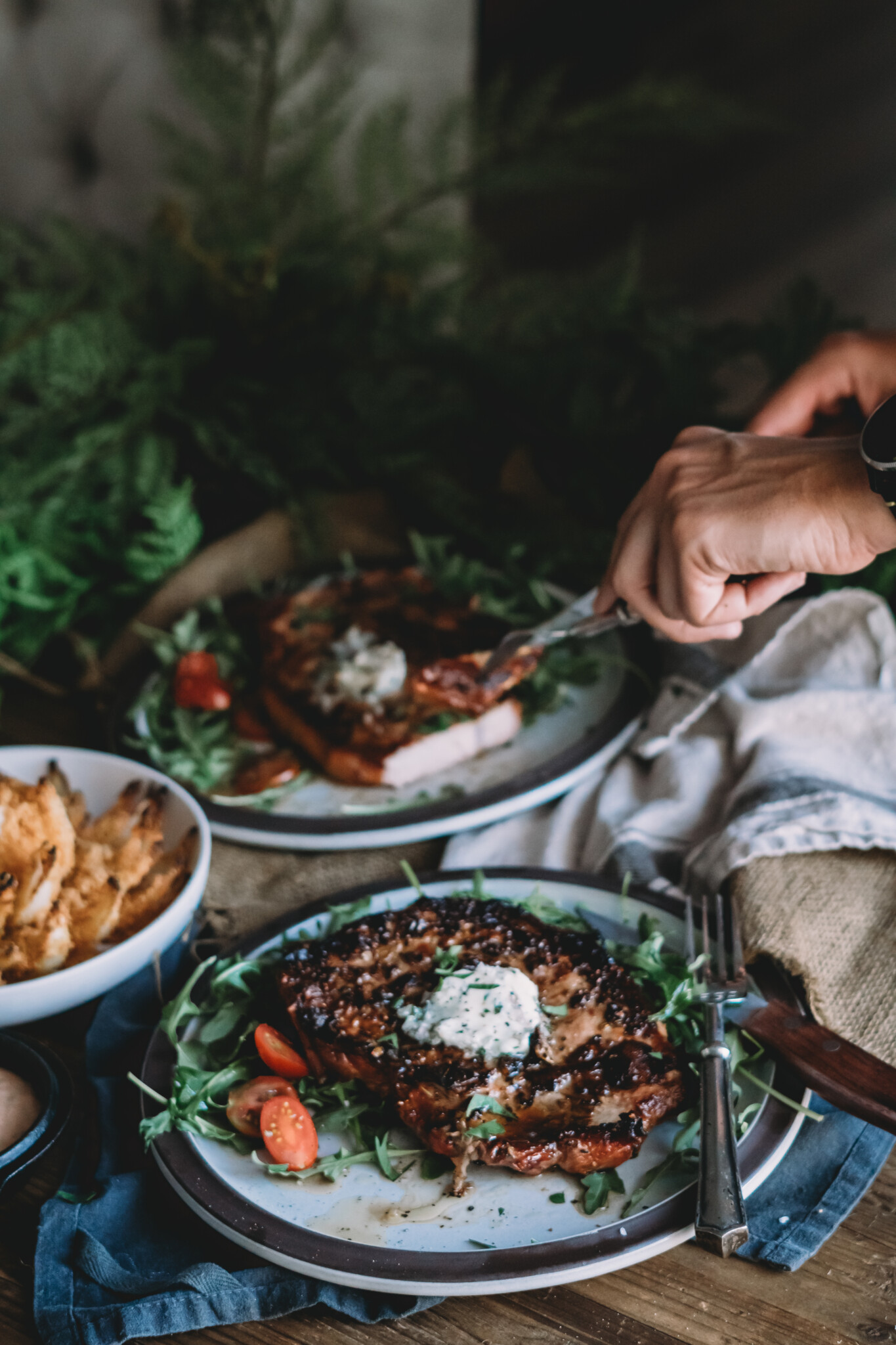 Storage
Leftover BBQ pork steaks will keep in the fridge for 3-4 days if packaged in an airtight container. You can also freeze leftover pork for up to 3 months.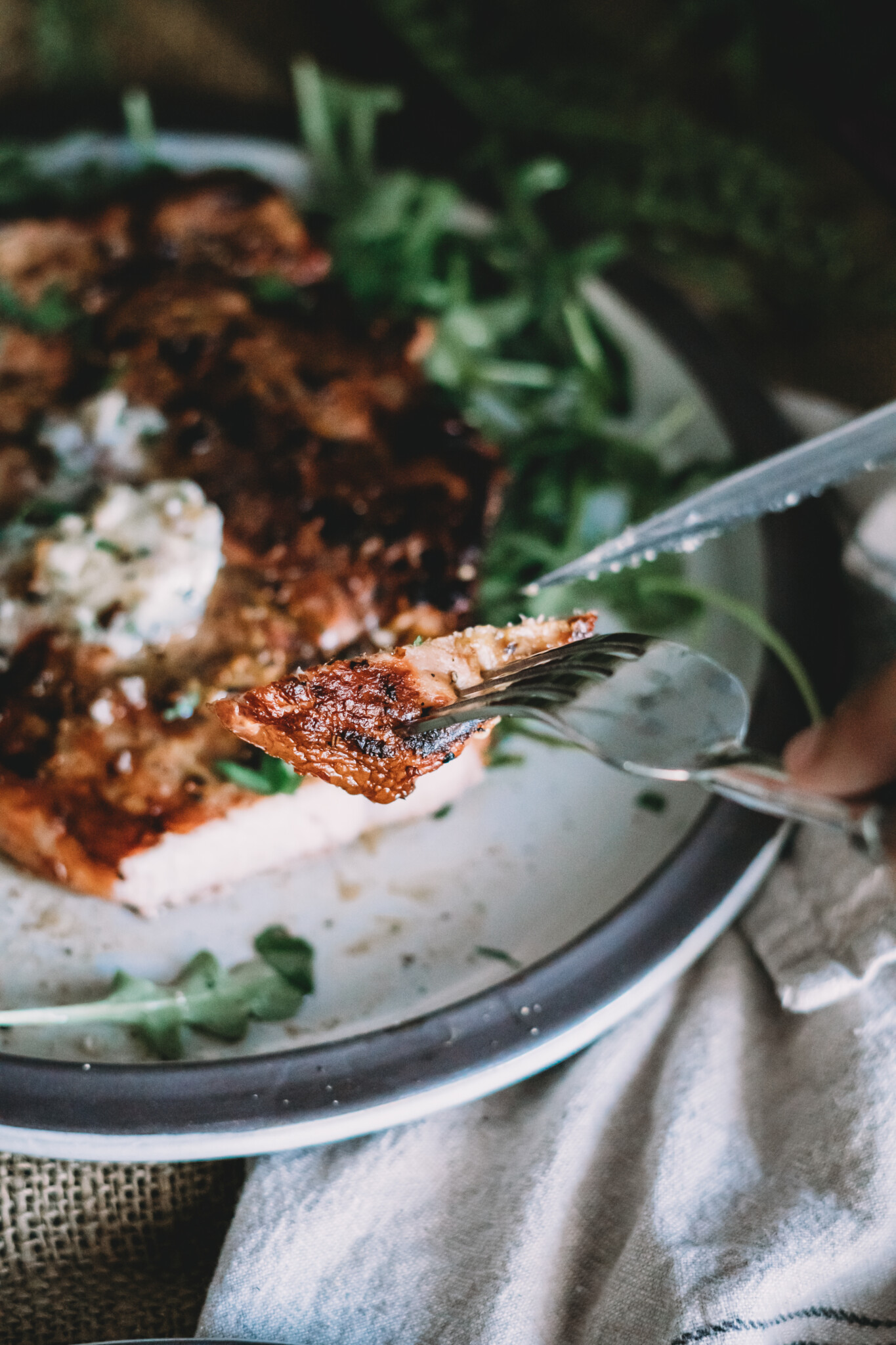 Frequently Asked Questions
How do you know when BBQ pork steaks are cooked?
Always use an instant-read thermometer to make sure your chops are cooked to 140-F, then let them rest for 5 minutes. The carryover cooking will raise the temperature of the pork to 145-F, which is the temperature the USDA says is safe for pork.
How long does it take to cook pork steak?
That's going to depend on the thickness of your pork chops, how cold they are when they go onto the grill, and how hot your grill is. 12-17 minutes of cooking time should be plenty unless you're grilling thick pork chops. Grilled bone-in pork chops also take a little longer than boneless chops.
Do you need to marinate pork chops before grilling?
For some recipes, yes, but not for these easy grilled chops! This recipe uses a mayonnaise-based sauce to lock in the juiciness and then a simple rub to add flavor.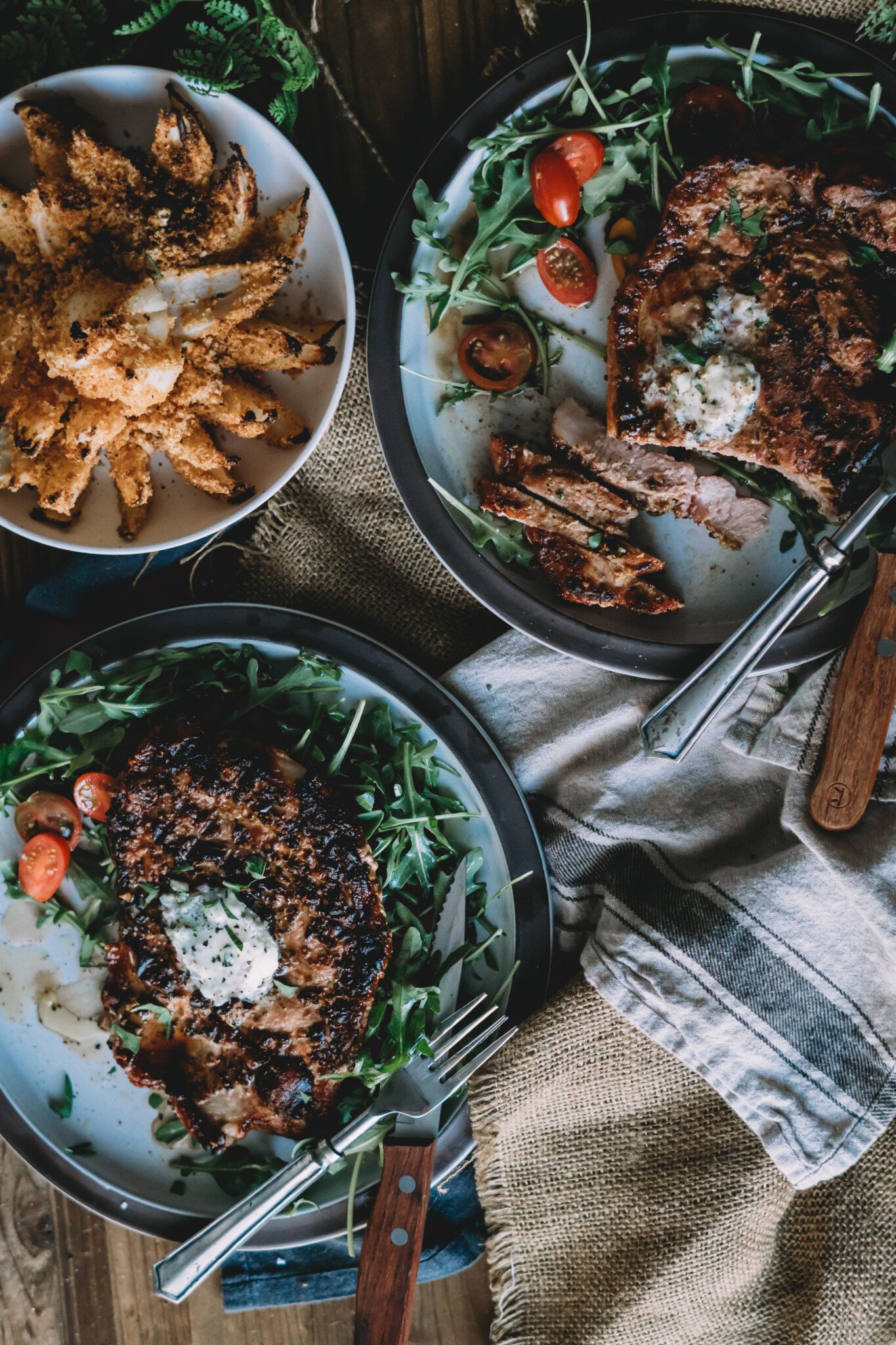 Grilled BBQ Pork Steaks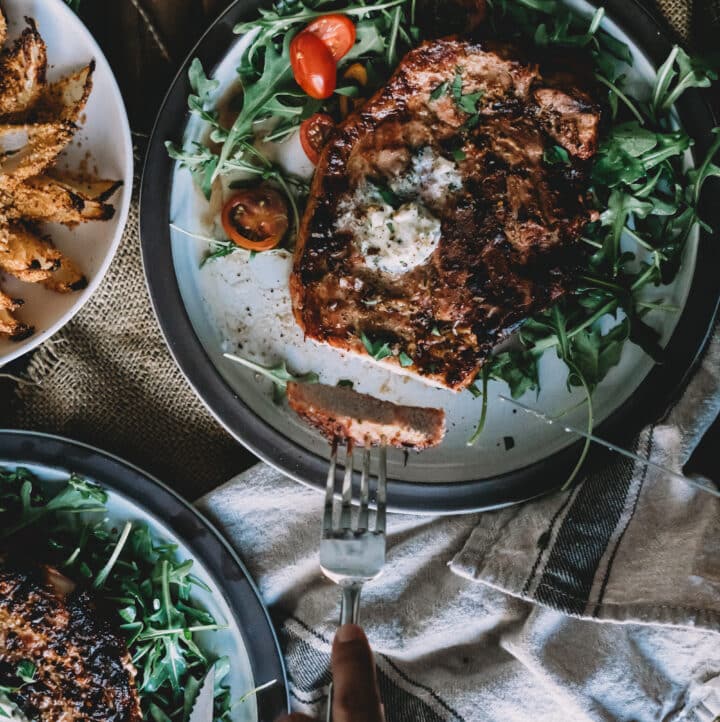 These bone in pork chops are quick and easy on the grill and oh man, the flavor! With a quick rub and then fast cook, you're going to be making these bbq pork steaks over and over again.
Ingredients
For the pork steaks
2

bone in pork steaks

porterhouse chops about 1/2 " thick bone-in

2

tbsp

Garlic mustard aioli

1/2

tsp

Salt
For the compound butter
4

tbsp

butter

1

shallot

minced

½

tsp

Parsley

fresh minced

¼

tsp

Salt

¼

tsp

freshly ground Pepper

½

tsp

Girl Carnivore Ooomami
Instructions
Prep grill for indirect heat:
Prepare the grill for 2-zone cooking by lighting charcoal in a charcoal chimney until it becomes 70% ashed over.

Remove the grate from the grill and add the charcoal to one side of the grill.

Return the grate and clean if needed.

Close the lid and allow the grill to preheat.
Prep the pork steaks:
Pat the porterhouse chops dry.

2 tbsp Garlic mustard aioli

Season with salt and Girl Carnivore chick fest

1 tsp Girl Carnivore Chick Fest,

1/2 tsp Salt
Grill:
Carefully lift the grate and add wood chips directly to the coals. Use caution at this point, they will flare up.

Place the pork steaks right on the grill on the hot side.

Grill over direct heat 1 minute, rotate the pork chop 45 degrees, and grill for another minute. If the meat doesn't lift from the grill, allow it to sit a few seconds longer. Pulling it will only rip and tear the meat.

Move the steaks to the indirect heat, or cooler side of the grill.

Place the lid on the grill.

Grill for another 6 to 10 minutes flipping once until internal temp of 140 F.
Rest:
Remove from grill and tent with foil.

Top the pork steaks with the compound butter.

Rest for 5 minutes as the butter melts over the meat.
Serve:
Serve the bbq pork steaks hot over oil tossed arugula sliced tomatoes.

Garnished with salt, pepper, minced parlsey, if desired.
To make the umami compound butter
In a small bowl, whisk the softened butter with the shallot, parley, salt, black pepper, and Girl Carnivore Ooomami mushroom powder.

4 tbsp butter,

1 shallot,

½ tsp Parsley,

¼ tsp Salt,

¼ tsp freshly ground Pepper,

½ tsp Girl Carnivore Ooomami

Arrange the butter onto a sheet of plastic wrap or wax paper and roll up to form a log.

Place the butter in the freezer to firm up for 15 minutes.

Store the butter in the fridge until ready to use.
Notes
I use the garlic mustard aioli from Trader Joe's for this but to make your own whisk spicy mustard with mayo.
We used Cowboy hickory hardwood briquets as the fuel for this recipe.
We tested this recipe with Western Wood Maple wood chips for added smoked flavor. If you do not like a smoky bbq flavor, omit the wood chips as the charcoal already adds an aromatic touch.
You can make the compound butter up to 3 days ahead. Store it, wrapped tightly in plastic wrap, in the fridge until ready to use.
Nutrition
Serving:
1
g
|
Calories:
489
kcal
|
Carbohydrates:
5
g
|
Protein:
30
g
|
Fat:
38
g
|
Saturated Fat:
19
g
|
Polyunsaturated Fat:
2
g
|
Monounsaturated Fat:
10
g
|
Trans Fat:
1
g
|
Cholesterol:
155
mg
|
Sodium:
1249
mg
|
Potassium:
562
mg
|
Fiber:
1
g
|
Sugar:
1
g
|
Vitamin A:
713
IU
|
Vitamin C:
1
mg
|
Calcium:
33
mg
|
Iron:
1
mg