Grilling fish can be one of the most intimidating things on the grill. But once you master it, the flavor is hard to beat! Like all things, a little practice goes a long way, and here are our best tips and tricks for grilling salmon to perfection every time.
It's not any fish – it's the fish.
When it comes to grilling salmon, lets get the first thing out of the way real quick. Quality is king. See… fish can be one of the most overwhelming things to purchase at the market. We all know there is a sustainability problem, we know we want to choose the right product for our families. And the fish counter at the local market can be… well… downright staggering.
There's fresh-caught (but, from where), previously frozen (so, frozen then thawed and kind needing to be cooked right now), fresh (but really)? And so many more things to evaluate with every single purchase.
And that's before I even get to the price point… Yep, I get it. I'll just buy a steak, that's easier.
However, fish is an integral part of a balanced diet and I'm trying hard to work in into my weekly rotation.
Now, with fish, there's a lot of overwhelm, and data. Actually I really enjoy these apps that help me check to see if the product is a good choice or not.
And I take it as a personal challenge to choose the most affordable option and prepare it in a way that showcases how amazing even 'cheap' can be here. But, there is one thing I have become a bit of a stickler on. And that's salmon.
There's already a myriad of choices – even when just picking salmon – at the fish case. But personally, I have learned about Copper River Salmon, how they harvest wild salmon, what they do to protect it, and how they monitor the fishing season to make me feel a little more connected with the product. Since seafood is a splurge for me anyway, this is the label I look for when shopping.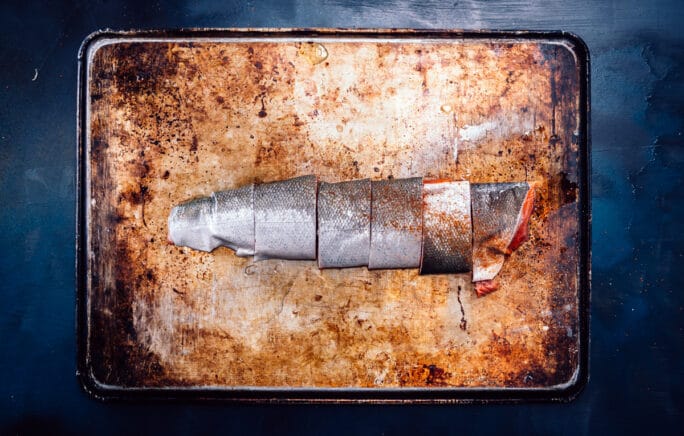 What to look for when buying:
One of the first things I look for when buying salmon is the color. For me, that deep red color is the first key to spotting Copper River Salmon. Atlantic salmon tends to be paler and more towards pink. But most of all, check to make sure no dyes were added to redded the fish.
If you are looking for Copper River Salmon, make sure it says it on the tag and confirm with the fishmonger. Alaskan salmon doesn't necessarily mean wild-caught Copper River Salmon, so be sure to confirm.
The redder the better: The salmon from Copper River watershed have a distinct rich red color that is absolutely beautiful – and also packed with those healthy fatty Omega-3's!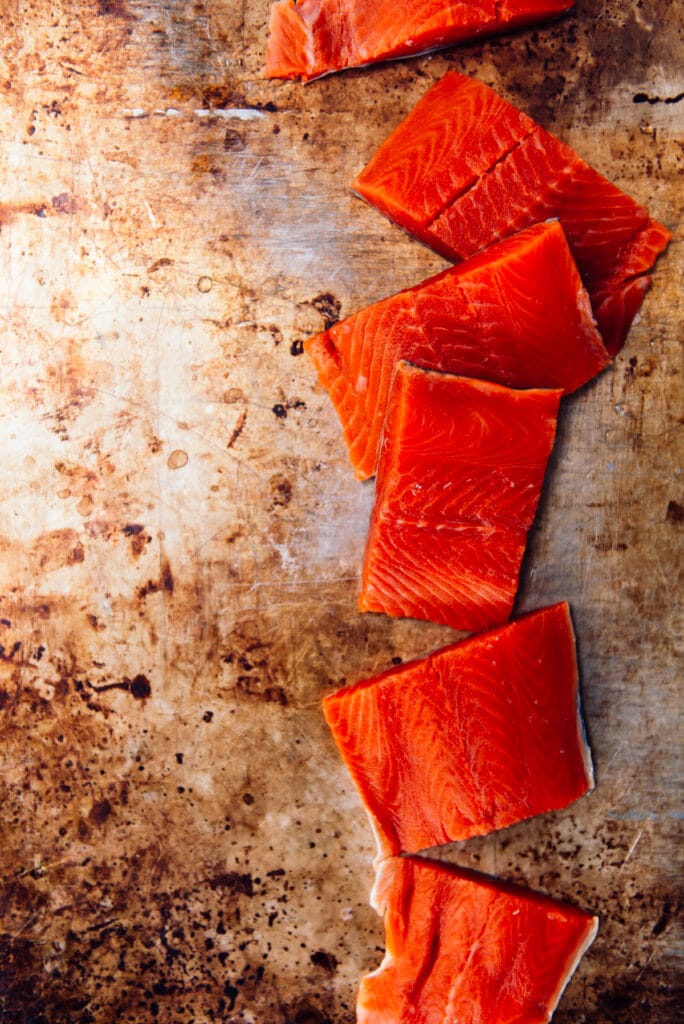 King, Sockeye, or Coho
King, as the name suggests, is the prime choice. Also known as Chinook, they are the biggest salmon with the highest oil content, making them rich in flavor. These are my favorite for simple methods like blackening or grilling when I really want to show off the flavor of the fish.
Sockeye, also known as Red Salmon, has the longest season for Copper River, from May to July, and is the smallest of the lot. I love these filets for smoking salmon or making dips.
Coho, aka Silvers, is my personal favorite. It comes in at the end of the season, larger than sockeye, but smaller than the mighty Chinook, with a flavor that I love for cast iron, baking, and grilling.
Did you know that after years of migrating the ocean, salmon return to the same glacier river making a 300-mile trip upstream back to their original birthplace to spawn? This is why they pack on the weight before making the journey.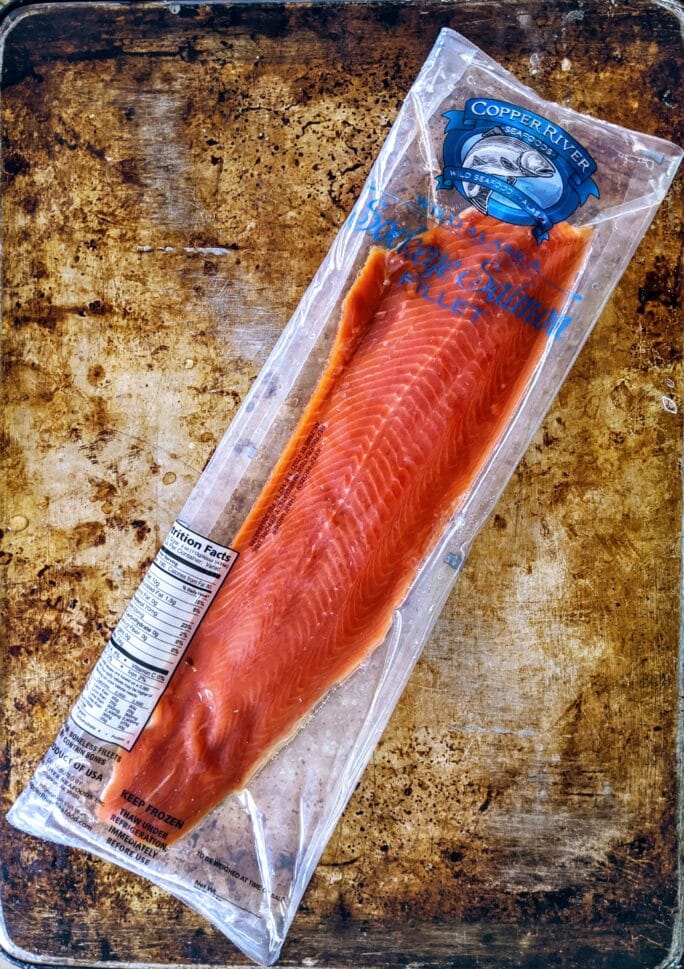 Copper River Salmon can only be fished for 5 months a year with very strict regulations on just how many can be harvested every single day. Each of these fish are then transferred as delicately as possible from the fishing vessels to ice before being processed.
Just watching how the fishermen handle the animals to prevent unnecessary bruising or damage to the fish, along with the communities rooted respect and science they are using to help maintain populations is part of the reason I have become such a fan of the product.
Sustainability is so much more than making sure there is enough. It's knowing that there is a balance to nature and what we can and can not take from her to feed ourselves.
But now, that we know I am playing favorites (and Im not paid to say that, I believe in the product), here's the definitive guide on how to grill that fish once you bring it home.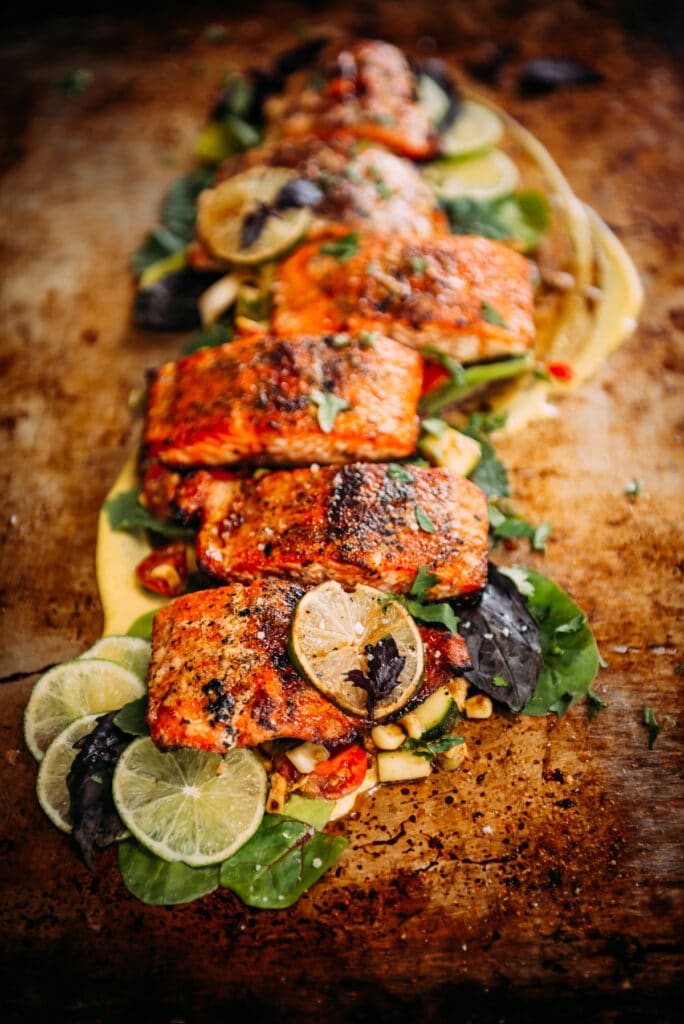 How to Grill Fresh Salmon
The fresher the better
If the salmon is fresh, and not frozen, do yourself a favor and make sure you cook it as soon as possible. Only store thawed salmon in the fridge 24 to 48 hours before cooking.
If frozen, and sealed well, the fish can keep in the freezer for up to 9 months.
What temperature do you grill salmon to?
The FDA recommends an internal temperature of 145 degrees when cooking salmon. A key here is when the fish flakes cleanly with ease. Which doesn't take very long with fish. Salmon grills hot and fast directly on a grill grate, so use caution not too cook it past 140 before letting it rest. Otherwise, it can get dry.
Grill with skin on or skin off?
When grilling fish, I am a fan of leaving the skin on. One, the skin is loaded with flavor when it gets all crispy. Two, it helps act as a barrier from the direct heat as well as gives the fish structure. It also makes the flip so much easier, limiting tearing or breaking.
Once grilled, if you don't enjoy the skin, it's easily peeled off and discarded.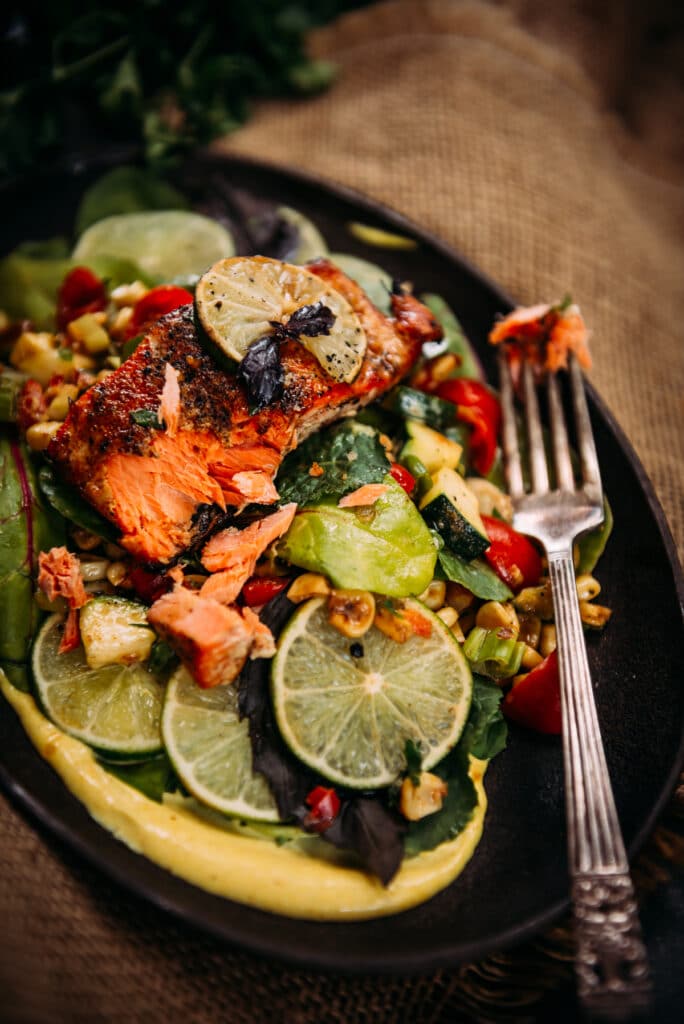 What to serve with grilled salmon?
Because grilled wild salmon is a luxury, I try to make sure whatever I pair it with only enhances the salmon. Salmon goes great with fresh seasonal veggies, roasted or grilled. It's also wonderfully gently tossed in with pasta and lightly sauced. As a personal favorite, I love it paired with cabbage and fresh relish or chutneys. The balance of crunch from the cabbage with the texture of the fish is fun.
Most of all, with this one, its a hearty fish that can stand up to a variety of methods and cuisines. From rich curries to whole 30 salads, salmon is one of the most diverse and easy to pair fish I work with.
For this method, we are grilling the salmon directly on the grill, just to keep things clean and simple. However, cedar planks and foil wrapping are also ways to cook it while infusing flavors and insuring the salmon doesn't fall apart on the grill.
More Delicious Salmon Recipes
Grilled Salmon over Charred Summer Succotash and Cardamom Aioli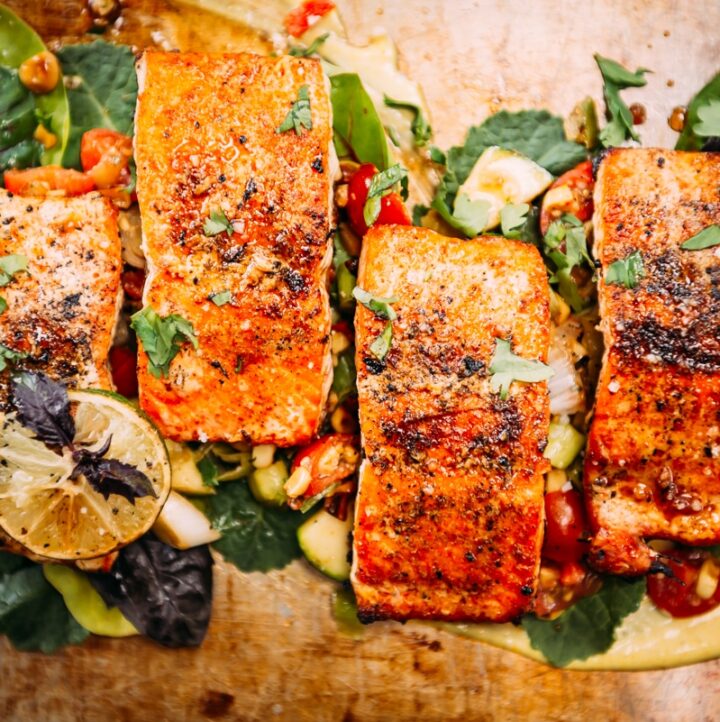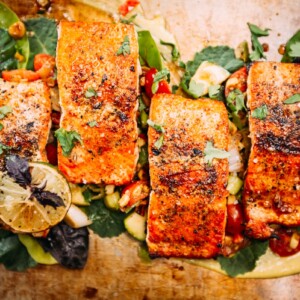 With a simple rub and fast grill this salmon comes out perfect and is paired with seasonal fresh charred corn succotash over greens and a creamy cardamom aioli. Sounds fancy, but it isn't. Promise.
Ingredients
For the Salmon:
1

whole salmon filet

between 3 to 5 pounds, skin on, sliced into even portions

1

tbsp

oil

2

tbsp

adobo honey spice blend

1

tsp

salt
For the sweet teriyaki sauce:
½

cup

teriyaki sauce

1

tsp

soy sauce

1

tsp

brown sugar

1

tsp

adobo honey spice blend
For the Succotash:
4

ears fresh corn

charred evenly on all sides and corn removed from cob

1

zucchini

chopped

¼

cup

cherry tomatoes

sliced

4

scallions

minced

2

tbsp

extra virgin olive oil

Juice from one lime

1/8

cup

Cotija

crumbled

Salt and pepper to taste
For the Cardamom Aioi:
1

tsp

turmeric

2

tsp

cardamom

½

cup

mayo

1

tsp

lime juice

Pinch

of salt
Garnish:
Mixed greens

1

lime

sliced thin

Handful of Thai Basil
Instructions
Make the charred corn succotash:
In a large bowl, toss the grilled corn with the chopped zucchini, tomatoes, and scallions.

Add the olive oil, lime juice, cotija and toss to combine.

Season with salt and pepper to taste. Set aside.
Prep the grill:
Clean your grill grates. Prep your grill for around 375. If using charcoal, add maple or apple wood chunks to infuse a little smoke if desired.
Prep the salmon:
Liberally rub the salmon with the oil.

Sprinkle the flesh with the adobo honey, Over Easy blend, and salt.
Make the sweet teriyaki sace:
Whisk the teriyaki, soy sauce, brown sugar, and adobo honey spice blend in a small bowl together.

Remove 3 tbsp and reserve.
Grill the fish:
When the grill is ready, place the salmon, skin side down on the grill.

Brush the salmon with the teriyaki blend.

Cover and cook for 5 to 7 minutes. It should look like the fish has started to cook through when you flip.

Brush the salmon again right before flipping. Use caution as too much liquid can cause flare ups.

When the salmon pulls back easily, flip and grill with the lid closed another 3 to 5 minutes.

Remove the salmon at 140 degrees or when the fish flakes easily with a fork. Adjust timing depending on the thickness of your filets.

Remove the salmon from the heat.

Brush with reserved teriyaki blend and tent with foil to keep hot while plating.
Make the cardamom aioli:
In a small bowl, whisk the turmeric, cardamom, and mayo together. Add a splash of lime juice and a pinch of salt.
Assemble & serve:
To plate, place a dollop of the aioli onto your serving dish.

Arrange a portion of mixed greens over the aioli.

Place a heaping spoonful of the charred corn succotash on top.

Nestle a salmon portion over it all and garnish with a fresh lime slice and minced basil.
Notes
If you don't have adobo honey spice blend, use a 2 to 1 ratio of powdered adobo and brown sugar with a pinch of salt.
When slicing salmon into even portions, go by weight as the filet thins out towards the back. Making them the same width will result in some being very small. Even weight between portions is more ideal for cooking.
To slice the filet, a sharp clean boning knife will do the trick. Just be sure to apply pressure in a clean stroke to cut through the skin. Always cut away from your body.
A clean well-oiled grill grate helps prevents the fish from sticking.
A fish spatula is essential when working with fish. It is designed to accommodate the filets better and in thinner than traditional grilling spatulas helping to mitigate any unnecessary tearing.
Nutrition
Serving:
1
g
|
Calories:
517
kcal
|
Carbohydrates:
35
g
|
Protein:
17
g
|
Fat:
37
g
|
Saturated Fat:
6
g
|
Cholesterol:
39
mg
|
Sodium:
2318
mg
|
Potassium:
863
mg
|
Fiber:
7
g
|
Sugar:
15
g
|
Vitamin A:
633
IU
|
Vitamin C:
25
mg
|
Calcium:
201
mg
|
Iron:
6
mg