This post may contain affiliate links. Please read my disclosure policy
No super market or big box store ground beef will ever taste as good as fresh meat that you have seasoned and ground for your own needs.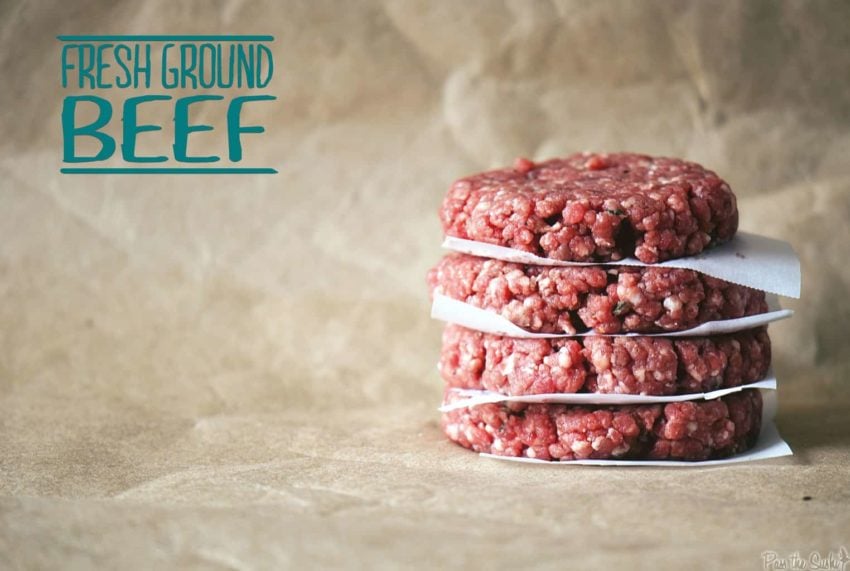 Why Make your own Ground Beef?
The reasons behind grinding your own beef are numerous, and I will get into them in a later post. My favorite reason? Good old fashioned stress relief. And grinding your own meat allows you to season it the way you want for your future cooks. You can control your fat ratio and what cuts go into the grind to produce signature blends that taste amazing.
I make an afternoon out of butchering, seasoning, and grinding large batches of beef for various meals and freezing them in perfect portions so that when I need them all I need to do is thaw.
Tips for grinding your own beef
Make sure your meat and the equipment is very cold. I place everything in the freezer for 20 minutes before grinding. As the meat warms so does the fat and this can make things messy in the grinder. And it doesn't grind as well overall, rather smearing. The colder things are the better the actual grind will be.
Work in batches. If you are using a home grinder, a KitchenAid attachment or anything short of a full-on butcher counter grinder, you are going to WORK the machine and yourself. So, divide things and work in batches (see above note about keeping things cold). If you are turning a crank to grind, you will thank me later.
Also, working in batches allows me to think about how I am going to use the meat. I can do taco seasoning in one batch, burger blend in another, so on and so forth. By batching things out, and properly cleaning and returning everything to chill, I am in more control of my workflow.
Follow the recipe below for a great burger night, or change things up a bit for Taco Tuesday, Mama's meatloaf or any other meaty recipe your family loves.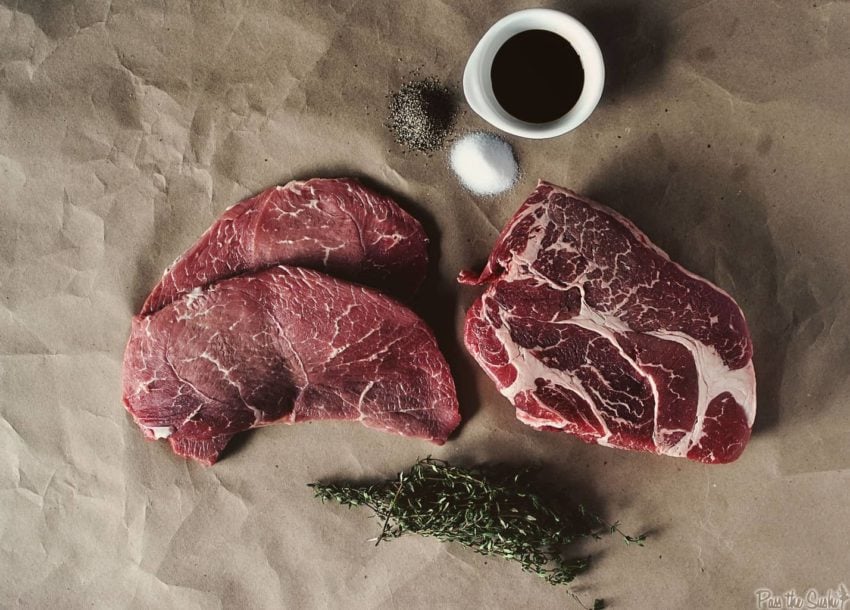 What is the best meat to grind for burgers?
Welp, that's a personal question. I like my burgers on the fatty side, cuz as I say, fat equals flavor. I love looking to mix things like a well-marbled chuck with a leaner cut, and maybe even a bit of brisket or short rib too.
There's a bit of math you want to do when picking your cuts, based on how lean you want the finished product. And, since each cut is going to have different marbeling, you need to eyeball the fat to beef ratio. Start with simple inexpensive cuts, tossing a little extra fat in where you can, to get a feel for it before going out and placing an order for 2 pounds brisket, 5 pounds chuck and thinking you are going to master it in a day.
Honestly, I also save scraps and will fold them into my blends as well. Texture and fat go a long way for a good overall blend.
Sure, it's a little hands-on, a little bit messy, but that's what Girl Carnivore is all about. Rolling up the sleeves and getting hands-on. Wait till we get to sausage making. Then we can have a session on what casings smell like when you first open the package. But as far as making your own ground beef – it's easy-peasy.
Oh, just don't push too hard when feeding meat through the tube or you will be wiping ground beef splatter off your fridge later on.
Let's Grind Some Beef!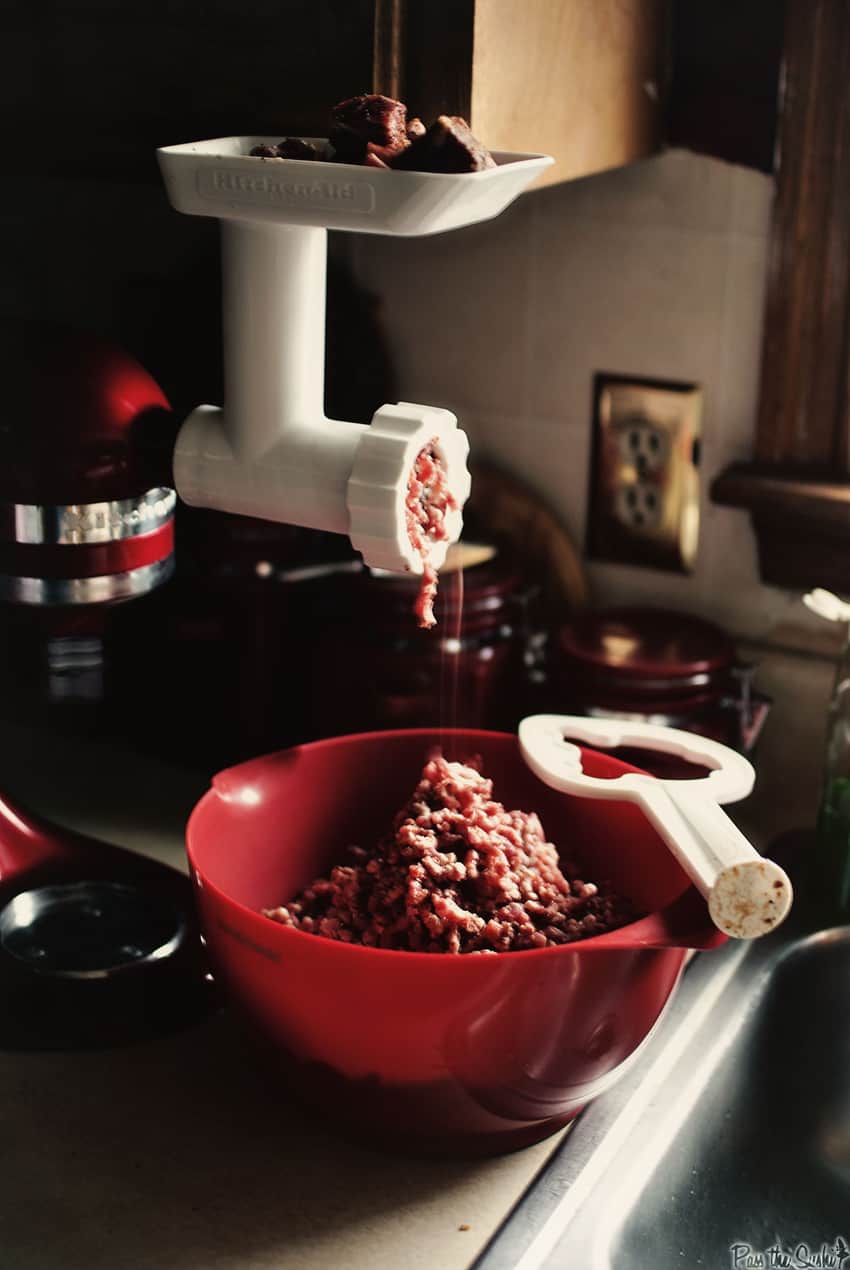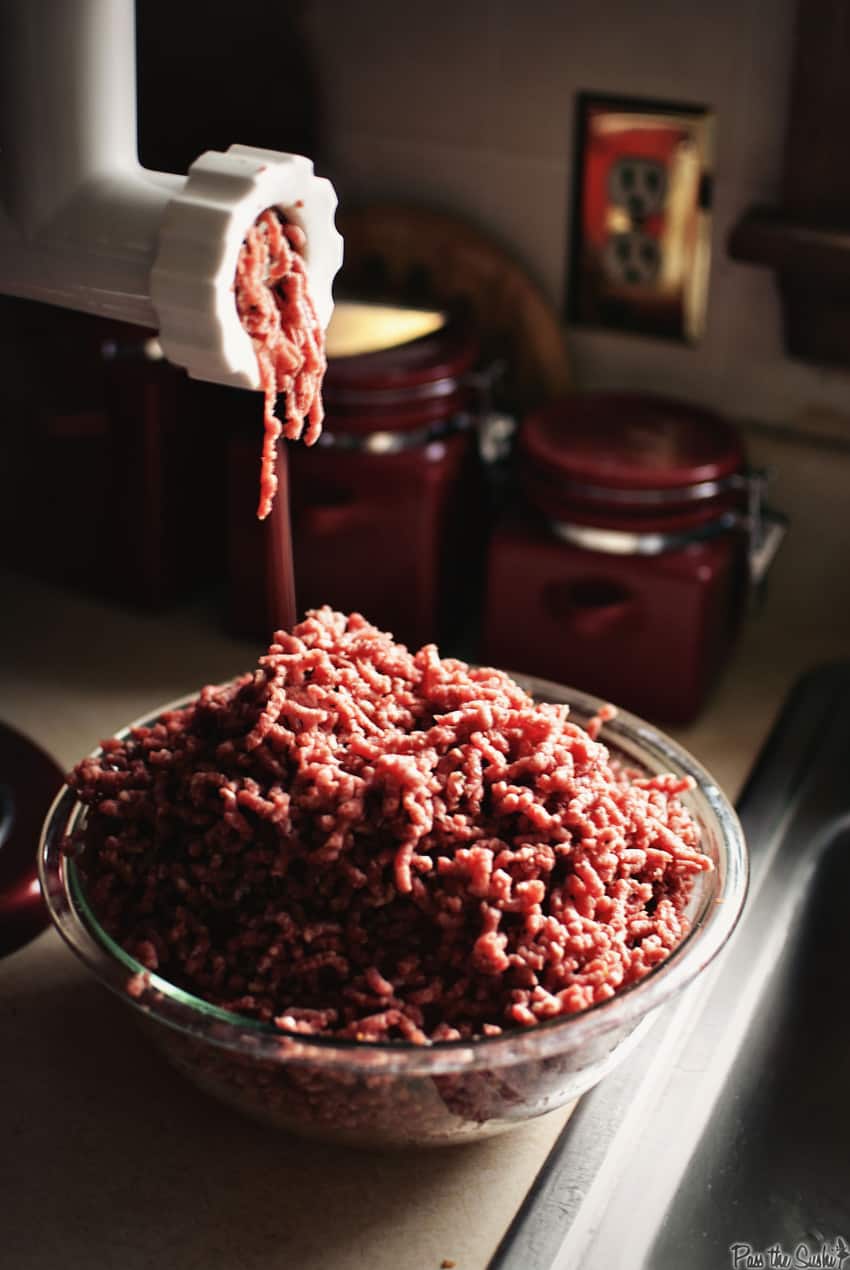 Now that you have mastered grinding your own beef, it's time to step up your burger game. Try these out for inspiration, then check out Burger Month and come up with an Epic Burger of your own!

Rarebit Cheeseburger
Argentinian Chimichurri Butter Burger
Caribbean-Jerk Lamb Burgers with Tostones
If you've tried my How to Grind Perfect Patties recipe, or any other recipe on GirlCarnivore.com please don't forget to rate the recipe and let me know where you found it in the comments below. I get inspired by your feedback and comments! You can also FOLLOW ME on Instagram @girlcarnivore as well as on Twitter and Facebook.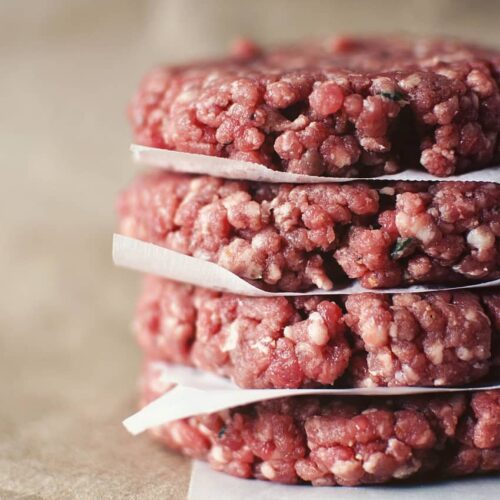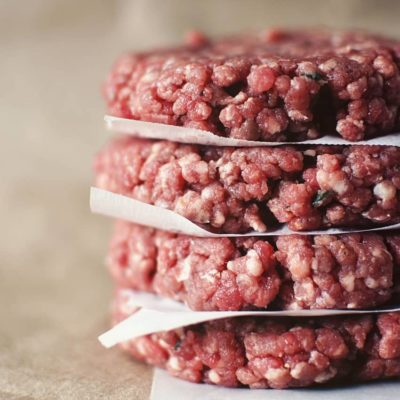 How to Grind Perfect Patties
Grinding your own meat can be intimidating at first and a bit messy. But after you have done it once, you will be a pro!
Print
Pin
Rate
Ingredients
3

lbs

boneless chuck roast

with good marbling

2

lbs

boneless sirloin

1

tsp

salt

1/2

tsp

ground pepper

1

tbsp

Worcestershire sauce

1

tbsp

thyme sprigs
Instructions
Place meat grinder attachment in freezer.

Meanwhile, cut the meat into 1″ cubes.

Please in a bowl and toss with salt, pepper, Worcestershire sauce, and fresh thyme.

Cover and place in freezer for 20 minutes.

When ready, push meat through feed tube into meat grinder. Grind through coarse setting once.

Change out the grinding plate to the fine coarse one and run through again being careful not to over handle the meat.

Gently form the meat into patties, place wax paper between each, loosely cover, and refrigerate until ready for use.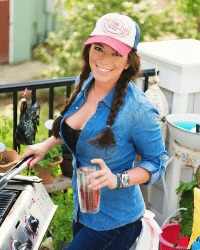 Hey, I'm Kita, the Meat Maven, outdoor junkie, campfire connoisseur, adventure-seeking and world traveled recipe developer and photographer behind GirlCarnivore.com. My mission is to break down savory eats and inspire you to get a little grit under your nails while having fun with your food. READ MORE