Unlike quick perfect strip steaks, this quick-cooking grilled picanha is a hearty thick-cut, grilled rotisserie style for an even finish, sliced, and served with a herb-filled chimichurri for a globally inspired feast.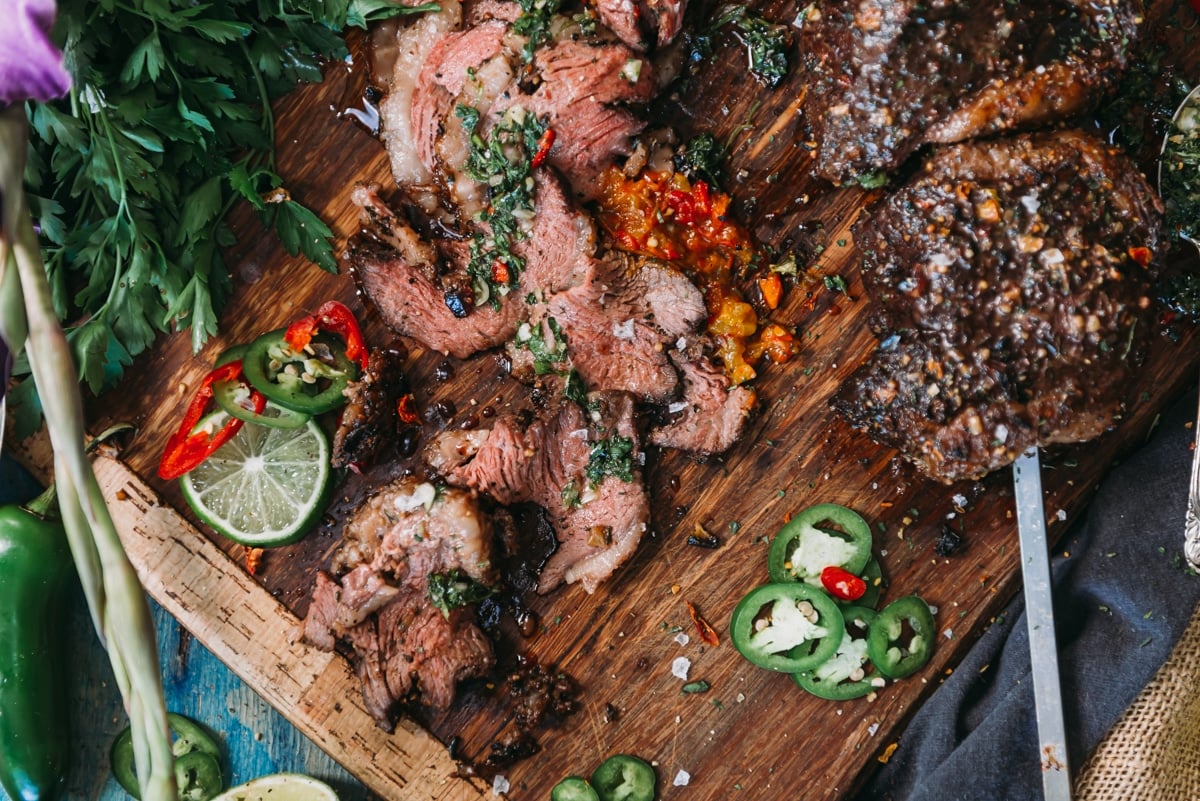 If you have ever gone to one of the Brazilian steak houses where they walk around with meat on skewers, slicing it off as you desire, you probably became infatuated with the idea of roasting meat on spits over fire and slicing it off one bite at a time full on Conan the Barbarian style. Not that I am speaking from experience…
Lies, you know I totally guilty of this.
While often I am too busy pointing and shoving meat slices in my mouth, it's hard to get the names of all the unfamiliar cuts, or how they were prepared. But picanha is one I know.
Mainly because my friend Derek, at Over the Fire Cooking rocks one and even has a line of spices influenced by South American cuisine and fire roasts picanha like a boss. He and Dan from Learning to Smoke even teamed up on it while we were all hanging out at Social Feast last year.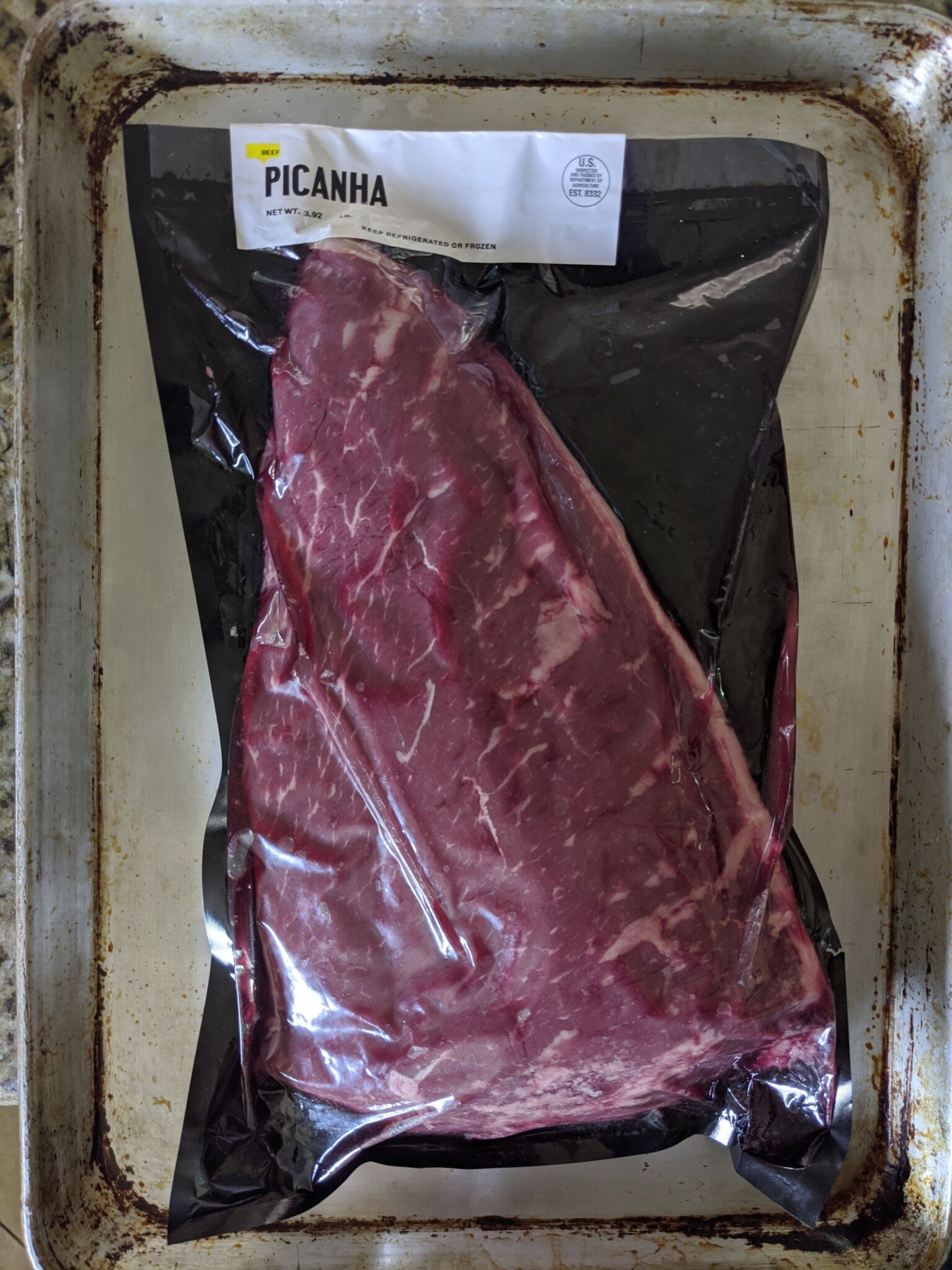 But first, what cut of beef is picanha?
Say it with me, it's pronounced "pee-KAHN-ya" – need y'all sounding like experts by the end of this.
Cut from the sirloin, behind the rib of the cattle, where cuts like the strip, sirloin roasts, and even tri-tip is also where this cut comes from. The picanha is otherwise known as coulotte, is common in Brazil and Portugal but is gaining popularity in the United States.
Unlike the tri-tip, which has visible fat removed and comes from the bottom sirloin, the fat is kept on this cut when using it for picanha and it comes from the top sirloin. Both have a triangular shape but vary in texture and leanness. Easy to mix them up – except for that beautiful fat cap.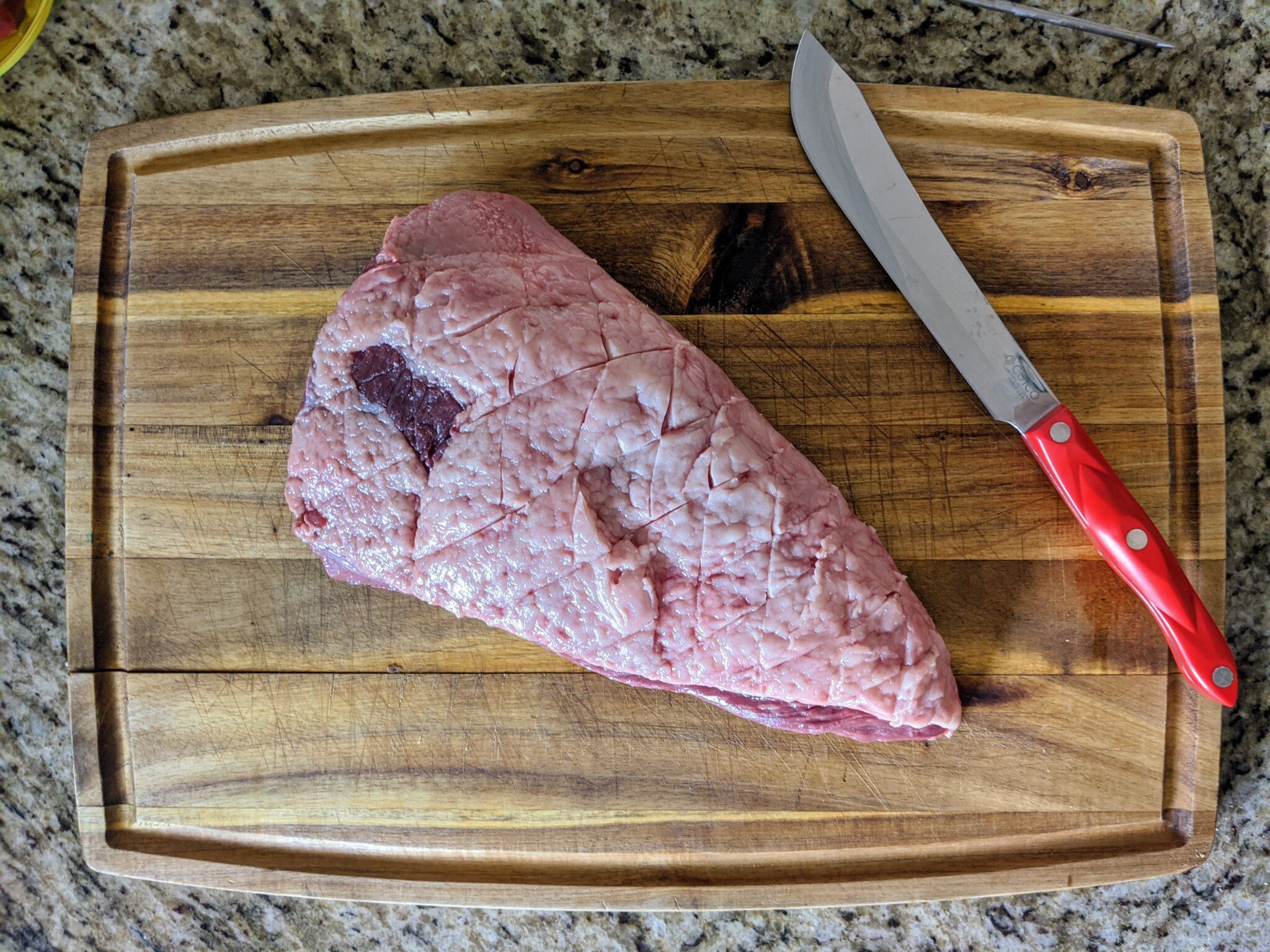 And that's exactly what makes this cut so good. The fat cap isn't trimmed in prep so it stays on the beef while cooking and melts in a buttery way over the meat basting it in it's own flavors. It locks in moisture and flavor for tender bites with every slice. Fat = flavor.
A lot of online retailers have it for order and many local butchers can now order if for you if you request. They come in at around 3.5 to 5 pounds so perfect for feeding a crowd.
Where to buy:
I ordered this one from Porter Road – an online butcher out of Nashville. When sourcing my next one from a local butcher, the price was around $14 a pound. Snake River Farms, an online retailer of wagyu beef has them for $75.
Often picanha is grilled churrascaria-style over live fire, one it's stunning, two the flavor from live fire char is outstanding, but today, I wanted to mix it up and work on a control before just tossing it to the flames – mainly so we could guarantee success.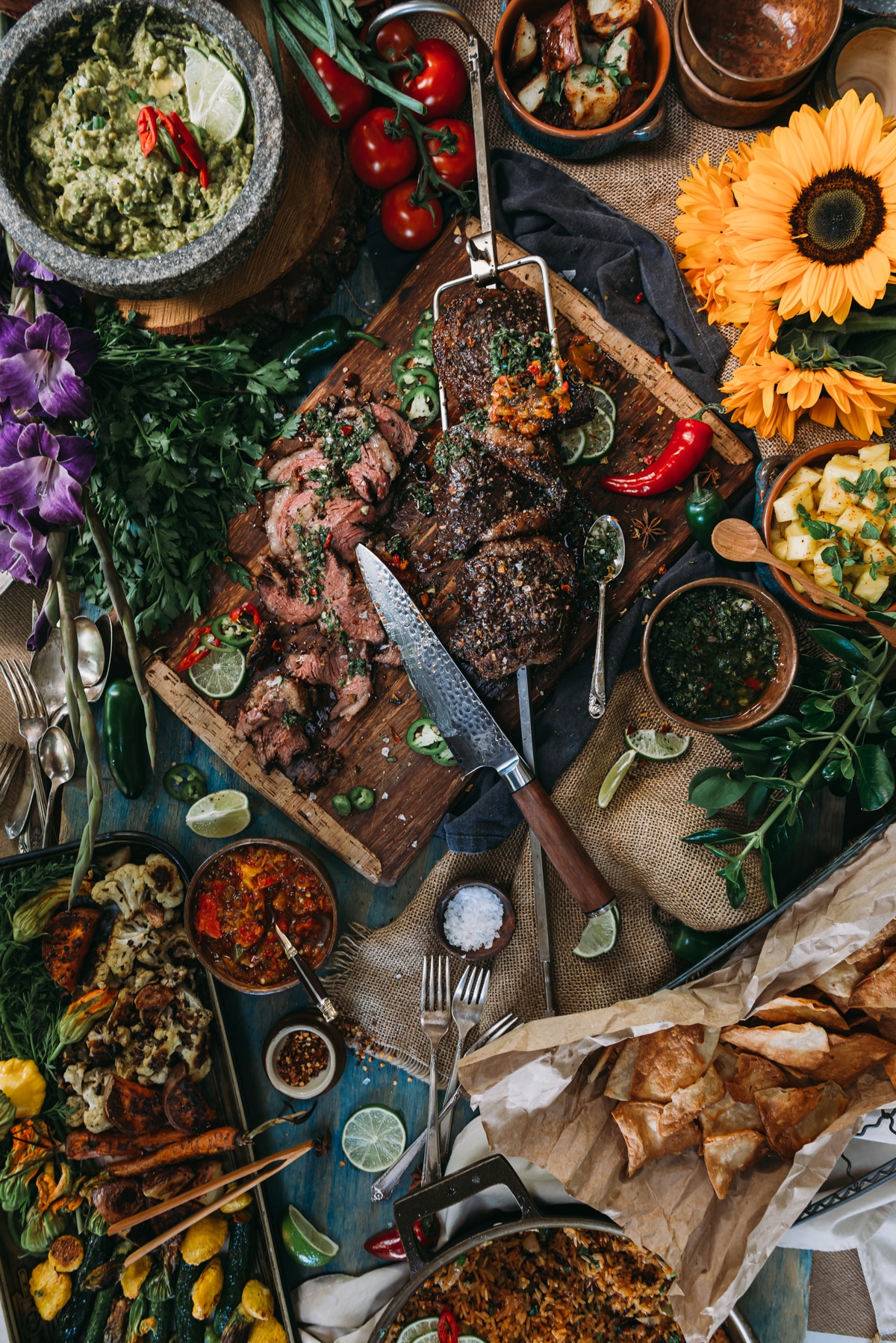 Could this cut be just as good without the smoke show and act as an easily controlled test recipe for anyone looking for guaranteed success?
Turns out, yes. And the flavors I achieved were buttery and mouth-wateringly good with a tender texture from edge to edge in every slice. You don't even miss the char-grill.
This recipe was done on a gas grill using a rotisserie which takes any of the guesswork out of building my own fire and was the perfect first time picanha recipe so that I could ensure the internal temp was perfect and the meat would be cooked evenly.
It's quick cook makes it simple and locks in the juiciness while still evenly cooking thanks to the rotisserie (though, no fear, if you don't have a rotisserie, cooking this on a gas grill over indirect heat and rotating it often, would produce very similar results).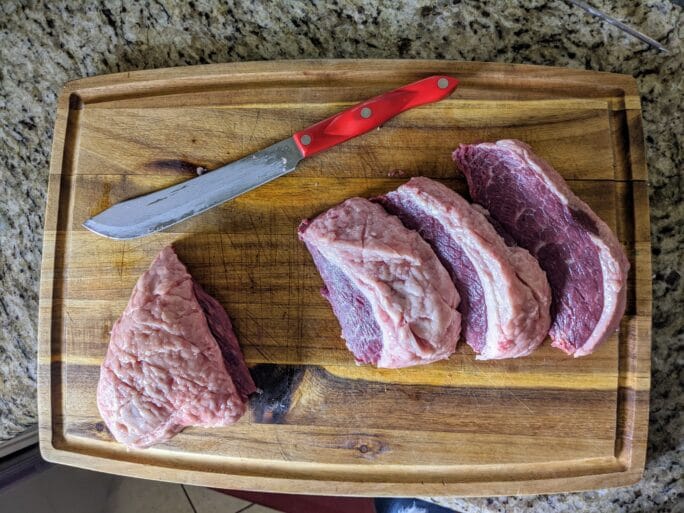 The details:
Besides the beef, all you need is oil and spices for this entire recipe. It's that kind of simple. The key to success here is the cook.
It's all in how this is sliced and skewered that will make or break this one.
First, you want to slice the cut into evenly weighed steaks, meaning the thick ones will be slightly skinner from side to side than the thinner part of the cut which will be a little fatter.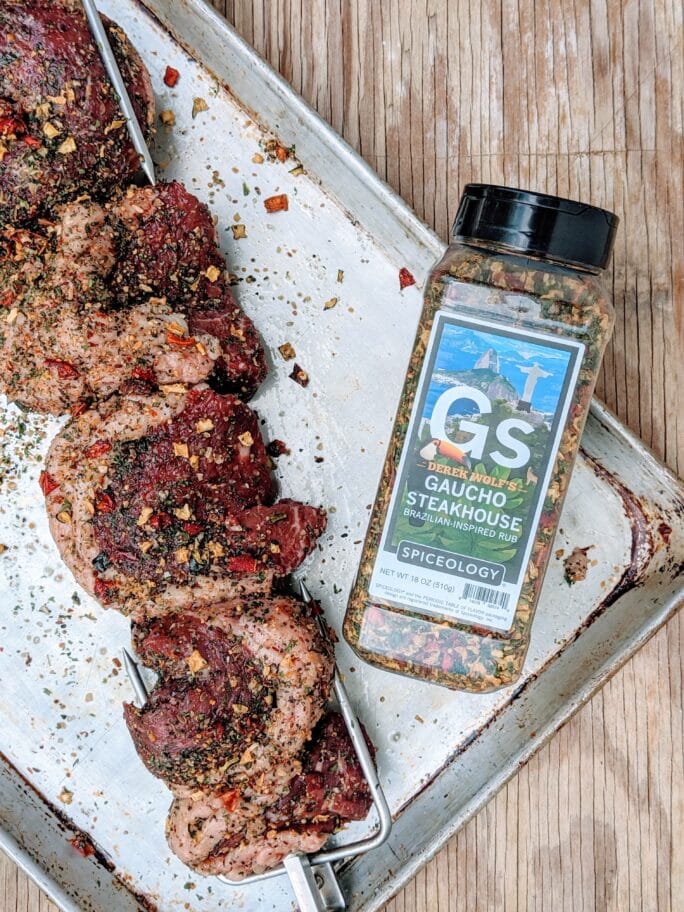 A hefty rub of oil, a liberal dose of salt, and a good mix of spices rubbed over all sides of the steaks is key to a good crust. If you are going to be making these often, invest in this blend made just for them!
And then, the magic trick for skewering these, so that the edges don't cook faster than the thicker middle, is to fold the steaks into a 'C' shape, holding them that way, skewering through the top and bottom of the 'C'.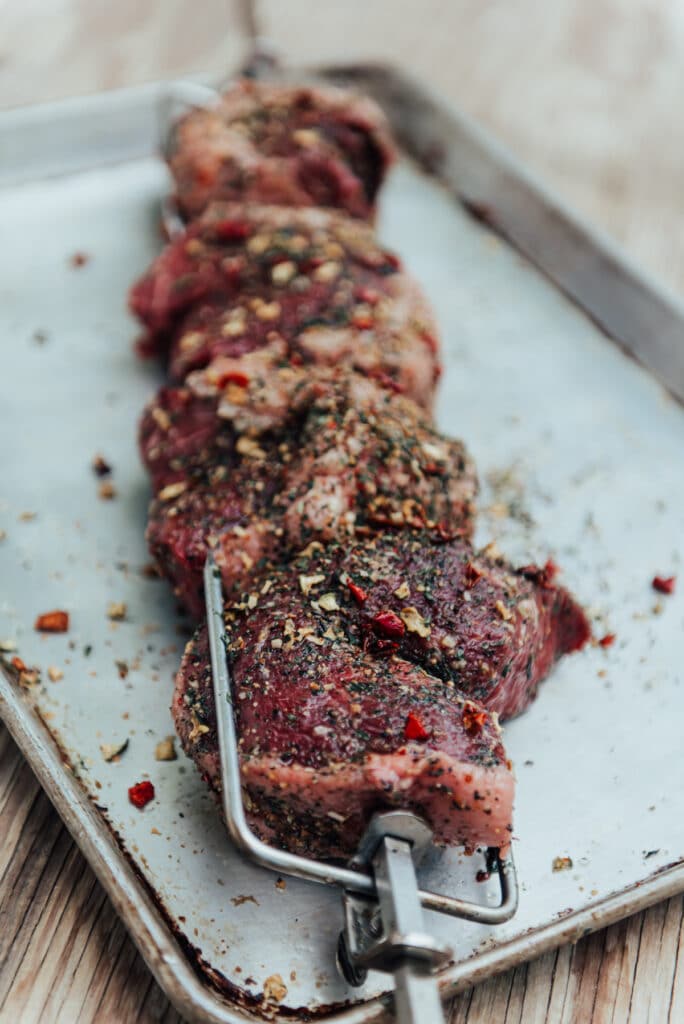 Girl Carnivore Tip: The meat will fight a bit if it is a thicker skewer, so piercing with a thin skewer first is helpful to guide the rotisserie spit through.
Set your grill to run at a temperature of 325 – 350 using indirect heat and place a packet of wood chips on the grill if you want to add a hint of smoked flavor (See my tips on how to accomplish that smokey flavor with your gas grill). And grill the beef until it temps at 130 for rare.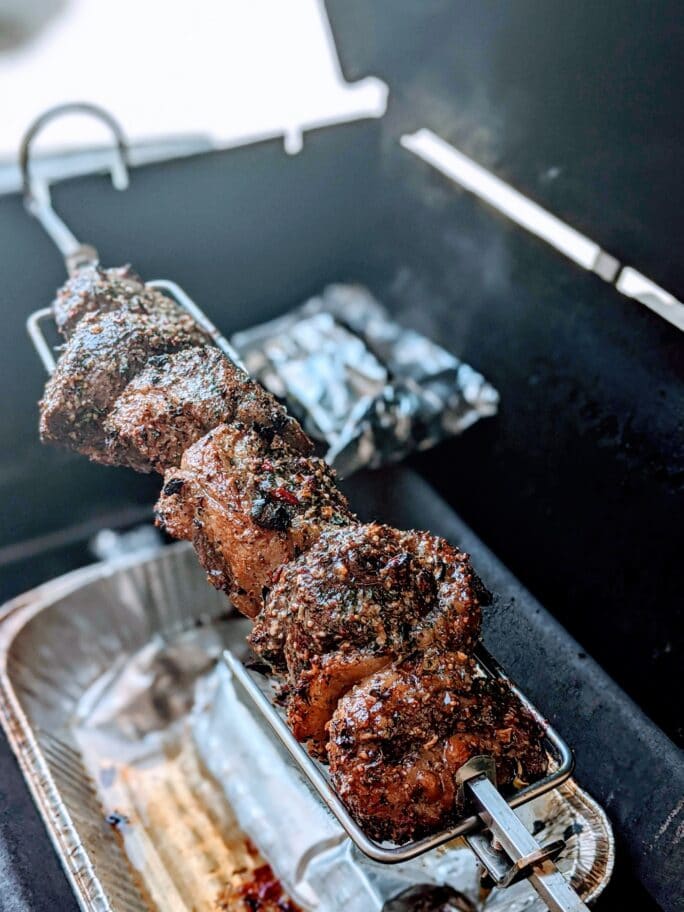 Always allow the meat to rest before slicing – and I get it – this is the hardest part. But trust me, let this one rest. Resting helps the juices to settle back in after their whirlwind ride on the rotisserie and will keep every slice juicy.
When you are ready to slice, wear a cutting clove, as once you have removed the beef from the spit, you want to stand it up, so that 'C' is now sideways, and slice through the fat downward. Since it's a buttery masterfully executed roast, it can get tricky to hang on to it, hence the glove. Safety first mates. Don't say I don't love ya.
Lastly, serve this cut with chimichurri. It's not an option. The herbaceous oil melts over the beef coating it in another layer of delightful flavors and adds so much to every bite. Plus, homemade cilantro chimichurri takes like 5 minutes from start to finish, so it will help you wisely spend your time as the meat takes it's needed siesta before it's served.
(Bonus, the sauce can be used on other dishes too – like these burgers, this fit power bowl, meatballs or a favorite Whole30 steak recipe of mine ).
Serve rice and beans alongside or fried potatoes. Sliced tomato salads, homemade guac, and fresh warm tortillas are also crucial to rounding out the meal. Personally, we like cutting the tortillas into wedges and frying them with a pinch of salt if we aren't going to be using the them to scoop up delicious meat.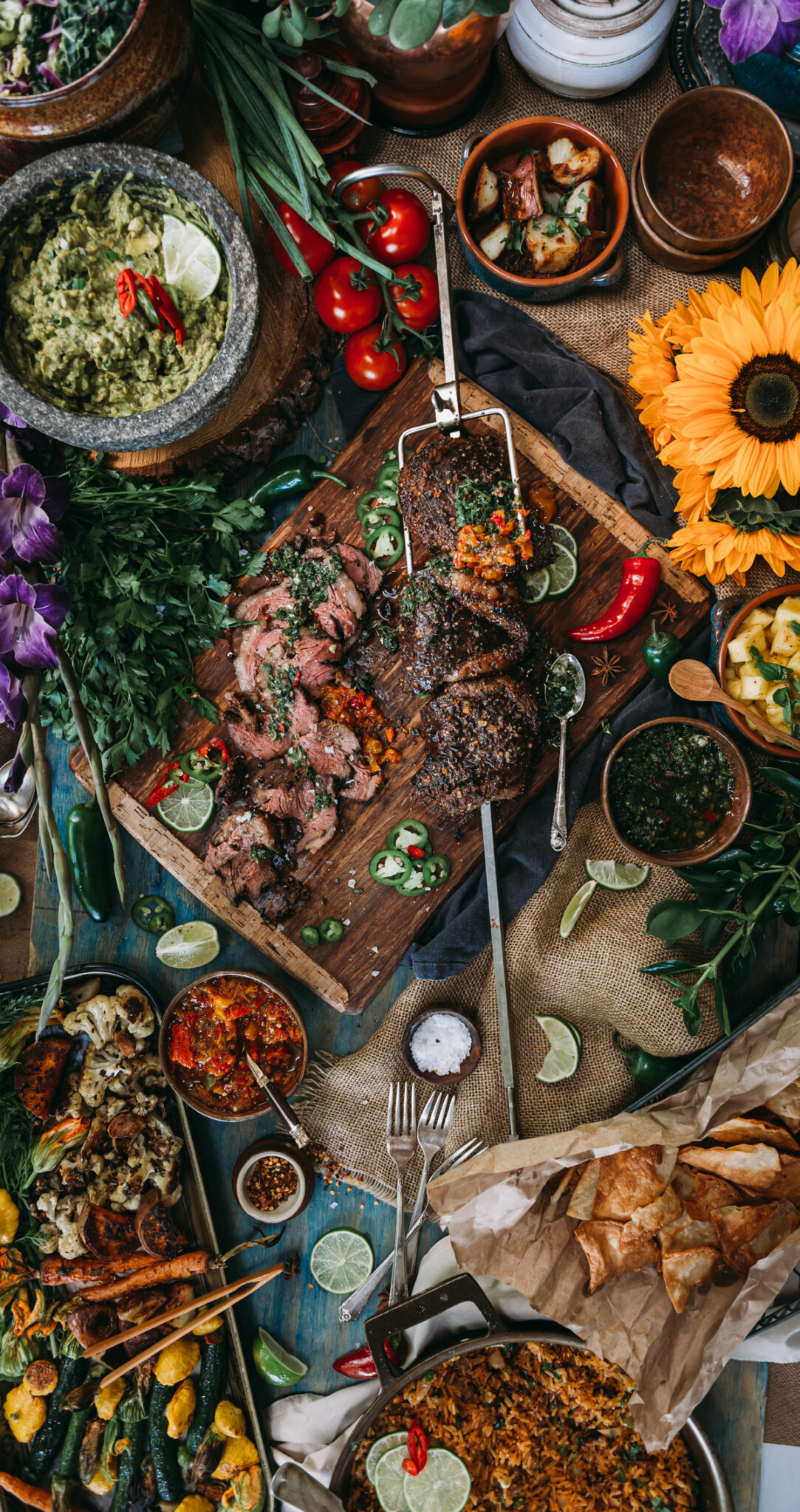 Rotisserie Grilled Picanha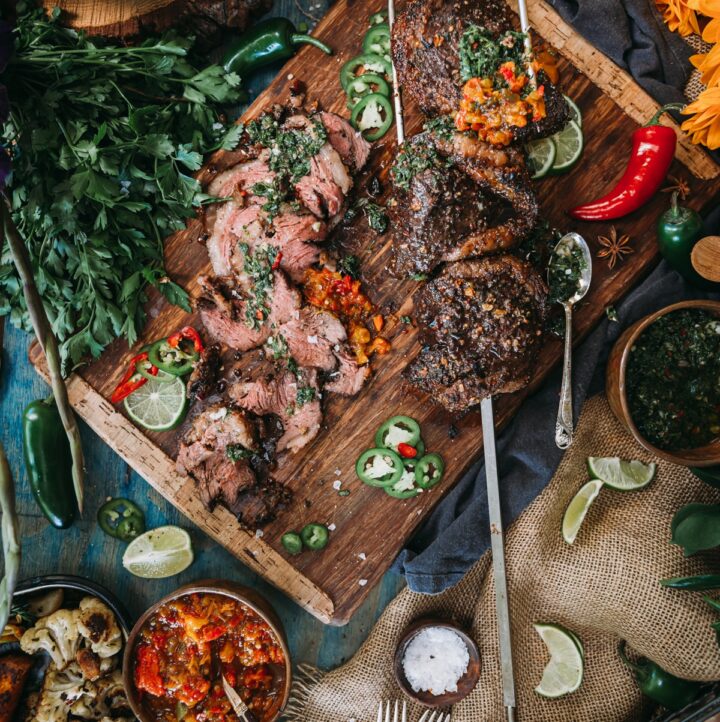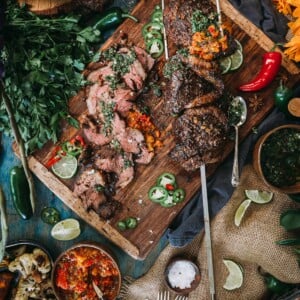 This Brazilian inspired steak house feast is spit-roasted over a gas grill for even cooking and perfectly tender slices made to be basted in a fresh chimichurri sauce. So simple, and yet so incredibly good.
Recommended Equipment
Gas Grill

Rotisserie, always use the rotisserie made to fit your grill.
Ingredients
For the Picanha
3.5 to 5

lbs

top sirloin with fat cap on

known as picaña

1

tbsp

olive oil

1

tbsp

salt

1

tbsp

steak seasoning

2 to 4

tbsp

Gaucho Steakhouse Rub

see note*
For the Chimichurri
1

shallot

6

garlic cloves

1

frenso chili

stemmed and seeds discarded

½

cup

fresh parsley

stems removed

¼

cup

cilantro

1 – 2

tbsp

fresh oregano

see note*

3

tbsp

red wine vinegar

1

tsp

salt

1/2

cup

canola oil

¼

extra virgin olive oil
Instructions
Prep the Picanha:
Remove the beef from the package and pat dry.

On a clean work surface, using a sharp knife, skewer the fat cap by making long shallow slices through the fat. Create a diamond pattern, running the knife one diagonal direction from side to side and then repeating with an opposite stroke.

Season liberally with salt, rubbing into the slices you just made.

Slice the meat into 4 to 5 long evenly weighed strips, starting with the thickest side and working to the triangular point.

Rub the meat with the oil and sprinkle with the steak seasoning and Gaucho Steakhouse Rub, making sure to coat all sides.

Carefully, skewer the meat, folding it into a 'C' shape while threading it on the spit, from the bottom fold to the top.

Repeat with all of the slices.
Prep the Grill:
Set up your grill for rotisserie operation according to the manufacturers instructions.

Add a pan under where the meat will be to catch any drippings.

Add a ½ cup water to the pan.

Preheat the grill to 325 to 350 degrees.

If using, place wood chip packet on burner while grill is preheating 5 to 10 minutes so they will start smoking when you put the meat on.
Grill the Meat:
Place the spit into the motor and turn it on.

Close the lid and allow the meat to cook 20-25 minutes.

Turn off the motor and temp the meat. Pull the meat from the grill at 130 degrees for medium-rare, with a rare center.

While remaining on the spit, allow the meat to rest, covered, for 10 minutes.
Make the Chimichurri:
In the bowl of your food processor, pulse the shallot, garlic, and chili until they are chunked.

Add the parsley, cilantro, and, if using, the oregano and pulse a few times to mince.

Add the red wine vinegar and salt.

Pulse again, trying not to create too fine a mince. Chimichurri is best a little chunky.

Remove the processor from the motor and scrape into a bowl.

Whisk in the canola and olive oil.

Season with additional salt as desired.

Set aside until ready to serve.
Serve:
To serve, carefully remove one steak from the skewer at a time and while using a protective glove, hold the portions with the fat cap facing up. (This means the 'C' shape is on it's side)

Slice the beef from the fat down, into thin strips.

Serve hot with chimichurri spooned over top to enjoy.
Notes
Gaucho Steakhouse Rub: If you don't have the gaucho steakhouse seasoning, whisk a blend of bulky dried parsley, coarse sea salt, garlic flakes, onion powder, dried pepper flakes, and add a splash of lemon juice to your oil rub.
Fresh Oregano: if you don't have the oregano on hand, just omit.
Chimichurri: can be made a day ahead and stored in an airtight container in the fridge for up to 3 days. I occasionally add a splash of fresh oil to the container if needed. Remove from the fridge 30 minutes before using. Check out our cilantro chimichurri recipe that we make weekly to have on hand.
Leftover Meat: Store the leftover meat, wrapped in foil, in the fridge for up to 3 days.  Avoid slicing beforehand. Slice as needed to make steak sandwiches, taco filling, or just sliced beef to enjoy. Reheat in hot skillet quickly or microwave. 
Nutrition
Serving:
1
g
|
Calories:
411
kcal
|
Carbohydrates:
4
g
|
Protein:
45
g
|
Fat:
23
g
|
Saturated Fat:
4
g
|
Cholesterol:
117
mg
|
Sodium:
1279
mg
|
Potassium:
797
mg
|
Fiber:
1
g
|
Sugar:
1
g
|
Vitamin A:
475
IU
|
Vitamin C:
14
mg
|
Calcium:
98
mg
|
Iron:
5
mg