Velvety smooth crab imperial has always been a classic – and for good reason. But can it be smoked for a bonus layer of umami flavor and still hold it's own? Turns out yes. And it goes perfectly slathered over a smoked beef tenderloin.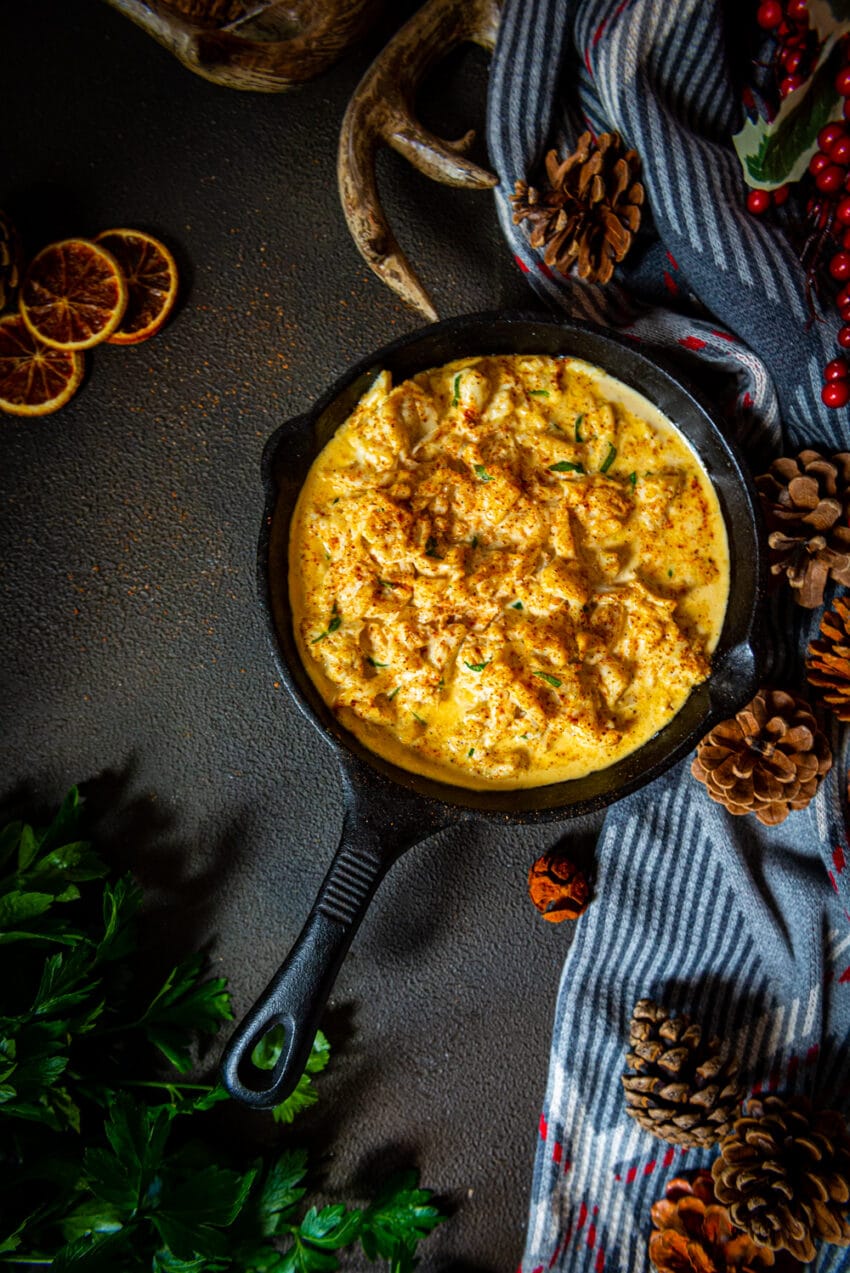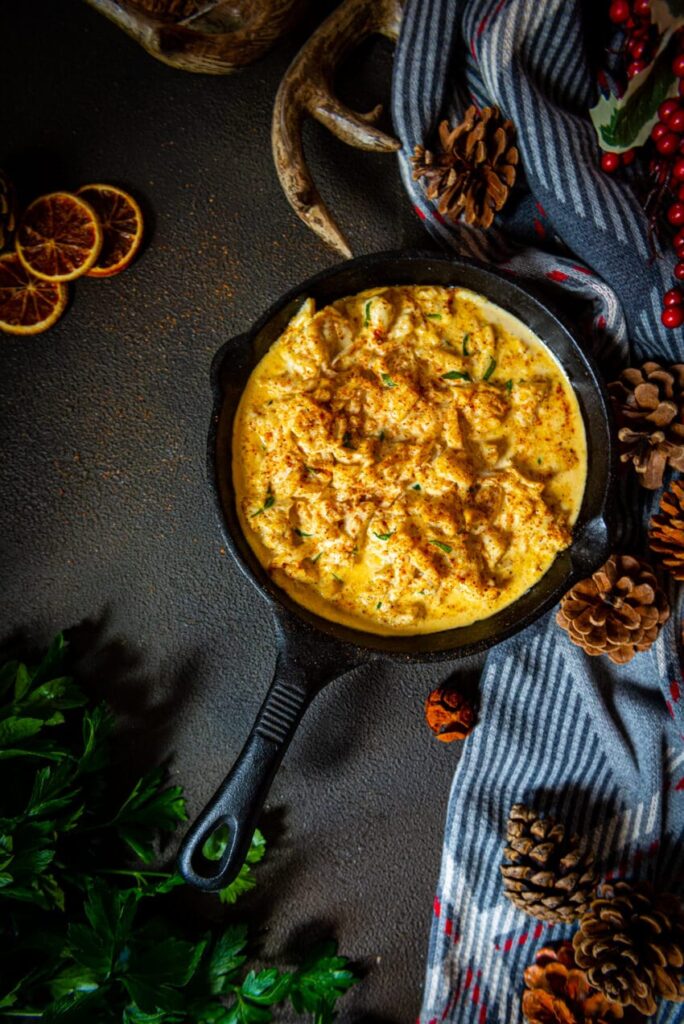 Crab imperial is one of those dishes that is pure heavenly sin. It's light and silky, loaded with luscious sweet lump crab and spiced with rich creamy flavor.
If you have ever tried it, you knew what true love was at first bite. Served over steak, chicken or even just a plain cracker, it is a truly wonderful dish.
This recipe was smoked in a cast-iron skillet to add one more soft flavor component. It's shockingly easy to make and will be your go-to crowd pleasure for the holidays from now on. (Or 'tween you and me, a great recipe to make just for yourself, cuz you're worth it).
This recipe is easy to prep ahead of time if you are hosting company. It can be stored in the fridge for 24 hours and then heated up right before everyone arrives. And it's totally one that looks amazing right from the skillet with a simple serving spoon.
Because it is one of those rich lick the skillet clean sort of dishes, I only make it very very rarely, but when I do it goes quick and is worth every single calory.
What you Need: 
Crab imperial sounds fancy. But for reals, it's a few quick ingredients all whipped up in a bowl before finishing it off in the smoker.
Once you have shopped for your crab meat, the rest should be pantry staples.
Mayo, ground mustard, butter, lemon juice, Tony Chachere's BOLD blend, minced onion, and Worcestershire sauce are all this recipe needs. It really is kind of magic how simple it is to make.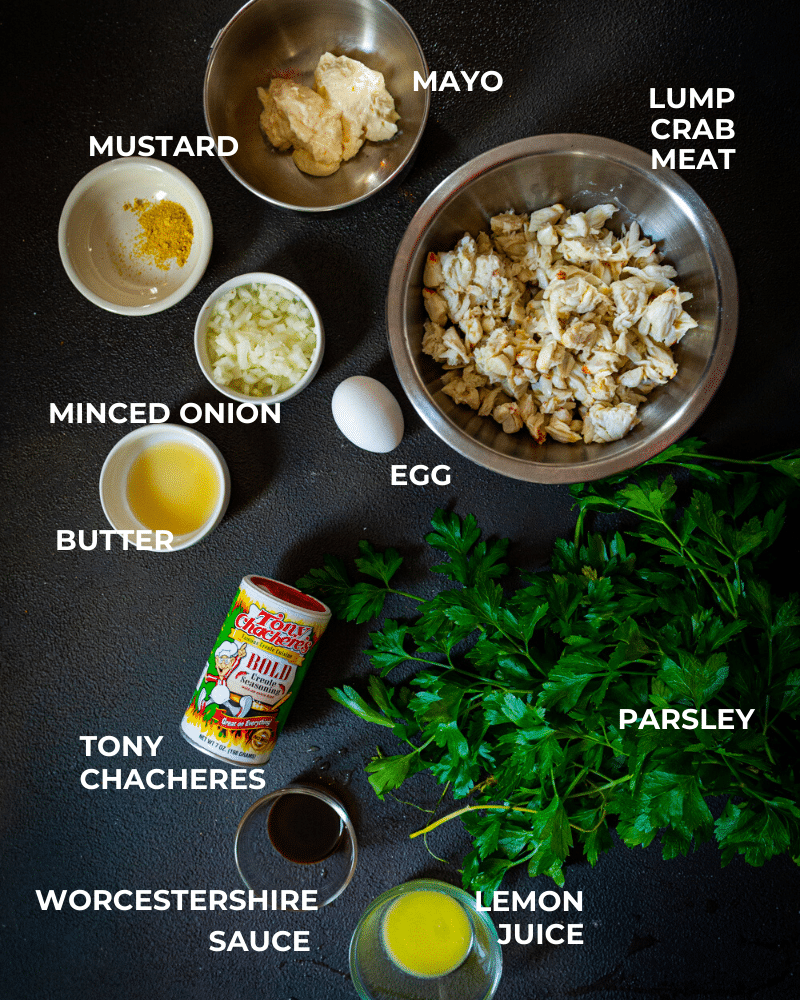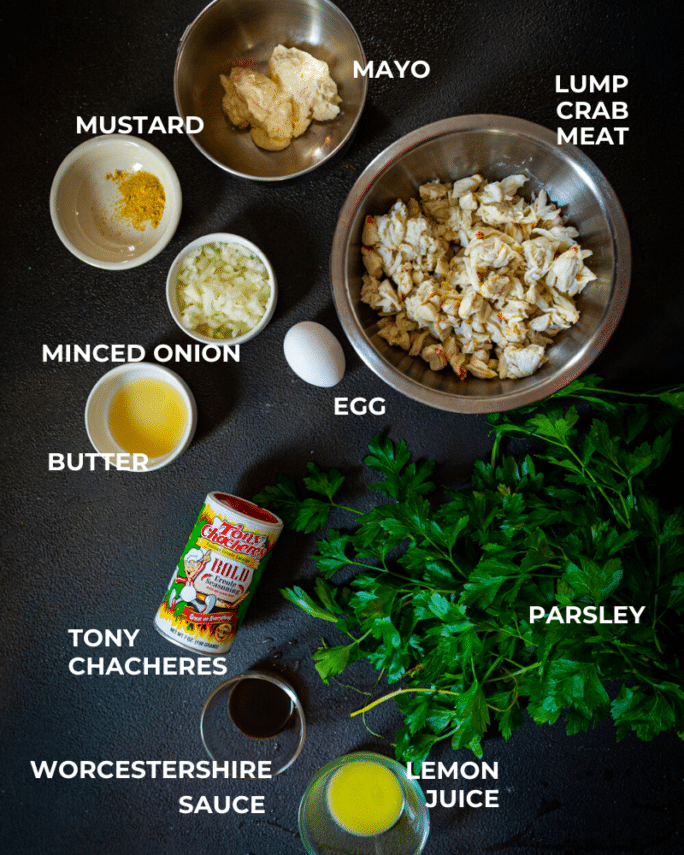 Where to buy lump crab meat?
You can find high-quality lump crab meat at your local fish market. If you have a fish market nearby, call and ask is they carry it, and if not, would they order you some. Make sure to ask how much they are charging per pound so you know what you are getting into. This can run from $20 to $25 a pound at times.
Most bigger markets also have some in the seafood department. Look for 'Lump Crab' on the label. You will want big chunks from the claw for this recipe.
I love real Maryland blues, personally and have been known to pick blue crabs it myself and freeze it in large batches when in season so I can have it all year long.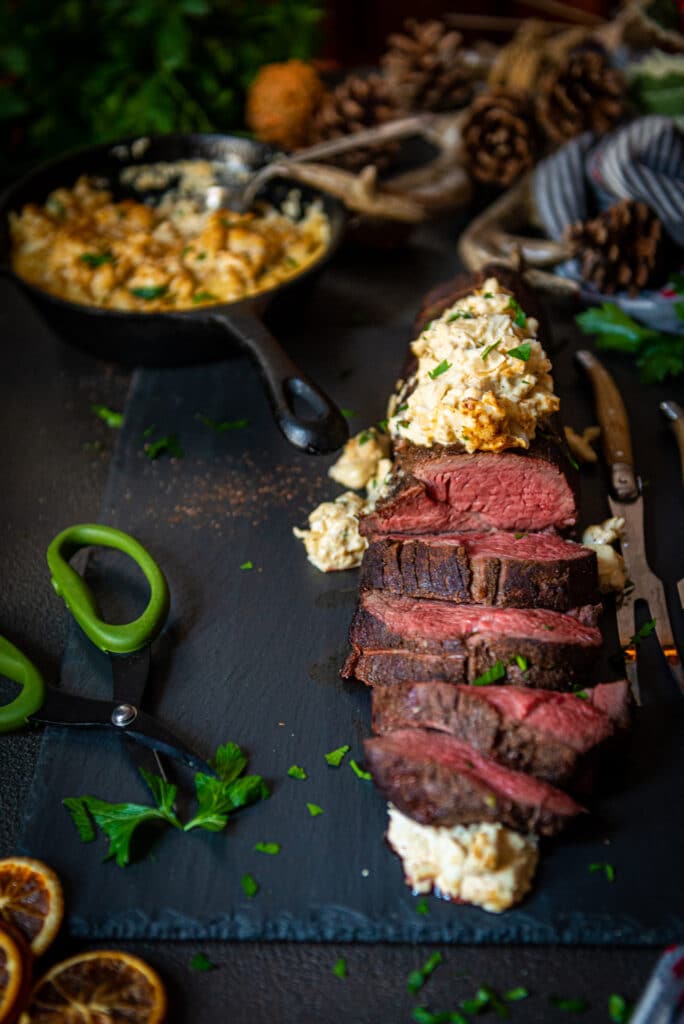 How to make Smoked Crab Imperial 
Make sure you are working with a bowl bigger than you think you need. You will be mixing mayo with the ingredients and then gently folding the crab in. You don't want to mix this too hard, or the delicate meat will fall apart.
Having a bigger bowl will allow you to fold everything without having to push it around too harshly. We're going for tender loving here. Mainly so we have big flavorful bites later. Trust me on this one.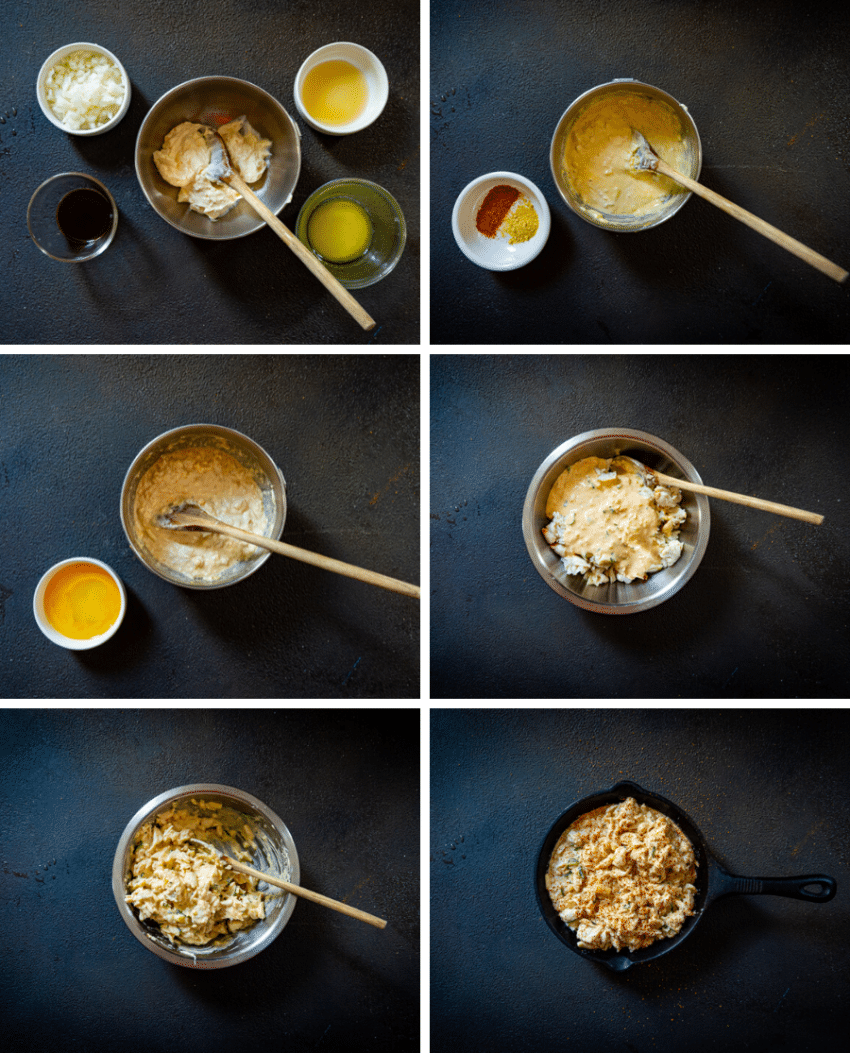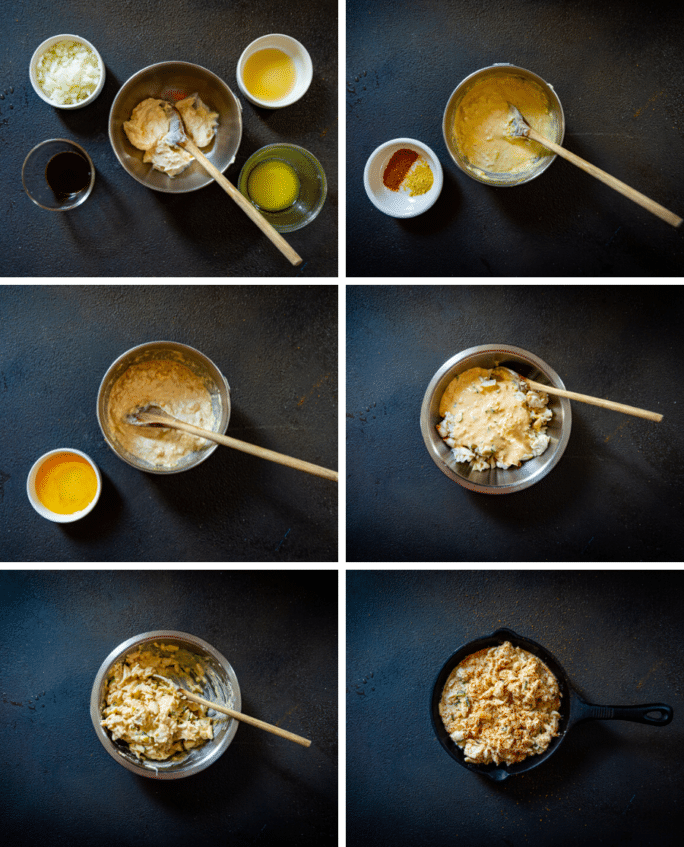 Once everything has been evenly folded to evenly coat, you will transfer it to a fire safe skillet, cast iron is your best bet here. Instead of traditionally baking this, with a buttery bread topping, place it on a smoker with good kiln-dried wood chunks (I proudly partner with and use Western wood chunks for all my smoking and LOVE the flavor I get from the smoke). This adds an unexpected flavor, soft but there as the dish comes to a bubbling finish in under an hour over the coals. Everyone will be raving about this!
What to serve with crab imperial?
Perfect with a spoon over crackers, this is great as a stand-alone appetizer. Personally I like a cracker with a good snap, like one hearty with grains and seeds.
However, this really shines when paired with another protein. It goes amazing over spooned over chicken or, my personal favorite, beef tenderloin to create an over the top at-home fine dining experience.
Serve with fresh asparagus or green beans, and roasted potatoes on the side.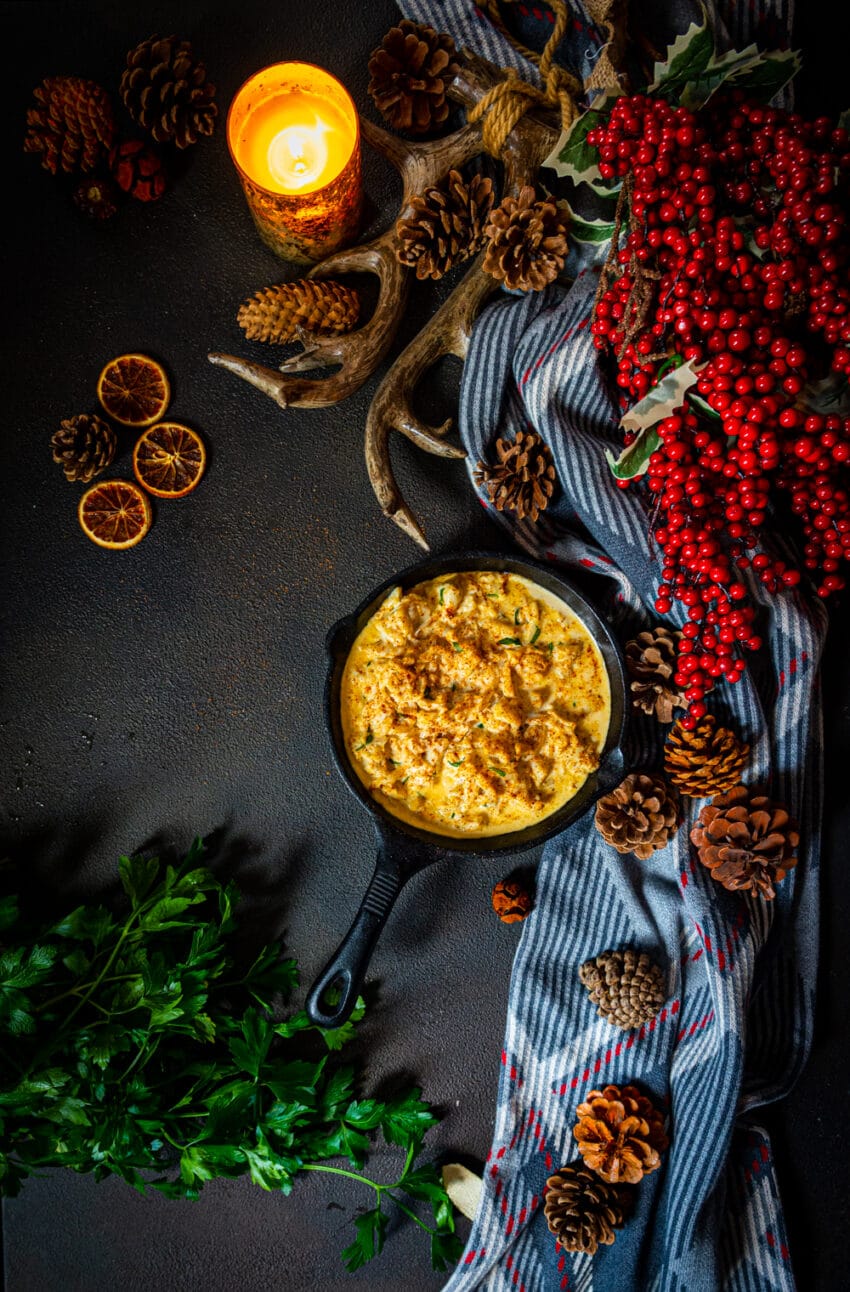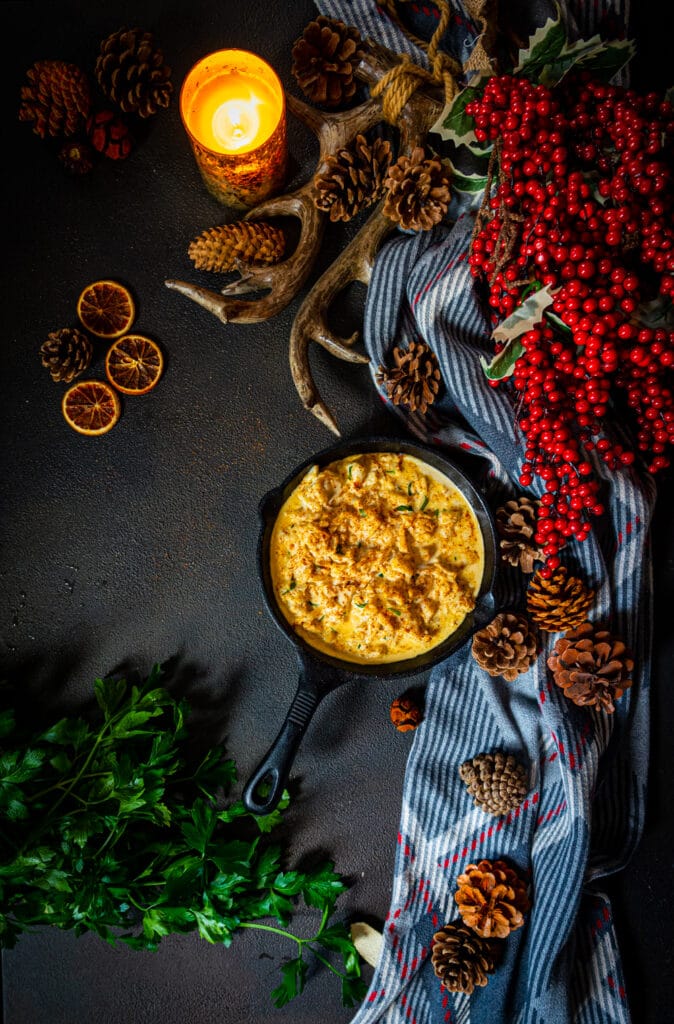 Looking for more show-stopping seafood recipes? Try some of my favorites!
If you've tried my Smoked Crab Imperial Recipe or any other recipe on GirlCarnivore.com please don't forget to rate the recipe and let me know where you found it in the comments below.
I get inspired by your feedback and comments! You can also join in on the adventures on Instagram @girlcarnivore, Twitter & Facebook.
Smoked Crab Imperial
This is an amazing recipe that works well all by itself as a glorious appetizer or it can level up your dinner recipe as an over the top… topping. With a few simple ingredients and fresh crab, the smoker adds an amazing layer of flavor to an already luscious recipe. Hate to say it, but if you make this for friends, you will be asked to make it again and again.
Ingredients
1

lbs

jumbo lump crab

½

cup

Mayo

1

tsp

Worcestershire sauce

1

tbsp

melted butter

1

tsp

Lemon juice

¼

Onion

minced

2

tsp

Tony Chachere's BOLD Seasoning

divided

Mustard

1

Egg

½

tsp

Parsley

minced plus more for garnish
Instructions
Preheat your smoker to 300 degrees.

Place the crab in a large bowl.

Mix the mayo, Worcestershire, butter, and lemon juice in a bowl.

Add the minced onion.

Mix in 1 teaspoon of the Tony Chachere's BOLD blend and the ground mustard to combine.

Mix in the beaten egg to combine and the parsley.

Add the mayo mixture to the bowl with the crab, folding gently to not break up the crab meat.

Gently spoon into a small 6" cast iron skillet.

When ready to smoke, add the wood chunks to the embers and place the skillet over a grate at least 10" from any flames.

Cover the smoker and cook for 30 to 40 minutes until the crab imperial is golden and bubbling.

Carefully, with heat resistant gloves, remove the skillet from the fire and allow to cool for 5 minutes.

Garnish with the remaining Creole seasoning and minced parsley or chives.

Spoon over beef tenderloin or serve as an appetizer.
Notes
When using any crab meat, you want to quickly look it over for shells. Hard to spot, but there is often one or two that has slipped through that can be pulled out before you mix the crab with anything else. 
If you are using crab meat packed in a container, make sure to drain it of any liquid before you start this recipe. 
Crab meat is one of the few ingredients where I will really splurge. I want to make sure that its top quality lump crab claw and will often look for region. It costs more than canned crab I will ues for other recipes but it's worth every penny for the once a year recipe. 
Nutrition
Nutrition Facts
Smoked Crab Imperial
Amount Per Serving (1 g)
Calories 166
Calories from Fat 117
% Daily Value*
Fat 13g20%
Cholesterol 54mg18%
Sodium 591mg26%
Potassium 139mg4%
Carbohydrates 1g0%
Protein 11g22%
Vitamin A 200IU4%
Vitamin C 5mg6%
Calcium 29mg3%
Iron 1mg6%
* Percent Daily Values are based on a 2000 calorie diet.