This Smoked Crab Imperial is my favorite recipe for a delicious side dish or entree! Delicate pieces of jumbo lump crab are folded into a rich, creamy imperial sauce, then smoked for a bonus layer of umami flavor.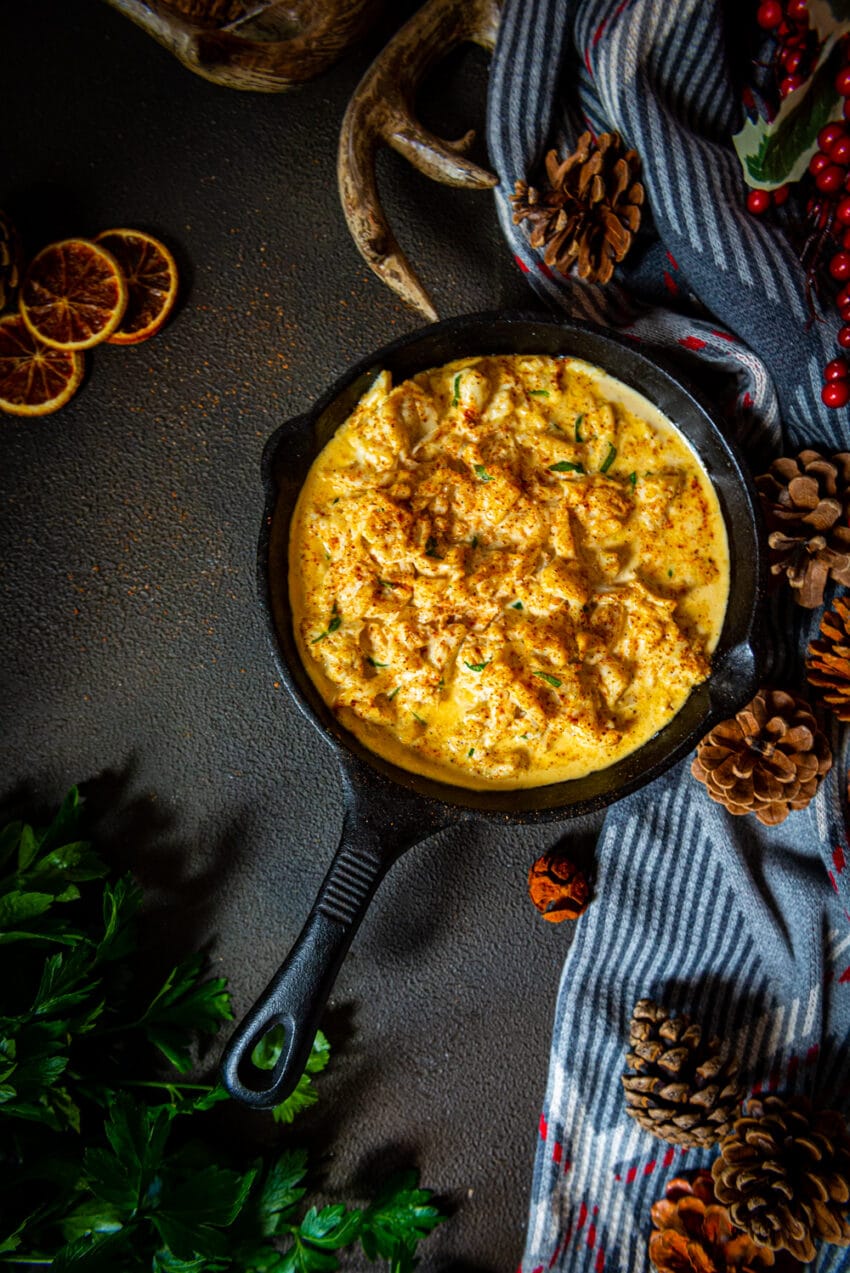 With "imperial" in the name, you have to assume that some sort of royalty is involved…or at least some very important diplomat. Turns out, crab imperial sounds, looks, and tastes fancy, particularly when paired with a smoked beef tenderloin…
It's a classic American dish from the Eastern Shore of Maryland with just a few simple ingredients all whipped up in a bowl and baked that's an incredibly easy recipe to make!
Instead of a traditional baked crab imperial recipe, we're cooking this crab imperial on a smoker with good kiln-dried wood chunks.
This adds an unexpected smoky flavor to the classic dish that's just subtle enough not to overtake the dish but notable enough to have everyone raving about how it's absolutely delicious and the best crab imperial recipe they've tasted!
What is crab imperial?
Crab Imperial is a hot crab dip made up of lump crabmeat folded into a rich and creamy imperial sauce which, at its simplest, is a mixture of mayo, egg, and seasonings. It's the ultimate creamy luxury as an ambed up version of a traditional deviled crab.
It's a rich, indulgent, and incredibly easy crab recipe! And, this smoked version is the best crab imperial for special occasions, holiday dinners, and pairs with any holiday feast!
What is the difference between crab cake and crab imperial?
Although crab cake and imperial are similar in a lot of ingredients, they are totally different!
Crab imperial is creamier, has less structure, where the crab mixture is baked in a casserole dish. Maryland Crab cakes have a filler such as bread crumbs to give them more structure so they can be baked into "cakes". Besides the crab flavor, they are totally different.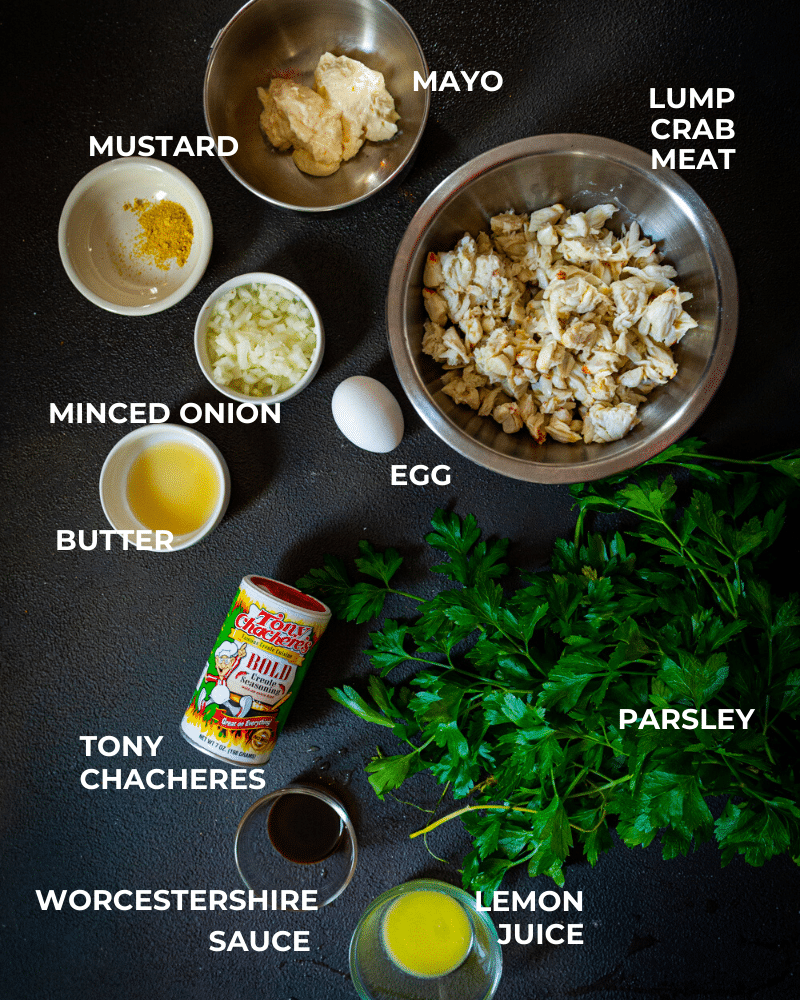 What you need to make this recipe
Once you have your crab meat, the rest of this great recipe is made up of pantry staples!
Jumbo Lump Crabmeat– you can also use regular lump crab or backfin crab meat, but we recommend the meat from blue crabs for the best taste of the crab. Check the refrigerated meat and seafood area of your local market, or even Costco occasionally stocks tins of it. Make sure to pick your crabmeat over for small shells.
Mayo – the base of the classic, creamy imperial sauce. You can use whatever variety of mayo you like.
Worcestershire Sauce – adds a salty tang that helps offset the creaminess of the sauce.
Melted Butter – provides a rich flavor depth. Always use unsalted butter.
Fresh Lemon Juice – adds brightness to contrast the rich, buttery flavor of the sauce.
Onion – be sure to mince the onion pretty small so the flavor doesn't overtake the crab.
Seasoning – I use Tony Chachere's BOLD Seasoning to give the imperial a smoky, spicy kick. Zatarain's Creole seasoning or Old Bay seafood seasoning will work as well.
Mustard – you can use regular mustard or Dijon mustard for a spicier kick. For this recipe, we used ground mustard / dry mustard powder.
Egg – binds everything together, so the crab imperial becomes more of a casserole texture.
Parsley – or chives for garnish!
How to make smoked crab imperial recipe
Place the crab in a large bowl and preheat your smoker to 300 degrees F.
In a separate small bowl, mix together mayo, Worcestershire, butter, and lemon juice. Add the onion, seasoning, and ground mustard and toss to combine. Mix in the egg and parsley and mix.
Add the mayo mixture to the bowl with the crab and fold gently. The idea here, is to not break apart the crab meat. Spoon the imperial mixture into a small cast-iron skillet, baking dish, or individual ramekins for smaller portions.
When you're ready to smoke, add the wood chunks to the embers and place the skillet over a grate at least 10" from the flames. Make sure you wait for the smoke to burn clean before
Cover and cook for 30-40 minutes or until golden brown on top and bubbling. Remove from the heat and cool for 5 minutes.
Serve garnished with additional Creole seasoning or Old Bay seasoning and minced parsley or chives.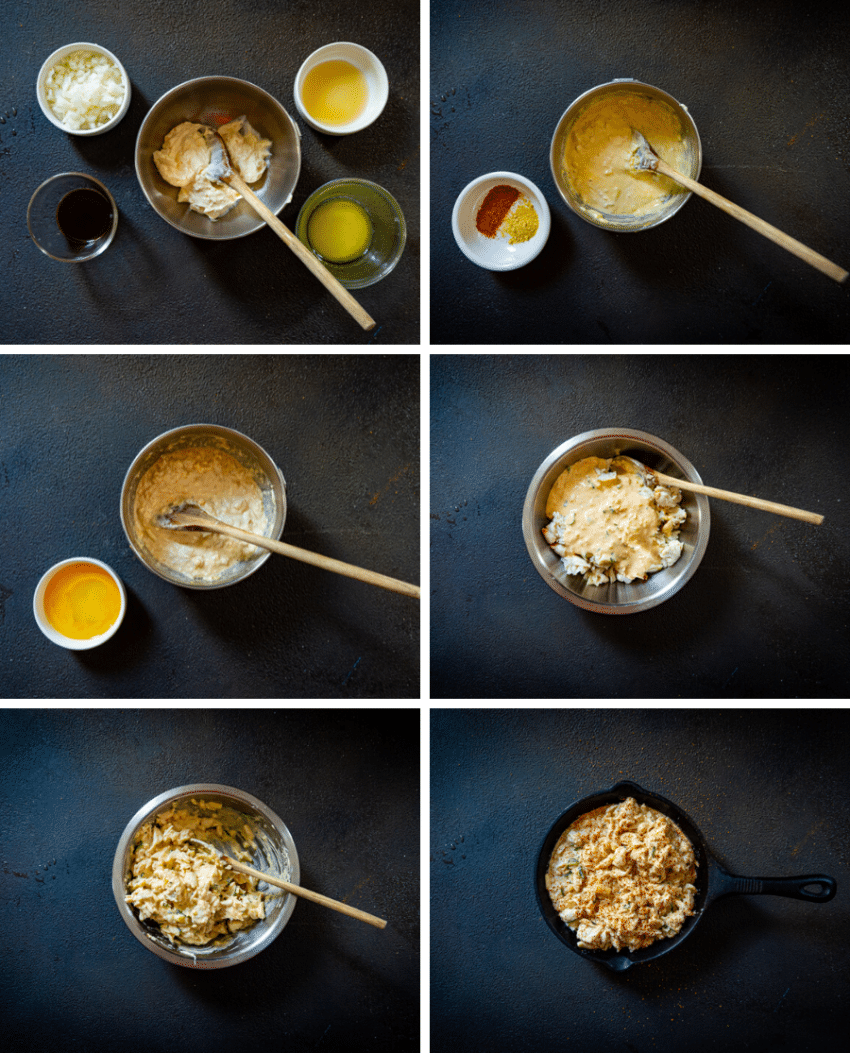 FAQs
What type of crabmeat to use for crab imperial?
I use jumbo lump crab meat which comes from the body of the crab and features big chunks of meat. Lump meat is the most expensive crab to use, but it's totally worth the investment. Since crab is the focus of this recipe, you want the best stuff you can get!

If you don't want to use jumbo lump crab, you can use regular lump crab or backfin crab instead. You can also swap the crab out entirely and use lobster if preferred!
Where to buy lump crab meat?
You can find high-quality lump crab meat at your local fish market or in the seafood department at most bigger markets. Look for "Lump Crab" on the label. You'll want big chunks from the body for this recipe! I personally love real east coast Maryland Blue crabs for their sweet flavor.

If you have a fish market nearby, I recommend calling and asking if they carry it. If they do, great! If they don't, you might be able to have them order you some. Make sure you check how much they are charging per pound so you know what you're getting into. Lump crab meat can cost up to $20-$25 per pound.
Can you use imitation crab meat?
No! Crab is the main ingredient for this recipe, and you can really taste the crab. Immitation just won't cut it here, and I highly recommend using the real blue crab meat for the best flavor and texture.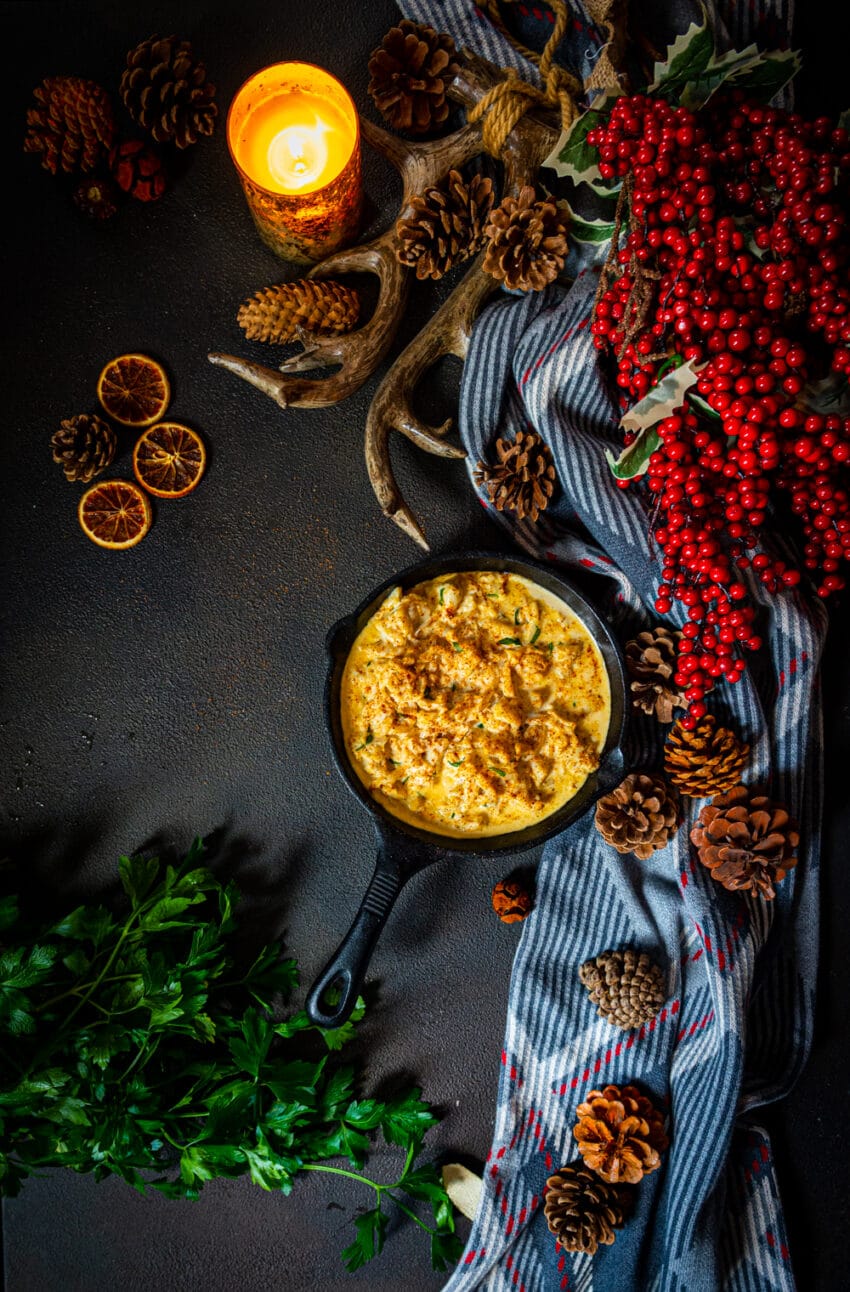 Tips, tricks, and notes for this recipe
Buy quality crab. Trust me. It's worth the investment. If you aren't on the eastern shore, look in Costco for Phillips Crab Meat Brand, as they have great quality.
Check for shells. Anytime you're using crab meat, give it a quick once-over to check for shells. There is often one or two that have slipped through.
Use a big bowl. You will be mixing the sauce then adding the crab to that. You want enough space to mix!
Mix gently. Crab meat is pretty delicate. As you're folding the meat into the sauce, be gentle so you don't break it apart.
Don't over-cook. Once the crab imperial is golden and dubbing, take out right away. Overcooked crab can be dry. Plus, since the crab comes already fully cooked, you're essentially just warming it up.
If you're using crab meat packed in a container or tin, make sure you drain any liquid before you start this recipe.
Serving suggestions
This crab imperial recipe makes a delicious and decadent appetizer served on baguette slices or with crackers.
It also really shines when paired with another protein as a main course! It's amazing spooned over chicken, stuffed in omelets, or, my personal favorite, layered on top of a medium-rare smoked beef tenderloin to create an over-the-top, at-home, fine dining experience.
Serve that with fresh asparagus, green beans, and roasted potatoes on the side and dry white wine.
How to store
Leftover smoked crab imperial recipe will last in the refrigerator in an airtight container for 1-2 days. To reheat, warm in the oven at 350ºF for 10-15 minutes or until heated through.
I don't recommend freezing crab imperial because the creamy sauce will separate and become watery when thawed.
More seafood recipes you'll love
If you've tried my Smoked Crab Imperial Recipe or any other recipe on GirlCarnivore.com please don't forget to rate the recipe and let me know where you found it in the comments below.
I get inspired by your feedback and comments! You can also join in on the adventures on Instagram @girlcarnivore, Twitter & Facebook.
Smoked Crab Imperial Recipe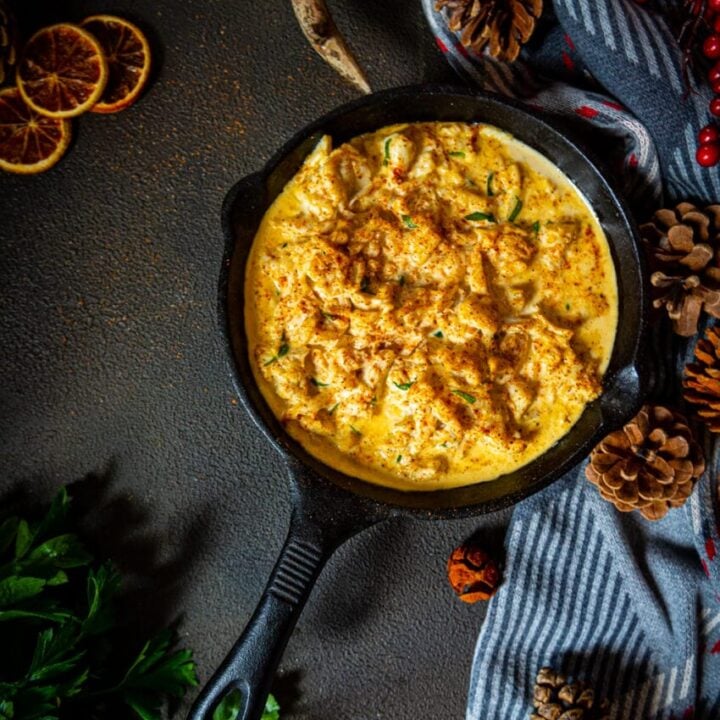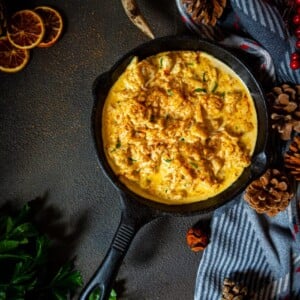 This is an amazing recipe that works well all by itself as a glorious appetizer or paired with a main course. With a few simple ingredients and fresh crab, the smoker adds an amazing layer of flavor to an already luscious recipe.
Ingredients
1

lbs

jumbo lump crab

½

cup

Mayo

1

tsp

Worcestershire sauce

1

tbsp

melted butter

1

tsp

Lemon juice

¼

Onion

minced

2

tsp

Tony Chachere's BOLD Seasoning

divided

1/2

tsp

Ground mustard

1

Egg

½

tsp

Parsley

minced plus more for garnish
Instructions
Preheat your smoker to 300 degrees.

Place the crab in a large bowl.

Mix the mayo, Worcestershire, butter, and lemon juice in a bowl.

Add the minced onion.

Mix in 1 teaspoon of the Tony Chachere's BOLD blend and the ground mustard to combine.

Mix in the beaten egg to combine and the parsley.

Add the mayo mixture to the bowl with the crab, folding gently to not break up the crab meat.

Gently spoon into a small 6" cast iron skillet.

When ready to smoke, add the wood chunks to the embers and place the skillet over a grate at least 10" from any flames.

Cover the smoker and cook for 30 to 40 minutes until the crab imperial is golden and bubbling.

Carefully, with heat resistant gloves, remove the skillet from the fire and allow to cool for 5 minutes.

Garnish with the remaining Creole seasoning and minced parsley or chives.

Spoon over beef tenderloin or serve as an appetizer.
Notes
When using any crab meat, you want to quickly look it over for small shells. Hard to spot, but there is often one or two that slipped through that can be pulled out before you mix the crab with anything else.
If you are using crab meat packed in a container, make sure to drain it of any liquid before you start this recipe.
Crab meat is one of the few ingredients where I will really splurge. I want to make sure that it's top-quality jump lump crab meat. It costs more than canned crab, but it's worth every penny for special occasions.
We used Creole seasoning for this recipe, but for an authentic Maryland crab imperial, use Old Bay.
Nutrition
Serving:
1
g
|
Calories:
166
kcal
|
Carbohydrates:
1
g
|
Protein:
11
g
|
Fat:
13
g
|
Saturated Fat:
3
g
|
Cholesterol:
54
mg
|
Sodium:
591
mg
|
Potassium:
139
mg
|
Fiber:
1
g
|
Sugar:
1
g
|
Vitamin A:
200
IU
|
Vitamin C:
5
mg
|
Calcium:
29
mg
|
Iron:
1
mg