When it comes to value, it's hard to beat chicken quarters. These big cuts of the thigh and drum are just begging for dinner. And this oven-baked chicken quarters recipe is the easiest way to cook them for a juicy, delicious chicken dinner.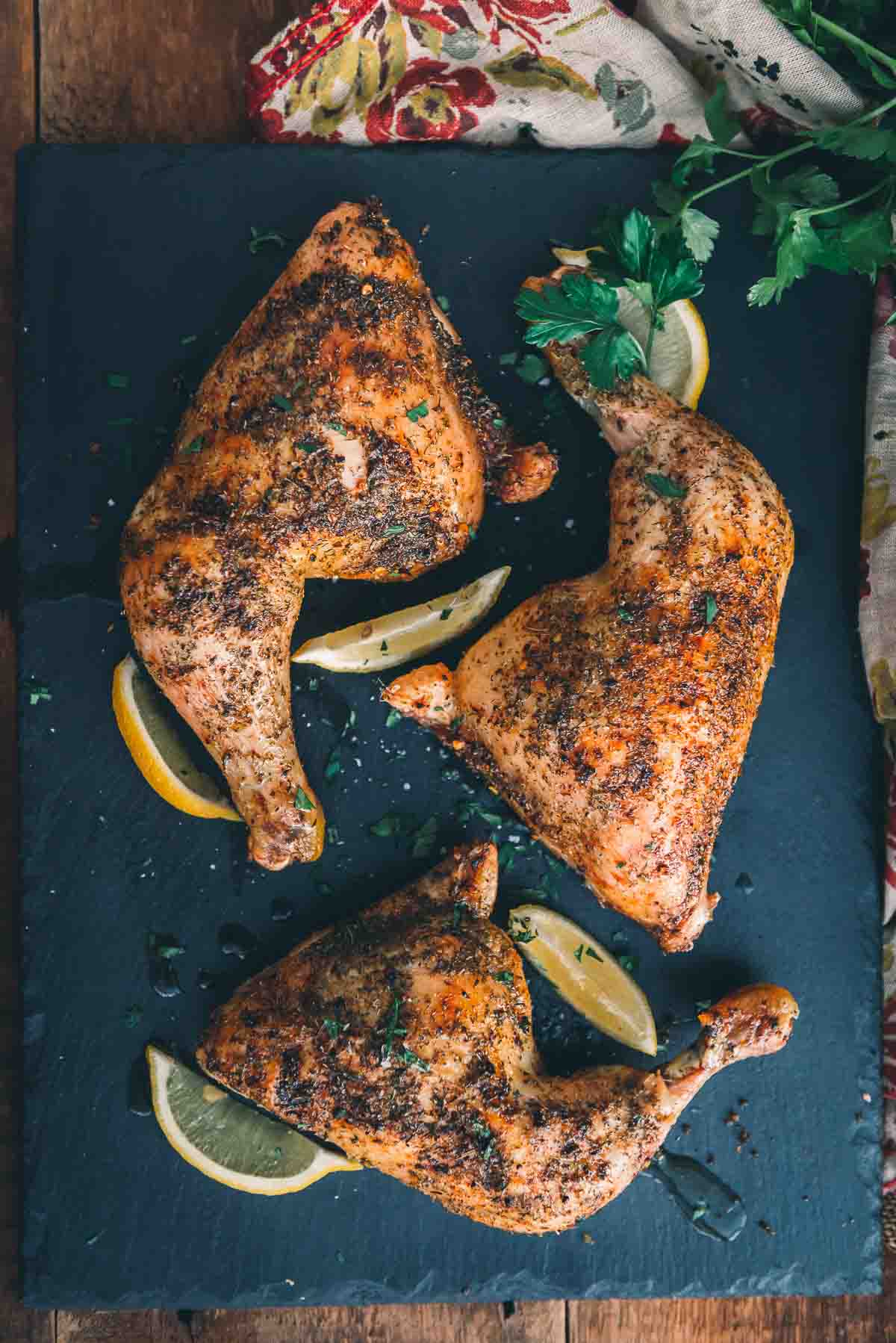 Oven overlooked, chicken quarters are one of our favorite cuts for everything type of cooking. They've got everything we love, tons of dark bone-in juicy meat, skin to fry, and tons of flavor. And so much less expensive than chicken breast. You can break them into drums and thighs to maximize your dollar or bake them whole. Either way, it's time to make this value cut a regular in your rotation of chicken recipes. It's an easy weeknight dinner your whole family will love.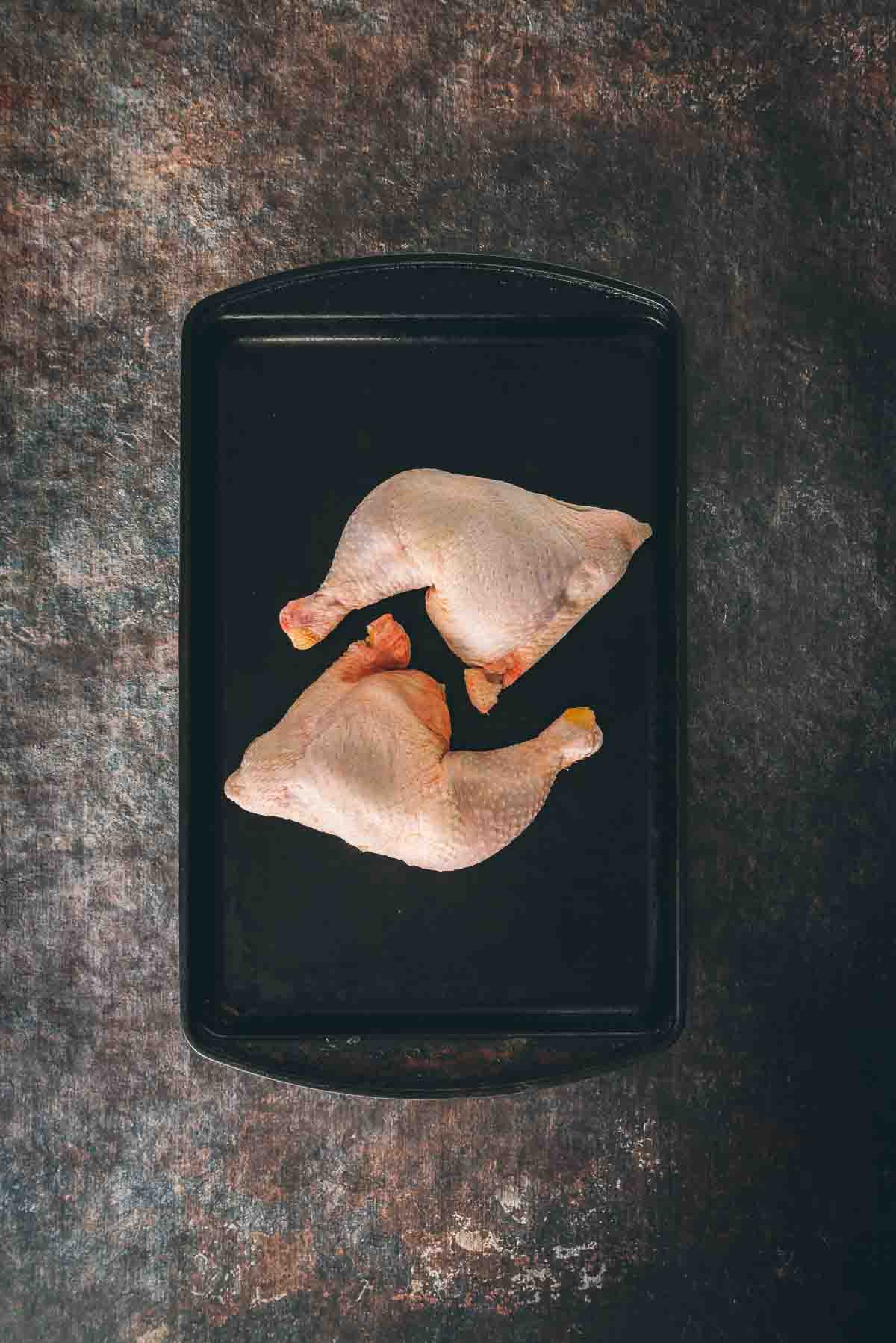 The Cut: Chicken Leg Quarters
These big cuts can be found at most regular grocery stores in the poultry department and wrapped in packs. The meaty cut is a whole chicken leg, a quarter of the whole bird! It's the bone-in leg and thigh still connected; dark meat with more flavor and is less likely to dry out while cooking. Chicken legs also tend to be much cheaper than breasts or wings, making them an excellent buy for anyone looking to maximize flavor for value. When they are on sale, we break these into individual chicken pieces between the thigh and drum; then vacuum seal them to store in the freezer for 3 to 4 months.
Because it's bone-in thigh-drumstick pieces, it packs more flavor and moisture when cooked through, making it one of our go-to cuts for quick meals. Although chicken is a relatively lean protein, dark meat is a bit fatter, making it juicier than white meat. Dark meat gets its color from the red fibers of the working muscles, rich with a little more fat and protein, it does pack a bit more flavor.
Chicken quarters are a great easy recipe oven roasted, but they can also stand up to the higher temperature of the grill and are begging used for delicious smoked chicken quarters. They are an incredibly versatile cut of chicken that takes well to strong barbecue spice blends, lemon marinades, or a buttermilk brine.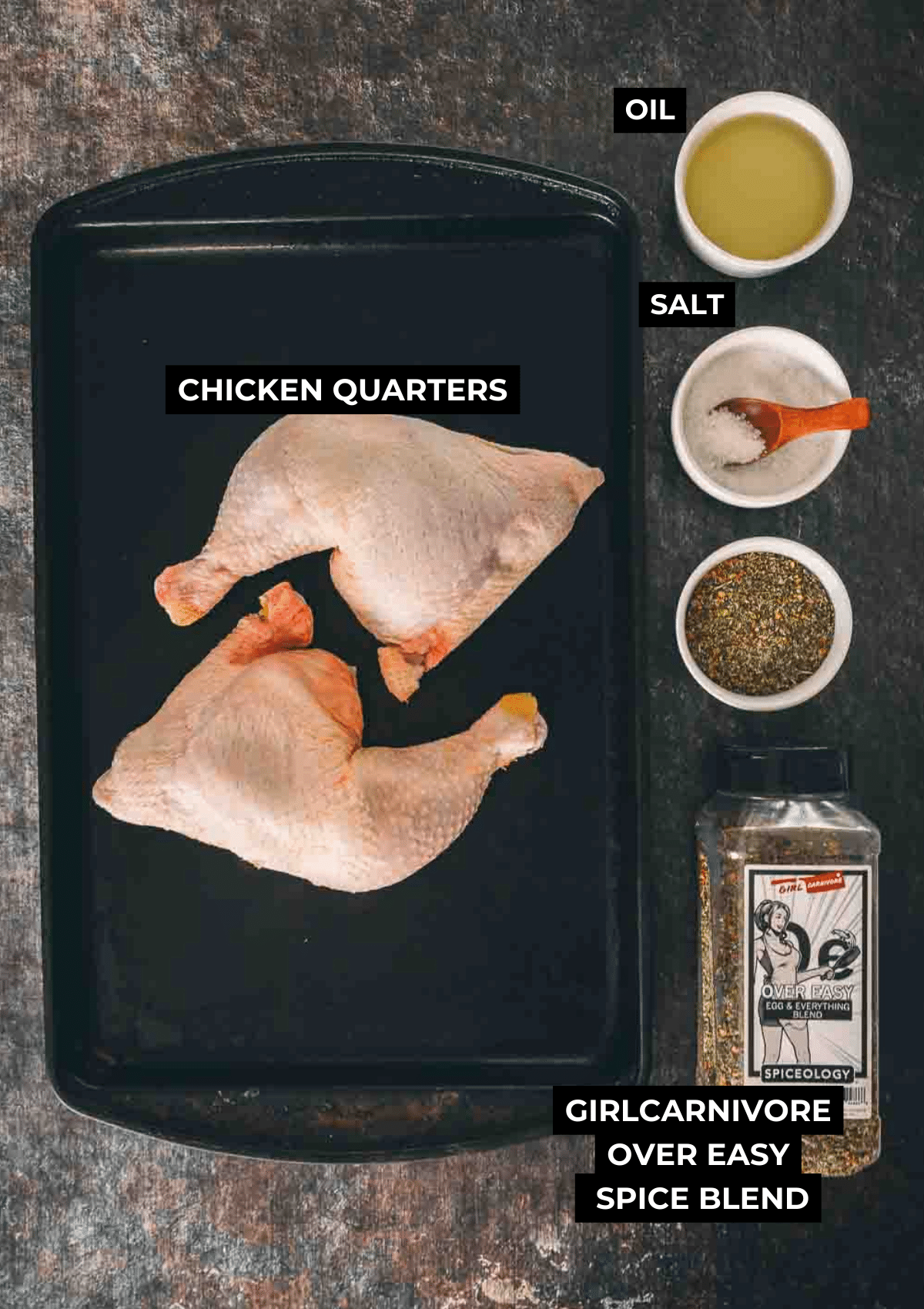 Ingredients:
This recipe uses a few simple ingredients but feel free to swap out the spice blends for your favorite spice mixture.
Bone-in Chicken Leg Quarters – figure 2 people per quarter, as it's both the drumstick and the thigh pieces.
Avocado oil, olive oil, or your favorite neutral cooking oil
Salt – we always use kosher salt when cooking
GirlCarnivore Over Easy Spice blend or whatever your favorite simple seasoning blend.
How to Bake Chicken Quarters
Prep the chicken quarters:
Preheat the oven temperature to 425 degrees F.
Next, remove the chicken quarters from the package and pat them dry with a paper towel.
Arrange the chicken legs on a clean working surface, like a baking dish or sheet pan lined with aluminum foil, and brush the oil over the entire surface. Season both sides liberally with the salt and chicken spice blend and arrange the quarters skin side up in a single layer.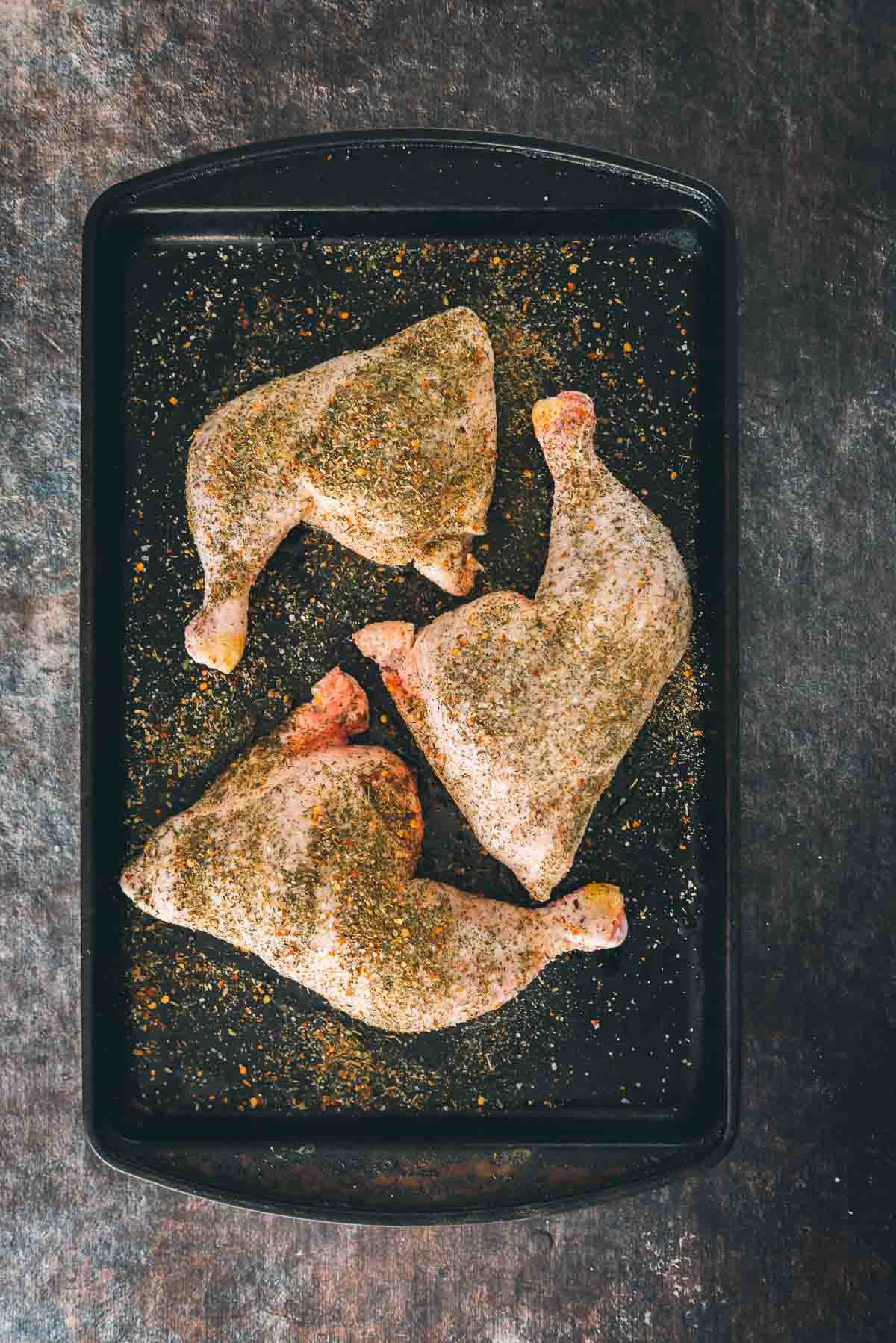 Bake the chicken quarters:
Place the baking sheet in the hot oven and cook the chicken for 45 minutes until the internal temperature of the meat reaches 170 degrees F with a digital meat thermometer.
Carefully remove the crispy baked chicken leg quarters from the oven and let rest for 5 minutes before serving. The chicken's internal temp will continue to rise 5 degrees to 175F as it rests.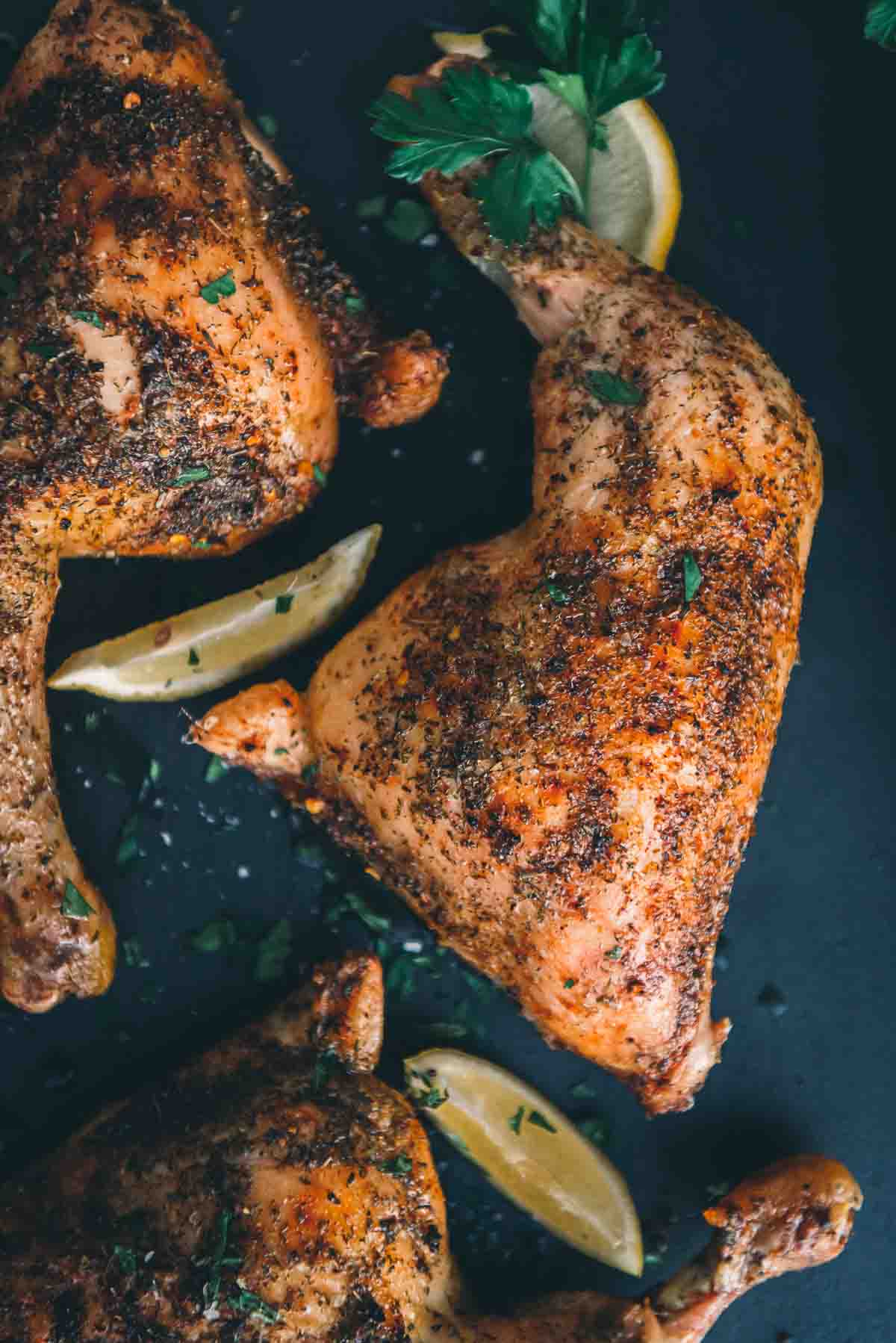 Girl Carnivore Expert Tips
Use a digital meat thermometer when checking the internal temperature of the chicken. Insert it at the thickest part of the thigh, ensuring not to touch bone for the most accurate reading.
Because this cut is so inexpensive, double the batch and have an easy-to-use protein on hand for lunches later in the week.
Recipe FAQs
How to Tell When Chicken Quarters Are Done
According to the USDA, chicken is safe to eat when it reaches an internal temperature of 165F with an instant-read thermometer. However, we like to take our thighs and drums to 175F for a bit more fall-of-the-bone texture and so much flavor.
How to Avoid Overcooking Chicken Quarters
Check the internal temp with a meat thermometer at 40 minutes to guarantee you don't overcook the chicken. Then continue to roast in 5-minute intervals, checking the temp often to avoid overcooking the quarters.
What Pans to Use for Baking Chicken Quarters
We love using heavy-duty cast iron pans for even heat when searing the chicken skin first and then finishing in the oven, like our perfectly pan-seared chicken thighs. But heavy-duty baking sheets with a shallow rim also work. Use oven mitts when transferring to and from the oven to avoid burns.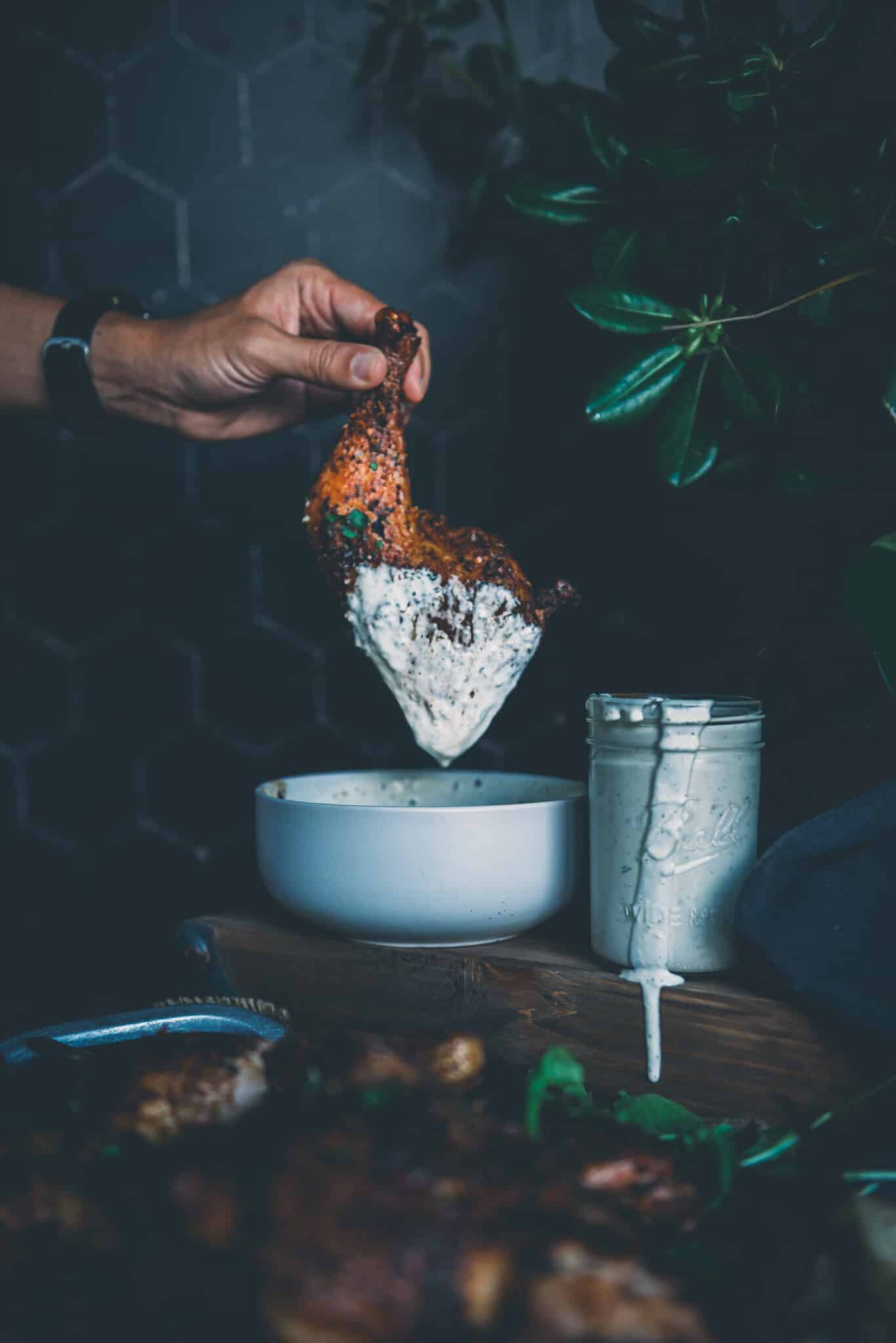 Sauces for baked chicken quarters
We love a good keto BBQ sauce with these on most nights, but sometimes we whip up a fresh jar of Alamba white sauce or homemade chimichurri sauce to really make these baked chicken legs pop with flavor!
What to Serve with Oven-Baked Chicken Quarters
Roast chicken legs is the perfect recipe to pair with many of your favorite side dishes! We love it with creamed spinach, green beans, or pork and beans. Add some smoked brussels sprouts or corn on the cob with a zesty aioli for a finger-licking complete meal. Homemade mashed potatoes or smoked mac and cheese are also great side dishes.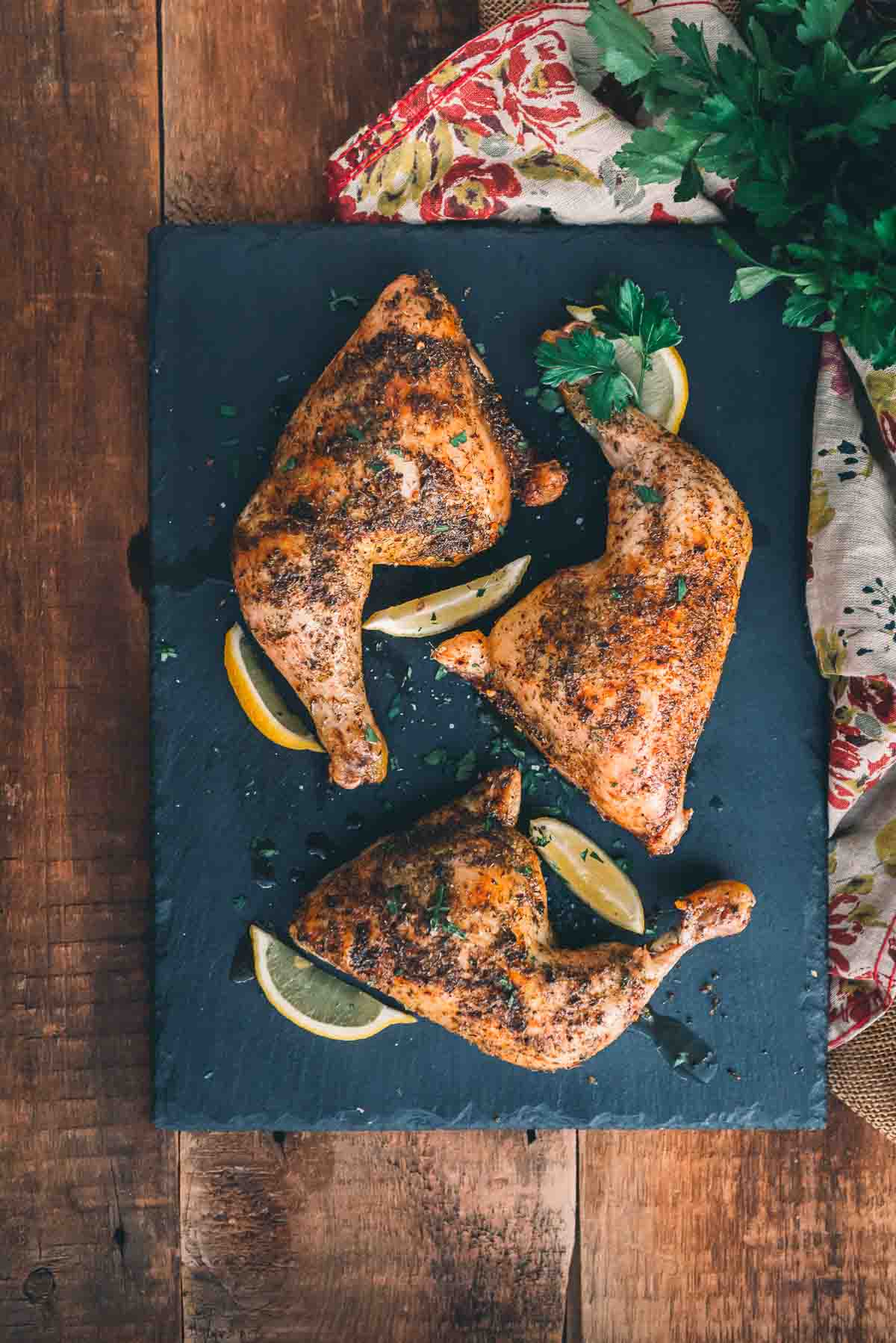 Leftovers and Reheating
Store leftover baked chicken in an airtight container or tightly wrapped in plastic wrap in the fridge for up to 3 days.
Reheat as needed on a foil-lined baking sheet in a preheated oven set to broil, flipping once for crispy skin; About 7 to 10 minutes.
We love using leftover chicken in chilaquiles verdes, chimichangas, or grilled chicken paninis.
More mouthwatering chicken recipes
Oven Baked Chicken Quarters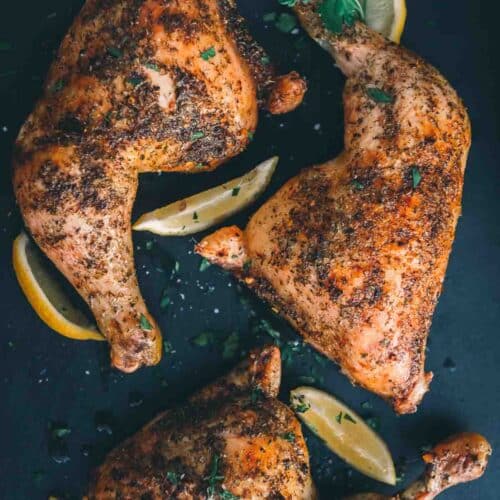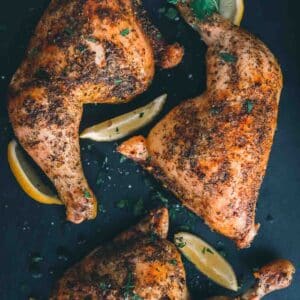 Crispy skin, juicy dark meat, and amazing flavor in under an hour? This easy baked chicken quarters recipe is just the family approved simple chicken recipe you were looking for.
Ingredients
4.5

lbs

Bone-in Chicken Leg Quarters

about 3 to 4 quarters

2

tbsp

avocado oil

or neutral cooking oil

1

tsp

salt

1

tbsp

GirlCarnivore Over Easy Spice Blend

or your favorite chicken seasoning mix
Instructions
Prep the chicken
Preheat the oven to 425 degrees F.

Remove the chicken from the packaging and pat dry with paper towels.

Bruch all over with oil.

Season both sides of the chicken liberally with salt and the GirlCarnivore Over Easy Spice blend.

Arrange the chicken on a foil-lined baking sheet or baking dish in a single layer.
Bake the chicken
Place the baking sheet in the preheated oven.

Bake for 45 minutes or until the internal temperature of the meat reaches 170 degrees F with an instant read thermometer.

Carefully remove the chicken quarters from the oven and rest for 5 minutes before serving.

If desired, cut the drumstick from the thigh at the joint to serve as individual pieces.
Notes
We roast this chicken at 425F for perfectly crispy skin and juicy dark meat in under an hour. Be sure to always check that chicken has reached a safe internal temperature with a thermometer before serving.
We love GirlCarnivore Over Easy Spice Blend for chicken. It pops with fresh herb flavor and a hint of red pepper flake. For a barbecue blend, we recommend GirlsCanGrill Chicken Rub.
Nutrition
Serving:
1
g
|
Calories:
508
kcal
|
Carbohydrates:
1
g
|
Protein:
35
g
|
Fat:
40
g
|
Saturated Fat:
10
g
|
Polyunsaturated Fat:
8
g
|
Monounsaturated Fat:
17
g
|
Trans Fat:
0.2
g
|
Cholesterol:
213
mg
|
Sodium:
458
mg
|
Potassium:
450
mg
|
Fiber:
0.1
g
|
Sugar:
0.1
g
|
Vitamin A:
171
IU
|
Vitamin C:
0.2
mg
|
Calcium:
23
mg
|
Iron:
2
mg
Sources
White Meat vs. Dark Meat Chicken: What's the Real Difference? via MasterClass: https://www.masterclass.com/articles/white-meat-vs-dark-meat-chicken-whats-the-real-difference
White Meat vs. Dark Meat: The Great Debate via Chicken Farmers of Canada: https://www.chicken.ca/chicken-school/white-meat-vs-dark-meat-the-great-debate/