Forget boring campfire food and canned crap. Let's start making cooking over the open fire fun again – and damned delicious. Try this Campfire Grilled Chicken Panini Recipe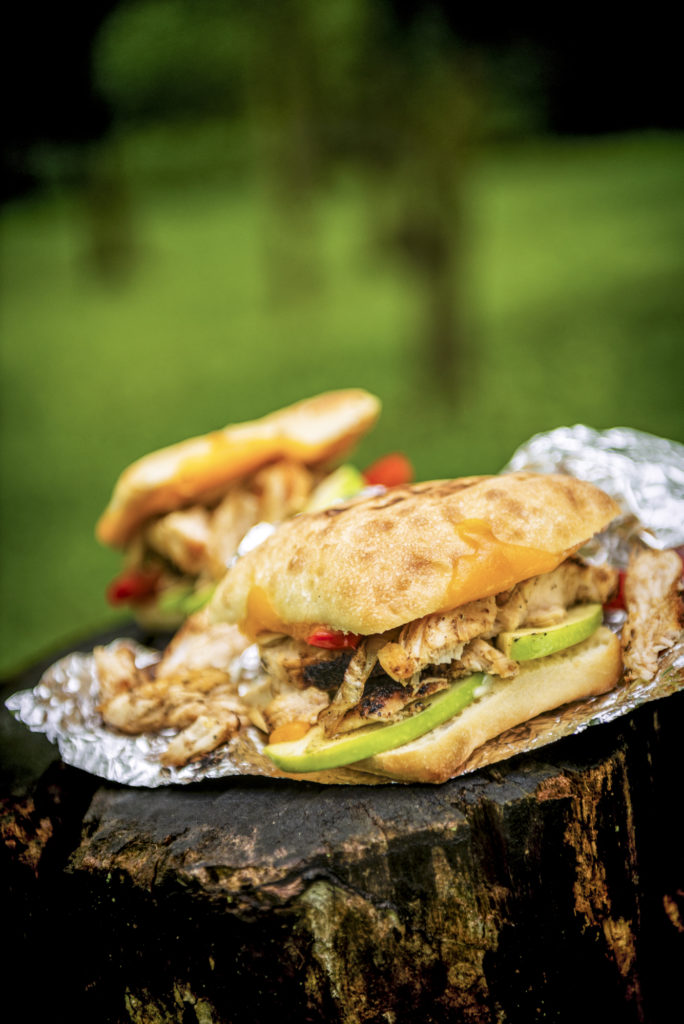 Campfire cooking
I have a firm belief that campfire cooking is some of the best damned cooking you can do.
One, a lot of people overthink recipes – meat is pretty dang simple most of the time. Salt, pepper and a proper thermometer go a long way to a simplistic approach to great flavor and can be the basic plan of attack on so many pieces and cuts. Whether you wrap in foil, grill over a grate, or use a cast iron skillet, cooking outdoors at the campsite should be something that's savored and doesn't have to mean reheating some MRE's. I've hiked in with frozen chunks of beef, fish, lamb, and fowl – and tiny pre-made seasoning packets ready to go more than once (because I'll be damned if I huff in 35 lbs of gear to eat rehydrated mush). And, most of the time, people end up getting a whiff of the campsite and coming over to see what's up….
Now that I think of it, I may be invited on most of my shared camping trips just because of my stubbornness to eat anything less than the best while outdoors….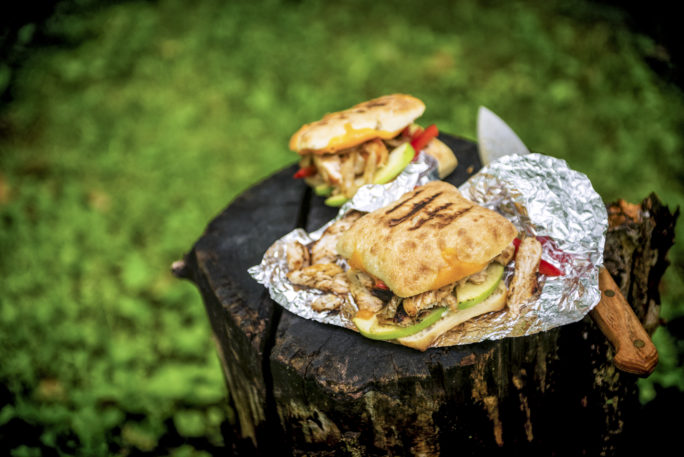 Back to our topic at hand… For starters, you're camping. Which probably means you are in the solitude of nature all by your lonesome, or that you are surrounded by people you'd be willing to share paper thin walls with. Chances are, you like them enough to find out how much they snore.
Second, you are now doing what I pretty much love most – standing outside and cooking. Hard to beat the idea of pitching a tent surrounded by a lush forest, in the desert, or near a roaring river and not finding a momentary bit of zen.
Then chilling with a drink in one hand and tending a fire? Yeah, sign me up.
This year, I have gotten back into cooking over the open flame getting my relaxation back on in the woods and trying to spend some time offline. I've been in the rolling Appalachians, the peaks of Mammoth Lake region and even a quick pop into Alaska. Food-wise, it's reminded me some basics go a long way and that you can pretty much make anything work with a flame, skillet or foil, even in a downpour.
On the worst of mornings, you're standing somewhere completely epic. On the best of mornings, that view comes with a hot biscuit and most likely will involve an epic hike.
Simple, but perfect life.
Picked up any tips or tricks for camp life along the way? I'd love to hear them!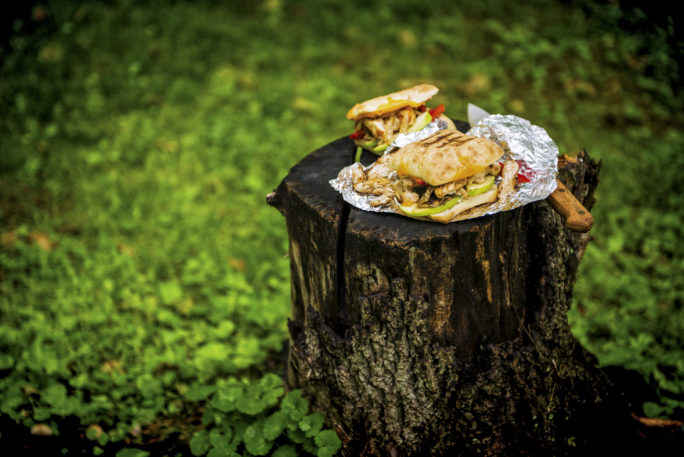 And if you are looking to really throw down at your next campout, be sure to check out these recipes. You will be the boss of that fire pit!

Campfire Berber Pizza, aka Moroccan Lamb Pizza
Smoked Jalapeno Mac and Cheese
Spiced Curry Kabobs with Coconut Turmeric Rice
If you've tried my Campfire Grilled Chicken Panini Recipe or any other recipe on GirlCarnivore.com please don't forget to rate the recipe and let me know where you found it in the comments below. I get inspired by your feedback and comments! You can also FOLLOW ME on Instagram @girlcarnivore as well as on Twitter and Facebook.
Campfire Grilled Chicken Panini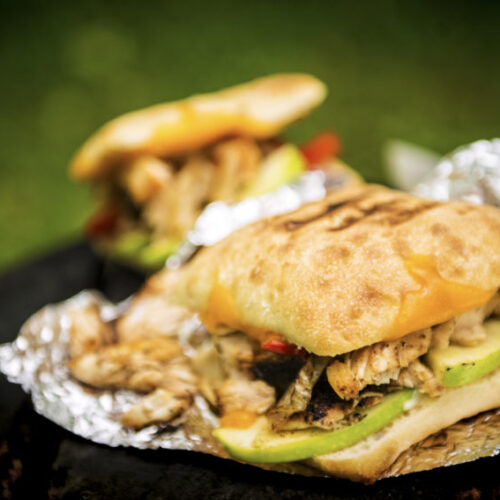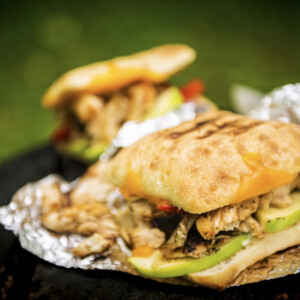 Need some make ahead sandwiches for your next camping trip? Don't skimp on flavor. These Campfire Grilled Chicken Paninis are amazing!
Ingredients
1

lbs

boneless, skinless chicken breast

chopped

salt and pepper

to taste

Oil for grill grate

1

tbsp

butter

1/4

onion

sliced

1/2

red pepper

seeded and sliced

1

granny smith apple

sliced

2

tbsp

mayo

2-4

oz

cheddar cheese

sliced thin

4

ciabatta rolls
Instructions
Heat your grill for indirect cooking and clean and oil the grate.

When ready to cook (I used charcoal), pat the chicken dry and pound to 1/2″ thick.

This can be done ahead of time, and stored in ziplock bags until ready to cook if hiking in, just make sure to keep the chicken at a safe temperature on ice.

Season the chicken with salt and pepper and toss onto the grill.

Cover and cook, turning as needed for epic grill marks (and to make sure the heat is evenly distributed) until the chicken reads 160 degrees on an instant thermometer.

Wrap in foil and let rest another 5 degrees.

Meanwhile, toss the sliced peppers and onion in the oil, sprinkle with a little salt and toss onto a campfire safe pan or griddle, and cook until soft.

Slice the chicken and toss with the onion and pepper.

Slather the rolls in mayo, arrange the sliced apples, chicken, onions, peppers and cheese over the rolls and top with the other half of the roll.

Wrap tightly in foil and press onto the campfire until the bread is warmed through and the cheese is melty.

This can be done by tossing the foil directly onto the campfire if you have a safe means to retrieve your sandwiches, no need to make sacrifices to the camping gods.

Or make a panini by pressing the wrapped sandwiches with the previously used griddle for pressed delicious grill marks.
Notes
Pound your chicken and slice your peppers and onions ahead of time and store in ziplock bags for easy campfire ready meal prep. Jazz up the recipe by included some bacon that you cooked at home and hiked in with.  
Nutrition
Calories:
289
kcal
|
Carbohydrates:
8
g
|
Protein:
28
g
|
Fat:
15
g
|
Saturated Fat:
6
g
|
Cholesterol:
97
mg
|
Sodium:
290
mg
|
Potassium:
523
mg
|
Fiber:
1
g
|
Sugar:
5
g
|
Vitamin A:
755
IU
|
Vitamin C:
22.9
mg
|
Calcium:
111
mg
|
Iron:
0.6
mg