Chicken chilaquiles verde use up leftover chicken and crispy tortilla chips, all tossed in a comforting green salsa and cooked on the grill. Perfect as a 20-minute camping recipe or just because you want to cook breakfast al fresco.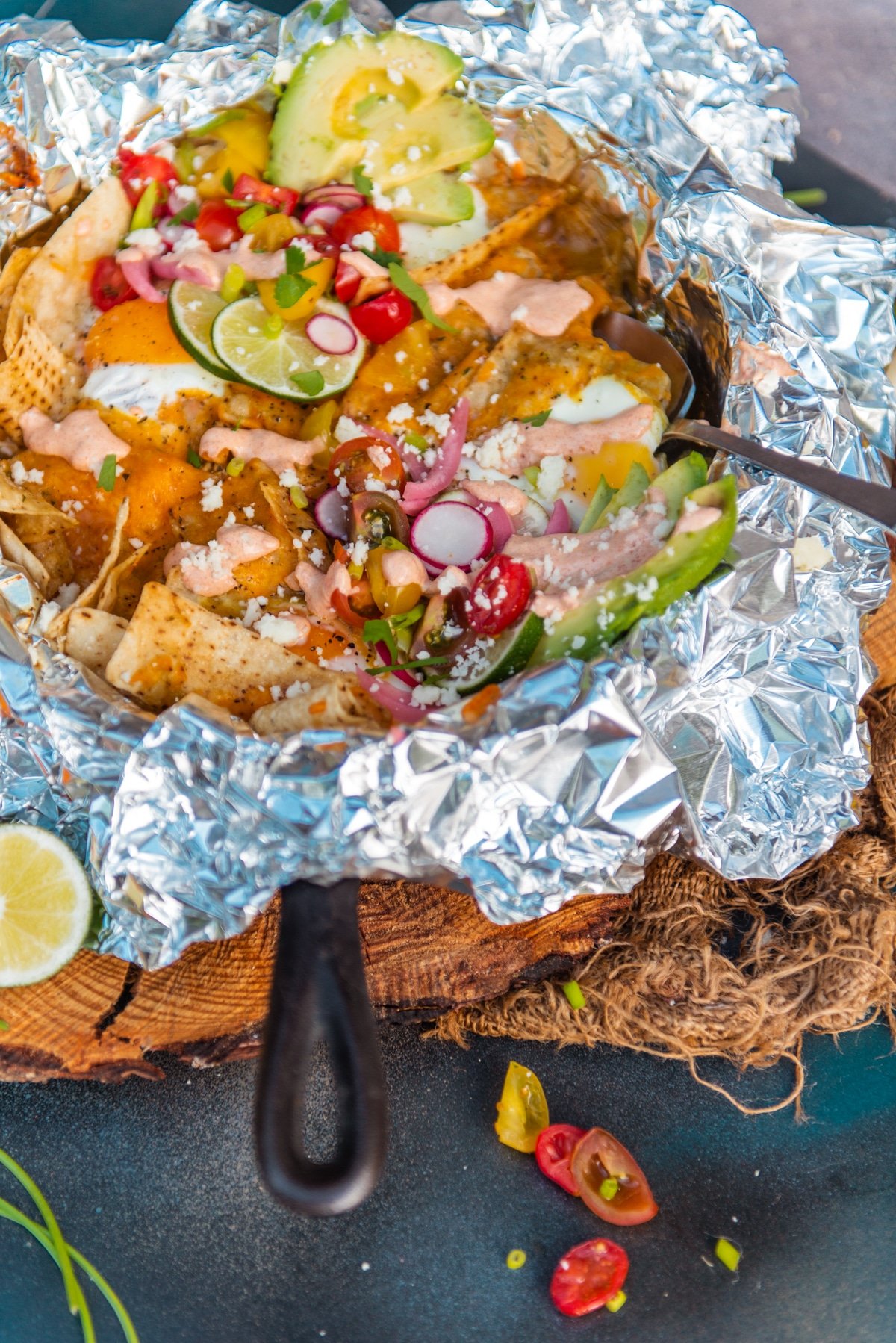 There is nothing as exciting as a big platter of amazing food for breakfast. If you are a sucker for a savory dish to dive into after a morning workout, this recipe is for you. It's an incredibly exciting meal that will get you excited for brunch and leave you fueled for the whole day.
Loaded with leftover tortillas, tender shredded grilled chicken, or even leftover oven-roasted chicken, and salsa verde (or red enchilada sauce), it's pretty much perfect. When you serve it with a masterfully fried egg on top, you're speaking every breakfast lover's love language.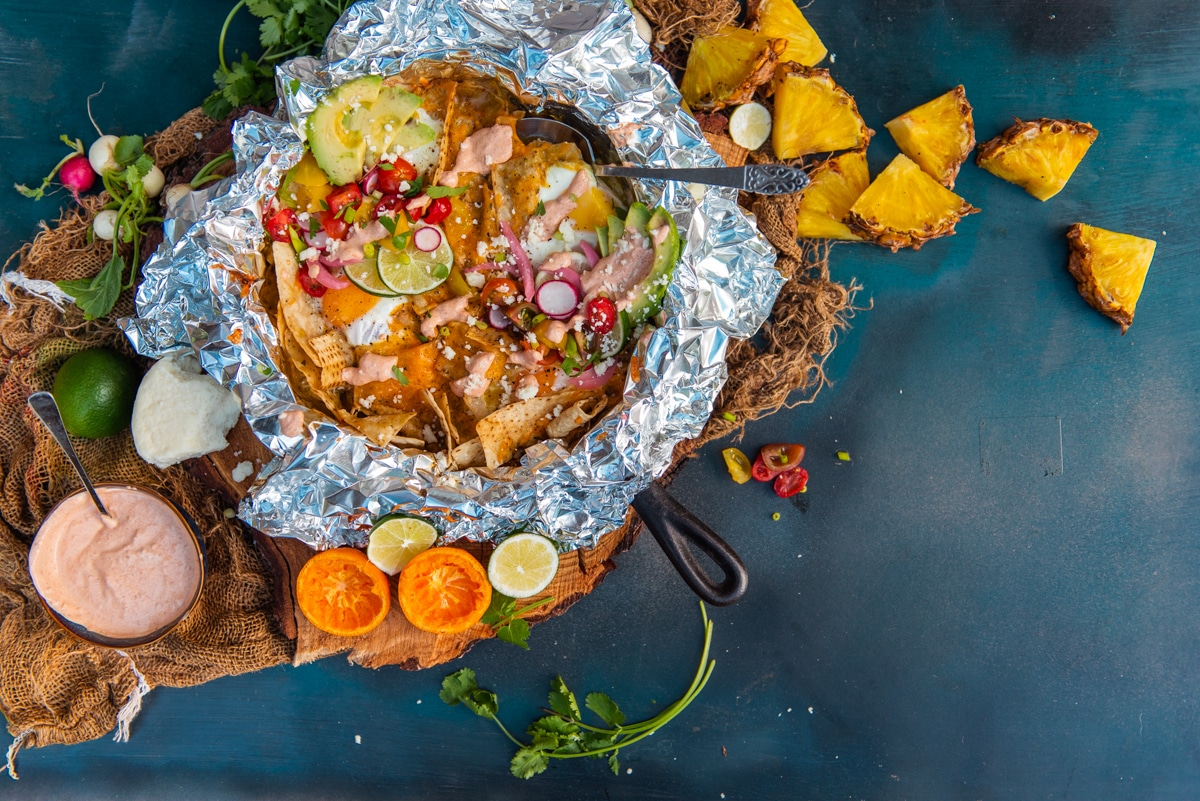 What is Chilaquiles Verde?
Quite simply, a chilaquiles is an ancient breakfast passed on from the indigenous cultures of central Mexico. It has a rich tradition, but it is so open to interpretation, so from regional variations to new spins on an old recipe, you will always find new ways to enjoy them.
The "verde" refers to the type of green salsa used, but you can also do "roja" with a red style salsa as well. Salsa roja is just as tasty.
In its simplest form, chilaquiles are fried corn tortillas that are then simmered and finally slathered in salsa. Adding shredded chicken, cheese, crema, avocado, or guacamole, well, the list keeps growing. The main ingredients remain, but the toppings are endless!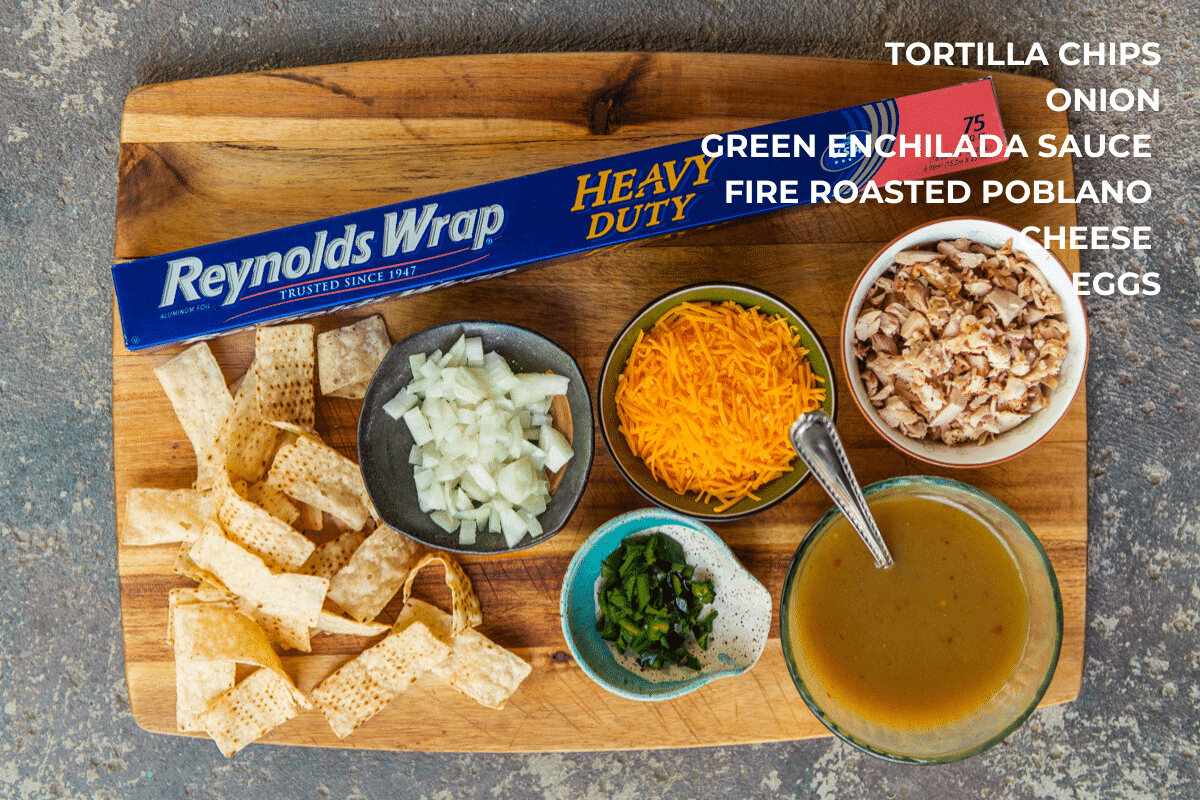 Ingredients for Green Chilaquiles Recipe
For the Chilaquiles
Tortilla chips
Green enchilada sauce
Poblano pepper
Cooking oil – Olive oil is a go-to favorite
Onion
Cooked Chicken – chopped or shredded
Cheddar cheese
Eggs
For the Chipotle Crema
Crema or Sour cream
Freshly squeeze orange juice
Chipotles in Adobo sauce
For Serving
Frijoles Negros – Black beans
Jalapeno
Radish – thinly slices
Fresh Cilantro – minced
Cotija
Pico de Gallo or Salsa
Lime wedges or lime juice
Avocado
Grilled pineapple
How to Make Mexican Chilaquiles with Eggs
Make the Salsa
Coat a pan generously with oil and preheat over a grill heated to medium-high heat..
Saute the onions until soft and remove them from the pan.
Next, char the poblano pepper over the grill until the skin is burnt. Remove from heat and wrap In foil for about 5 minutes. Once it has cooled, peel the skin from the pepper and discard.
Remove the seeds and add the pepper to the food processor with onion and enchilada sauce.
Blend until smooth.
Make the Chilaquiles
Preheat your grill to medium-high heat and then line it with foil. Use enough foil to fold it back so the ends can meet in the middle.
Coat the foil with a little bit of sauce.
Add a layer of tortilla chips.
In a small bowl, toss the chicken with a bit of sauce.
Add a layer of chicken to the skillet.
Add your remaining tortilla chips to the sauce and top the chicken layer with it.
Sprinkle cheese over the chips.
Add an egg into a small bowl and drop it on the surface of the chilaquiles.
Fold your overhanging foil over the ingredients without it touching the food. Pinch the edges together.
Place the skillet on the grill and allow the eggs to set and cook for about 15 minutes.
Once they are set, remove the skillet with heat-resistant gloves.
Garnish with crema and toppings, and enjoy!
Make the Chipotle Crema
Use a blender or food processor to blend your crema, orange juice, and chipotles until smooth. Add salt if desired or more chipotle for more heat.
To Serve
Carefully remove your foil packet and place it on a serving platter.
Unwrap the foil and place frijoles and jalapeno on top.
Sprinkle with cilantro and cotija.
Serve with pico de Gallo, lime wedges, avocado, grilled pineapples, and any other desired toppings.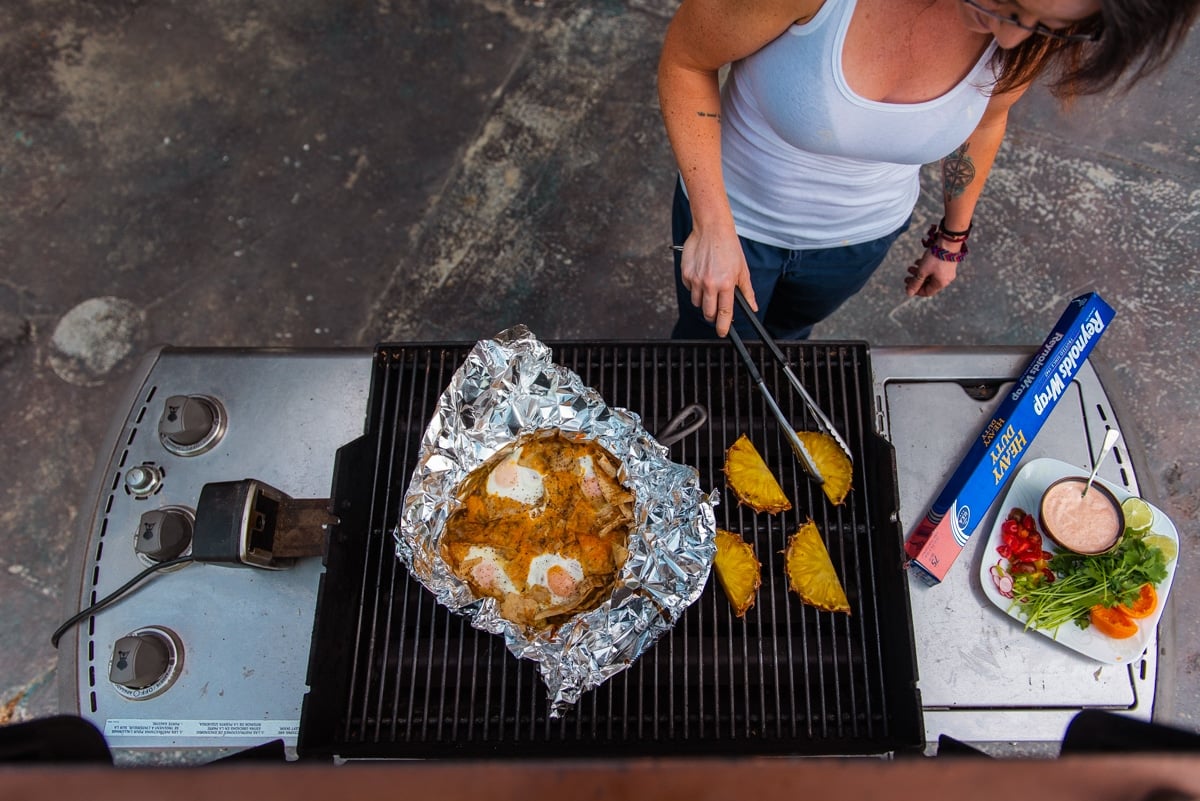 Girl Carnivore Expert EASY CHILAQUILES RECIPE TIPS
Use Leftovers
This recipe is incredibly frugal because it uses up stale tortillas with flavors that blend so well together. You can dress it up any way you want easily, with bright pops of fresh ingredients.
Having a way to use old tortillas you might otherwise throw out is just life improved! This will easily become a camping favorite, tossed in heavy-duty foil packets, and onto the fire; they make camping more like those luxury glamping sites.
No one can believe how easy it really is. They are also so easy to cook on the grill for a perfect outdoor brunch, and with as much as they look like a big undertaking, prep and clean up are a total breeze.
Variations on Chilaquiles
We suggest shredded chicken, but you could easily do shredded beef too. The thing about chilaquiles is they are designed to repurpose your leftovers.
So, even if you have a bit of leftover salmon, then you can make it work. Just make sure to use it before any bit of gross and stinky sets in. With leftover salmon, you are looking at maybe 24 to 48 hours.
But, take a look in the fridge… Anything you have that you meant to use… Now becomes an innovation to the chilaquiles tradition.
Use Thick Aluminum Foil
The trick here is always having heavy-duty foil on hand. It can be used for everything from storing meat in the freezer to prevent freezer burn to tenting food with foil after they come off the grill. It's a total game-changer for cleanup.
Nothing is as frustrating as a piece of foil that keeps ripping while you are trying to use it. Heavy duty will save your sanity.
Use a Large Skillet
Line your skillet with aluminum foil to make clean-up a breeze. Simply measure out the foil to line your skillet with enough foil that it can wrap over the filling completely while you are cooking. After you are done, just lift the foil out of the skillet to serve, and the mess is gone! One less dish to wash.
Leftovers and Reheating
Leftover chilaquiles won't be as good as fresh ones, but they can be stored for a day when necessary. Keep in mind the tortillas may get soggy after sitting in the fridge with the other ingredients. If you choose to save them for the next day, store them in an airtight container. Instead of storing them pre-made, consider storing the ingredients separately and starting from scratch the next morning.
To heat, use the microwave (although you will get soggy results) or a toaster oven. The best way to reheat them is to follow the recipe instructions and add all of your ingredients fresh!
What to Serve with Chilaquiles
Honestly, chilaquiles don't need anything extra except for the toppings! Choose your favorite Mexican crema, queso fresco, red sauce, cotija cheese, red onion, delicious salsa verde, rotisserie chicken, and other favorite toppings to complete the dish! A side of refried beans is also amazing with crispy corn tortillas! Add some homemade chimichurri rojo, and egg and sausage casserole, or rajas con crema if you want to fill everyone up!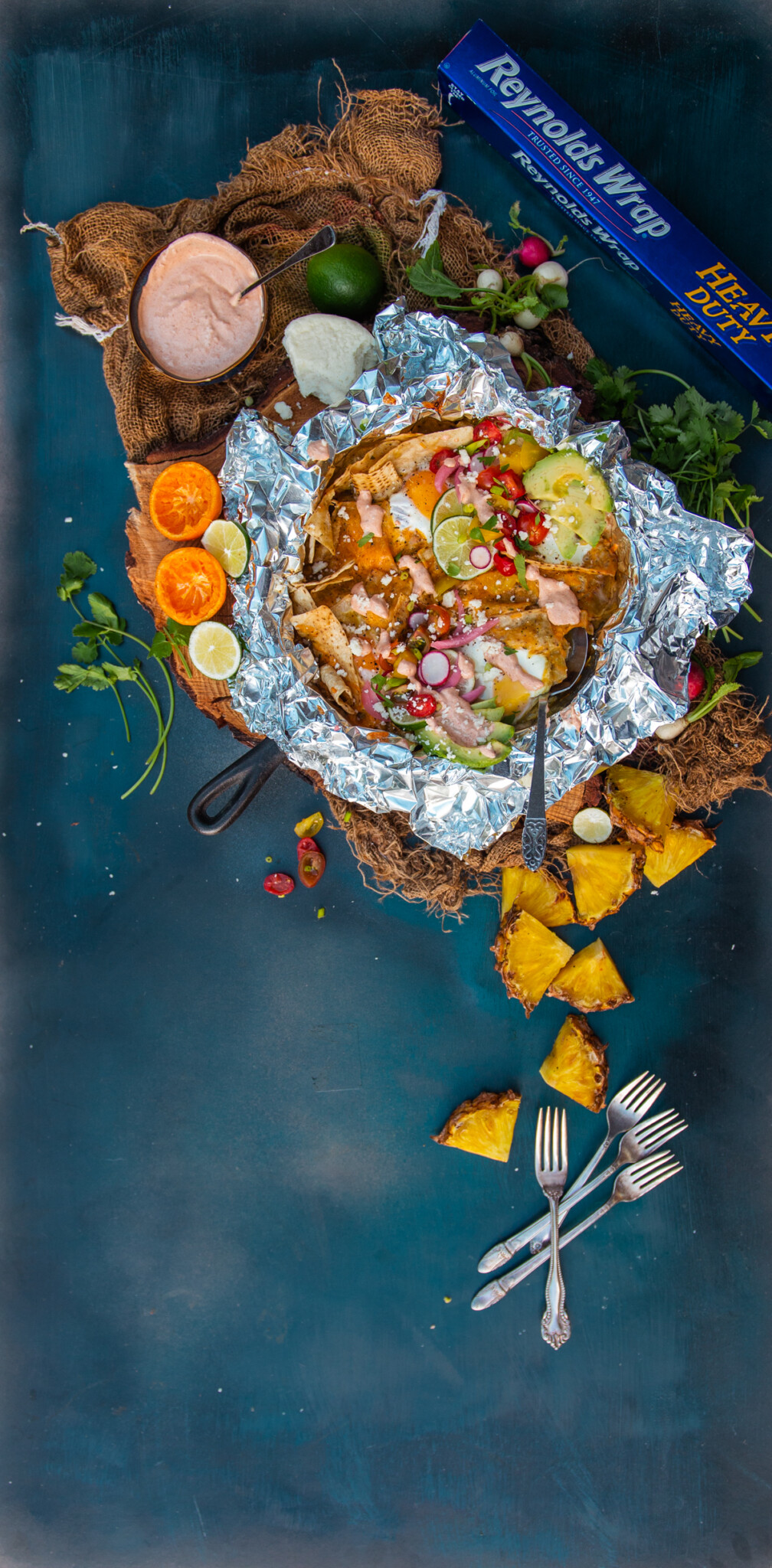 Recipe FAQs
Can I use store-bought chips?
Store-bought tortilla chips or homemade tortilla chips are perfect for this recipe! The crunchier, the better for extra texture in your dish.
Where to find green enchilada sauce
Find the enchilada sauce and any other Mexican ingredients in the international aisle of your grocery store. The chilaquiles verdes recipe calls for green, but you can certainly use red, we love it in our smoked chicken chilaquiles, and it will taste just as delicious.
More Great Brunch Recipes
Not hard to cook, easily loved and consumed, who needs to do another quiche when you have the best chilaquiles on the menu?
Here are a few others humbly submitted for your inspection and consideration!
Chilaquiles Verdes with Chicken and Chipotle Crema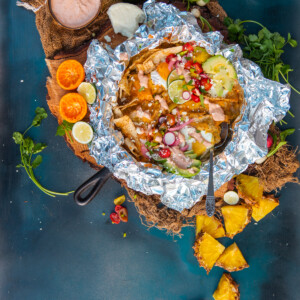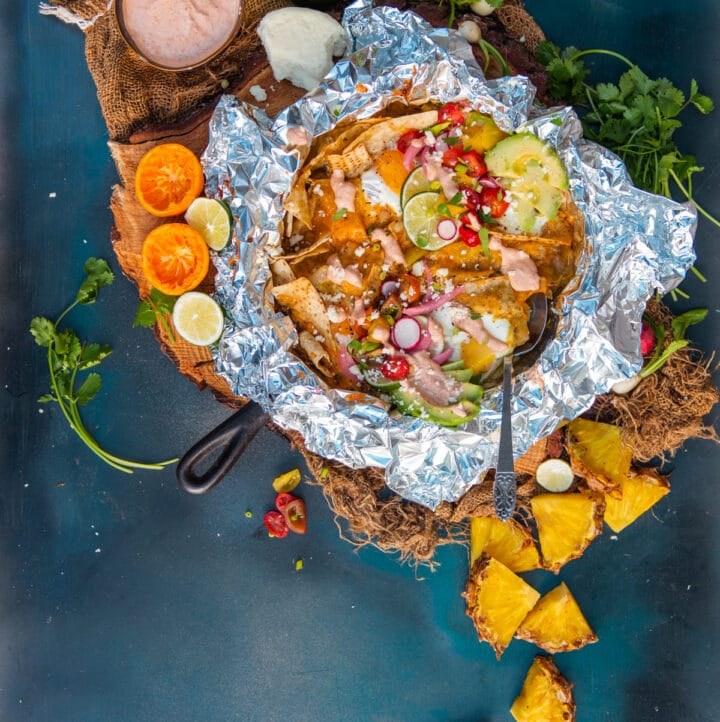 This 20-minute chilaquiles verde recipe for using up chicken leftovers is the easiest skillet recipe for a totally loaded breakfast or brunch.
Recommended Equipment
Cast Iron Skillet

Reynolds Wrap® Heavy Duty Aluminum Foil
Ingredients
For the Chilaquiles
4

cups

tortilla chips

½

can

green enchilada sauce

1

poblano pepper

1

tsp

cooking oil

¼

onion

chopped

1

cup

cooked chicken

chopped, use leftovers shredded preferably

4

oz

cheddar cheese

shredded

6

eggs
For the Chipotle Crema
½

cup

crema or sour cream

1

tsp

freshly squeezed orange juice

1 to 2

chipotles in adobo sauce
For Serving
½

cup

frijoles negros

rinsed and drained

1

jalapeno

seeded, stemmed and sliced into rings

1

radish thinly sliced

2

tbsp

freshly minced cilantro

2

oz

cotija

¼

cup

Pico de gallo or salsa

Lime wedges

1

avocado

skin and pit removed and sliced

Grilled Pineapple
Instructions
Make the Salsa:
On a grill heated to medium-high heat, add the oil and swirl to coat pan.

Sauté the onion for 5 to 7 minutes until soft. Carefully remove from pan.

Meanwhile, char the poblano over the grill until the skin is burnt.

Remove from heat and wrap in Reynolds Wrap® Heavy Duty Aluminum Foil for 5 minutes. When safe to handle, peel the skin from the poblano and discard.

Remove the seeds and add the poblano to a food processor.

Add the onion and enchilada sauce.

In a food processor blend the ingredients until smooth.
Make the Chilaquiles:
Preheat the grill to medium heat, hot enough that you can carefully hold your hand 3 to 4 inches above the grill grates for 3 to 5 seconds.

Line the skillet with Reynolds Wrap® Heavy Duty Aluminum Foil, leaving enough additional length to fold the foil back over to cover, ends meeting in the middle.

Place a little bit of sauce to coat the foil.

Add a layer of tortilla chips.

In a small bowl, toss the chicken with a few tablespoons of sauce.

Add a layer of chicken to the skillet.

Toss the remaining tortillas chips in the enchilada sauce and top the chicken layer with it.

Sprinkle cheese over the chip layer.

If you are adding eggs, crack an egg into a small bowl. Drop each egg carefully over the surface.

Carefully fold the overhanging foil over the layers, without letting it touch the surface of the food. Pinch the edges together.

Place the skillet over the grill and allow to cook until the eggs are set about 15 minutes.

When the eggs have set, using heat resistant gloves, carefully remove the skillet from the oven (It will be hot!) and garnish with the crema and any desired toppings.
Make the Chipotle Crema:
Using your blender or food processor, pulse the crema, orange juice, and chipotles until smooth. Season with salt if desired. (If you want more heat, add ½ a chipotle more at a time until you are happy, however, with canned chipotles, it's best to start small and work your way up.)
To Serve:
Carefully lift the foil packet from the skillet and place on a serving platter.

Unwrap the top of the foil, peeling it back to display the chilaquiles.

Place the frijoles and jalapeno on top.

Sprinkle with the cilantro and cotija.

Serve with pico de gallo, lime wedges, avocado, and grilled pineapple, if desired
Notes
To make these more traditionally, use leftover tortillas.
In a large cast-iron skillet heat 2 tablespoons of cooking oil until shimmering.
Working in batches, fry the tortilla wedges until just starting to crisp.
Remove and arrange on a paper towel-lined plate while repeating until all wedges are crisp.
Leftover chilaquiles absorb the liquid from the salsa verde, so they are best enjoyed fresh or within 24 hours. The eggs will not be good reheated.
Store in an airtight container in the fridge.
Reheat in the microwave, with the foil removed, until hot. OR in an oven preheated to 325 for 10 minutes, until heated through. Add a bit more salsa if needed. Add a freshly fried egg if desired.
Nutrition
Serving:
1
g
|
Calories:
686
kcal
|
Carbohydrates:
62
g
|
Protein:
22
g
|
Fat:
41
g
|
Saturated Fat:
10
g
|
Cholesterol:
209
mg
|
Sodium:
798
mg
|
Potassium:
516
mg
|
Fiber:
8
g
|
Sugar:
4
g
|
Vitamin A:
894
IU
|
Vitamin C:
24
mg
|
Calcium:
382
mg
|
Iron:
3
mg