Looking for a kicking campfire recipe or maybe something to really knock their socks off at the next bbq – this Smoked Mac and Cheese is perfect for that. Creamy mac and cheese with a hint of heat and smoke, it's a great smoker recipe that's amazing for any occasion.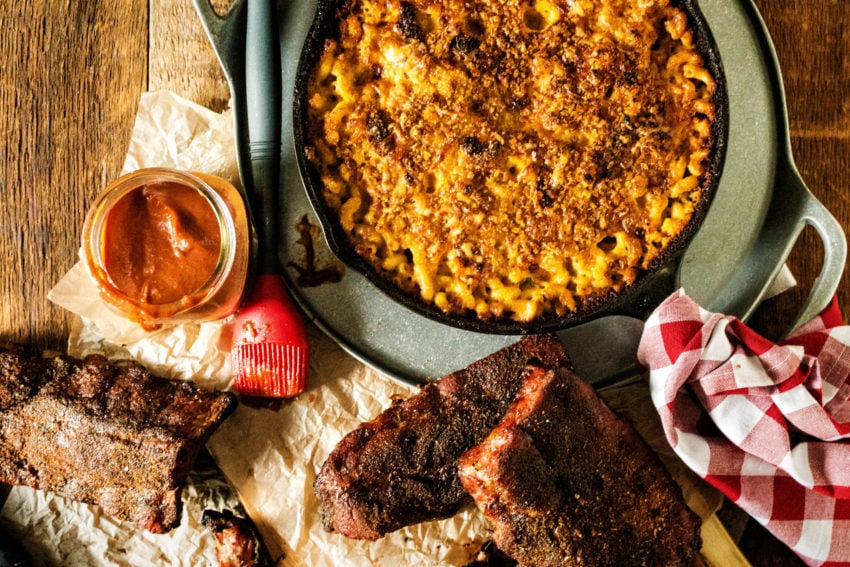 This smoked jalapeno mac and cheese is just the side dish recipe you're looking for. Nothing goes better with a big pile of Smoked spare ribs or smoked spiral ham than creamy, indulgent macaroni and cheese. And this one takes the cake.
The pancetta kicks things off with a little crispness, the heavy dose of cheddar cheese melted smoothly with the Stone Ruination Double IPA, and the heat from the jalapeno balances everything out. This is comfort food taken to a new level. Just like smoked cream cheese, this is one of those recipes that, once you try, you will absolutely love.
What is Smoked Mac and Cheese
This is comfort food in a cast iron skillet! The rich flavors of different types of cheese are mixed with a crisp and crumby, golden brown topping. It's enjoyed as a main course or as a delicious side dish. Enjoy this dish on a weeknight or for a special family occasion.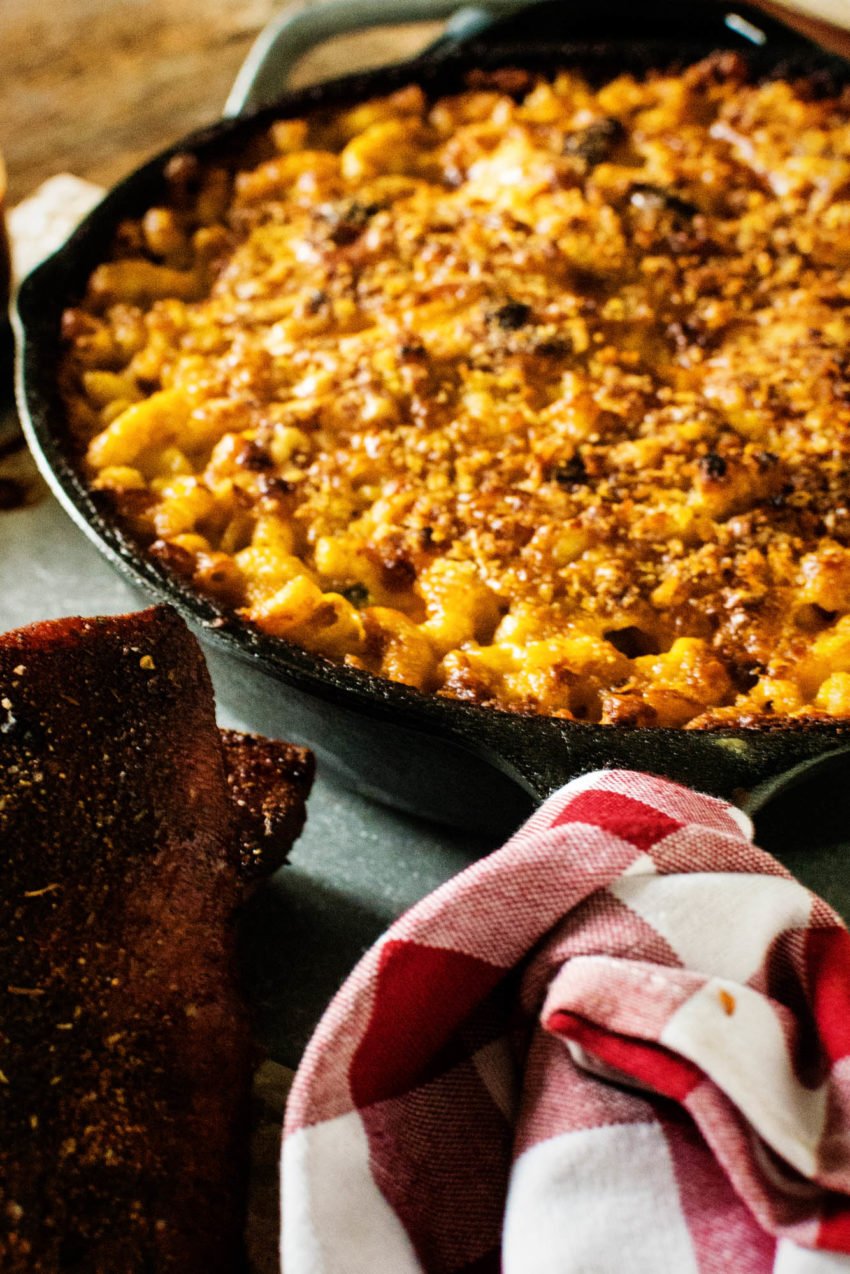 Ingredients for Smoked Mac and Cheese
Cooked macaroni noodles
Diced pancetta
Onion & Jalapeno – this is what takes the recipe to a whole new level
Garlic cloves – garlic powder won't do; you need the real stuff
Flour & Butter for the rough
Salt and black pepper – we always use kosher salt and freshly ground black pepper when cooking.
Beer – Stone Ruination Double IPA works nicely, but you could use any IPA. Alternatively, if you do not enjoy beer, you can use heavy cream.
Shredded cheddar cheese – shred your own for a nice sharp cheddar cheese taste; Dubliner, & Velveeta cheese – the smoked cheese flavor is unforgettable.
Panko & Smoked paprika – see the recipe card below for the full measurements and quanities.
How to Make This Mac and Cheese Recipe
Before starting the macaroni process, be sure to cook your elbow macaroni noodles until al dente and your grill or pellet smoker is preheated to low heat, around 300 degrees F.
Cook your pancetta in a large cast iron skillet over low heat.
Add in the onion and cook for about 5 minutes or until soft.
The pancetta should be crispy but not burnt.
Stir in the jalapeno and garlic and cook for about 30 seconds.
Add your flour and stir to coat. Then, add the butter.
Whisk in the beer a little at a time and season with salt and pepper to make a roux for the cheese sauce.
Melt in your cheddar cheese and Dubliner. Stir until it's melted and creamy.
Fold in the already-cooked pasta.
Press the Velveeta cubes into the mac and cheese randomly.
In a small bowl, combine the panko bread crumbs, paprika, and remaining cheese. Sprinkle over top of the mac and cheese mixture.
Cover the large skillet with foil, close the lid to the grill, and cook for 25 minutes directly over low heat.
Once everything is nice and bubbly, remove the foil and cook an additional 5 to 10 minutes or until the top is browned.
Let it cool for 5 minutes before serving.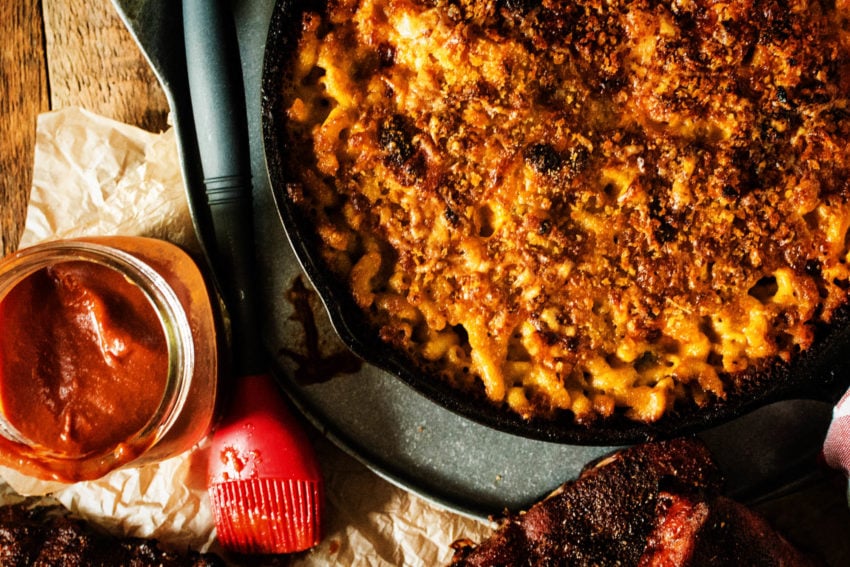 Girl Carniovre EXPERT RECIPE TIPS
How to make mac n cheese even creamier
Just to make sure things were extra creamy, pack little Velveeta bombs (yep, just coined that) into the mix before topping with panko.
Spicy mac and cheese options
This recipe calls for jalapenos, but let's face it. Some like it hot, and some would rather not go there. If you want a little less spice, then a good bet is pepperoncini. Not too inflammatory, so to speak, just enough to get noticed.
But, if you want to raise the temperature, then step up to habaneros. They will bring up the burn, but now so much that you can't enjoy all that cheesy goodness.
Importance of roux in homemade mac and cheese
The roux is the heart and soul of making your mac and cheese rise to a beautiful level of soulfulness. Be patient. Stir in the flour until it isn't clumping. Use low heat when you add the butter. You want the butter to brown for a truly deep and rich flavor. Burning the butter turns the dish bitter. Avoid at all costs.
And if you do burn the butter, you have to start over in a clean pan; otherwise, the taste carries through.
For added smoke flavor
Use wood chips in a smoker box over the grill's hot side while making the mac and cheese for even deeper smoky flavor. We love mild woods like pecan or maple wood chips with mac and cheese.
What to Serve with Mac and Cheese
Looking for more dishes to serve with this amazing Mac? Try Bacon Wrapped Smoked Meatloaf, Smoked Pork Butt, or Carolina Pulled Pork. macaroni makes the perfect side dish for any meal.
If macaroni is the main dish, try serving it with mashed potatoes, green beans, corn, and your favorite rolls.
Leftovers and Reheating
Leftover smoked macaroni can be stored in an airtight container in the fridge for three to five days. To reheat, either pop it in the microwave or put it in an oven-safe container and heat it on medium heat for a couple of minutes. Individual portions can be reheated in the microwave, but larger portions may be easiest recooked in the oven or in the skillet until heated through.
Recipe FAQs
How to make smoked mac and cheese in the oven
We do not advocate smoking in an oven or ever adding liquid smoke. One safety first, two the other has a distinct flavor that isn't the same as charcoal or even pellets add when smoking.
Now, there are some options though: If you have a smoking gun, consider smoking the beer for a minute before making the roux with it.
Alternatively, swap out the Dubliner and cheddar cheese for smoked cheese to work the nuance of flavor in. Just make sure it's a good melting cheese like Gouda.
Do I have to use Velveeta?
Some folks turn their nose to Velveeta. That's fine. Everyone is entitled to their bit of food snobbery. But don't knock it until you try using a bit of mac and cheese.
It helps create the perfect smooth creaminess in your cheese sauce. You can't go wrong with that. If you want, then just make it the secret ingredient if you are embarrassed about using it.
Can I use other cheeses?
You can absolutely use different cheese varieties. Add your favorites and experiment with the smoky flavor. Try Monterey Jack, pepper jack, Colby jack (all the jacks), and even smoked gouda. Create your own cheese combination and pair it with jalapenos to get the tasty spice. You can even add in a little crumbled bacon, because why not!
Just make sure it's a good melting cheese to help the entire dish stay extra creamy and absolb the smoked flavor.
MORE MAC AND CHEESE DISHES
Try these to take your mac and cheese game to the next level.
If you're looking for the best mac and cheese of your life, this is it. The creamy smoked mac and cheese is loaded with different types of cheese and a smoke flavor that's irresistible. Your taste buds will thank you!
Smoked Jalapeno Mac and Cheese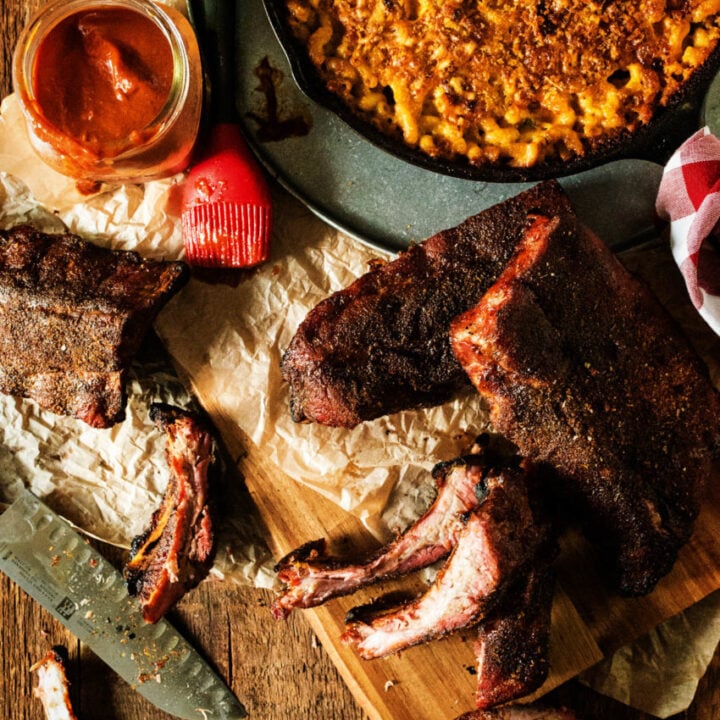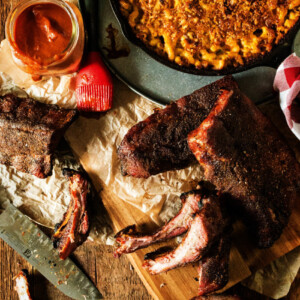 Take your comfort food to the next level with our Smoked Mac and Cheese recipe, featuring creamy, cheesy pasta infused with a rich, smoky flavor. This mouthwatering dish is perfect for potlucks, gatherings, or a cozy dinner at home, offering a unique and unforgettable spin on a classic favorite.
Ingredients
6

oz

macaroni

cooked and drained

1/2

cup

diced pancetta

1

onion

diced

1

jalapeno

stemmed seeded and minced

2

garlic cloves

minced

2

tbsp

flour

2

tbsp

butter

salt and pepper

to taste

8

oz

Stone Ruination Double IPA

Any beer will work for substitutions

2

cups

shredded cheddar cheese

Shredding your own is tastier

6

oz

Dubliner

shredded, or other sharp cheese, divided

4

oz

Velveeta cheese

cut into 1/2″ cubes

1/3

cup

Panko

1/2

tsp

smoked paprika
Instructions
In a large cast iron skillet, heated on a grill over low heat, cook the pancetta until the fat has started to render.

Add the onion and cook, stirring, until soft, about 5 minutes.

The pancetta should be nice and crispy but not burnt.

Stir in the jalapeno and garlic and cook for 30 seconds.

Add the flour and stir to coat. Add the butter.

Whisk in the beer a little at a time, to form the roux. Season with salt and pepper.

Melt in the cheddar cheese and 3 ounces of the Dubliner.

Stir until melted and creamy.

Fold in the cooked noodles.

Press the cubes of Velveeta into the mac and cheese randomly.

Toss the panko, paprika and remaining 3 ounces of cheese in a bowl to combine.

Sprinkle over the top of the pan.

Cover with foil and cook for 25 minutes, directly over low heat, until bubbly with grill lid closed if using.

Remove foil and cook another 5 to 10 minutes to brown.

Allow to cool for 5 minutes before serving.
Notes
The Velveeta adds that extra bit of smooth and creamy sauciness to the cheese sauce. Play around with the spiciness, but be considerate to what the most spice sensitive palates can handle. 
Nutrition
Serving:
1
g
|
Calories:
421
kcal
|
Carbohydrates:
23
g
|
Protein:
21
g
|
Fat:
27
g
|
Saturated Fat:
15
g
|
Cholesterol:
75
mg
|
Sodium:
676
mg
|
Potassium:
199
mg
|
Fiber:
1
g
|
Sugar:
3
g
|
Vitamin A:
804
IU
|
Vitamin C:
3
mg
|
Calcium:
452
mg
|
Iron:
1
mg