Looking for a kicking campfire recipe or maybe something to really knock their socks off at the next bbq – this Smoked Jalapeno Mac and Cheese is perfect for that. Creamy mac and cheese with a hint of heat and smoke.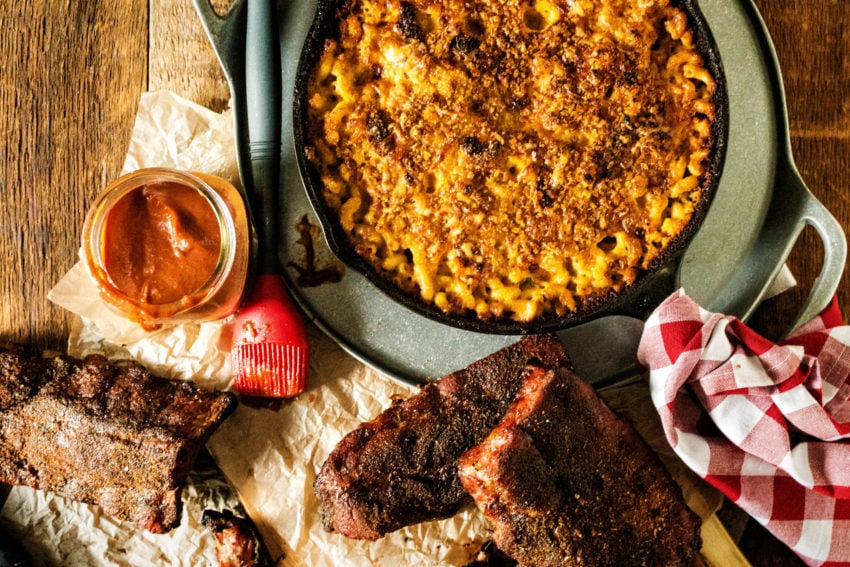 On a mission to create the perfect bbq platter that could be recreated without any fancy tools or tech, I wrangled out basic charcoal, wood chips and dry spices used for my smoked pork spare ribs.
The quest for smoked mac and cheese
Then I went on a hunt for a sturdy cast iron skillet to put over the flames. I was determined to create the perfect campfire mac and cheese recipe that would go down proudly next to some of the finest barbecue I've created yet.
I was craving something smooth and stick to your ribs kind of good. It was an act of desperation, cuz if I am going to throw down calories on carbs, they have got to be good, otherwise, I just save more for meat.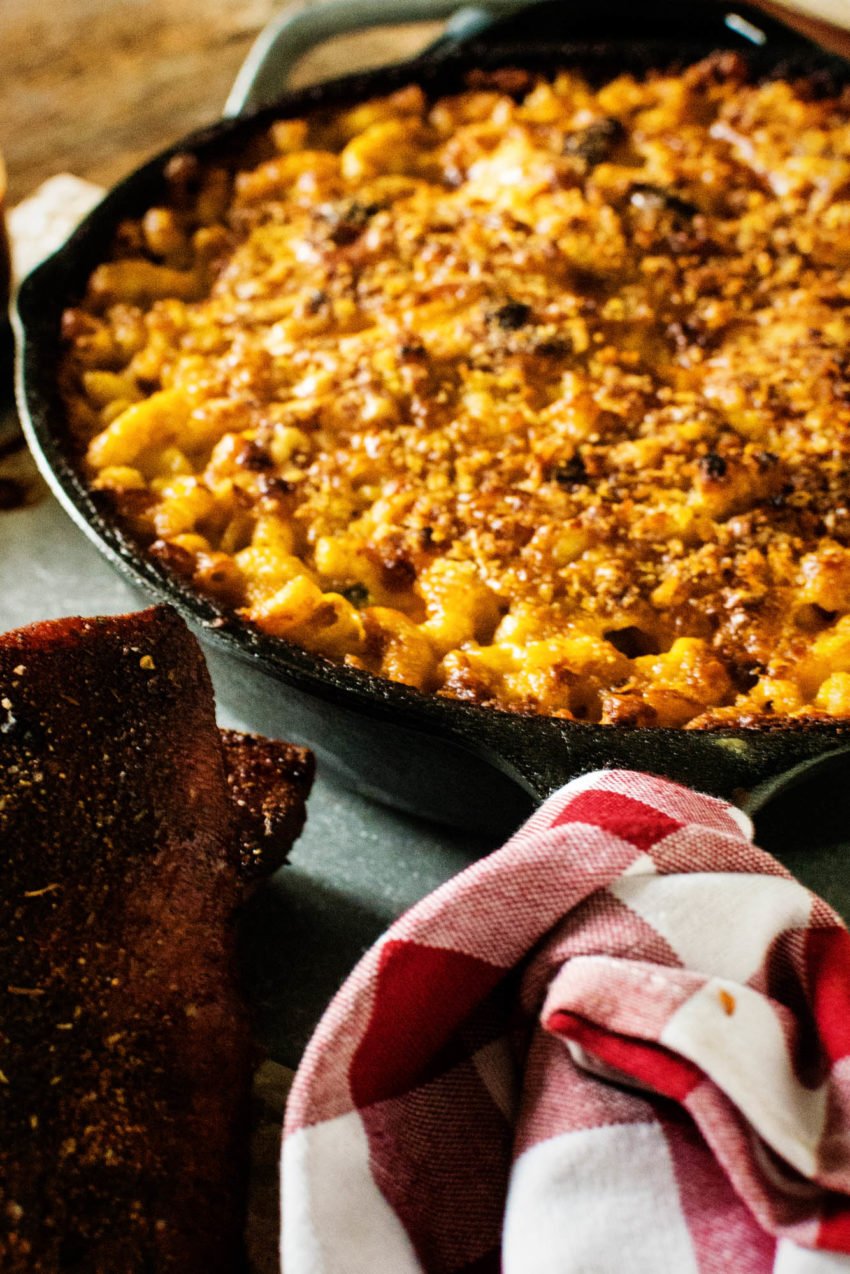 This smoked jalapeno mac and cheese was just what I was looking for. The pancetta kicked things off with a little crispness, and the heavy dose of cheddar cheese melted smooth with the Stone Ruination Double IPA (my current favorite cooking beer. Sorry Dogfish, no hard feelings.) and the heat from the jalapeno balanced everything out.
How to make mac and cheese even creamier
Just to make sure things were extra creamy, I packed little Velveeta bombs (yep, just coined that) into the mix before topping with panko and letting come to over the smoky pecan chunks I had heating over the coals.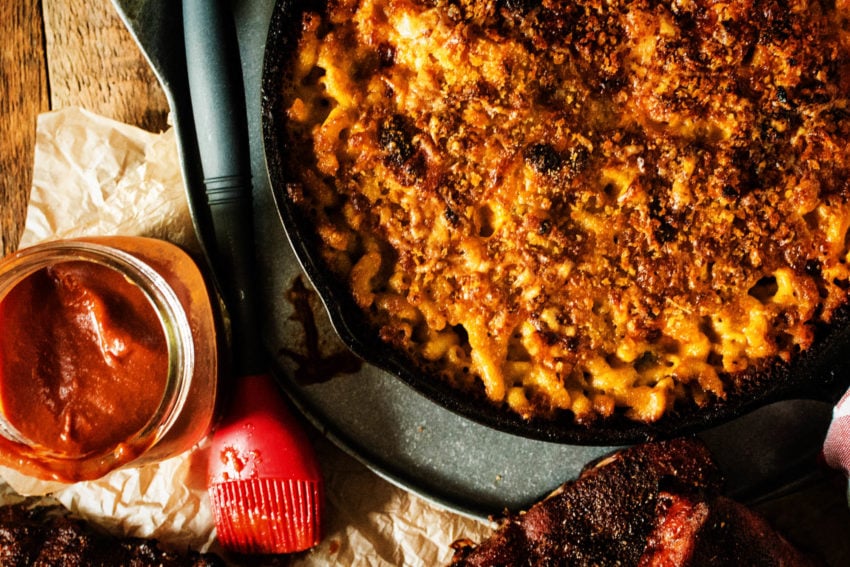 Whether pitching a tent and camping all weekend long, or using a grill at home, this smoked jalapeno mac and cheese is a must try.
Spicy mac and cheese options
This recipe calls for jalapenos, but let's face it. Some like it hot and some would rather not go there. If you want a little less spice, then a good bet is pepperoncini. Not too inflammatory, so to speak, just enough to get noticed.
But, if you want to raise the temperature, then step up to habaneros. They will bring up the burn but now so much that you can't enjoy all that cheesy goodness.
How can I make smoked jalapeno mac and cheese in my oven?
If you have great ventilation, and can deal with the bit of smoke, using your oven to add the smoke is possible. Just make sure you have a fan that can handle it so you don't set off your smoke alarm.
Use a piece of foil and set your pellets or ground walnut shells on it. After you cook the mac and cheese, take it out and set it aside. Turn the temp up to the highest setting. When the pellets or shells begin smoking, then put the mac and cheese back in.
Turn off the oven and keep the door closed about 10 minutes. It won't add as much smokiness, but it works.
If that isn't an option, then liquid smoke is always handy.
Velveeta mac and cheese recipes
Some folks turn their nose to Velveeta. That's fine. Everyone is entitled to their bit of food snobbery. But don't knock it until you try using a bit in mac and cheese.
It helps create the perfect smooth creaminess in your cheese sauce. You can't go wrong with that. If you want, then just make it the secret ingredient if you are embarrassed about using it.
Importance of roux in homemade mac and cheese
The roux is the heart and soul of making your mac and cheese rise to a beautiful level of soulfulness. Be patient. Stir in the flour until it isn't clumping. Use low heat when you add the butter. You want the butter to brown for a truly deep and rich flavor.
Burning the butter turns the dish bitter. Avoid at all costs.
More mac and cheese dishes
I have a few tricks up my sleeve when it comes to making mac and cheese go next level.
Smoked Jalapeno Mac and Cheese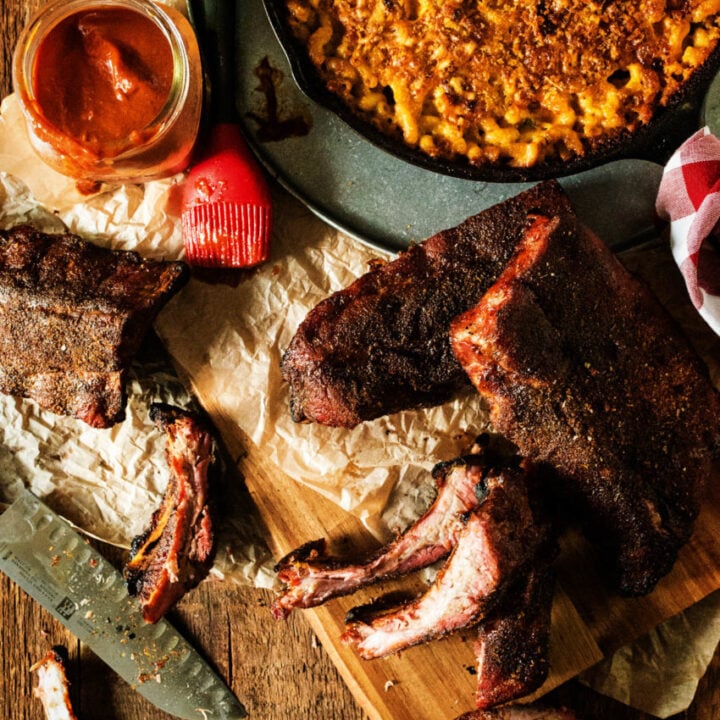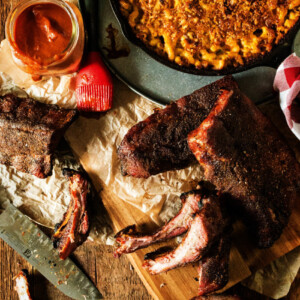 Add smokiness to a spicy mac and cheese using a grill or heating chips even in an oven. Grill is best. This is a good camping dish.
Ingredients
6

oz

macaroni

cooked and drained

1/2

cup

diced pancetta

1

onion

diced

1

jalapeno

stemmed seeded and minced

2

garlic cloves

minced

2

tbsp

flour

2

tbsp

butter

salt and pepper

to taste

8

oz

Stone Ruination Double IPA

Any beer will work for substitutions

2

cups

shredded cheddar cheese

Shredding your own is tastier

6

oz

Dubliner

shredded, or other sharp cheese, divided

4

oz

Velveeta cheese

cut into 1/2″ cubes

1/3

cup

Panko

1/2

tsp

smoked paprika
Instructions
In a large cast iron skillet, heated on a grill over low heat, cook the pancetta until the fat has started to render.

Add the onion and cook, stirring, until soft, about 5 minutes.

The pancetta should be nice and crispy but not burnt.

Stir in the jalapeno and garlic and cook for 30 seconds.

Add the flour and stir to coat. Add the butter.

Whisk in the beer a little at a time, to form the roux. Season with salt and pepper.

Melt in the cheddar cheese and 3 ounces of the Dubliner.

Stir until melted and creamy.

Fold in the cooked noodles.

Press the cubes of Velveeta into the mac and cheese randomly.

Toss the panko, paprika and remaining 3 ounces of cheese in a bowl to combine.

Sprinkle over the top of the pan.

Cover with foil and cook for 25 minutes, directly over low heat, until bubbly with grill lid closed if using.

Remove foil and cook another 5 to 10 minutes to brown.

Allow to cool for 5 minutes before serving.
Notes
The Velveeta adds that extra bit of smooth and creamy sauciness to the cheese sauce. Play around with the spiciness, but be considerate to what the most spice sensitive palates can handle. 
Nutrition
Serving:
1
g
|
Calories:
421
kcal
|
Carbohydrates:
23
g
|
Protein:
21
g
|
Fat:
27
g
|
Saturated Fat:
15
g
|
Cholesterol:
75
mg
|
Sodium:
676
mg
|
Potassium:
199
mg
|
Fiber:
1
g
|
Sugar:
3
g
|
Vitamin A:
804
IU
|
Vitamin C:
3
mg
|
Calcium:
452
mg
|
Iron:
1
mg