Make brunch amazing with a crazy good griddle grilled ham and cheese recipe! The Croque Madame is slathered in a white sauce and topped with a fried egg. It's a heavenly French twist on a classic grilled cheese and so easy to make you will impress everyone.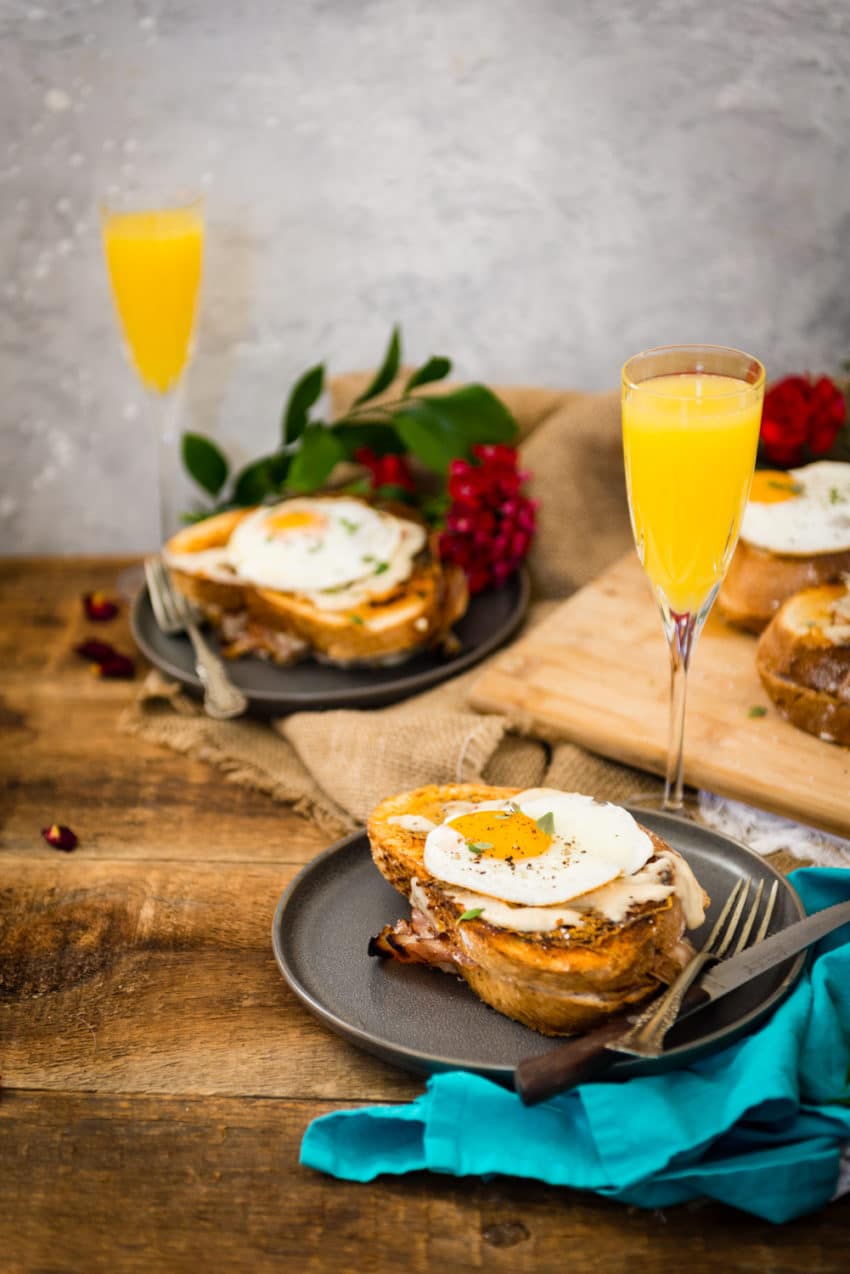 This post was sponsored by Cuisinart to showcase their new Cuisinart 360° Griddle Cooking Center. Thoughts and opinions expressed are my own.
There's something absolutely exciting about cooking breakfast outside. Now imagine a full on Sunday brunch cooked outside in the sunshine. Perfection.
I have been testing the Cuisinart 360 Griddle Cook center and rather enjoying it. The 22inch cooktop has been a blast for griddle grilling burgers, French toast, and of course pizzas.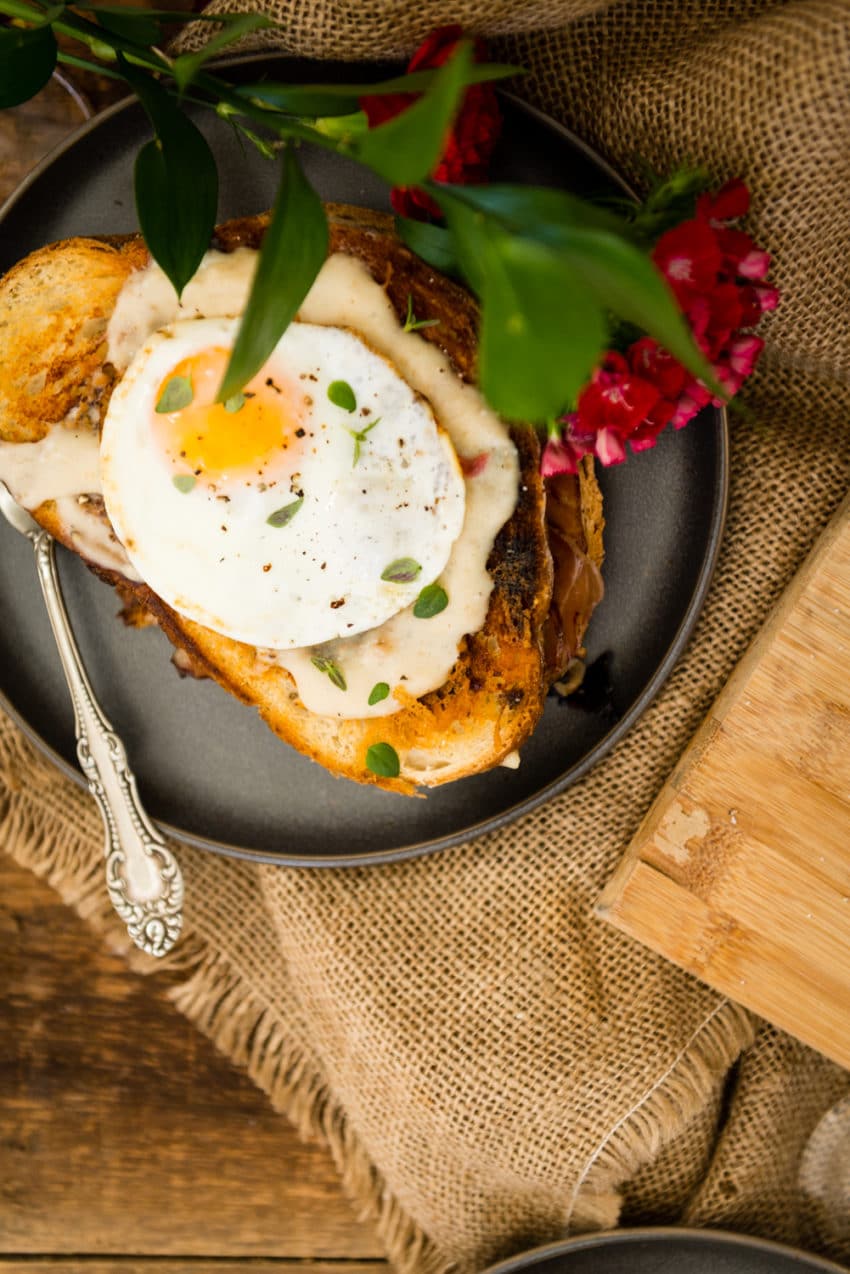 What is the difference between a grill and a griddle?
Although both gas grills and the Cuisinart 360 Griddle are propane-fueled, they are both very different. With grilling, you have the grate which allows the flame to be exposed to the food. For griddle cooking, with the heavy-duty rolled steel surface, the heat is distributed evenly as the surface is exposed to the temperature.
I like to think of my griddle as similar to cooking on my cast iron, an even controlled heat throughout. Where my grill, is fun for the flame-kissed flavor and crisp grill lines.
With the two heat zones on the Cuisinart griddle, you can run a hot and cool side, but overall, the whole cooktop will remain heated consistently while you are running heat.
The flame being under the cooktop on the griddle helps you avoids flareups that can sometimes occur while cooking with a gas grill.
Most of all, the flat griddle surface ensures for a good crisp cook. Think perfectly crusted burgers or evenly cooked pizza dough. Plus we all love practicing our mad hibachi skills which you just can't do on a traditional grill. (I mean, you could try, but I don't want to be part of the cleanup).
See Walmart more information on the Cuisinart 360 Griddle Cook Center.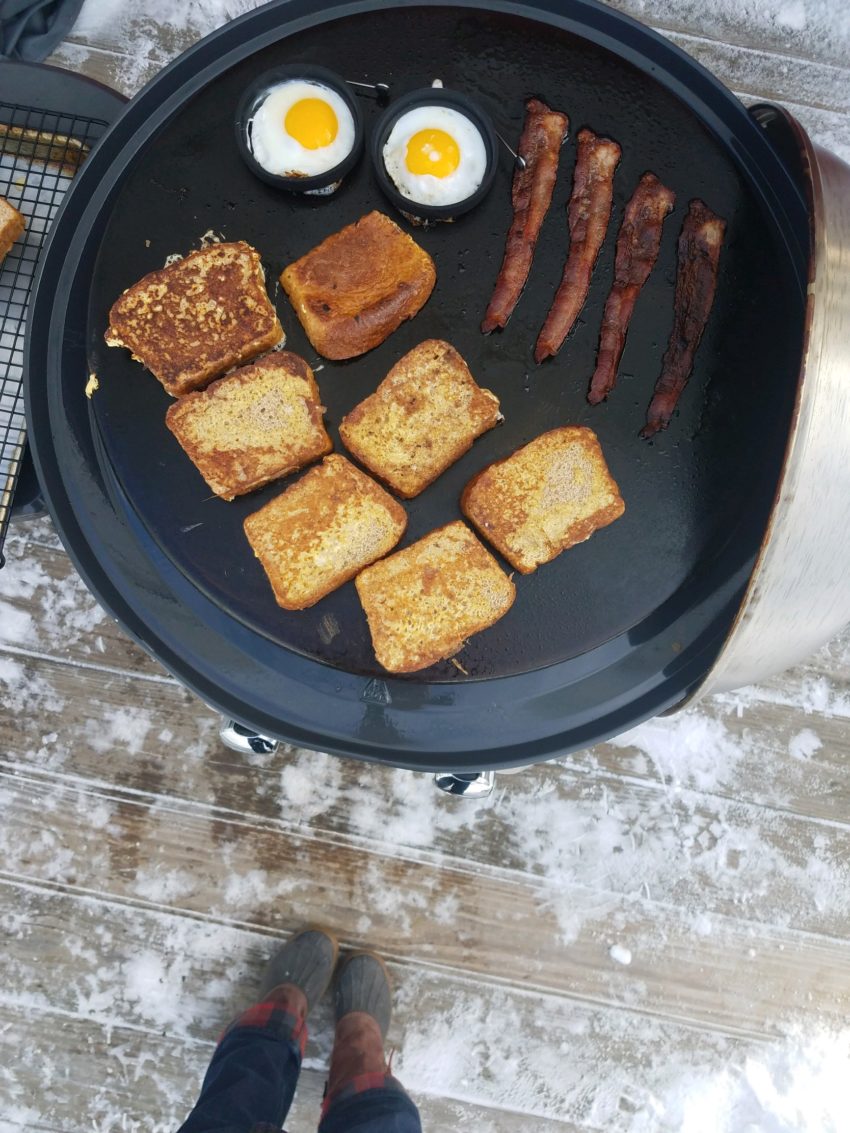 How to cook breakfast on a flat top griddle?
Anyone else have fond memories of pancakes for dinner? There is something totally fun about whipping out a griddle and serving up a feast. And that's exactly what makes cooking breakfast on the flat top griddle a whole lot of fun.
When you have your breakfast items ready to cook, section off the griddle as needed for each item.
I put pancake batter, French toast, etc down the middle, to avoid run off; Bacon near the edges so the grease falls into the 360 grease trap; Eggs in their own quarter.
The large cook surface allows you to organize your cooking while making sure everything cooks at the same time. No need to worry about pancakes getting cold while you finish up the sausages. One surface and you can cook everything all at once.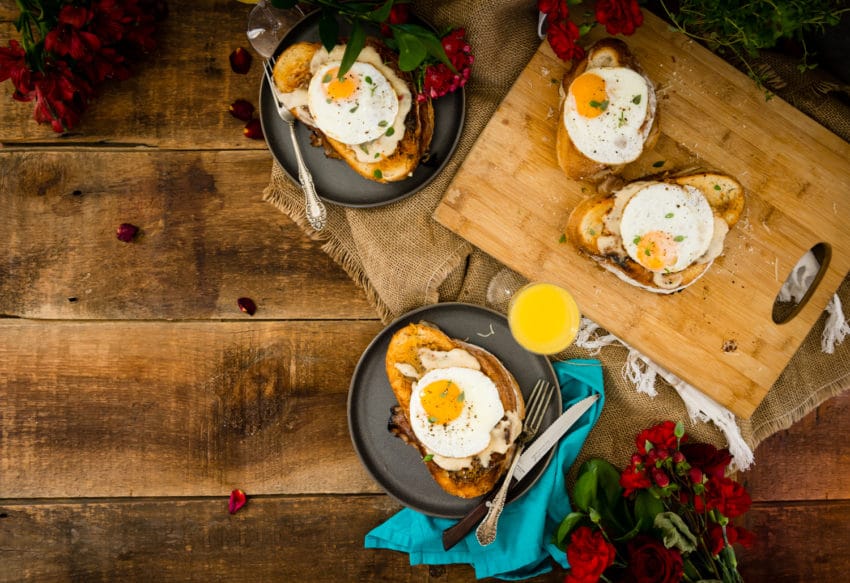 How to cook eggs on a griddle?
Eggs are one of the trickiest things to cook on a griddle. To get used to controlling the egg (and not getting a huge puddle of a white) I love using the egg rings that come as part of the Cuisinart accessory kit. They are the perfect size for egg sandwiches too – which is a double bonus – and prevent the whites from spreading everywhere.
You can even mix the eggs in a bowl beforehand and pour them into the egg rings for scrambled eggs. Just mix, with a rubber spatula, while they set for perfectly soft scrambled eggs.
If you want to fry an egg without the egg ring, be sure to break the egg not far from the surface, and drop the white in slowly to control the spill. The more celebrity chef you get with one-handed egg cracking skills and dramatic motions, the further the white will spread before setting.
Ready to tackle the perfect brunch recipe? The croque madame sounds fancy and is a rather luscious brunch item. But, let's be honest, it's a gussied up ham and cheese. Don't let the name intimidate you. Whether you are cooking for Easter, Mother's Day or just because it's sunny and you want to play with your Griddle Cook Center, this recette is always a hit.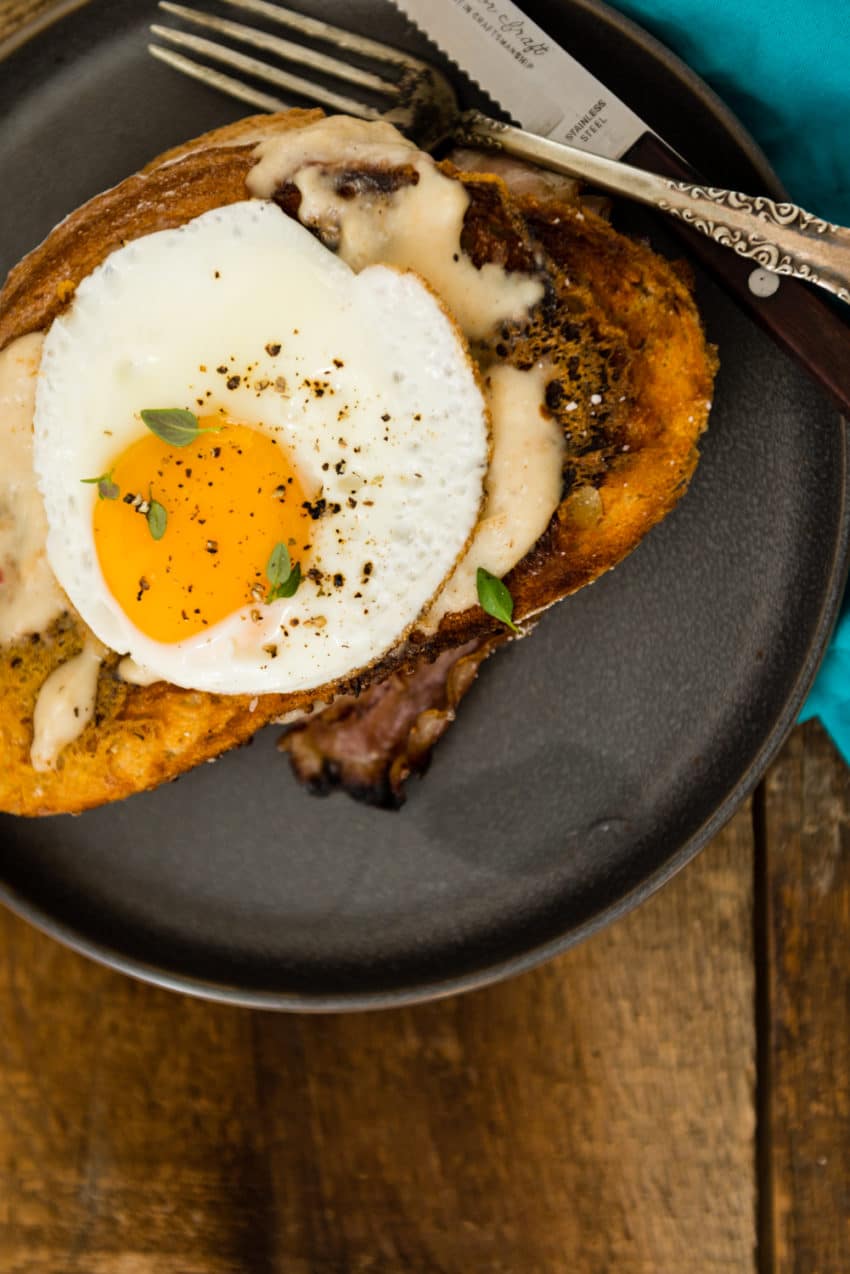 Croque Madam vs Croque Monsieur?
Not sure what to serve guests? Let them pick from the croque madame or the croque monsieur. Keep this little secret 'tween us, but the only difference is the fried egg on top. Yup. That's it. Now you are a master of French cuisine. Go forth and be awesome.
Want more brunch recipe ideas? Try some of my favorite recipes
If you've enjoyed this 360° Griddle Cooking Center review or any other recipe on GirlCarnivore.com please don't forget to rate the recipe and let me know where you found it in the comments below. I get inspired by your feedback and comments! You can also FOLLOW ME on Instagram @girlcarnivore as well as on Twitter and Facebook.
Easy Croque Madame Recipe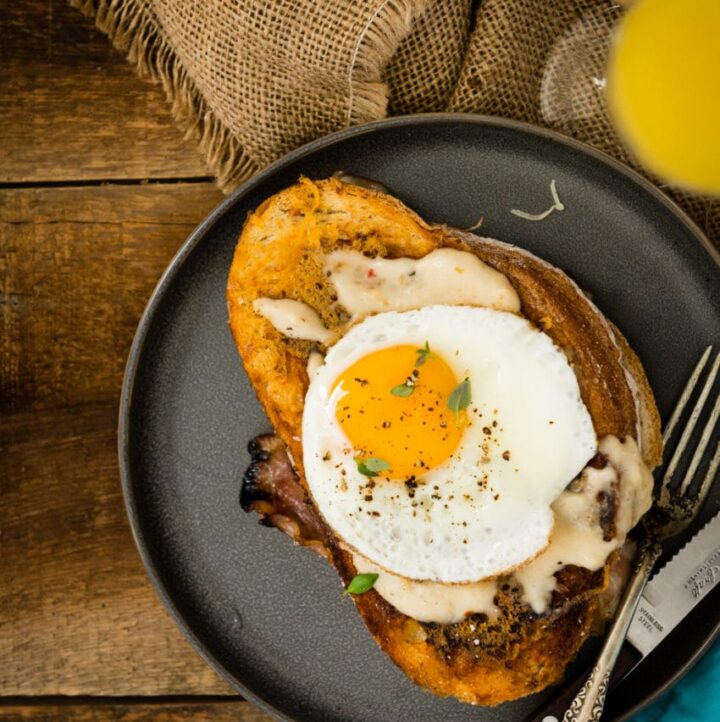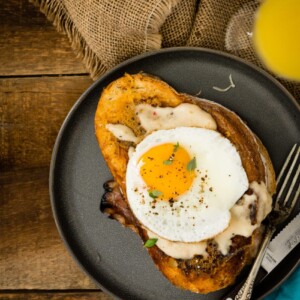 Want to cook breakfast outside and make the best ham and cheese sanwich you've ever tasted? Try this griddle grilled croque madame recipe. It's easier than it sounds and is crazy delicious.
Ingredients
1

loaf of hearty bread

cut into 1" slices

5

tbsp

butter

divided

1

tbsp

flour

2

cups

whole milk

Salt and pepper

1

tsp

Maple Bacon Spice Blend or Bourbon Molasses Spice Blend

2

oz

Freshly grated parmesan

6

tbsp

Dijon mustard

6

oz

Havarti cheese

sliced

1

lbs

Ham

sliced

6

eggs
Instructions
Arrange the sliced bread on a wire rack and place in cool oven or other airtight space, overnight.

When ready to cook, preheat your griddle cooktop using both burners.

For the bechamel sauce:

In a small heavy-duty saucepan, melt 2 tbsp butter.

When butter is done bubbling and melted, whisk in the flour. Cook for one minute.

Slowly add in the milk, whisking constantly to avoid clumps.

Season with salt and pepper and Maple Bacon or Bourbon Molasses Spice blend.

Turn heat to low and allow to thicken.

Keep warm.

For the Croque Madame:

Coat one side of the sliced bread with a thin layer of butter and press into the grated parmesan cheese.

Prep the Griddle cooktop by greasing with the remaining butter, as needed.

Press the cheese side onto the pre-heated griddle.

Working quickly, smear the dijon over the other side of the bread. Add a slice of Havarti cheese.

Lay the ham out onto the cooktop to toast.

When the ham begins to crisp, transfer it atop half of the bread.

When the parmesan has toasted, top with a remaining slice, parmesan cheese side out, and flip to brown evenly on all sides.

Top the sandwiches with the bechamel sauce.

Crack eggs and fry on the cooktop, alongside the sandwiches.

Cover and let the bechamel sauce bubble and the eggs set.

Slide the fried eggs atop the sandwich, season with salt and pepper and serve.
Nutrition
Calories:
544
kcal
|
Carbohydrates:
9
g
|
Protein:
36
g
|
Fat:
39
g
|
Saturated Fat:
20
g
|
Cholesterol:
275
mg
|
Sodium:
1639
mg
|
Potassium:
451
mg
|
Fiber:
1
g
|
Sugar:
4
g
|
Vitamin A:
990
IU
|
Vitamin C:
0.3
mg
|
Calcium:
437
mg
|
Iron:
2.3
mg