Impress all your guests with this perfect oven-roasted rack of pork recipe. Perfect for the holiday season and entertaining. It's easy to make and using top quality pork makes all the difference in flavor.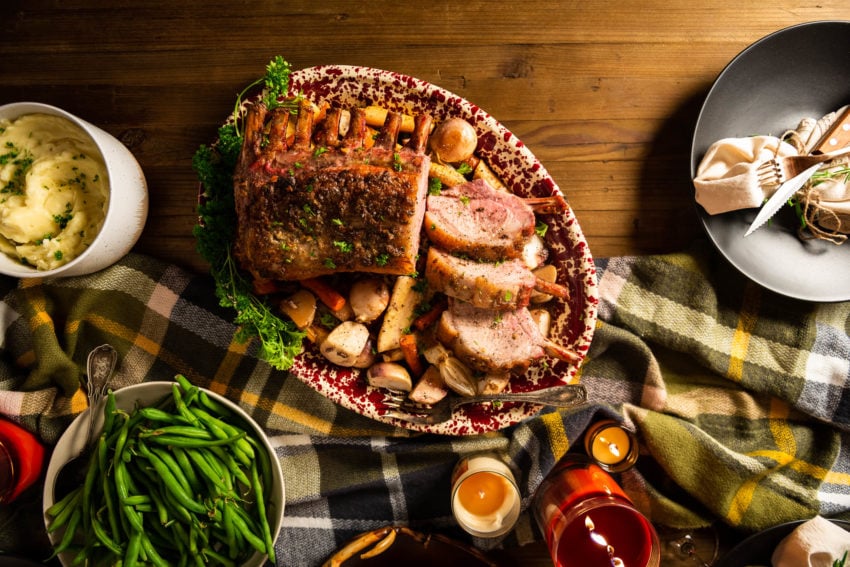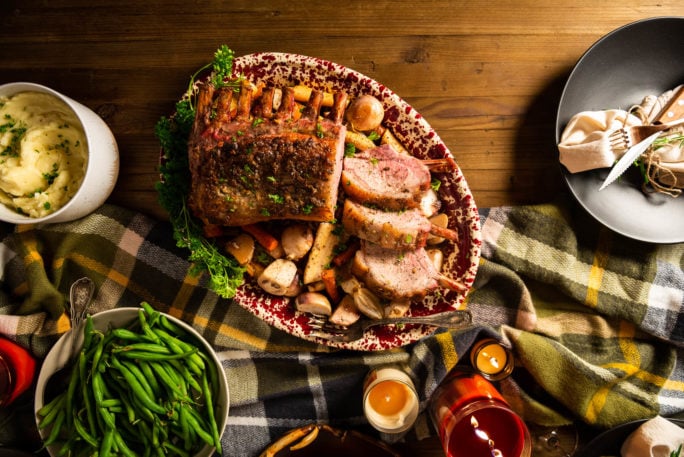 This post was created in partnership with Snake River Farms. However, that thoughts and opinions expressed within are my own.
It's easy to get caught up in the holidays with ideas on what to cook your friends and family while hosting. But it's not as complicated as it looks. So, let's break down a classic oven-roasted rack of pork and get back to hanging out with the guests.
I love whipping up roasts for big nights. One, they look impressive. And two, with a little know-how, they aren't that complicated at all. Once everything is in the oven. it gives me the time to hang out and enjoy my company.
For this oven roasted rack of pork, I used a Kurobuta Rack of Pork from Snake River Farms, also known as the prime rib of pork. Snake River Farms is an online retailer for high-end specialty meat such as heritage pork, American Wagyu, USDA Prime, and dry-aged beef.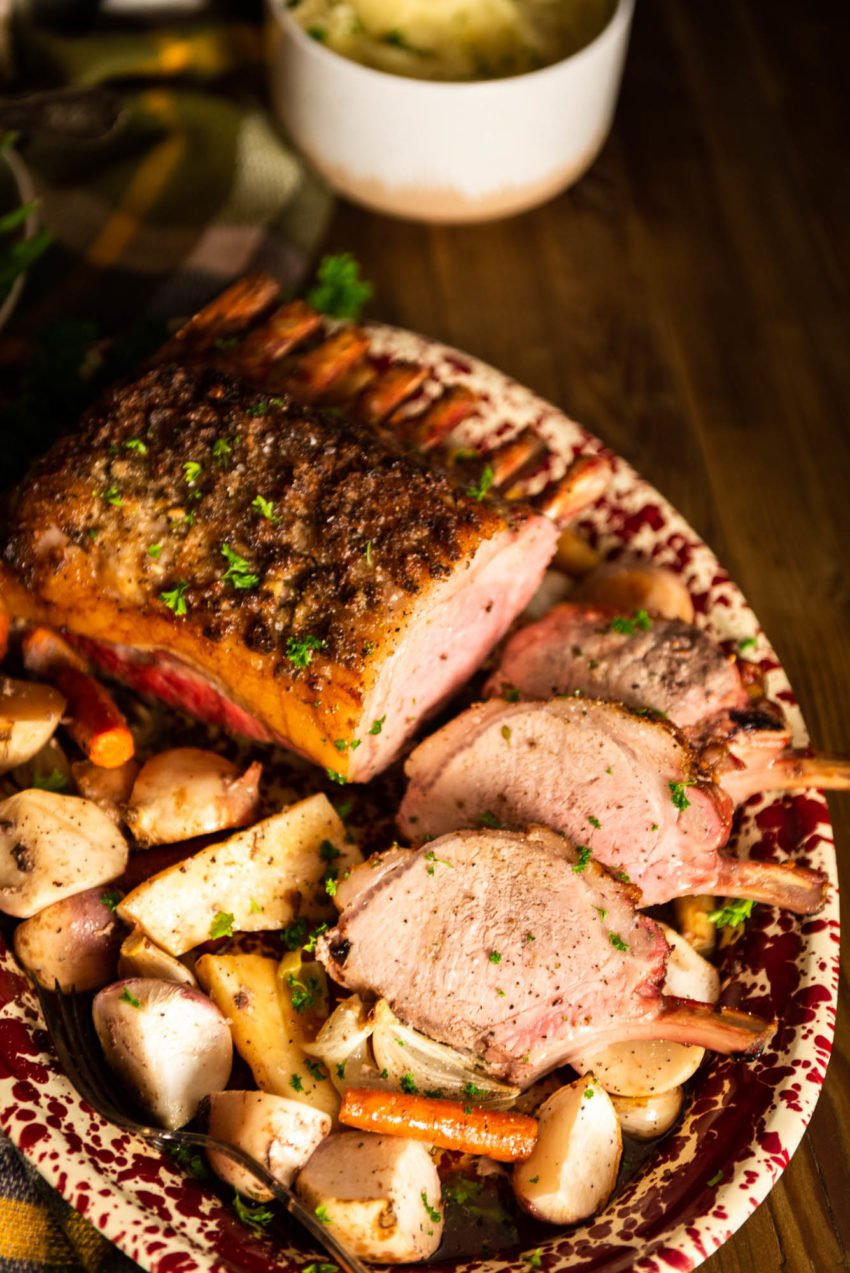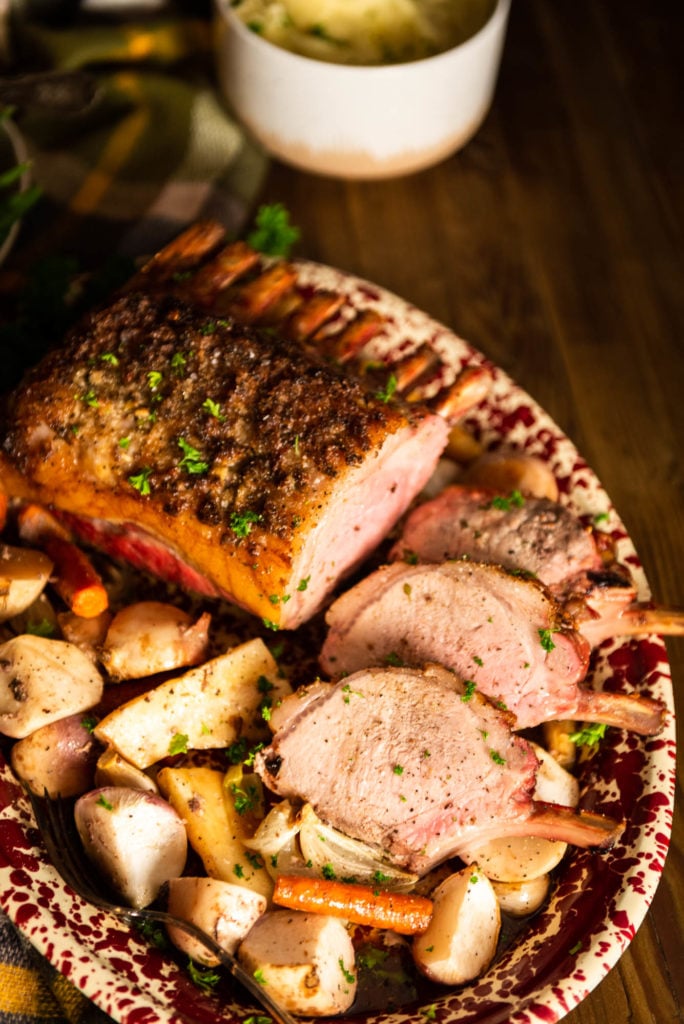 What is Kurobuta Pork?
Kurobuta Pork is a Japanese standard for prime pork. To put it simply, Kurobuta is to pork what wagyu is to beef. Kurobuta pork comes from heritage Berkshire pork. It is known for its intense flavor, a richer color, and tender bite. The high-fat content is what produces a beautiful marbling and tenderness in the meat, much like we look for in a juicy rib-eye steak.
Because Kurobuta is rarer than other standard pork breeds, it is not the same pork we often see at our local markets. Currently, you would need a specialty butcher or a trusted online retailer of prime meat to source Kurobuta pork.
I was sent two beautiful racks of Kurobuta pork from the folks at Snake River Farms to try in my kitchen. It arrived to my meat lab all the way in the far reaches of Maine in an eco-friendly package with water dissolvable styrofoam and dry ice. Each rack of pork was still frozen in their airtight seal. This product did ship during the winter months, which I am sure plays a roll in the level of defrosting, but the packaging was very well thought out to keep the meat cold for shipping.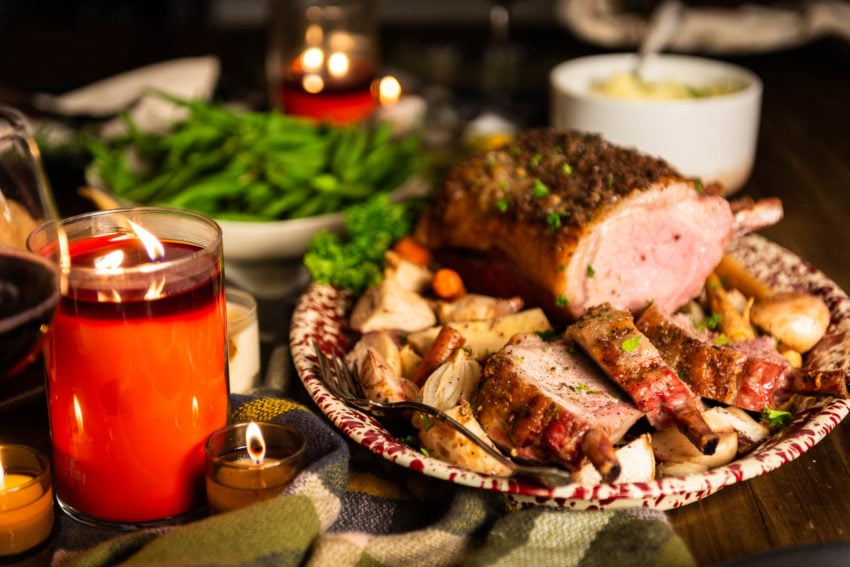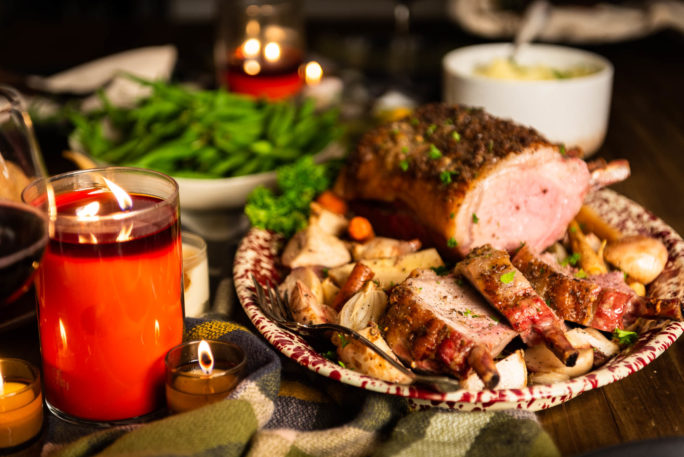 How to order a rack of pork
Ordering a rack of pork can be confusing. How much will you need to feed your guests? And since you will most likely need to special order the pork, knowing just how much you need is important.
The basic rule of thumb for ordering a rack is 1 pound per person, including the weight of the bone. This leaves about 1/2 to 3/4 pound per guest. I generally go with one bone per guest, with an extra rib for those who will come back for seconds.
I don't often see full racks of pork at my local market and have special ordered each time. Find a local butcher and make sure you are giving yourself ample time ahead of your dinner party to order your rack of pork. Online meat companies like Snake River Farms, that specialize in heritage breed pork, make ordering simple. By the rack. Each rack is 10 to 12 ribs.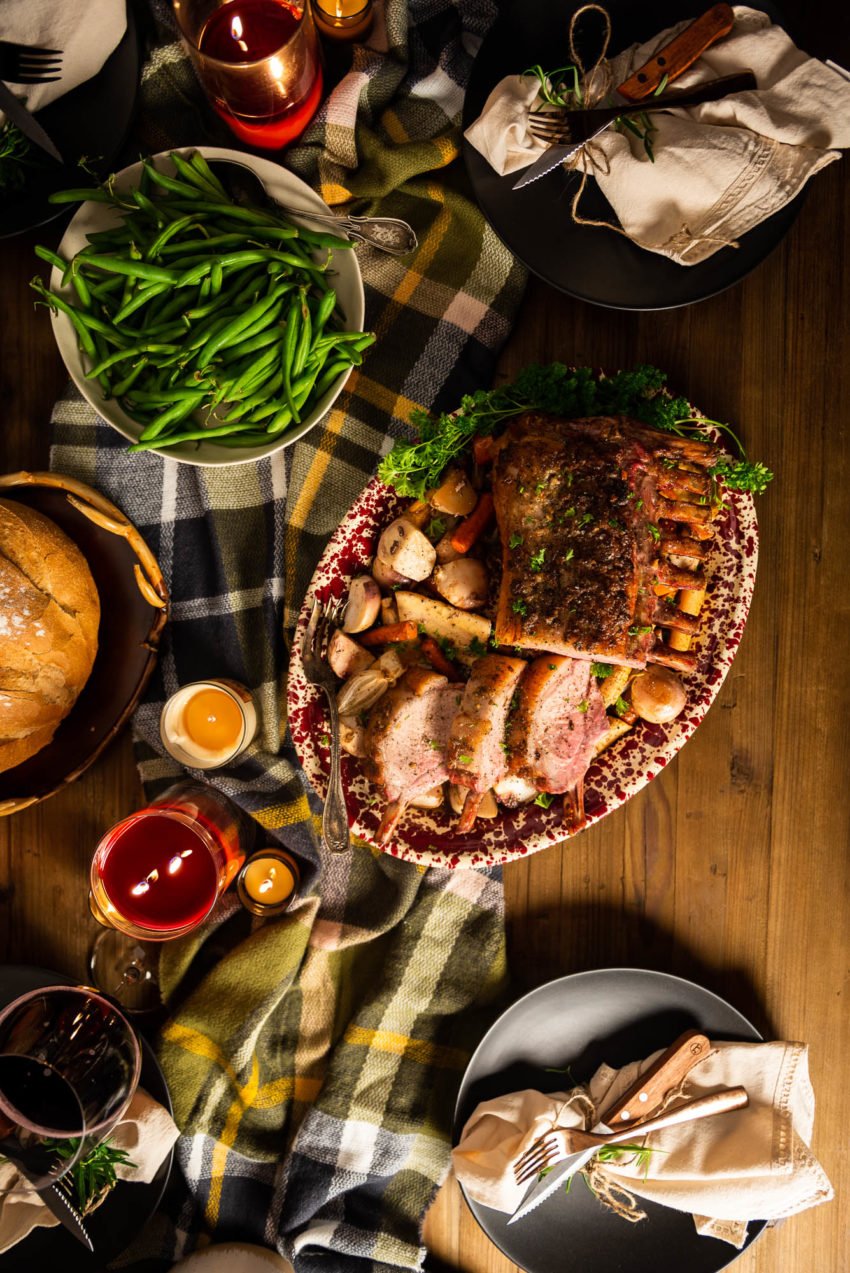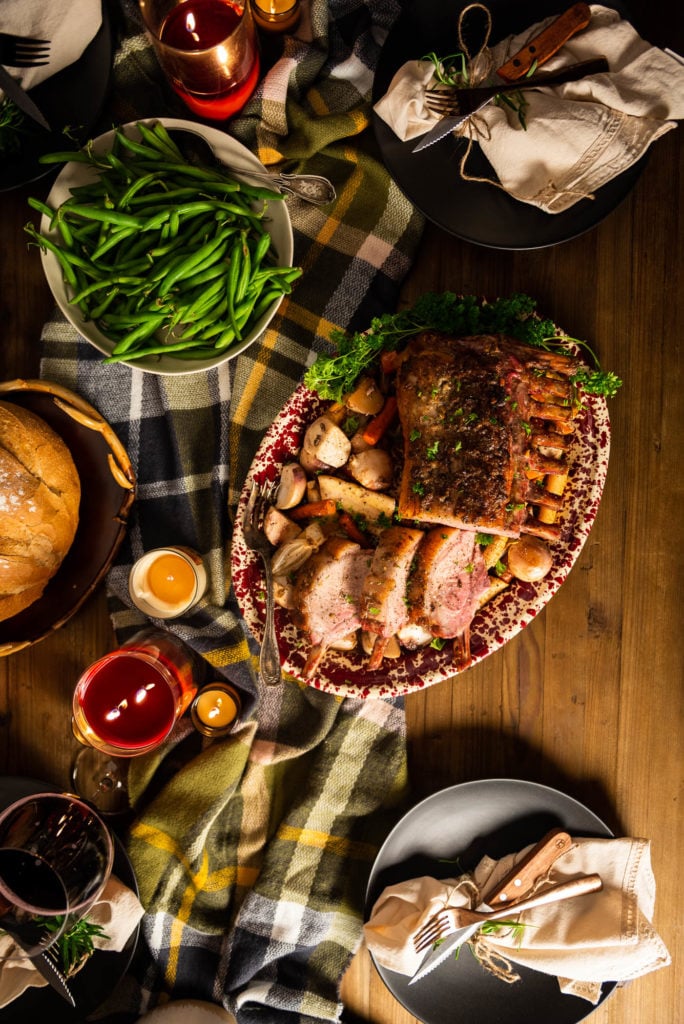 How to Cook a Rack of Pork
When it comes to cooking large cuts, low and slow is where it is at. Rack of Pork is ideal for roasting in the oven or smoking, for a steady even heat to guarentee a perfect 145-degree internal temp when slicing. A rack of pork is often not as thick as a prime rib or whole turkey, cutting the cook time down a bit.
A good sear at the start, or browning under the broiler, can help form a perfect crust that we all love. In the method below, I sear the rack first, in a hot skillet, before placing in the oven.
Also, a meat thermometer is essential for any large cut, especially a rack of pork. Overcooked pork can be dry and tough, but we don't want it undercooked in the center either. With large cuts, a simple finger poke isn't a sure way to test if the meat is one. Using a wireless meat thermometer for cooking is your best bet to a perfectly cooked rack.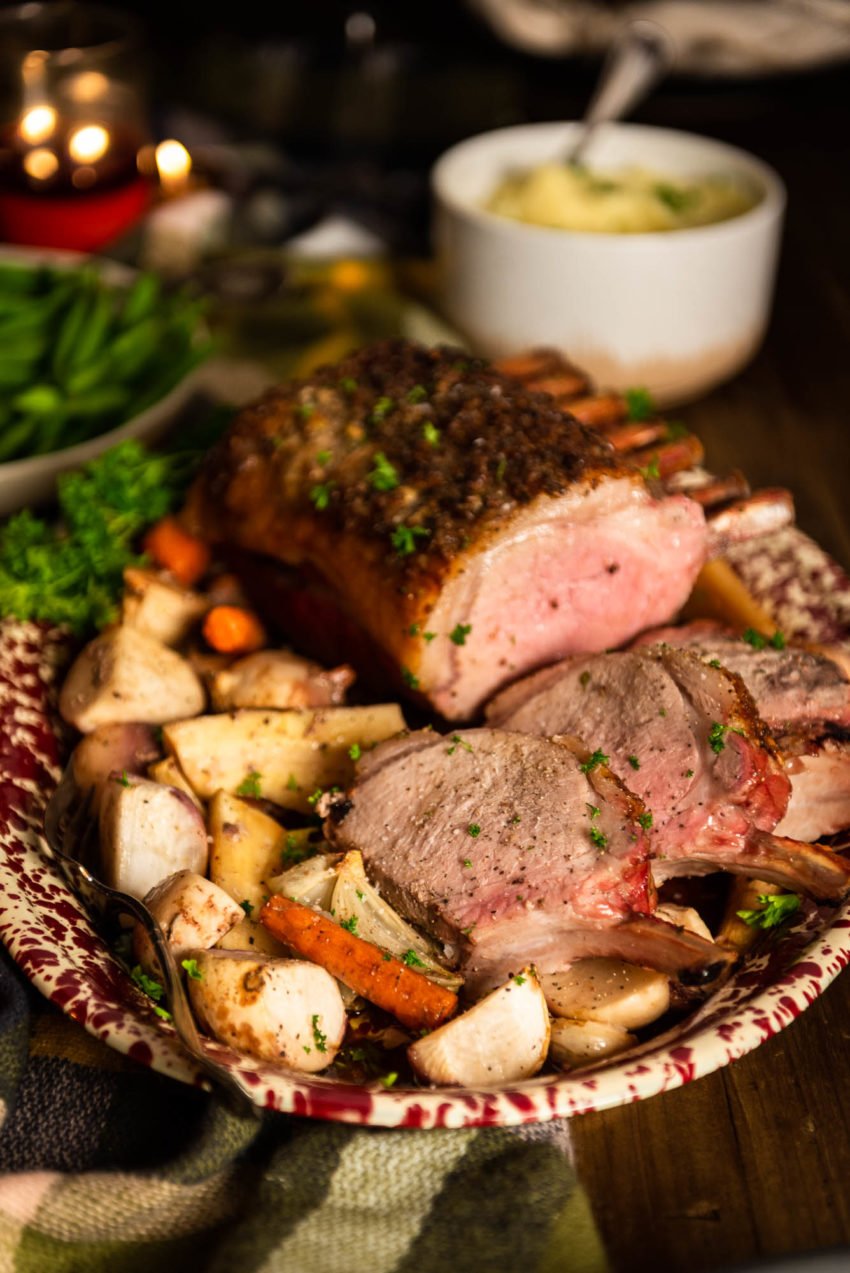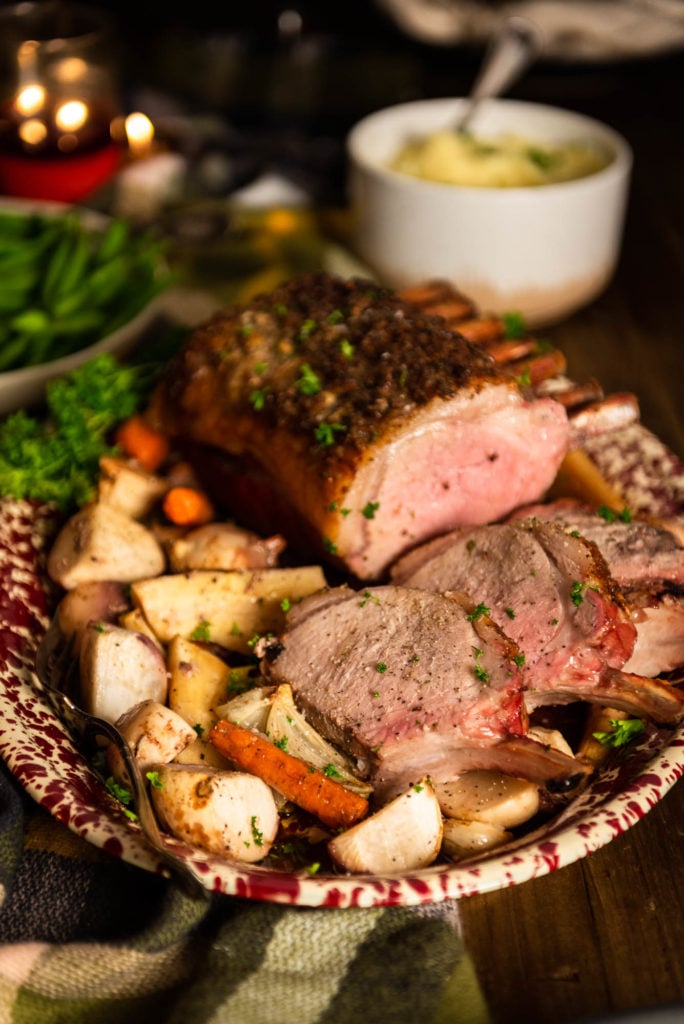 Need more pork inspiration? Check out these recipes:
If you've tried my Perfect Oven Roasted Rack of Pork recipe, or any other recipe on GirlCarnivore.com please don't forget to rate the recipe and let me know where you found it in the comments below. I get inspired by your feedback and comments! You can also FOLLOW ME on Instagram @girlcarnivore as well as on Twitter and Facebook.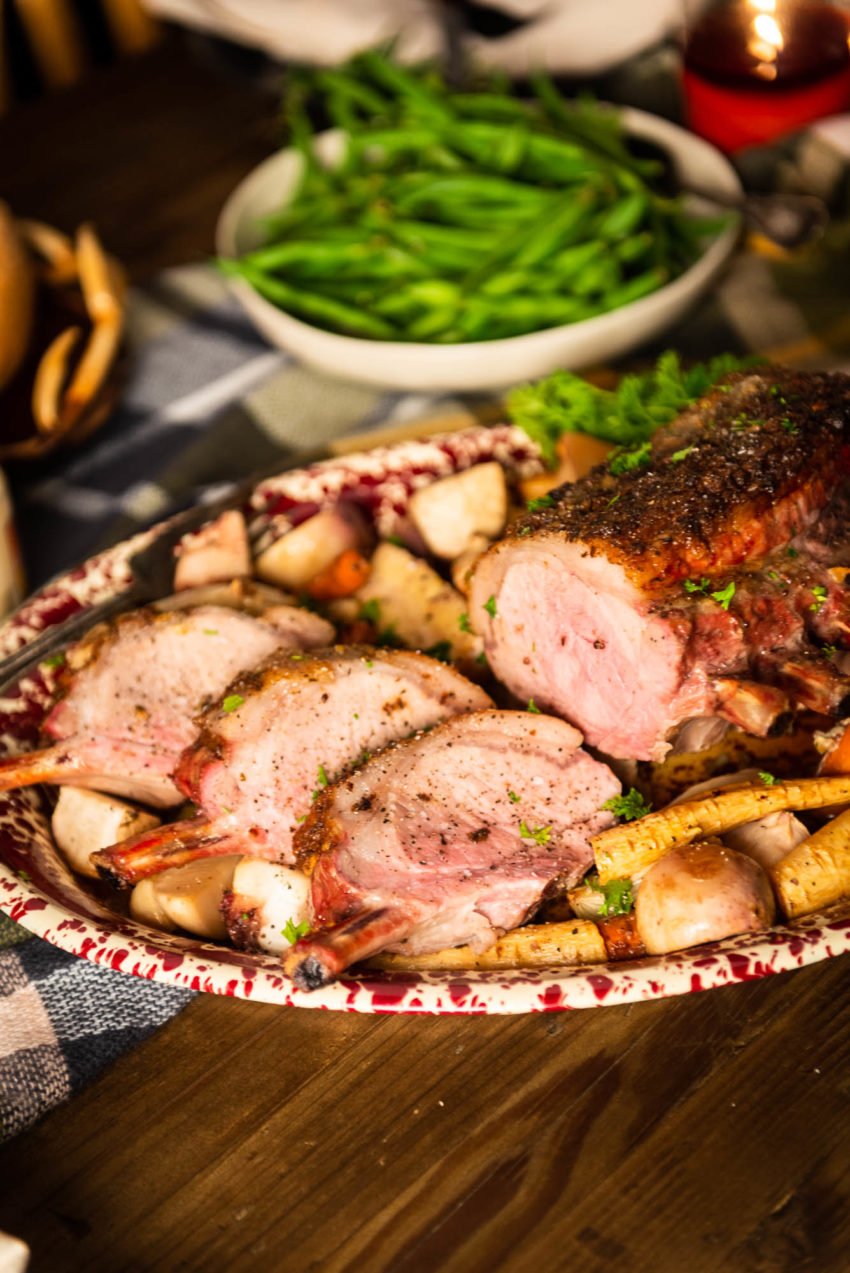 Cook Time:
1
hour
30
minutes
Total Time:
1
hour
50
minutes
Ingredients
1

rack of Kurobuta pork

10-12 ribs

4

tbsp

unsalted butter

divided

2

teas coarse salt

divided

2

carrots

3

turnips

2

parsnips

2

onions

2

tbsp

dijon mustard

1

tbsp

mayo

5

cloves

of garlic

minced

2

sprigs fresh rosemary

chopped

2

sprigs fresh thyme

chopped
Instructions
Whisk the dijon and mayo in a small bowl together. Add the minced garlic, rosemary, thyme, and 1 teaspoon salt.

Rub the rack of pork with the dijon mixture and let rest in the fridge for 6 hours. Bring to room temp on the counter for 30 minutes before cooking.

When ready to cook, Preheat oven to 425

Melt 2 tbsp butter in a small saucepan or in the microwave; Set aside.

Roughly chop the carrots, turnips, parsnips, and onion and toss in 2 tbsp of the melted butter. Season with 1/2 teaspoon salt.

Heat a heavy roasting pan over medium heat. Add the remaining butter and swirl to coat pan.

Sear the pork, fat side down, until golden 3 to 5 minutes.

Using tongs, hold the rack up and sear the sides as best you can. Remove the roasting pan from heat and set the pork aside.

Add the veggies to the pan and nestle the pork on top.

Roast the pork in the oven at 425 for 1 to 1 -2 hours until the internal temp reaches 145.

Remove from the oven and cover with foil.

Let rest for 20 minutes.

Slice carefully between the bones and serve.
Nutrition
Calories:
994
kcal
|
Carbohydrates:
113
g
|
Protein:
12
g
|
Fat:
59
g
|
Saturated Fat:
31
g
|
Cholesterol:
127
mg
|
Sodium:
803
mg
|
Potassium:
2614
mg
|
Fiber:
29
g
|
Sugar:
44
g
|
Vitamin A:
21800
IU
|
Vitamin C:
153
mg
|
Calcium:
343
mg
|
Iron:
4.2
mg