Smoked cabbage is a quick and easy side dish with hardly any work and all of the flavor! This smoked cabbage recipe is a unique, delicious way to sneak some veggies in. Yeah, it's that good! Smoked cabbage is the perfect complementary dish to many proteins like beef brisket, chicken, or smoked corned beef. Making it an obvious choice most nights.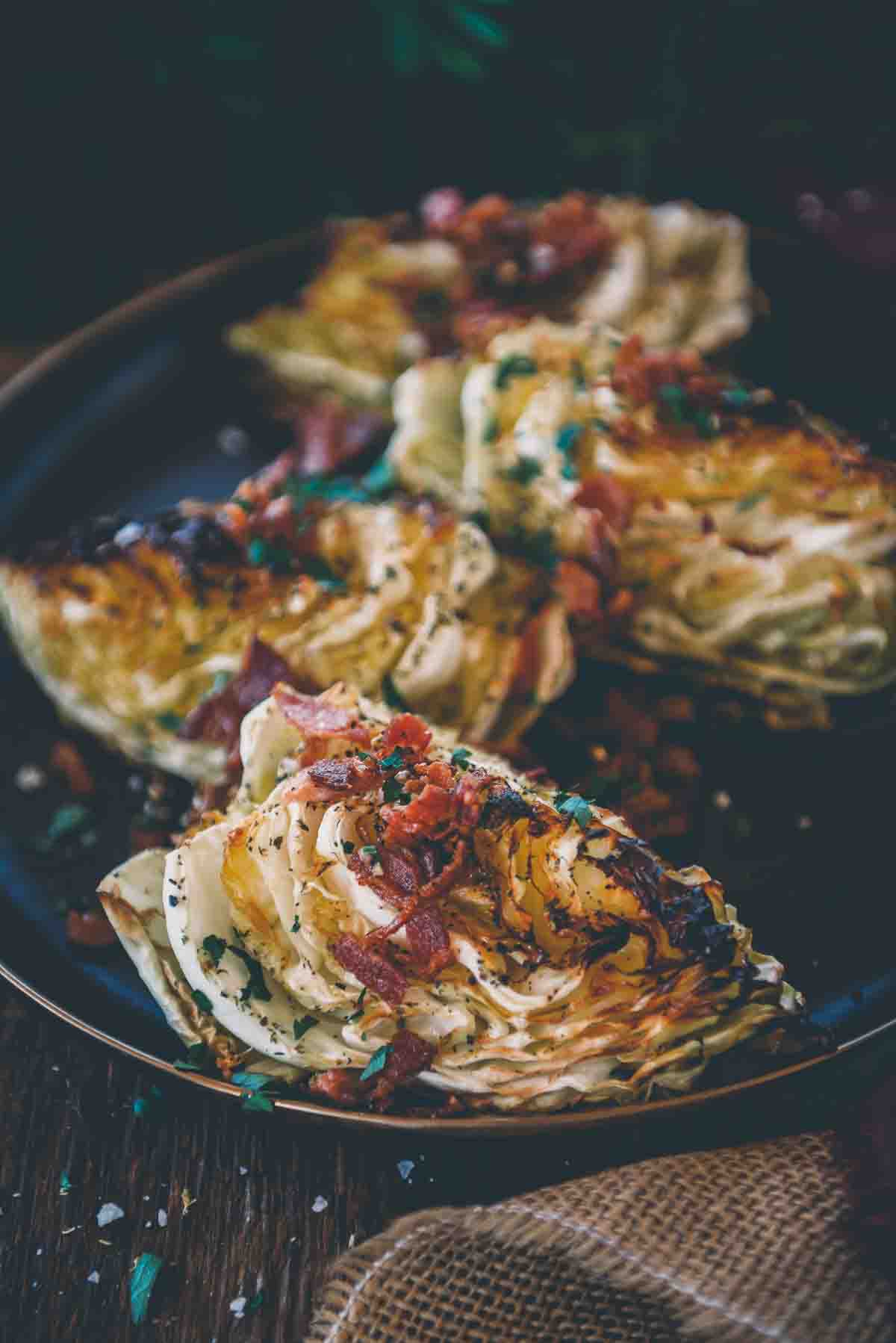 This tasty side is a perfect side to any backyard bbq or regular weeknight dinners! We make this at least once a week! The caramelized cabbage takes on a wonderfully sweet and mild smoke flavor and tender texture that isn't soggy at all! Plus, with only 5 ingredients and a few steps, it's the perfect low-effort recipe!
What is smoked cabbage?
Smoked cabbage is a head of cabbage, green cabbage specifically, prepared using a smoker and dry rub seasonings. The grilled cabbage leaves absorb the smoky flavor nicely without becoming overly smoked — making it a perfect bbq staple. Swap smoked cabbage for classic boiled and serve alongside traditional Irish dishes and other meat-based recipes. Alternatively, it can be chopped up and served in coleslaw for added zing.
We use this easy recipe weekly with sausage, steaks, chops, and chicken thighs. It's our go-to low-carb super-filling staple, and it's cheap!
I love any excuse to use the Traeger pellet grill, and it really takes this tasty side dish to the next level with the ease of oven baking it.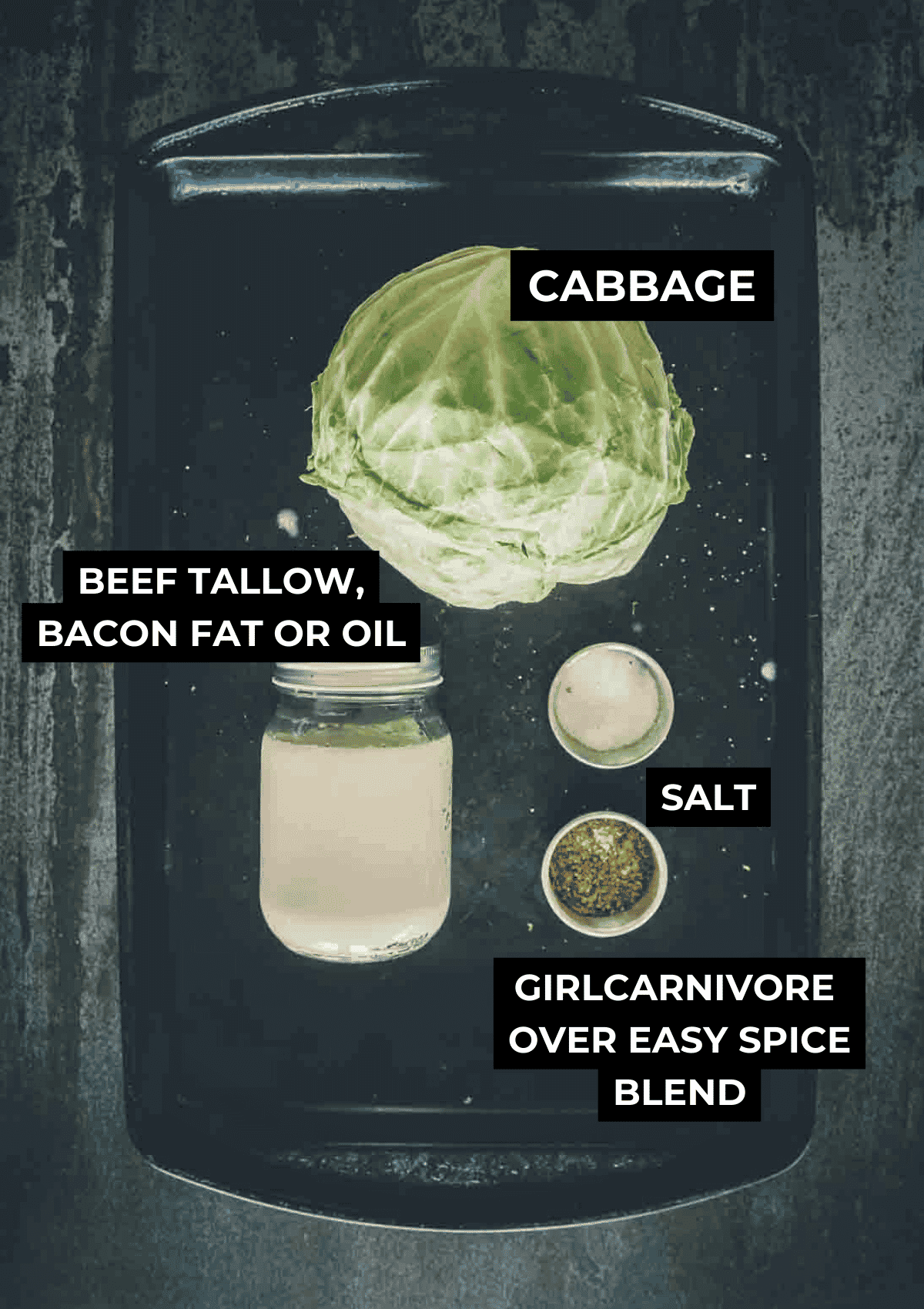 Smoked Cabbage Ingredients
Cabbage – green or white cabbage will work. We use a medium size head just to manage the portions.
Beef tallow, bacon fat, or oil
Kosher Salt
GirlCarnivore Over Easy Spice blend
To Serve
Bacon crumbles – adds the perfect amount of salty crunch
Parsley
How to Make Smoked Cabbage
Once you have all your ingredients ready, start by prepping the smoker at 375 degrees F.
Next, remove the outer leaves of your cabbage to dispose of any browning or cracked leaves.
Next, cut the cabbage in half and remove the cavity of the cabbage. Carefully create a triangle wedge slice, and cut into the top corners of the thick core using a sharp knife. Then wiggle the core out and discard it. Depending on the size of your cabbage, you want to cut it into quarters, leaving you with four wedges. If it's smaller, just cut it in half. If the slices are too thin, the cabbage can get soggy when cooked.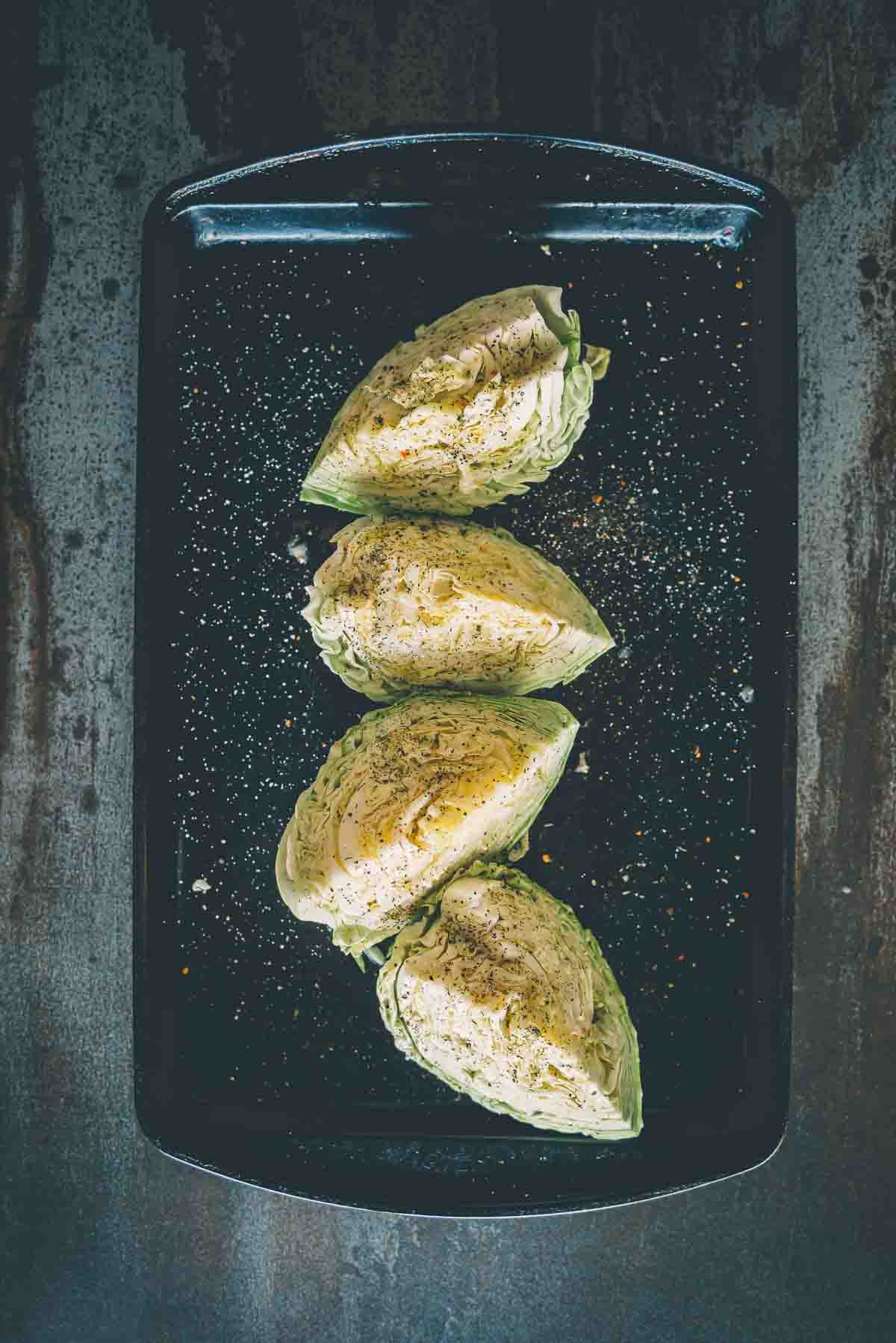 Then, brush the top of the cabbage wedge with beef tallow and rub it with salt and seasoning blend. Lastly, arrange your seasoned cabbage wedges on a foil-lined baking tray and place them into the pellet smoker. Close the lid, and you're good to go!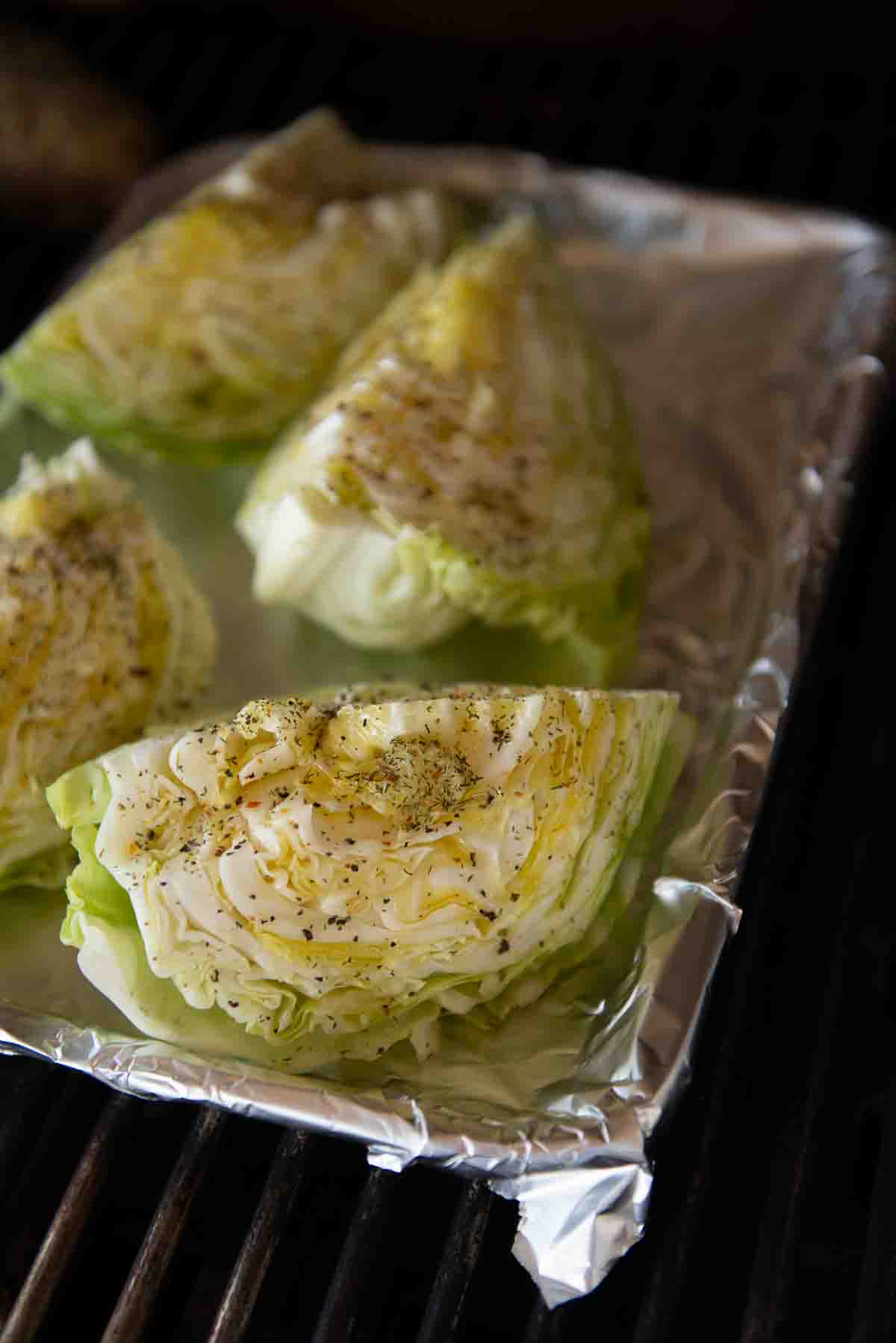 Once they are nice and tender, remove them from the smoker after about an hour, though cook time will vary depending on the size of the cabbage. They should appear golden brown on the outer edges when they're ready.
Sprinkle the crispy bacon and parsley over top. Want a little more flavor, try freshly ground black pepper and parmesan cheese!
Expert Recipe Tips
Depending on the flavor you're going for, you can use a dry rub to season your cabbage or a barbeque rub of your choice!
If you decide to smoke the whole cabbage instead of cutting it into wedges, you can stuff it like a turkey! Once you remove the core of the cabbage center, fill that space with a stick of butter, seasonings, and other herbs and spices of your choosing. Use the remaining butter on the outside of the cabbage. Check out this recipe from HeyGrillHey for an epic bacon wrapped smoked cabbage.
For the best results, adjust your cooking time if you smoke the cabbage whole instead of slicing it into wedges.
We don't recommend slicing into cabbage steaks if you want to smoke it, we've tried it, and the leaves tend to fall apart quickly.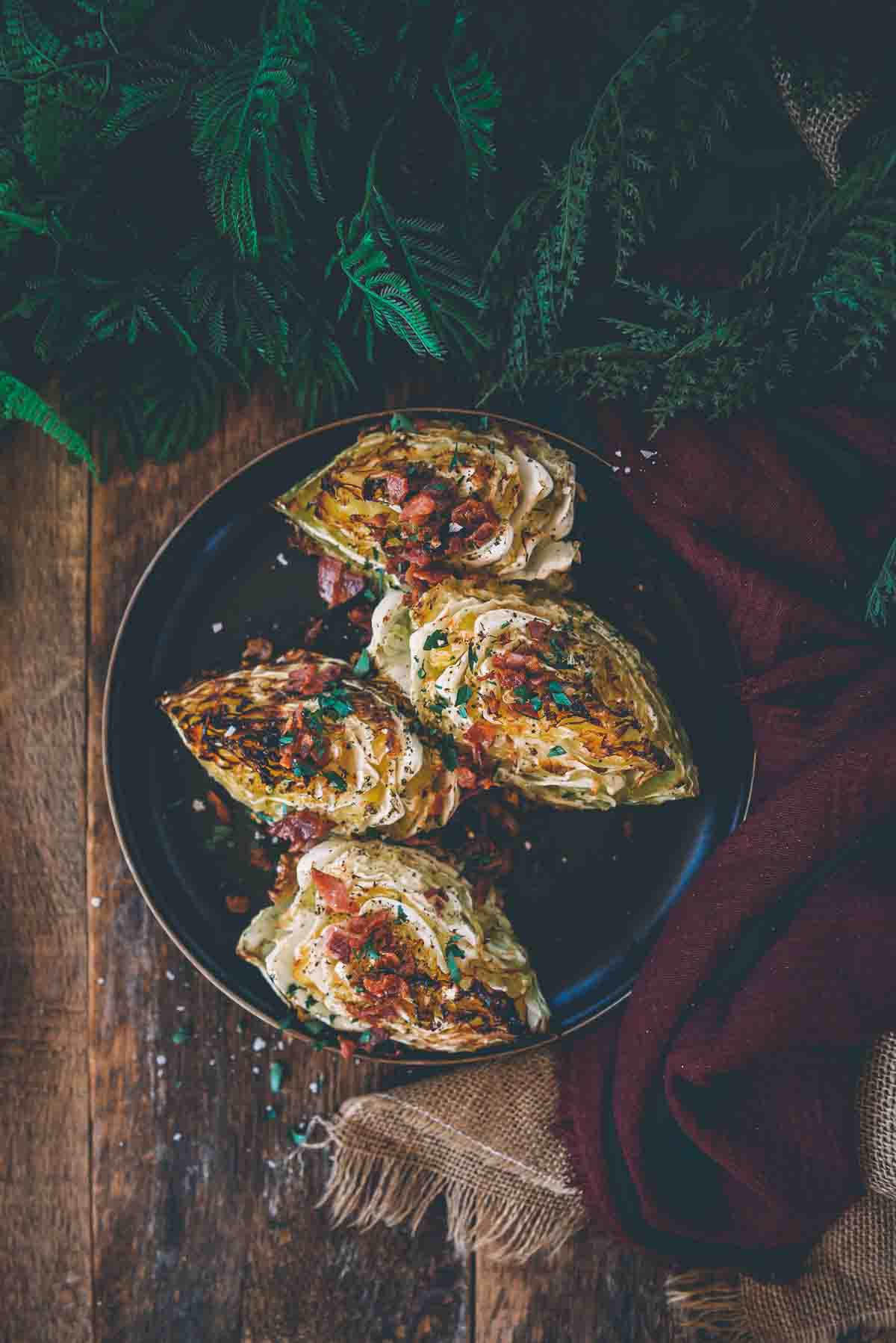 Storage
Smoked cabbage is best enjoyed fresh! If you want to store it, you can use an airtight container for up to 3-5 days.
Reheating/Leftovers
It's probably best to enjoy your smoked cabbage fresh. Otherwise, it might become overdone or soggy. If you need to reheat it, pop it back in preheated oven just enough to reheat or on the air fryer to heat and crisp it up!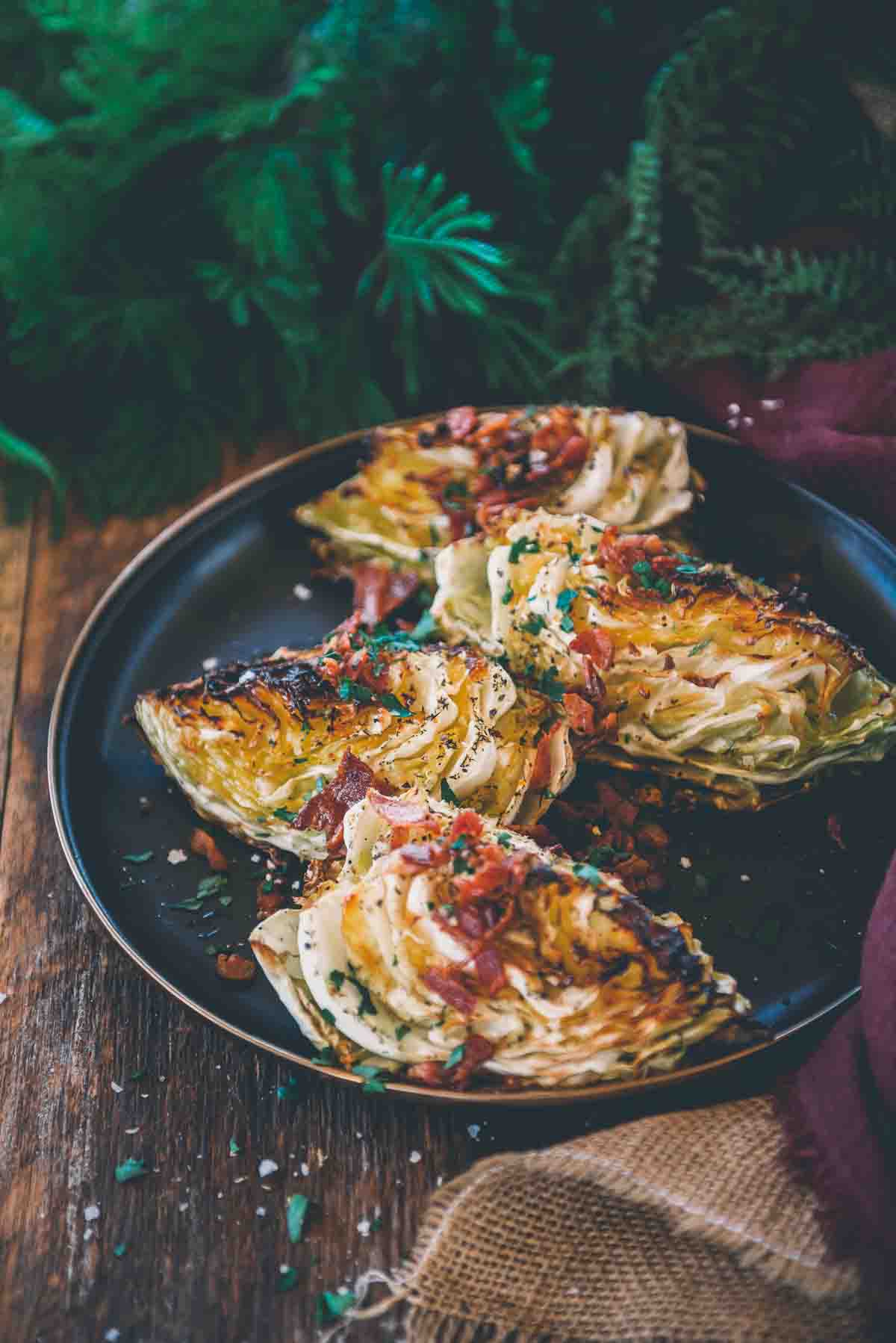 What to Serve With
The smoke flavor makes this cabbage recipe the perfect thing to serve at backyard BBQs, holiday meals, or on a regular weeknight dinner! Some of my favorite main courses to pair with are:
FAQs
Do you need to wash cabbage?
Yes, you should rinse your cabbage head. And even go as far as to remove a few of the outside leaves. Just like any other type of produce, there could be a few friendly insects to get rid of or leftover dirt from harvest. The best way is to place your cabbage into a colander and rinse away any potential bugs
How long will cabbage keep in the refrigerator?
If you wrap cabbage tightly in plastic wrap, it can keep for up to two weeks in the refrigerator. But that's only if it's fresh. Once you cut the cabbage, you'll want to use it in about 2-3 days.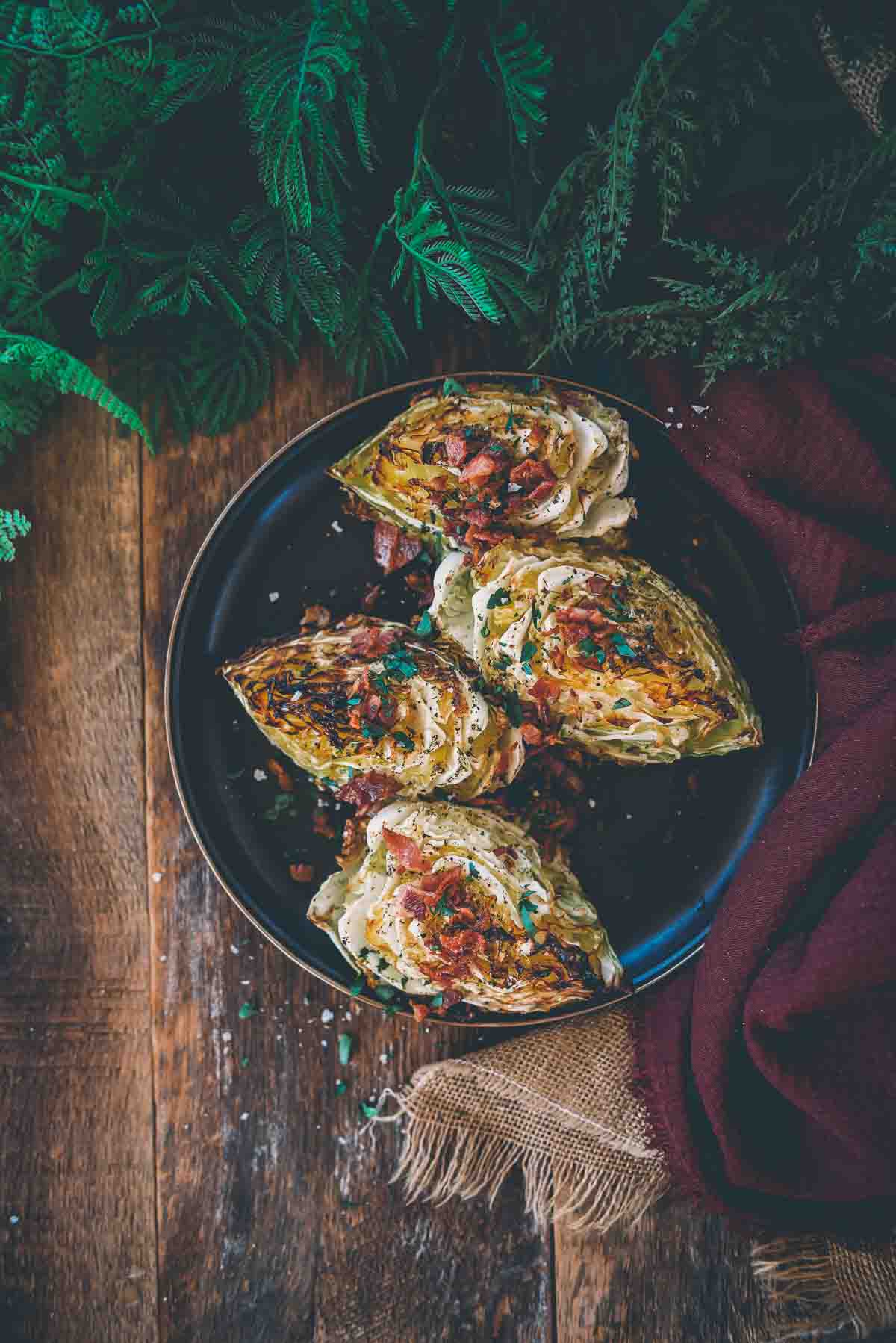 More Delicious Side Dish Recipes
Next time you're looking for a vegetable to serve with dinner, give this smoked cabbage a try! With virtually no hassle, this simple side dish is a no-brainer! I hope you enjoy this recipe as much as I do! If you end up serving it, let me know how it turns out in the comments!
Smoked Cabbage Recipe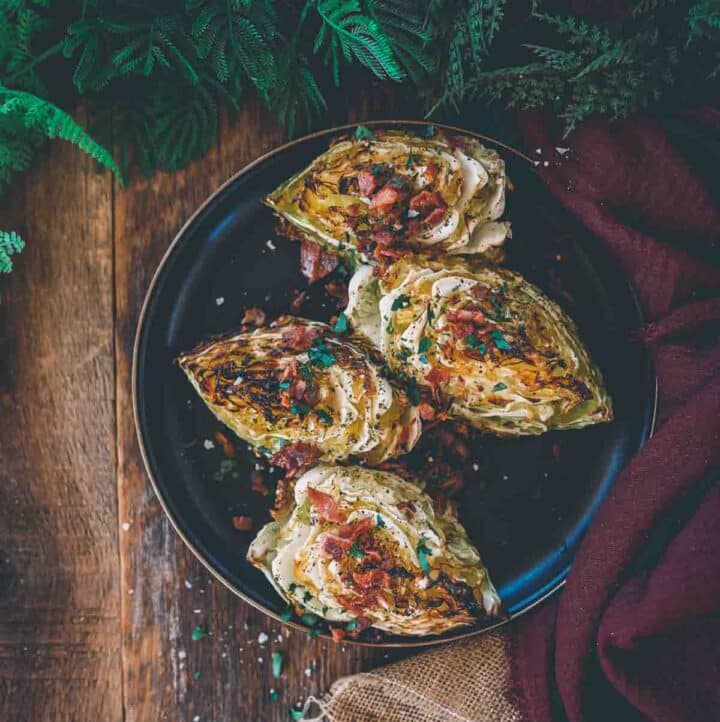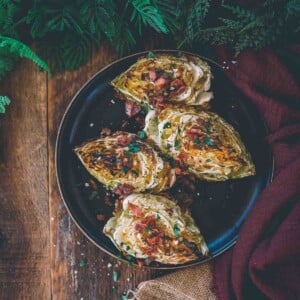 This easy smoked cabbage recipe is SO good! We love it as our go to keto side dish for just about every meal.
Ingredients
To Serve
2

tbsp

Bacon

cooked and crumbled

1

tsp

Parsley

freshly minced
Instructions
Prep the cabbage
Cut the cabbage in half and remove the core.

Cut into quarters (wedges).

Brush the cabbage with the beef tallow

Rub with Salt and GirlCarnivore Over Easy Spice blend.
Smoke the cabbage
Arrange onto a foil-lined baking sheet and place on the grill.

Close the lid and smoke.

Smoke for 45 minutes to 1 hour until tender and golden
Serve
Serve the smoke cabbage wedges immediately with bacon crumbles and minced parsley.
Notes
We smoked this on a Treager grill (pellet smoker) but this recipe works on any smoker or grill, or if you're short on time it also works on a standard range, or stove top. 
Nutrition
Serving:
1
g
|
Calories:
107
kcal
|
Carbohydrates:
16
g
|
Protein:
5
g
|
Fat:
4
g
|
Saturated Fat:
1
g
|
Polyunsaturated Fat:
1
g
|
Monounsaturated Fat:
2
g
|
Trans Fat:
0.1
g
|
Cholesterol:
8
mg
|
Sodium:
675
mg
|
Potassium:
457
mg
|
Fiber:
7
g
|
Sugar:
7
g
|
Vitamin A:
290
IU
|
Vitamin C:
83
mg
|
Calcium:
151
mg
|
Iron:
3
mg