This crispy crunchy garnacha recipe uses leftover beef birria on top of fried corn tortillas with our favorite toppings for our version of this delicious street food.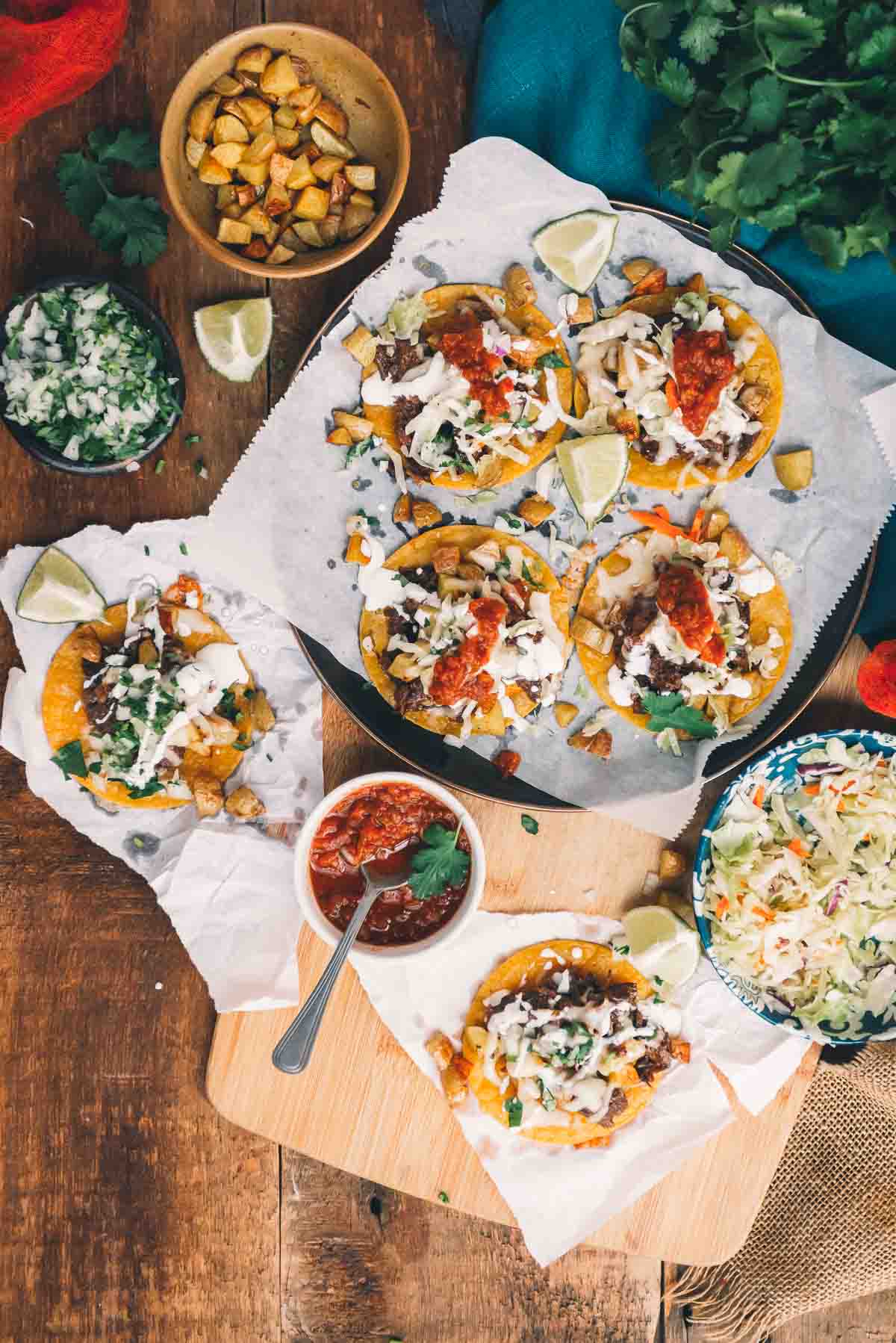 This recipe was developed for the Idaho Potato Council. All thoughts and opinions are my own.
One of our favorite things to do when traveling is to try ALL the street food. Usually, on every corner in a crowded park, you can find vendors selling everything from seasoned fruits to grab-and-go tortas, tacos, tortas, and more. It's a challenge to taste everything and savor every bite.
What is a garnacha?
On the hunt for what makes a garnacha a garnacha, we discovered a loose translation for pretty much all portable hand-held inexpensive street food in Central and South America. Specifically, tho, garnachas have a corn base and aren't sandwiches (tortas) or rolled up (tacos).
Regional differences were as nuanced as the list of toppings you can put on them, but it came down to quick, cheap street food that tasted delicious and anyone could enjoy. And in one of my favorite explanations, 'must be oily…'.
For our homemade garnachas recipe, we wanted to embrace everything that makes street food so good and got to work using up leftovers from our brirria recipe and making these delicious hand-held snacks.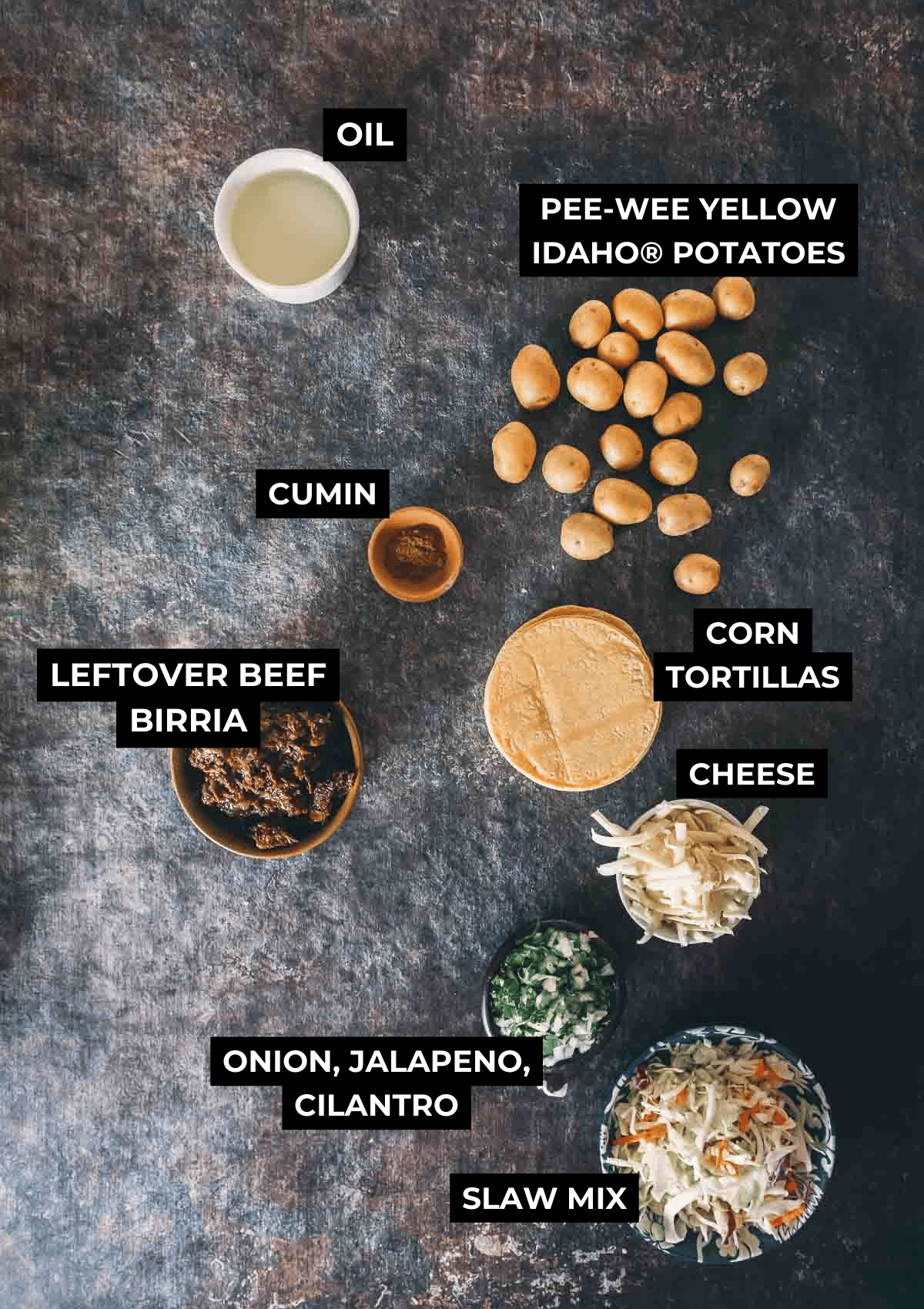 Ingredients
For the filling and fried corn tortillas
Pee-wee yellow Idaho® potatoes, diced
Neutral cooking Oil, we use canola
Cumin
Salt, we always use kosher salt when cooking
Corn tortillas, street taco size. We skipped the homemade corn tortillas for premade ones to fry faster.
Leftover beef birria, or shredded chicken, ground beef, pork carnitas, taco meat, or whatever leftover meat you want to use
Cheddar or monetary jack cheese, or your favorite melty cheese.
Raw onion
Fresh cilantro
Jalapeno pepper
Coleslaw mix or thinly sliced shredded cabbage
Additional Toppings:
How to make
Roast the potatoes
Start by preheating the oven to 425 degrees F.
In a large bowl, toss the diced potatoes in a little oil, cumin, and a pinch of salt to coat. Then lay them onto a baking sheet lined with foil in a single layer.
Roast the potatoes until they are nice and crispy, about 20 to 25 minutes, flipping once to get even browning on all sides. When they are done roasting, set them aside to cool. Alternatively, you could fry the potatoes, but we find oven-roasting them easier.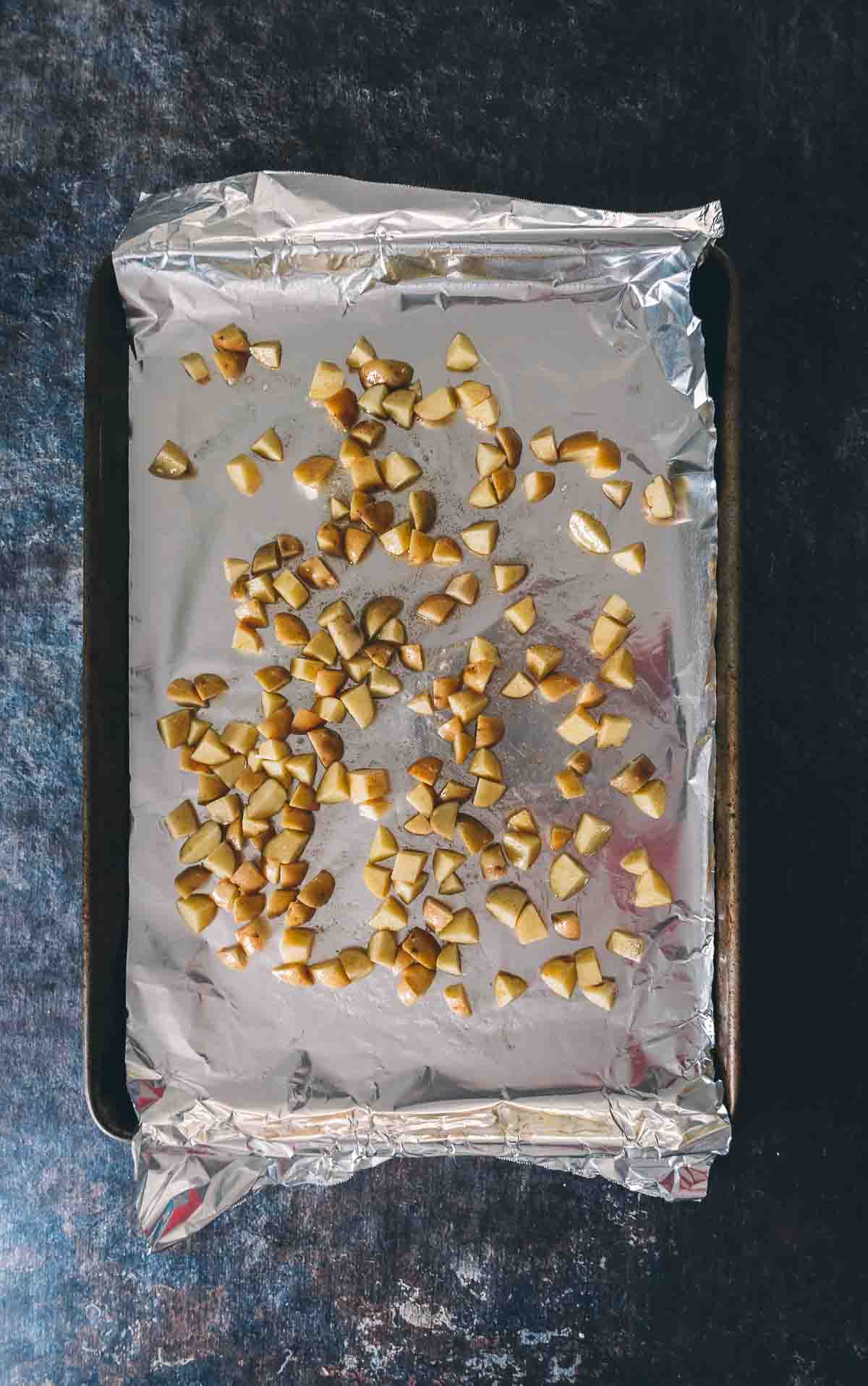 Fry the Tortillas
Then preheat just enough oil to coat the bottom of a high-walled cast iron skillet over medium-high heat. The trick to a crispy corn tortilla is getting the oil hot enough to fry it without making it soggy.
Once it has heated, add the tortillas to the hot oil in batches, frying to crisp up until they are golden brown. Set them onto a plate line with paper towels and season with a pinch of salt.
Once they are cool enough to handle, put them on the foil-lined baking sheet and start to assemble the garnachas.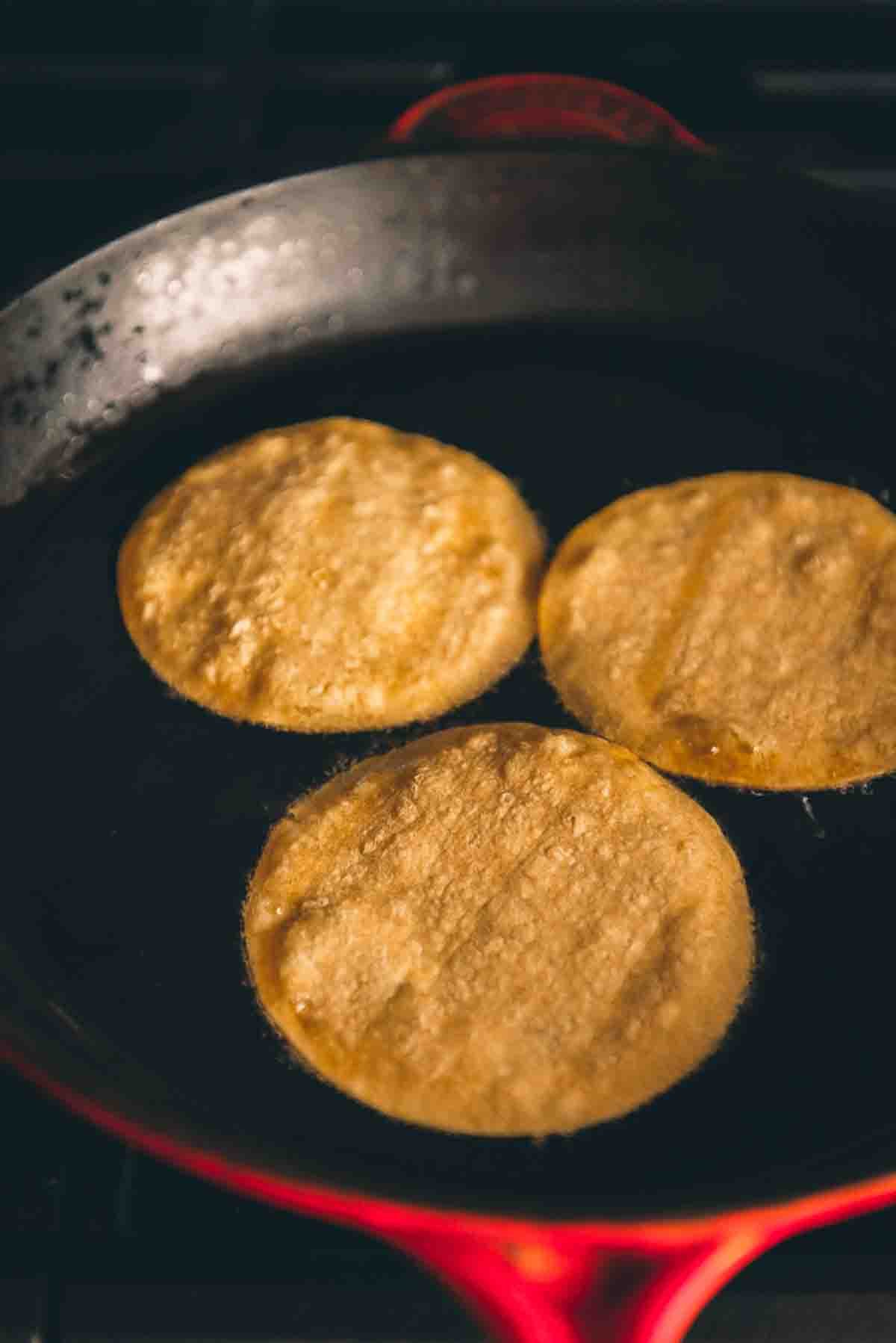 Build the garnachas
Then, toss the reheated leftover beef birria with the roasted potatoes. Spoon the mixture onto each fried tortilla and top with cheese.
Pop the baking sheet back in the oven to melt the cheese.
Quickly mix the finely chopped minced onion, cilantro, and minced jalapeno in a small bowl.
Then toss the cabbage slaw with a little flavored oil (we love lime oil for this recipe) and a pinch of salt.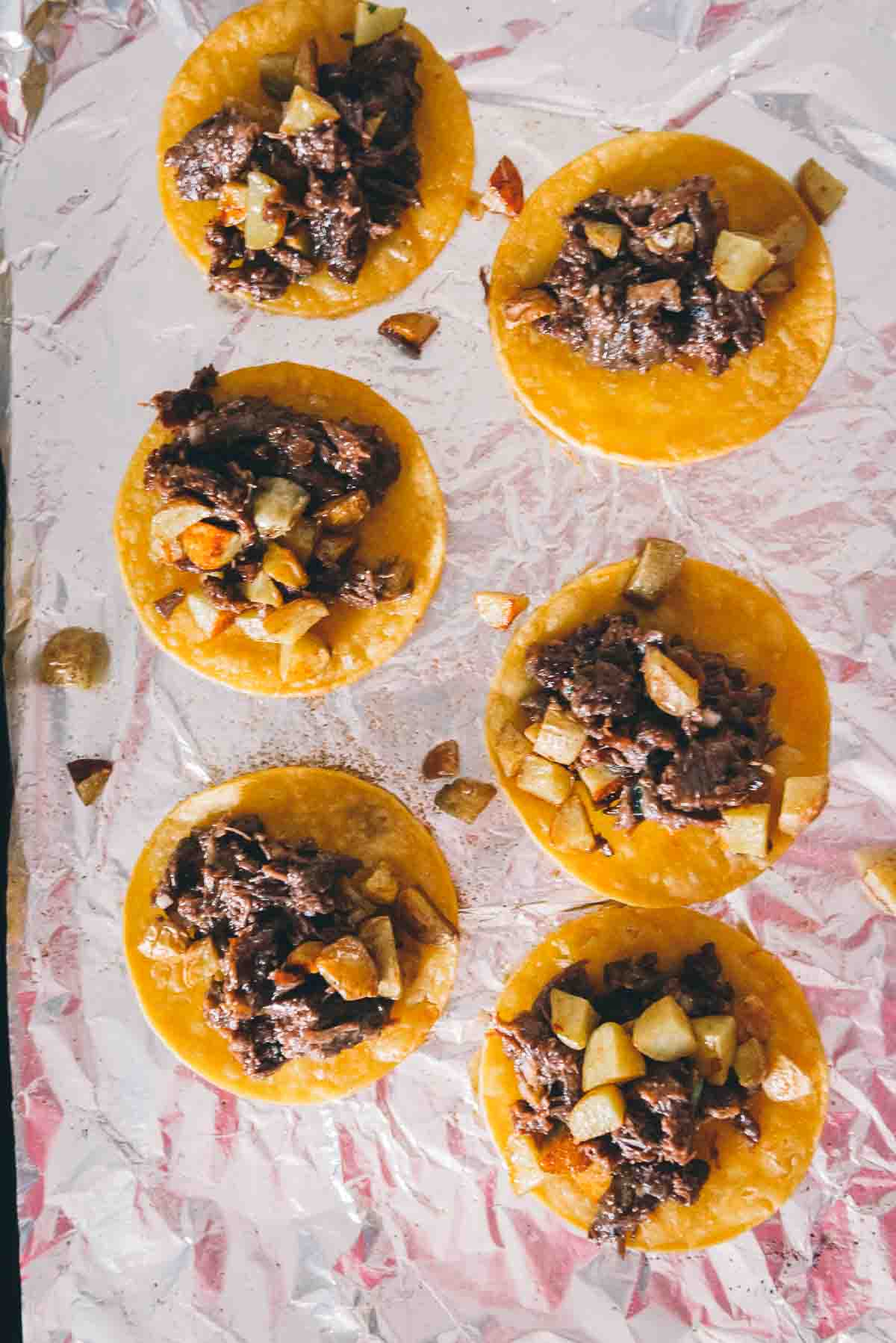 Serve
When the cheese has melted, carefully remove the garnachas from the oven and top them with the minced onions, slaw, and any other desired toppings you want.
It's fun to line up all the toppings on the countertop and let everyone build their own, putting on whatever they want.

Use fresh corn tortillas
Only use freshly fried corn tortillas for the best crunch and flavor. If they sit too long, they can become soft, stale, and fall apart when frying.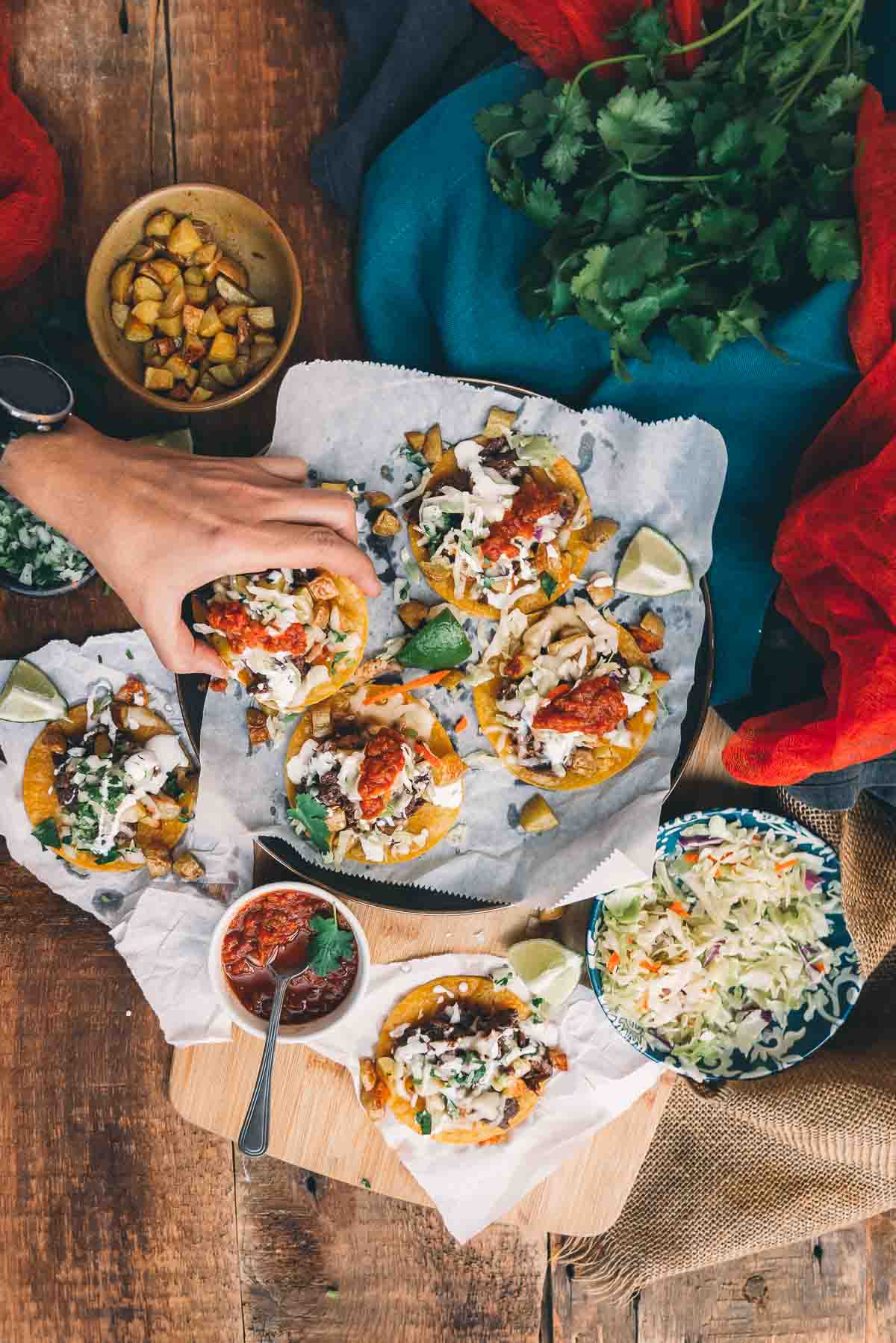 Storing Leftovers & Reheating
This recipe is best enjoyed hot and fresh, like all street food. It will get soggy if assembled and then left to sit. If you have leftovers though, be sure to store the meat in an air-tight container and all of the toppings in their own containers wrapped with plastic wrap or sealed. Other than the tortillas, which can be kept at room temperature wrapped in foil, keep the remaining components in the fridge for up to 3 days.
If you're reheating these snacks for later, take the time to fry fresh corn tortillas for a new batch quickly. The meat can be reheated in the microwave, and the toppings bar set out again, but it's important to fry the tortillas as needed.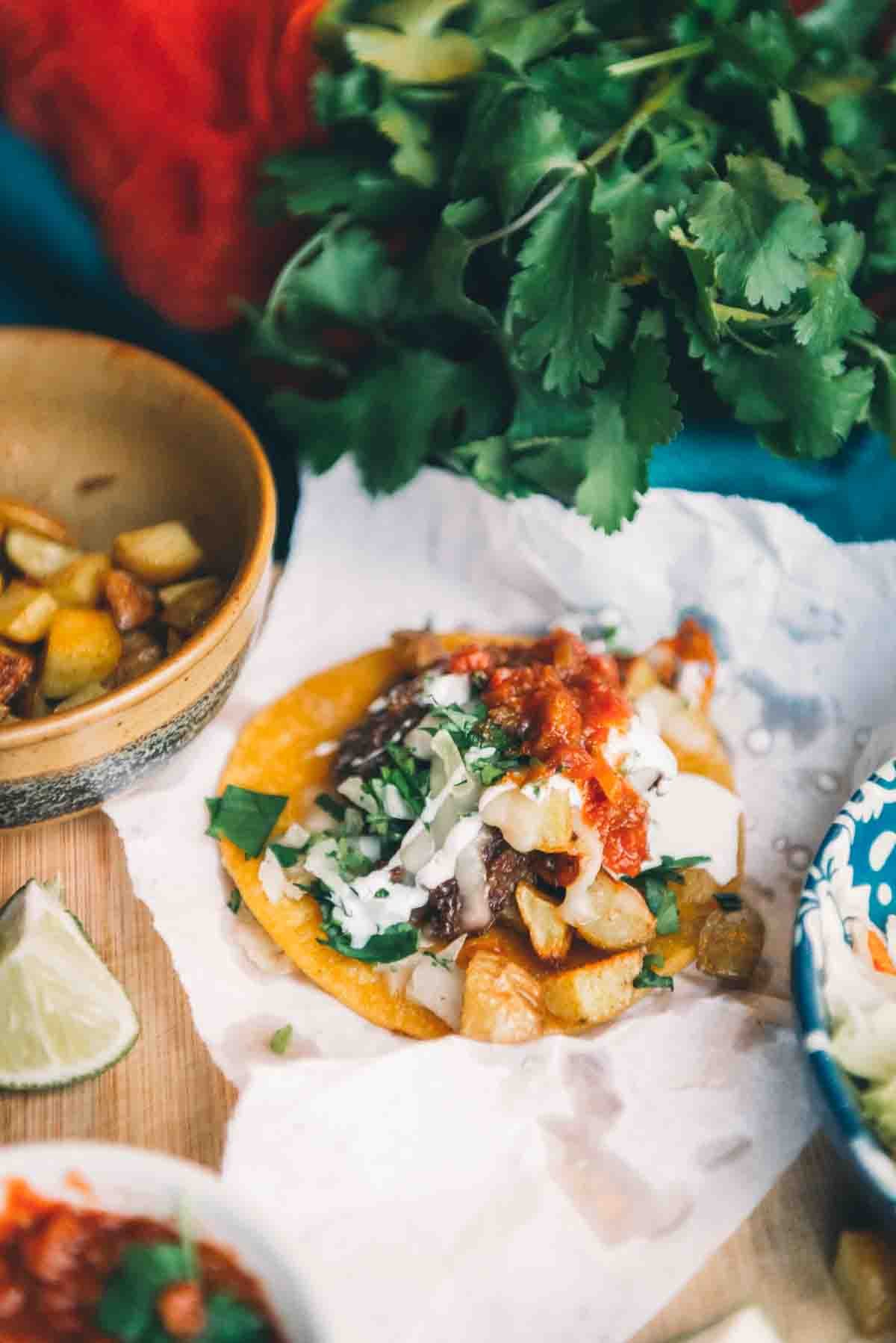 What toppings go on garnachas?
What makes all street food great is that it can be whatever you want (or need) it to be. We love making garnachas with leftover meat, like our instant pot birria, but you could also use shredded carnitas, ground pork taco filling, chorizo and potatoes (like our favorite spicy chipotle breakfast hash or chorizo tacos combo), or even just roasted potatoes and veggies. These quick snacks are the perfect way to use up last night's leftovers to get the most bang for your buck.
Once you've got the filling, pile on whatever toppings you like. We love a traditional mix of cabbage and a sprinkle of pico de gallo or just raw minced onion and a squeeze of lime juice for a pop of flavor on this dish. A dollop of refried beans is perfect too. From there, we raid the fridge to see what other fun toppings we have on hand.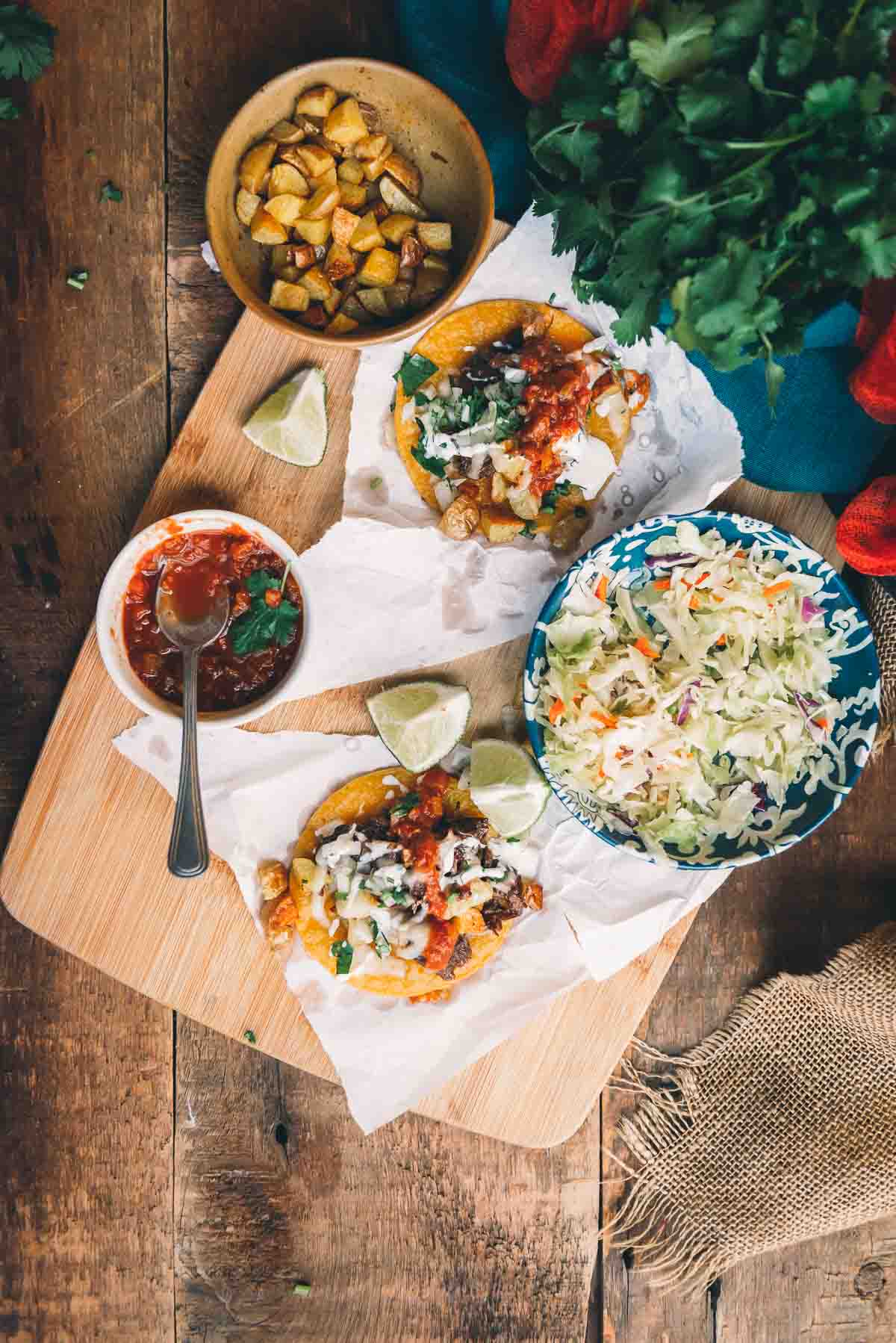 More of our favorite street food recipes
When it comes to portable delicious bites, what do you think of these? If you've tried this garnachas recipe, please rate the recipe and leave a comment below to help out the next person trying it!
Beef Birria Garnacha Recipe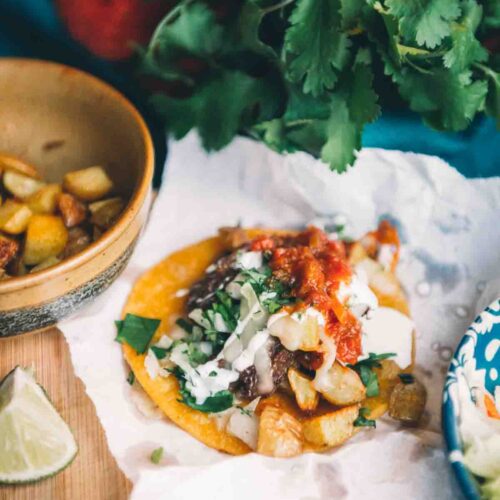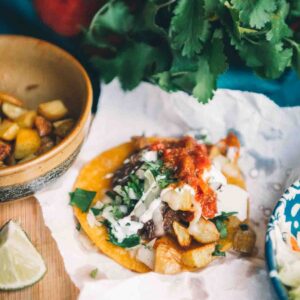 These bite sized garnachas are a delicious layer of flavors and textures. Crispy fried tortillas make the base for piling on leftover beef birria and toppings getting amazing flavor in every bite.
Ingredients
For the potatoes
1

cup

Pee-wee yellow Idaho® potatoes

diced

1

tablespoons

neutral cooking Oil

1

teaspoon

cumin

1 ½

teaspoon

salt

divided
For the fried tortillas
8 to 10

Corn tortillas

street taco size

3 to 4

tbsp

neutral cooking oil

we use canola
For the garnacha
1

cup

Leftover beef birria

or shredded beef or carnitas, reheated

¼

cup

cheddar

or monetary jack cheese, shredded

¼

cup

white onion

minced

2

tablespoons

cilantro

minced

1/2

teaspoon

jalapeno

seeded, stemmed and minced

1

cup

Coleslaw mix

1

teaspoon

flavored olive oil

or neutral high quality olive oil
Additional Toppings:
Salsa

crema, and lime wedges

Lime wedges

Cilantro

minced

Crema

Hot sauce
Instructions
Roast the potatoes:
Preheat the oven to 425 degrees F. Line a baking sheet with foil.

Toss the diced potatoes in a bowl with 1 tablespoon of the cooking oil, cumin, and a teaspoon of salt.

Arrange on the baking sheet in a single layer.

Roast the potatoes for 20 to 25 minutes, rotating as needed, for even crispy brown potatoes.

Set aside.
Fry the tortillas:
Meanwhile, high a walled cast iron skillet over medium-high heat.

Add 3 to 4 tablespoons of cooking oil and heat until the oil is shimmering on top.

When the oil is heated, add 2 to 3 corn tortillas to fry.

Fry each tortilla, flipping once, until golden brown and crispy

Carefully remove the fried tortillas from the oil and drain them on a paper towel-lined plate.
Build the garnachas:
Line the baking sheet with the fried tortillas.

Toss the leftover birria with the crispy potatoes, and using tongs, pile a dollop onto the center of each fried tortilla.

In a small bowl, mix the onion, cilantro, and minced jalapeno.

Sprinkle the cheese evenly on top of each.

Place the baking sheet in the oven and cook for 2 to 5 minutes just to melt the cheese.

Spoon a little of the onion mix over the meat.

Mix the slaw with the flavored olive oil the remaining ¼ teaspoon salt.

Place a bit of the slaw mix on top of each garnacha.
Serve
Serve hot with additional salsa, crema, and lime wedges to enjoy.
Notes
Garnachas can be made with a variety of toppings. We used leftover birria but you could use chicken tinga, shredded beef, taco meat or anything else you desire.
Garnachas are best served immediately. As they sit the tortillas will become soft. Only fry as many tortillas as you need to serve everyone right away. 
Nutrition
Serving:
1
g
|
Calories:
195
kcal
|
Carbohydrates:
16
g
|
Protein:
9
g
|
Fat:
11
g
|
Saturated Fat:
2
g
|
Polyunsaturated Fat:
2
g
|
Monounsaturated Fat:
6
g
|
Trans Fat:
0.03
g
|
Cholesterol:
15
mg
|
Sodium:
493
mg
|
Potassium:
273
mg
|
Fiber:
2
g
|
Sugar:
1
g
|
Vitamin A:
58
IU
|
Vitamin C:
8
mg
|
Calcium:
62
mg
|
Iron:
1
mg