Smoked Roast beef is a classic comfort dish that reminds me of Sunday suppers but is it possible to make a fork-tender roast on the grill with that signature barbecue flavor and still have it cooked perfectly inside? Turns out, yes. And dang, it's delicious.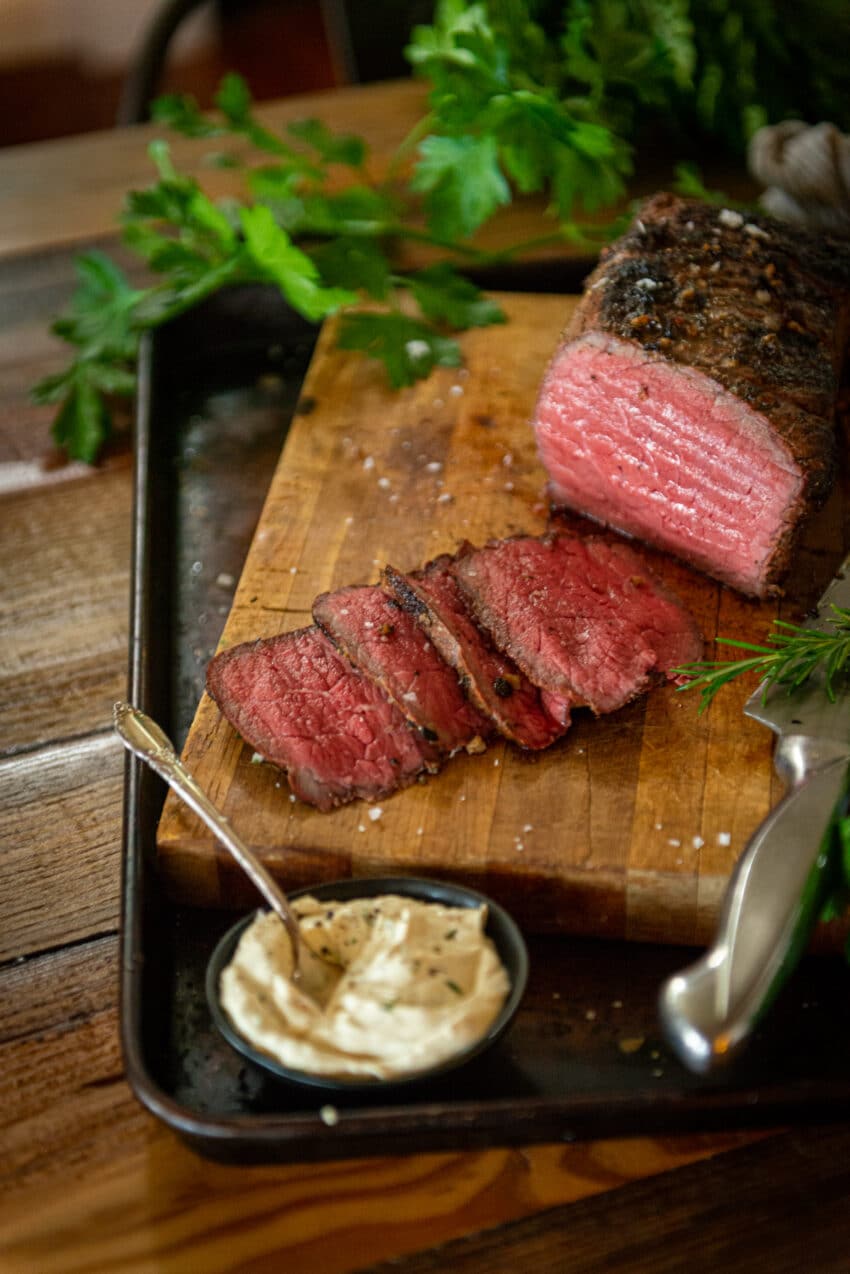 This was one of those recipes I wanted to make for friends and family. After perfecting an eye of round roast in the oven, and then going back to basic recipes like smoked beef tenderloin over the smoker, I wanted to see if a classic dinner recipe would work in the smoker.
When it comes to roasts, they are often considered tough. The muscle fibers and connective tissue often need even heat to break down and become fork tender. But revisiting these big cuts that are often more economical than buying individual portions, has proven that not only are they delicious, the recipes often require minimal effort for amazing results! And by smoking it, we enjoyed one of the best roast beef recipes we'd had in a long time!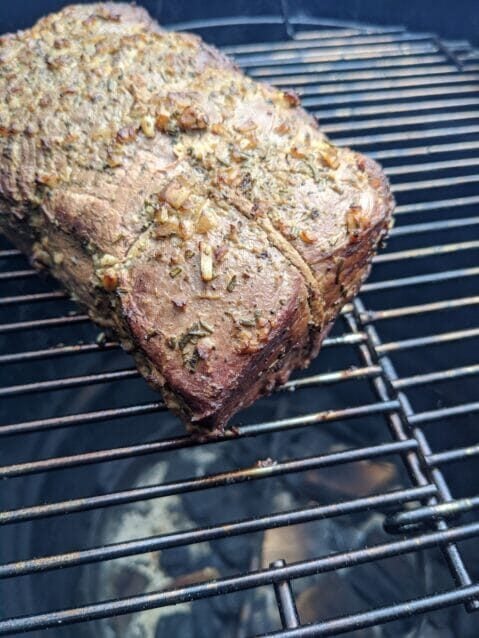 I wasn't looking to make barbecue, not shredded or pulled meat slathered in spices and sauce, but rather, the classic slices of meat that I love using for leftovers (mainly so I can make this French dip sandwich).
Turns out my little experiment was a grand idea. Playing with the wood chunks over good coals has been a lot of fun lately and the flavor you can get, even on a quick smoke is outstanding. The kiln-dried wood burns so consistently and the taste of the finished product is outstanding! Everyone was eating this right off the platter.
It's fun because even I forget that grilling isn't rocket science and the taste you get is SO good!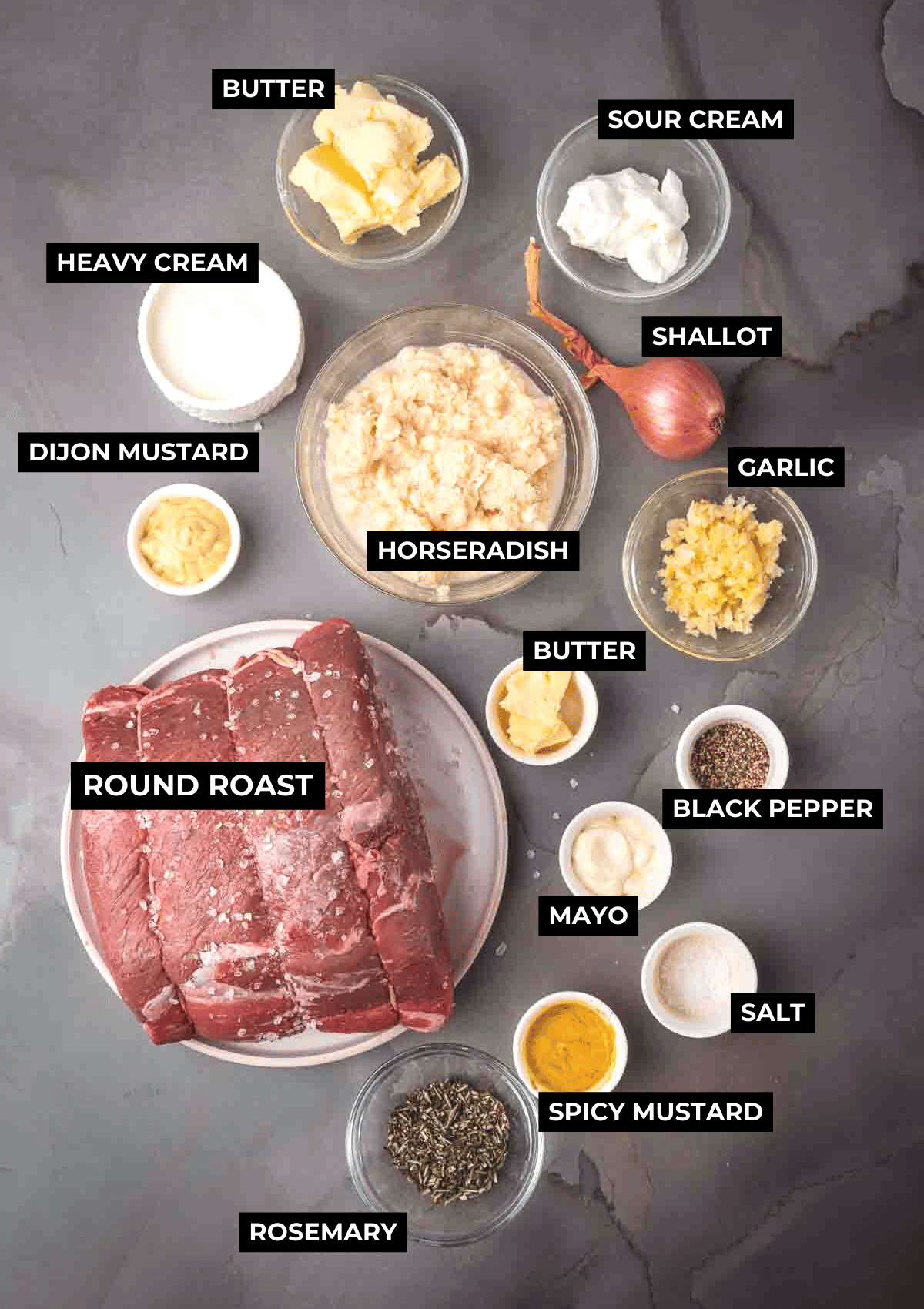 What you need to make this recipe

3 to 5 pound round roast is perfect for this. Make sure to tie it off, or have your butcher tie it off, to create a uniform shape. That will help it smoke evenly.
Salt, aka the secret to all good beef. We always use kosher salt.
Black pepper
Mustard
Garlic
Fresh rosemary. You could use dried, but I find fresh rosemary to be super flavorful and perfect with red meat.
Wood for smoking. I used hickory wood chunks for this one.
Digital thermometer – this one is a MUST. You want to make sure that you are cooking the meat safely so that it's not over or underdone when you slice into it. A great top quality digital meat thermometer is a MUST.
Butter. No really, Butter. Don't skimp. Embrace the Paula Dean here. We always use unsalted butter.
How to make this smoked beef roast
Smoked the beef roast
Possibly one of the easiest cooks I have ever created, all I had to do was prep my smoker for indirect heat.
Once that was going, I seasoned and rubbed all sides of the roast with the mustard. I gave it an even coat of the garlic and rosemary and let it sit over the cooler side of the grill for about 2 hours – when it temped it with an instant-read meat thermometer at 120 degrees F.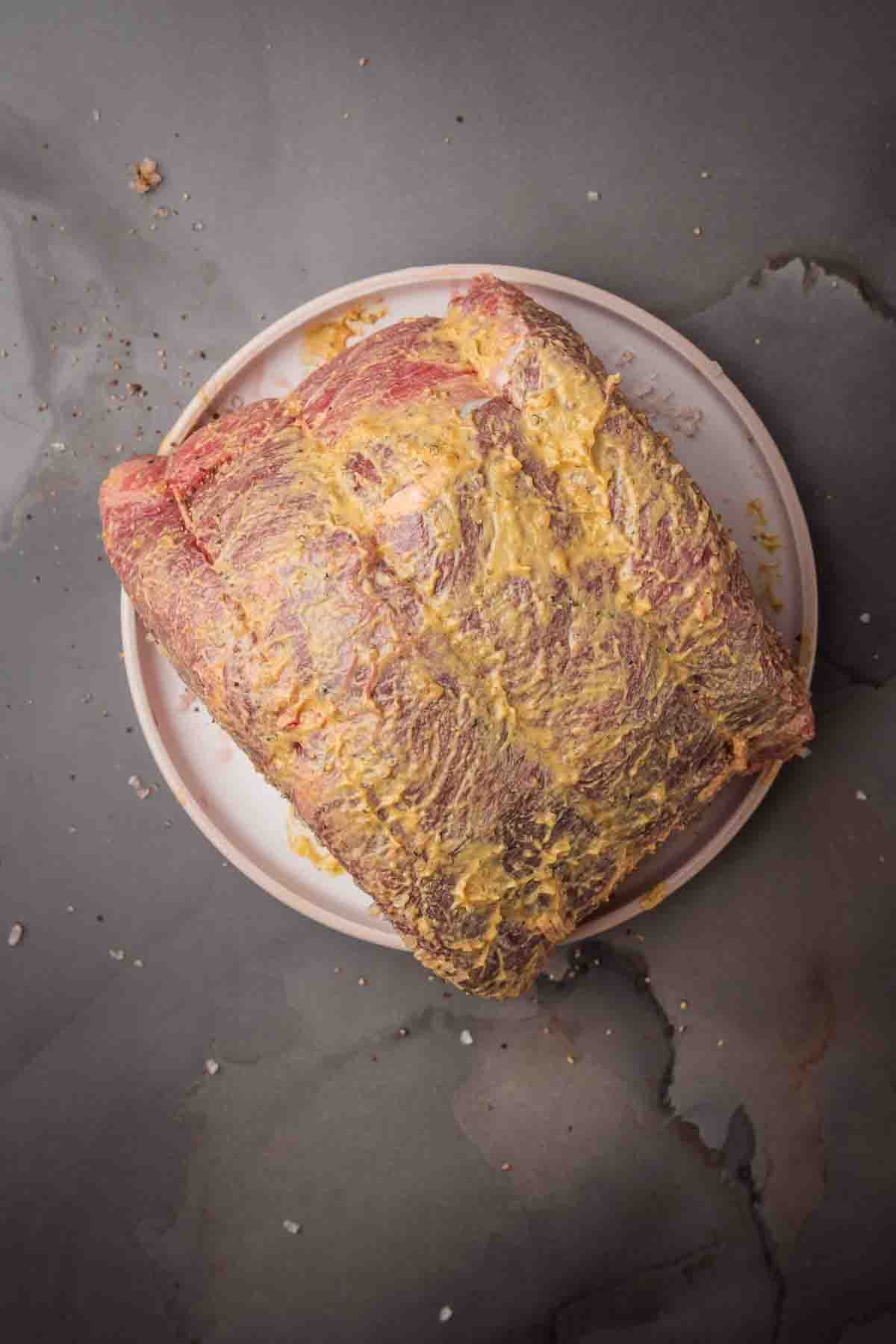 Sear the smoked roast
I let a skillet get hot, melted butter in it, and finished the beef with a great sear – mainly cuz this creates that texture that we all love slicing and biting into.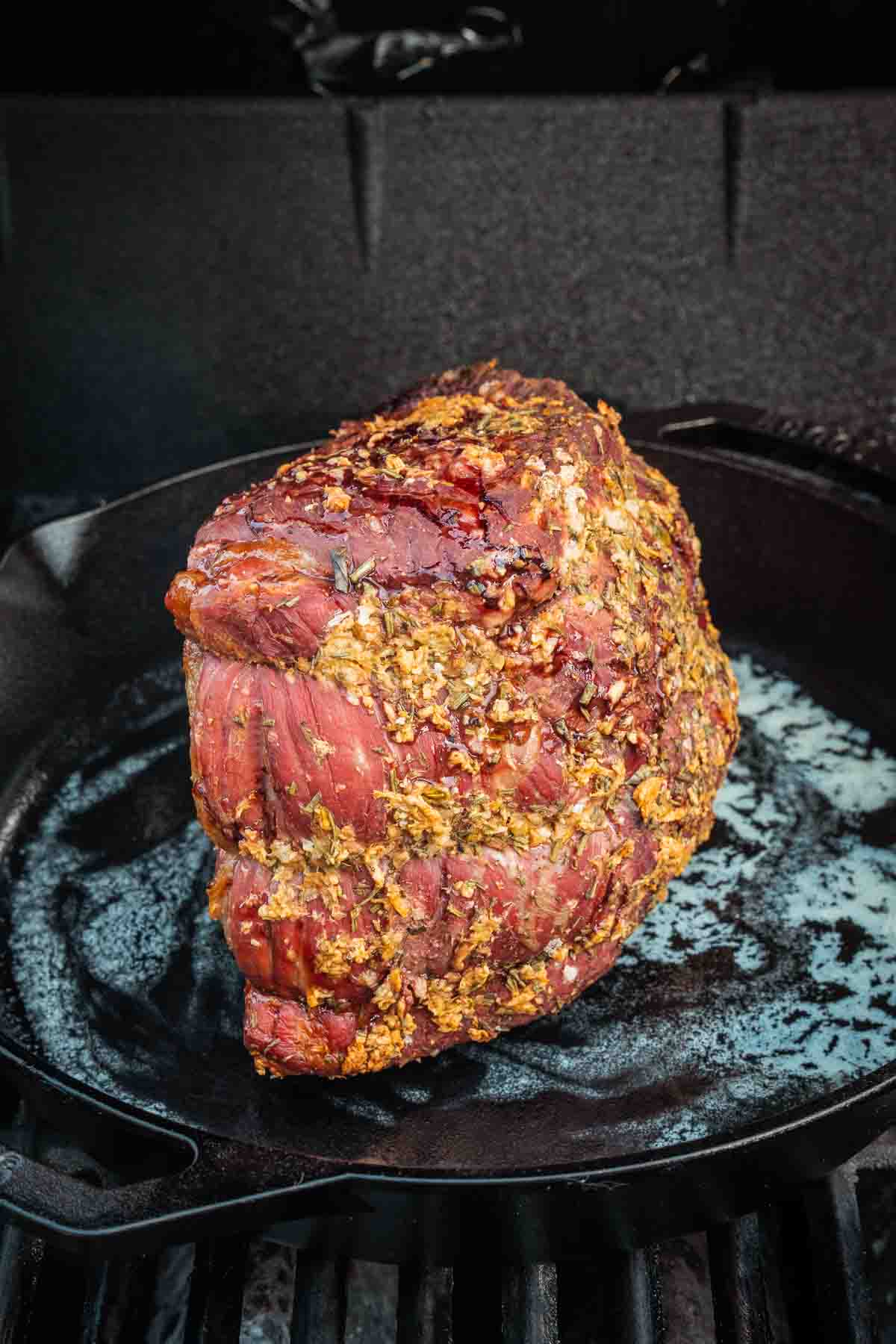 Rest
Then I wrapped it in foil with another dollop of butter. Because butter is fat and fat equals flavor. It's a really lean cut, so a little extra fat isn't going to tip the scales too much!
While the beef rests, make the horseradish cream sauce.
Then, after a good 20 to 30 minute rest, slice and serve.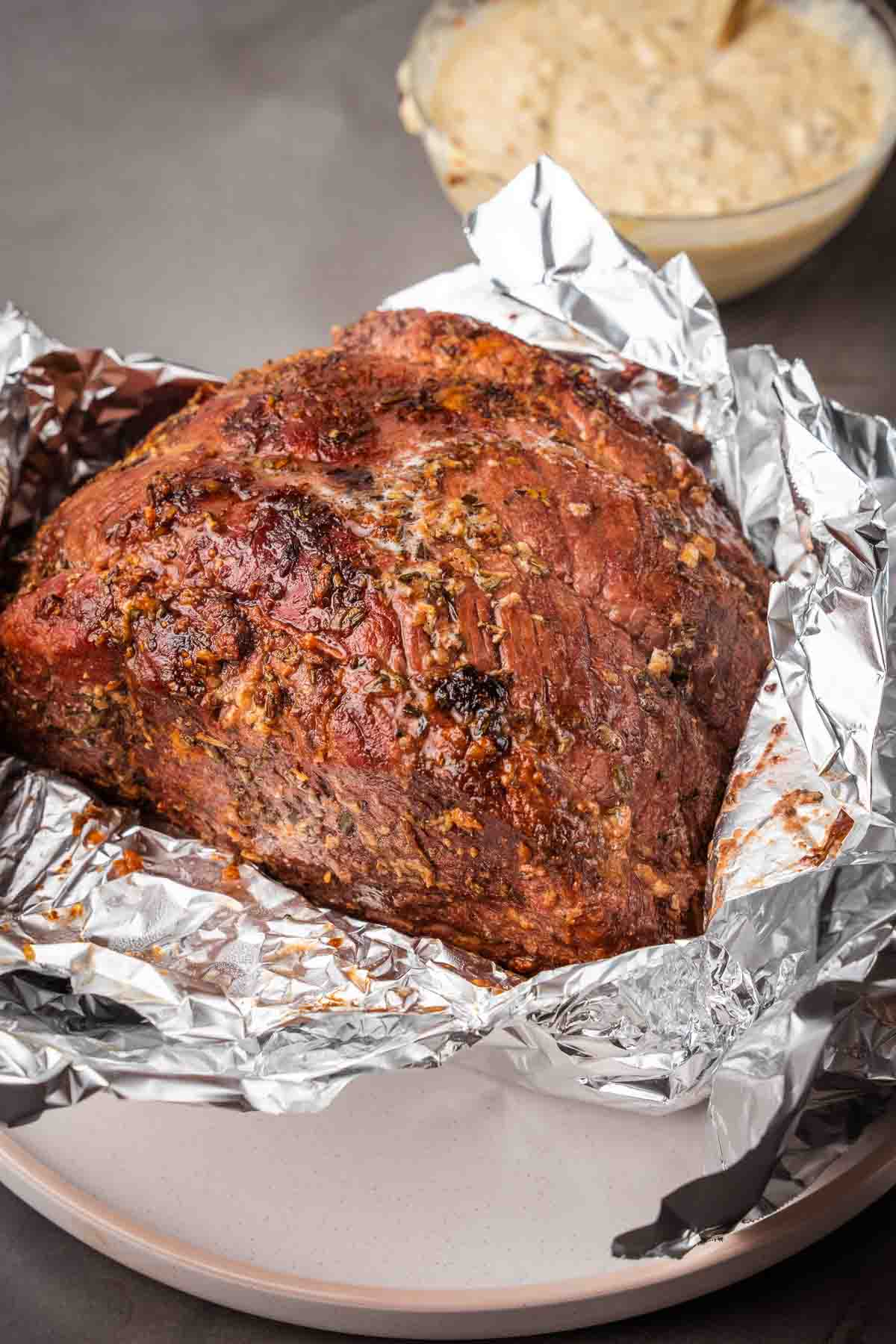 Make the smoked horseradish cream sauce
For the smoked horseradish cream – this is a great trick I learned from the Chef pitdaddy_d (aka Dylan) at the World Food Championship – smoke the cream! Yeah, you can totally do that!
Just let the cream sit over the cool side of the grill covered to absorb the smoke flavor. It will reduce down and thicken. We aren't making a ganache here and using heavy cream, so it doesn't need to reduce much. Whisking it to break up the fats on the surface and making sure it doesn't boil over the heat is key.
Then you whisk all the ingredients together, and this will be so good you will be slathering it on everything from this beef to baked potatoes and leftover sandwiches.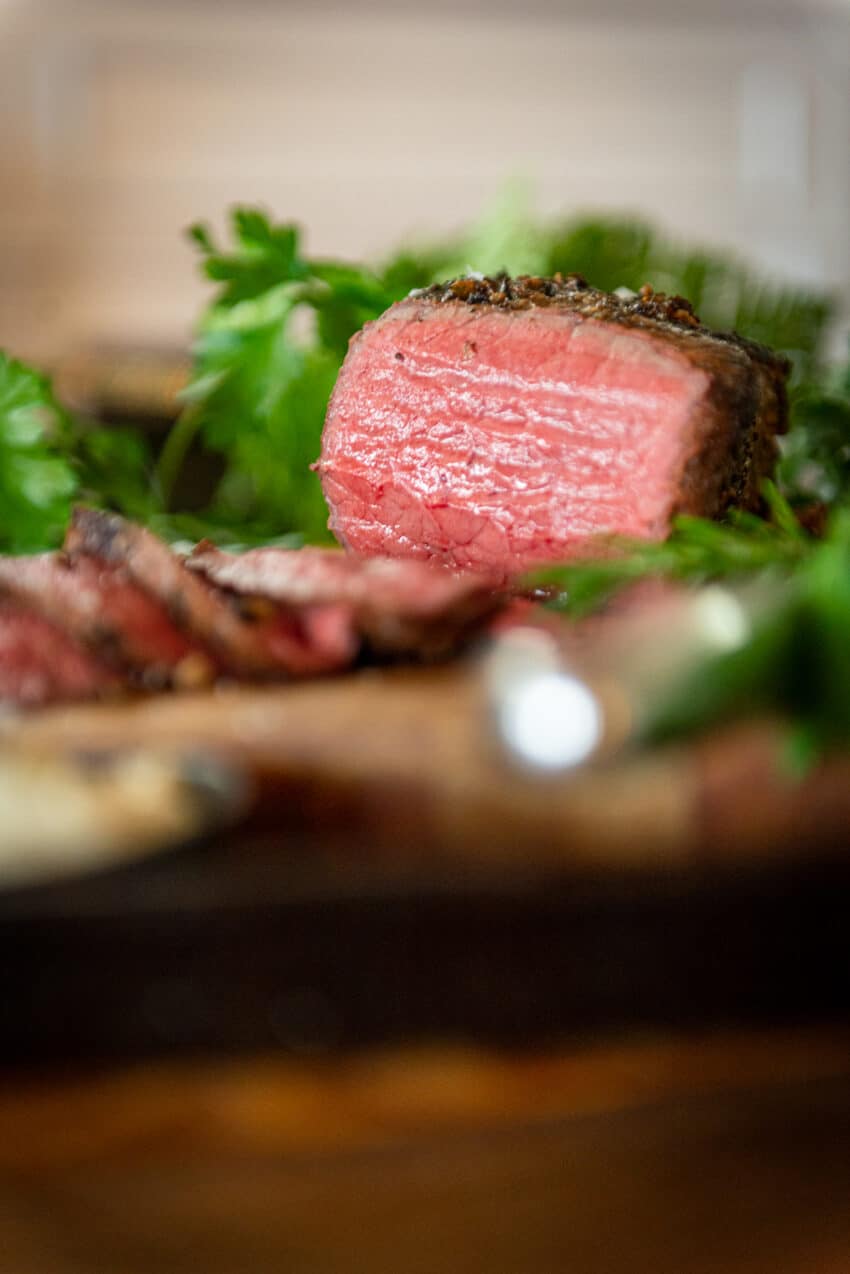 Q's about Smoking Roasts:
What is the best cut of beef to smoke? 
Finding the right cut depends on your desired results. If you are looking to smoke a fatty brisket or make shredded beef – it's totally different than smoking a roast for dinner. Each cut has a different fat ratio and breaks down differently overheat.
For this smoked this one though, I love a good quality roast – or eye of round if you're feeling super fancy. I have been ordering a lot of my meat from PorterRoad.com lately but otherwise would look for a great Certified Angus Beef one that has an even thickness.
How long does it take to smoke?
This smoked roast beef only smoked 2 hours. This is a lean cut, so there is not much fat to melt as it sits over the coals. Essentially, we are reserve searing it by letting it cook low and slow, just to a temp of 120 degrees internal temperature of the roast, before finishing it off with a good sear to create that perfect crust.
This method produces a very even color when you slice through the meat.  
For a 3 pound cut, smoking at a grill set to 225-250 degrees F, it should only take 2 hours. However, each smoker is different and the weather has a lot to do with time. Using a digital thermometer for your meat is the only way to ensure that it is perfectly cooked through. 
What type of smoker to use? 
This really comes down to what kind do you own? I love using what I have and re-thinking the need to buy a new grill every time I want to work on a new project. 
Did you know you can get great smokey flavor on a gas grill? Just use a smoke box to hold your wood chips. Or on a classic kettle grill? Build an indirect fire and toss the wood chips right over the coals. Western even has pellets now if you are running a pellet smoker! You can truly get that great smoked flavor no matter what type of grill you are running. 
Personally, I use my Pit Barrel Cooker more often than not. It's a simple, no-frills, classic smoker. And I adore its simplicity.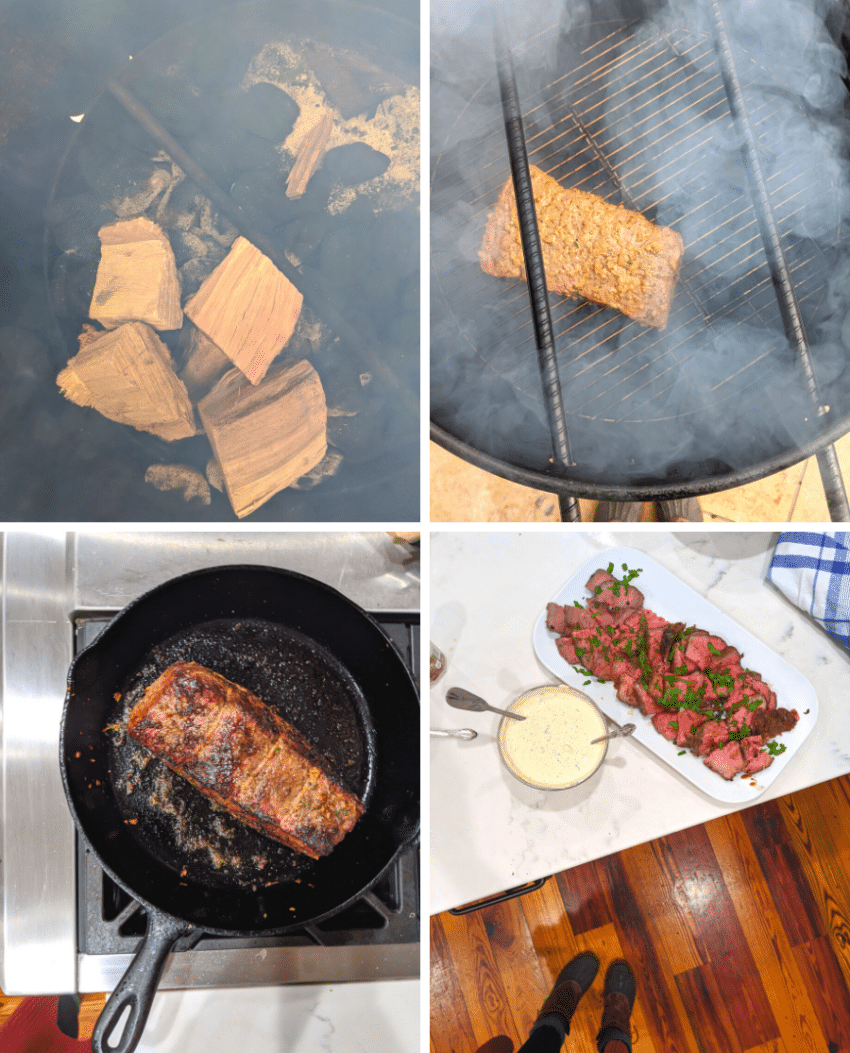 What to serve with this
When it comes to the perfect side dishes for roast beef, it's hard to top some of our favorites:
Pinot Noir
And a light and delicious tiramisu for dessert
Storing Leftovers and Reheating
Once the roast has cooled completely, wrap the leftovers in plastic wrap and store in the fridge for up to 4 days.
To reheat, shave off thin slices as needed and reheat in a preheated oven on 300 degrees F. Alternatively, reheat the whole roast in a baking dish with a small ramekin of water in the oven set at 300 degrees. Reheat until the roast is heated through.
Leftovers make amazing roast beef sandwiches, salad toppings, or chopped into frittatas or egg scrambles.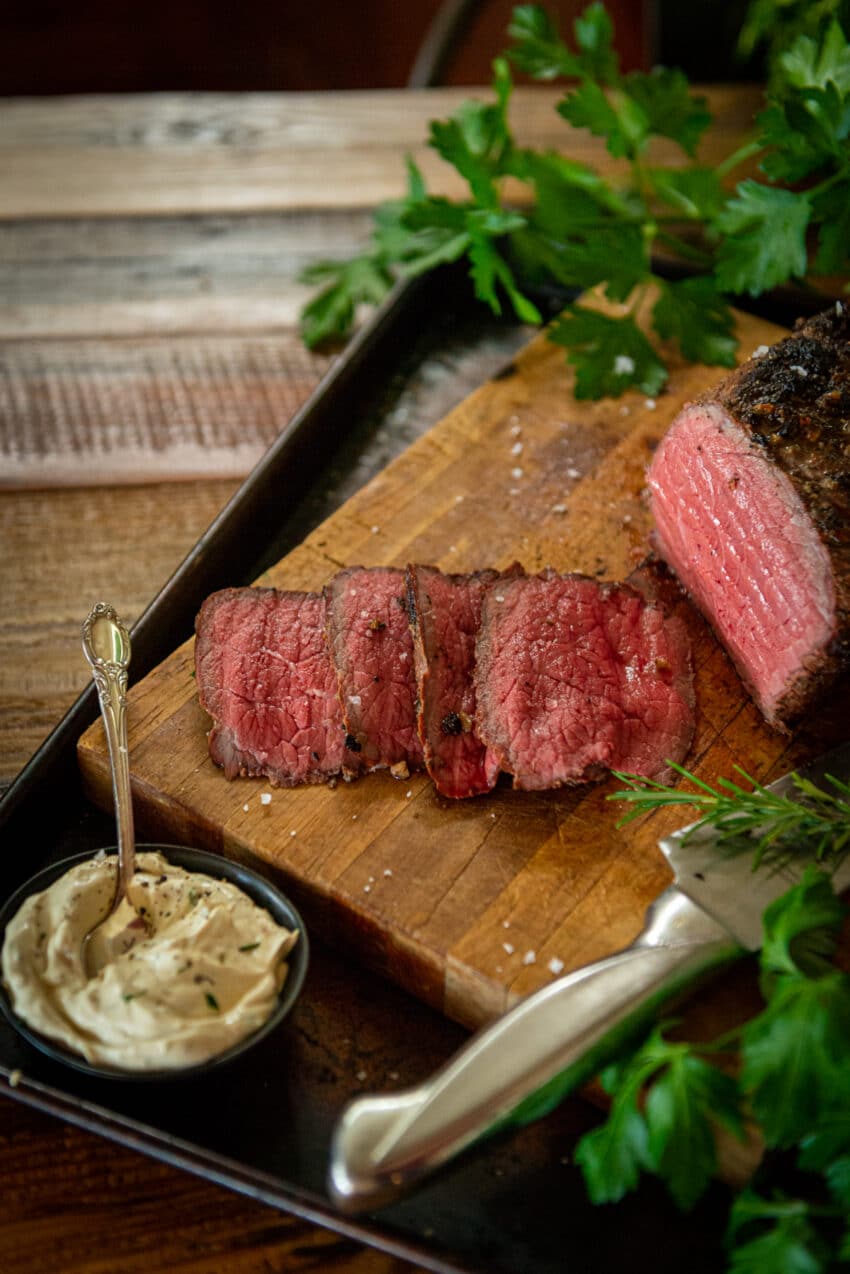 If you've tried my Smoked Roast Beef Recipe – seriously make this – or any other recipe on GirlCarnivore.com please don't forget to rate the recipe and let me know where you found it in the comments below.
I get inspired by your feedback and comments! You can also join in on the adventures on Instagram @girlcarnivore, Twitter & Facebook.
Smoked Roast Beef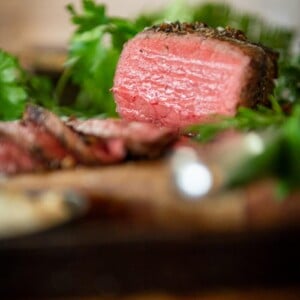 This smoked beef takes a classic roast to a whole new level with the sublte hint of smoke flavor and a finishing sear to lock in the juices.
Recommended Equipment
Smoker

1 10″ Cast Iron pan
Ingredients
3

lbs

round roast

1

tbsp

salt

1

tsp

black pepper

2

tbsp

dijon mustard

4

cloves

garlic

minced

2

tbsp

fresh rosemary

minced

4

tbsp

butter

Fresh rosemary and salt for garnish
For the smoked horseradish cream sauce
⅓ – ½

cup

heavy cream

1

tbsp

butter

1

shallot

minced

1

tbsp

mayo

1

tbsp

spicy mustard

2

tbsp

sour cream

8

oz

high-quality horseradish

Black pepper and salt

Fresh rosemary

minced, for garnish
Instructions
Smoke the Meat
Prep your smoker for indirect heat.

Sprinkle the beef liberally with the salt on all sides.

Rub the beef evenly with the mustard.

Pat the minced garlic and rosemary all over the beef.

When the smoker is ready, add the wood chunks over the coals and place the beef over the cooler side of the grill.

Cover and cook the beef until it reaches an internal temp of 120 degrees.

Remove from heat.
Sear the Beef
You can add more coals to the fire and get it going for a hot fire now, or use a stovetop for the next step.

Place a cast-iron skillet over the medium-high heat and melt 2 tablespoons of the butter. Swirl to coat the pan.

Quickly sear the beef on all sides, 3 to 5 minutes per side, for a good crust over the herbs and garlic.

Place the beef over heavy foil. Top with the two remaining tablespoons of butter and wrap it tightly.

Let the beef rest for 10 minutes, to an internal temp of 135 degrees, before slicing thin to serve.

Garnish with fresh rosemary and serve the smoked horseradish sauce on the side.
Make the smoked horseradish cream sauce:
Place a small heatproof pan with the heavy cream in it over the grate. Allow it to sit over the heat, without simmering for about 45 minutes to an hour.

Stir often. Taste a bit of the cream to make sure it has thickened a bit and has a gentle smoked flavor.

Remove from heat.

Melt butter in a cast-iron skillet over the fire.

Add the minced shallots and cook until crisp, 3 to 5 minutes.

Remove from heat.

In a bowl, whisk the mayo, mustard, sour cream, shallots and horseradish together.

Whisk in the smoked cream a little at a time until smooth and drips form a spoon but is still thick.

Season with black pepper and salt.

Garnish with fresh rosemary minced, if desired.
Notes
You want to make sure the smoker is prepped and holding temp before adding your wood. Depending on the smoker, I let mine pre-heat up to an hour before actually smoking the meat. Between getting good embers and a stable temp, these things can take time and always depend on the weather (wind, temp, altitude, etc).
If you don't have a chimney to light your coals, using small firestarters strategically placed in the pile of coals is a great way to light your fire. I build a pile of charcoal to one side of my smoker and nestle a firestarter or two in with a few chunks on top. Using a long lighter, I then light them and let the charcoal heat up and get ashen before even starting to cook.
For this recipe, I smoked the wood with Western Wood Hickory Chunks. I am loving their chunks because they are the perfect size for a good smoke without building a fire that lasts all afternoon. And the wood is kiln-dried, meaning it burns clean with flavorful smoke in my smoker. It really has been great to work with.
Nutrition
Serving:
1
g
|
Calories:
304
kcal
|
Carbohydrates:
5
g
|
Protein:
35
g
|
Fat:
17
g
|
Saturated Fat:
9
g
|
Cholesterol:
35
mg
|
Sodium:
1209
mg
|
Potassium:
723
mg
|
Fiber:
1
g
|
Sugar:
3
g
|
Vitamin A:
398
IU
|
Vitamin C:
8
mg
|
Calcium:
41
mg
|
Iron:
4
mg
See the Web Store for Ultimate Smoked Roast Beef