This is a spot on copy-cat recipe of our favorite dish from everyone's guilty tex-mex go-to, Chi-Chi's. Sadly, they aren't around my neck of the woods anymore, so I make these Copycat Chi-Chi's Chimichanga's in my own kitchen whenever a craving hits!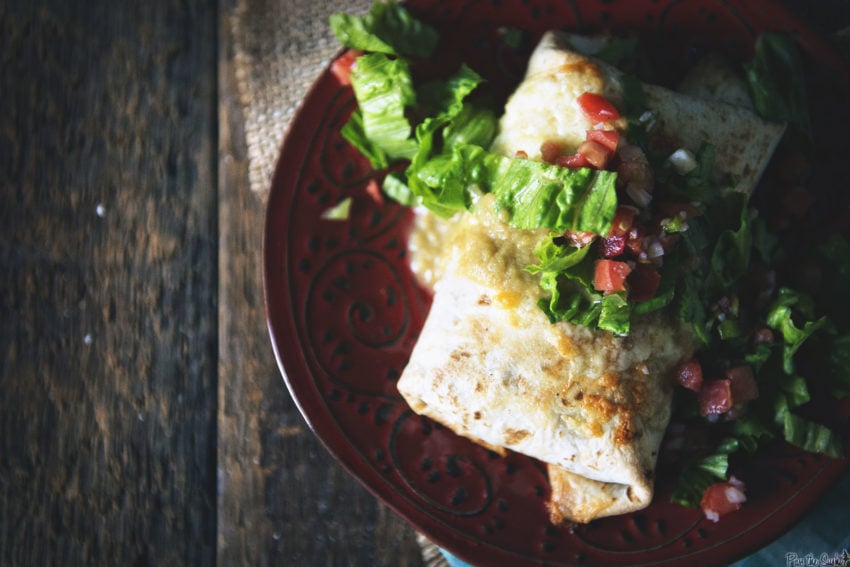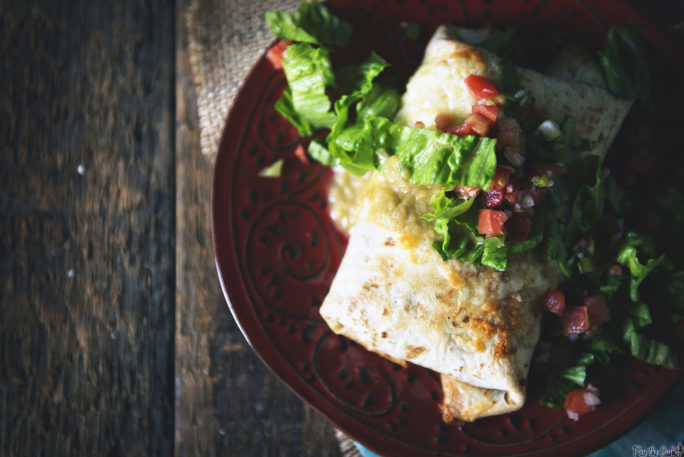 It's a busy weeknight kickin recipe kitchen rush and I am so not doing the dishes kind of night. (right, go read that again, but faster and put a little hip into it). And on nights like that you need something quick and ready to whip together or if you have a little more time, a recipe you can tweak to suite your own fine culinary needs. This one fits that bill. Spice it up for your own signature flavors, slow it down and roast your own chicken, or just shred a grab and go rotisserie from the market and get on with whatever else is filling up the agenda. Tonight's kicking recipe is a Copycat Chi-Chi's Chimichangas Recipe.
Bring on the salsa.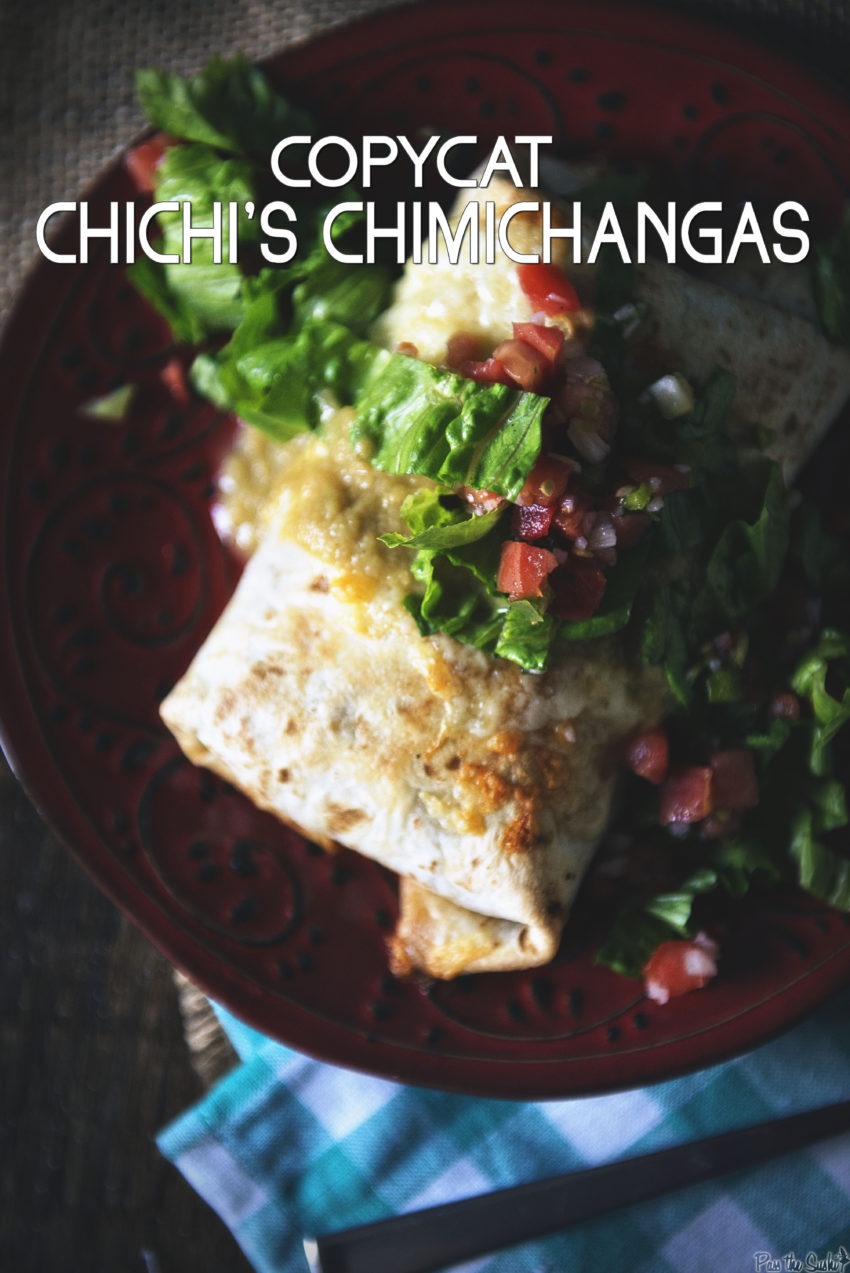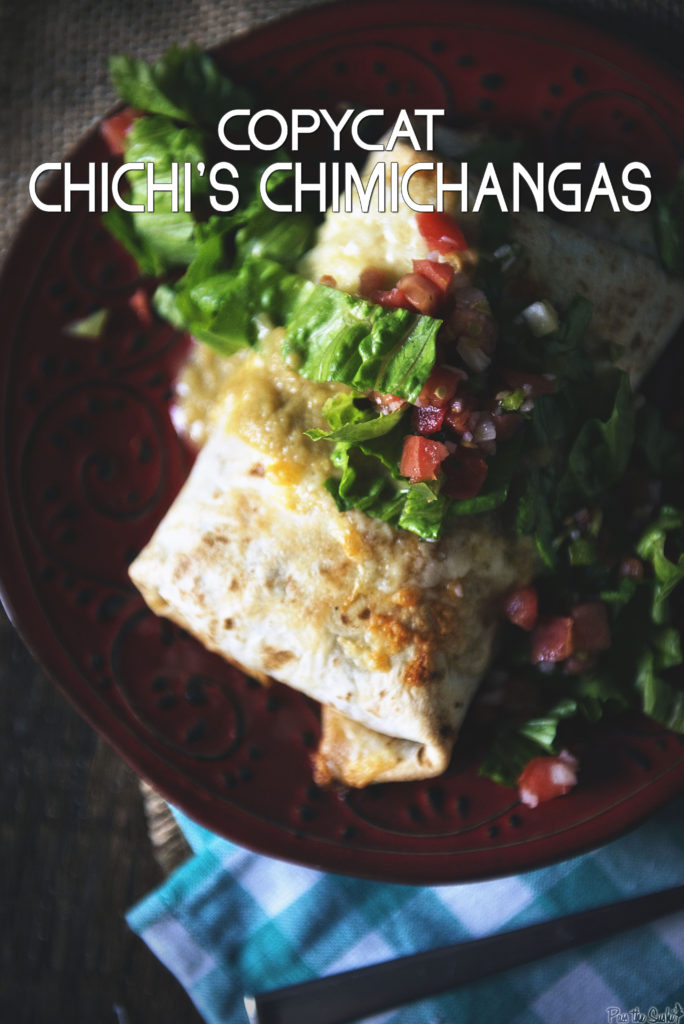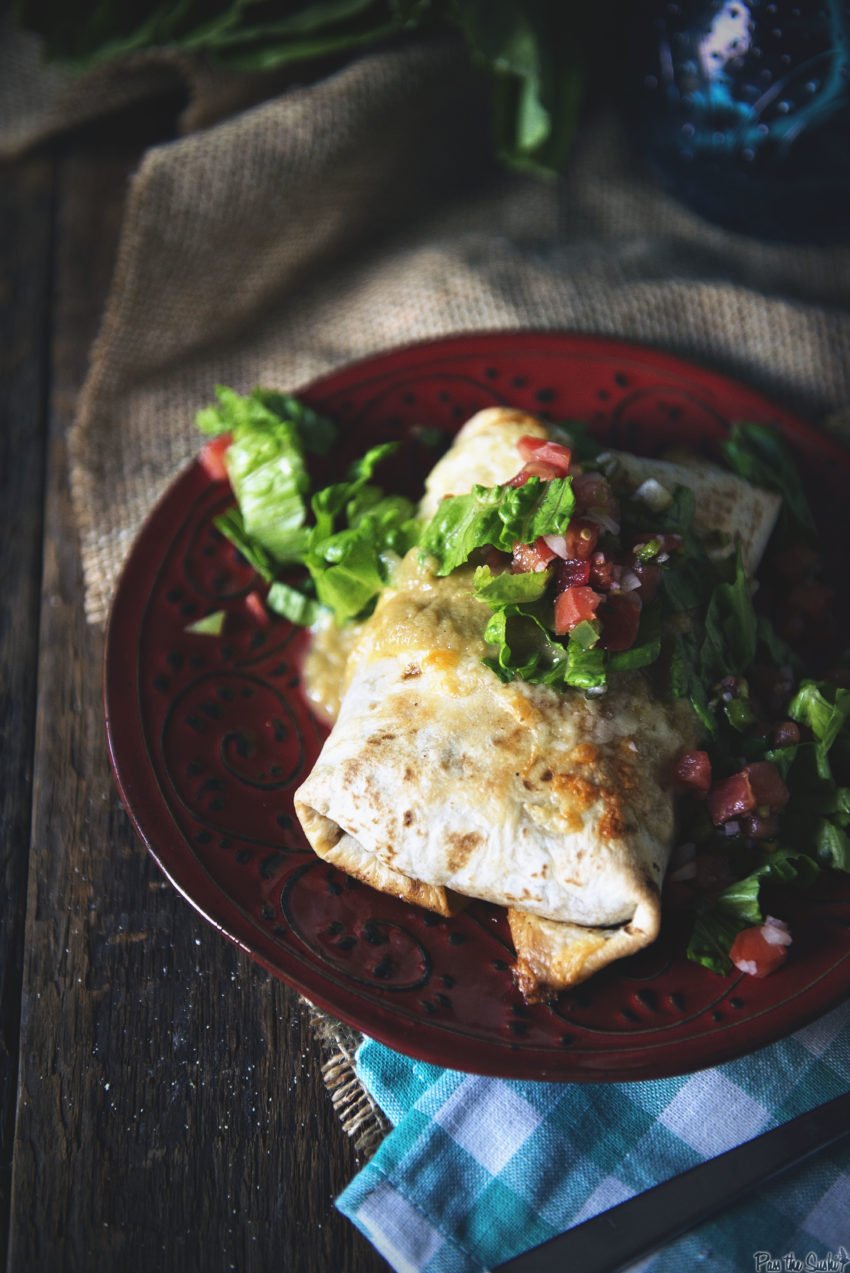 Ingredients
2

tbs

unsalted butter

melted and cooled

3

tbsp

vegetable oil

1

large onion

chopped, divided (put half in a small cup for later)

5

cloves

garlic

minced, divided (put two in a small cup for later)

1

jalapeno pepper

stemmed, seeded and diced

1 1/2

tsp

chili powder

plus 1/8 tsp for sauce

1/2

tsp

ground cumin

plus 1/4 for tsp sauce

1/4

tsp

ground cinnamon

1/4

teas sugar

for saus

Salt

1

tomato

chopped, plus more for garnish

Fresh cilantro

2 1/2

cups

shredded rotisserie chicken

1/4

cup

sour cream

1.15

oz

can refried beans

4

10" large flour tortillas

8

oz

monterey jack cheese

shredded, plus more for topping

7.5

oz

can chopped green chiles

drained and rinsed

1

cup

chicken broth

Shredded lettuce

for topping

Mexican rice

for serving
Instructions
Preheat the oven to 450 degrees F. Prep a large baking dish that will fit your chimichangas for baking.

In a large skillet, heat 2 tbs vegetable oil over medium heat. Add the onion, garlic, and jalapeno and cook for 3 minutes, just until softened. Add the chili powder, cumin, cinnamon, and salt. Toast for 30 seconds until fragrant.


Add the tomato and cilantro and cook about 2 minutes longer, until liquid starts to dry. Stir in the chicken and sour cream and remove from heat.

Arrange your tortilla with refried beans in the center, leaving a 2" border around the tortilla edges. Top with some of the chicken mixture and cheese. Fold in the short sides of the burrito, then roll up the long sides.


Brush the baking dish with a bit of the melted butter and arrange chimichangas seam side down. Brush the tops with a little more of the butter mix.


Bake for 8 to 10 minutes, flip, brush with more butter, sprinkle with cheese and bake for 8 to 10 minutes longer.

For the Chi-Chi's Mexi Sauce:
Heat a medium saucepan over medium heat. Swirl 1 tbsp vegetable oil to coat the pan.

Saute the remaining onion and garlic cloves, until soft 3 to 5 minutes.

Add in a pinch of chili powder and the remaining cumin, sugar, and salt. Stir to coat, cooking 30 seconds, until fragrant.

Add the green chiles, mixing to combine.

Simmer for 2 minutes, as things start to thicken, add a splash of chicken broth and deglaze the pan, scraping up any browned bits.

Add the remainder of the chicken broth and bring to a simmer.

Reduce the heat to medium-low and allow to thicken 8 to 10 minutes.

Remove from heat and add in the cilantro.

Working in batches, when cool enough to handle, pulse in a blender until smooth.

Reheat in a saucepan when ready to use.

The sauce can be made a day or two ahead and stored in an airtight container if desired.

Notes