Sausage with Roasted Cabbage and Butternut Squash Puree is about to be your new Whole 30 approved comfort food obsession. And I am not even exaggerating on this one. 

I thought I knew comfort food. I thought I loved vegetables and was well rounded. I mixed my plates with an assortment of greens and starches, proteins and vitamins. I thought I had my bases covered with a love for all savory things. I even loved obscure veggies that my friends and families turned their noses up at.
And then I tasted roasted cabbage.
My mind was blown. I'd had cabbage in soup, shredded, stir-fried, baked. But roasted. Roasted may be the definitive way to eat all of the vegetables. Have a friend that doesn't like cabbage? Throw an extra-firm head at them and kick them out because you are about to savor possibly the best way to eat cabbage.
Roasting cabbage, much like sprouts and squash, allows the vegetable to cook slowly, softening even it's tightly wrapped inner leaves. It caramelizes the outside and creates a gentle crunch that brings for flavors you never knew the same thing used for kraut could have. It's not bitter or harsh. It's just a little honeyed with a rich punch. It is perfection and it will see many many side dishes for my comfort food season. (And then when that season is over, I'm going to grill it).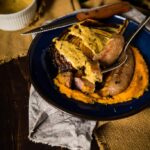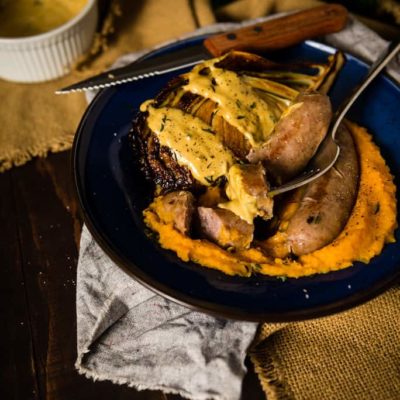 Sausage with Roasted Cabbage and Butternut Squash Puree
Ingredients
1/2

head of green cabbage

1

butternut squash

2

tbs

olive oil

salt and pepper

1

lbs

sugar-free apple sausage

1/3

cup

mayo

1/4

cup

Dijon mustard

1

teas coconut aminos

1

teas ghee

Fresh Thyme or Caraway seeds for garnish.
Instructions
Preheat the oven to 450.

Slice the cabbage into wedges. Arrange in the center of a large foil lined baking tray.

Core, remove seeds and cut the butternut squash in half. Arrange on either side of the cabbage.

Drizzle olive oil over the cabbage and squash. Sprinkle with salt. Bake for 20 minutes; Flip the cabbage, nestle the sausages into the pan and roast for 20 minutes longer.

Meanwhile, whisk the mustard, mayo, coconut aminos, salt and pepper, with the melted ghee in a small bowl to make the sauce.

Carefully scoop the roasted squash from the skin and puree with ghee.

Serve the cabbage wedges and sausages over the butternut squash with a drizzle of the mustard sauce and fresh thyme or toasted caraway seeds.