Looking for a classic restaurant quality steak? Check out this Perfect Pan Seared Ribeye Steak recipe and some pro-tips on getting that perfect steak, every time. 

Is there anything in the meat world as sexy as a perfectly cooked steak? I mean, I love meat. All of it. But there is something about the simplicity of slicing into a steak to discover it still red and flavourful on the inside. It's a technique a lot of at-home cooks struggle with, often overcooking the beef just to be safe. So, how can you cook a perfect steak without over-doing it every time? 
Simple.
Use a thermometer. 
Chances are you haven't fired off thousands of steaks and even if you did, accurately temping your steaks is rarely about how they feel on your palm and more about that little pointy thing with digits at one end. Pull your steaks at 120 to 125 and allow them to rest a solid 5 minutes before slicing into them. Unless you are super hungry and agree with this anti-rest mythbusting post (that does offer some solid theories). The method below works for a 1″ steak, however, cook time will vary depending on the overall size and thickness of the steak. That is why reading the time on a recipe is not as important as having a thermometer nearby and ready to double check your work. I rely on a digital and have several backups just in case the batteries are dead. The more I work with meat, the less I worry about time, and the more obsessed with internal temp I've become.
Beef Temps
| | | |
| --- | --- | --- |
| Rare | 130 to 135°F | 130 to 140°F |
| Medium Rare | 140°F | 145°F |
| Medium | 155°F | 160°F |
| Well Done | 165°F | 170°F |
Oh, a killer heavy cast iron pan helps a lot too.
All in all, cooking your steak to the right internal temp, will guarantee that whether you wait, or slice right in, the flavor will be best.
Weigh in: Do you rest your steaks or not?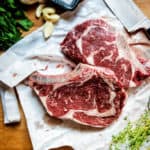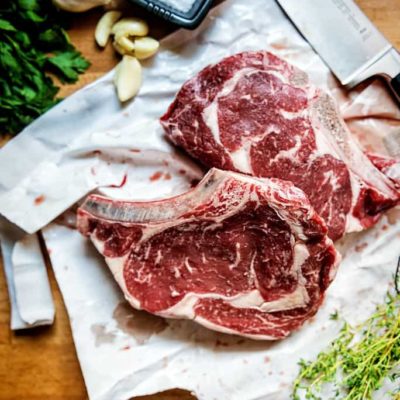 Perfect Pan Seared Ribeye Steaks
Ingredients
2 1

" - 1 ½" thick bone in ribeye steaks

Salt and pepper

2

garlic cloves

smashed

2

tbs

butter

Few sprigs of fresh thyme
Instructions
When working with hot cast iron, be sure one hand is always in an oven mit or that the handle is wrapped well in a kitchen towel.

Heat a large cast iron skillet over medium high heat for 5 to 10 minutes.

Season the steaks with salt. Swirl in olive oil until just smoking. Quickly place the steaks in the pan.You will hear a roaring sizzle. Allow the steaks to sit, untouched, for 3 minutes to form the perfect crust.

Flip and place the butter, garlic and thyme over the steaks. Cook another 3 minutes basting with the juices.

Remove the steaks from the pan, wrap in foil, and allow to rest 5 minutes before slicing from the bone. Serve with the accumulated juices from the pan.