These really are the Perfect Pan-Seared Ribeye Steaks! This recipe is a 10-minute method to achieve tender and juicy steak with a perfectly crispy crust.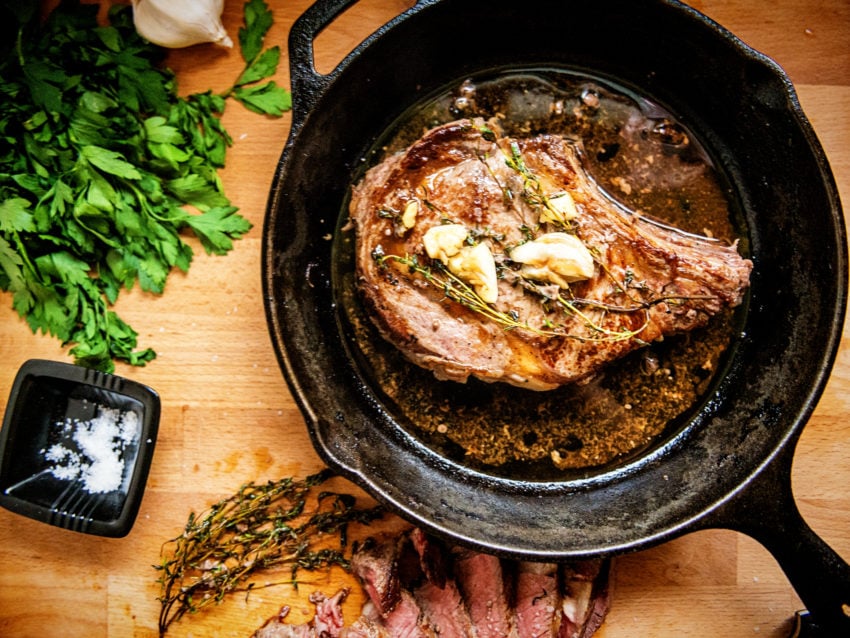 Is there anything in the meat world as sexy as a perfectly cooked steak?
I mean, I love meat. All of it. BUT there is something so insanely good about the simplicity of slicing into a juicy, tender, red, and flavorful steak.
The problem is that cooking the perfect ribeye steak recipe is something that at-home cooks struggle with. So, I'm going to walk you through exactly how to cook a steak in a pan for perfectly seared ribeye steaks!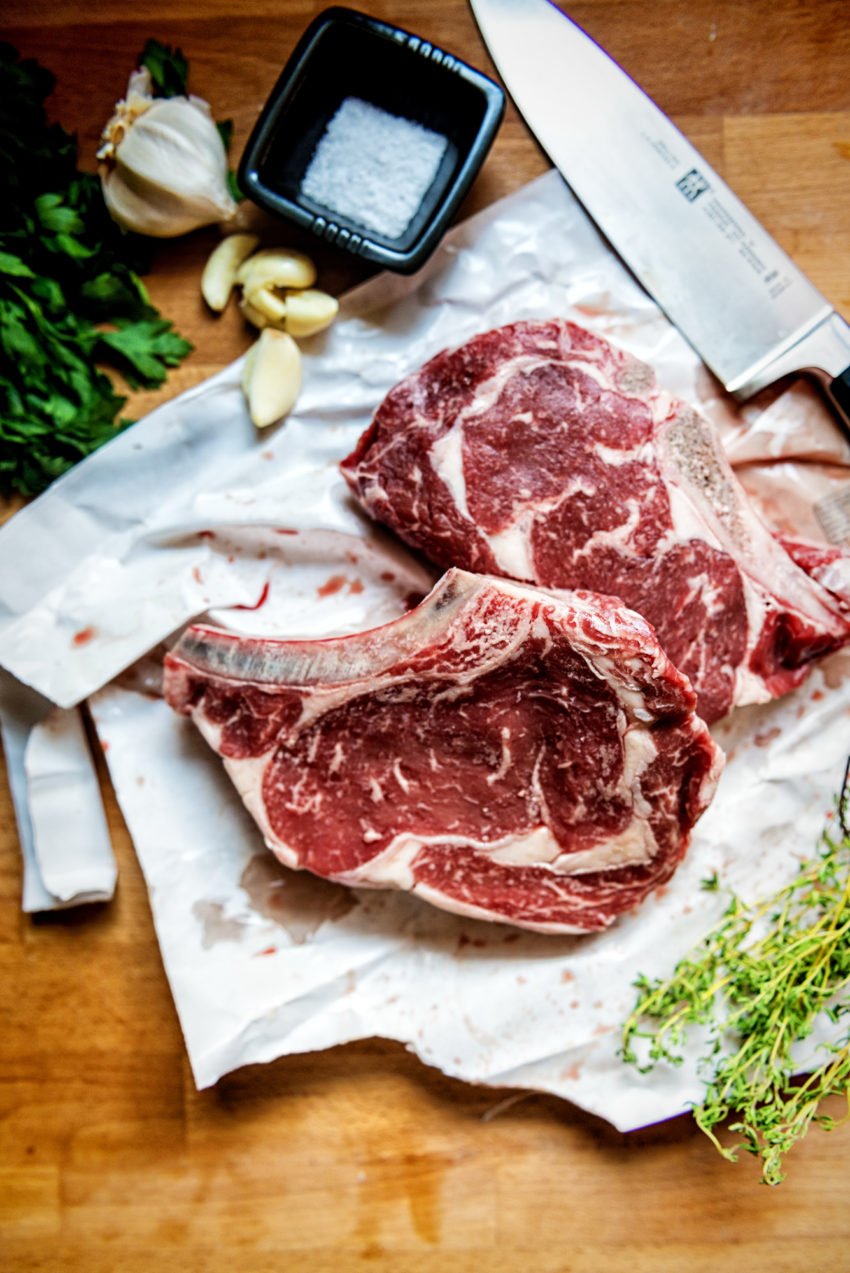 How Should Ribeye Steaks Be Cooked?
The key to a perfect ribeye is a cast-iron skillet.
Seriously. As cast iron heats, the heat is evenly distributed throughout the pan. Unlike other pans, the cast-iron gets hot and stays hot all the way throughout the cooking surface.
You know what that means? A perfect crust on the steak every single time!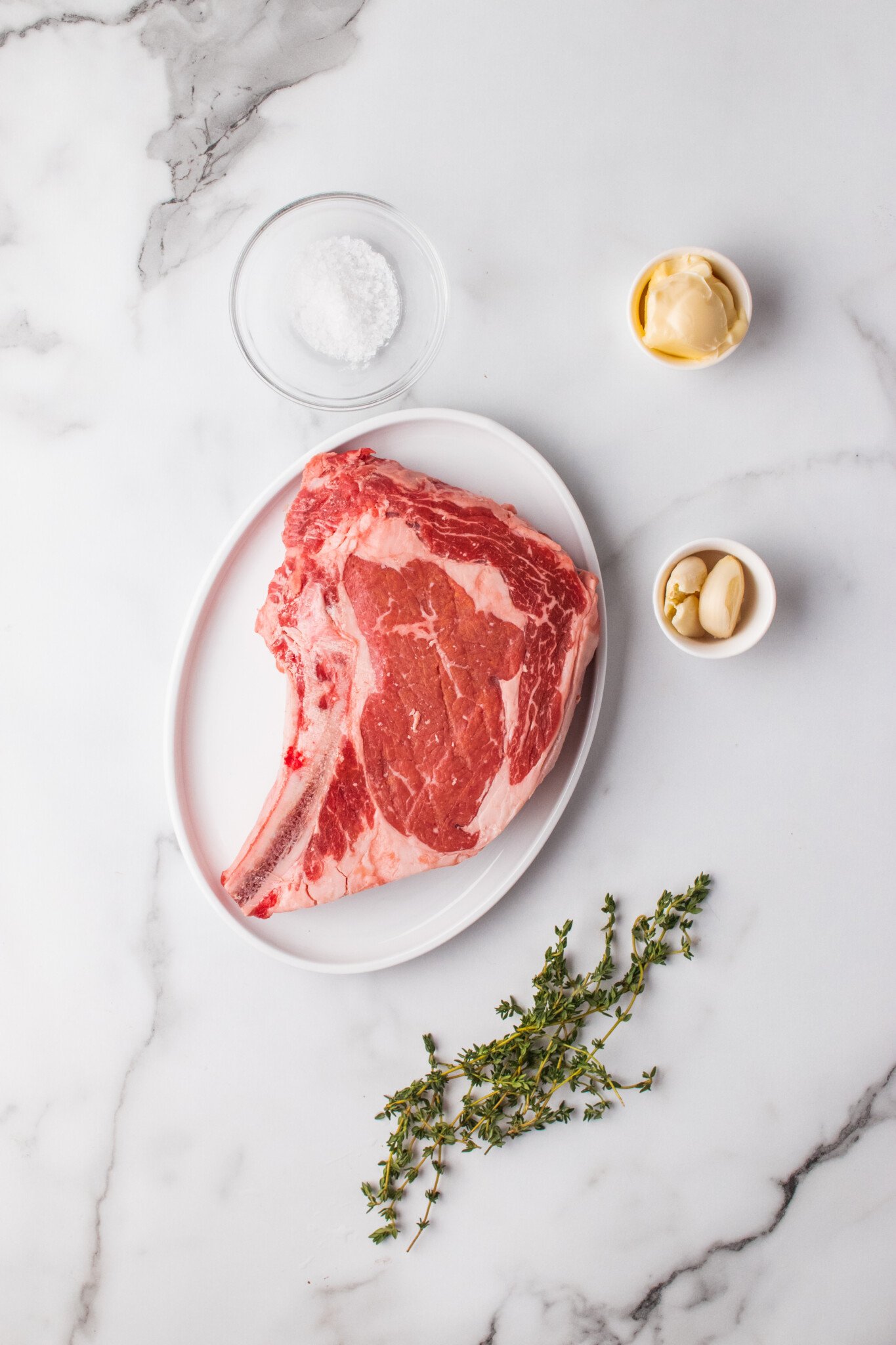 Ingredients Needed
Ribeye Steaks – look for well-marbled, bone-in steaks that are about 1-1½"-inch thick.
Salt and Pepper – seasoning red meat with salt before cooking helps pull out liquid and lock in flavor.
Garlic – use freshly smashed garlic cloves for the best flavor.
Butter and Fresh Thyme – a makeshift garlic herb butter melted over the steak to create incredible flavor.
How to Cook Ribeye Steak in a Pan
Heat a large skillet over medium-high heat and season the steaks with salt. Add oil into the skillet, then place the steaks into the pan. Cook until a perfect crust forms.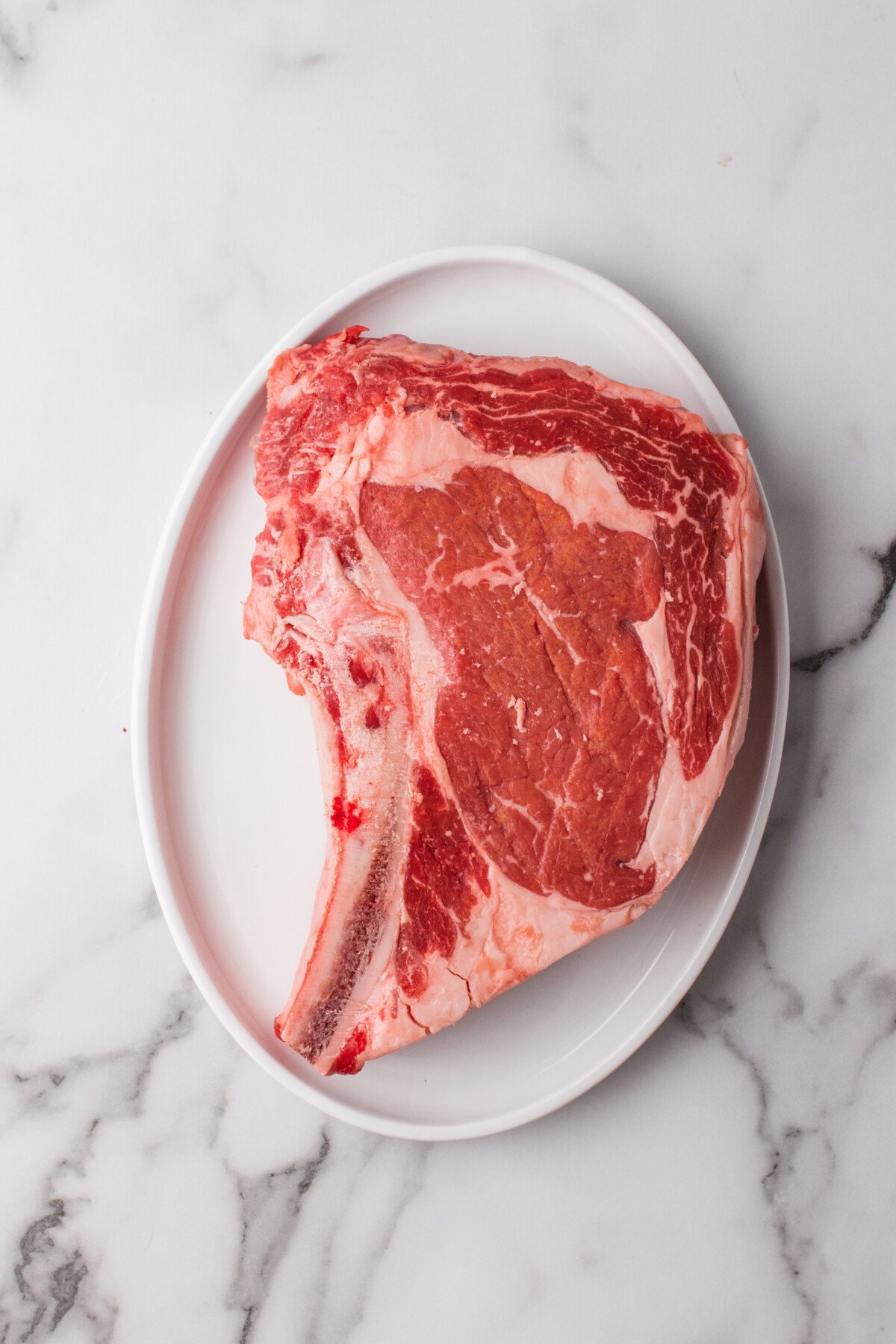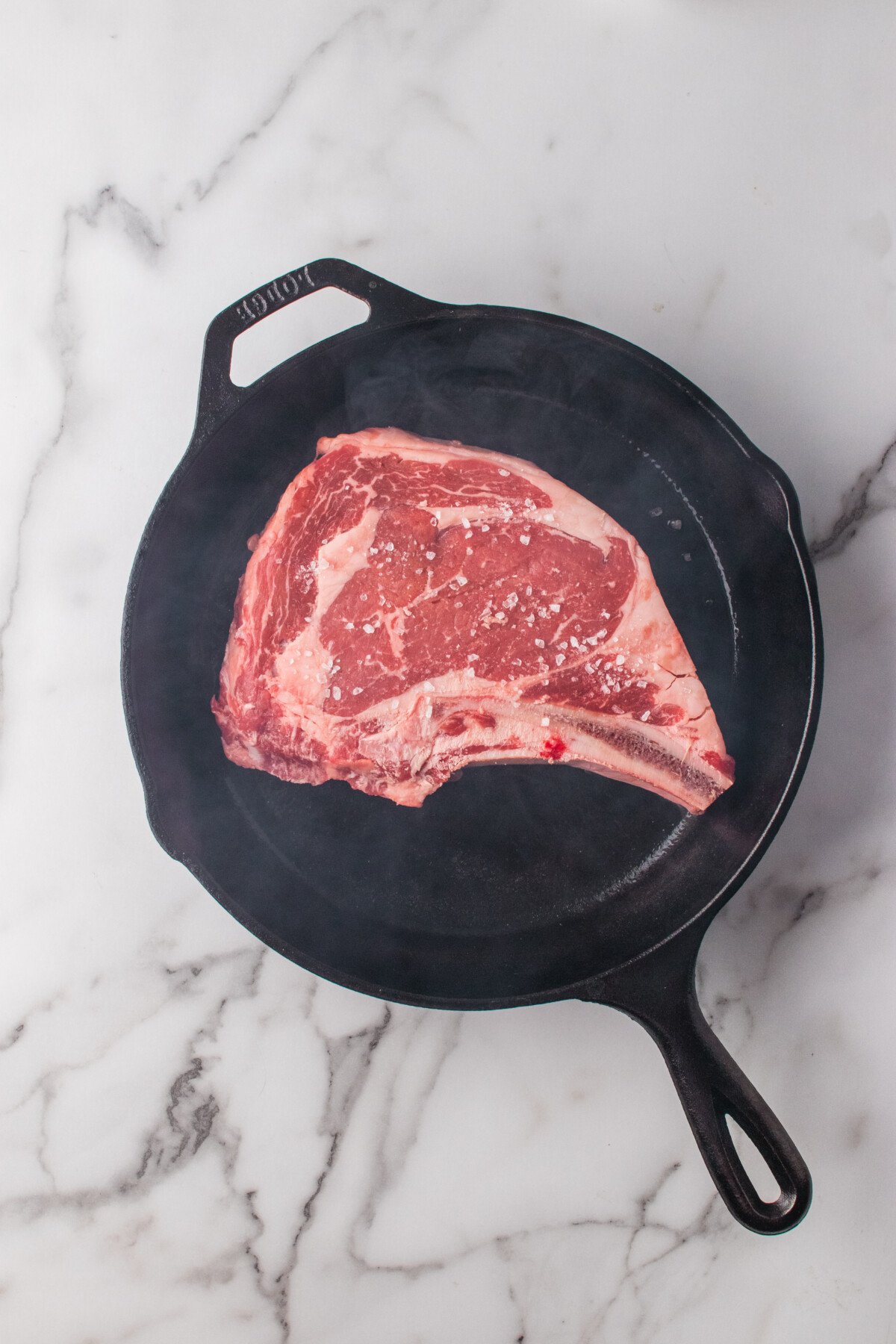 Flip the steak in the cast iron pan, top with butter, garlic, and thyme, and cook for 3 minutes, basting with the juices.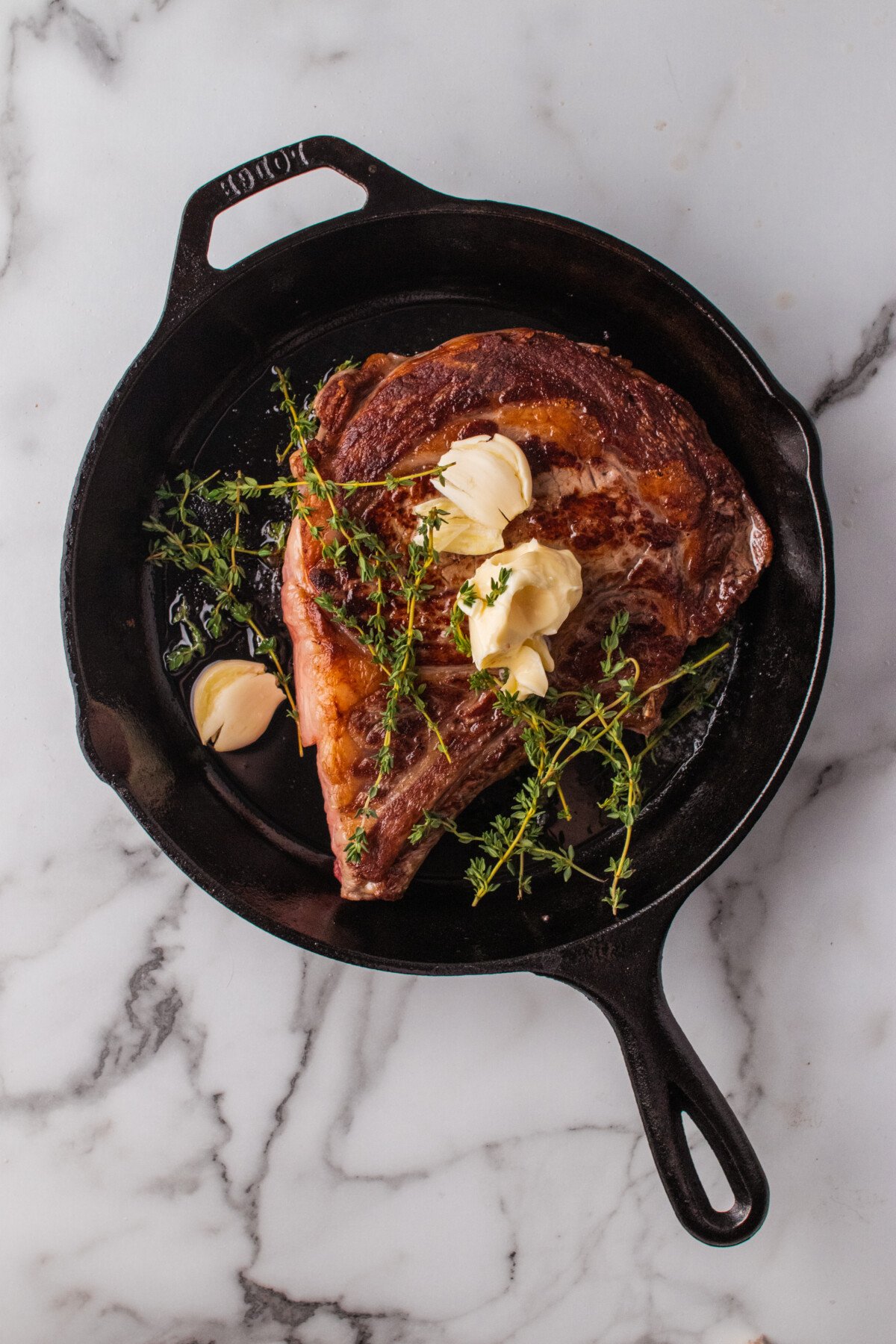 Remove the steaks from the pan, wrap in foil, and allow to rest for 5 minutes, then slice and serve!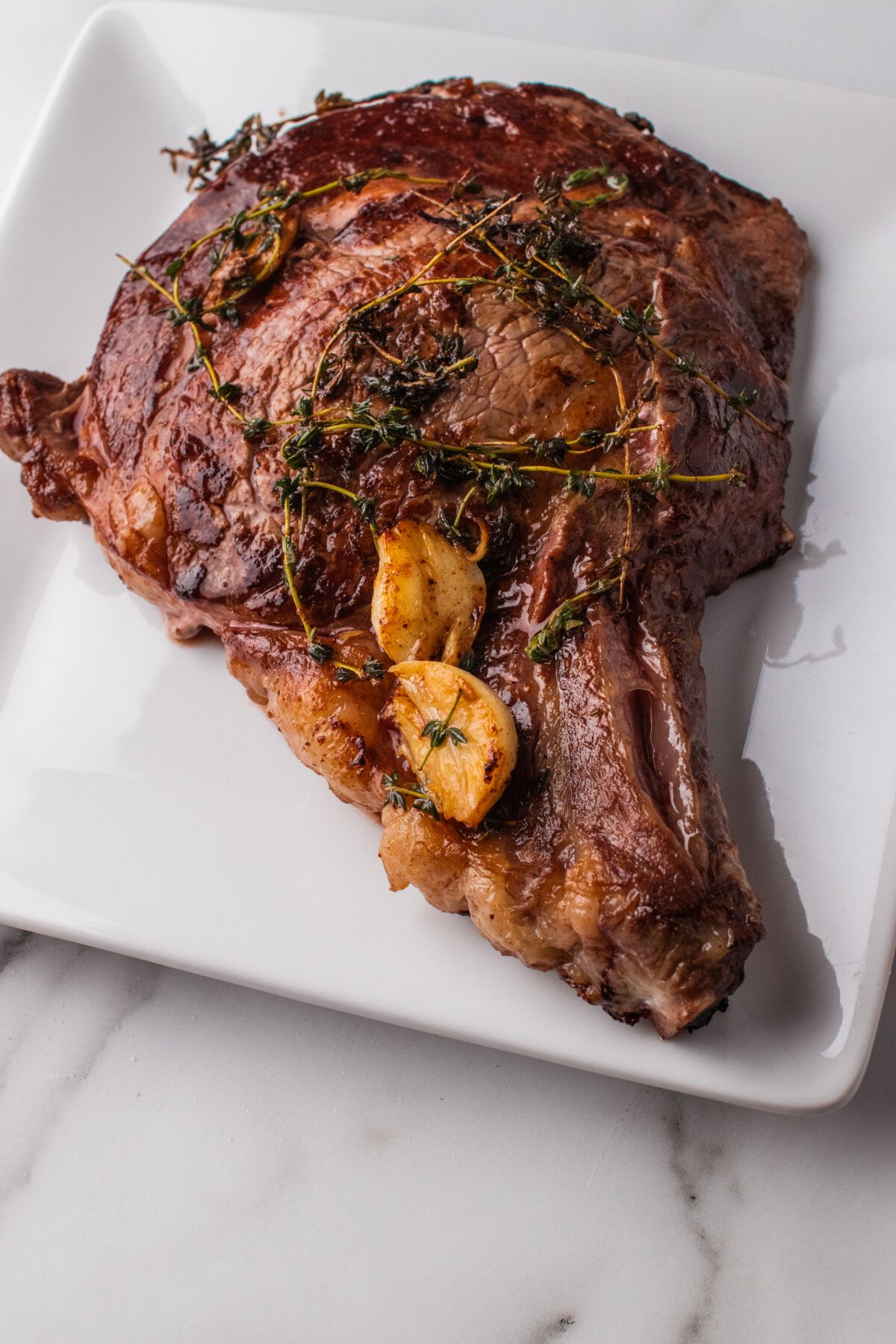 How Long Do You Cook Ribeye Steak?
This depends on the overall size and thickness of the steak you're using. I cook the 1-1½"-thick steaks, like this London broil recipe, for roughly 3 minutes per side, and they come out perfectly.
Keep in mind that the time on a recipe is not as important as the temperature of the meat. I recommend keeping an instant-read thermometer nearby to double-check your work.
Here's a quick guide to cooking ribeye steaks:
Rare: 130-135ºF
Medium-Rare: 140-145ºF
Medium: 155-160ºF
Well-done: 165-170ºF
GirlCarnivore Pro Tip: Add a minute of cook time per inch of thickness to this recipe. For thicker steaks, be sure to increase the time to make sure it's cooked to your liking.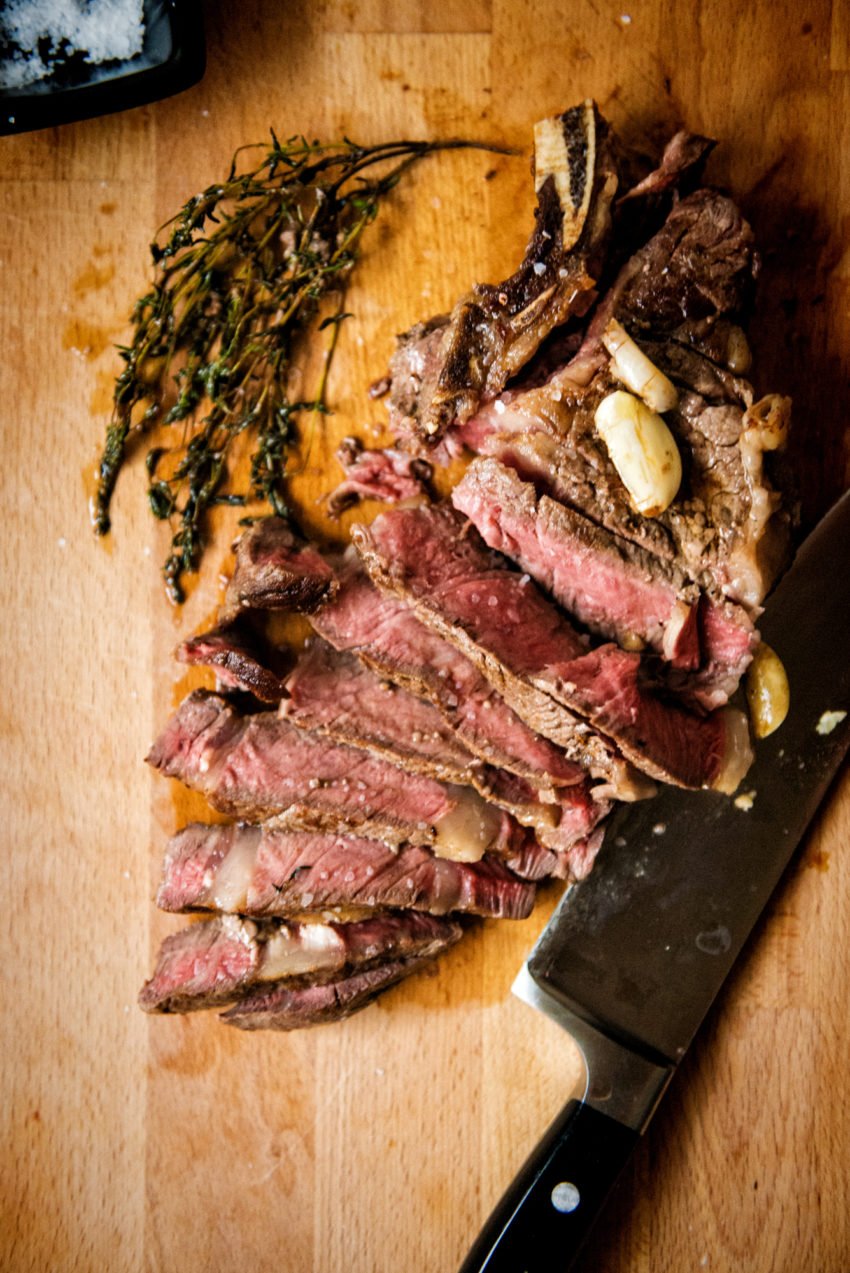 FAQs, Tips, & Tricks
Bring the meat to room temperature
This helps it cook faster and more evenly. Let your steak sit out for 20 minutes before cooking after salting.
How to cook 2 ribeyes at the same time?
If you're cooking more than one steak, make sure they're similar in size and thickness so they cook at the same rate. 
Check to see if 2 fit in your pan without overlapping or use two frying pans at the same time.
Use a cast-iron skillet.
Cast-iron is the key to a good sear.  Cast iron distributes heat evenly allowing for an edge to edge even sear.

Preheat your skillet
Preheating is crucial for a good sear.

Allow the pan to preheat before adding the steaks. You'll heat that signature sizzle when you lay the meat in the pan. If you don't it's not hot enough.
Be careful!
When working with a hot cast iron, be sure that one hand is always in an oven mitt or you wrap the handle in a kitchen towel. 
Allow the crust to form without touching the steak.
Don't touch. Let the steaks cook, untouched, for 2 to 3 minutes so they have time to form that perfect crust.
To see if a crust has formed, gently pull back on the meat with tongs. If the steak sticks, it's not ready yet. Any tugging will result in tearing the meat.
Let it rest.
Allow the steak to rest for 5 minutes before cutting into it so the flavor and moisture can settle back into the meat.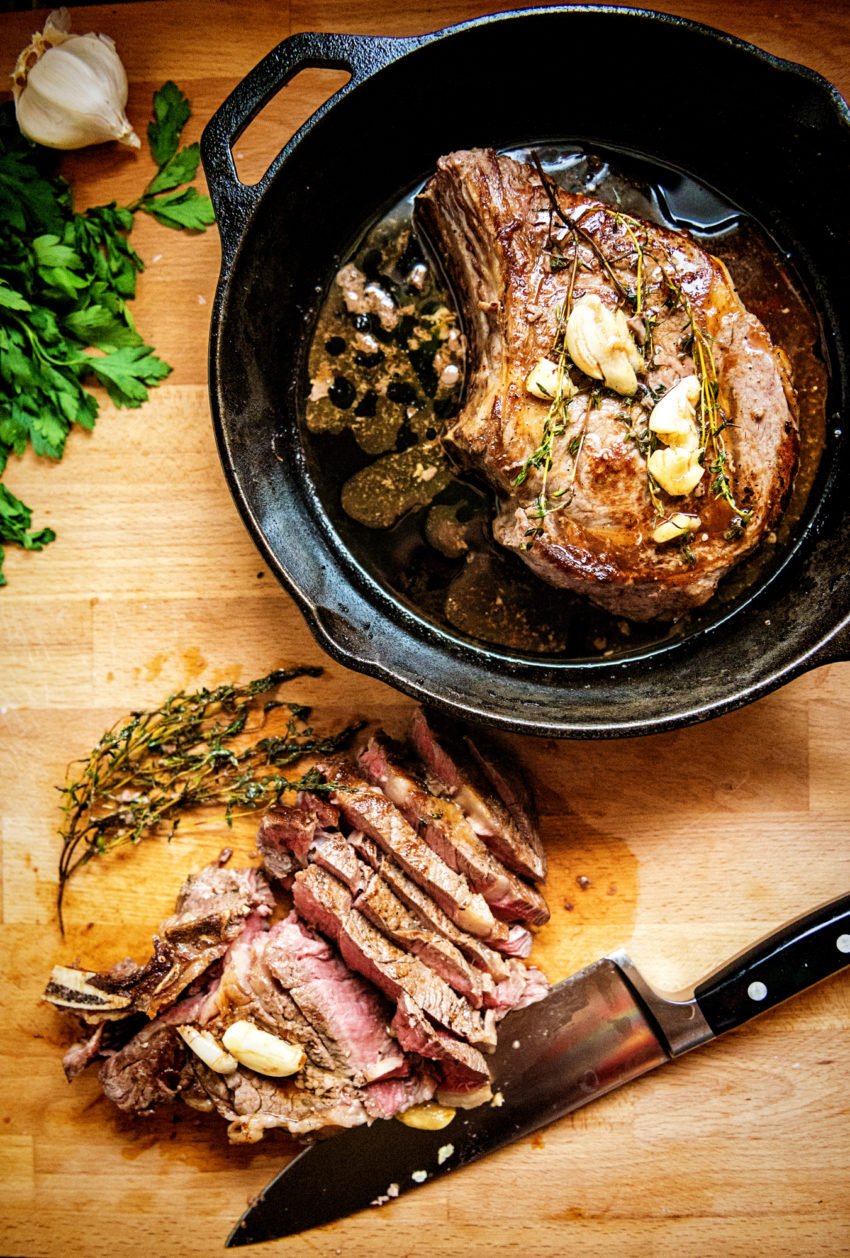 Serving Suggestions
Serve these perfect pan-seared ribeye steaks with any of your favorite comforting sides. Try air fryer mushrooms, mashed potatoes and roasted green beans, baked potatoes, or a pile of your favorite roasted veggies!
How to Store
Leftover ribeye steaks will last wrapped tightly in the fridge for up to 3 days or in the freezer for up to 2 months.
To reheat, thaw in the fridge if frozen, then warm in a skillet on the stove until heated through.
But seriously, how often have you had leftover steak?
More Amazing Steak Night Recipes
If you've tried my Perfect Pan Seared Ribeye Steaks recipe, or any other recipe on GirlCarnivore.com please don't forget to rate the recipe and let me know where you found it in the comments below. I get inspired by your feedback and comments! You can also FOLLOW ME on Instagram @girlcarnivore as well as on Twitter and Facebook.
Perfect Pan Seared Ribeye Steaks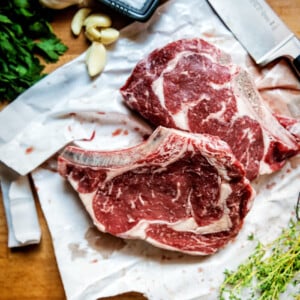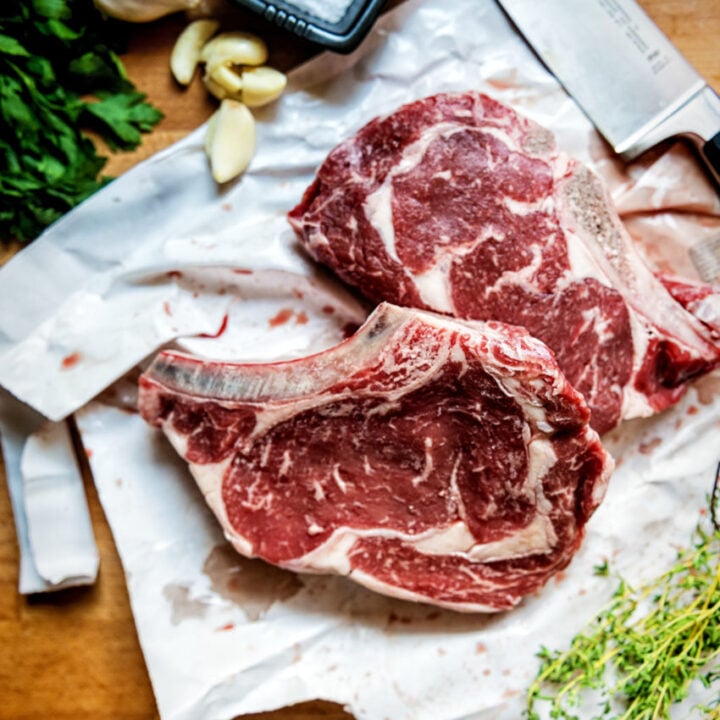 Pan-frying a steaks is a must master skill because it produces the best outer crust and perfect medium-rare center every time, once you master the skills! This recipe is a classic with thick ribeye steaks basted in a garlic butter sauce and cooked to perfection – every time! It's our go-to method for quick steak dinners!
Ingredients
2 1" – 1 ½"

thick bone in ribeye steaks

Salt and pepper

2

garlic cloves

smashed

2

tbsp

butter

Few sprigs of fresh thyme
Instructions
Heat a large cast iron skillet over medium high heat for 5 to 10 minutes.

Season the steaks with salt. Swirl in olive oil until just smoking.

Quickly place the steaks in the pan. You will hear a roaring sizzle. Allow the steaks to sit, untouched, for 3 minutes to form the perfect crust.

Flip and place the butter, garlic and thyme over the steaks. Cook another 3 minutes basting with the juices.

Remove the steaks from the pan, wrap in foil, and allow to rest 5 minutes before slicing from the bone. Serve with the accumulated juices from the pan.
Notes
This recipe features bone-in ribeyes but this method also works for boneless steaks. 
When working with hot cast iron, be sure one hand is always in an oven mitt or that the handle is wrapped well in a kitchen towel.
To see if the crust has formed, gently pull back a little with tongs. If the steak sticks to the pan – it's not ready yet. Be patient. Pulling will simply ruin the crust, and tear the meat. 
Want to take the flavor ever further? Try adding a little umami powder (like my Ooomami blend). The mushroom blends adds a deeper savory note to steaks and beef. 
Nutrition
Calories:
212
kcal
|
Carbohydrates:
2
g
|
Fat:
23
g
|
Saturated Fat:
14
g
|
Cholesterol:
61
mg
|
Sodium:
203
mg
|
Vitamin A:
710
IU
|
Vitamin C:
1.9
mg
|
Calcium:
11
mg